The Atlantis, Bahamas Review – The Good and the VERY Bad
Thinking about visiting the Atlantis resort on your vacation to the Bahamas? Think again. This outdated hotel is not worth the money. Here is an honest review of Atlantis, Bahamas.
Review of Atlantis Bahamas
Staying at the Atlantis Bahamas was a huge disappointment for our family. So I wanted to give an honest review of Atlantis so you can decide if it's worth it for your family.
It's not often that I have to write about a hotel that I DIDN'T like. When I plan a vacation, I am very thorough. I go through every review I can, and I read Pinterest, and YouTube… all to make sure I am spending my money wisely and making every vacation the best I can.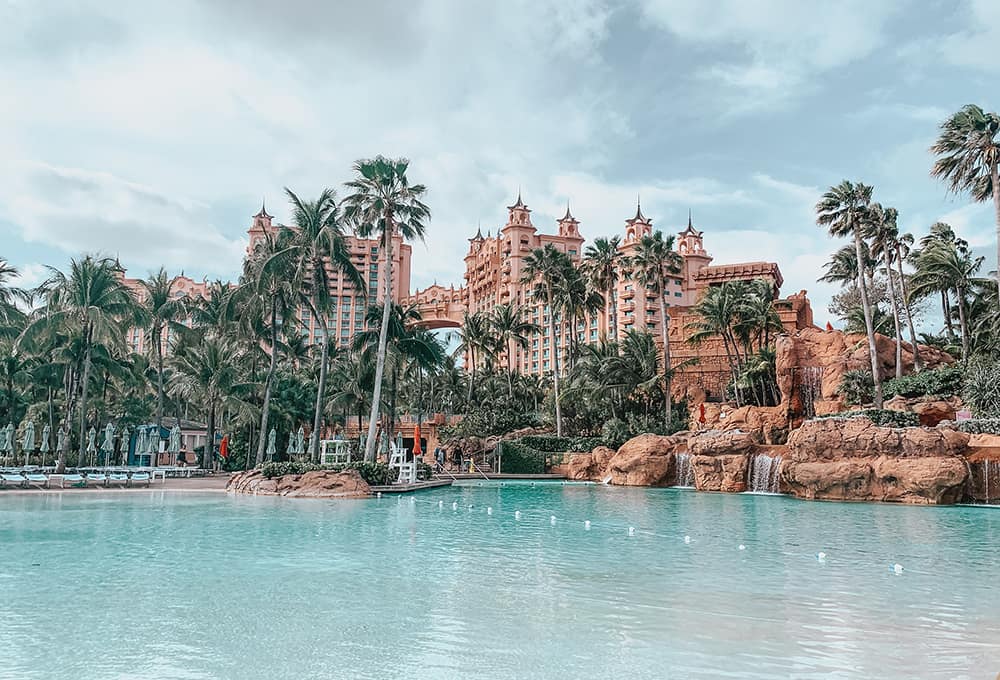 Because to be honest, I can only take (or afford) so many vacations a year. And I'm guessing it's no different for you!
So that's the main reason I wrote this review of Atlantis, so you can decide if it's worth your time and money. Spoiler alert… it wasn't for me.
See Related: What You Need To Know Before Flying With Kids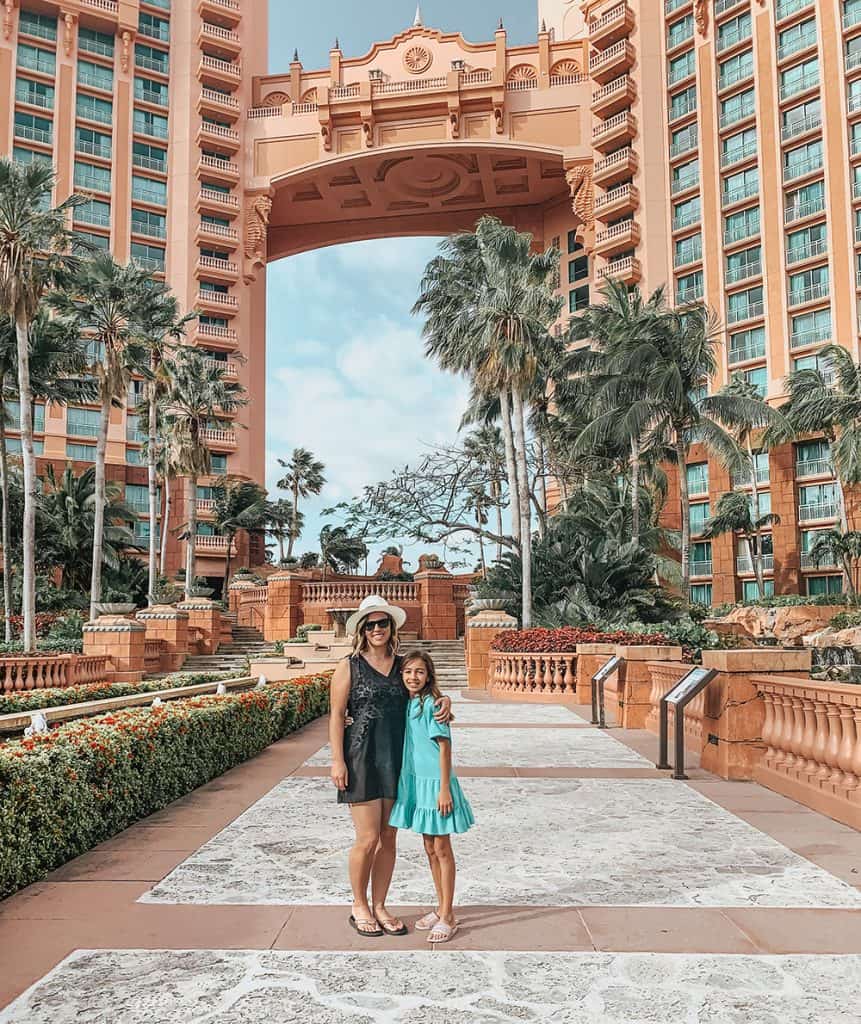 Is It Worth It To Stay At The Atlantis, Bahamas
I've been wanting to visit The Bahamas mostly due to the famous swimming pigs. And I've known about Atlantis for a really long time. To me, it always seemed like something that was out of my financial reach. Until this last spring, when I decided if I'm going to be in The Bahamas, I NEED to stay at the Atlantis. Right?!?!
Wrong! The Atlantis turned out to be one of the worst resorts I've stayed at in a really long time. Even the kids didn't like it.
And when I write reviews, I always give honest ones and this review of Atlantis is no different.
What we all DID love was the Baha Mar… but more about that later.
PS – You can book your tour with the Swimming Pigs HERE! It was by far the best thing we did in the Bahamas!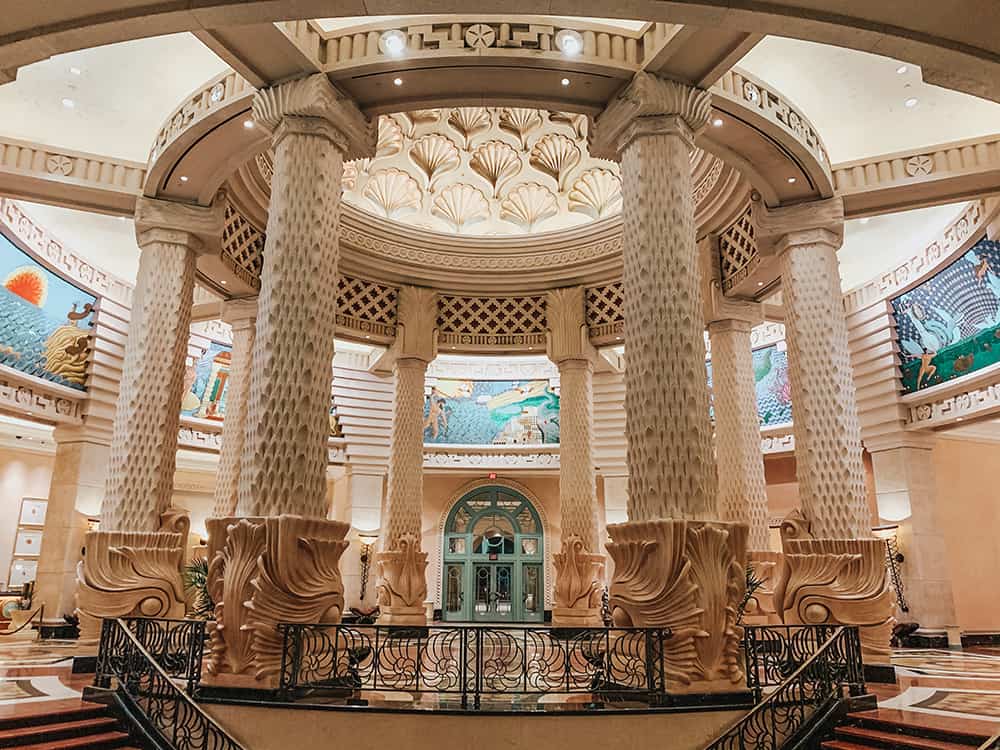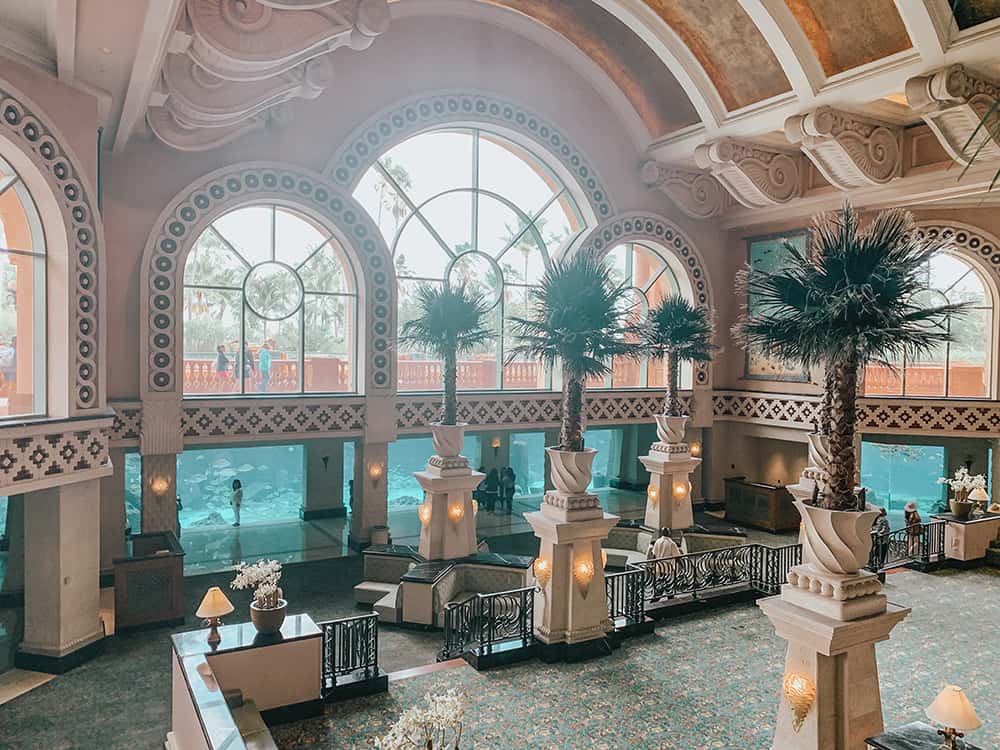 The Atlantis Resort
Atlantis Bahamas opened in 1994 and it's pretty obvious that it has not been updated since then. It actually looks like they haven't done much upkeep at all, to be honest.
The main lobby is amazing. I will give it that. First walking in, really took our breath away. The wide, open decor made us feel like we were in another world. I was truly impressed with the main entrance of the Atlantis.
However, the rooms are VERY basic. We opted for the middle of the pack, the Royal Towers. The price and luxury of the 5 towers rank like this (cheapest to most expensive):
The Beach – very basic and furthest away
The Coral – somewhat upgraded and near most of the food and shops
The Royal – the iconic towers
The Cove – upgraded suites
The Reef – super luxury suits and penthouses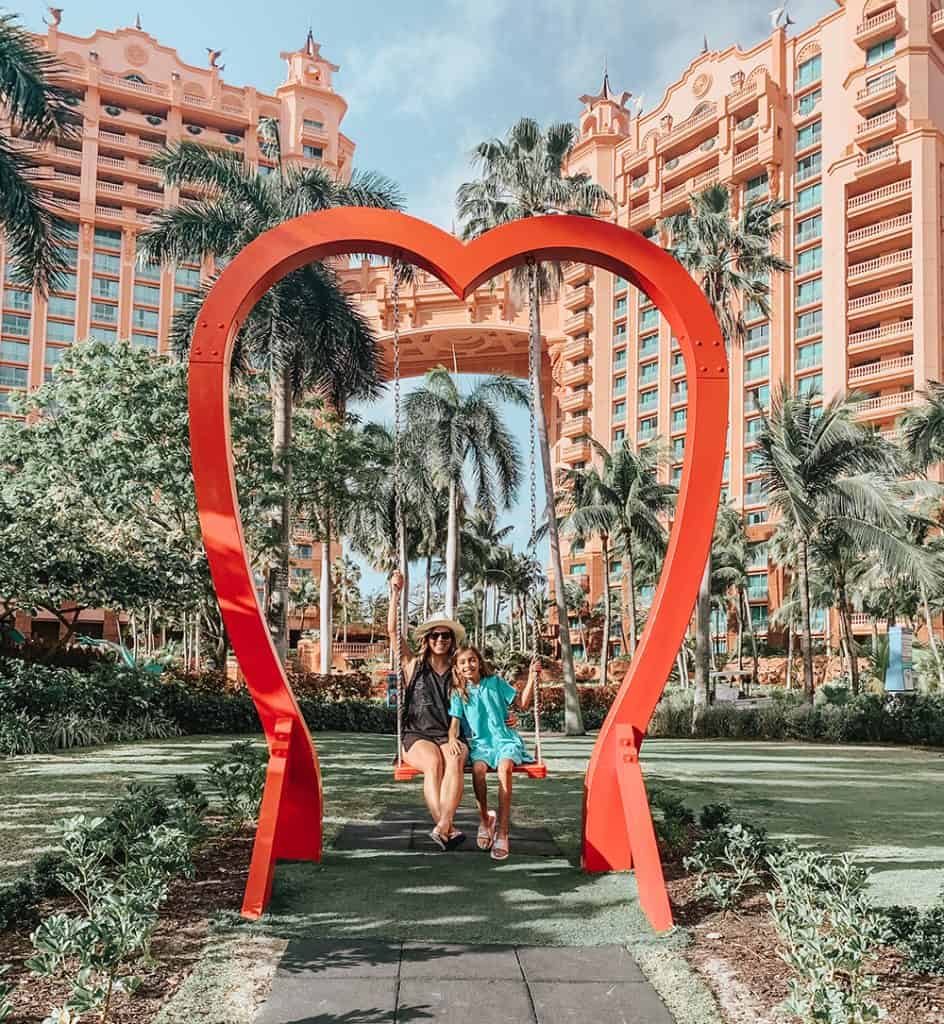 The Royal is the middle, and main, tower at Atlantis. It's also the most iconic tower and so we decided to upgrade our room and pay extra to not only stay in the Royal Towers but to have an ocean view as well. You only live once, right?
The only nice thing about our room was the view. In hindsight, I wish we would have saved the money and stayed at the Coral Towers. The Royal was not worth the extra money.
The rooms were no different than a Motel 6. Outdated and small.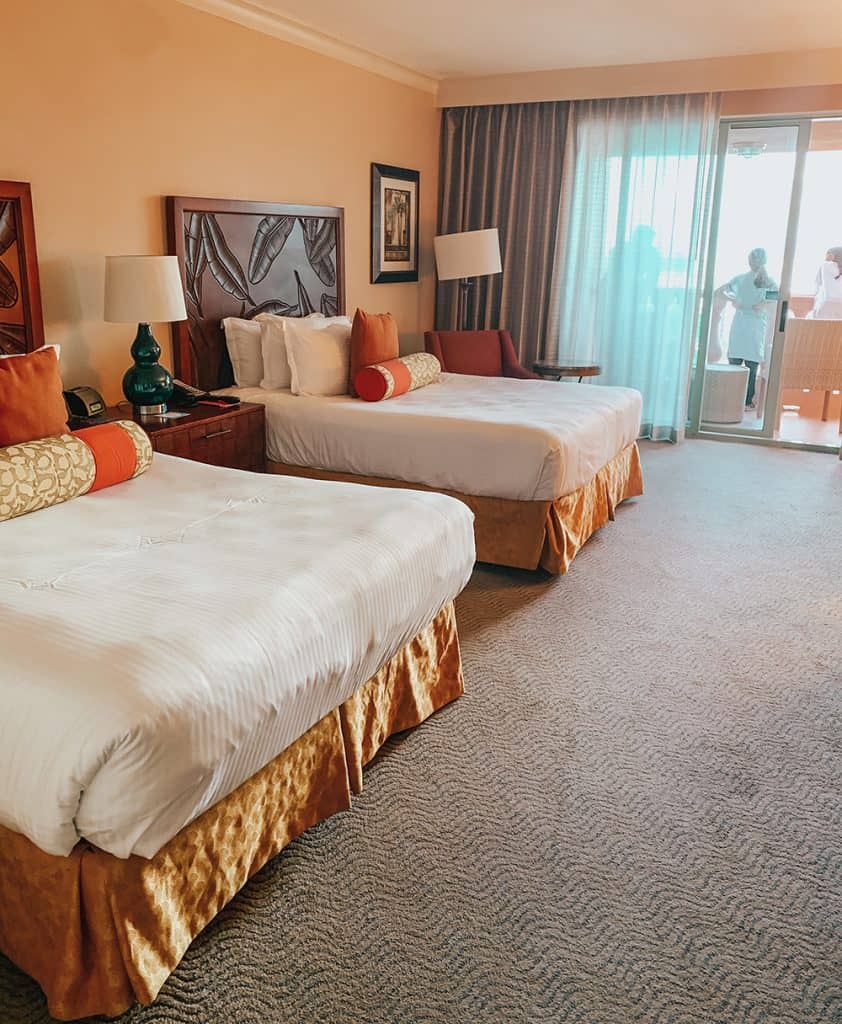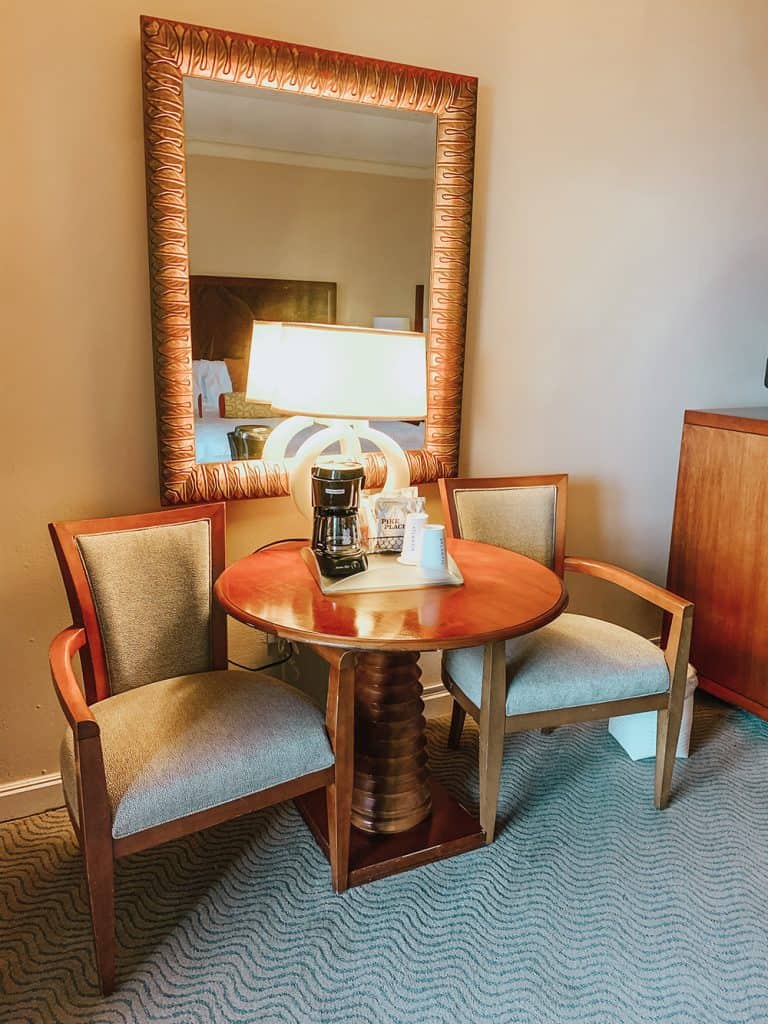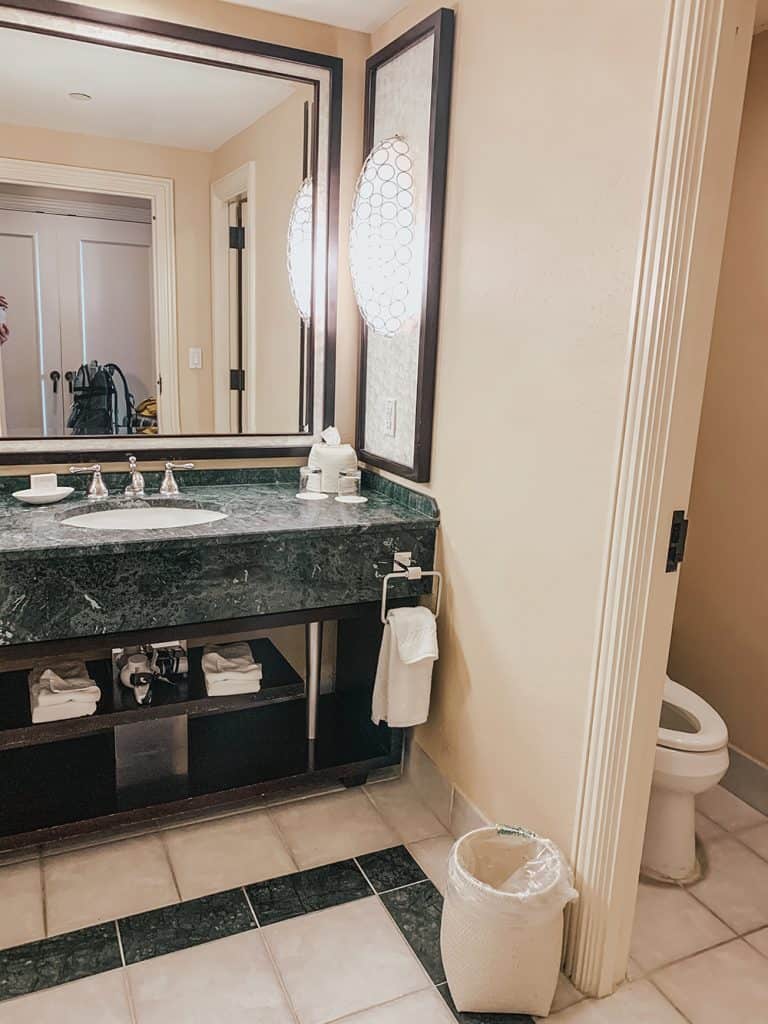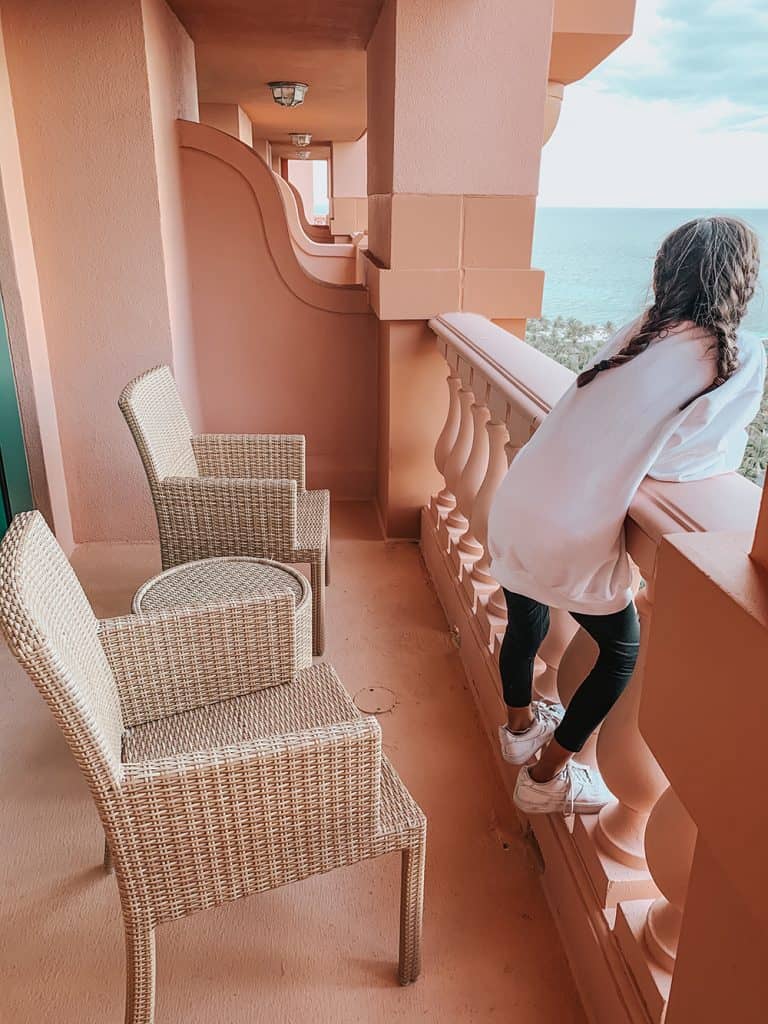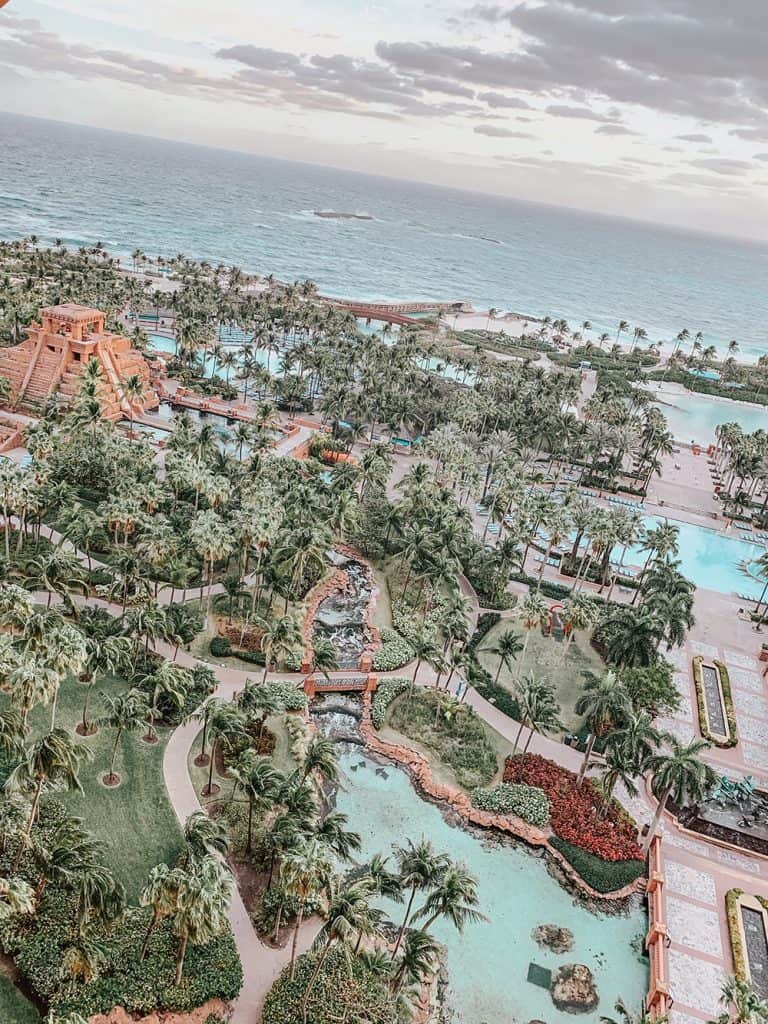 One really cool thing about Atlantis is that the bridge that connects the two main towers is actually a giant suite that rents for $25,000 per night. It's called the 'Michael Jackson' suite due to him visiting there often. Our room was on the same level and we got a great view of this. Too bad it was empty… it's usually rented by celebrities!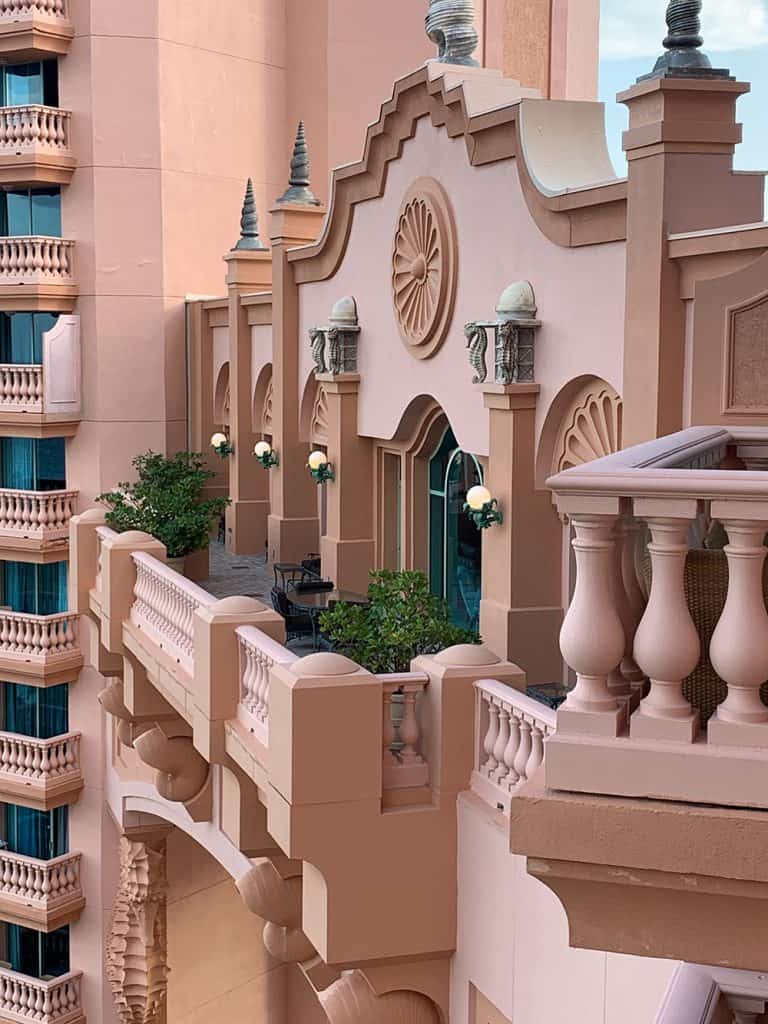 The tower itself was really nothing special. It didn't have a lobby like most hotels do. So if you wanted a snack or even just a cup of coffee (or a strong drink) you had to walk to the other side of the resort. Expect at least a 10-minute walk for even the most basic necessity.
The (very small) lobby doesn't even have an employee there. So hopefully you don't have any questions or need any assistance.
We took a few minutes to walk around the casino, but if you are traveling with kids, there really isn't anything to do here.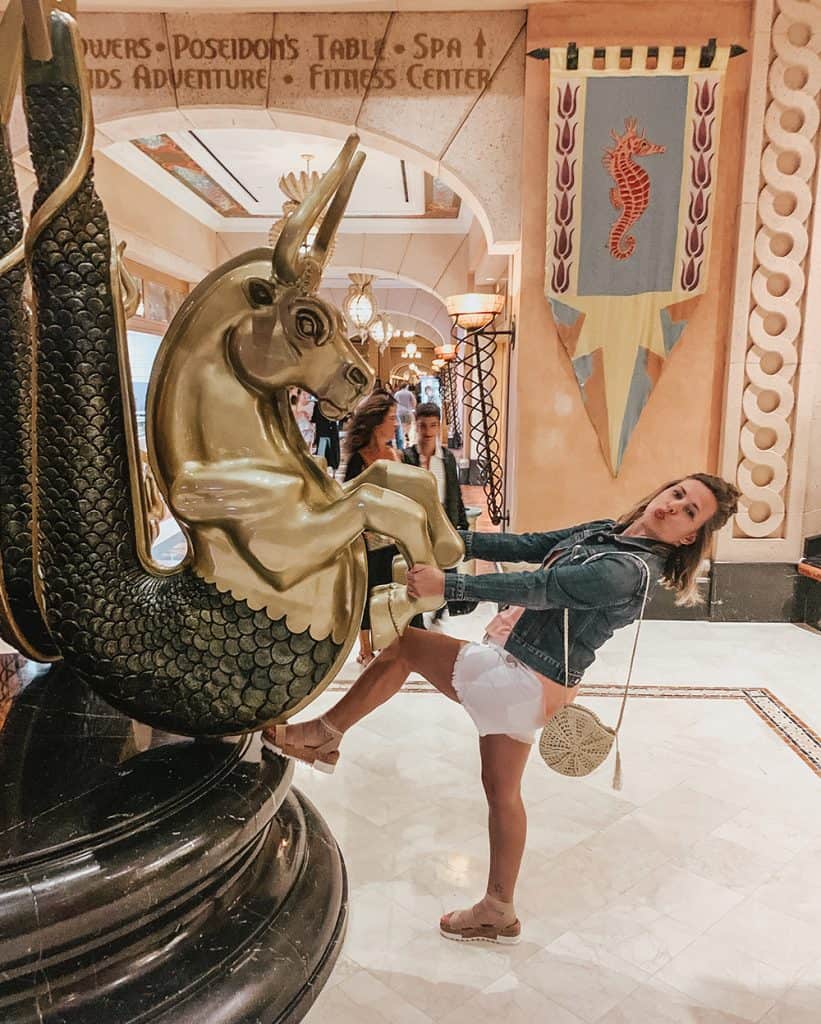 The Food at the Atlantis Resort
You've probably heard this several times already but the food at the Atlantis is VERY VERY expensive. Everything in the Bahamas is expensive but the Atlantis takes it to a whole new level.
Now take that added expense and put it on some of the blandest food you've ever eaten. And that's what you get at the Atlantis.
We were actually really excited to go to The Bahamas and indulge in a lot of seafood or local authentic cuisine, but we did not find that at the Atlantis. Instead, we ate mostly pizza, burgers, and sandwiches.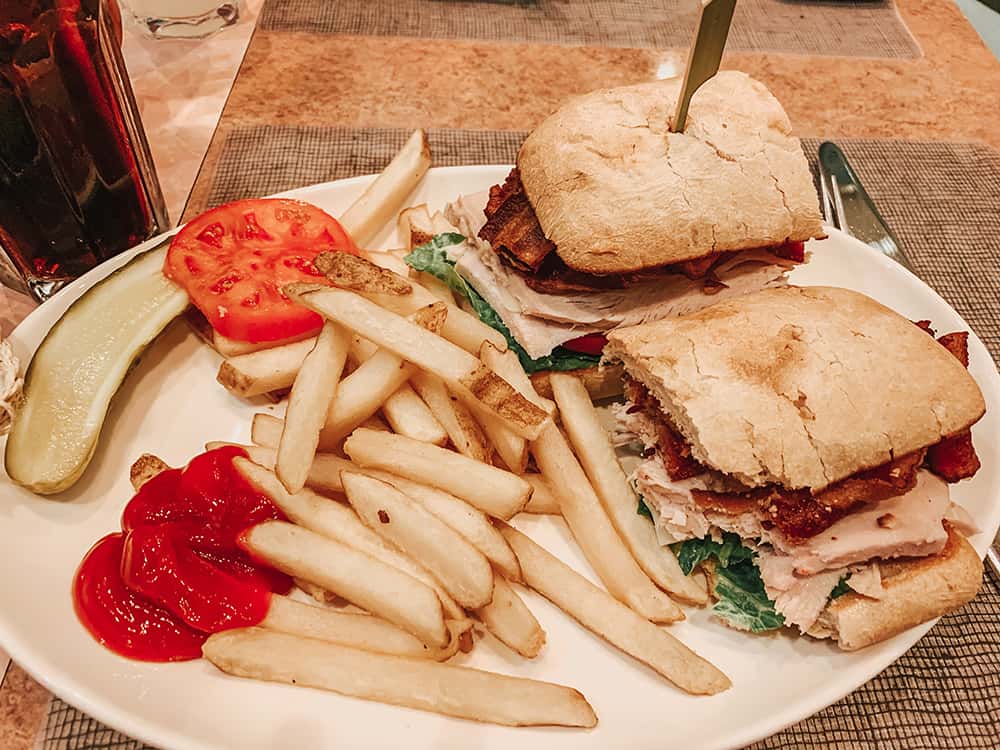 Do you know how disappointing it is to travel to the Caribbean in hopes of some good seafood and end up paying $100 for a pizza and some drinks? Yeah… it sucks.
And while lots of people say "Well all of the Bahamas are expensive", that's just not true. You can go to any restaurant right outside of the Atlantis for half the price. PLUS, downtown Nassau has amazing authentic cuisine that is super cheap (and supports the locals).
Check Out: How To Eat Like a Local In Nassau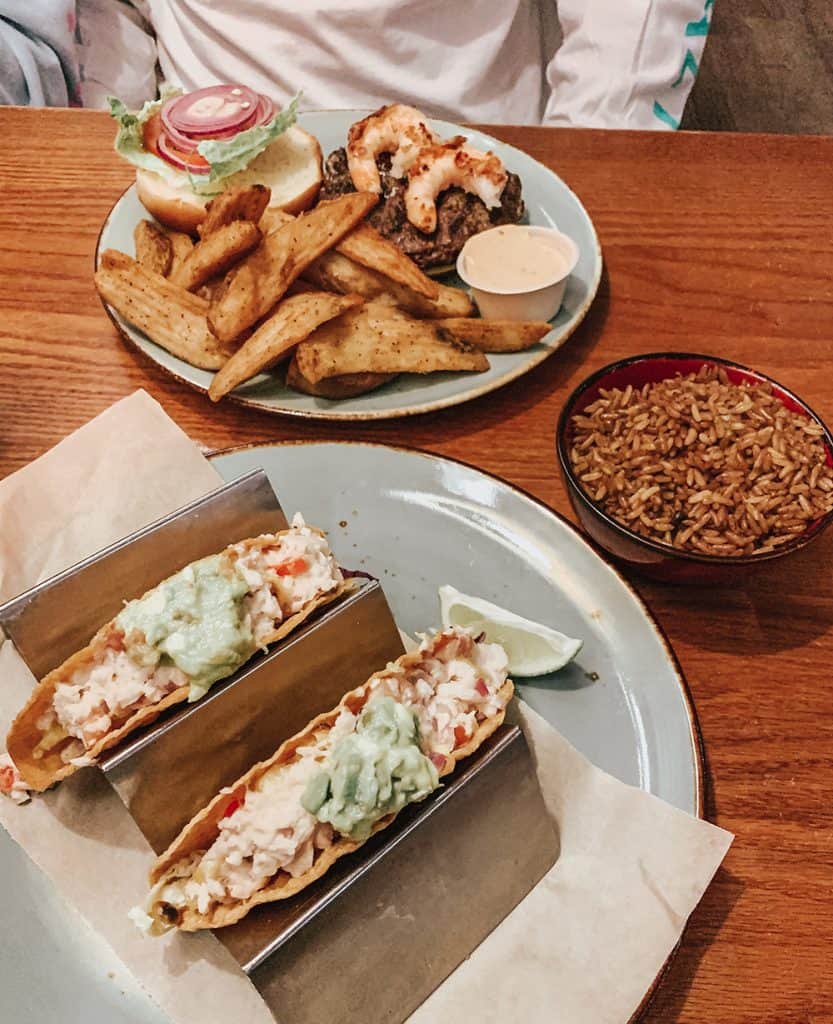 If you have like a gazillion dollars to spend at the Atlantis, then go to a nice restaurant. But if you want to be able to afford another vacation in your lifetime, you'll probably be stuck eating at some of the smaller restaurants.
Dining at Margaritaville just outside (walking distance) of Atlantis was the most affordable way to eat and had the biggest portions. But I could eat that in the States so, again… disappointing.
The buffet was decent. But again, you'll find very basic American-type food there. If you do want to check it out, go for brunch. Dinner is almost the same food but twice the price. If you time it right, you can go mid-morning, fill up and then just have a light dinner.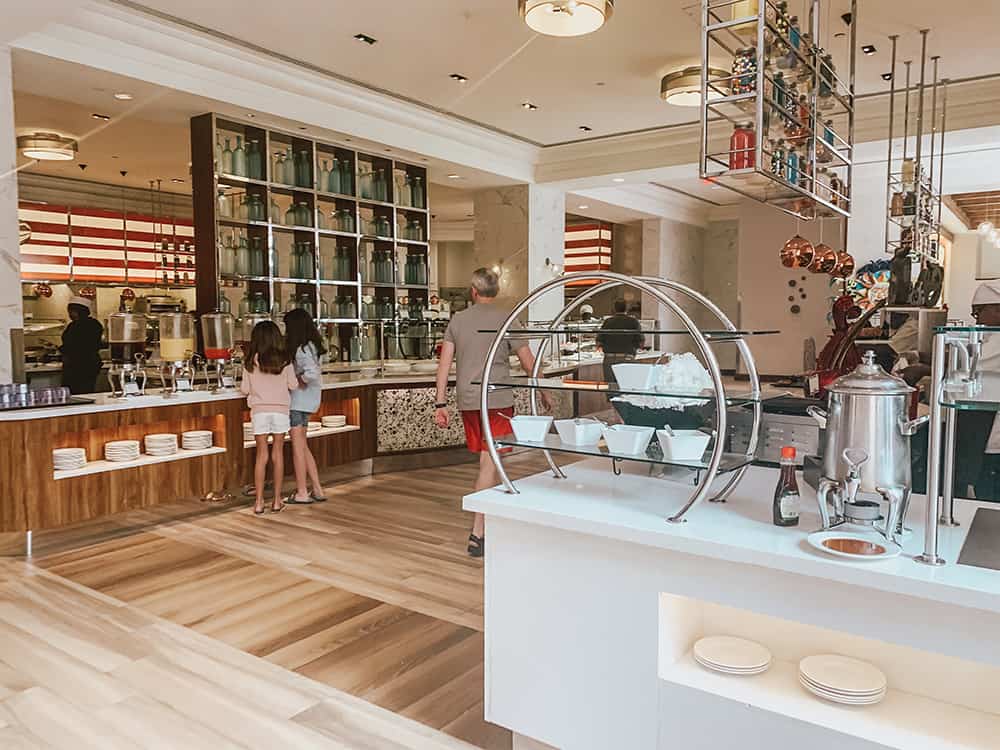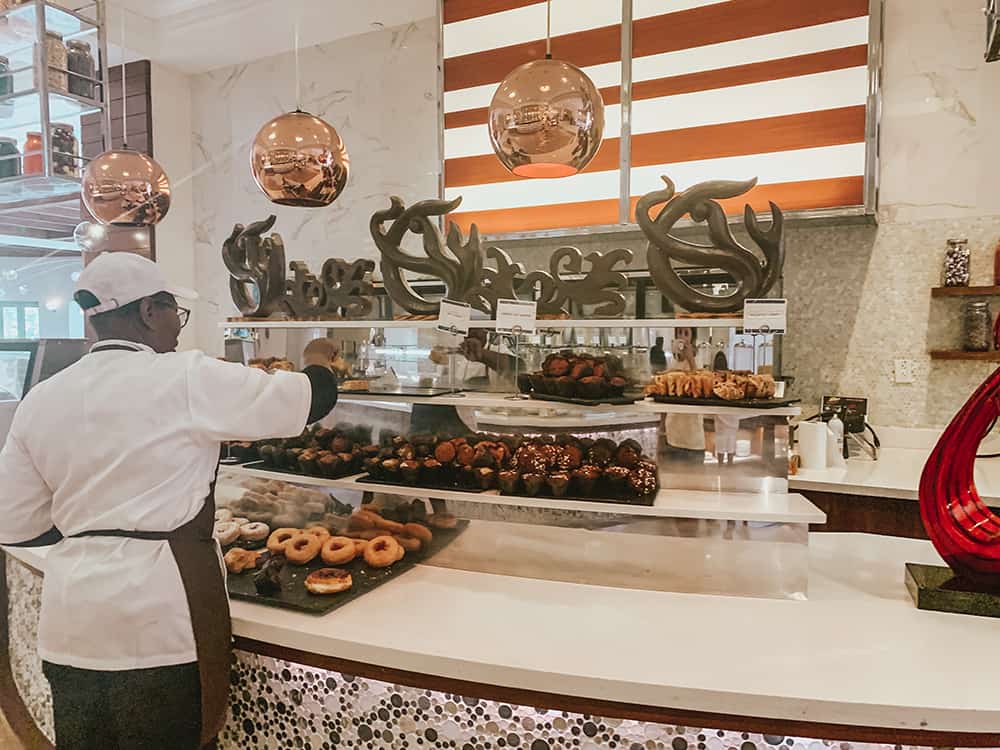 The Service Isn't Great
The staff at Atlantis weren't friendly. I'm sorry, but they just weren't. From the dining staff to employees in the pool area. We always felt like we were annoying to anyone we asked questions to.
When talking to a local taxi driver, he pretty much confirmed this for us. The laws for working in The Bahamas are very strict and you cannot get a visa if you are a foreigner. And the hotels pay locals a really low rate to work and have a huge turnover. So it might be that they just really don enjoy their jobs, and its pretty obvious.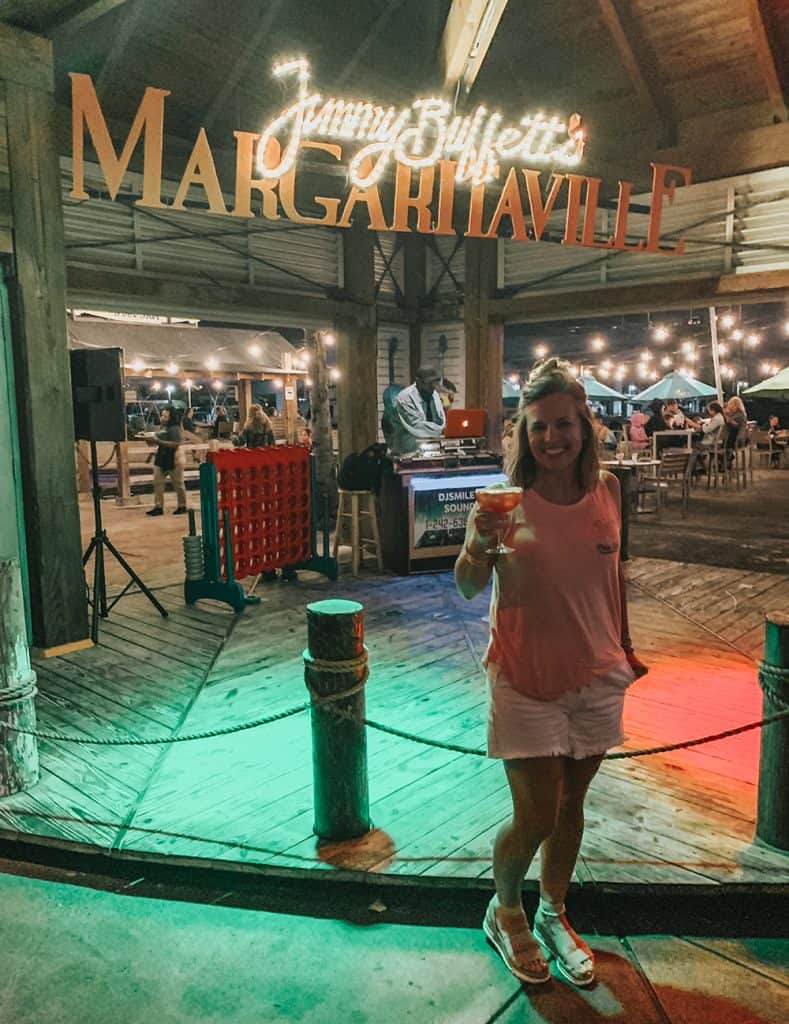 Even the service at restaurants is horrible. Expect to spend at least 2-3 hours at each dinner. Not because it takes that long to get a table. It takes that long to get your food.
Beware if you are traveling with young kids. Bring some snacks and maybe a tablet to keep them occupied. If we walked out of the restaurant in under 3 hours on any given night, it was considered a miracle.
Atlantis is Old and Needs Updating
I know we really wanted to stay at the Atlantis because it had a lot of hype to it. But honestly, that's all there really is. It was probably a really nice resort 10 years ago. But it's very clear it hasn't been kept up very well.
The rock formations are all chipping and have paint missing.
The lazy rivers look a little too green for my liking!
And the aquarium tanks were all really cloudy. The sharks swimming around the Leap of Faith (the most popular water slide) were in a small aquarium with NOTHING inside. Like literally no coral, no plants, no rocks… nothing!
I actually found it very disturbing that so many sharks were in such a small space with nothing but glass around them. I think Atlantis needs to get rid of this attraction. They could easily fill the tank with tons of coral and colorful fish and the ride would be just as fun and exciting.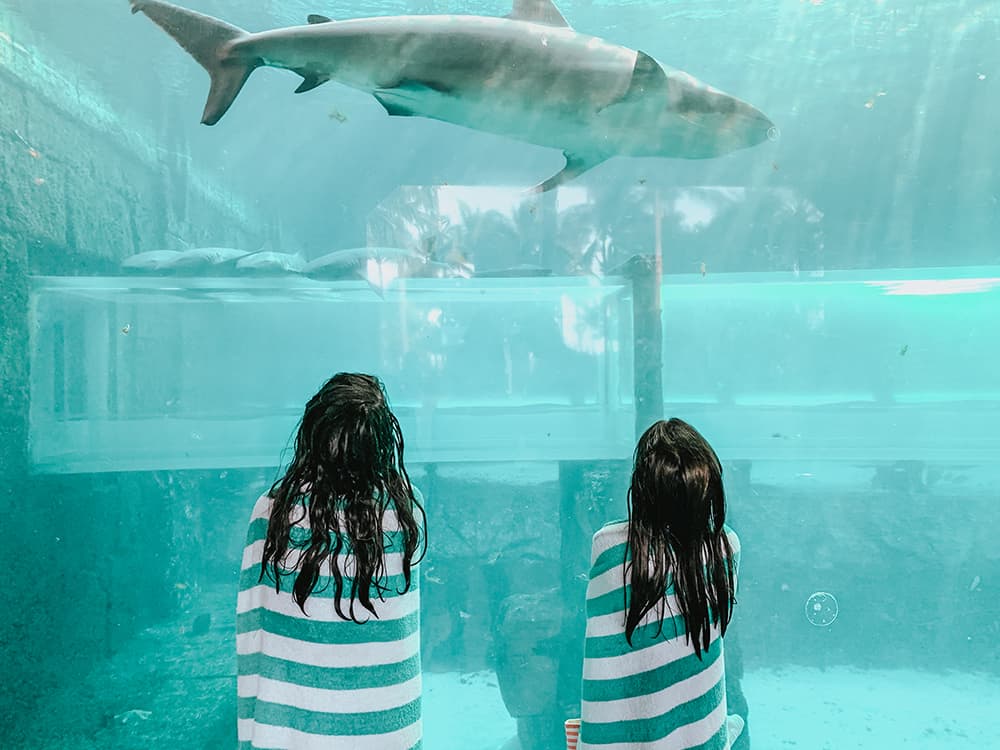 Lounge chairs were basic plastic. The food was like eating at a strip mall. And the pools were very basic. What I mean by that is… they looked like every other hotel pool. I've honestly seen MUCH better pools and decor at local resorts in my area.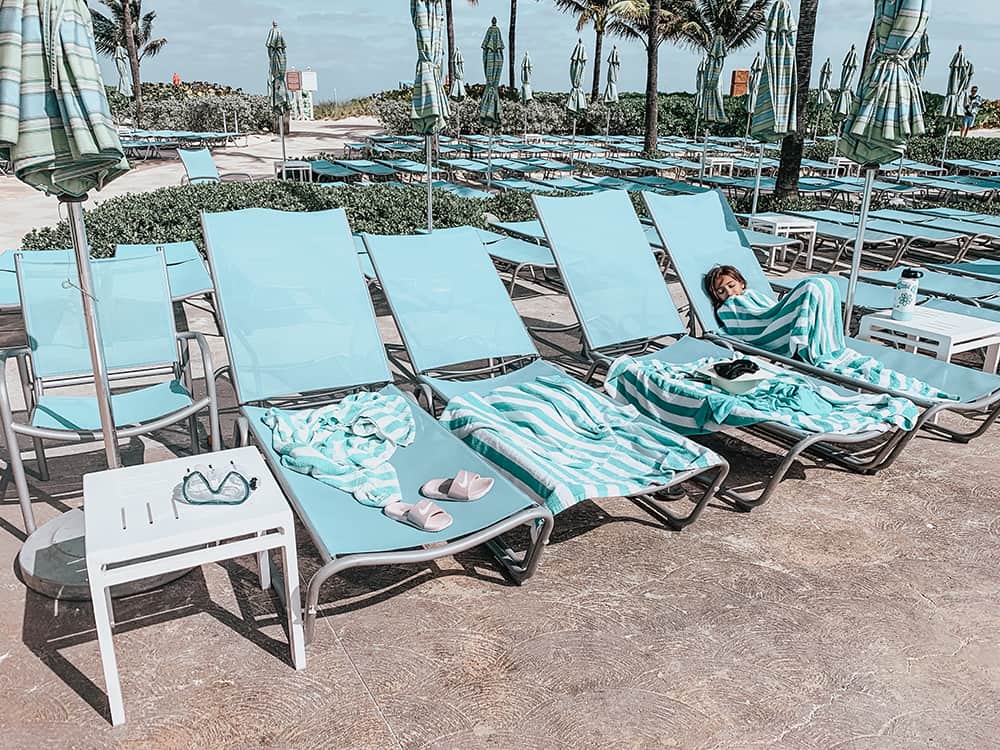 The Atlantis needs to take a lesson from Baha Mar on what a resort pool should look like.
Atlantis is Confusing and Not Well Laid Out
Oh, and the layout of the waterpark is really confusing. Like, horribly confusing. Their printed maps don't make any sense. They show you where each thing is located, but not what path to take to get there. We got lost and turned around several times.
And again, the staff wasn't much help. Each time I asked how to get somewhere, they would just point and walk away, or not respond at all.
It started to become a game where when we actually found the correct waterslide we were looking for, we would jump up and down and high-five each other.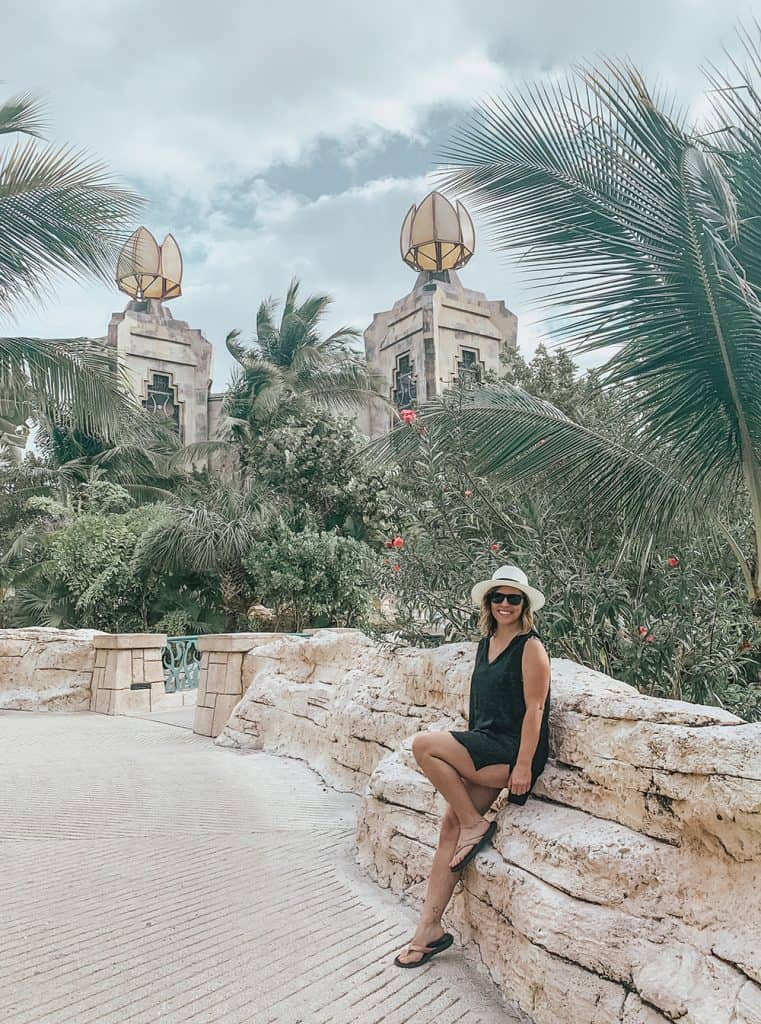 And don't forget the dumb wristbands. In order to go on any waterslide, you need to get a wristband from a certain hut. And you need your resort card to get those. So it became like a 3-step process to get the wristbands to even go on the rides in the first place.
And each day is a new wristband. So each day, you have to find the hut to get a wristband before you can go on any rides (and of course, the wristband huts are not near the waterslides).
Atlantis also has a private area you can pay a little extra for that comes with things like a storage locker and reserved chairs. We really considered this for a minute, but then I saw the 'private' area and it was basically the same as every other area and just had small storage boxes in between each chair.
Save yourself the hundred dollars this cost and just get yourself a beach chair lockbox. We used this and it worked perfectly.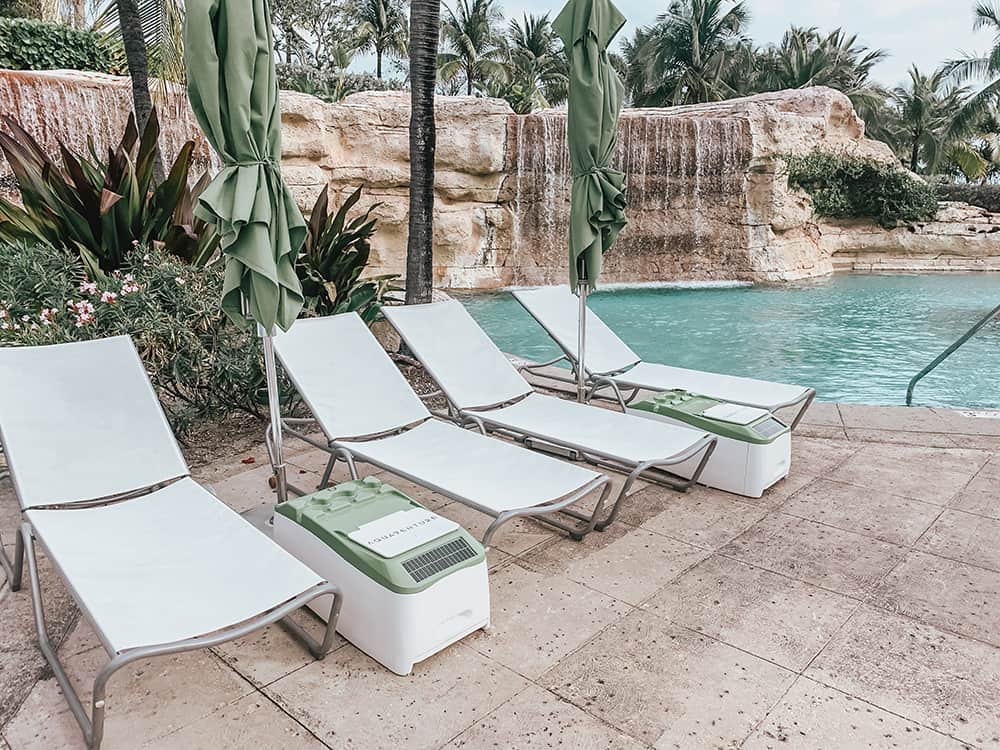 What We Enjoyed About the Atlantis
The waterslides were a lot of fun… even though there were not too many of them. But the Leap of Faith was really thrilling. And we really enjoyed the not-so-lazy river.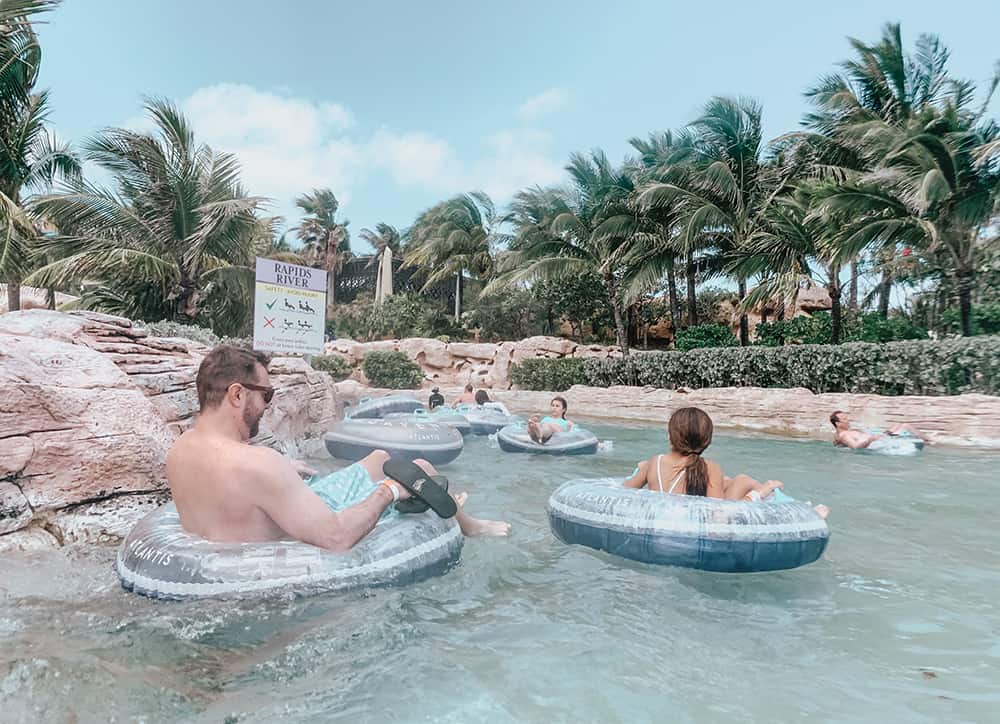 The Dig was done really well and the kids enjoyed walking through this and seeing all the fish and relics from the lost city of Atlantis. There was even a small place where you could pet starfish and sea cucumbers.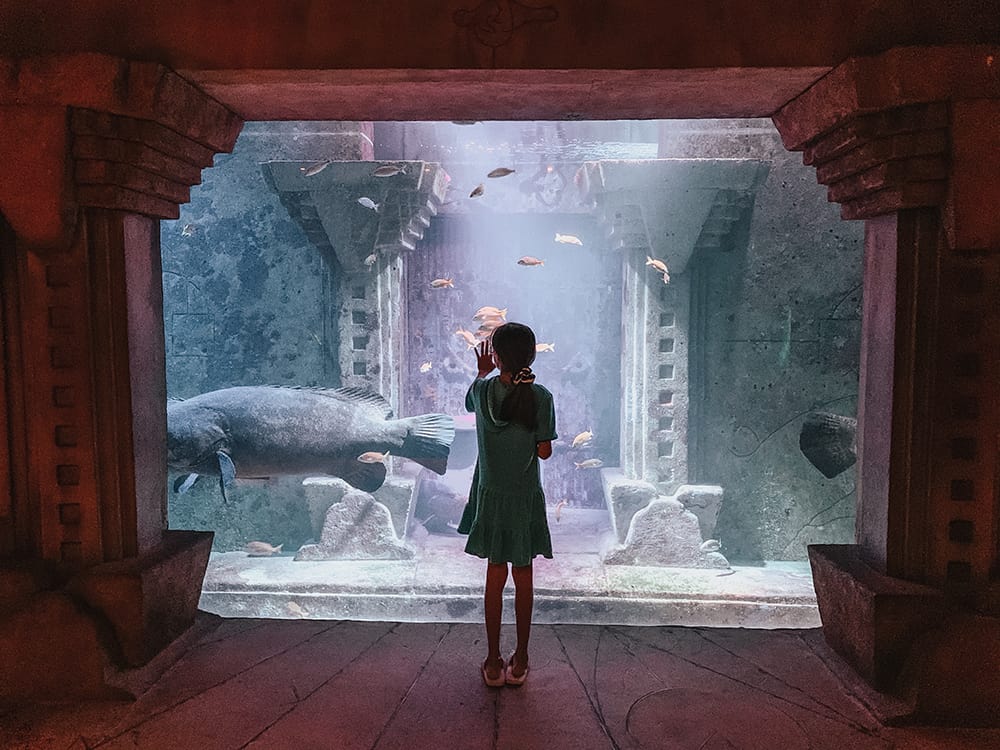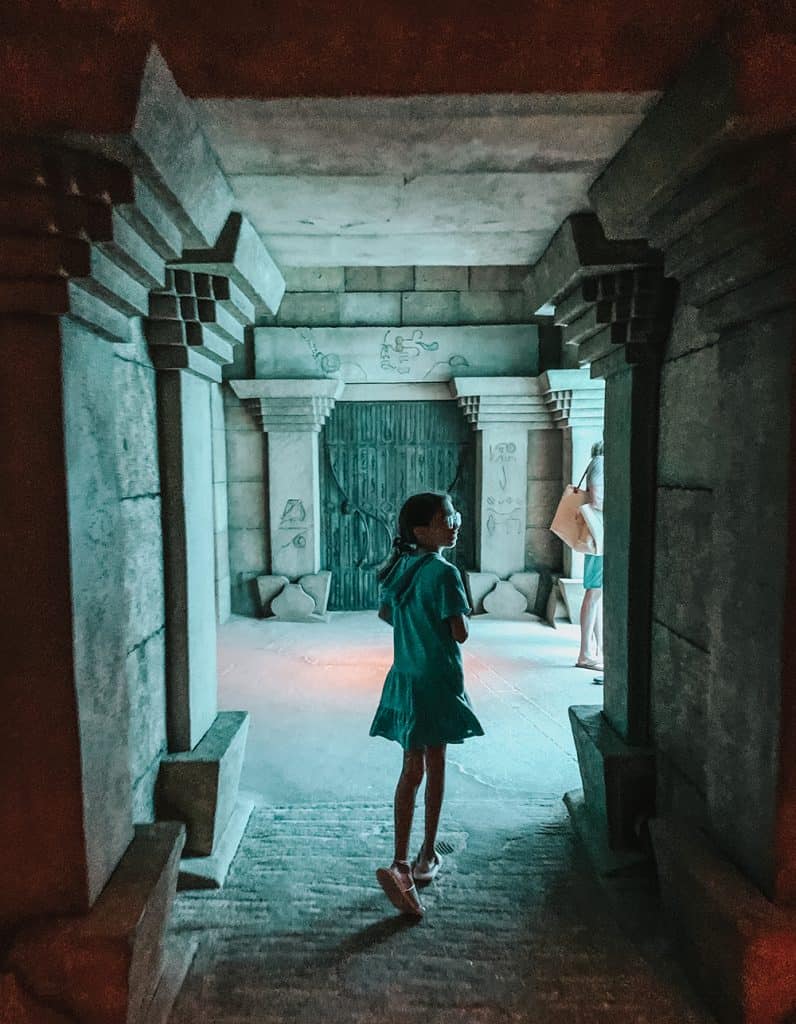 But even the Dig only took us about 20 minutes to walk through. Not worth an entire stay at Atlantis.
One positive thing I will say about my review of Atlantis is that the beaches are amazing. We went to several beaches, both public and resort, while in the Bahamas and the Cove beach was particularly the best. The sand was soft and white and really clean. The water was clear and not too deep. The kids actually preferred this beach over any pool at Atlantis.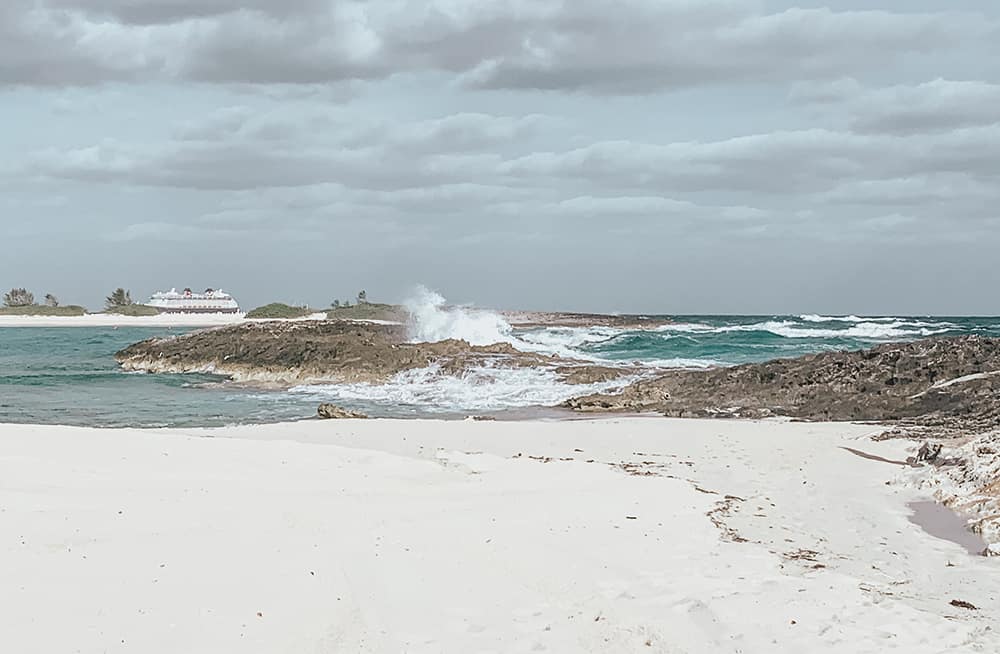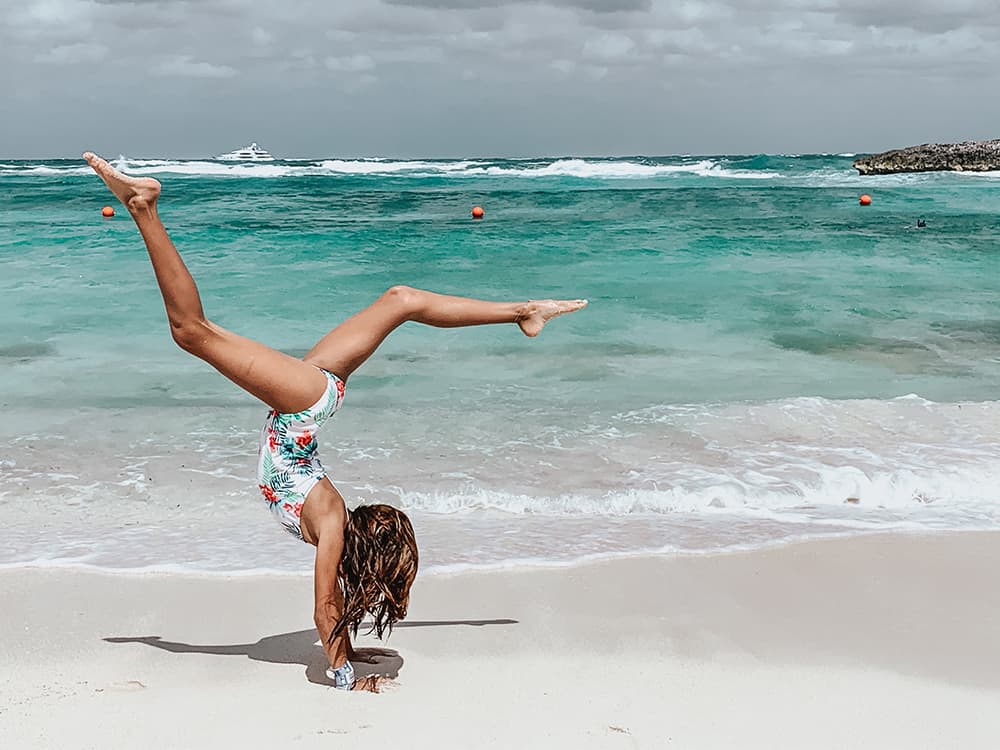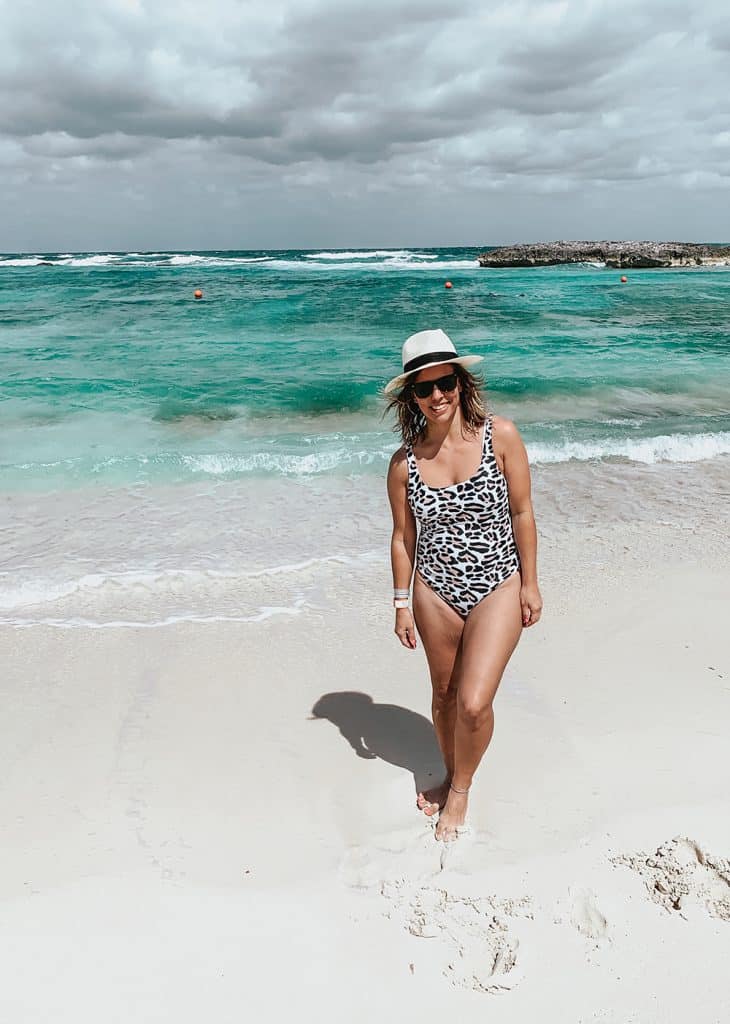 Get my bathing suit here!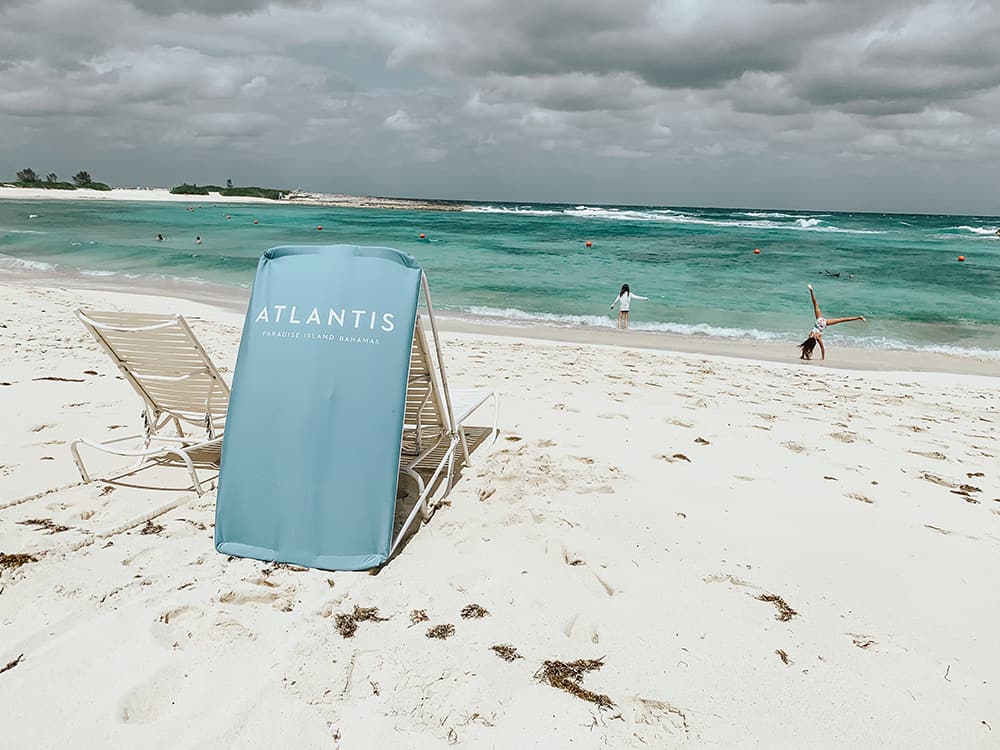 The great thing about Cove beach is that it's only open to Atlantis guests (cruise ship passengers were not allowed there) but no one checked so I'm not sure how they can say that.
We also really enjoyed Marina Village. You will find lots of shops (too expensive to buy anything from!) but also a lot of food places. The pizza place, deli, Frankie Gone Bananas, and some smaller places to eat are over here.
And each night they have a really cool parade. The kids really loved it. There was lots of dancing and singing and drums going on. But again, you can go to Marina Village without being a guest at Atlantis.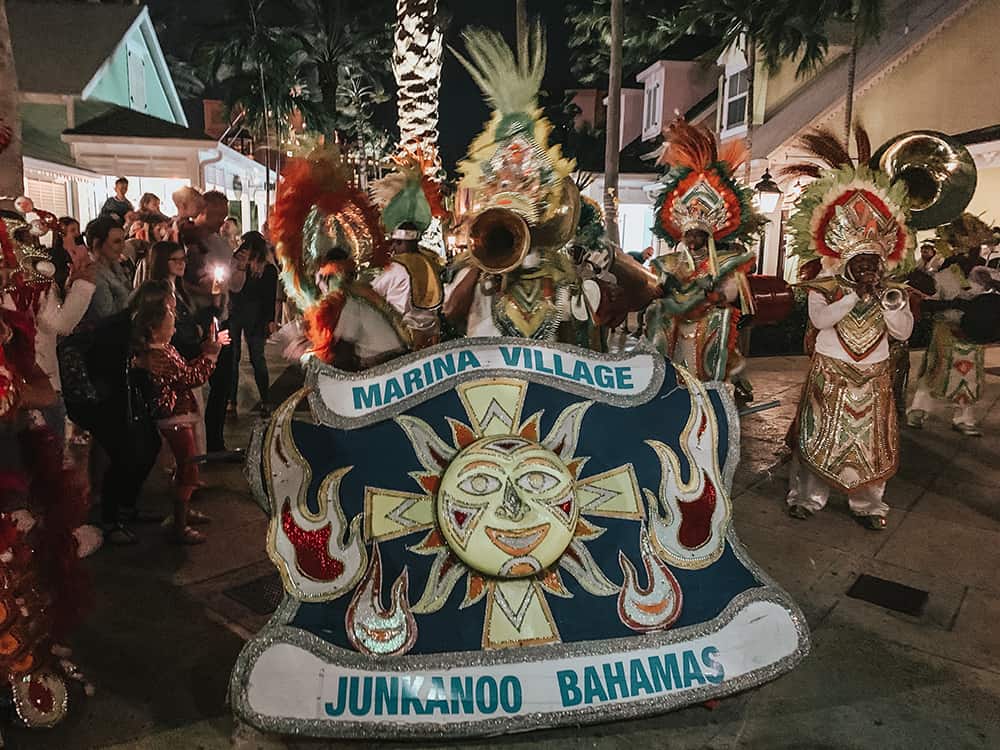 Review of Atlantis: What I Wish We Would Have Done
In my review of Atlantis, I will tell you this…
If I could redo the trip and still feel the need to stay at the Atlantis, I would have booked a room at the Coral Towers instead. Not only are they more inexpensive than the Royal towers, but the coral pool was a hundred times better than any pool around Atlantis.
Find more affordable places to stay in Nassau HERE!
Here are some photos of 2 different pools around Atlantis…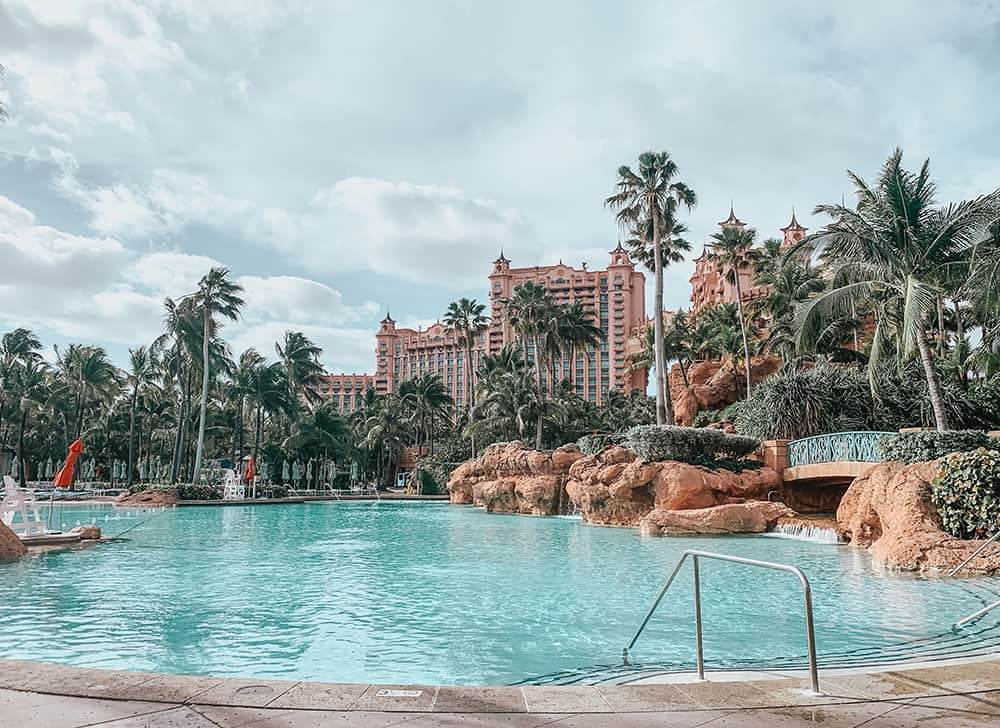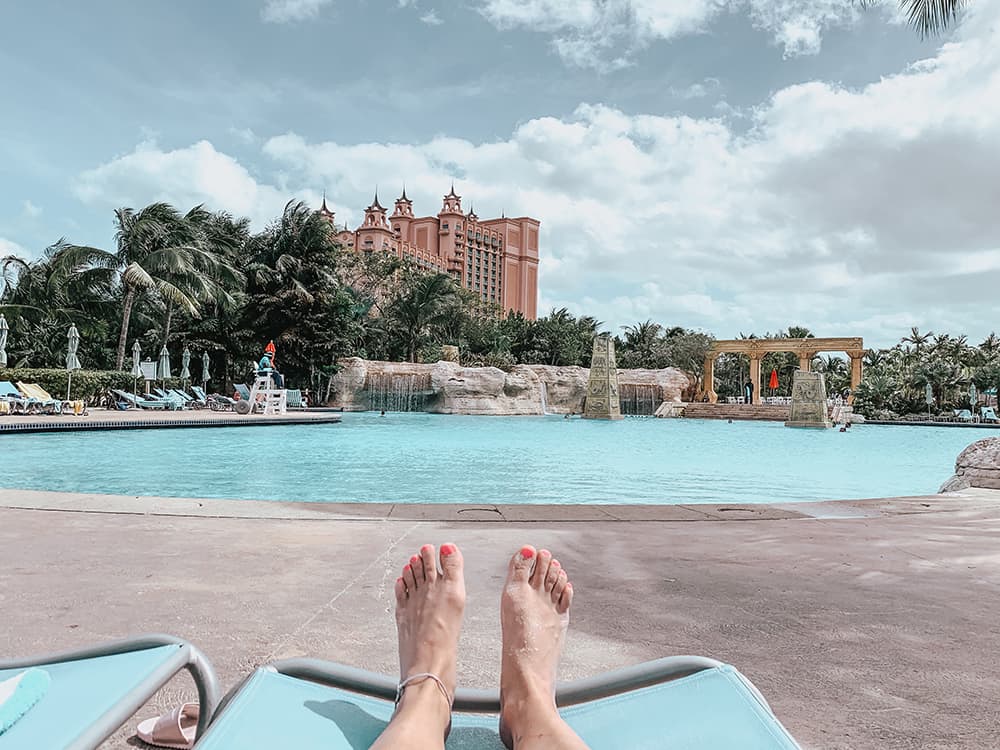 And now here are some images of the Coral pool… such a difference!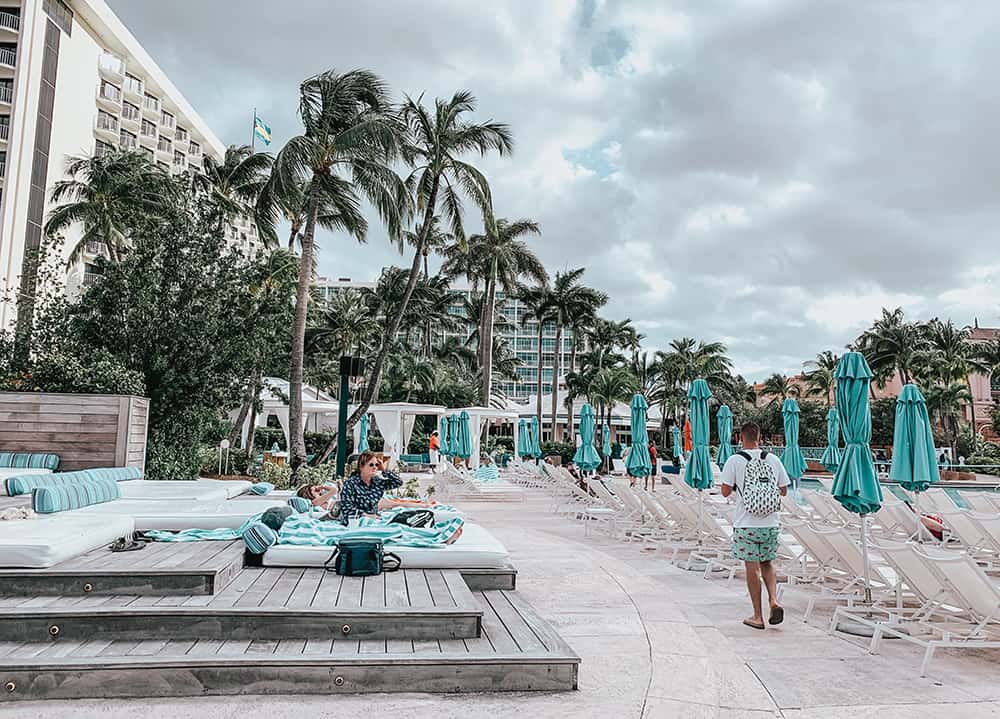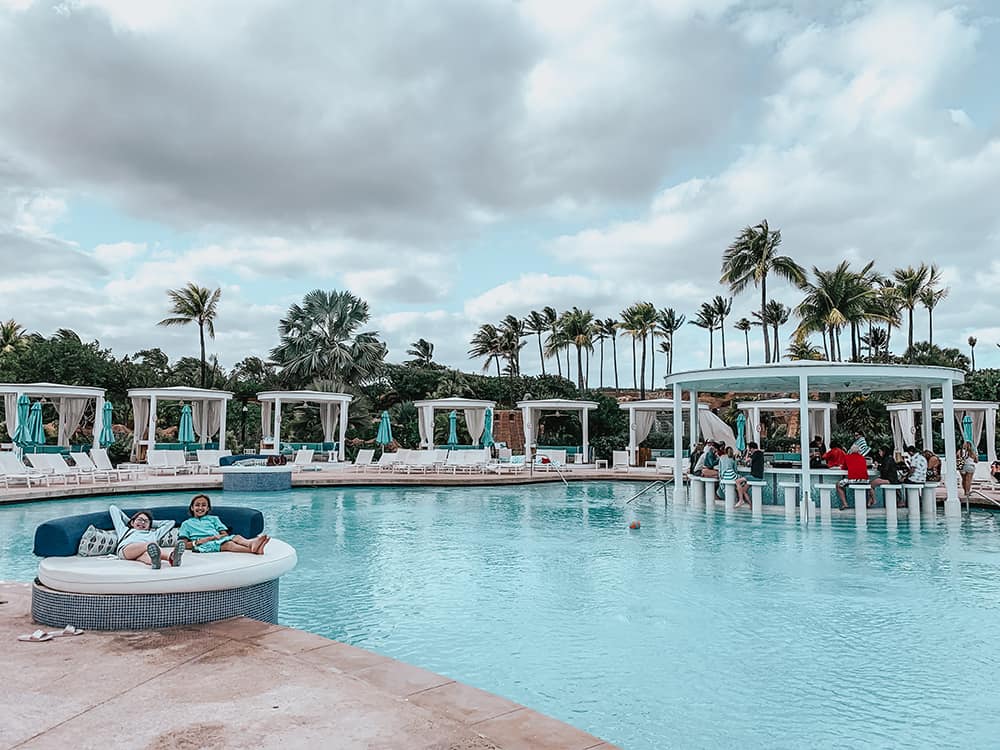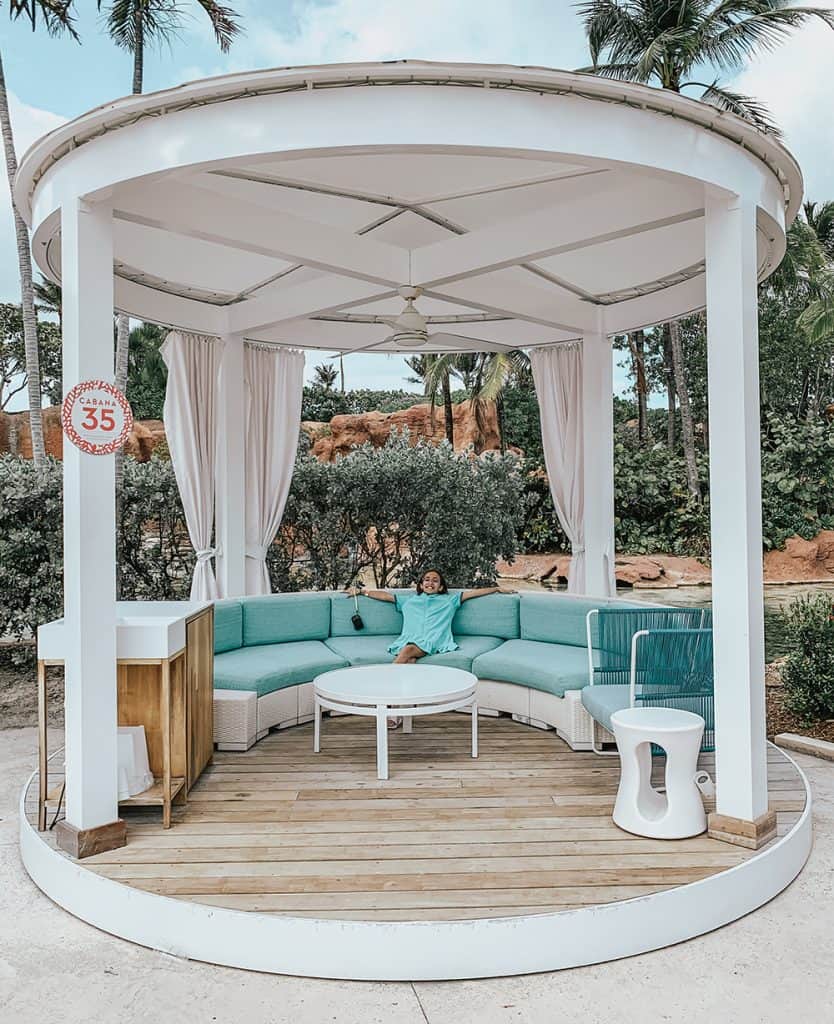 I'm not exactly sure why the nicest pool would be next to the cheapest parts of Atlantis… but a lot of things about Atlantis didn't make sense!
Right by the Coral pool was also a great area to walk around. Probably the nicest on the entire property.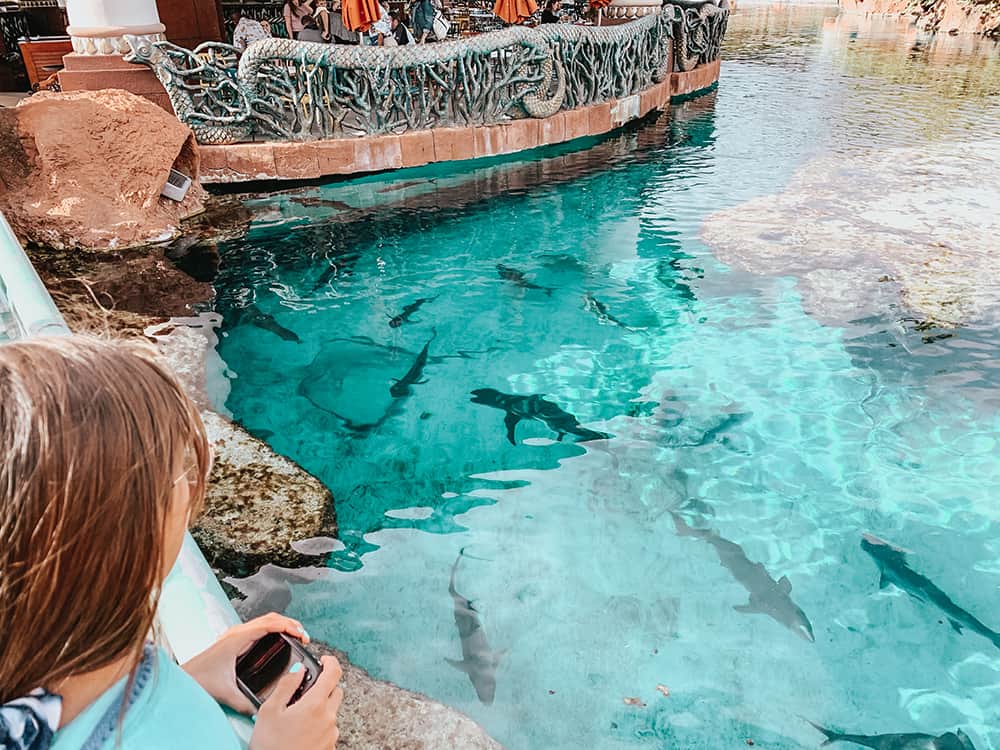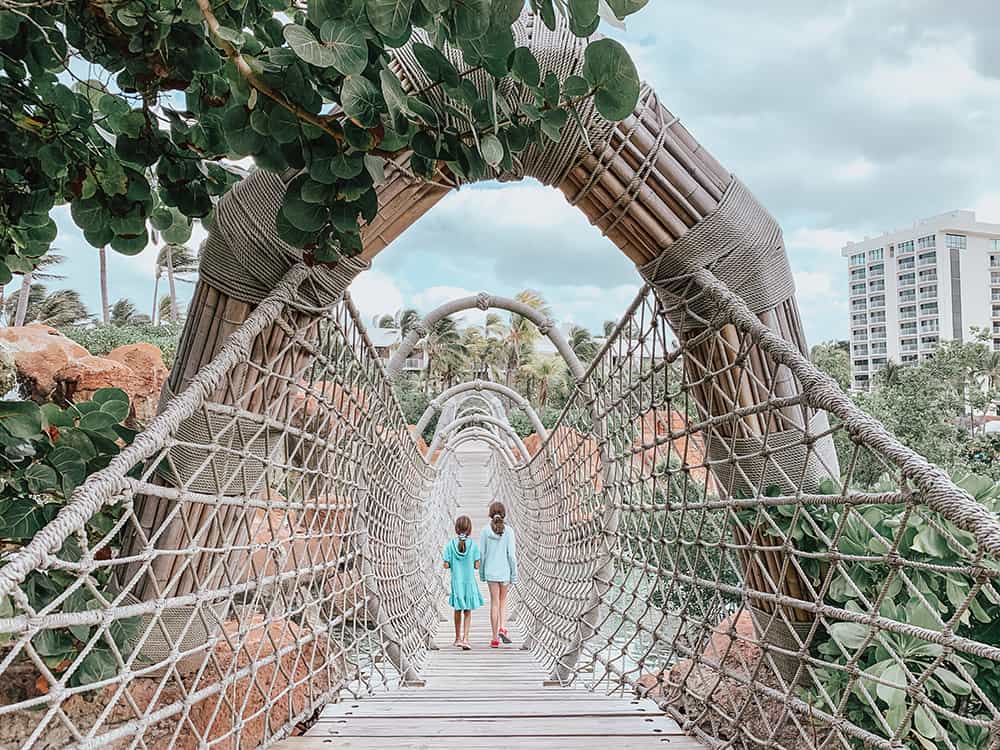 All the cheaper restaurants and movie theatres were in the Coral Towers as well. So we ended up going there every night anyway. The Royal towers only really have a casino, and we don't gamble so we had a pretty long walk just to get to the Coral towers every night.
Even the ice cream parlor was in the coral towers!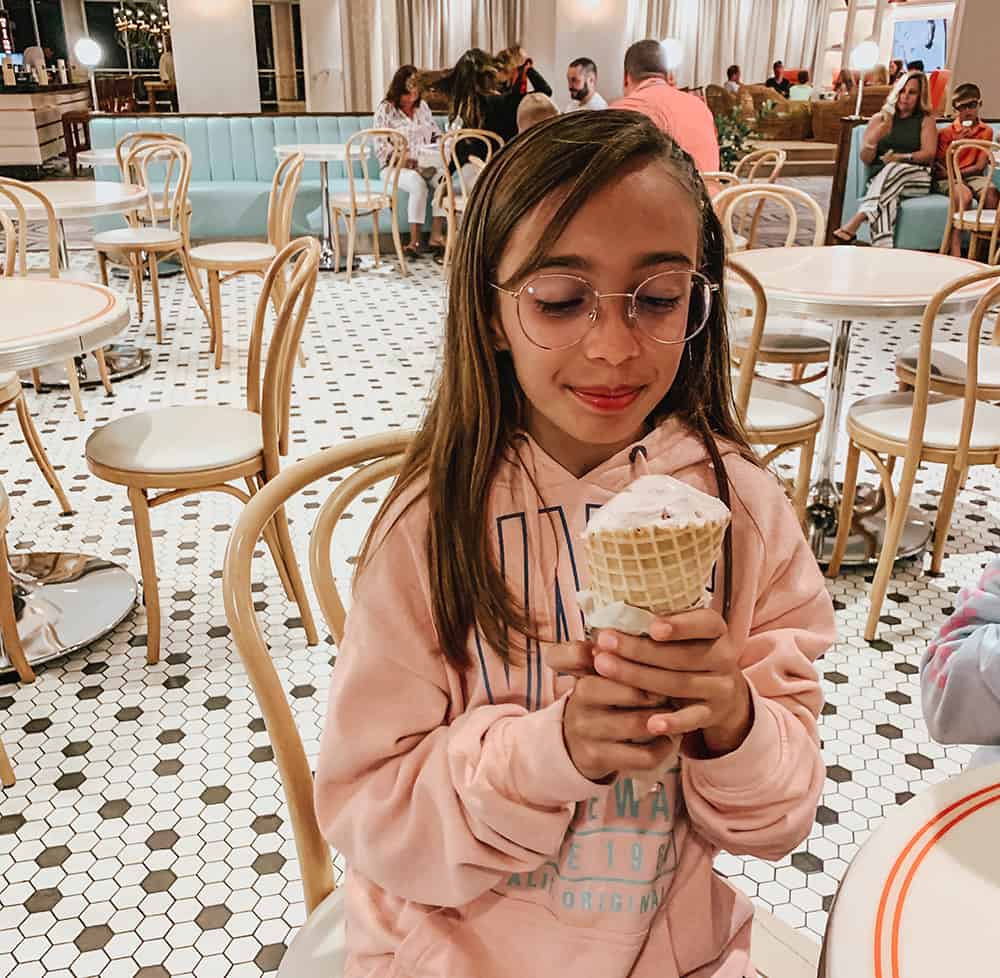 Should You Stay At The Atlantis Resort in the Bahamas?
The Atlantis is an iconic resort and had always been on my bucket list. At the end of the day, I'm glad we had a chance to check it out. But I think it would have been fine to stay for just a day or two.
After the first day, the kids had gone on every waterslide and tested each pool and they were really bored. We ended up booking an excursion to Blue Lagoon Island on our third day, just to have something else to do.
Or consider getting a day pass to check out the Atlantis waterpark, take a few iconic photos and be on your way. Trust me, you're not missing anything if you don't actually stay at the property.
And lesson learned… read the reviews online and always trust them. And hopefully, you'll listen to this review of Atlantis!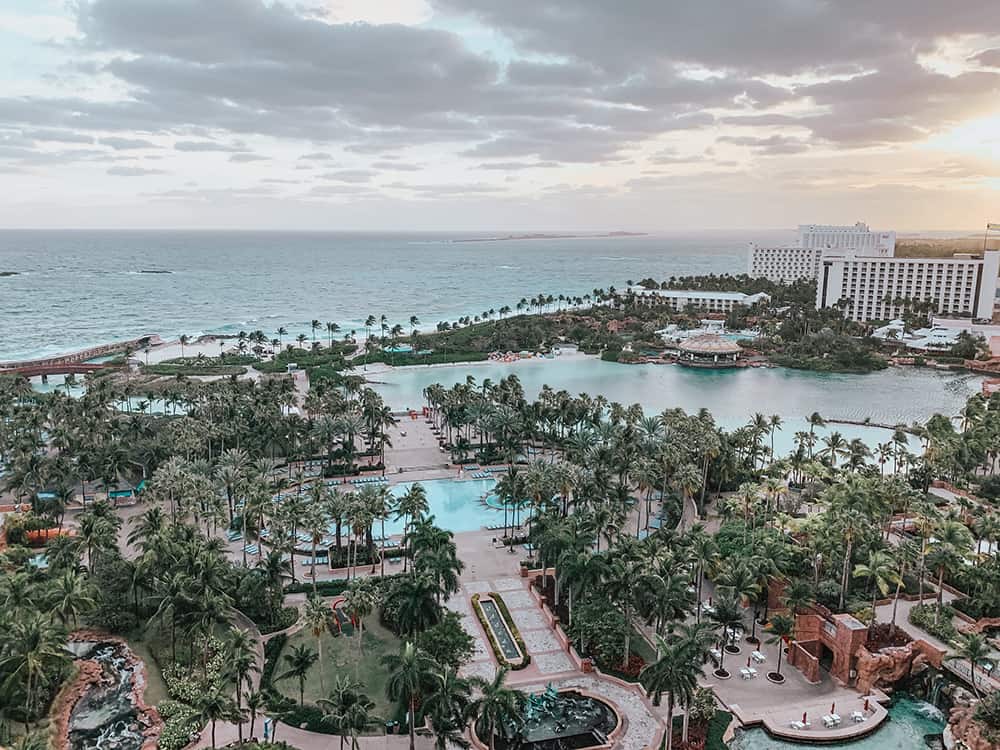 Follow me on PINTEREST for more travel tips!
If you enjoyed this review of Atlantis, then don't forget to check out the following…
You Might Also Enjoy Reading: