Visiting The Blue Lagoon Island, Bahamas
The Blue Lagoon Island in the Bahamas is a wonderful beach day excursion for families. It's the perfect cruise port excursion if you are stopping in Nassau for a day! Here is a full review of our fun day at Blue Lagoon Island.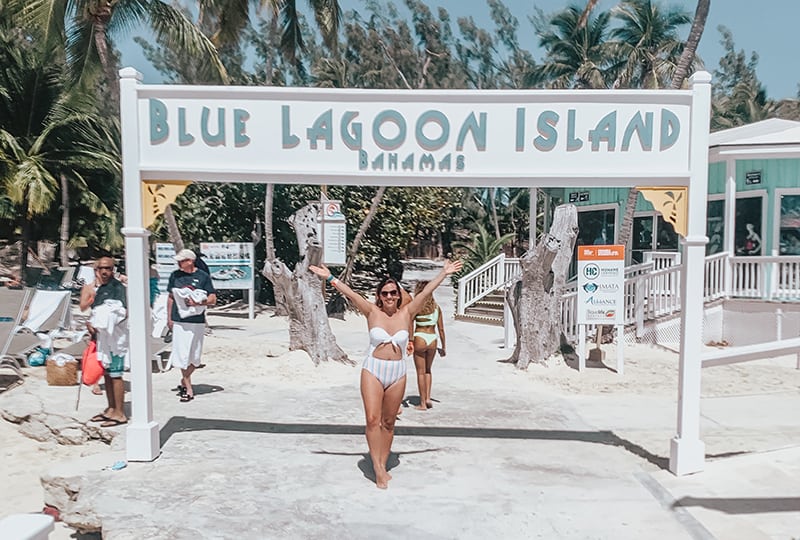 Visiting Blue Lagoon Island in the Bahamas
Blue Lagoon Island is a small, private island located just off of Nassau, Bahamas.
You can only get there by Ferry and there are no vehicles on this small island. Which makes it the perfect relaxing beach day when visiting the Bahamas.
They have animal encounters where you can swim with dolphins or sea lions. You can take a segway ride around the island or just spend some time being lazy in a hammock.
It's a great combination of things to do for your kids and relaxing time for the adults. Combined with tasty local Bahamian food and drink.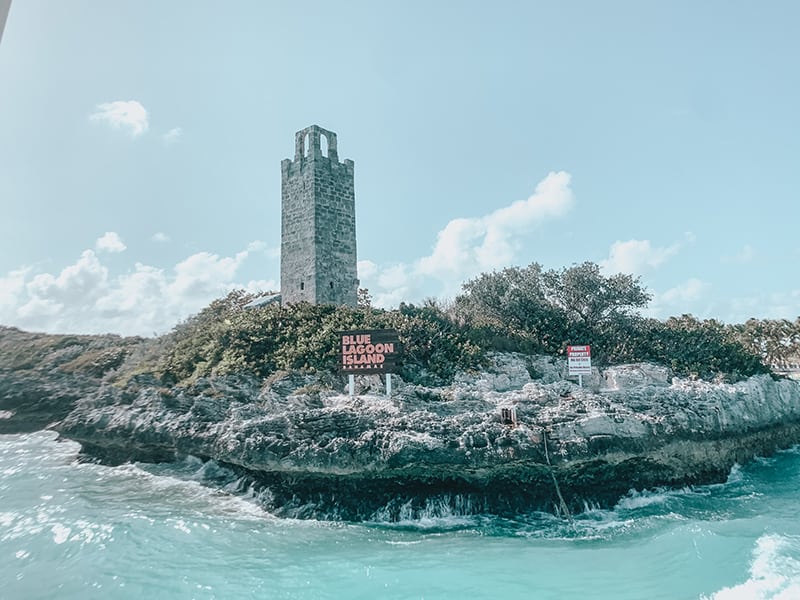 Booking with Blue Lagoon Island
While we really did enjoy our day at Blue Lagoon Island, I do want to mention a not-so-great experince we had also.
We origionally booked our day at the Atlantis. They have a concierge that can book you directly on several tours around the Bahamas. We easily booked the night before and were instructed to arrive at the Blue Lagoon Island office at 9:15 am for a 10:00 am ferry ride.
We arrived right on time and were promptly told that our 10am ferry had been canceled and there wouldn't be another one until 11 am. We didn't really have anywhere else to be so we sat and waited.
Around 11 am, we were still waiting for the ferry to show up. The kids were getting bored and when I tried asking where the ferry was, no one knew. By then, a crowd of people was waiting… and not very happy.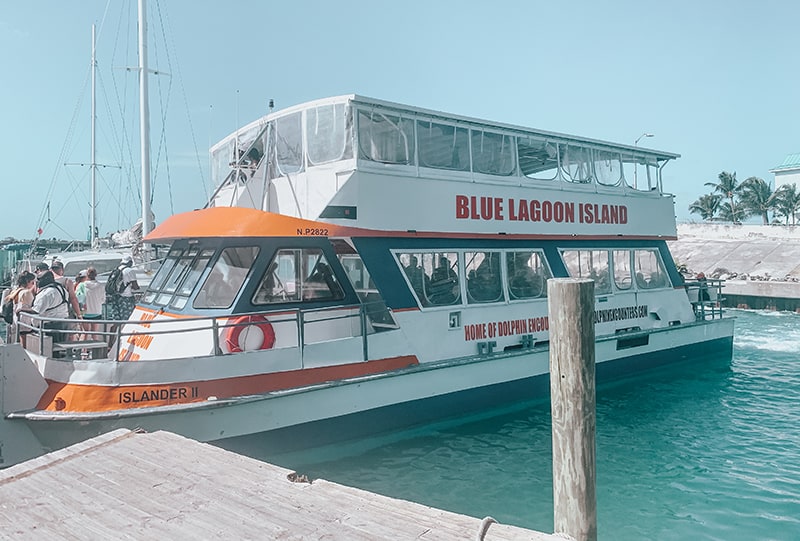 The ferry didn't arrive until about 11:30 (and we had been there since 9:15 am). So we didn't arrive to Blue Lagoon Island until almost noon. And by the time we arrived, most of the lounge chairs where filled and we had a really hard time finding a place to lay out.
I talked to Blue Lagoon and they were neither helpful nor apologetic about the delays. We were lucky enough to be staying on Nassau, but had we been a cruise ship passenger I would have been REALLY upset about wasting half of my day.
Our Day at Blue Lagoon Island, Bahamas
After we finally boarded the ferry, we zipped across the blue water for about 30 minutes before arriving at Blue Lagoon. It was already about noon so the first thing we did was try to find some lounge chairs.
Because we were so late, this was really hard to do. But we did end up finding 2 chairs really far down the beach.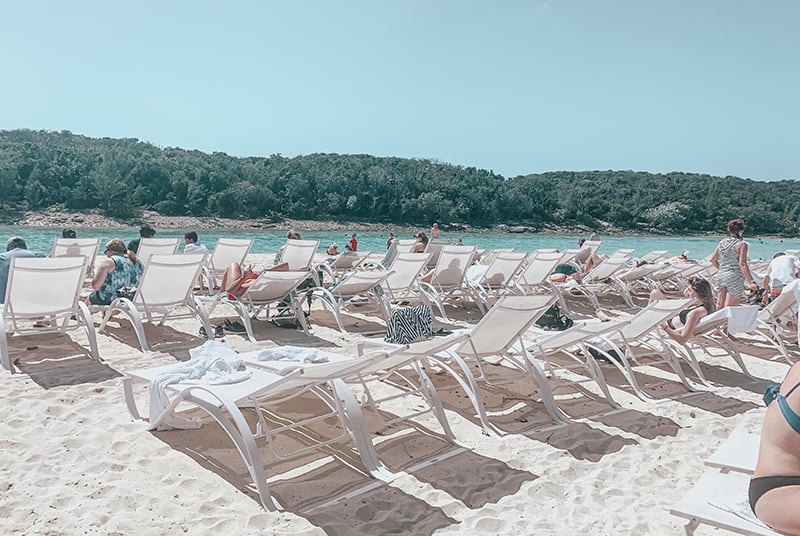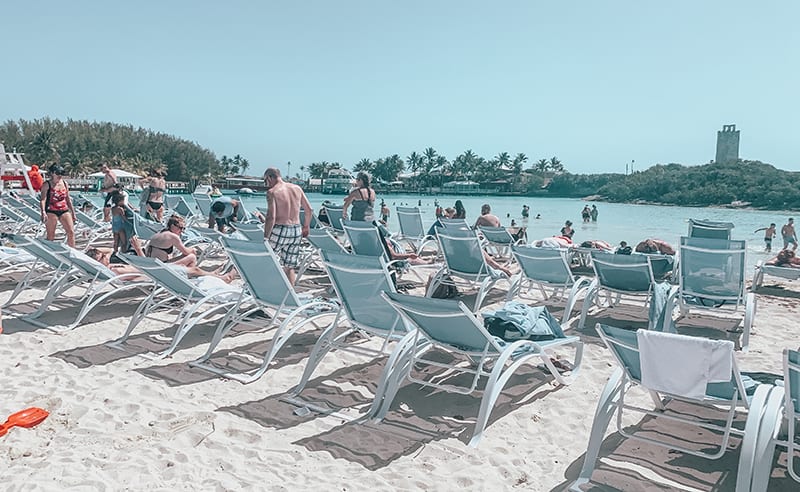 The beach area at Blue Lagoon is what really makes this place perfect for families. The majority of the lagoon is on a sandbar and very shallow. Which makes it great for kids to run and play on without it getting too deep.
There is one area that is quite deeper and that's where you'll find an inflatable water play area. Blue Lagoon offers life vests of different sizes so kids and adults can use them to swim to the inflatable area.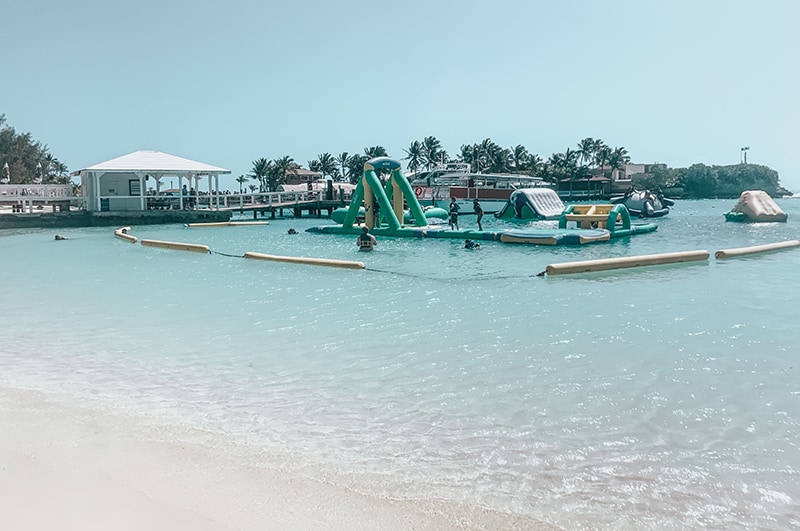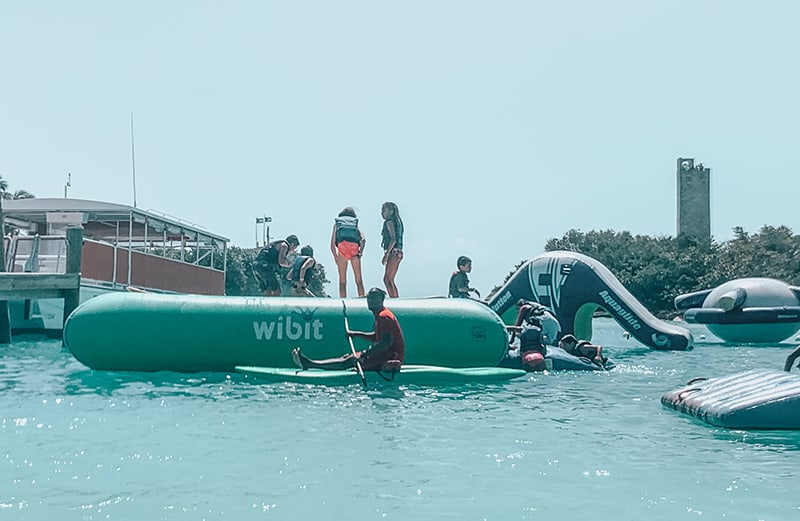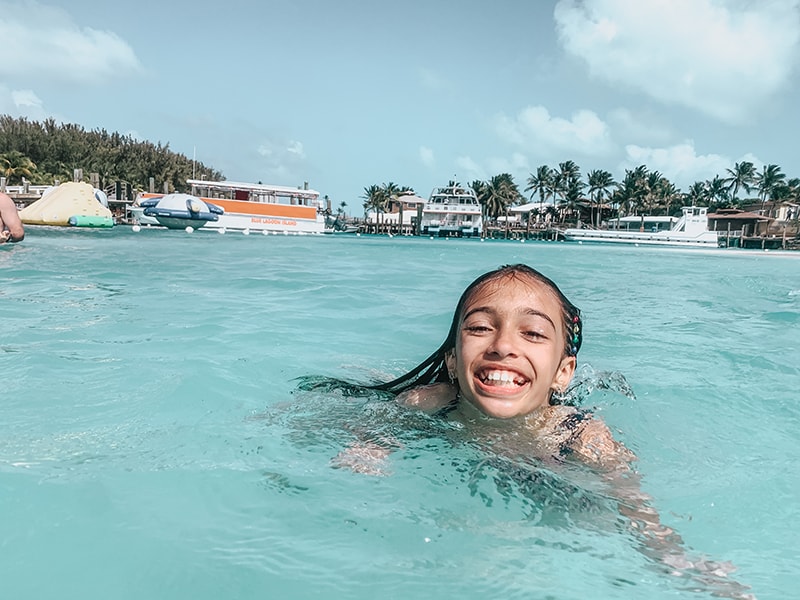 The Lagoon Area
If you have smaller kids than Blue Lagoon will be a GREAT place to visit. The lagoon is really shallow andyou can basically walk across the enitre thing to the other side. And as tide went out, it got more and more shallow as the day went on.
It left a ton of sand and beach area to run an play and crystal clear water to splash in.
But don't worry if you have older kids, there is a deeper section to swim in by the inflatables if they want to snorkel or jump in the water.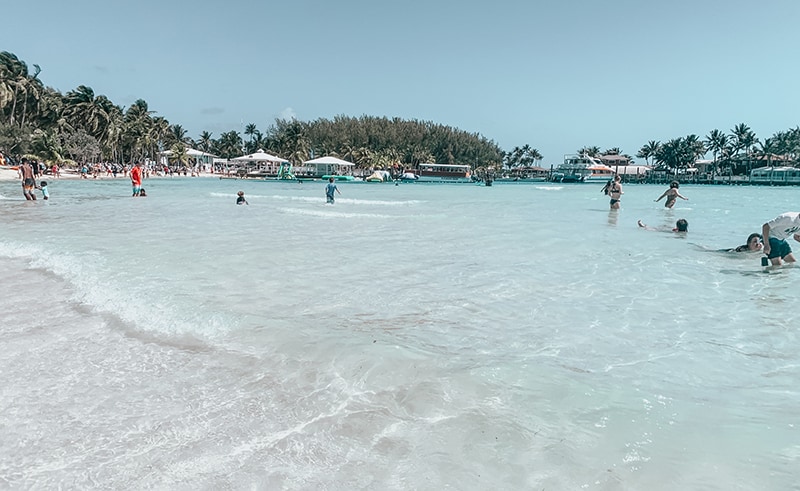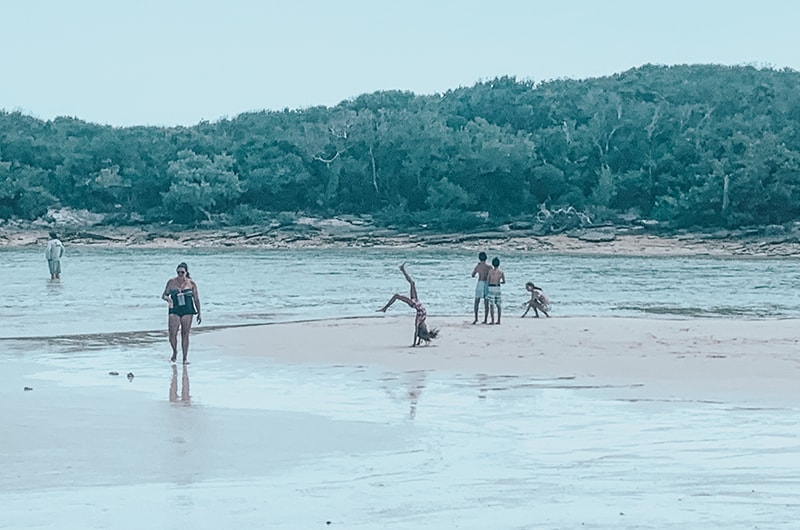 Food and Drink
Blue Lagoon does not have very many food or drink options (okay, they technically only have one!) but what they do have is really really good.
As part of your day pass, you get a ticket for one pass through their buffet line. And I'll be honest, I was REALLY suprised at how much food there was and how GOOD it was! Even the kids found enough to eat and not complain (for once!).
You also get a choice between fresh water, lemonade or fruit punch to go with your meal. And they say you only get one, but the nice guy at the drink station had no problem giving us refills.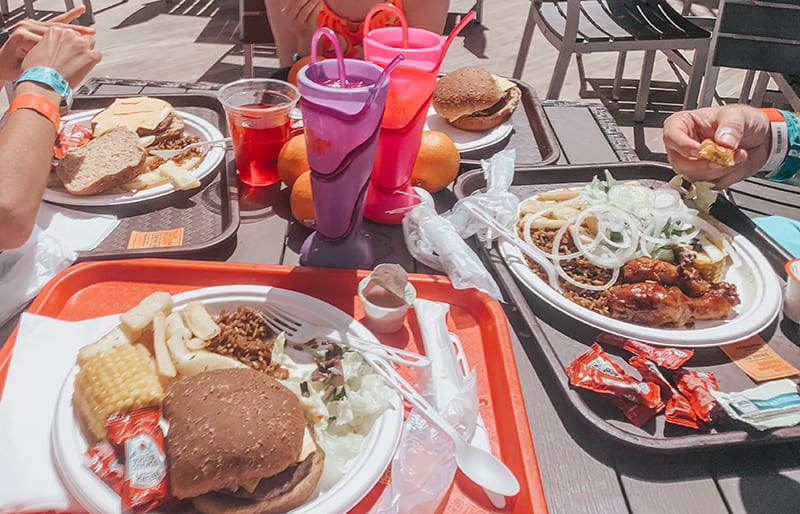 As far as alcohol… there is a small bar where you can grab some drinks like local beer or Bahama Mamas (my never favorite drink!). But beware… they are just like everything else in the Bahamas…expensive!
My Tip: bring some of your own water bottles with a little alcohol in them to save some money. No one checks! I put some Bahamas Coconut Rum in my Hydroflask and added some juice when I got to Blue Lagoon. That saved me a ton of money!
When we first arrived at Blue Lagoon it was right around noon and they line for the food buffet was insanely long. But we were smart and decided to just wait an hour and by 1 pm, we were able to walk right up and get anything we wanted.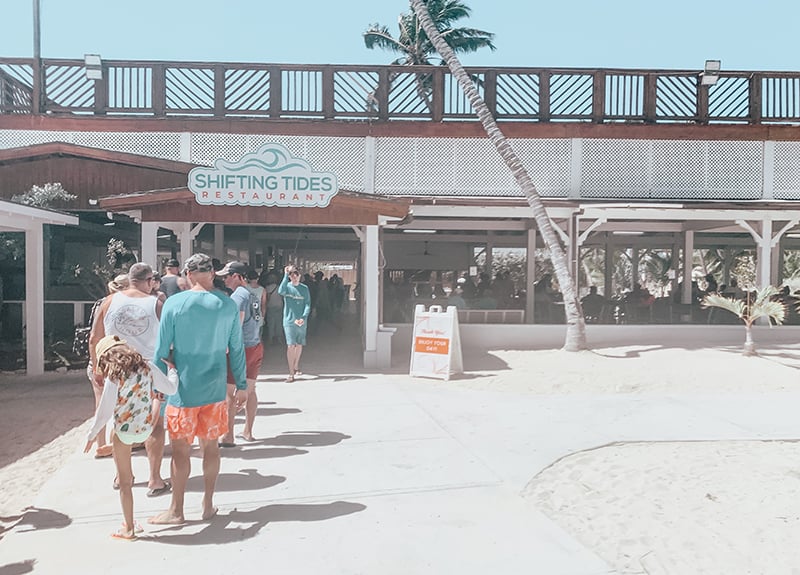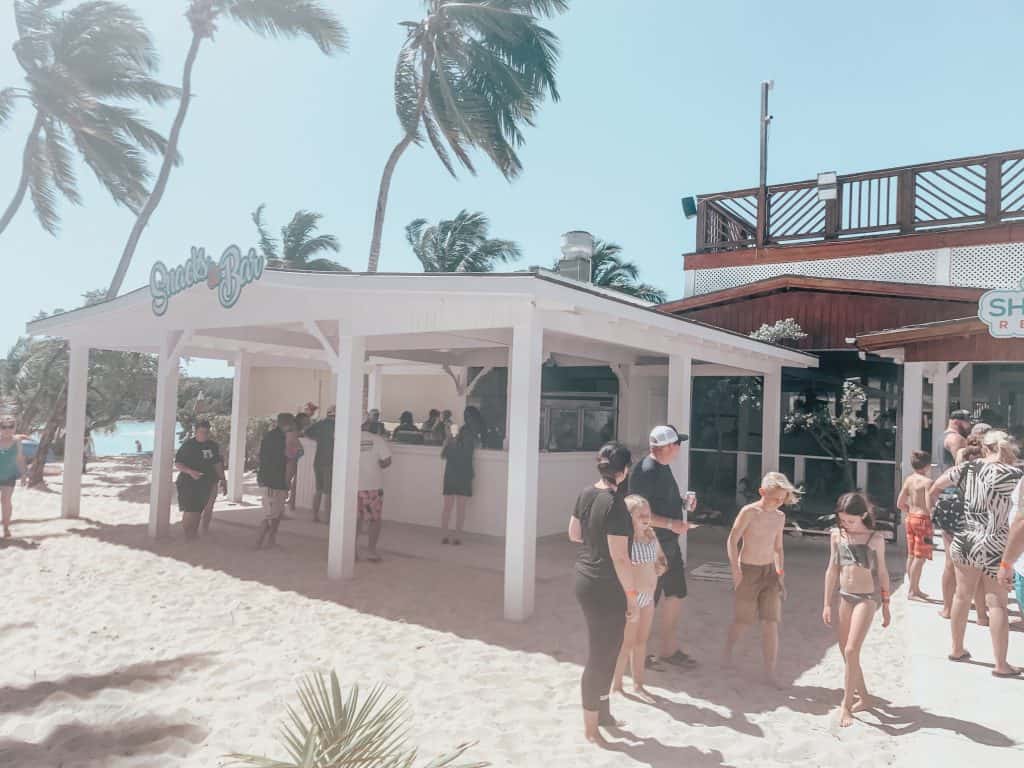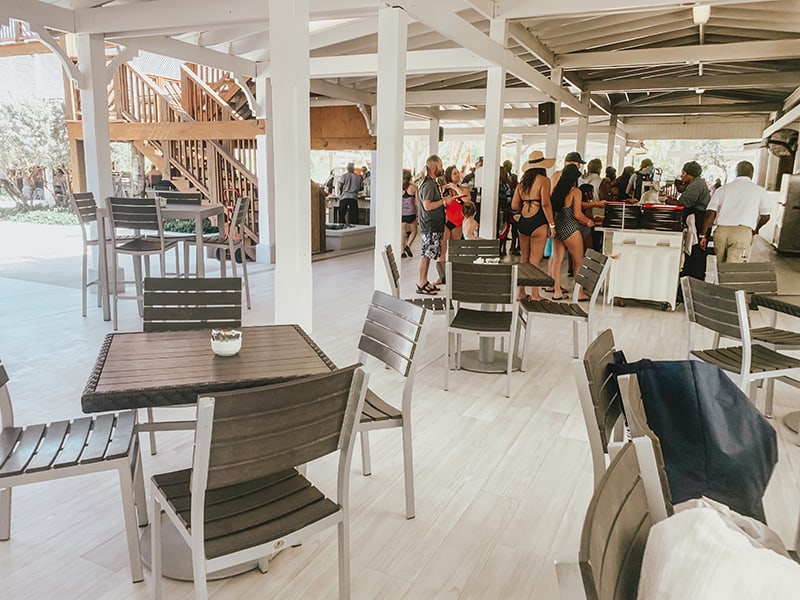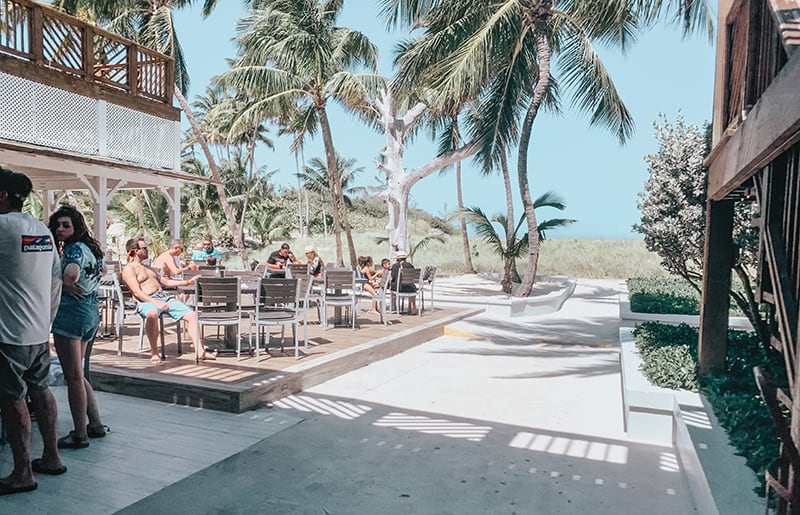 Dlophin Experince at the Blue Lagoon
We did not partake in the dolphin experince becasue my daughter has already done this on a diffenrt trip andlets be honest, it's pretty much the same experince anywhere.
It's also very costly so probably not something we are going to do every time we travel. If we are going to interact with animals, it's going to be a unique experience. Like when we held a sloth in Honduras, or swan with the pigs of Exuma.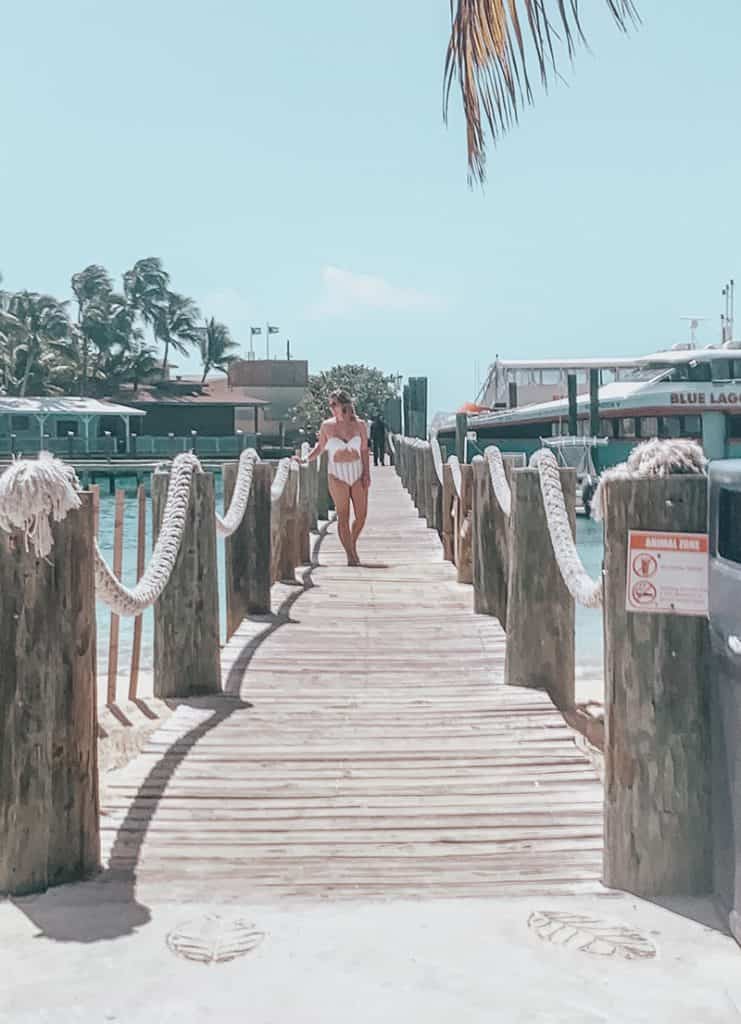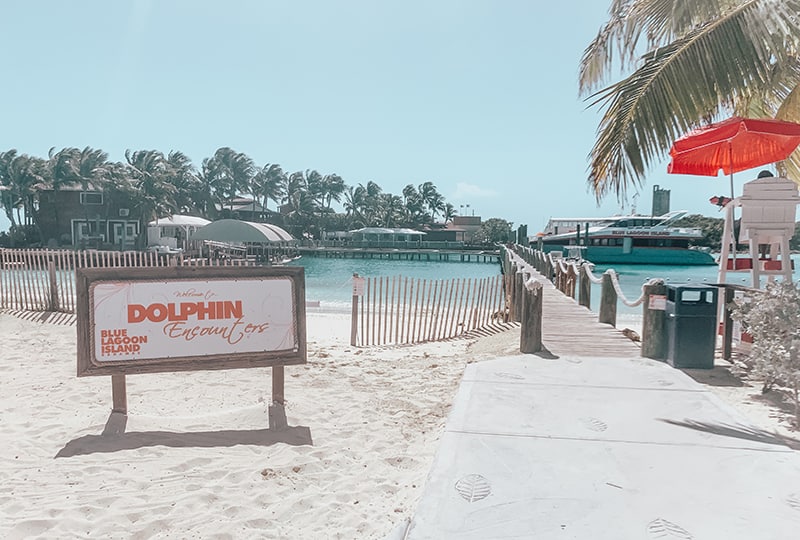 We did walk down to the area and were able to watch the other guests interact and swim with dolphins (which was really nice because Atlantis charges you $35 just to view it) and it looked like a lot of fun.
Some other guest we talked to said they loved it and had a great time. So if swimming with doplhins in on your list of things to do, then visiting Blue Lagoon would be a good option.
Overall Review of the Blue Lagoon Bahamas
Spending the day at the Blue Lagoon was a really nice and relaxing time for our whole family. We enjoyed the beach area and the food was amazing. The kids loved the inflatables and shallow water of the lagoon to play in.
Overall, I'm glad we went and checked it out.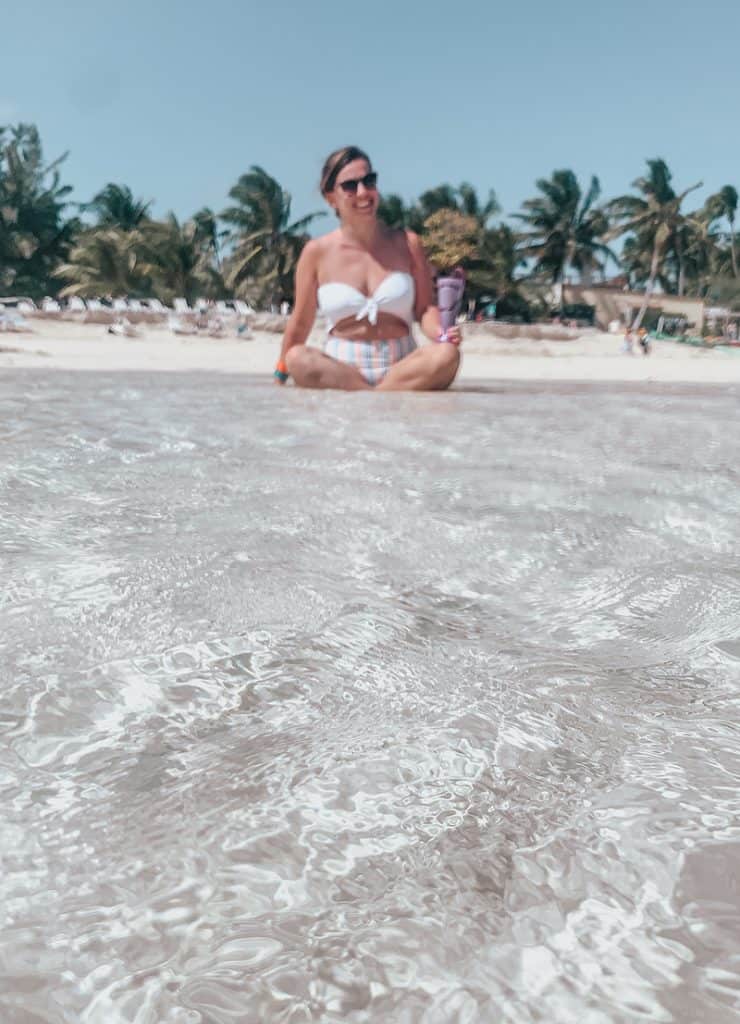 If you are staying in the Bahamas for several days, then I highly recommend you check out the Blue Lagoon for a day. It wasn't the most exciting thing we did during our stay, but we did like it.
But if you are visiting the Bahamas on a cruise and only have one day to experience Nassau, I dont think the Blue Lagoon should be at the top of your list. It was, afte rall, a beach. And let's be honest, there are tons of beaches around Nassau!
So if you are set on swimming with dolphins, then definitely book the Blue Lagoon day excursion. But if you are just looking for a good old beach day or some other more unique experience around Nassau, I would look elsewhere.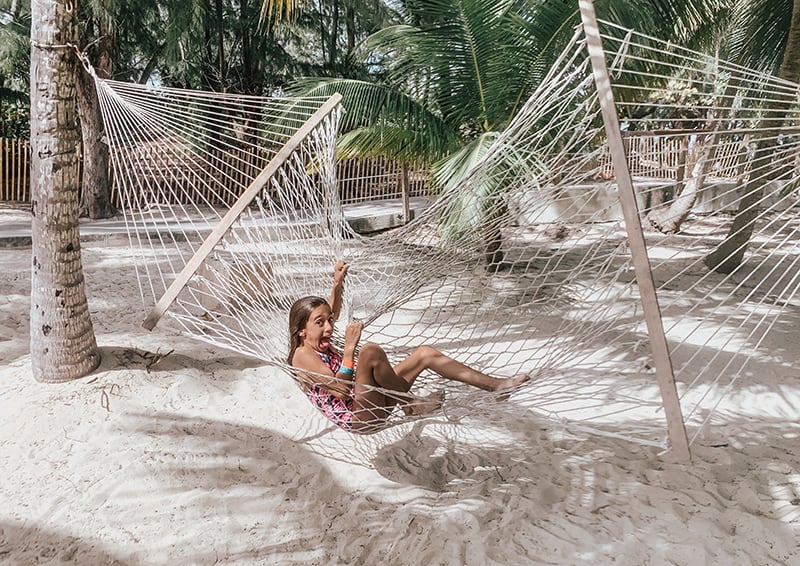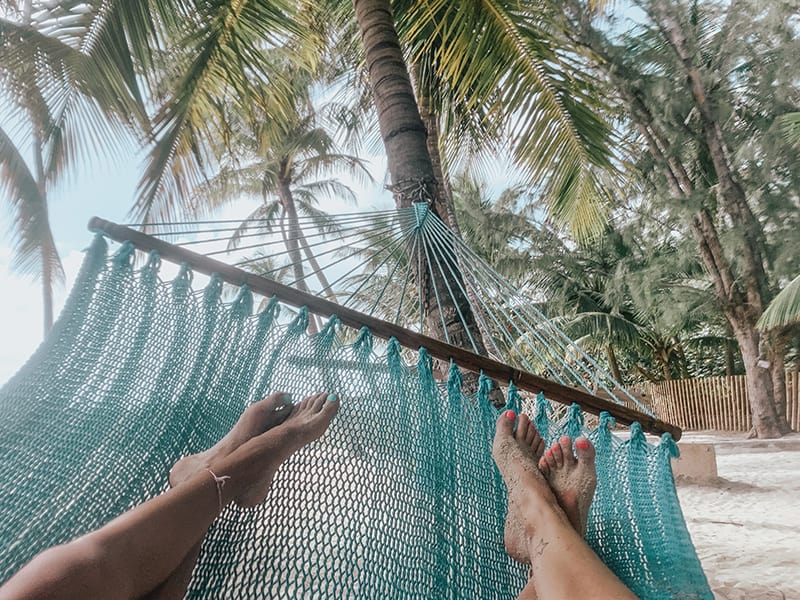 One thing I did really love about Blue Lagoon Bahamas is how beauctil the little island was. We took a small stroll and walked around to some other areas where there were noother poeple and the views were amaing.
It also made for some really good INSTAGRAM photo spots!
Here are some gorgeous photos of Blue Lagoon Island that'll probably make you want to check it out!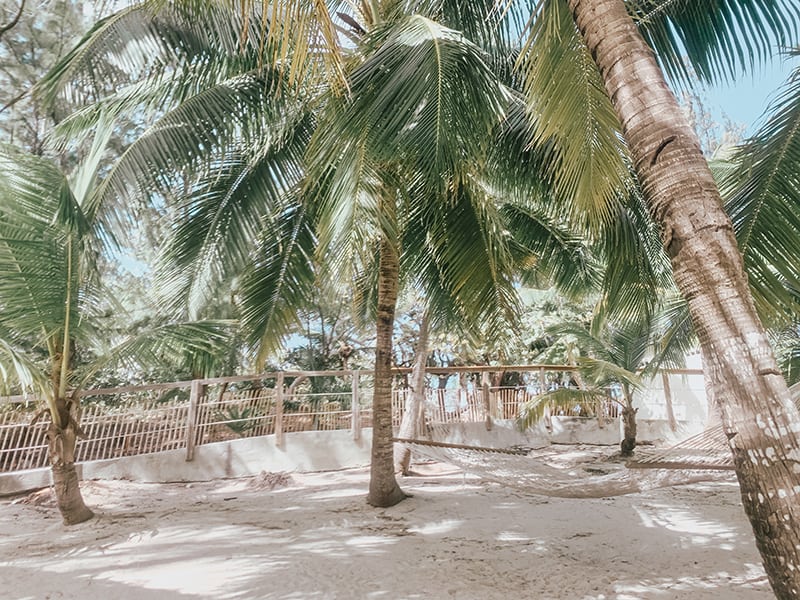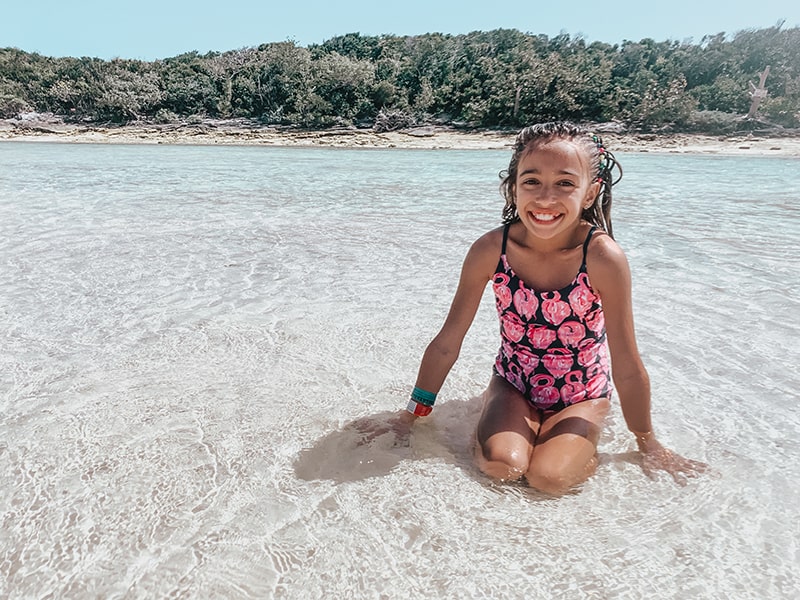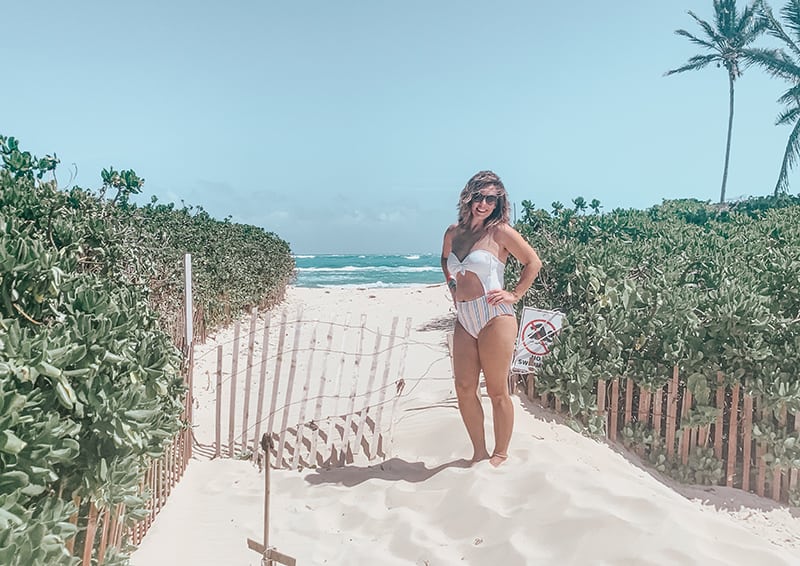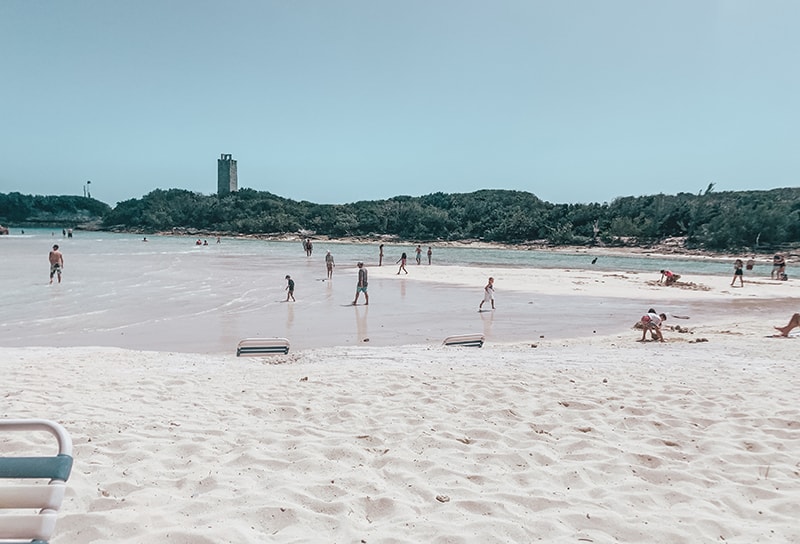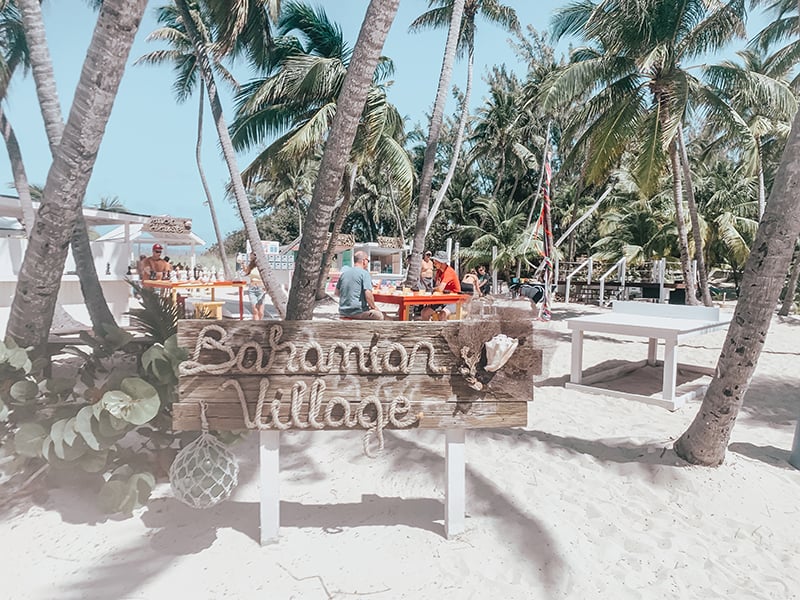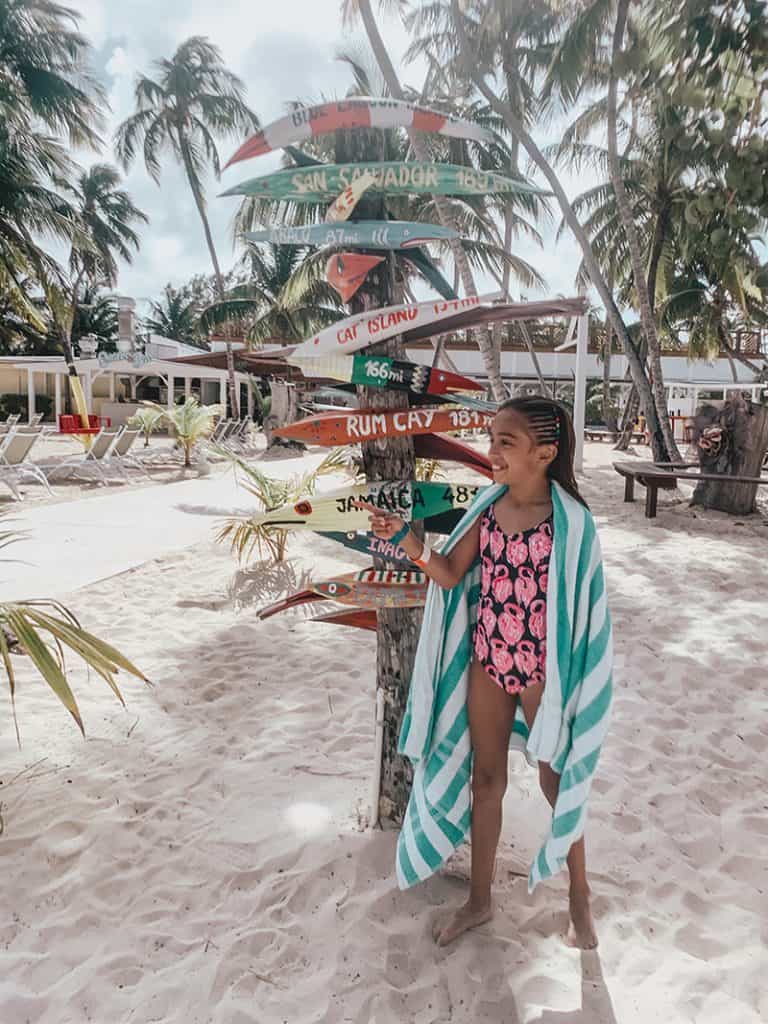 You Might Also Enjoy


Pin For Later!