The Ultimate​ Guide to Cruise Ship Dining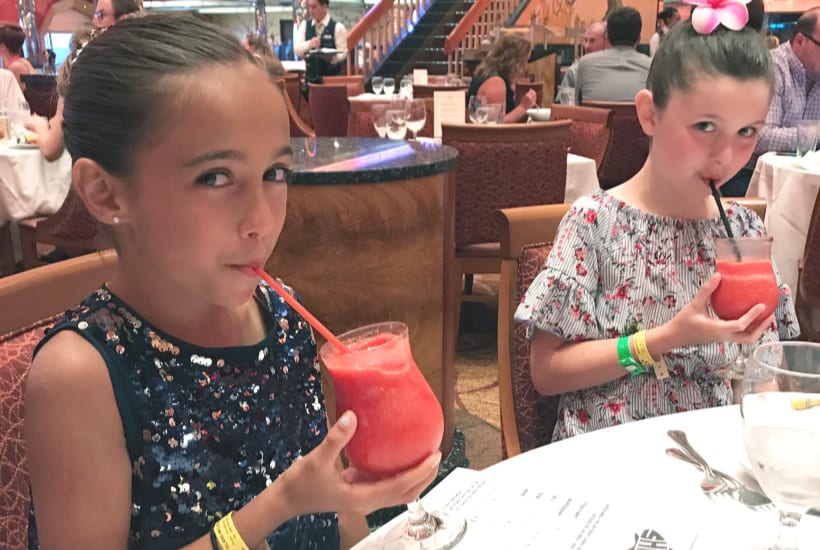 All the Cruise Dining Tips You Could Possibly Need!
Getting ready for your cruise? This Cruise Ship Dining Guide will get you drooling over all the options and help you figure out what dining options to eat at and what to expect.
One of the best parts of a cruise is the FOOD! I mean, that's a main reason to go cruising, right? All-inclusive!
That is actually one of the reasons cruises make such a good affordable vacation for families. When you don't have to budget in any meals, you can save a LOT of money.
So if you've never been on a cruise before, this cruise ship dining guide is perfect. It's everything you need to know about dining on a cruise ship.
But first, don't forget about the other two parts to this series, tips and tricks you need to know before booking your cruise. And What to expect on the ship…
Part 1: First Time Cruise Tips: Everything You Need to Know For Your First Cruise!
Part 2: What To Expect on a Caribbean Cruise: Boarding, Ship information, Tips for Port Days.
And don't forget to connect on PINTEREST for more great cruising and travel tips!
Dining on a Cruise Ship
There are always so many questions about the food on a cruise ship. What's it like? What's included? Is there a dress code? Every cruise ship can vary slightly, but for the most part, all of them have the same basic rules.
These are usually the dining options you'll find on almost on cruise ship:
Buffet
Dining Room
Room Service
Specialty Dining
Fast Food Dining
So let's go over what you need to know for each one!
The Cruise Ship Buffet
The Buffet happens to be our family's favorite part because there is such a huge variety (great for picky kids) and is open most of the day. Always check your daily newsletter to see when the buffet is open, as they do close it periodically to clean and put out a new menu.
The buffet consists of everything from your basics that they carry every single day, to new menus daily. Even though the buffet looks huge, it's actually the same thing on both sides of the ship. Which helps with crowd control.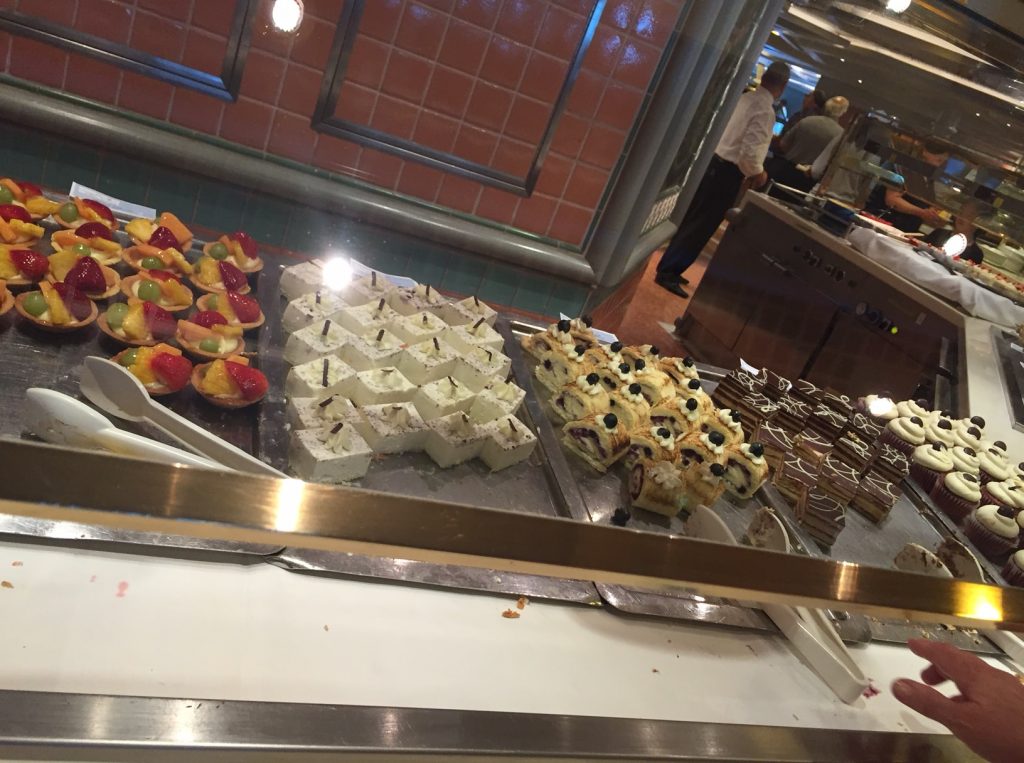 You can literally eat here every day of your cruise and always get something new. And the dessert table is always full and delicious! So even if you need a light afternoon snack, head t the buffet!
If you are traveling with kids, then the buffet is going to be your new best friend. You don't need to hear "I'm hungry!" a hundred times a day. You can just send them to the buffet to grab food whenever they want.
There is no dress code at the buffet. I've gone in my bathing suit and flip flops. There are no formal rules. You can pile up your plate and take it to your lounge chair by the pool or even your room. Take that food anywhere you want!
The food itself is actually really good. Not a 5-star menu good, but better then you would think for a buffet.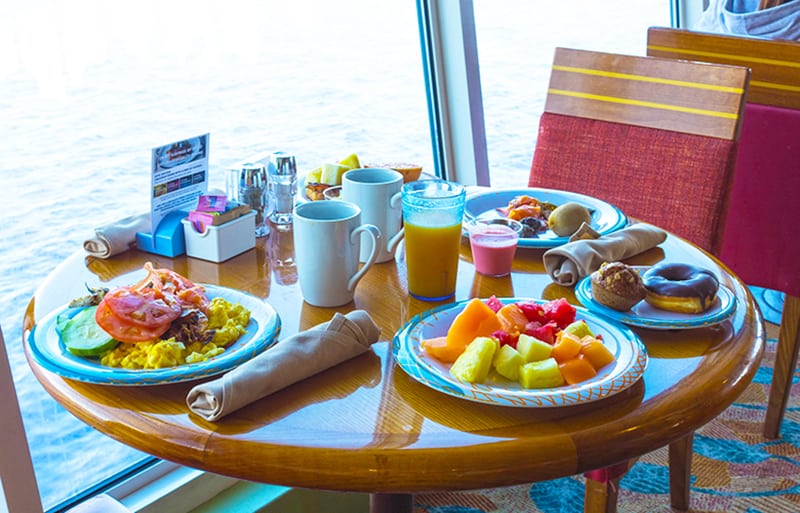 Fast Food on the ship
Don't get this confused with regular American fast food. It's much better than that. They just call it this because it's food that is ready to go so you can grab it and eat. It includes things like a pizza place (usually open 24 hours on most ships and the BEST pizza).
Most of the time, they just keep making pizza and put it out as single servings. You just walk by and grab a slice anytime you want. They will make special orders but that will require a few minute wait.
Carnival cruise line has great food places like Guy Fierie's Burger Joint, or the BlueIguana Mexican Cantina, a Mexican Food place. Again, you just walk up, tell them what you want, and they hand it right to you.
Beware though! Some of these places do cost extra. We had a great seafood stand on the Carnival Glory that had amazing Lobster Rolls but were not included in the all-inclusive deal. So we did have to pay additional for those.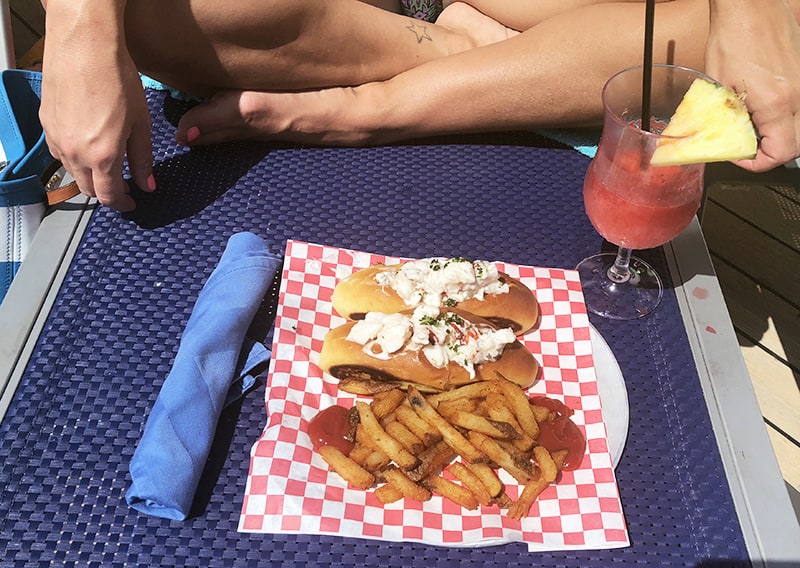 Room Service
One of my favorite things about cruise ships is room service! It's all included and you can order stuff pretty much day and night. We would leave our breakfast order on the door so in the morning, we had breakfast and coffee when we woke up.
The kids loved it too. They ordered grilled cheese sandwiches and chocolate cake almost every single day. Almost everything on the room service menu is included, so take advantage!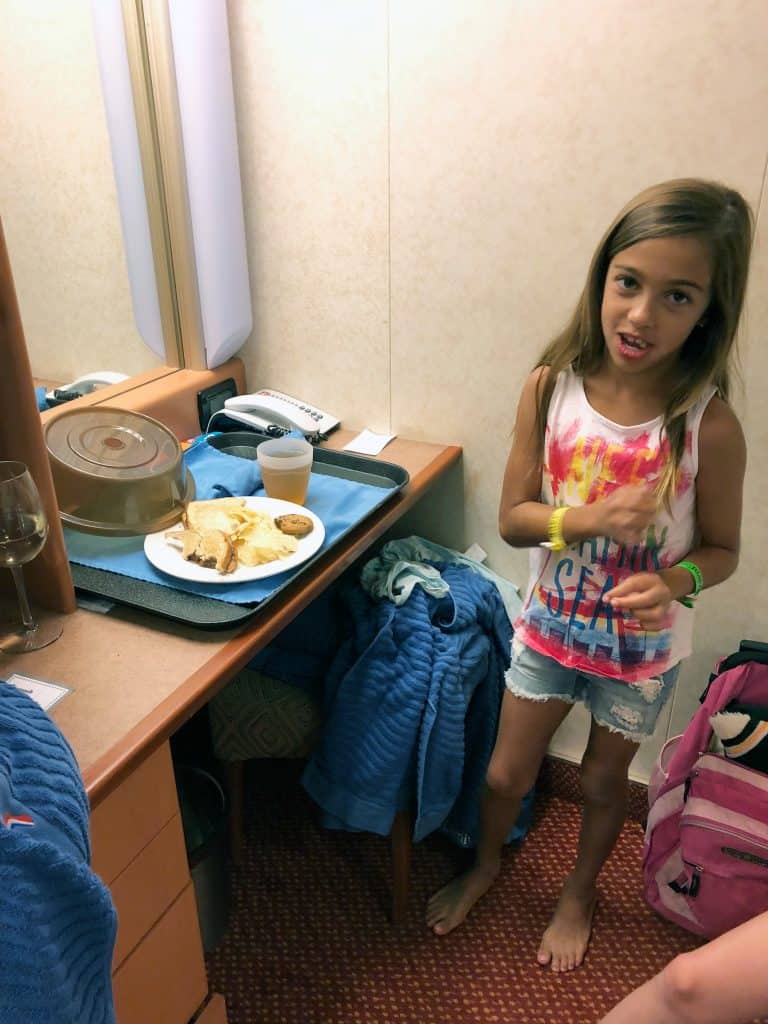 You'll especially love room service if you have a balcony room. There's nothing better than sitting on your balcony eating breakfast watching the ship roll into port.
Cruise Ship Dining Rooms
There are usually two dining rooms but most of the time they serve the same food, so don't feel like you need to test them both out.
You have two options for dining that you choose when you book your cabin (but can be changed at any time!)
Anytime Dining means you can literally go to dinner any time you want to. This worked well with our family as some nights took us longer to get ready and it was nice not to have to be at dinner by a certain time. The only downside is that you get a different table with different servers every night.
Fixed Seating is when you pick an eating time. You usually have two options. One earlier around 6 pm and one later around 8 pm (give or take). You choose one option and dine at the same table, at the same time, every night. This is great if you want to get to know your server (and get special treatments) or if you just like having your table ready at a certain time every night without having to wait.
Dining rooms are my favorite places to have dinner. The food is amazing. And you can order as much as you want. Can't decide between 2 appetizers? Order them both! We had appetizers, salads, soups, main courses, and desserts at every single meal.
And it's always good food too. Lots of seafood, steaks, beef, pasta, shrimp, etc. You definitely won't be disappointed with the menus.
The dining rooms do have a dress code. Most nights its dress casual. No jeans, shorts, sleeveless shirts, flipflops, etc.
Cruise Ship Formal Nights
If you're going on a 7-day cruise, you will most likely have 2 formal nights and these tend to fall on your days at sea.
You are NOT required to participate in formal night. However, the dining rooms are reserved for formal night guests only. So if you are too tired to dress up or just don't feel like it, you can still eat dinner at the buffet or get room service.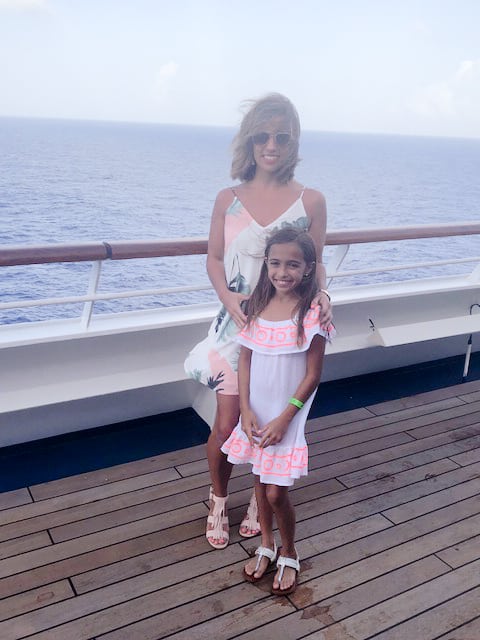 Formal night can range from elegant floor-length gowns to dressy cocktail dresses. Since you're sailing in the Caribbean, you can get away with a nice sundress and a pair of sandals. Men have to wear long pants, no jeans.
Specialty Dining
Every ship has a few restaurants that fall under the specialty dining option. These are the nicer places that cost extra to dine at. Every ship has a good steak house, and some have Japanese or sushi places as well.
While the specialty dining does cost extra, you don't pay for the entire meal. You only pay an upgraded fee. So the steak house might have a fee of $20 per person. Meaning, you pay an extra $20 to dine there, but still, get an all you can eat experience like the dining areas.
Side note: I've never eaten at a specialty restaurant on any cruise I've been on. I find the dining room to have enough amazing food that it just never seemed worth paying the extra price.
Cruise Ship Drink Package
I know I had a lot of questions about the drink packages on cruise ships. Even though these tips can be pretty universal, every cruise ship varies slightly so you should check with your cruise line to see what the rules are.
For instance, the Carnival cruise line requires BOTH adults in a party to buy the drink package. It can't be one or the other, it's both of you or neither of you (which I do not agree with).
But Royal Caribbean lets one person buy the drink package and the other member of your party does not need to.
In order to get around this, you can book two rooms. Book one adult and one kid in one room, then book the other adult and kid in the second room. So one adult can buy the drink package if the other doesn't want to.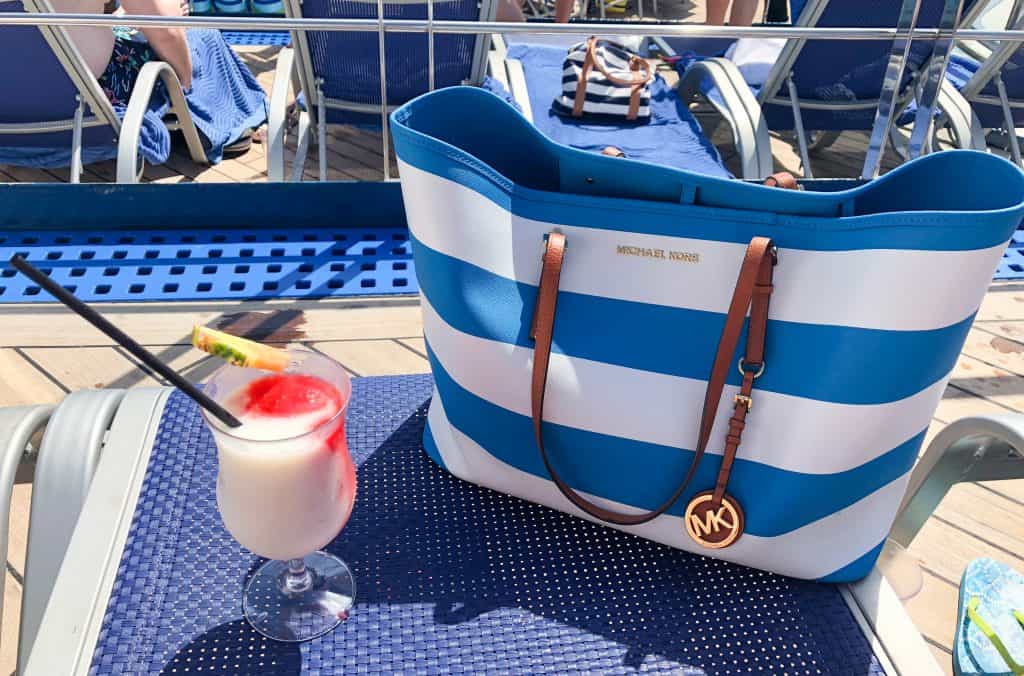 What drinks are included on a cruise ship?
I've found every cruise line to be similar in this answer. The cruise ship supplies: Milk, water, lemonade, and coffee (basic black). Anything beyond that is an additional cost.
Soda and alcohol are both extra, but both included in the drink package if you get it. Specialty coffees are also offered in the drink package. And I mean SPECIAL. Like flavored coffee that's also spiked (it was sooooo good).
What can you bring on the ship with you? Each person about the age of 18 can bring one bottle of wine or champagne. Each person (any age) can bring one 12-pack of soda or juice.
If you want to sneak alcohol, it's actually really easy. Don't tell the cruise line I'm giving you this tip! Just get one of these cool fake shampoo bottles and fill it with your favorite drink instead.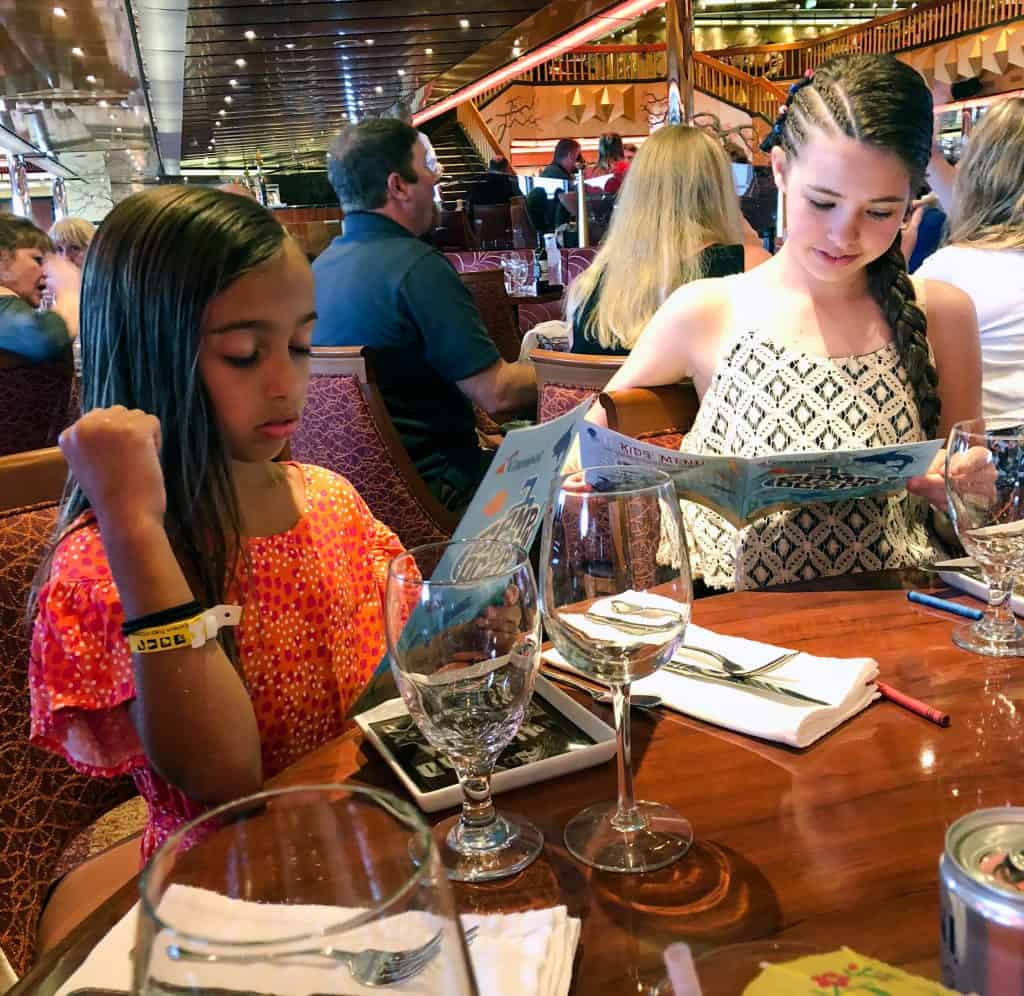 Ahhh the Food on a Cruise Ship!
One thing I miss the most about our cruise is the food. By my second cruise, I didn't even care if I gained weight. I was happy to indulge in the cruise ship dining.
When else do you get 7 full days of great food that's included in your vacation cost?
Don't miss out on more great Cruising Tips!
Follow me on INSTAGRAM For more great photos and travel ideas!

Pin for Later!