Best Alaskan Cruise Shore Excursions for 2023
Experience the best of Alaska with an Alaskan Cruise shore excursion. This is a list of the best excursions by each port when visiting Alaska!
Going on an Alaskan Cruise was so nice I did it twice! But seriously, one trip was just not enough to see all the magical beauty of Alaska.
Unlike a Caribbean Cruise, Alaskan cruises are all about the excursions. You can't really drink and sunbathe on the ship, so most of your time is spent on shore taking in the picturesque beauty of glaciers, mountains, wildlife, and more!
Alaskan Cruise Excursion Tips
Tip #1: Get out of town
With most cruises, you can walk off the ship and find plenty to do. In the Caribbean, there are beaches and shopping lining every port.
But in Alaska, the true beauty is only seen through excursions.
Most ports in Alaska take you to tiny towns that cater to cruise ship passengers. Unfortunately, this often means lots of touristy shops with the same trinkets at each store. Not to mention tons of jewelry stores.
If buying touristy trinkets isn't your thing, you will definitely want to book an excursion to get you out of the town and into the wilderness.
Tip # 2: Book Early
Because Alaskan cruise shore excursions are the best way to see Alaska, they book up early! So don't wait. If you see a tour that you absolutely must do… book it as soon as you book your cruise.
The more popular excursions like dog sledding can often book up a full year in advance.
In Sitka, we tried to book a boating tour and found every company was fully booked at least six months out. And most were not even associated with the cruise ship.
So if you have your heart set on a certain excursion, don't wait to book! The prices will not go down and you'll just miss your chance.
Tip #3: Don't Always Book with the Cruise Line
The cruise line will try to scare you and tell you that if your excursion is late, the ship will wait for you if you book with them. Which is true. But don't let that stop you from booking elsewhere.
Tour companies rely on tourism as do most of the towns you visit. Most of them have guaranteed to get you back to the ship on time. It is extremely rare for a tour company not to get you back in time.
And when booking with the company directly, you will most likely save a ton of money.
Click HERE to check out Viator and find the best and most affordable Alaskan Cruise Excursions!
Alaskan Cruise Shore Excursions By Port
Ketchikan
Ketchikan is typically the first port most cruise ships stop in, so it's often the most exciting! It also offers some pretty unique experiences that other ports don't.
Lumberjack Show: Not to be missed! The Lumberjack show is a fun place to start. It's affordable and great for anyone. Kids love it, adults love it, and it's perfect for anyone who isn't the most athletic. Even as an adventurous adult, I was amazed at how much I enjoyed this show.
Bering Sea Crab Fisherman's Tour: If you're a fan of the show or just want to get out on the open water and do some fishing, this is the tour for you. They dress you up and make you feel like you are a true Alaskan fisherman.
Rainforest Zip, Skybridge & Rappel Adventure: This one is for the adventure junkies! Definitely one of the most fun days I had in Alaska. You start with ziplining over the rainforest through 7 different zip lines. Then cross 3 various suspension bridges, and finish with rappelling down back to the ground.
Misty Fjords Expedition – 6 Passenger Boat: If budget isn't an issue, the Misty Fjords in Ketchikan are not to be missed. If you really want to see the scenic parts of Alaska, the Misty Fjords are breathtaking and unforgettable. For a genuinely fantastic experience, check out Misty Fjords by Seaplane.
* For more information on what to do in Ketchikan that does NOT include tours, check this out: What to do in Ketchikan, Alaska on a Cruise
Juneau
Juneau, the capital of Alaska, is home to the Mendenhall Glacier, the Mount Roberts Tramway, and my favorite… Tracy's King Crab Shack. Here are some popular Alaskan Cruise Shore Excursions in Juneau!
Juneau Helicopter Tour & Dogsledding Experience: Probably one of the most popular excursions in Juneau is the Glacier Dogsledding tour. You take a helicopter ride to the top of a glacier, where you get to play with husky pups before getting a sled dog ride. It books up fast so book early!
Sled Dog Discovery: If you love dogs but need a more affordable option, check out the sled dog discovery tour. You still get to play with the pups and get an amazing sled dog ride through the forest.
Wildlife Whale Watching & Mendenhall Glacier: If dogs aren't your thing, the next best Alaskan cruise shore excursion would be a whale-watching tour out by the Mendenhall Glacier. The glacier is one of the most popular stops in Juneau, and seeing it by boat is the best way to do it.
Juneau Shore Fishing for Alaskan Salmon: Try your hand at some authentic salmon fishing. The best part? This tour is from land, perfect for those who get seasick or have limited mobility.
Mendenhall Glacier Ice Adventure Tour: If glaciers are your thing, check out this tour. You take a group boat ride past waterfalls and wildlife, and a close-up of the Mendenhall Glacier to the ice fields. Ice fields are rare and unique and can only be accessed by tour.
See Related: What To Do In Juneau on Your Own
Sitka
Sitka is one of the smallest towns you'll visit and the excursions are limited… but also book up fast because they're aren't too many available. Here are some popular Sitka tours.
Alaska Raptor Center, Fortress of the Bears, Totems: The raptor center and fortress of the Bears are two of Sitka's top places to visit. See all three with an affordable tour that's great for kids and adults with limited mobility.
tip: book the tour if you want to see either of these places! Taxis and rideshare are VERY limited in Sitka and you'll find yourself stuck at one location for over an hour just waiting for a ride to the next place.
Whale-Watching and Marine Life Tour: If you haven't had a chance to go whale watching yet, Sitka is a great place to do it!
Blue Lake Paddle: For athletic people, take a kayak ride out in the ocean past amazing waterfalls and scenic mountains.
Private Taxi Tour: Because of its very limited public transportation, it would be a great idea to book a private taxi tour and create your own adventure! You can plan to see the raptors, the bears, and the harbor, and even stop for lunch and shopping downtown.
Skagway
Skagway is home to many unique features and to be honest, my favorite stop while on our Alaskan Cruise. The tours are all fantastic and will be very hard to choose from!
White Pass and Yukon Railway: The absolute most popular excursion and for good reasons! This is not your average train ride. The views are spectacular and will literally take your breath away. If you really want to see Alaska, this is the best way to do it. It's also a big part of Skagway's history.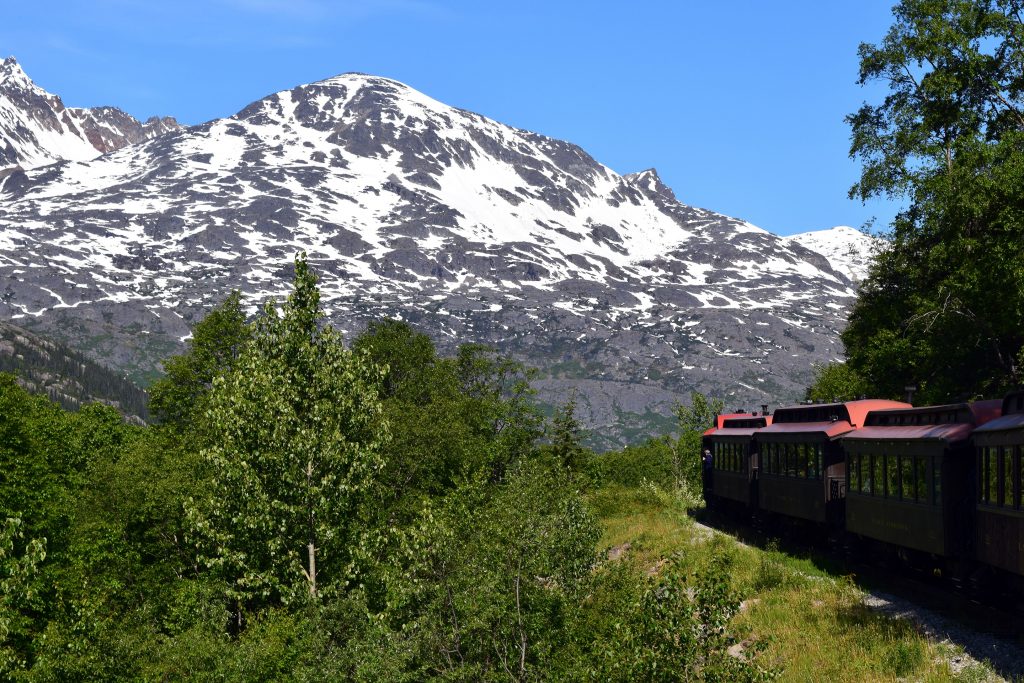 Skagway Scooters: A highlight of our trip! If everyone in your party is over 16, you can rent scooters and set out to see the town on your own. Stop for lunch downtown, and then head out to Dyea… a ghost town… and possibly the prettiest ride you'll ever take in your life (picture mountains on one side and the ocean with seals swimming on the other side while bald eagles fly overhead!)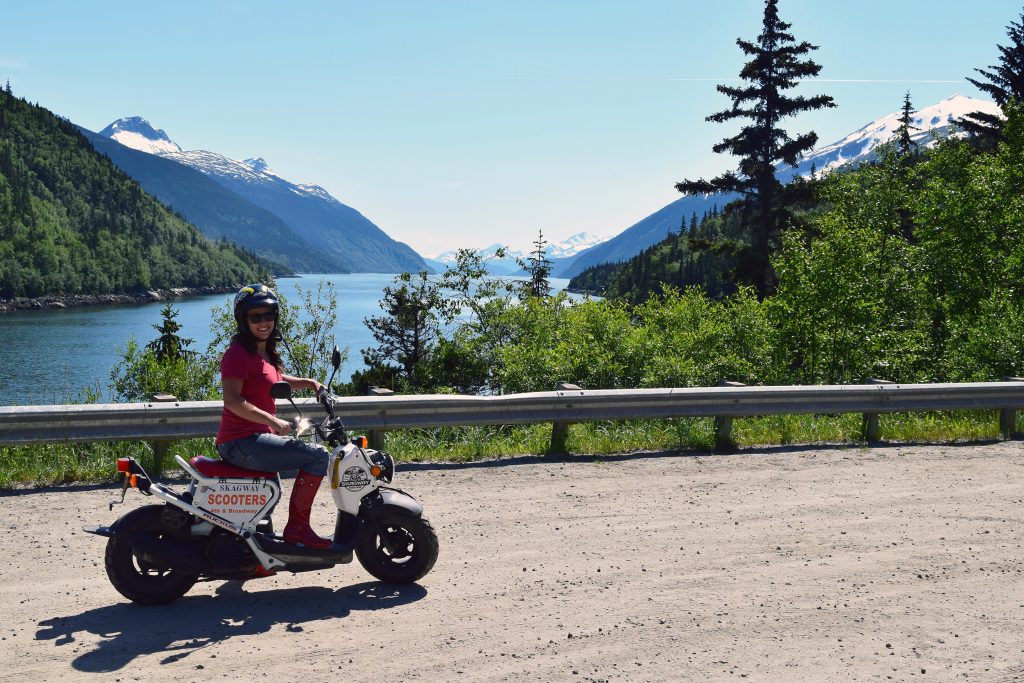 Sled Dog Discovery in Skagway: Skagway also offers sled dog rides at an affordable price if you missed it in the other ports.
Ocean Raft Alaska: For an adventure on the water, check out the ocean raft excursion. See fjords, waterfalls, and plenty of wildlife!
Chilkoot Horseback Adventure: Experience Alaska on horseback while visiting Dyea ghost town and the Chilkoot and White Pass trails, some of the most historic sites in Skagway!
See Related: Top Things To Do In Skagway While On a Cruise
Alaskan Cruise Shore Excursions
Cruising to Alaska is an experience of a lifetime! While the food and time on the boat will be tons of fun, it's just nothing compared to your time on shore.
Make the most of your trip with the perfect Alaskan Cruise Shore Excursion!
You Might Also Be Interested In: