Top Things to Do in Skagway, Alaska on a Cruise Port Day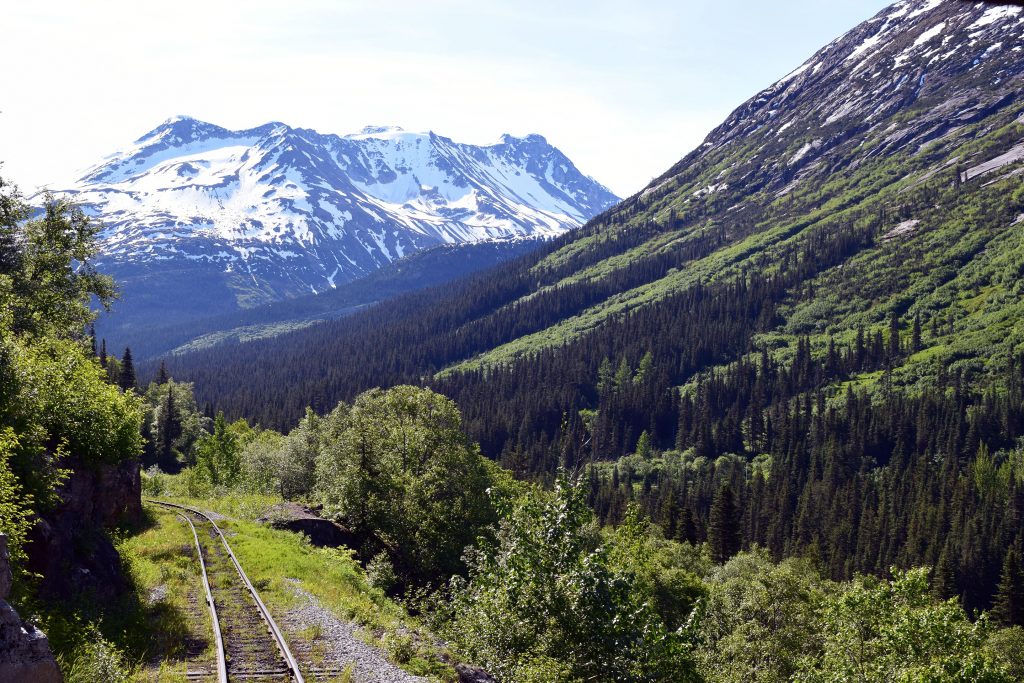 What is there to do in Skagway, Alaska?
Skagway was one of those towns that really took me by surprise. It was the smallest of all the ports and I didn't put too much time and energy into learning about this great town before we left.
That was a big mistake!
Skagway ended up being my FAVORITE stop on our 7 day Alaskan Cruise and I'll be happy to tell you why. So much so, I've thought about coming back and staying here for a few days to see everything I missed.
Luckily, I had a friend who had just visited Skagway and gave me some tips. And lucky for YOU, I am passing on my great experiences to you.
So take note, because Skagway is a place where you may want to ditch the normal excursions offered by the cruise lines, and get out and explore on your own.
Don't forget to follow me on PINTEREST to get more Alaskan Cruise Guides!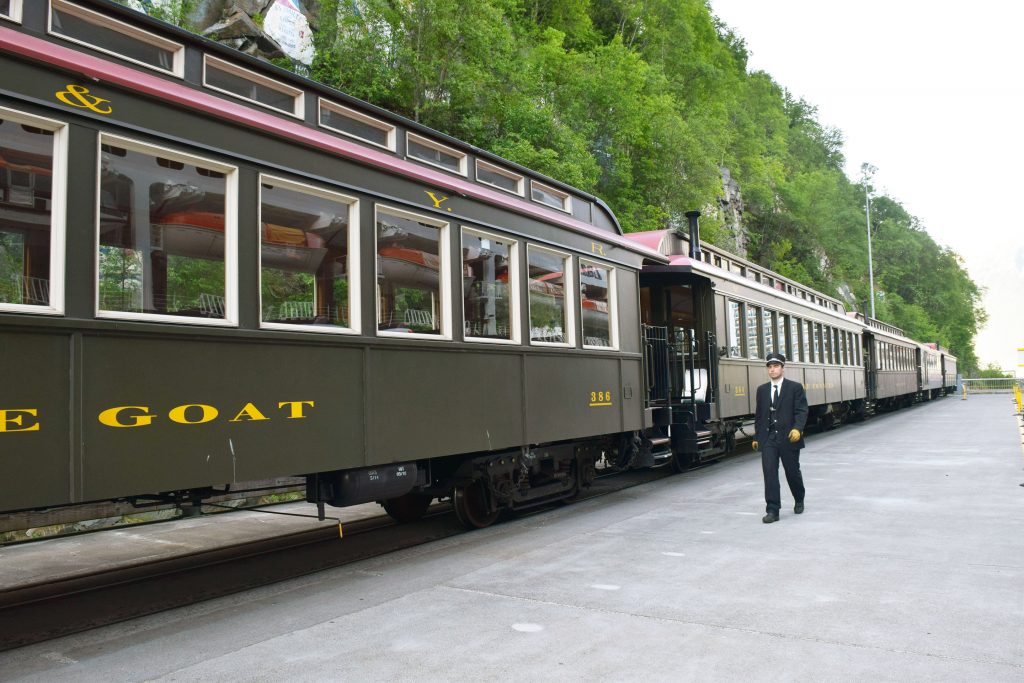 The White Pass & Yukon Railroad
I have to mention this Skagway excursion even though I just told you to leave the cruise planned excursions behind. But this one is so worth it, it's in a class of its own.
I was VERY hesitant to book this excursion because the last thing I wanted to do was sit on a train for 3 hours. I wanted to get out and explore! But it's THE top booked excursion, got a ton of great reviews, and sells out super fast. So there's got to be something to it right? ABSO-FREAKING-LUTELY!
The White Pass Railway is literally on the edge of the mountain and climbs pretty high, pretty quickly. The scenery is outstanding. I have no words that can accurately describe it. At times, we were so close to the edge that I could barely see the ground below us.
It really is an experience I'll never forget and I'm so glad we did it. I would highly consider booking this one through the cruise line as it does book up and sell out (reserve tickets long before your cruise!).
You can do several different versions of this excursion, but all you need is the out and back trip. Don't do the full day excursion as it will leave you with no other time to see any other part of Skagway.
TIP: Ride in the very back car. There is a small balcony you can go outside on and get some amazing pictures!
Take a look at some of these amazing views along our ride on the White Pass & Yukon Railway…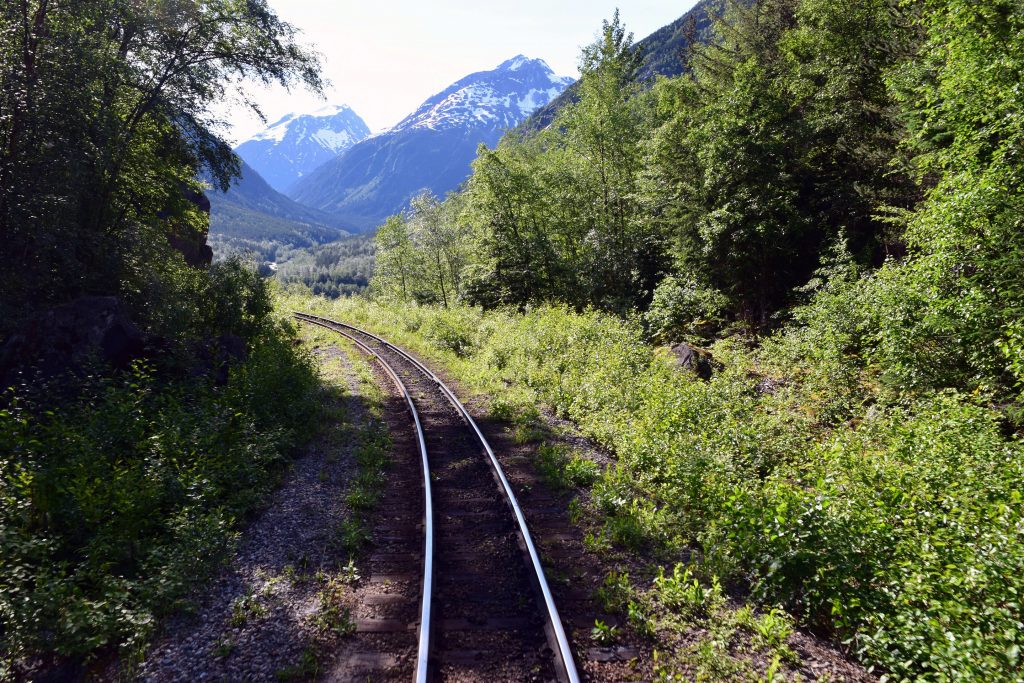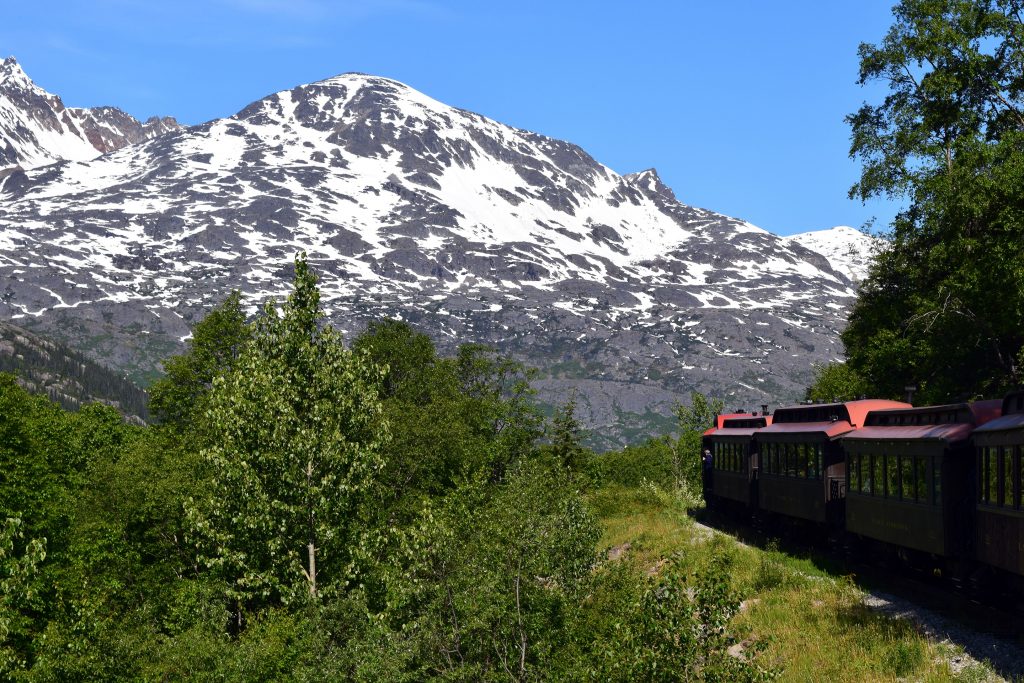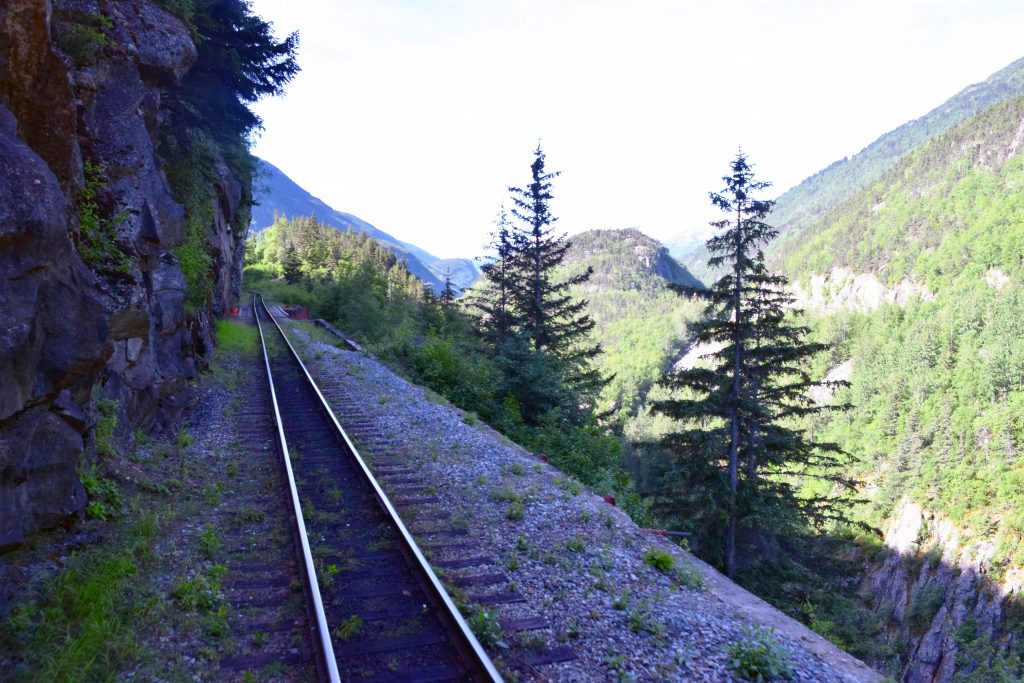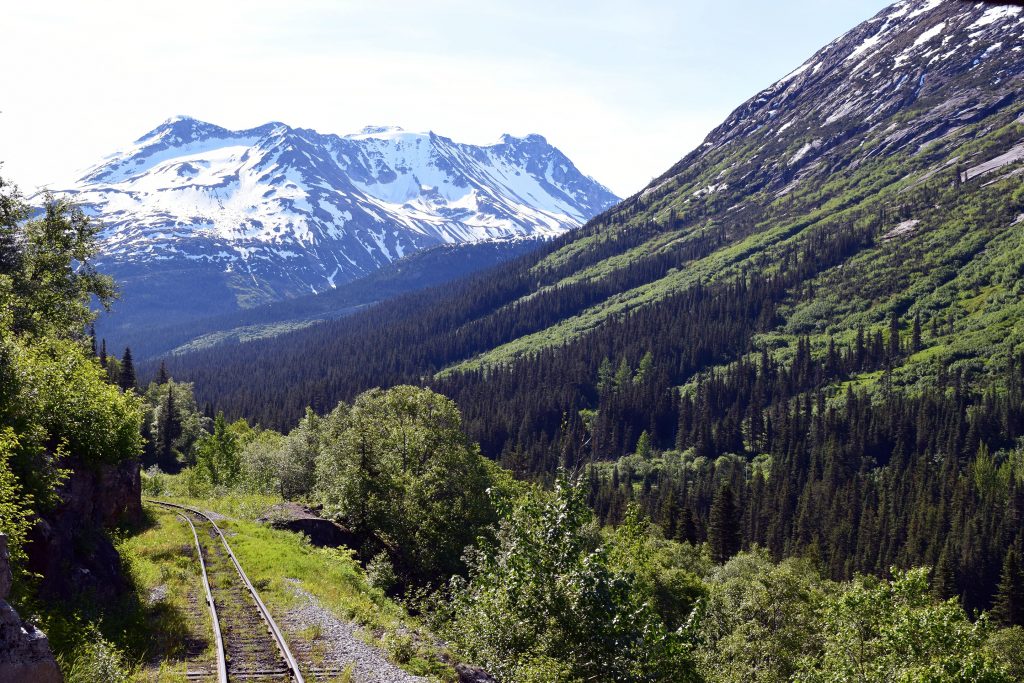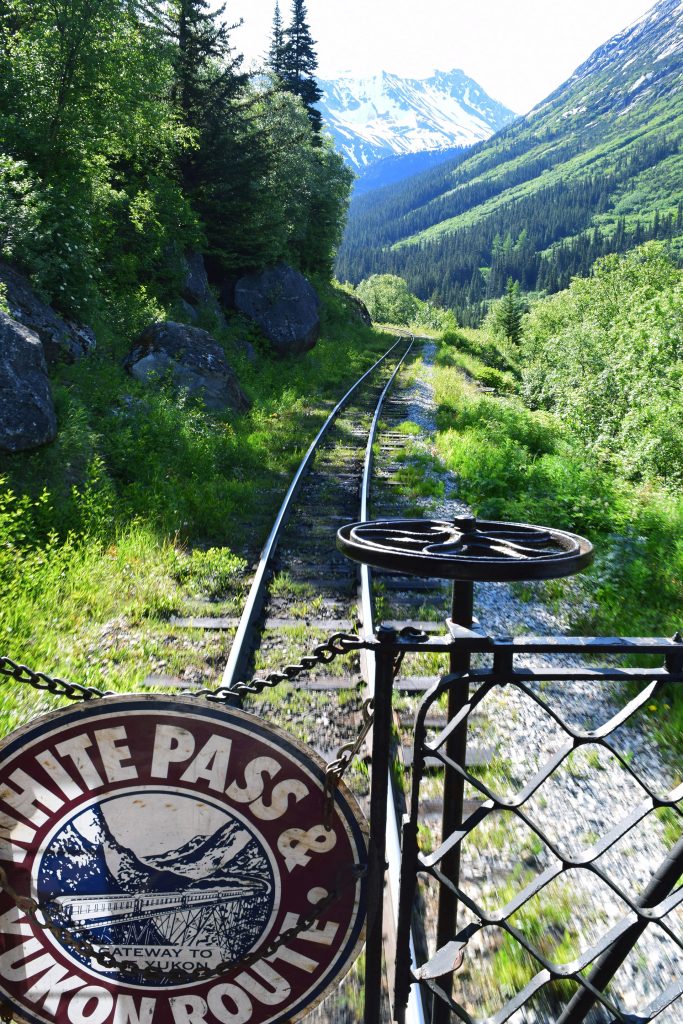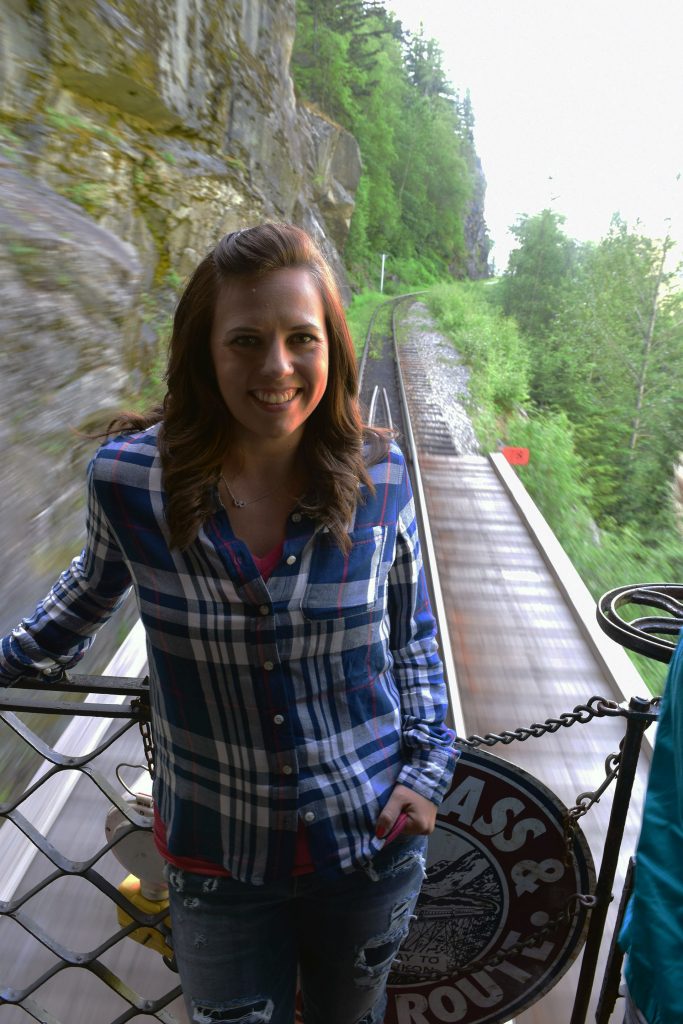 Where to Eat in Skagway
The town of Skagway is super cute and looks right out of an old western movie. There are plenty of shops and places to eat. My favorite was the Skagway Brewing Company. After we got off the train ride, we were starving.
It was also 80 degrees out (in Alaska!) and a cold beer at Skagway Brewing was a perfect choice. Their menu was great too. You can also check out the Red Onion Saloon. It was built in 1897 and much of the building and décor (and waitresses!) are straight from the 1800s.
They have a restaurant and bar and you can even take tours of the building that used to be an old brothel. It's also supposed to be haunted!
Skagway Scooters
After our lunch at Skagway Brewing, we headed off to Skagway Scooters to rent scooters and ride around town. THIS is Skagway's best-kept secret. You cannot find them through the cruise line and they are not part of any excursions.
You need to call them directly from their website to book. And I will tell you.. this was our FAVORITE part of the entire cruise (Not to mention, the most affordable!).
We only booked the scooters for 2 hours and that was a big mistake. We should have booked them for much much longer! Skagway is not very big and you can see so much of it riding around town. And the best part is you can do it all at your own pace with the scooters.
We had an amazing time just riding around in the sun and cool ocean breeze, discovering different parts of Skagway.
And don't let the scooters scare you. I never rode a scooter a day in my life but after a quick 10-minute lesson, I was flying around Skagway.
I also want to mention, the owners (a husband and wife team) of Skagway Scooters are SUPER nice. They were easy to reach out to, very responsive, and did everything they could to accommodate us…. including giving us a ride back to the ship in their van so we could squeeze in every last second of using the scooters before boarding time!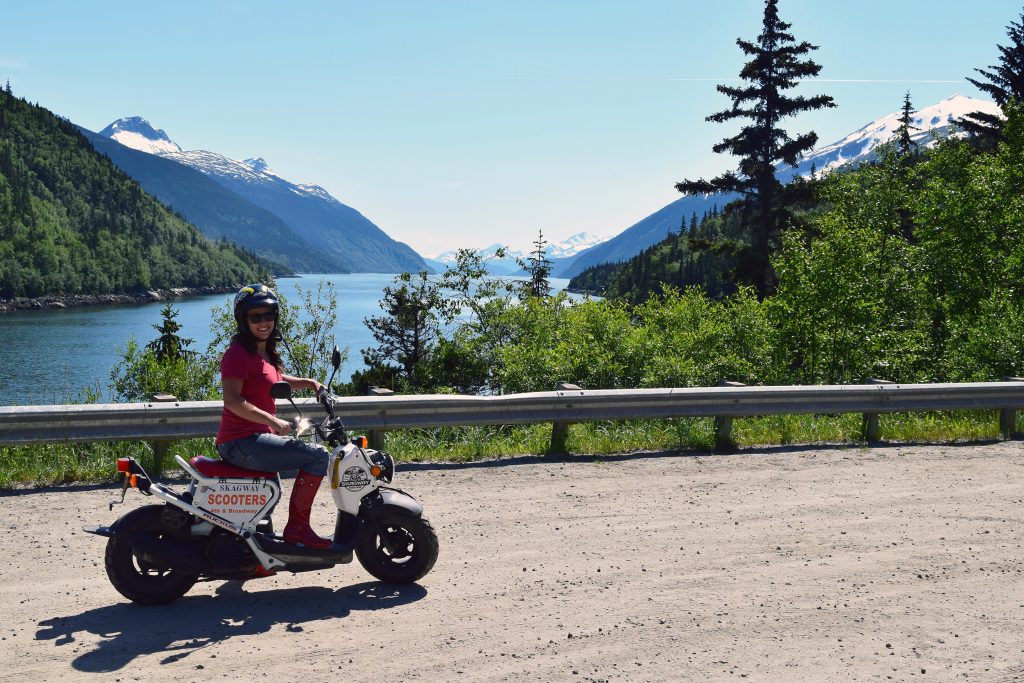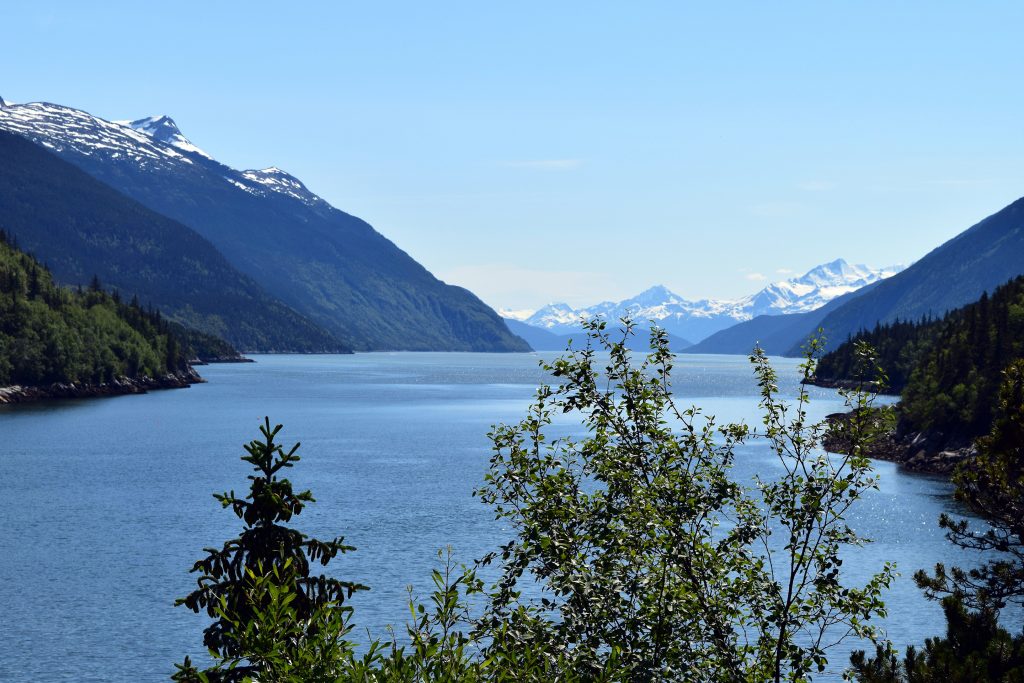 The Town of Dyea
The town of Dyea is another place you won't hear too much about through the cruise lines. But the history is amazing and you should not miss seeing this old ghost town.
Dyea was the gateway to the gold fields and was the first stop before gold miners headed up the famous Chilkoot Trail. This old town was a business district for everyone seeking gold, but it soon dried up once the White Pass Railroad was opened.
Today, Dyea is located about 11 miles away from downtown Skagway and is a great scenic drive. Biking might take you a little long, but it's perfect for a scooter ride!
The entire road to Dyea is right on the coast and you literally have mountains on one side and the ocean on your other side. We stopped several times along the way to take photos of bald eagles circling above and seals playing in the water.
Some other notable Skagway Excursions
Don't Miss out on the rest of my series about Cruising to Alaska!
Final Travel Tips
When getting off the ship in Skagway, there were not as many tour groups trying to get your business as there were in Juneau. So it's probably a good idea to have things planned out before you get there.
Skagway is the last stop along your 7 day Alaskan Cruise and getting back on board the ship can be a little depressing. Plan to have a fun night so you don't feel all bummed out later on.
Try to build in a little time to walk the town. Skagway does NOT feel like a touristy town and that made me love it even more. I can fully understand why people would want to live there full time in the summer.
If you have any questions about going on an Alaskan Cruise, I'd love to hear from you! Feel free to leave a question in the comments below or shoot me an email at [email protected]


Pin for later!