What to do in Juneau on a Cruise Port Day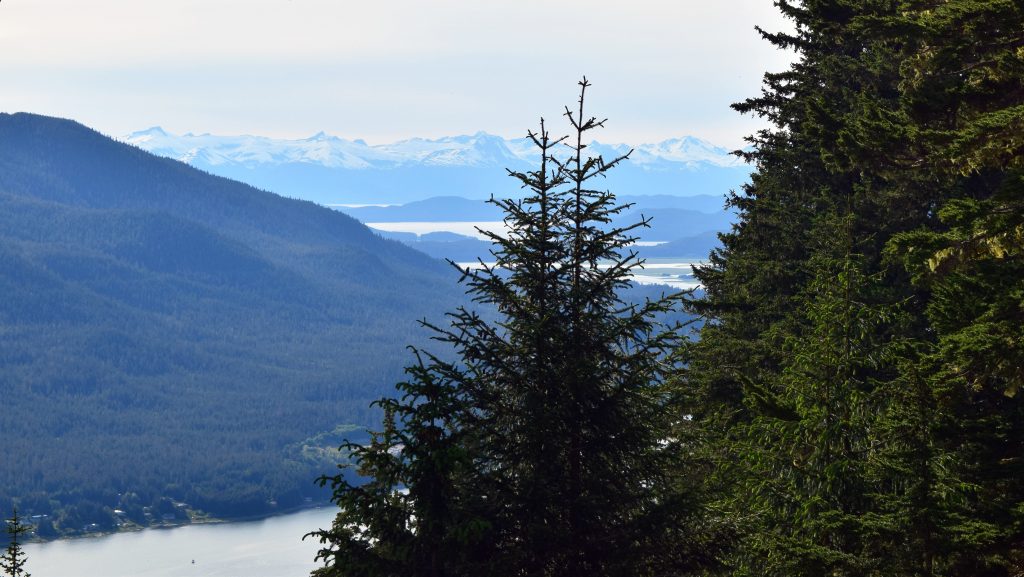 Visiting Juneau, Alaska on a Cruise
Welcome to the second port on your 7 day Alaskan Cruise!
Juneau was a super fun port to stop in because it's probably the most well-known of the ports. It's also the capital of Alaska and has some pretty cool history to it.
Fun fact: Did you know Juneau is not accessible by car? The ONLY way to get to Juneau is by plane or boat. Crazy, huh?
Your Juneau port day goes from 12 am – 9 pm. But don't be worried about being out so late, even at 9 pm the sun is still up and it's very bright outside.
The only drawback to this is that you easily lose track of time, thinking it's much earlier than it is. So keep a close eye on your watch and make sure you get back to the ship on time!
Juneau port day is a bit later than the rest of the port days, so you have a nice opportunity to sleep in and have a big breakfast (maybe even a small lunch) before you head off the ship.
Don't forget to follow me on PINTEREST to get more Alaskan Cruise Guides!
Where to Eat In Juneau
If you like Seafood AT ALL, you NEED to go to Tracy's King Crab Shack. I cannot emphasize this enough. It just may have been the highlight of the town. It's SO GOOD, I've looked into having some items from the menu shipped to me in Arizona.
TIP: Get the Crab Shack Combo… it comes with one king crab leg (it's HUGE!), a cup of lobster bisque, 4 mini crab cakes, and garlic rolls with melted butter. You'll thank me later.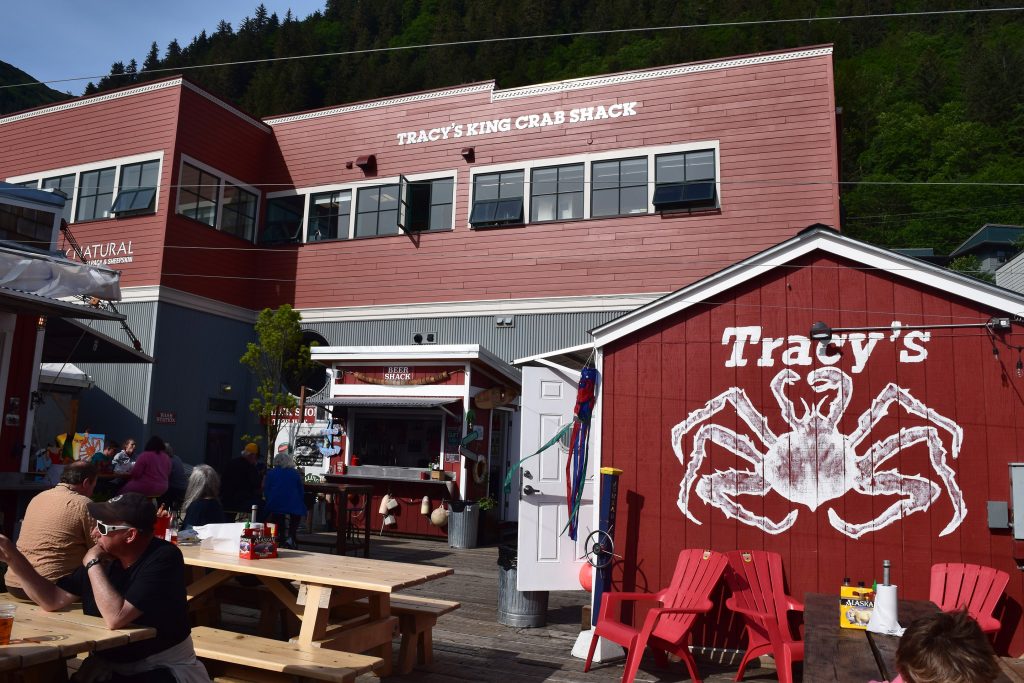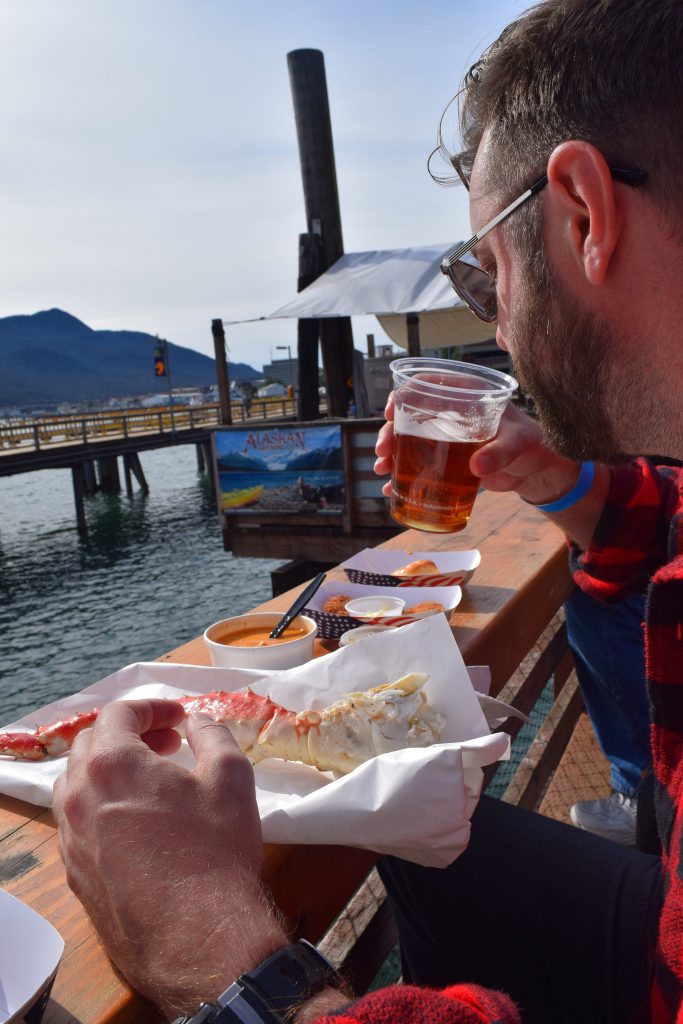 The Red Dog Saloon. Even though we stuffed our faces at Tracy's, we HAD to stop in at the Red Dog Saloon because it's one of the most famous and recognizable places in Juneau. I've heard the food is good, but you can just as easily stop by and have a drink. The inside is like stepping back in time by over 100 years, with music and all.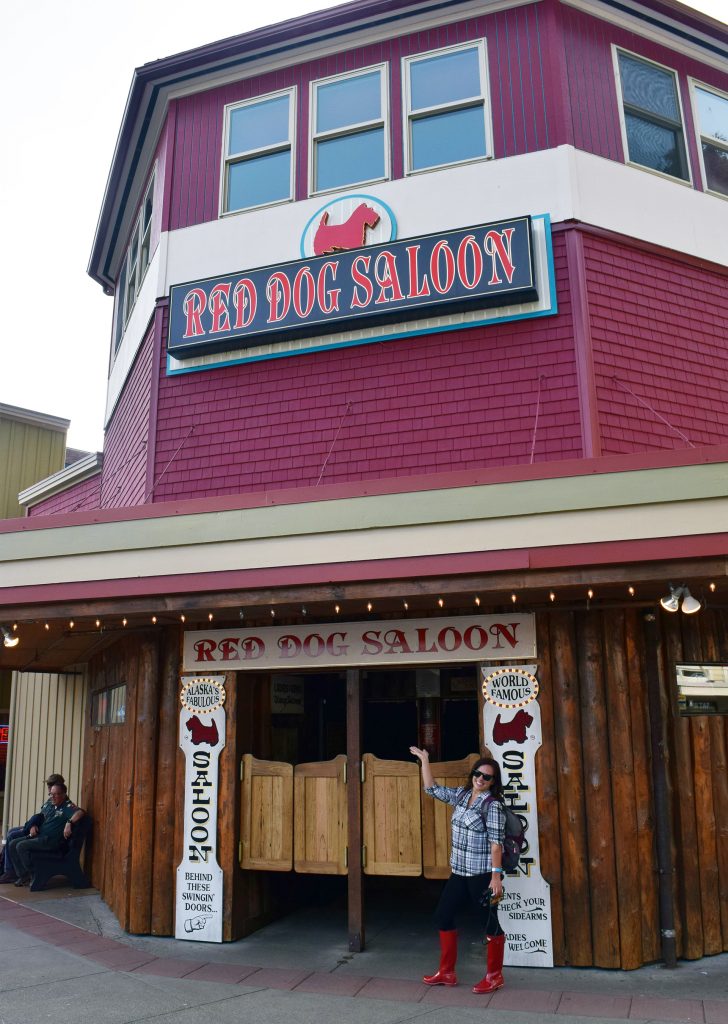 The Mendenhall Glacier and Nugget Falls
One of the most popular places to visit in Juneau is the Mendenhall Glacier and Nugget Falls. They are actually right next to each other, so if you visit one, you visit both.
You came all the way to Alaska, you gotta see a glacier right? And this one is located just a short ride from the port.
There are tons of tours to the Mendenhall glacier, offered by both the cruise line and tour companies at the port. I recommend you DO NOT book a tour to see the glacier. Most of the tours are about 1.5 hours long and we felt VERY rushed when visiting them.
Instead, just take a taxi (it's only 12 miles) to the glacier and take your time walking around. You can view the glacier, or take a quick and easy walk over to Nugget Falls. Both do not require a lot of your time, but it would have been nice not to feel so rushed by the tour company.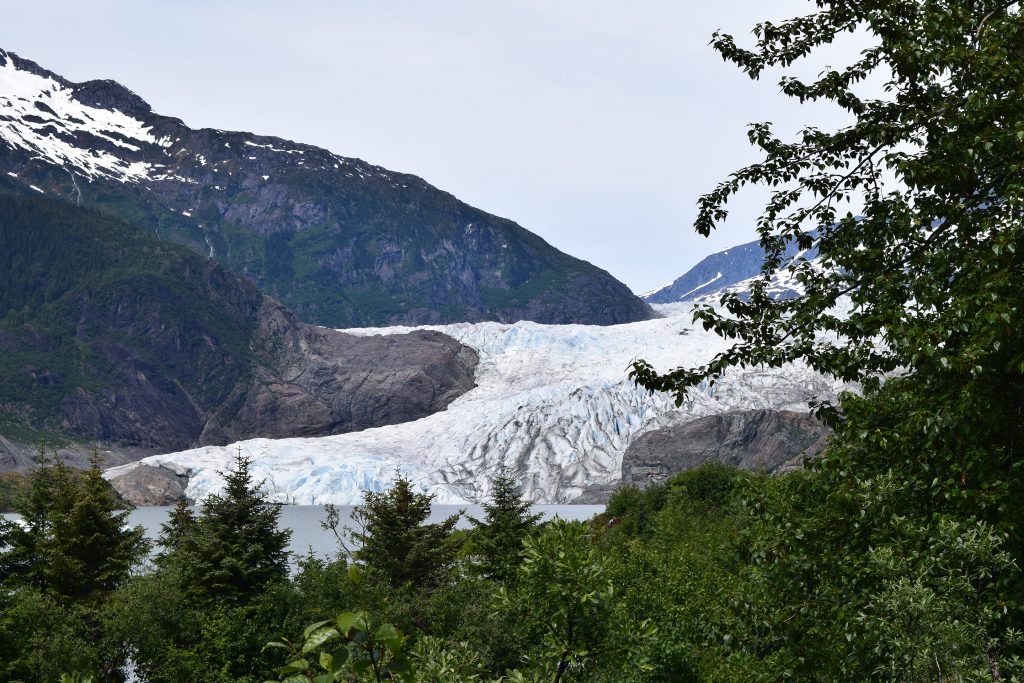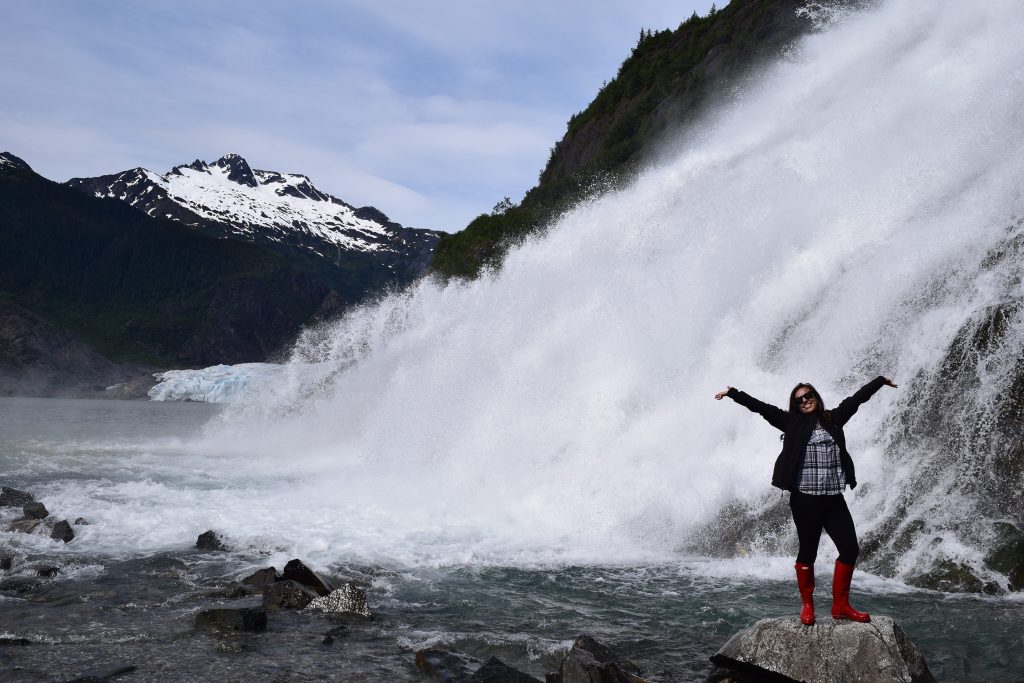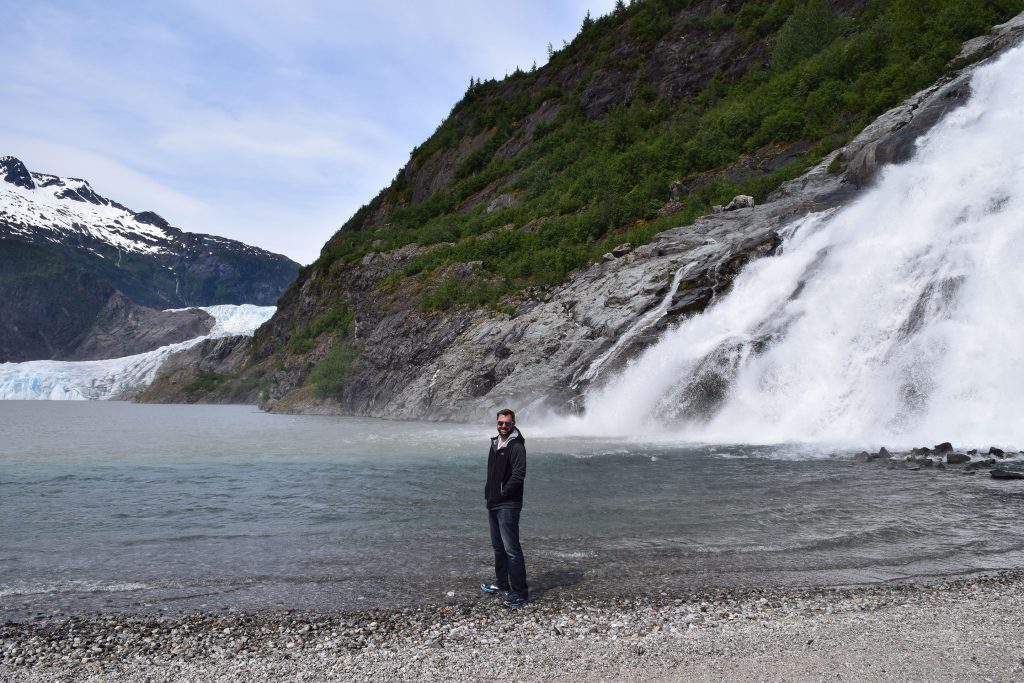 Wondering what to wear on your Alaskan Cruise?
I get asked a lot of it was worth it to wear Hunter Boots to Alaska and the answer is an enthusiastic YES! This was one of the best purchases I made for my Alaskan Cruise. The soles have great tread on them, making them great to hike in. 
They are also super comfy to walk around in all day and of course… they are waterproof. I was the only person at Nugget Falls who got to splash around in the water and get really close to the falls because I had my rain boots on. 
They come in a TON of colors too, so you can still look super fashionable! 
TIP: Pair your hunter boots with some wool socks and they are warmer and more waterproof than any expensive snow boot.
Mount Roberts Tramway
Another super popular tourist spot is the Mount Roberts Tramway. It's really affordable and the views at the top are definitely worth it.
TIP: Go later in the day. The tramway is located right next to all the cruise ships so everyone has a tendency to do this first. We noticed a line a mile long and decided to bypass it and wait until later. Closer to the middle of the day, there was no line at all and we were able to walk right on with no wait.
The ride itself is fun and has great views, but the top of Mount Roberts was a bit of a surprise. There are several walking trails with the most beautiful scenic views, and lookouts, and was a popular place for bald eagles.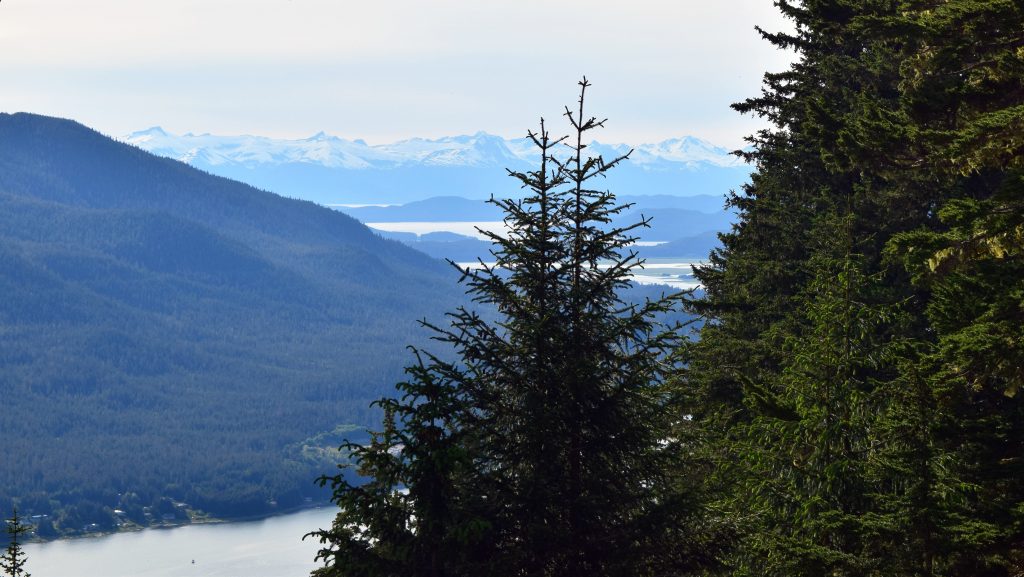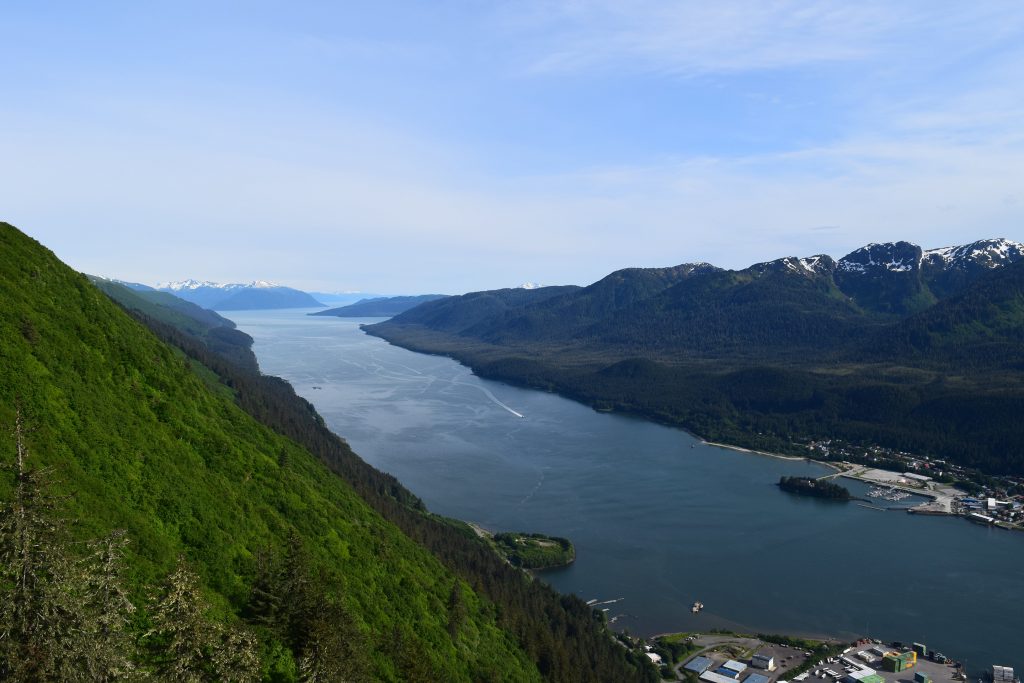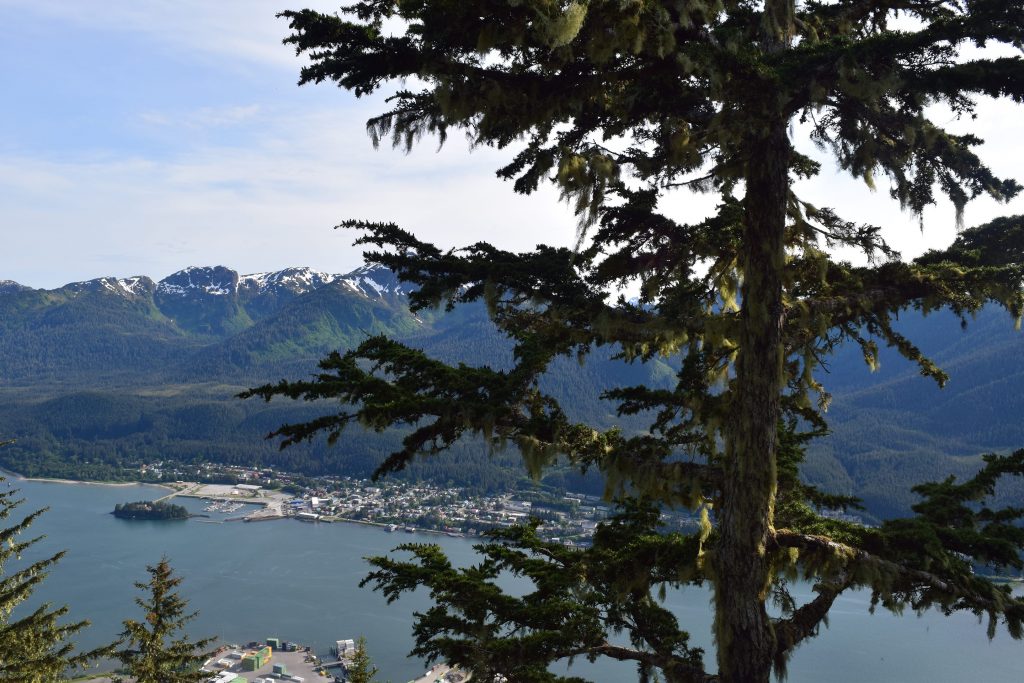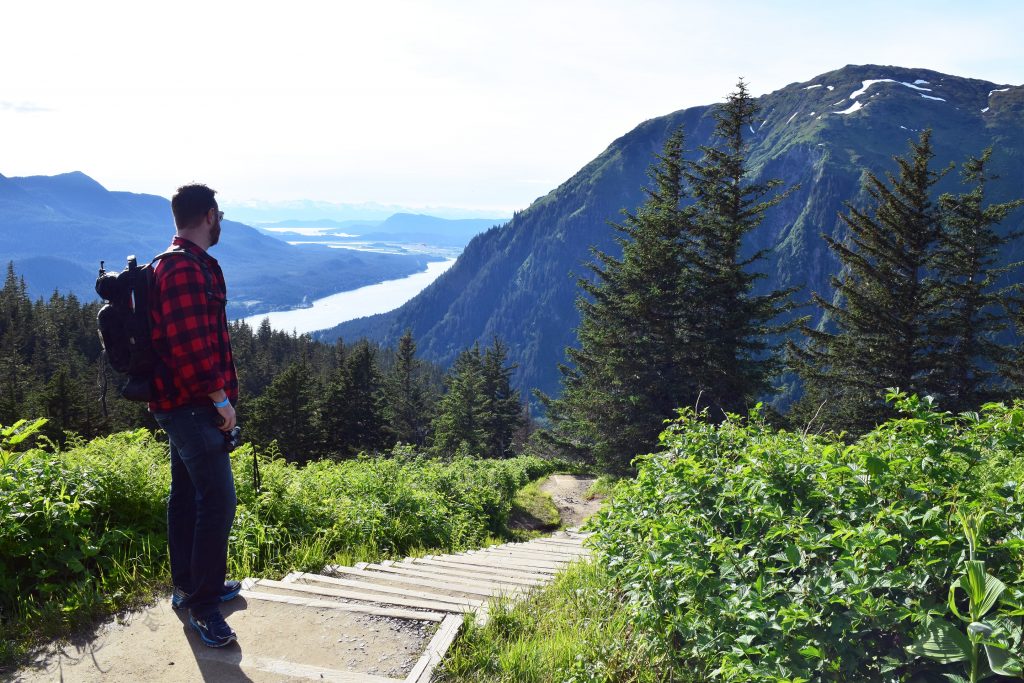 Other notable Excursions in Juneau, Alaska
It's impossible to try everything available to you are at each port. We loved everything we got to experience, but there were definitely some things we wished we had a chance to try and will for sure be doing the next time we go on an Alaskan Cruise. 
So if you are looking for some other excursions to try, I would highly recommend trying these out:
Juneau Whale Watching Tours. Juneau is one of the best places to see whales. If you want to go whale watching, you can catch tours to not only see whales but to view the Mendenhall glacier a lot closer up too. 
Tracy Arm Fjord and Glacier Explorer. Take a boat ride to several different glaciers, waterfalls, and stops to see Alaskan wildlife. This is a great adventure for photographer lovers! 
Sled Dog Summer Camp. Get to see cute puppies and sled dogs at their summer camp. Meet the dogs and go for a sled ride through the forest. 
Dog Sledding on the Mendenhall Glacier. If you have a big budget for your Alaskan Cruise and you don't mind spending the money, then this would be my first choice! You take a helicopter ride and land on a glacier, and then meet real sled dogs and get a sled dog ride on top of the glacier. How cool is that?!?!
Final Travel tips
Juneau is a great town to walk around and visit some shops, so build in a little time to do that. The Red Onion Saloon is right in the middle of all those shops, along with the Alaskan Brewing Company which happens to be one of my favorite beers.
Getting off the ship is a little intimidating as there are DOZENS of tour companies trying to sell you on their excursions. So don't worry about booking through the ship, you'll find plenty of deals (and a lot cheaper ones too!) right off the dock. 
And most of all… Don't miss the boat! It WILL leave without you, lol! 
Don't forget to check out the other parts of my Alaskan Cruise to get the best travel tips!
If you have any questions about your upcoming trip to Juneau, don't hesitate to reach out and ask! Drop it in the comments below or shoot me an email at [email protected]


Pin for Later!