What To Do In Puerto Vallarta On Your Own
Are you sailing on a Mexican Riviera Cruise to Puerto Vallarta and not sure what to do? Here are some fun things you can do in Puerto Vallarta on your own!
How Walkable Is Puerto Vallarta?
Puerto Vallarta is actually really walkable and well-known for how easy it is to get around town. You'll be able to get to the beaches, shopping, and most restaurants within a 20-minute walk.
The neighborhoods are safe and pretty close together. Not to mention filled with visitors and tourists.
Getting around Puerto Vallarta on your own is also easy thanks to the Malecon Boardwalk. This pedestrian-only walkway spans 12 blocks and takes you through the best restaurants and beach areas.
There are also several vendors walking around the Malecon making it really easy to grab some souvenirs. You'll also find the famous "Puerto Vallarta" sign here!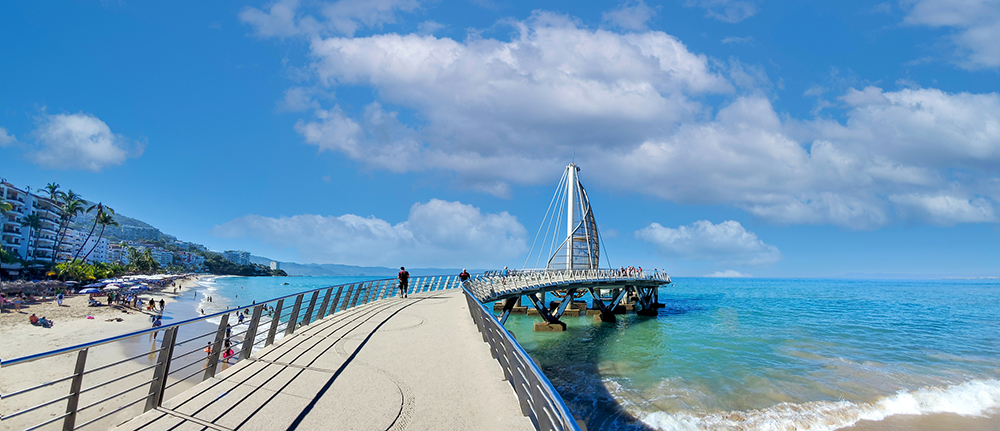 How To Get To the Malecon From the Cruise Ship Ports
It is possible to walk to parts of Puerto Vallarta from the cruise ship ports, but you really won't get to see the best of the town.
It is recommended to find transportation to get to the Malecon if you are coming in off of a cruise ship.
From the cruise ships, you can walk to a beach and some shopping if you just feel like seeing a small area of beach. But to get to the main Malecon area, you'll probably want to grab a taxi or Uber.
Trust me, it's worth it!
From the ports, you can take a 20-minute taxi ride that usually costs around $5-$7 per person. Puerto Vallarta even has Uber to get you to the downtown area.
Taxi and Uber drivers are well aware of the cruise ship docking times and are often waiting in lines to take passengers to the downtown area. You will have no problem getting a ride to the Malecon!
Want to see more of Puerto Vallarta? Check out the most popular excursions here!
How Do People Get Around Puerto Vallarta?
If you are only spending a day in Puerto Vallarta, it is not recommended to rent a car. Most of the great beaches and restaurants are within walking distance, and parking is very limited.
I personally like to budget money towards a taxi or Uber when visiting Puerto Vallerta. When coming off of a cruise, you have limited time and the taxis get you around town much faster than anything else.
Puerto Vallarta does have a great bus system that is super inexpensive. But you will be standing around waiting for the bus to show up at specific times.
The Malecon (boardwalk) area is a short 20-minute ride from the cruise ship port and once you get there, it is easy just to walk around to get to everything you need. So even if it costs a little extra for a Taxi or Uber, you only need to pay that once to get there and once to return. Totally worth it!
What Are The Best Beaches In Puerto Vallarta?
Downtown Puerto Vallarta is located on a cove called the Bahia De Banderas. Because of the cove, all the beaches have calm water, making it enjoyable to swim, snorkel, and play in the sand.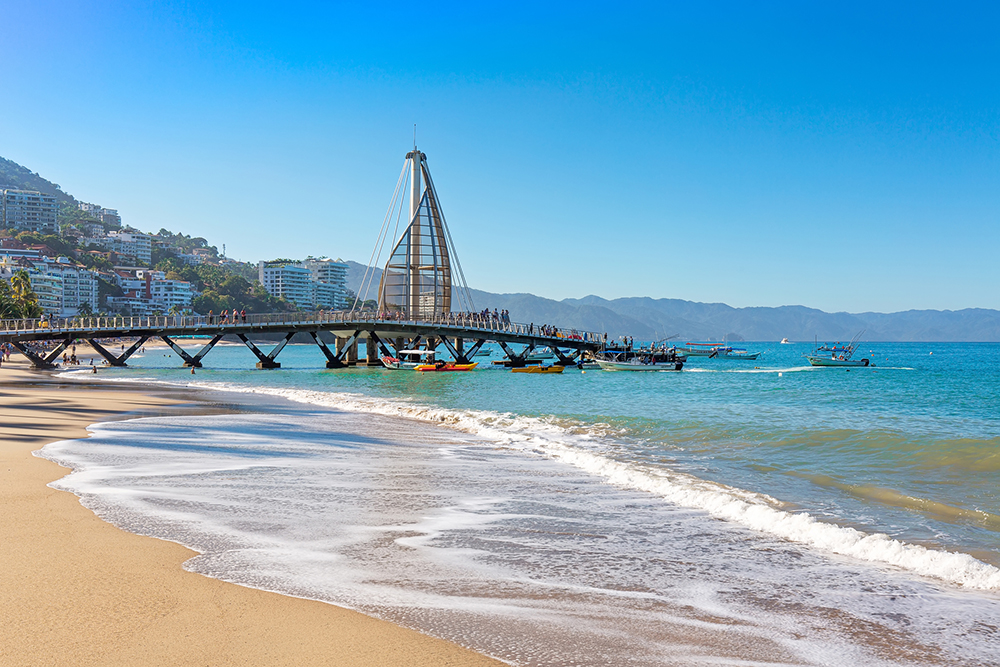 By far the most popular beach in Puerto Vallarta is Los Muertos Beach. It is in the middle of downtown and is home to all the best restaurants and vendors. It's also well-known as the best photo spot in Puerto Vallarta if you're looking for good Instagram spots!
Camarones Beach is a good option if you want the beauty of Los Muertos Beach, but are looking for something a little less crowded and more relaxed. There are also several bars and restaurants along this stretch of sand.
Playa De Tules is closest to the cruise ship ports and is a short walk if you want to skip the taxis. It's a smaller beach, but a lot less crowded and still near some great resorts and restaurants.
Conchas Chinas Beach is on the southern end of Bahia De Banderas and can easily be considered one of the prettiest beaches in Puerto Vallarta. It's a bit smaller, but still near all the resorts and restaurants. But you'll find more rock formations and tidal pools here. It's still a good swimmable area but the scenery is breathtaking!
What Are Some Free or Cheap Things To do In Puerto Vallarta?
Puerto Vallarta is a tropical paradise with tons to discover and do! If you like beaches, food, drinks, and shopping… you will never be bored.
But if you also like culture, scenery, and exploring… Puerto Vallarta is the perfect place to spend a day. And the best part is, you can do all of this for free or very inexpensively.
Walk the Malecon – Probably the best part of Puerto Vallarta and not to be missed. This miles-long boardwalk covers everything from the best beaches to the best restaurants. You can find vendors and several shops for some unique souvenirs.
Or try out some free tequila tasting. They obviously hope you'll buy a bottle, but you can get several samples for free just to try them out!
Hire a Taxi – Yes, you can hire a taxi for a whole day or even a few hours. They are often the best tour guides and can take you to some secret, hidden gems. And the best part is, it's usually very inexpensive.
Visiting Puerto Vallarta From A Cruise Ship
If you are cruising the Mexican Riviera and are only stopping for one day in Puerto Vallarta, I highly recommend you try out an excursion to really get out and see the area.
The cruise ships typically dock for most of the day so you'll have plenty of time to go on an excursion, and still have time to come back and see the town of Puerto Vallarta.
But if you are on a very tight budget, or just want a day to relax in the town, then grab a taxi and head to the Malecon. This is by far the best area of Puerto Vallarta and has plenty to keep you entertained.
Dine along the boardwalk, swim in the ocean, sunbathe on the beach, shop with the local vendors, and enjoy the sunset with a drink in your hand before heading back to the ship.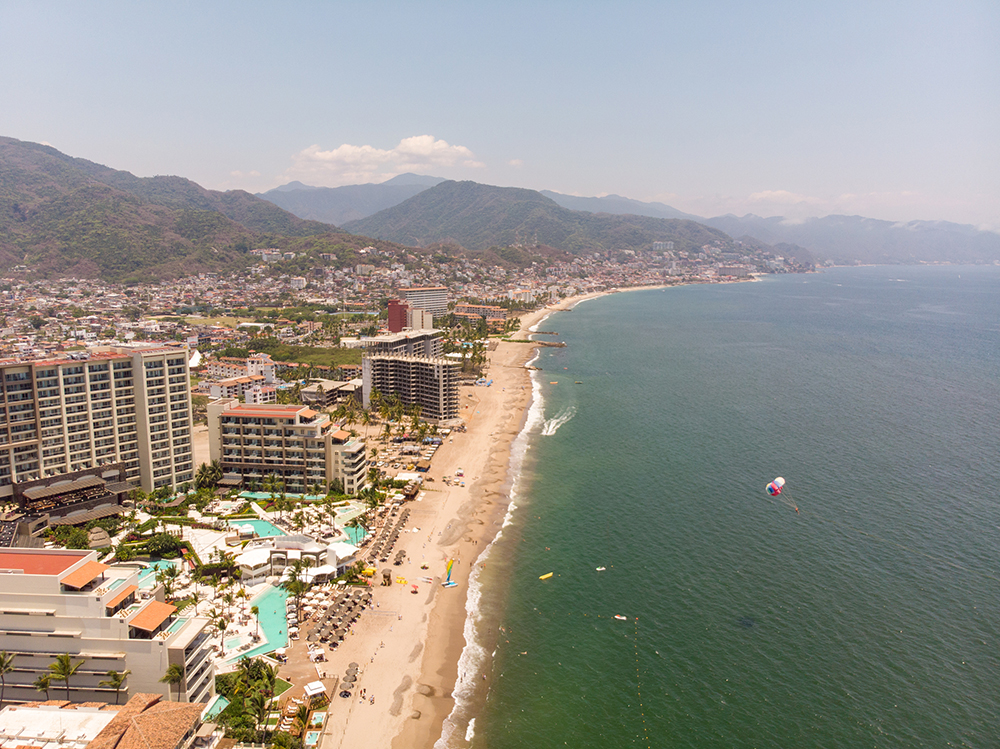 Tips For Visting Puerto Vallarta
To make sure you have the best vacation possible, here are a few things you should be aware of before you head to this gorgeous location!
1 – Bring bug spray – The mosquitos in Puerto Vallarta can be intense during the summer months and some still carry diseases. Protect yourself with some good bug spray!
2 – Learn the Bus System – Don't be afraid to take the bus routes. They are super safe and VERY inexpensive. And can take you practically anywhere you want to go.
3 – Learn the Currency – If you don't know how many pesos are compared to dollars, you will end up spending a fortune and not even know it. Don't go in blindly! Either learn the exchange rate or swap out your dollars for pesos before you go.
4 – Don't get the Temporary Tattoos – There have been multiple incidents of these tattoos or henna tattoos leaving chemical burns and some scarring. Mostly because these are not meant to be in the sun after application.
5 – Don't Drink The Water – The rumors of drinking water in Mexico are true… you do NOT want to drink it! It causes major stomach upset and often Nausea and vomiting.
6 – Don't forget the Sunscreen – Yes, Im sure you are aware it's a beach destination so of course you will bring sunscreen. But the reason I mention this is that the sun is actually much stronger in this area and can burn you faster than you are used to. So whatever SPF you are used to using… increase it!
You Might Also Be Interested In:
Spend a Cruise Port Day in Mazatlán (coming soon!)
What to do In Cab San Lucas When On a Cruise (coming soon!)