Carnival Panorama Review – The Good and The Bad
The Carnival Panorama is one of the newest ships in the Carnival cruise line and it does not disappoint! This massive ship holds over 4000 passengers and sails the Mexican Riviera year-round.
So if you already booked your cruise or you're still thinking about it and wondering what the Carnival Panorama is like… this is for you!
If you have any additional questions about the ship or what to do in Mexico, drop them in the comments below and I'll be happy to answer them!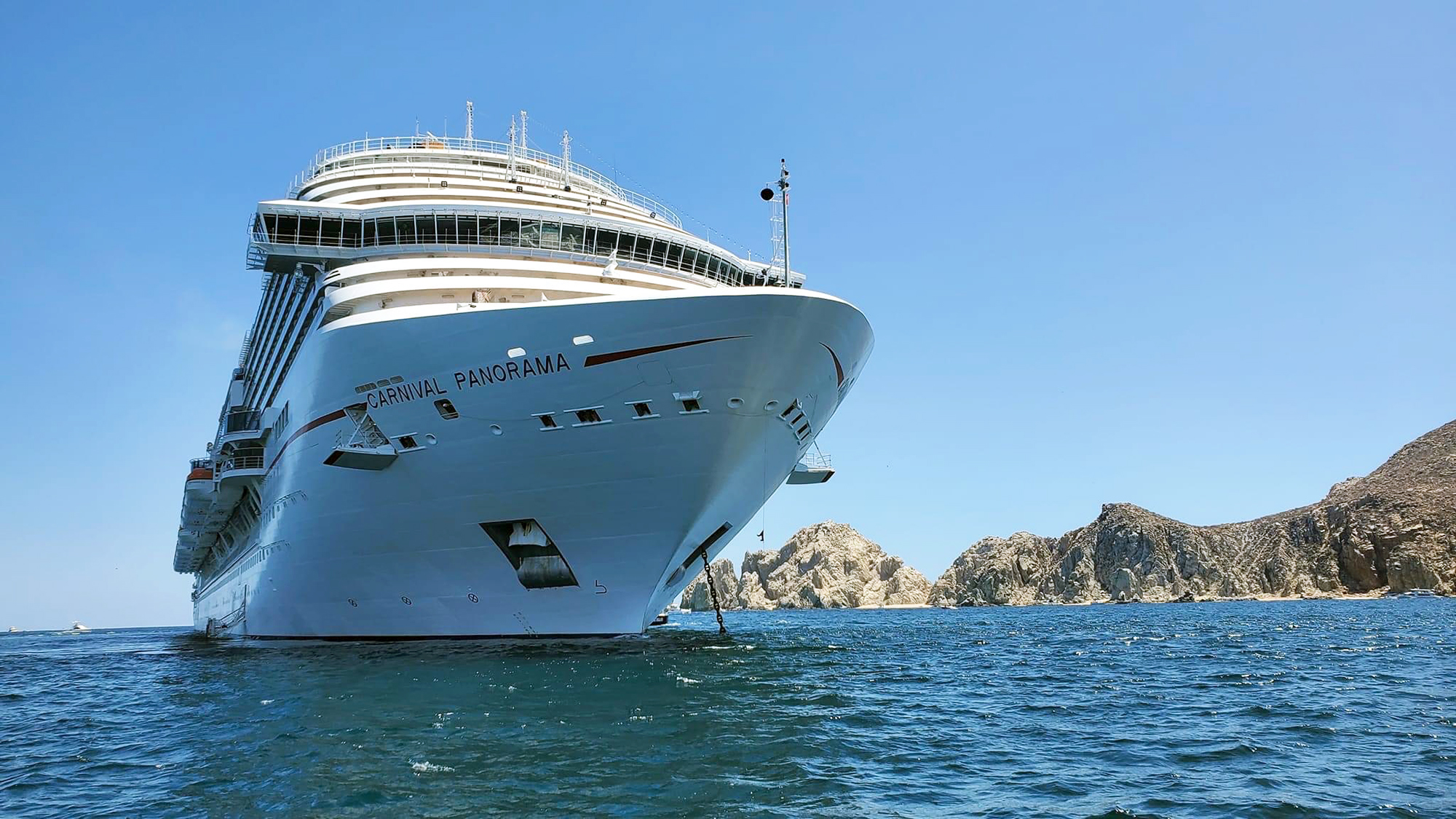 Where Does the Carnival Panorama Sail To and From?
The Panorama sails out of Long Beach, California. Long Beach is a beautiful coastal town just outside of Los Angeles. You can easily fly into LAX and take a short UBER ride to the Long Beach area.
I recommend coming in a day before your cruise to make sure you dont have any travel problems (the ship won't wait for you!). Long Beach is lined with several beautiful beaches and tons of shopping and fun restaurants.
Once on board, the Panorama sails to three Mexcian Ports: Puerta Vallarta, Mazatlan, and Cabo San Lucas. Typically in that order.
You'll have a full day in Puerto Vallarta (usually 9 am-8 pm), a day in Mazatlan (8 am-5 pm), and a shorter day in Cabo (6 am-3 pm).
While on board you also have 3 full days at sea. This means that while the boat is sailing through the ocean, you can enjoy the pool and all the amenities that Panorama has to offer… and there are tons!
Looking for some great excursion ideas? Click here!
What is the best deck on Carnival Panorama?
Deck 10 – The Lido Deck
I guess that all depends on what you like to do! But typically you'll find that Deck 10 (the Lido deck) is the most popular and probably where you will spend most of your time.
This deck is home to the Lido Marketplace… AKA the buffet! You can enjoy breakfast, lunch, and dinner here, as well as snacks throughout the day. The buffet is open almost all day long, with just short breaks to change over the food.
You'll also find unlimited soft serve ice cream on the Lido Deck… and if you're traveling with kids, you will often find them here!
The Lido Deck is also home to the main pool and 2 of the best bars, the Blue Iguana and the Red Rum Bar. Each has a different drink menu so make sure you check them both out!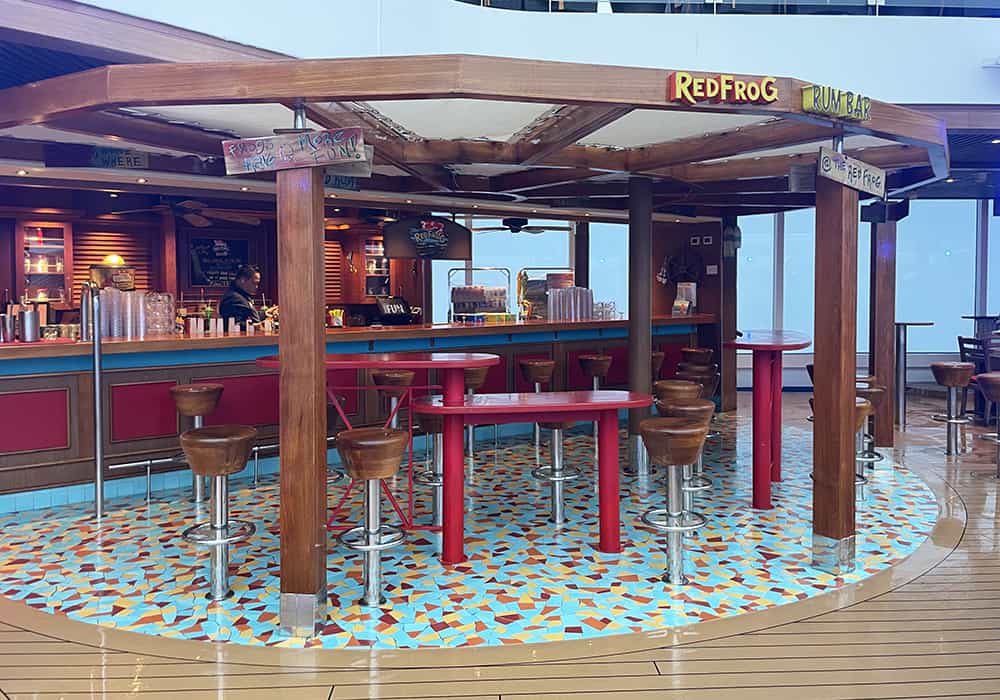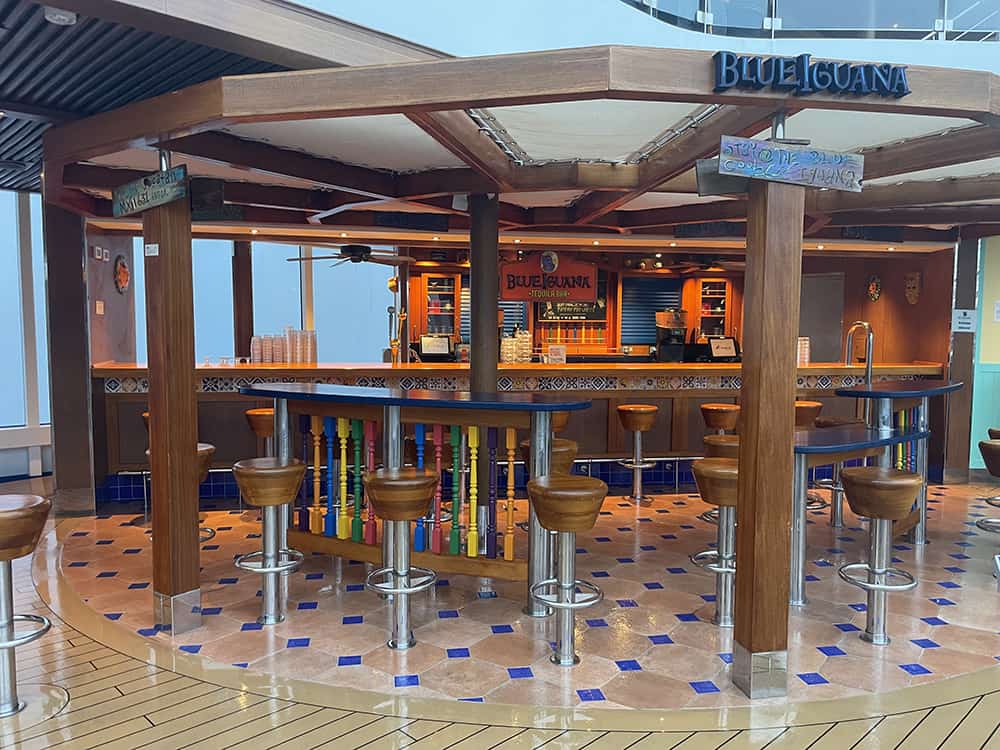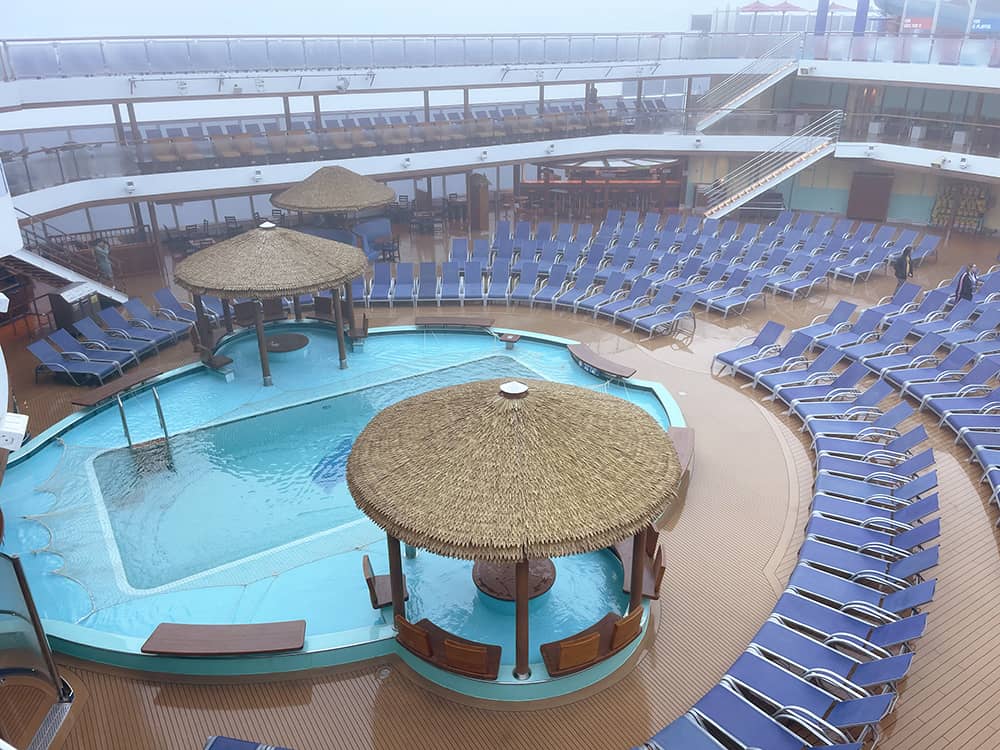 You'll find other food places on the Lido Deck as well, including Guys Burger Joint and Blue Iguana Cantina… both places are included in your booking.
Towards the back of the ship on the Lido Deck is the Tides Pool. Here you'll find the only 2 hot tubs available to kids and adults. The Pizza place (open until 4 am!) is also here as is the Seafood Shack (which costs extra).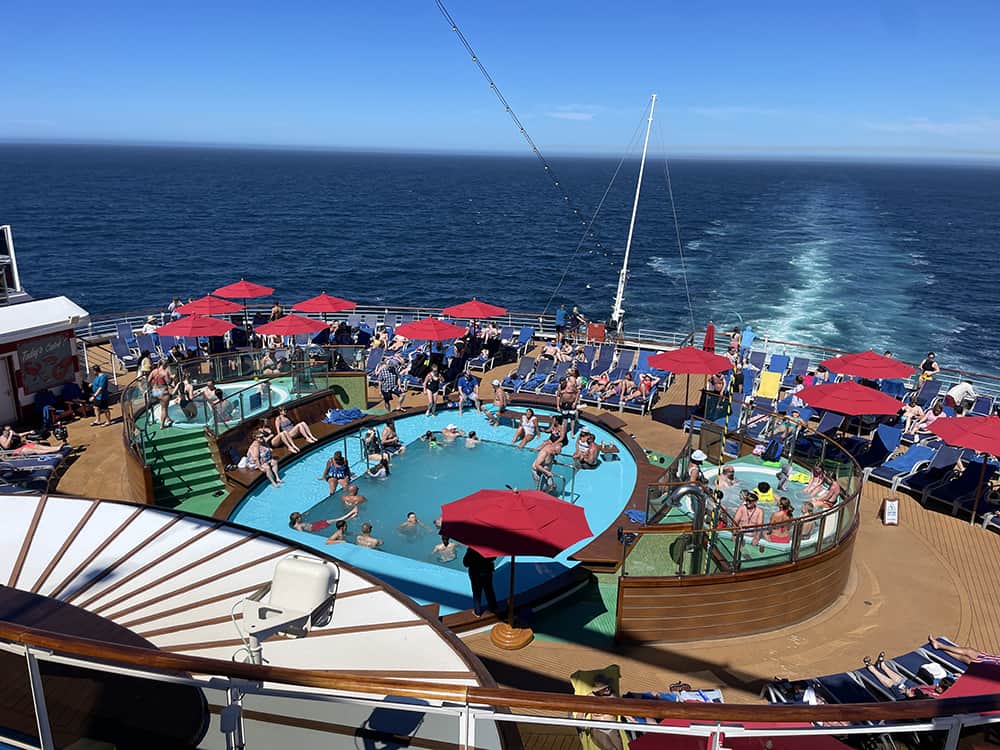 The Lido deck is where you will find access to all the "fun" stuff on the ship. There are waterslides, minigolf, basketball, foosball, and more!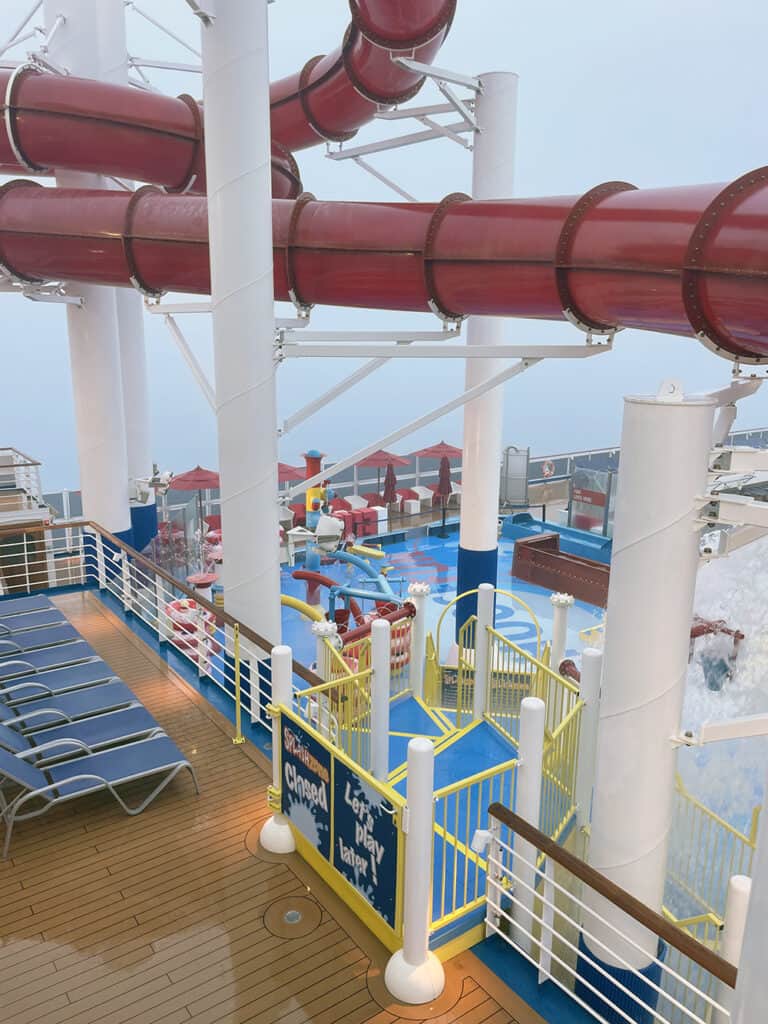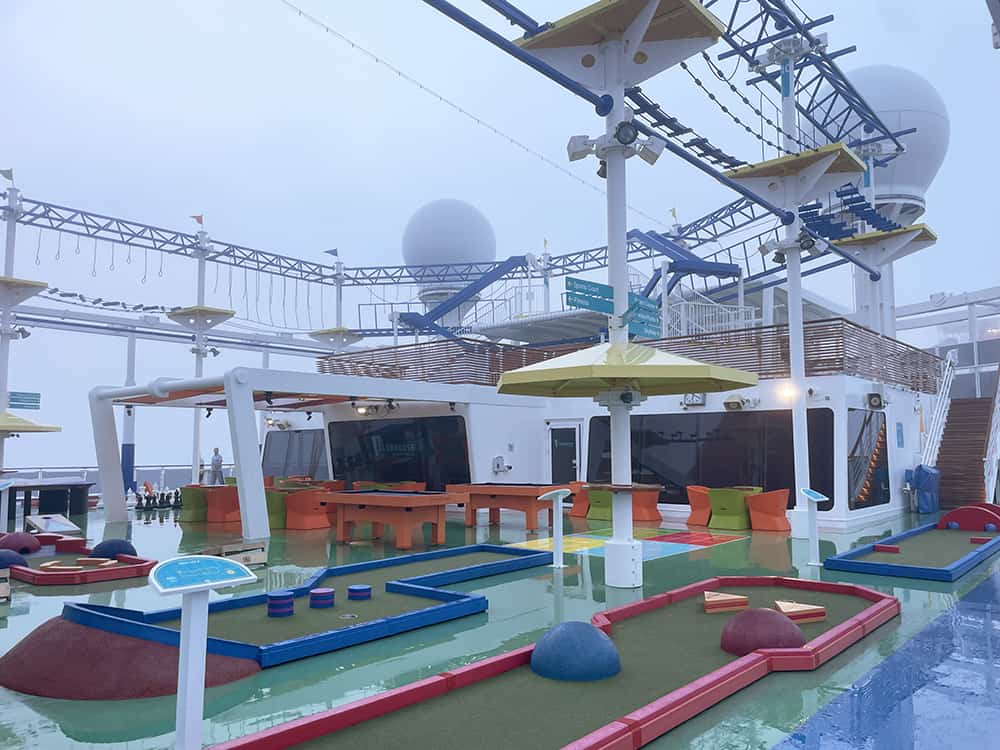 The Lido Deck main pool area is where you will also find the deck parties each night, and where they play movies as well.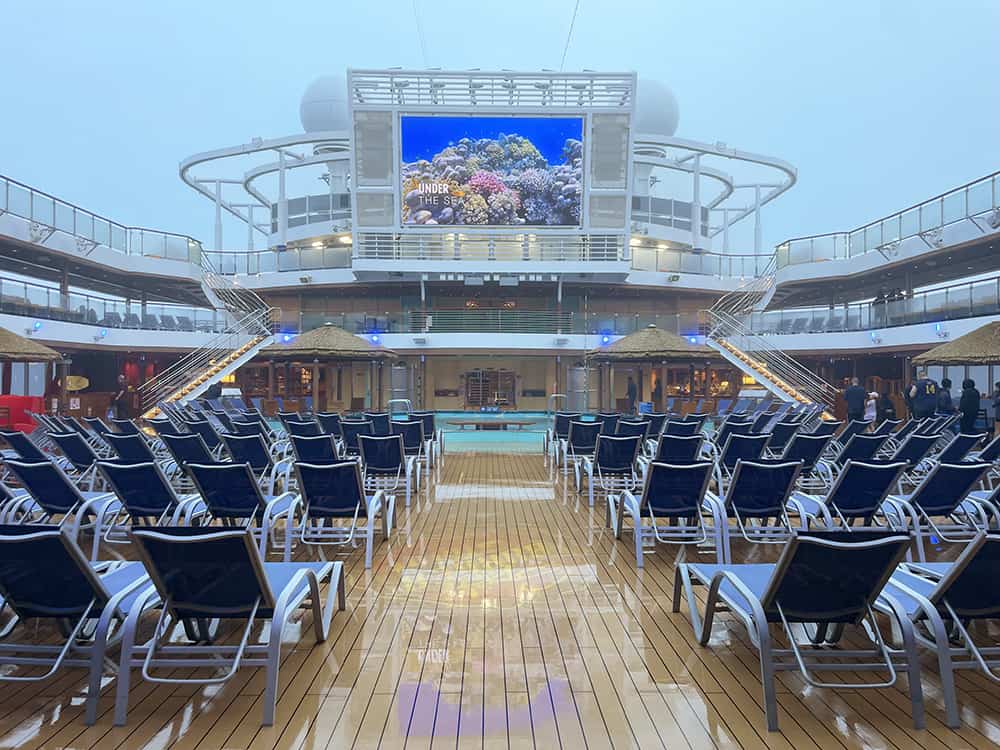 Deck 5 – Promenade
Probably the second most visited deck on the Carnival Panorama. In the front of the ship is the Liquid Lounge, home to several great shows.
The promenade is home to most specialty restaurants, shops, and fun bar areas. So we tend to spend most of our days on the Lido deck, and our nights on the Promenade deck.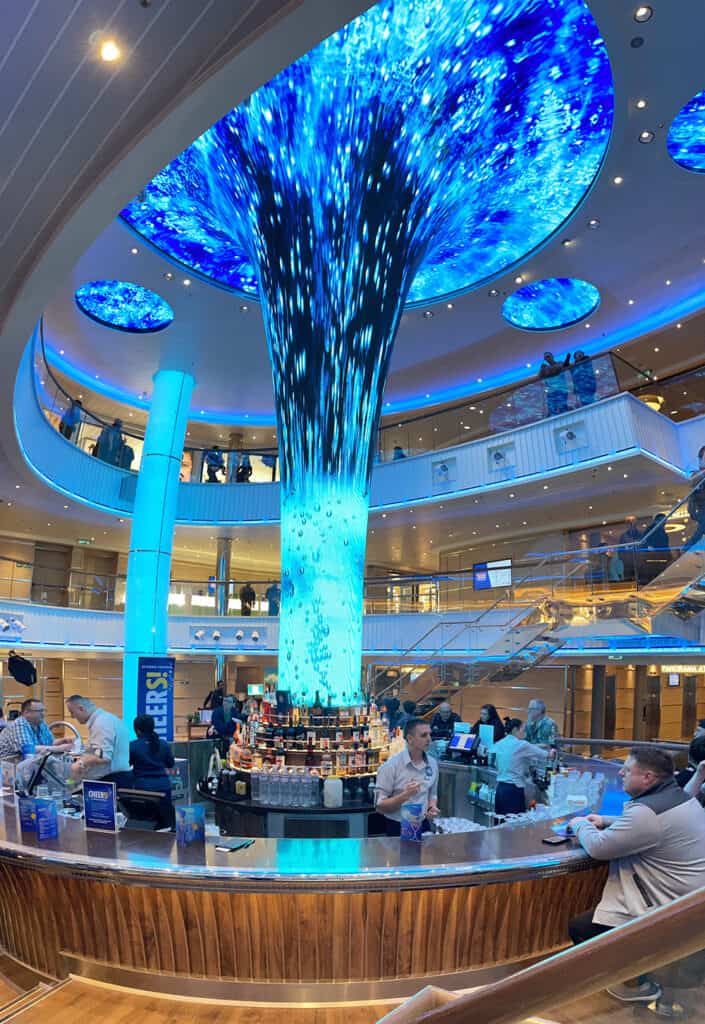 Some fun places to visit here are The Library, which is a beautiful and quiet place to grab a book or get some work done if you need to.
The Piano Bar is directly across from the Library and is a great, mellow bar where you can request songs. The Alchemy Bar is located right in the center of Deck 5 and is the perfect place to grab a unique drink.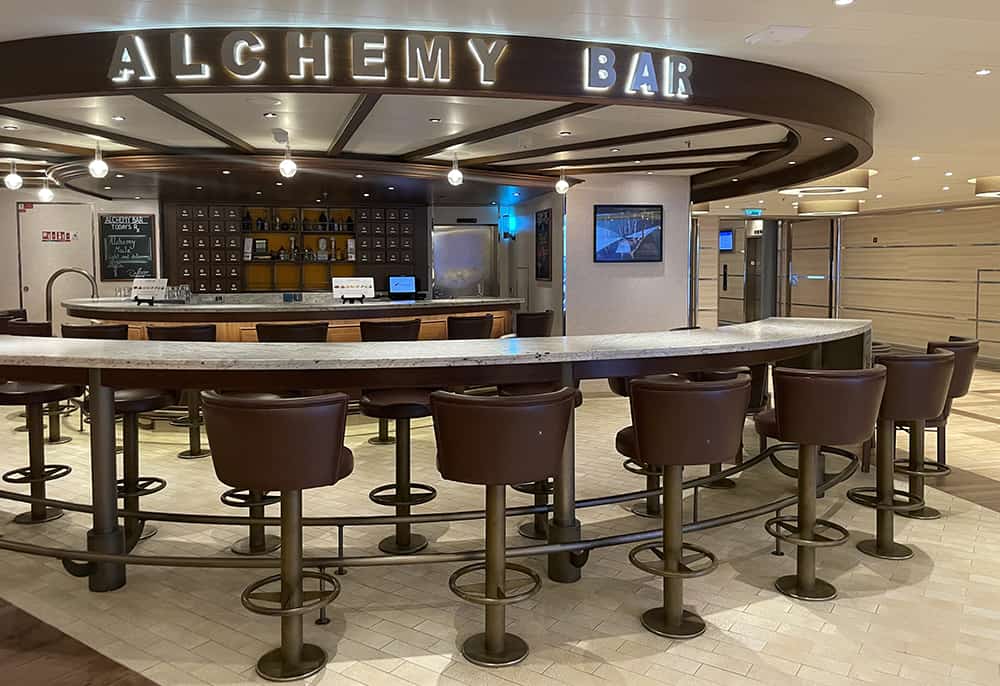 Further down the deck, you will find JavaBlue Cafe and Shake Spot. The Javablue Cafe opens early and is home to your specialty coffees (including spiked coffees) and shakes in the afternoon.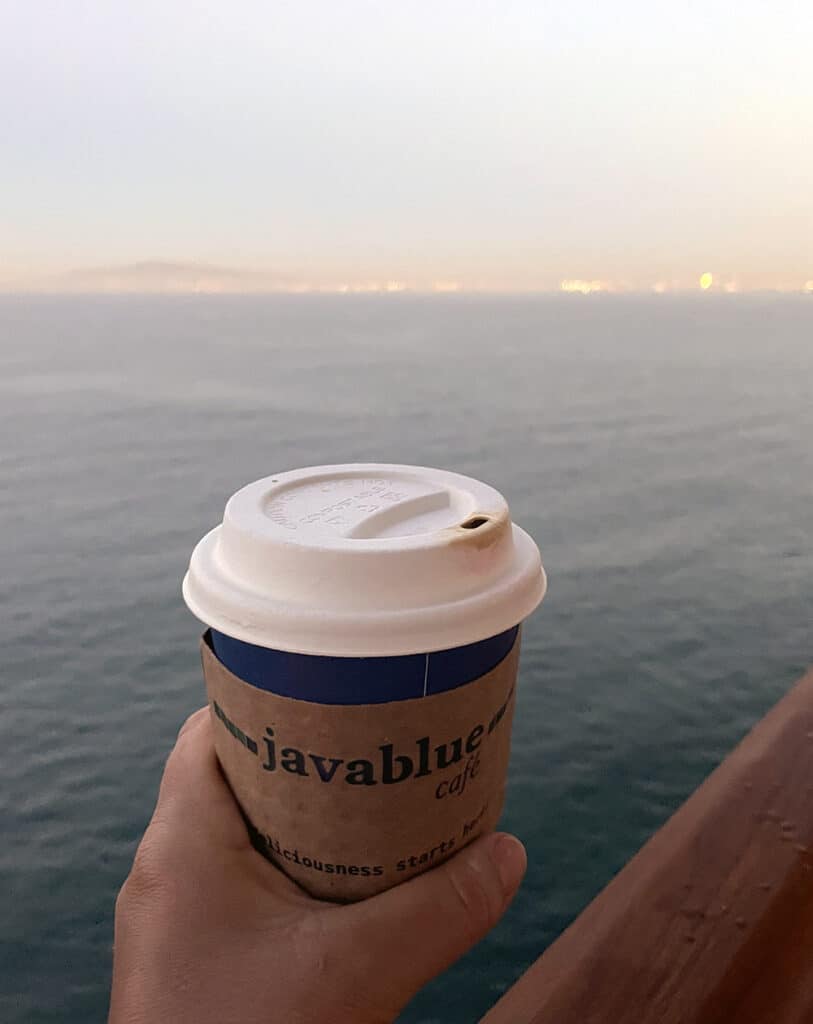 Just past the cafe is the Ocean Plaza. You can find everything here from game shows, to musical acts. This was one of our favorite places to relax after dinner and enjoy music.
Panorama Deck Plan
CLICK HERE For a comprehensive floor-by-floor deck plan of the Carnival Panorama.
Once you are on board, I recommend you download the Carnival Hub App and you can search for specific places on the ship.
It's very easy to get turned around once on board. One tip I always give people is to learn two terms:
Bow/Stern – This indicates the front of the ship
Aft – This indicates the back of the ship
By knowing these two simple terms, you will have a much easier time finding any place on the ship. And if you don't know which direction is the front, just look out any window and you'll see the direction the boat is going.
Carnival Panorama Food Review
I have sailed on several cruise lines including Carnival, Royal Caribbean, and Princess. Compared to these other cruise lines, Carnival does lack in the food department.
But even though those other cruise lines might have better cuisines, the food on the Carnival Panorama was still really good and I had no complaints.
Lido Deck Buffett – You can enjoy breakfast, lunch, and dinner here. Breakfast is typically pretty busy as most of the ship's passengers eat here. Lunch is a little less crowded because passengers like to enjoy other options.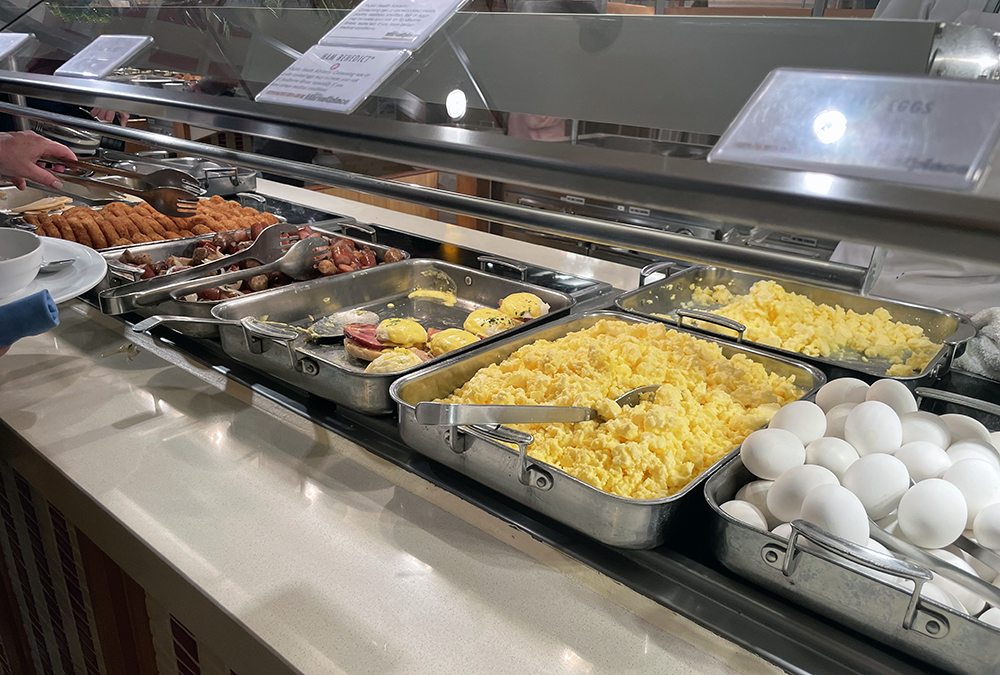 The food at the Lido buffet is surprisingly good. Breakfast is typically the same every morning but offers a pretty big selection of food. I enjoyed having eggs benedict literally every single morning! And even the lunches and dinners are great too.
Restaurants – The Vista and The Horizon – There are 2 dining rooms on the ship but each dining room serves the exact same menu. One is reserved for My Time Dining while the other is reserved for Your Set Dining Time.
If you are signed up for My Time Dining (where you eat at any time you want) you need to download the Carnival Hub App and log in to the dining room to reserve your table. They give you a countdown and let you know when your table is ready.
This is really great because you can reserve your spot while you are still in your room or at a bar and head to the dining room when your table is ready.
I do have to say that I was disappointed with the food in the dining rooms. It was pretty mediocre. Not bad but not great either. We actually found we enjoyed the food in the buffet to be better and ate dinner there a few times.
The only thing that really makes the dining room worth it is their specialty dessert… The Carnival chocolate melting cake. So good!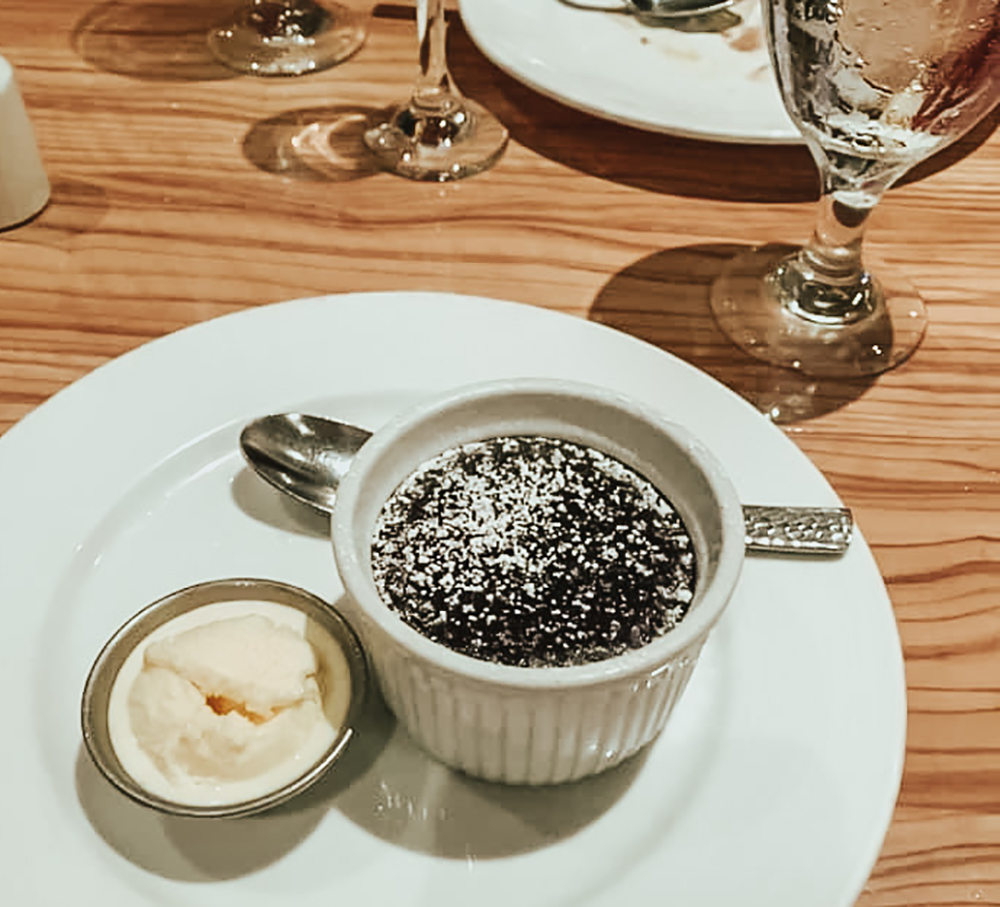 One positive aspect of the Main Dining Rooms (also referred to as MDR) is the beautiful view you get while eating dinner. Just check out this sunset view we had at dinner one night…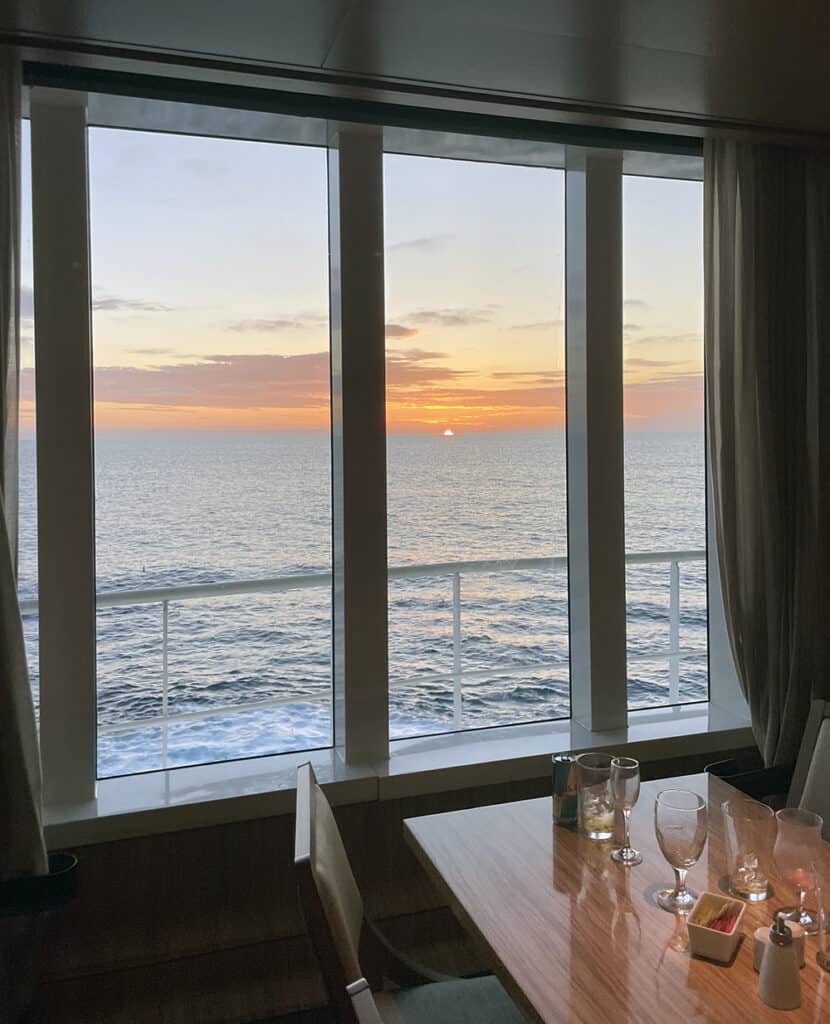 OTHER DINING OPTIONS – It's tough to know what's included sometimes and what's not. So here is a quick breakdown of what is and what's not.
Included Dining:
Guy's Burger Joint – is located on the Lido deck near the main pool. You can grab build-your-own burgers here any day. They were absolutely delicious!
BlueIguana Cantina – Also located on the Lido deck near the main pool. Great tacos and burritos and even serves breakfast burritos. I love that you can get as many tacos as you want. Not hungry? Get one… super starved…get 5!
Cucina Del Capitano – This cute little Italian place lets you build your own pasta bowl. It is included in your cruise far during lunch but costs extra during dinner. I recommend it if you like pasta, but not worth the extra cost.
JiJi Asian Kitchen – Amazing Oriental noodles and ramen options. This was a favorite of ours! Free during the lunch hours but costs extra during dinner times. I highly recommend visiting here at least once.
Pizza – Open until 4 am! Grab a slice or a whole pizza any time of the day. This is located aft of the ship near the tide pool and hot tubs. Suprisingly good! Fresh firewood pizza. I could have eaten this every day.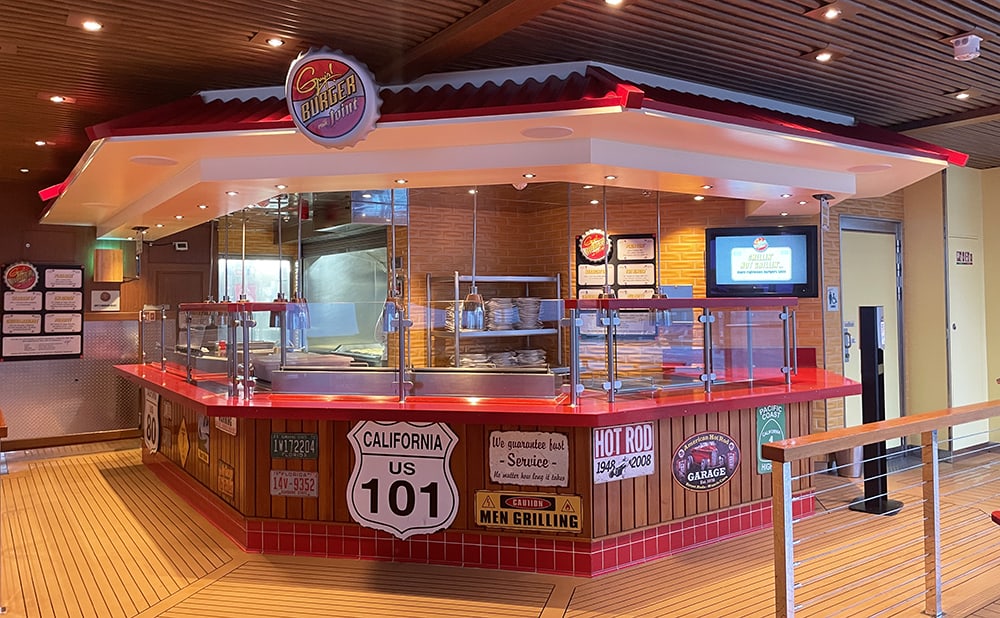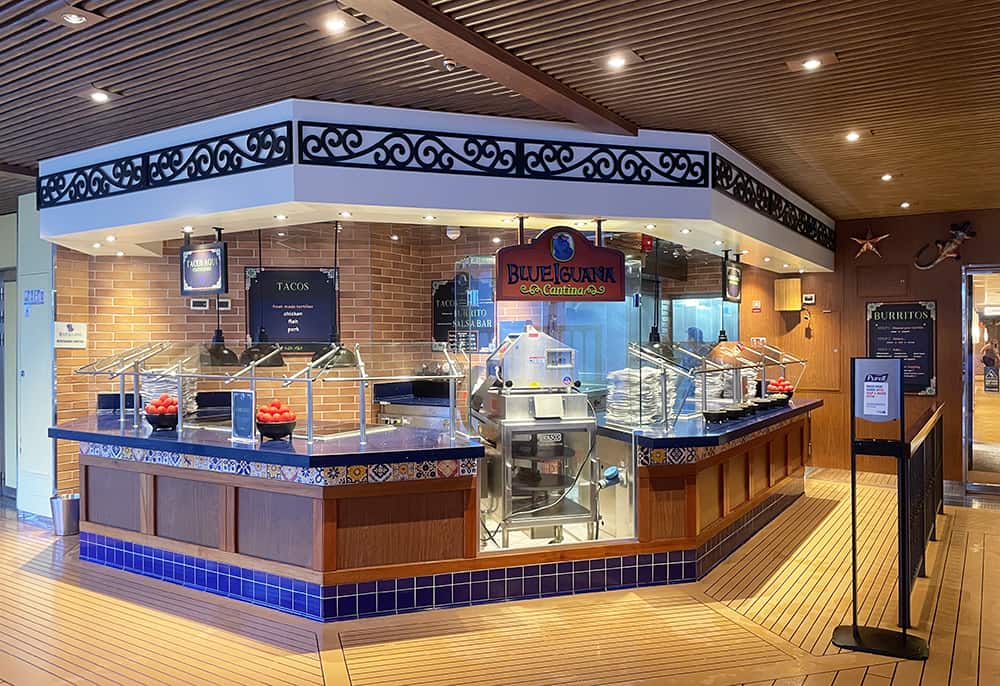 Extra Cost Dining:
Guy's Pig and Anchor Smokehouse – located on the 5th deck near the JavaBlue Cafe, you'll find some pretty amazing BBQ here.
TIP: This is FREE on embarkation day (the day your board) so eat there right away!
Seafood Shack – located on the 10th floor, lido deck, at the rear (aft) of the ship next to the Tides pool. The seafood shack costs extra but their lobster rolls are worth the extra cost.
Bonsai Teppanyaki – Open during dinner hours, and requires a reservation. Enjoy a fun and interactive experience where they cook the food right in front of you.
Steakhouse – You'll also need reservations for this specialty restaurant. While I've never personally tried it, many people have reported this to be truly amazing. The best steak, lobster bisque, appetizers, a wine pairing, and more.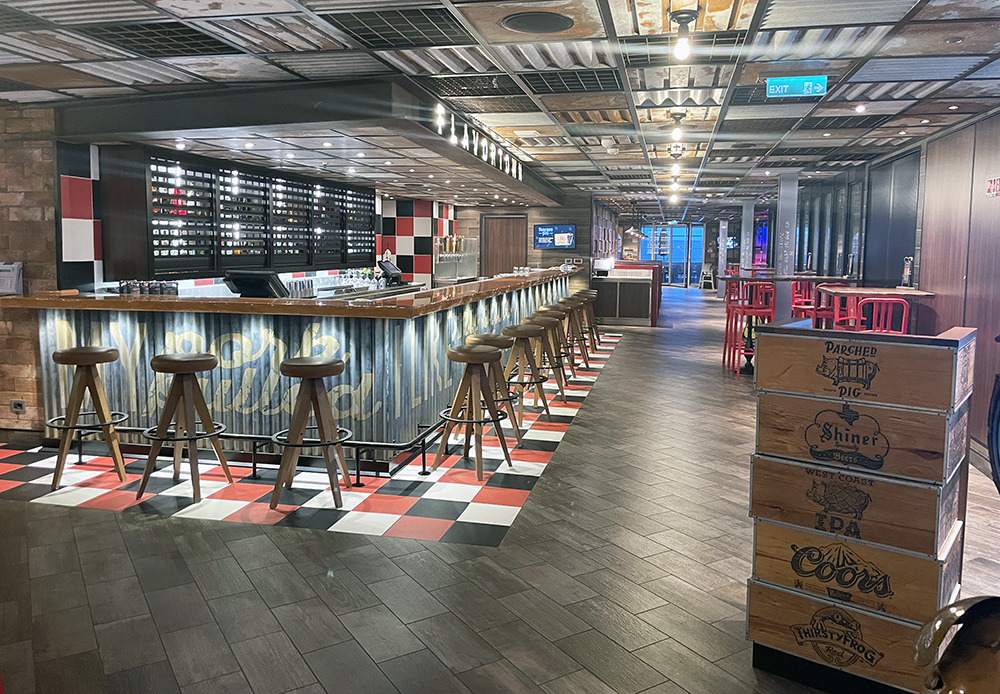 Drinks On The Panorama
One of the most asked questions about the Carnival Panorama is about the drinks! What's included and what's not and if the Cheers package (alcohol) is worth it.
Included Drinks: You will always be able to have a section of free drinks on the Panorma that include; water, lemonade, orange juice, passion mango juice, and basic tea and coffee. You'll find these at the buffet and any dining area.
Drinks that cost extra: There is a huge selection of drinks you can also purchase on your cruise. These include; milkshakes, sodas, specialty coffees, and any alcoholic drinks.
Water: if you have the Cheers package, you can grab bottled water from most of the bars. Otherwise, there are water fill stations around the boat (mostly near the buffet on the Lido deck).
Is the Cheers Package worth it?
This answer can honestly be different for anyone. If you only have one or two drinks a day, perhaps not.
But drinks on the Panorama can add up fast. Each alcoholic beverage at the bar can average about $15-$18 apiece.
The Cheers Package also includes items such as; specialty coffees, milkshakes, Gatorade, bottled water, and other non-alcoholic beverages.
So if you start your day with a coffee or two, then move on to drinks at the pool, end your day with a glass of wine or cocktail at dinner… you should definitely consider getting yourself the Cheers package.
Carnival Panorama Adults Only Sections
Traveling without kids? Have no fear! There are a few places you can go where you can find peace and quiet.
The biggest and most popular is the Serenity area. In this area, you will find 2 hot tubs, padded hammocks, sun loungers, round 2-seater chaise lounges, and shaded areas. Not to mention a bar!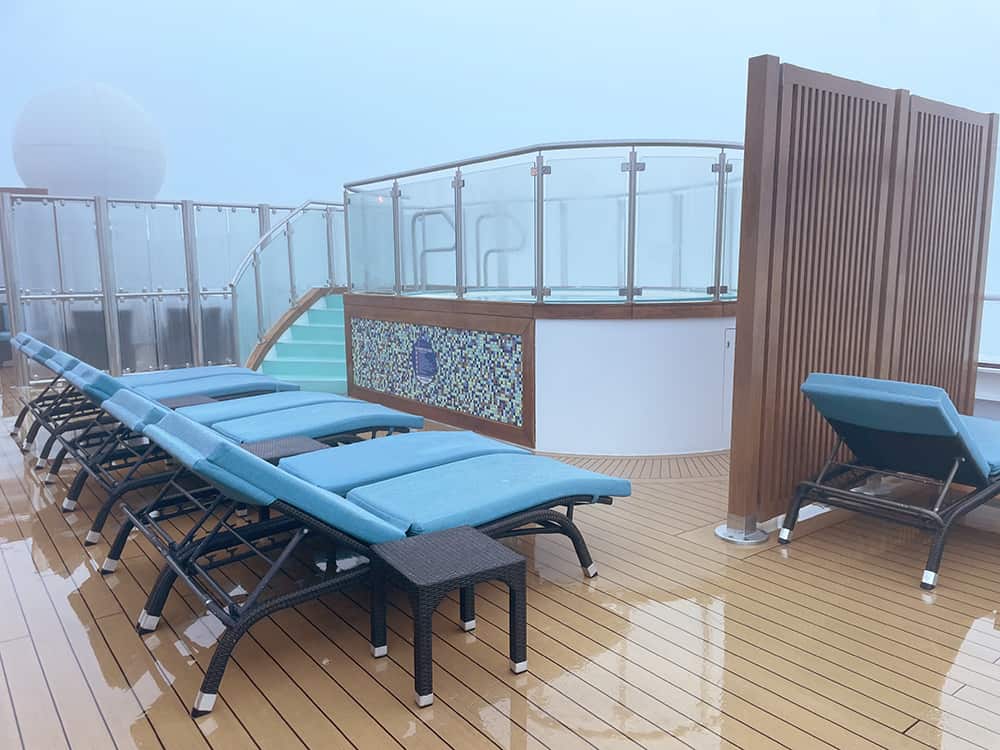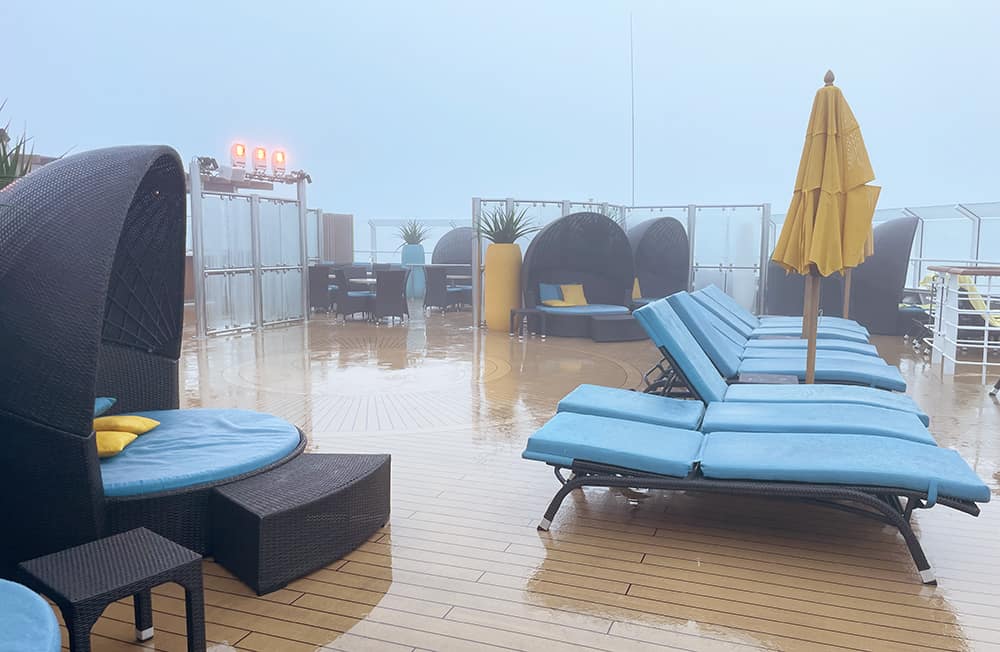 There is no pool here, unfortunately. And there is no adult-only pool on the entire ship.
If you are looking for a quiet place to retreat at night, go to the Library Bar. While it doesn't officially ban underage passengers, it is far too quiet and boring for them here and your chances of an adult-only sanctuary are pretty good.
On deck 5, just outside of the Javablue Cafe, are several tables, chairs, and loungers out on the deck. This is also not technically a non-kid area but they are rarely here and I was able to enjoy my morning coffee while looking at the ocean every morning in peace.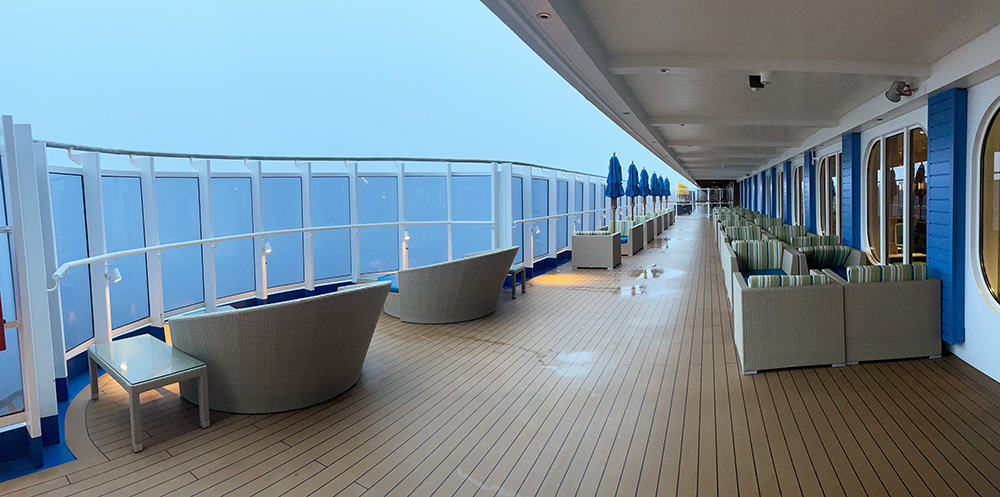 Carnival Panorama Rooms
The rooms on the Panorama are actually quite spacious (for cruising standards). I always recommend getting a balcony room if it's within your budget. I have seen whales from my balcony on both an Alaskan Cruise and my cruise to Mexico on the Carnival Panorama.
Not to mention the amazing sunsets/sunrises and views you see sailing into each port.
Traveling with 4 or more people? Find out the secret to getting 2 cruise rooms for the price of one!
Balcony rooms are also a lot more spacious than the interior rooms. When you first walk in, you have a bathroom to one side and a large wall closet (with hangers and drawers and a full-length mirror) to the other side.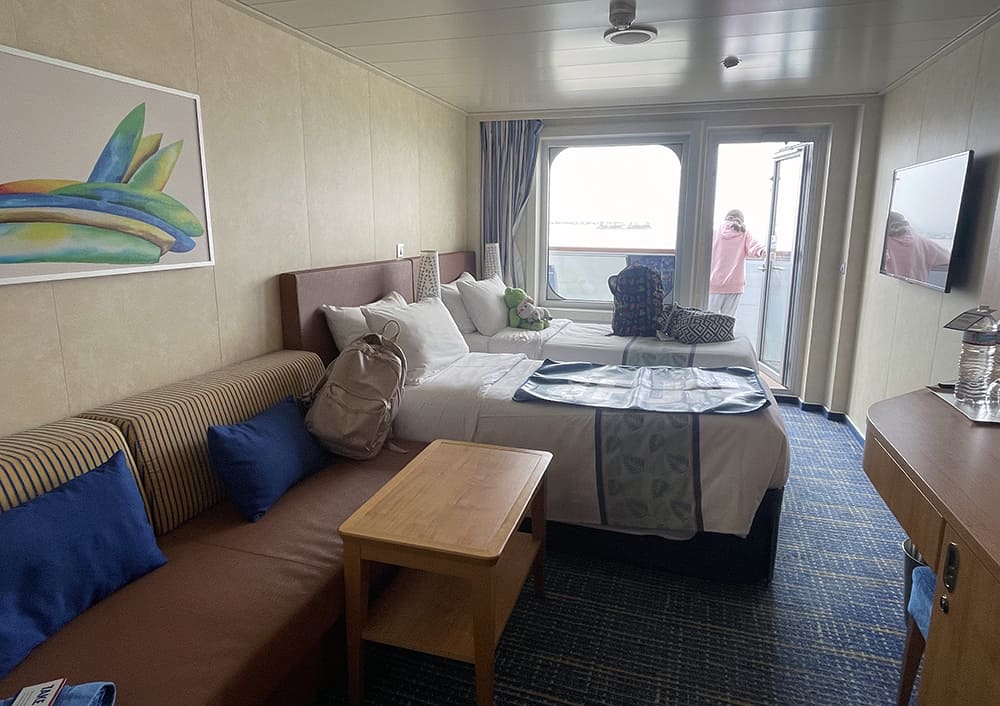 Keep going and you'll find a decent-sized couch with a coffee table, a desk with more drawers, and a large mirror across from it.
The beds in ALL rooms are twin sized. You can combine them to make a king-sized bed or keep them separate.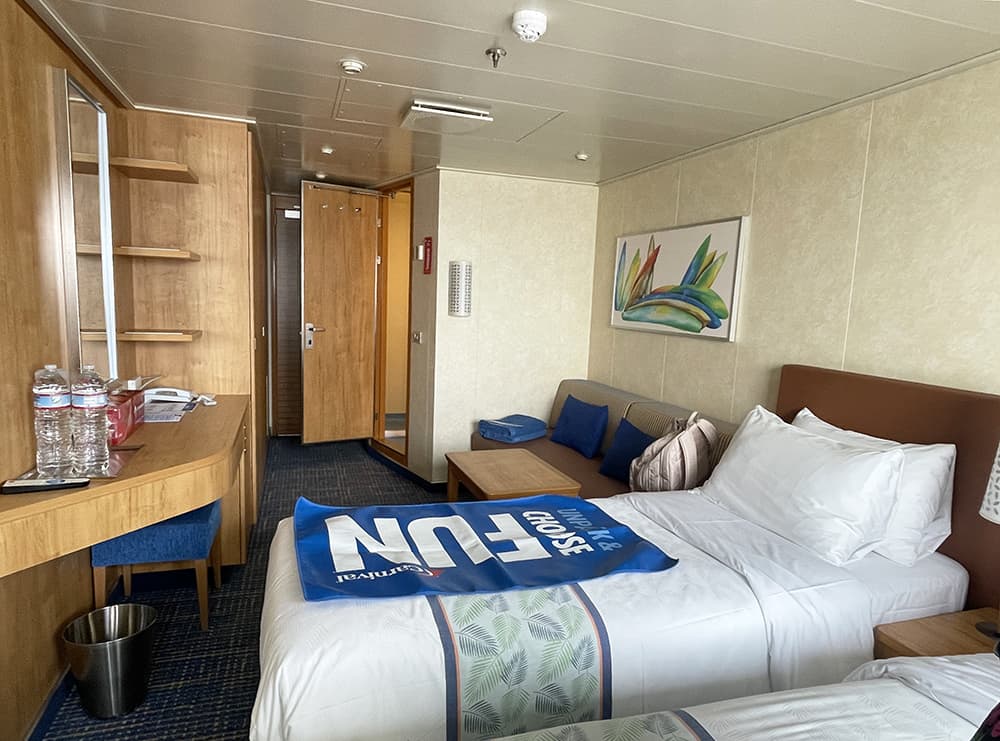 While bathrooms on cruise ships are typically very small, the bathrooms on the Panorama are actually a pretty decent size. One major plus is the many shelves near the sink area.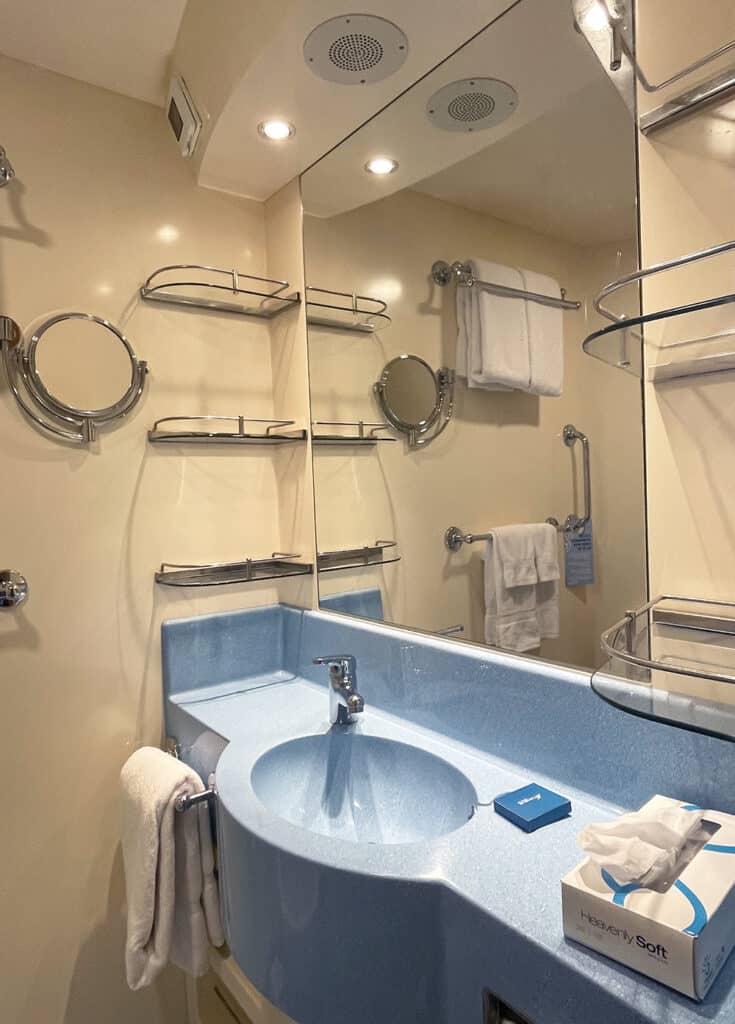 The interior rooms have most of the same features minus the couch.
While the interior rooms as a great option for those on a budget, the balcony rooms are worth every penny. On our cruise to the Mexican Riviera, we saw several whales from our balcony as well as a sea turtle. Not to mention great sunsets every night.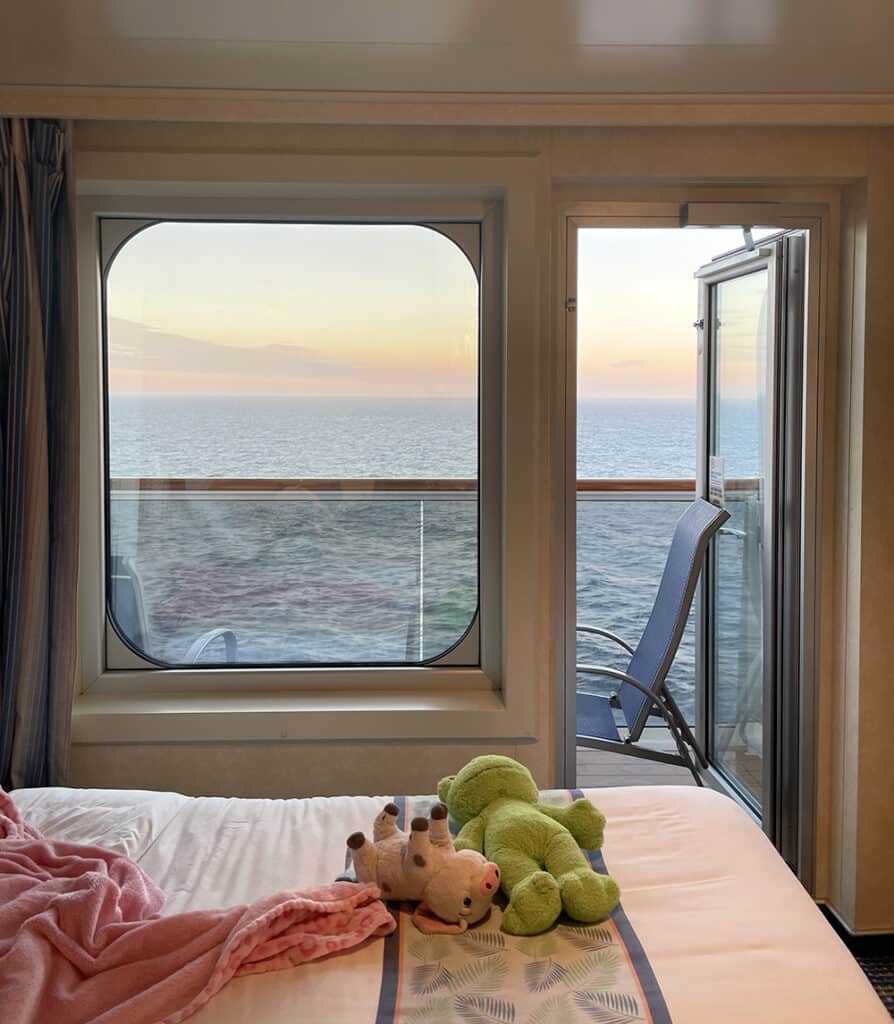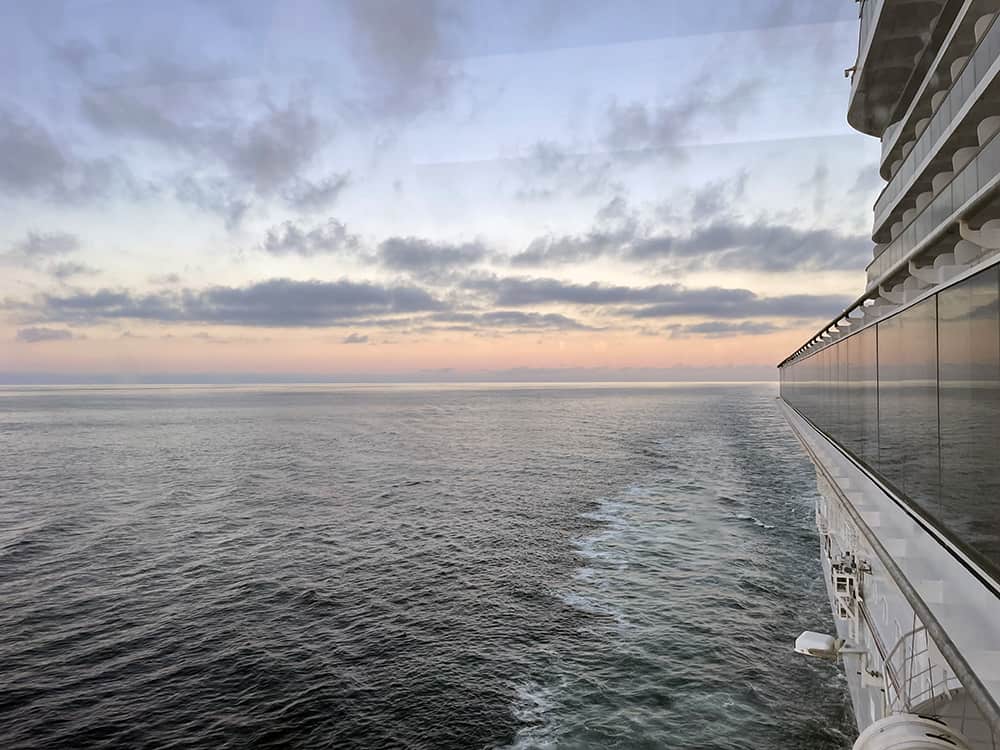 Havana Rooms: If you like upgrades, check out the Havana rooms! These are similar in size to most balcony rooms. The difference is that the decor is more tropical-like and with the Havana rooms, you get exclusive access to the Havana pool, bar, and hot tub.
TIP: If you tend to get seasick, choose a room as close to the front of the ship, and lowest on the ship.
TIP: Deck 10 (the Lido deck) is where the buffet and pool can be found. Which means that area gets a LOT of traffic. Keep that in mind when booking a room on the 9th floor.
Carnival Panorama Activities
As far as Activities go, the Carnival Panorama has this area down. When we sailed, our cruise director was Marty and he was amazing. I have been on many cruises and this was the first time a cruise director was so involved.
Almost every night there was a party on deck, and each one was super fun!
Theme Parties:
80's night – dress in 80's gear and dance to your favorite classic 80's music)
White Night – everyone wears white and has a dance party
Silent Night – the silent disco party! One of my personal favorites
Glow deck party – Where.. you guessed it… everything glows and the kids get giant glow sticks set to music
Sail away party – This one is actually when you first sail away from Long Beach right around 4:30pm and includes dancing, music and activities to start your cruise off in style!
Carnival Panorama really has too many activities to list. Every day, you will get a printed out list of activities left in your state room. You can also find everything on the Carnival Hub App.
From shows, to movies, to contests… you will never be board on this ship!
The Not So Good
We really enjoyed our time on board the Panorma and don't actually have too many negative things to say. If you are thinking of booking a cruise on this ship, you will enjoy it thoroughly!
But there are just a few small things I want to mention that did disappoint us a tad bit.
Negative Parts of the Panorama:
No Adults-only pool – On a lot of cruise ships, you can find an adult only pool in the Serenity area. But on the Panorama, they only have hot tubs in the Serenity area. No pool. So if you want to take a dip in cool water away from splashing kids… you can't.
Only 2 hot tubs, at the rear of the ship – Another thing that really bothered us was that there were no hot tubs by the main pool on the lido deck. EVery other ship I have sailed on has multipl hot tubs in this area.
And since the main pool is where most of the kids swim and where the water slides are, you have to choose if you want to grab a lounge chair here or on the way back of the ship. In other words, you almost have to choose the pool or the hot tub.
Soda/specialty coffee locations – On other cruise lines, you can find a coffee bar and a soda machine right in the buffet area. So I can usually grab my morning latte with my breakfast.
On the Panorama, the speciality coffee area is on the 5th floor, a long walk from the buffet on the 10th floor. Not super convenient if you want to have coffee with your breakfast each morning.
Lack of soda and water stations: Again, soda machines seem to be everywhere on other ships. But on the Carnival Panorama, you can only get soda at the bars. So if your child has a soda package, they have to fight the crowds of adults getting drinks at the bar, just to get their soda.
You also can't get soda at the buffet, so if you want some with your lunch or dinner, you have to walk across the ship to the bars and grab one from there. Not very convenient if you are a family and trying to keep track of your kids.
Same goes for water. You would think that a ship that is sailing to a sunny and warm place would offer more water stations. But the only one we could really find was at the buffet. so no matter where you were on the ship, you had to go to the lido deck to fill your water bottles.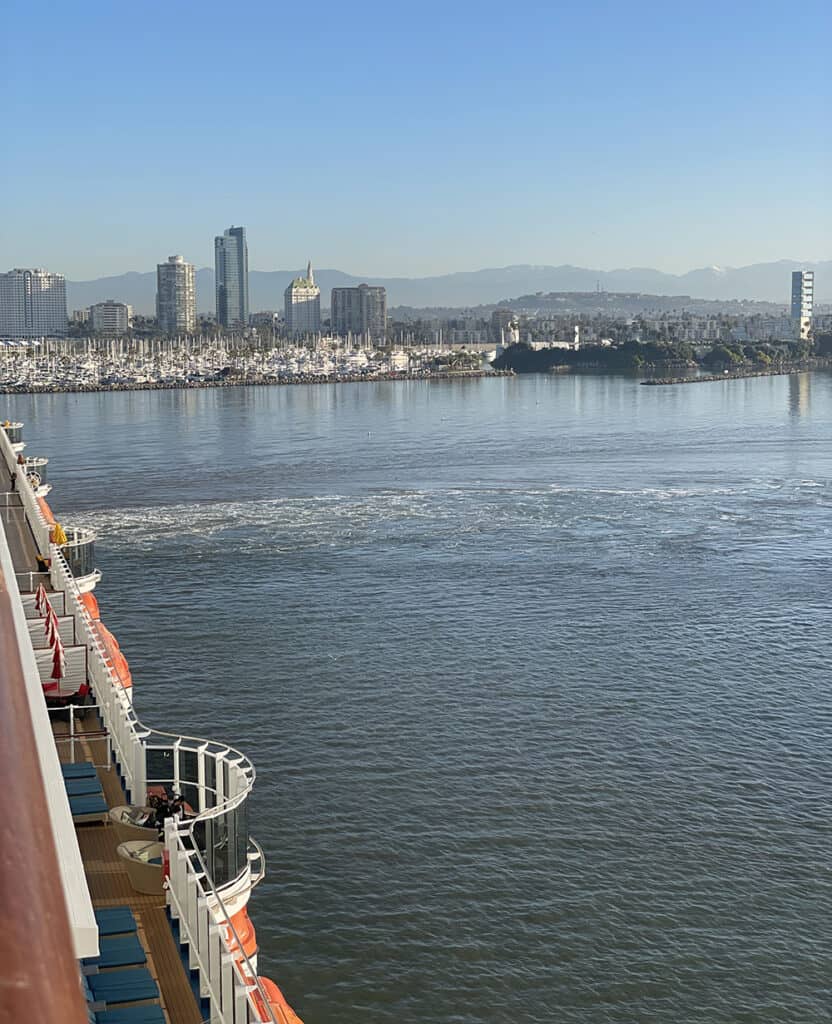 The Carnival Panorama Review
Overall, we were very impressed with the ship. Carnival does a great job of making your vacation as fun as possible. The staff are always incredible and I would sail this ship a hundred more times!
We also enjoyed our time in the ports a lot more than I thought we would. You can read more about each port we visited below.
And if you have any pros or cons you'd like to add to this list, feel free to drop them in the comments below for future passengers.
Happy sailing!
You Might Also Be Interested In:
Spend a Cruise Port Day in Mazatlan (coming soon!)
What to do In Cab San Lucas When On a Cruise (coming soon!)

Pin for Later!