What's Included on an Alaskan Cruise in 2023
Ready to sail to Alaska but you're wondering what's included on an Alaskan cruise? From food to shows, here is everything you need to know before you book!
Booking a cruise is unlike any other vacation you book. When you book your Alaskan cruise, you pay a lump sum that includes the majority of your vacation.
But if you're trying to budget for this trip of a lifetime, it can be tough to really know what's included and what's not. It seems like it's all-inclusive, but is it really?
Cruise lines don't make it easy to figure out what costs extra because they don't want to scare you off or make an Alaskan cruise seem out of budget. But with a little research, you can easily determine exactly what's included on an Alaskan cruise and what's not.
What's Typically Included on a Cruise?
When you book your cruise, the very first and most important thing you'll choose is what kind of room you want. Cruises charge for the type of room and per person. So sometimes it's cheaper to actually book 2 rooms instead of one.
For More Information: How To Book Two Cruise Cabins For the Price of One
Ok, so you booked your room. What's next? Cruise lines can vary on what is included in your cruise and what isn't, so be sure to check your cruise lines website. Or my favorite, find a Facebook group about your specific cruise and connect with people who just sailed.
Activities Included on Your Alaskan Cruise
Shows – Typically all shows are included in the price of your cruise. And cruise ships offer a lot! You can expect to see musicals, plays, game shows, and even comedy acts. And these never cost you anything extra!
Day Care and Kids Clubs – The main reason why an Alaskan cruise is a great family vacation… FREE DAYCARE! Yes, you can indeed have someone watch your child so you can have dinner, sit by the pool, or even nap in your room.
The Kids club ranges from infant to teen and does a great job of keeping your child entertained so you can enjoy yourself elsewhere.
Clubs and Bars – Every cruise comes with a few dance clubs. One is meant only for teens and one is meant for adults… and both are totally free! So you can dance the night away, and the only thing you would pay for is drinks if you don't have a package.
Several bars have dueling pianos or singers and you can grab a lounge chair and enjoy the music… also completely free and included in your cruise price.
Is Food Free on an Alaskan Cruise?
Most food on an Alaskan cruise is free! You can definitely eat non-stop and never have to worry about paying extra if you dont want to.
The buffet is always included in your cruise fare and offers a wide variety of cuisine. You can get breakfast, dinner, lunch, or snacks at the buffet. And these are always included in your cruise price.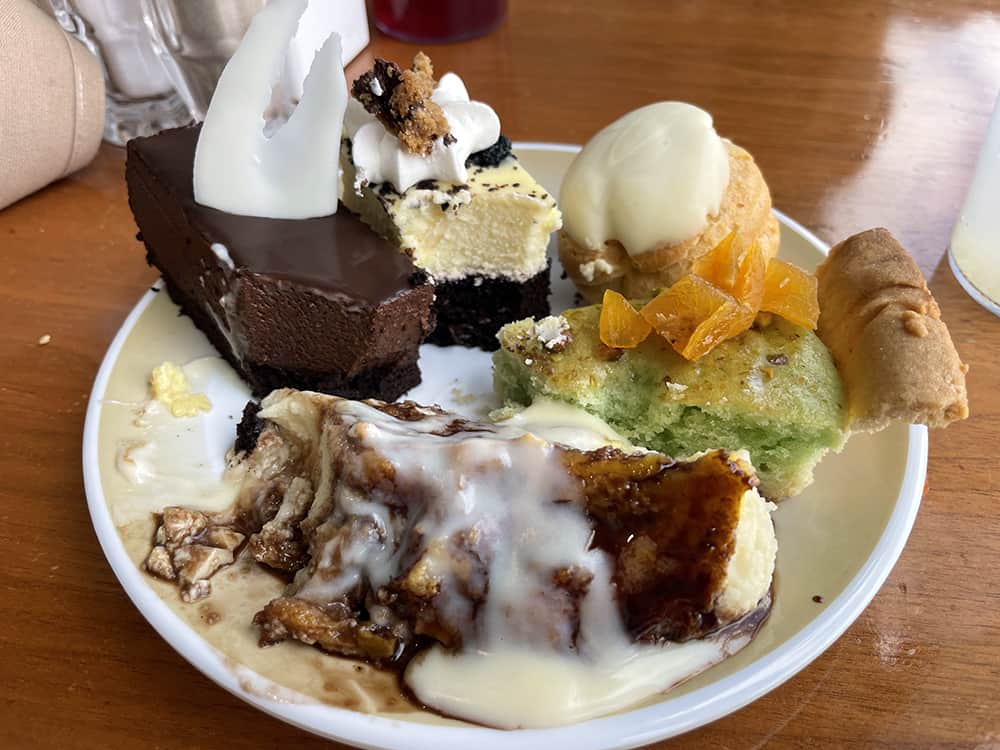 The main dining halls are also included. You can dine here for breakfast, lunch, or dinner any day of the week. The entire menu is included and what's even better… you can order as much of anything as you'd like.
Do you want 2 main courses, 3 sides, and 2 desserts? Go for it! You won't be charged extra if you order off the menu, no matter how much you order.
The only thing you will pay more for in the main dining hall is alcohol or some upgrades like steak and lobster. Your menu will tell you what will be an extra charge. We have easily eaten in the dining rooms every night of our cruise and had a wide selection of cuisine, and never paid extra.
Most food places on the ship are included in your purchase price too. Almost every cruise line has a sandwich shop and a pizza place that are free of charge. Some ships have dining options that are an upgrade, but they will state that on the menu. Carnival offers a fantastic lobster roll place for an extra charge.
What to watch out for – Room Service! Cruises used to offer room service at no additional cost but have since changed that. You'll often have a small fee to order food for your room. The only exception that's free, is a continental-style breakfast.
What Drinks Are Free On Cruises?
All cruise lines are similar in this regard. Included in your cruise price is standard. You'll get water, tea, or lemonade. Most black coffee is also included, with packets of cream or sugar.
Even in the main dining hall, you are limited to that water, tea, or lemonade option unless you upgrade to a drink package or pay for individual drinks.
Sodas, bottled water, and specialty coffee (like your lattes or cappuccinos) are all extra costs.
And of course, all alcohol is an extra cost as well.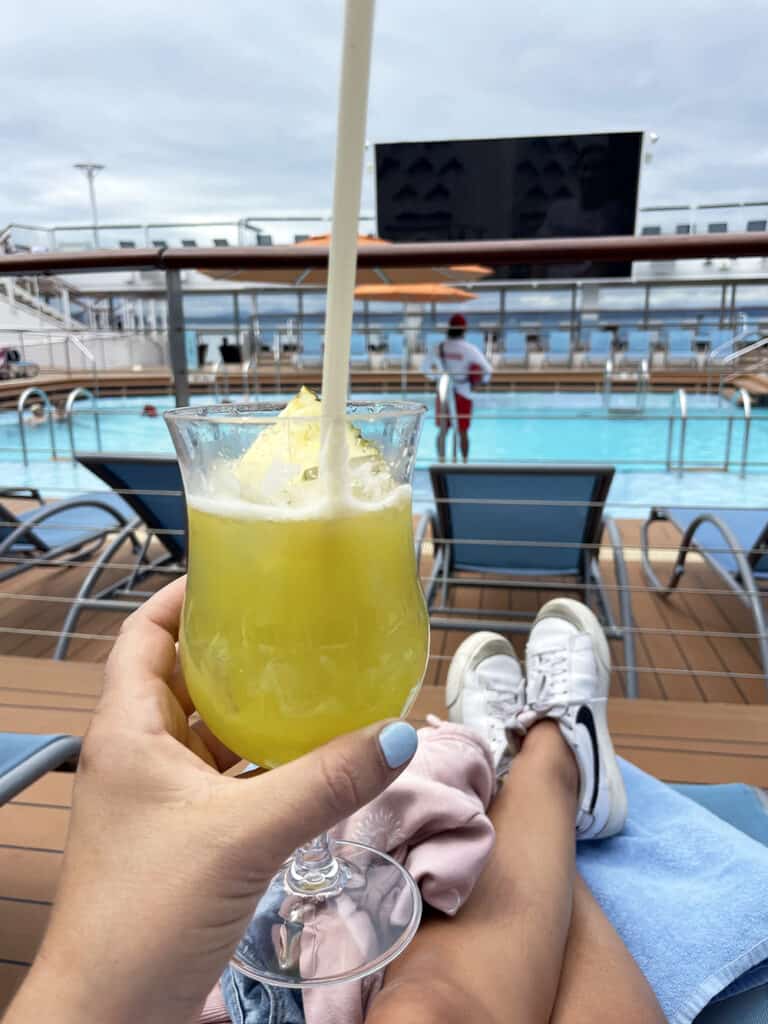 Drink packages can always be a good idea if you don't think you can survive on water, tea, and lemonade. Here is a quick breakdown of the standard drink packages on most cruises:
Soda package: Includes all sodas and extra juices beyond the lemonade.
Specialty drink package: Includes sodas, juices, and specialty coffees.
Endless bubbles: Included everything! All sodas, juices, coffees, and alcohol (keep in mind they do limit how many alcoholic drinks you can have in one day)
NOTE: It's always good to check with your specific cruise line! Carnival only offers 2 packages, the bubbles, and the Cheers! package. So if you want a specialty coffee, you have to spring for the entire Cheers! package.
Whereas Royal Caribean offers several packages, including one where you can get soda AND specialty coffee, but not alcohol.
Can I Bring Anything on My Cruise?
You can! Again, it's always best to check with your individual cruise line. But the major cruise lines like Carnival, Princess, and Royal Caribbean tend to have similar rules.
Each person is allowed to bring one 12-pack of beverages. This can be soda, water, juice, or even sparkling sodas. If you are traveling with kids, they count!
Adults aged 21 and over are allowed to bring one standard-sized bottle of wine. Unfortunately not hard liquor, but wine or champagne is OK. (These can be consumed in the room but not in any of the dining areas)
You didn't hear this from me, but you can sneak hard liquor onto the ship pretty easily with these fake shampoo bottles.
What Can You Do For Free In the Ports?
Keep in mind, all transportation to and from your ship is included in your price. So whether you get off on a dock or need to take a tender (small boat from the ship to shore), that's all included.
Once you step off the ship though, you are pretty much on your own. Any food or activities will cost you extra. You can, however, explore towns pretty easily without spending any (or very little) money.
Ketchikan has some really great hiking trails. Including one called Rainbird Trail and Deer Mountain Trail. You can also stroll around town. Creek Street is iconic and free to walk around. The rest of the town is filled with shops and restaurants as well. Or check out the Alaskan Lumberjack Show for an affordable Alaskan experience.
Juneau is home to the Mendenhall Glacier. Visiting the glacier, walking is many paths, and seeing nugget falls is all free to the public. The only fee is getting there, but you can take a bus or a taxi for a small price. The Mount Roberts Tramway is less than $20 per person and offers incredible views and plenty to keep you busy at the top of the mountain.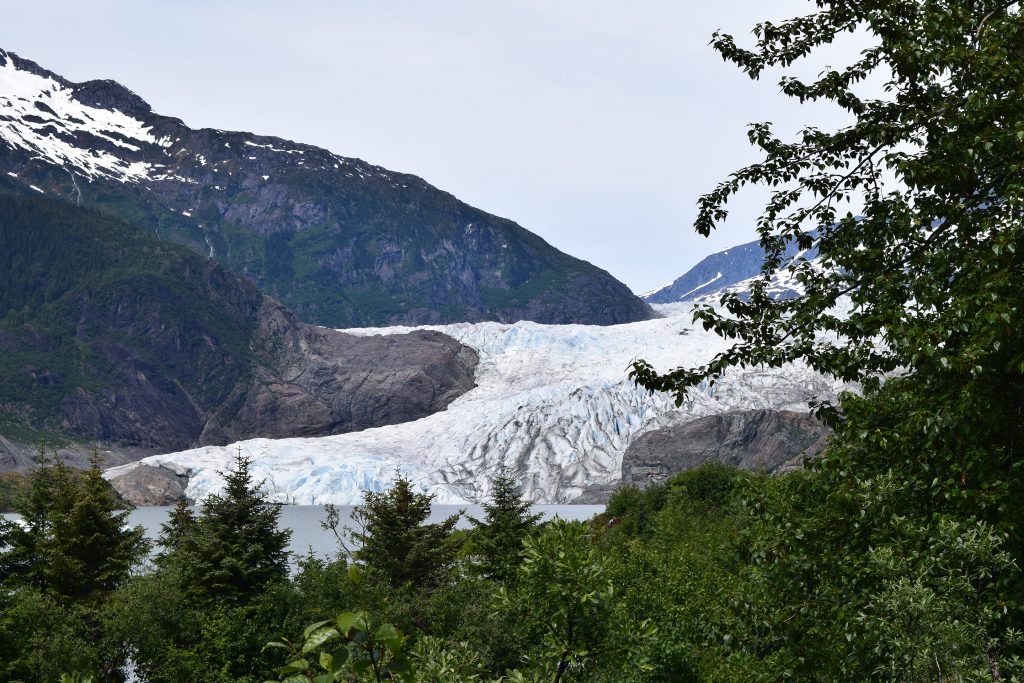 Skagway is a perfect town to walk around without spending any money. You can visit the Red Onion Saloon or walk the boardwalk around town to experience a truly nostalgic town. Skagway also has several famous trails like the Chilkoot Trail that were part of the gold rush.
Extra Expenses On a Cruise To Be Aware Of
When wondering what's Included on an Alaskan Cruise, don't forget to be aware of these hidden expenses you might not have thought about!
Gratuities – Gratuities come in 2 basic forms. One when you book your trip. And one when you leave the ship. Everyone is required to pay the ship gratuities they assign to you. You can choose to do this when you book your cruise, or at the end of your cruise.
Additional gratuities are usually limited to your room steward. You are assigned a room steward who cleans your room, refreshes towels, and even creates cute towel animals for you. These guys are amazing and help with anything! It's kind to leave them a personal tip at the end of your cruise.
Some people choose to give gratuities to other crew members as well. Certain servers in the dining hall, or your cruise director. That's more optional and definitely not expected.
Room service – Be careful what you order. They don't always make it well known on the menu what is included and what is not. And every cruise line has different rules. With Carnival, we got anything we wanted. Chocolate cake, grilled cheese, a full breakfast… and it was all included. But with Royal Caribean, only continental breakfast was included and the rest had a charge. This is definitely something you want to be aware of!
Evening babysitting – While all the kid's clubs are free, the cruise lines do offer nighttime babysitting in your room for an additional cost.
Fitness classes – There is a gym you can use at your leisure for no extra cost. However, the cruise line does offer some fitness classes as well. Some classes are included and some might have an extra fee. It's always good to check beforehand!
What's Included on an Alaskan Cruise
Cruises can often be the most affordable vacation you can take as a family because of everything that comes included in your cruise price. But don't sail without knowing exactly what's included and what's not!
Did I forget anything? Are you wondering if something else is included or excluded? Drop a line in the comments below!
Don't Forget to Check Out