Kauai Mountain Tubing Adventure – A Full Review
Thinking about going tubing in Kauai? Here is a full review of what to expect when going on a tubing mountain adventure on the island of Kauai.
Kauai Mountain Tubing is one of the most fun activities you can do while visiting Kauai and a unique experience for almost every age.
We spent 8 days in Kauai and this adventure was definitely our top choice for activities on the island. If you are traveling to Kauai…put this one on your list of things to do!
See Related: 15 Unforgettable Things To Do In Kauai
The History of the Kauai Tubing Canals
The Kauai tubing canals were originally constructed in 1870 as a way to irrigate hundreds of acres of sugar plantations. They were used all the way through early 2000 until the sugar was taken out of production.
In 2003, Kauai Backcountry tubing was born! And because there is only one set of canals, Kauai Backcountry tubing is the only company on Kauai where you can go mountain tubing.
So get ready to float down some unique and exciting canals through Kauai!
Mountain Tubing In Kauai
Booking
Prices (as of 2023) are $149 per person and this includes all ages. Anyone ages 5 and over can go tubing (max weight limit of 300 lbs).
To book your Kauai Mountain Tubing experience, go to Kauai Backcountry's website and select a day. They have several tours available at different times throughout the day. Each tour lasts about 3 hours, leaving plenty of time to see other parts of Kauai.
We preferred the morning tour because it left the rest of the day to explore the island and traffic getting to the tubing company is at its lightest.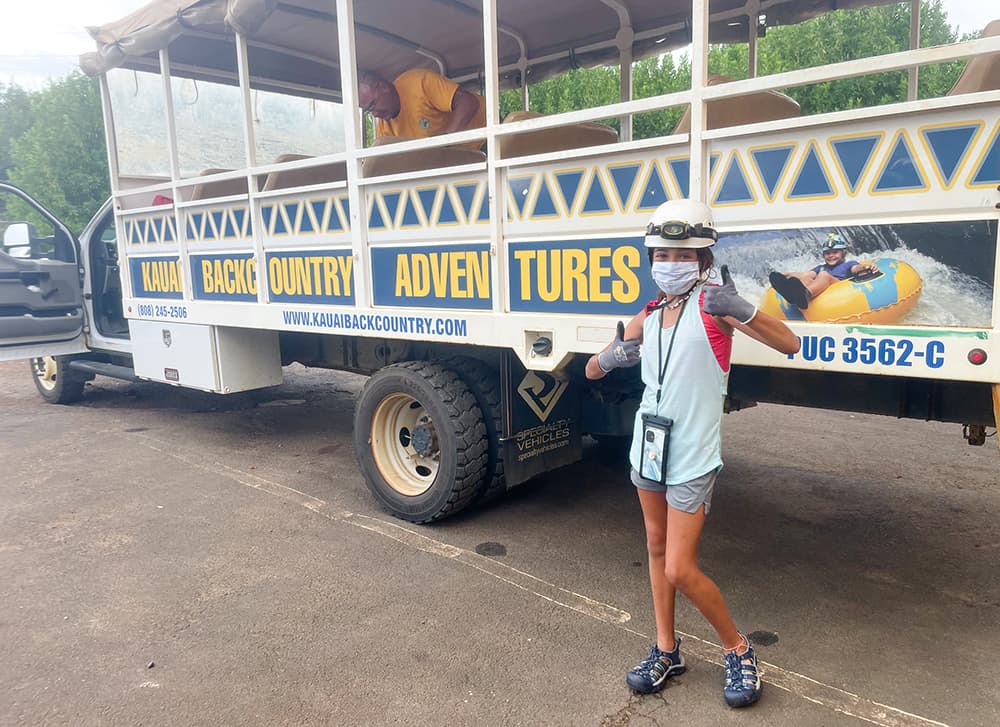 What's Included
When you first arrive at the tubing company, you go through all the boring stuff like signing waivers and getting your supplies. They give you helmets (with lights) and gloves. And then once your whole group is there and suited up, they load you onto some off-road adventure vehicles and away you go!
You start off with a short drive through the Kauai country. And I'll have to say, we actually loved this part of the tour. Our driver and tour guide were hilarious and made the drive a lot of fun.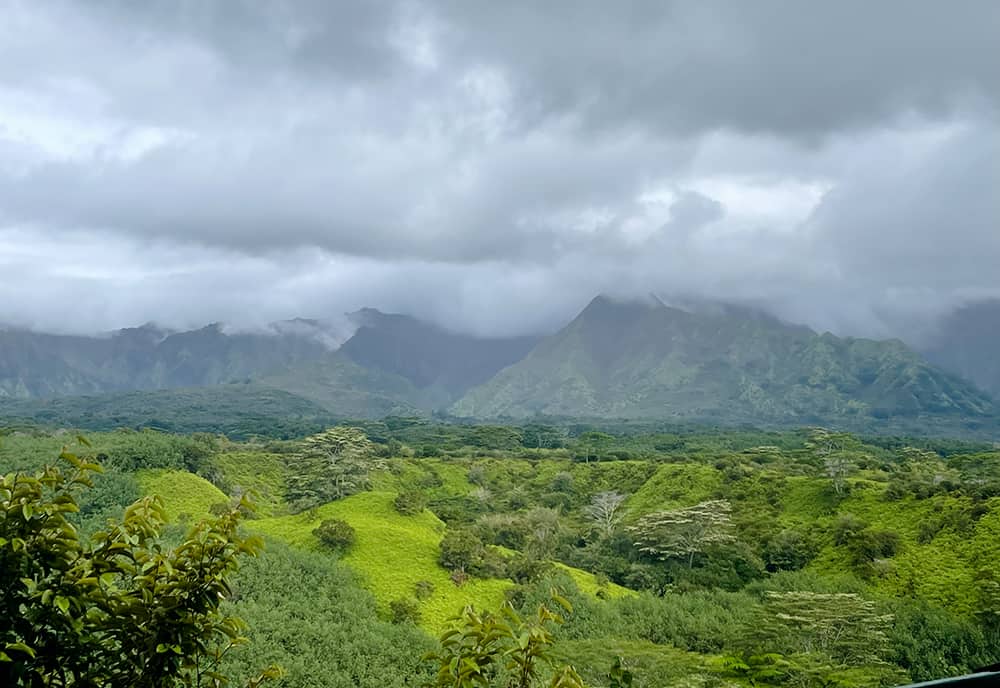 They pointed out some historical areas as well as locations where popular films were made (and even had a great story about a run-in with a celebrity). The scenery was beautiful and I probably would have paid money just for that part alone.
When you arrive at the canal, you put your personal items into bins that they will drive to the end of the canal for you. I prefer to bring this dry bag on excursions just in case things get wet.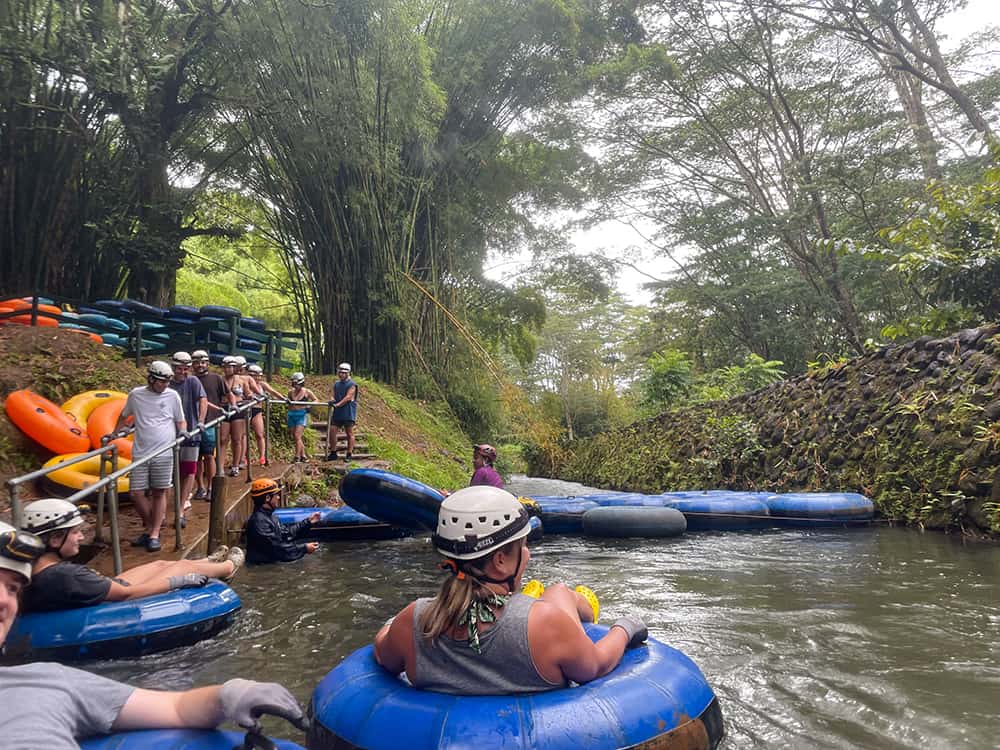 Kauai Mountain Tubing with Kauai Backcountry Adventures
Once you all get settled in your tubes, off you go! There is a guide at the front and a guide at the back. They don't allow you to tie to other tubes so there are times your family member might float ahead of or behind you.
Luckily, the water is pretty lukewarm! We arrived on a cloudy and rainy day and I was really worried the water would be freezing, but it was actually quite comfortable.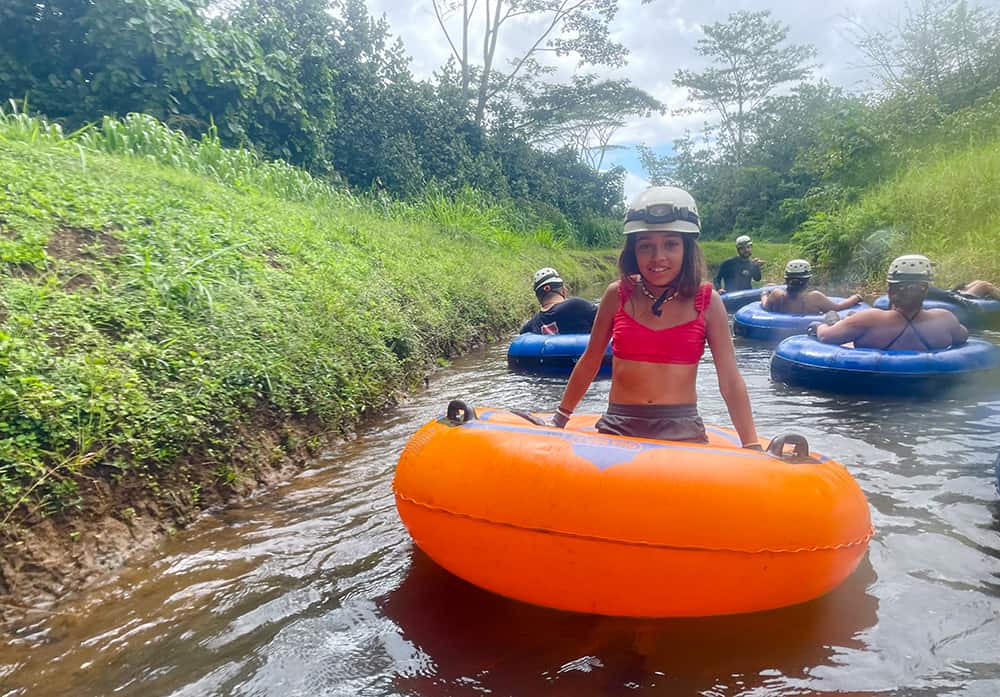 You spend about 2 hours going through 5 different canals and all are quite different experiences.
Some canals are wide and pretty open with lush landscapes around you. While some of the canals are very narrow that only fit one tube at a time. You'll also float through tunnels so narrow, you can reach out and touch both sides and the ceiling. So make sure you don't suffer from severe claustrophobia!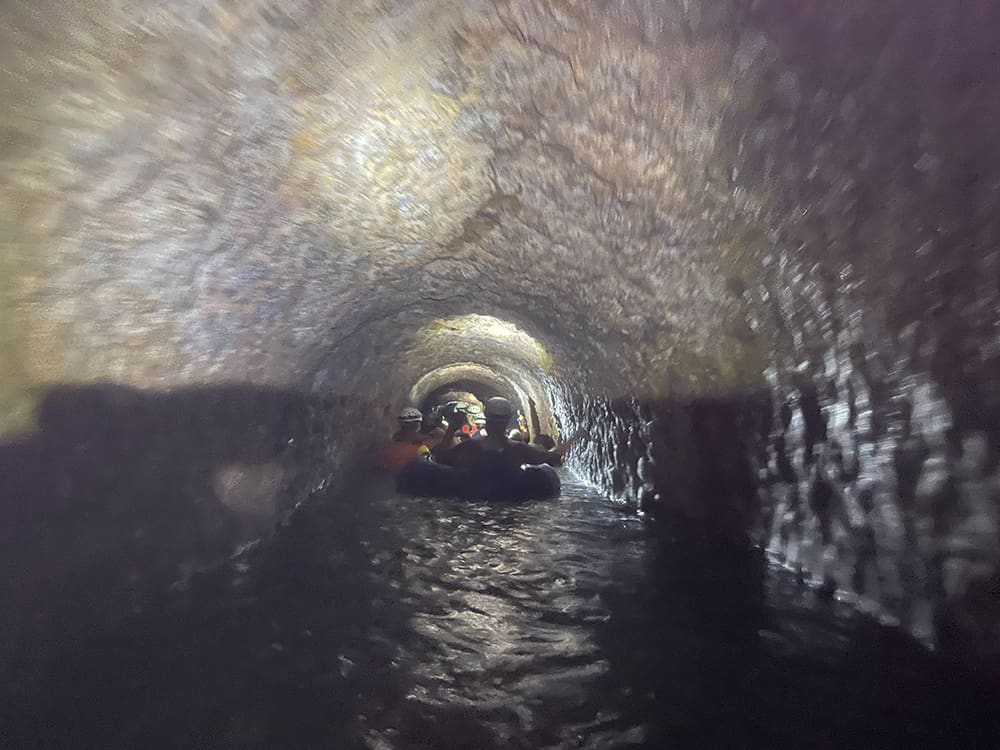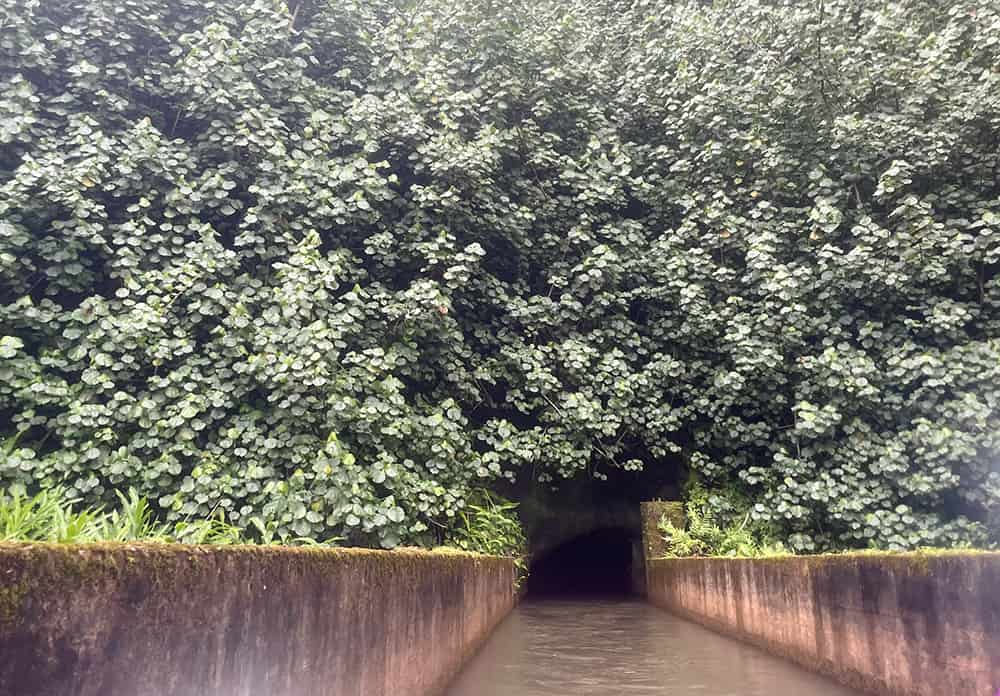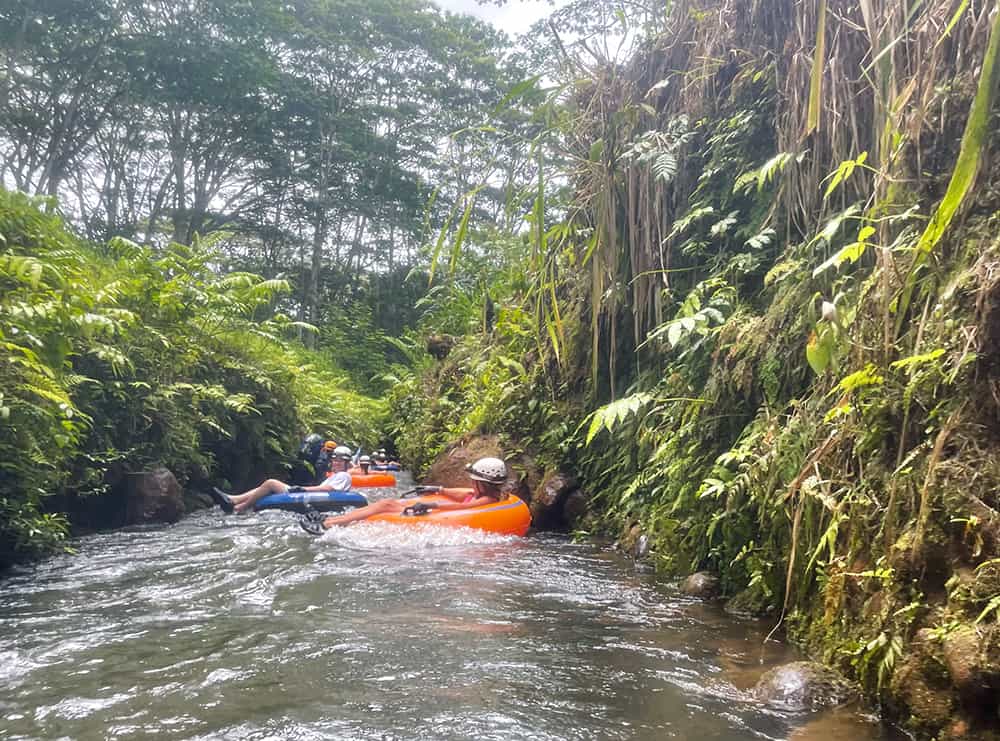 One memorable experience was learning about the healing properties of the mud during one particular section and using this as a facial during our float time.
Our guides were right there with us the entire time, cracking jokes, taking photos, and pointing out fun facts about the area we were floating through.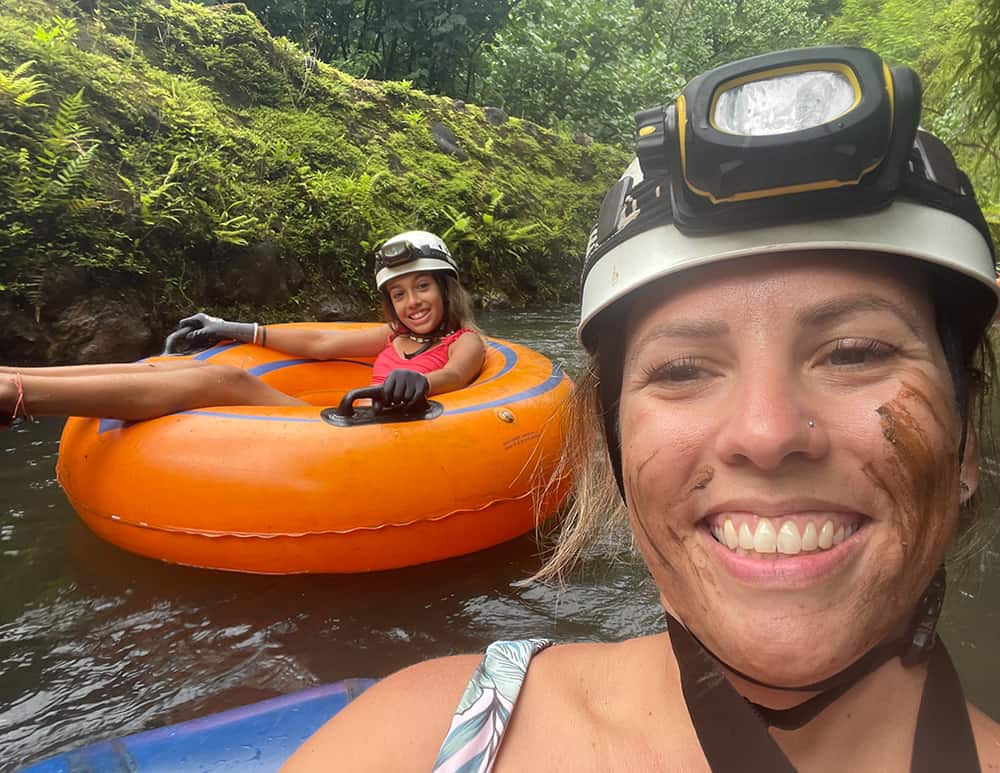 When our tour ended, we were met at a picnic area where they had a nice lunch buffet set up for us consisting of sandwiches, chips, and cookies. The picnic area was also by a small river and we got to dip in and go swimming a little bit before heading back.
Is Tubing in Kauai Worth It
100% absolutely tubing in Kauai is worth it!
There are dozens and dozens of tours and excursions you can do while on Kauai but I really think that Kauai mountain tubing was one the best and most unique experiences you can have.
It's not often easy to find an activity that most adults and kids enjoy, but this tour was a favorite of both my teenage daughter and myself. It was relaxing and adventurous at the same time.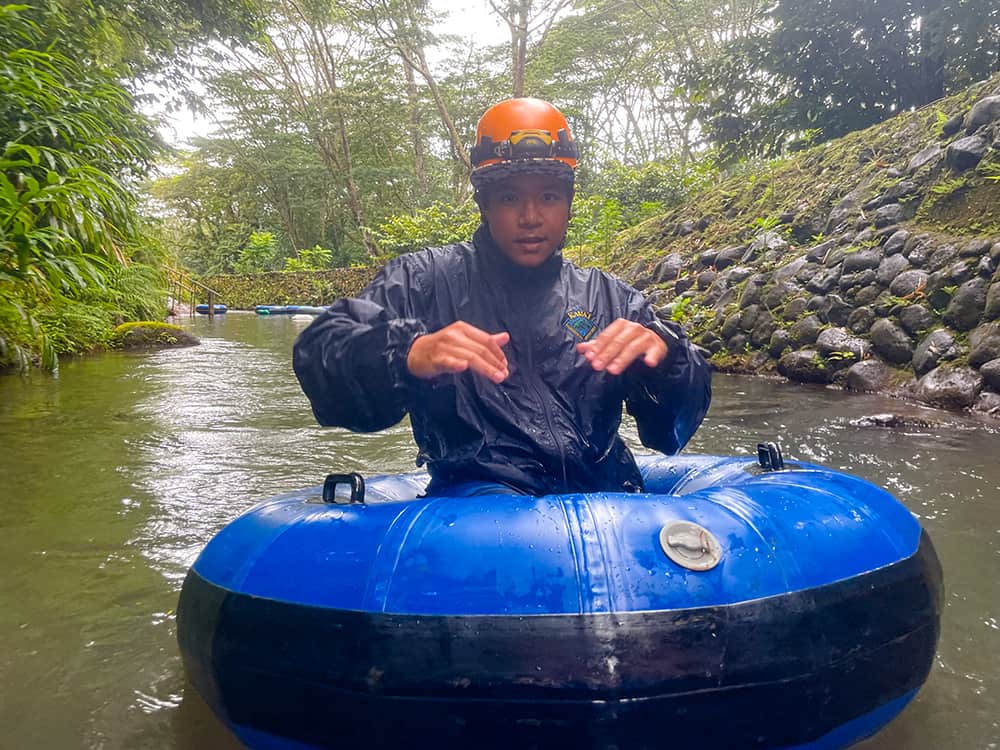 The staff at Kauai Backcountry were part of what made this experience so great. They were fun, kind, and interactive from start to end.
While Kauai offers plenty of sites not to be missed, Kauai Mountain Tubing needs to be one of the first things you do while visiting Kauai.
What To Bring On Your Kauai Mountain Tubing Adventure
While the tour company does supply gloves and helmets with headlamps, there are a few other things I would highly suggest you bring when you go to Kauai mountain tubing.
Dry Bag – I actually take this bag everywhere I go when I travel to Hawaii. It's great for the beach, hiking to waterfalls, kayaking, and more. It also acts as a backpack and is big enough to hold as many items as I need.
Waterproof phone pouch – Tubing down canals is not a place you want to lose your phone! But it is definitely a place you will want to take tons of photos and videos. I love using these waterproof pouches. They are seriously 100% waterproof (we even snorkel with these!) and you can hang them off your neck and be hands-free.
Rash Guard – for those times when the weather is chilly or you just need to keep the sun off your arms and shoulders for a bit. This rash guard kept me warm while going on the morning tour.
Water Shoes – There are parts of the tour where you are walking through rocks and mud. Having waterproof shoes on is an absolute must. Not to mention, there are times your tube floats toward a tree or rock and you'll need to use your feet to push off.
Hiking Shorts – You'll definitely want a good pair of shorts to wear on the bus ride to go tubing. Most people even wore shorts while tubing as well.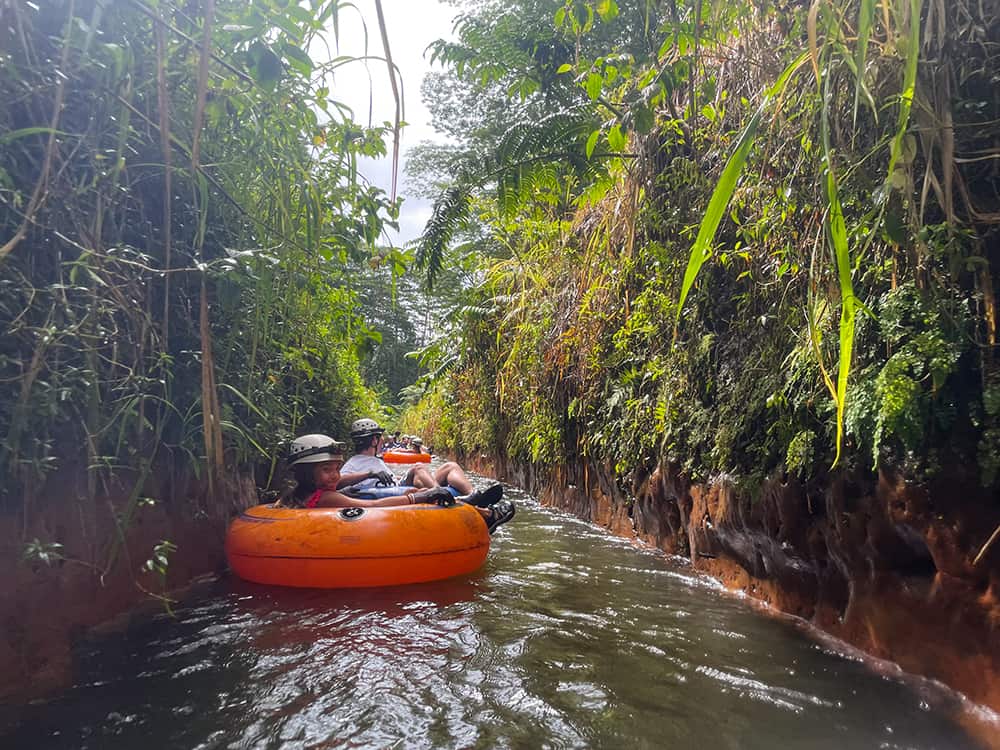 Other Fantastic Kauai Tours
Hopefully, you'll be staying in Kauai for a while and have a chance to participate in other tours. These are a few of my top-rated Kauai excursions when visiting the island…
Deluxe Na Pali Morning Snorkel Tour – You can not go to Kauai without seeing the NaPali Coast. The only way to do that is by air or by boat. By boat is by far more fun. Book this tour which includes sailing on a catamaran and snorkeling.
Wailua River and Secret Falls Kayak and Hiking Tour – Next to Kauai Mountain Tubing, this was our favorite tour on the island. You take a kayak ride down the river, hike through the forest, and arrive at a towering waterfall where you get to swim and have lunch. The whole day is just epic.
Surf Lesson in Sunny Po'ipu – If you're going to go to Hawaii, you have to learn how to surf. Kids love this activity and it also happens to be one of the most inexpensive things to do in Kauai.
Luau Ka Hikina Admission Ticket with Dinner and Lei Greeting – Attending an authentic Luau is a must in Kauai. Learn about the culture, eat some amazing food (pig roast!), and see traditional Hawaiian dancing.
You Might Also Be Interested In: