The Road to Hana – Tips for First-Time Travelers in 2022
This post is sponsored by The Maui Brewing Company. Just kidding! We just really loved Maui Brewing and got these hats the night before. Here we are ready to set out on our day to the Road to Hana!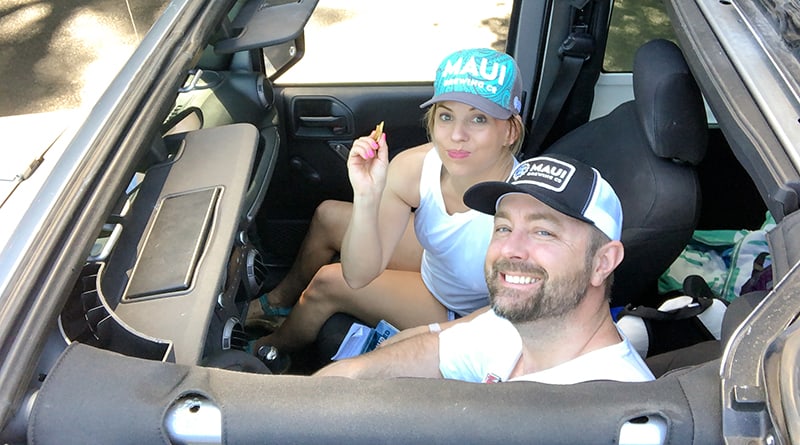 The Road to Hana – Tips for First-Time Travelers
You know that saying "It's not the destination, it's the journey"? I'm pretty sure that was written specifically for the Road to Hana.
When we booked our trip to Maui, the Road to Hana was at the top of my list. I intended to get some tips and tricks about this scenic drive and write about it in my Maui guide.
But then we actually spent a day on the Road to Hana and I realized it would need its own whole post. There is just TOO MUCH to see and do to try to squeeze it in with other places to see around Maui. So here it is…. a full guide to driving the Road to Hana!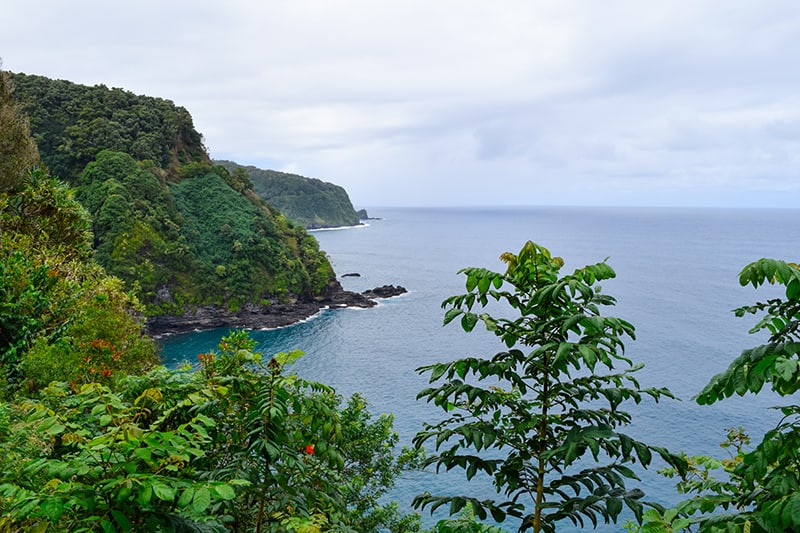 Driving the Road To Hana
Let me also start by saying, we did a LOT of stuff on Maui and even though it was all amazing, the Road to Hana was hands down my favorite. I kind of had a clue that it would be so I made sure it was the first thing we did when we got to Maui.
That way, the rest of the trip could be hit by a hurricane and I would be satisfied knowing I got to take this adventure.
TIP: One thing I wish we would have done differently and will for SURE next time… is to not try to do the Road to Hana in one day. I really wish we would have planned to stay at least one night in the town of Hana. The town of Hana itself is amazing (more on that later) but that would also have allowed us to take our time along the drive and stop at a few more places.
Enough about me… I have so much to tell you about the Road to Hana, let's just get on with the show!
Don't forget to check me out on INSTAGRAM to see more of my travels and travel tips!
First–time tips for driving the Road to Hana
Before you even go, take time to plan! The road to Hana has minimal signs and you really need to know where you are going to stop before you head out there. All the best waterfalls (well ALL the waterfalls really) are hidden and you won't see them if you think you can just drive and pull over when you want.
So here are some of my best tips for the Road to Hana BEFORE you go:
PLAN PLAN PLAN. Seriously, I cannot stress this enough. Make sure you grab this book. It's wildly popular and for good reason. I recommend you buy it weeks before your trip and read it. You won't find anything cool without this book!

Get a Jeep. Maui is an island so it's pretty self-explanatory that you will need to rent a car. I HIGHLY recommend you get a Jeep. There are parts of the road that are mud, crumbly, dirt, etc. Regular cars just won't do well.
DON'T get a giant vehicle. The Road to Hana is narrow and winding and on the edge of a cliff with no guardrails. 2 cars sometimes have a hard time passing each other. A super big SUV will be too obtrusive for these little roads.
Bring a sack lunch, cooler, or at least some snacks. There are several places to stop and get fresh fruit and maybe a snack, but that's it. You won't find any restaurants until you get all the way to Hana. And having food available in your car while you're hiking around waterfalls will be priceless.
Pack accordingly! One great reason to drive with your own vehicle is so you can make sure you have everything you need. You will be hot and sweaty and then cold and freezing. You will be wet and muddy. Bring some good water shoes, a towel, and a change of clothes!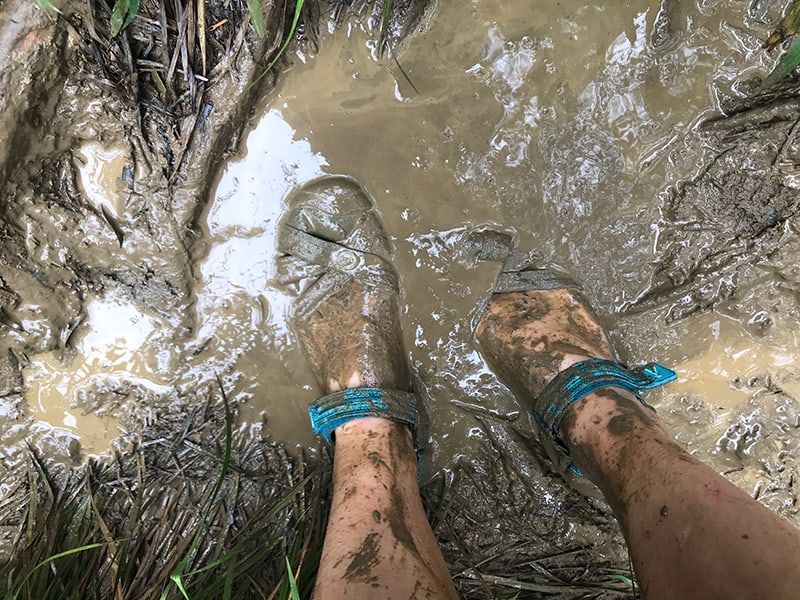 Go early. This is often one of the first tips you hear and it's for a good reason. The road gets BUSY. And there are no parking lots along the Road to Hana. So if you can't fit a place to squeeze your car, you might be out of luck and miss a great waterfall. We started out around 8 am and that seemed like the perfect time.
Fill up on gas. Make sure you have a full tank. There are no gas stations along the entire Road to Hana! And although there is one in the town of Hana, it's really expensive.
There is no cell service for the majority of the trip. So I found it kind of pointless to download an app or try to follow along on my GPS. Get the Maui Revealed book!
Starting out on the Road to Hana
As I mentioned, you want to start early to miss the crowds. We started along the road around 8 am and I do wish we would have started a little sooner. We did a good job of beating the crowds at this time, but it would have given us more time to enjoy some of the places we stopped.
TIP: Take the time to research and plan out where you want to stop along the route. If you only have one day dedicated to the Road to Hana, you will never have enough time for everything. So pick the places you most want to stop and make the most of your time there. You'll end up not enjoying anything if you are just racing from site to site.
Start in Paia and Follow the Mile Markers
There are actually two sets of mile markers so make sure you are looking at the right ones! We kept thinking we were missing everything then realized it started over at mile marker 1 about 15-20 minutes out from Paia.
Many of the mile markers are not easy to see so read the book and make sure you look for descriptions in the book.
Because we only had one day and limited time, we did not stop at all the waterfalls, only the really good ones. So most of my information is based on that.
Road to Hana Stops and Waterfalls
As you begin your trip down the Road to Hana, you'll come across a fruit stand on the right-hand side. Stop there! They will cut you a coconut to drink from, or chop up some fresh pineapple.
We also bought some sugar cane (a Hawaiian tourist must), some dried coconut, and the most delicious dried apple bananas ever. They were like candy. Stock up on goodies here, they will come in handy the rest of the trip!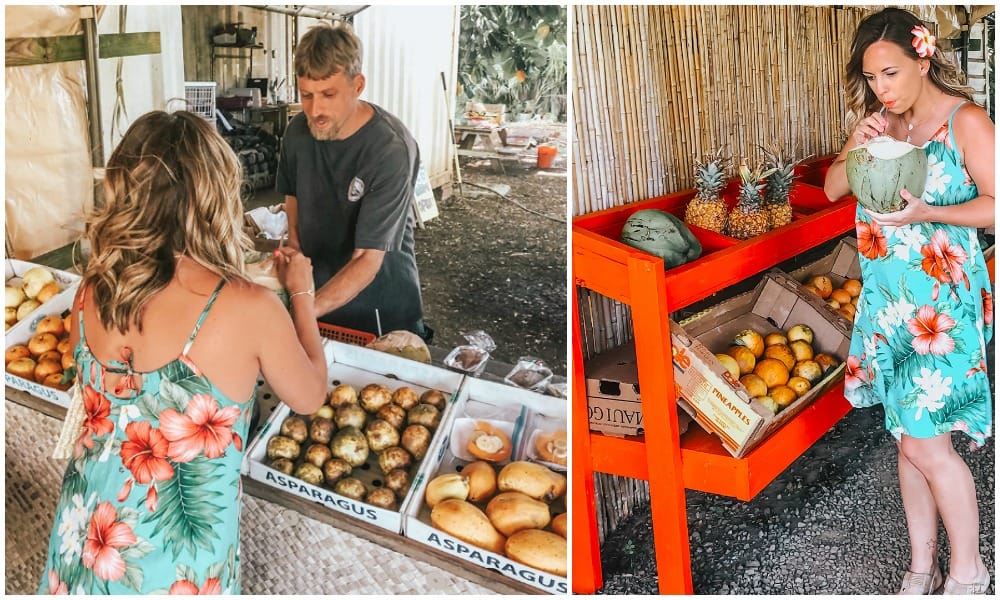 Twin Falls – Mile Marker 2
This is the first set of falls you come across on your right-hand side. There is plenty of parking and this is an easy hike to a very pretty waterfall. It's also the first waterfall on the road and is kid-friendly. So stop if you have kids, but maybe pass it up if you don't
There will be more exciting waterfalls ahead. And this way, you just beat out half the crowd that decided to stop there.
Na'ili'ili Haele – Mile Marker 6.7
This trail is really hard to find but REALLY worth it. Since we skipped twin falls, this ended up being our first stop. And we didn't even really know what it was. We saw others stopping on the side of the road and decided to follow.
This small pole was the opening to the trail that led to a really great waterfall and swimming pool.
It was a great place to stop and swim and enjoy the waterfall as we started our day on the Road to Hana. And I loved that that trail was not hard, but made it seem adventurous.
You walk across slippery planks and cross rushing watering slippery rocks. But it doesn't take very long and was the perfect hike and waterfall to start our day. Since we started out early and skipped Twin Falls, we were the only ones here for a short time.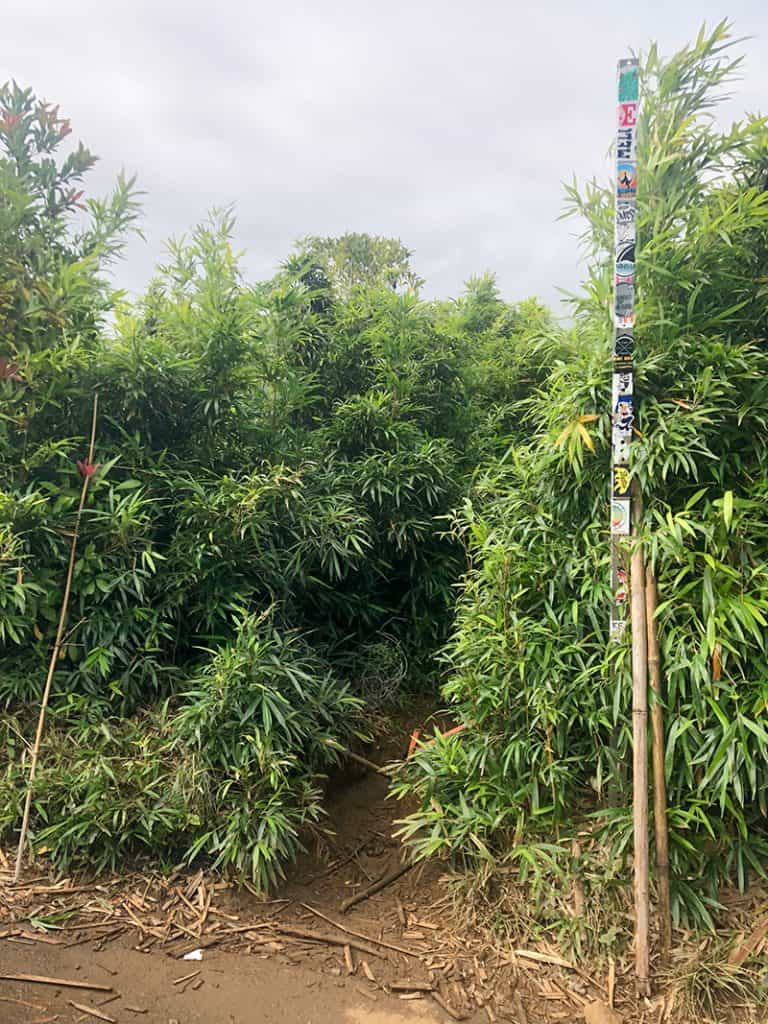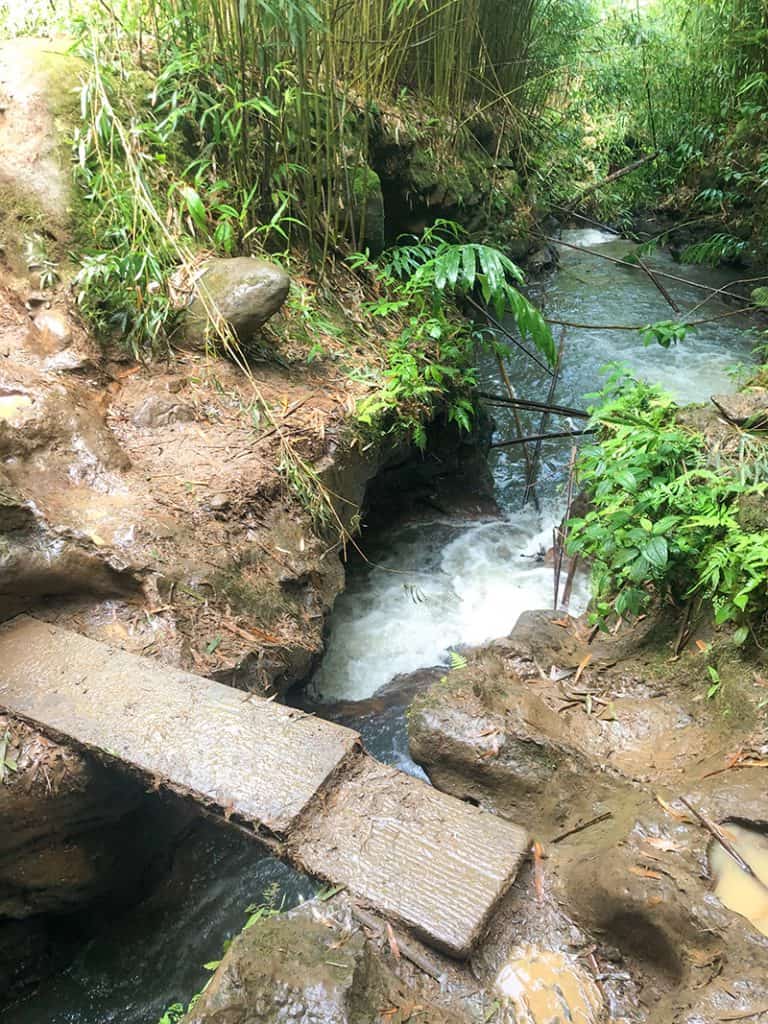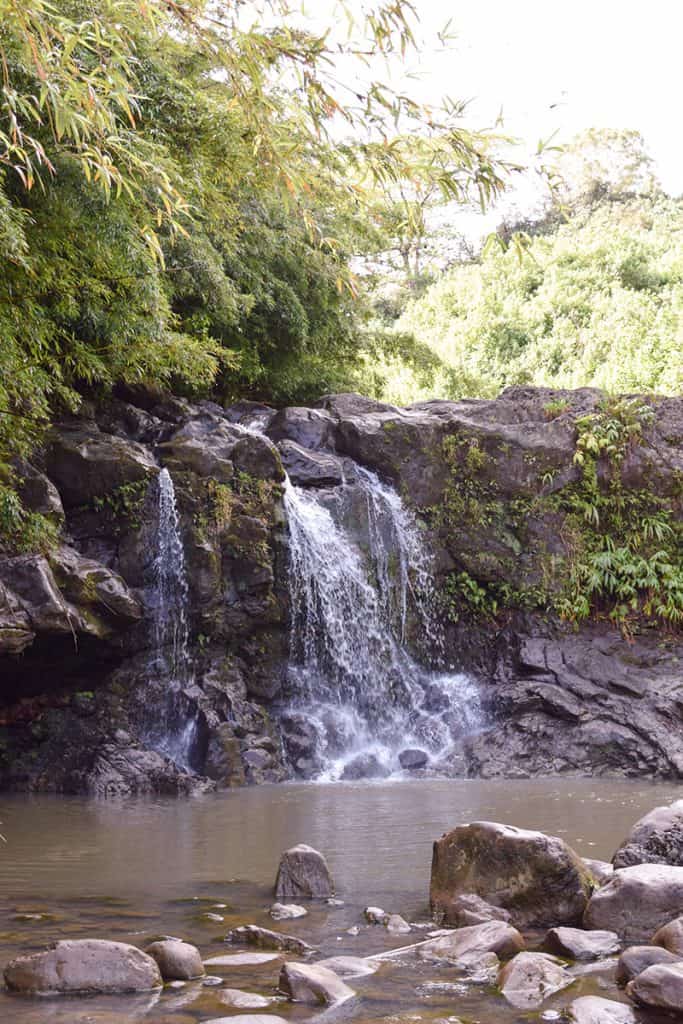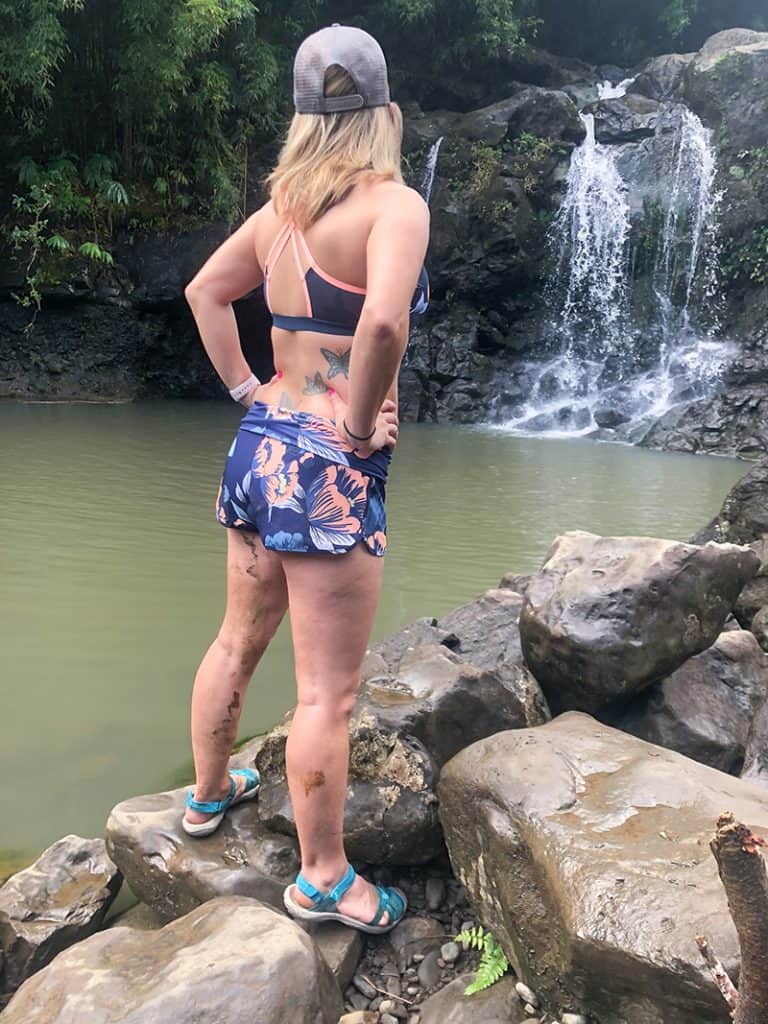 Garden of Eden – Mile Marker 10.5
The Garden of Eden is up on your right-hand side and definitely work the quick stop. It is $15 per person to get in (kids are less), but the views are spectacular. You'll find all the most Instagramable spots here!
There is also a small food truck that sells coffee and a few small bites (and has WiFi if you desperately need it). And a place where you can feed peacocks, which any kid would love!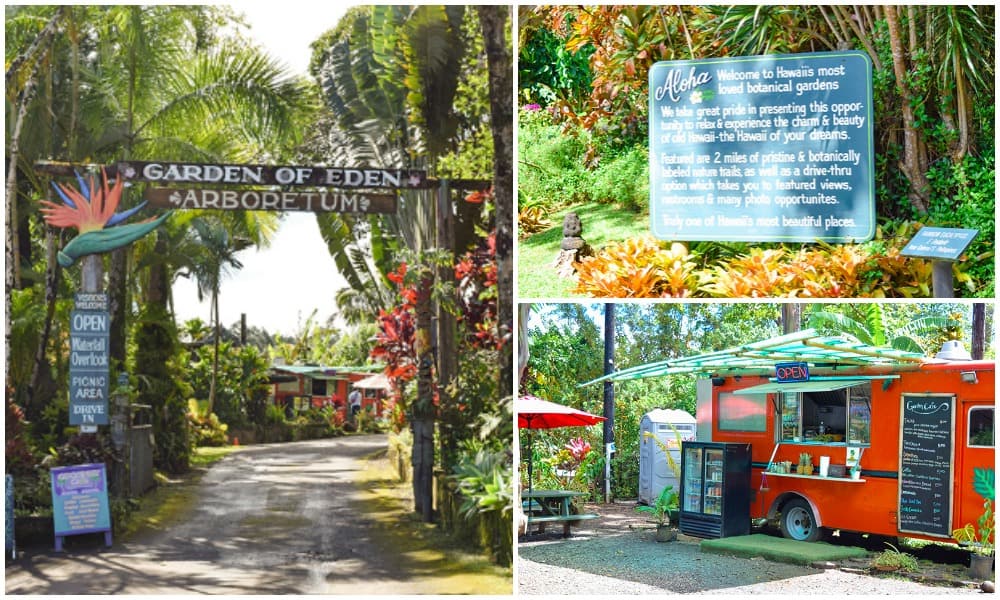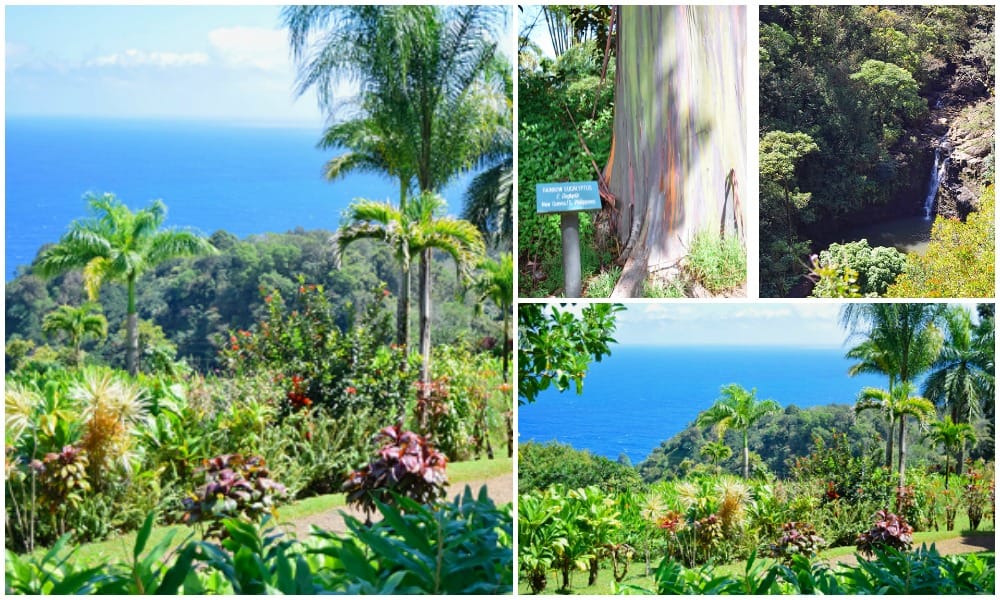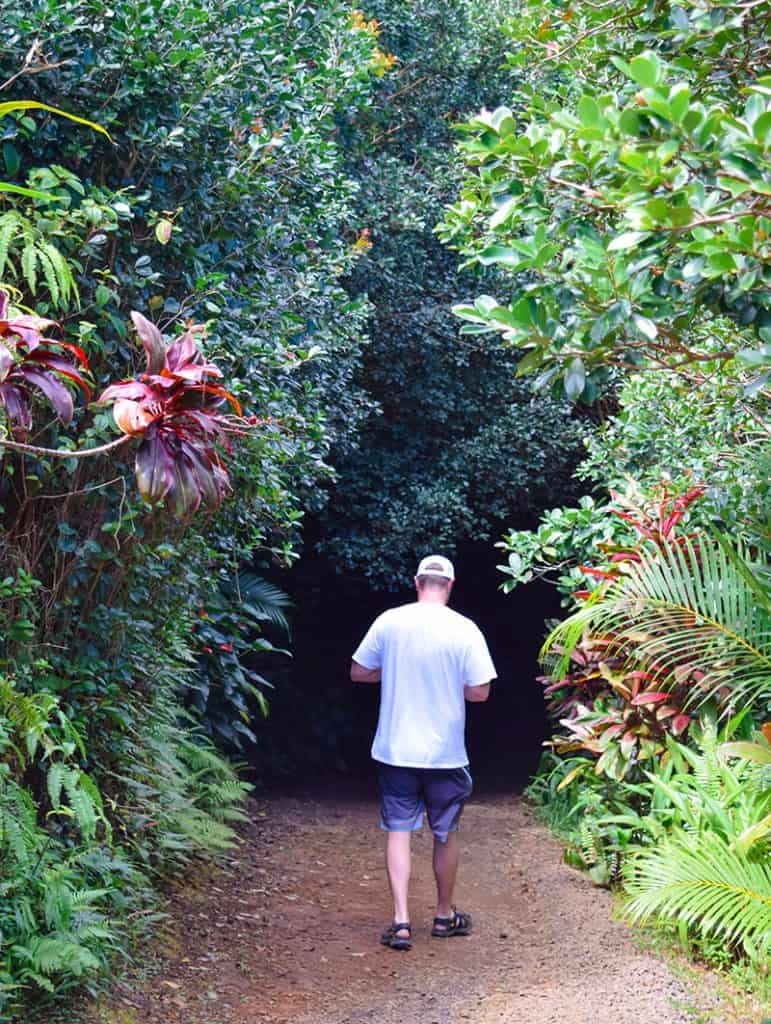 Ke'anae Arboretum and Penisula – Mile Marker 16.7
The next place worth a quick stop is the Ke'anae Arboretum where you will see a ton of rainbow eucalyptus trees. These babies are worth the photos! Their bright colors are unlike anything I've ever seen.
Continue on a little bit to a small picturesque town right on the coast. What makes this peninsula really cool is the black lava rock all along the coast. There isn't much to do besides crawl around (carefully!) on the black rocks but you can get some amazing photos here.
The ocean waves come up and pound against the rocks and splash up to make the prettiest background. It can be dangerous so just walk around the rocks with caution!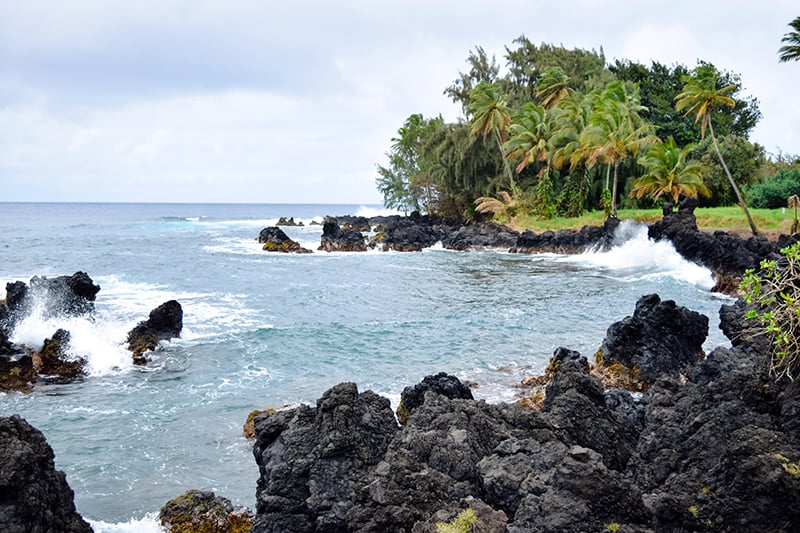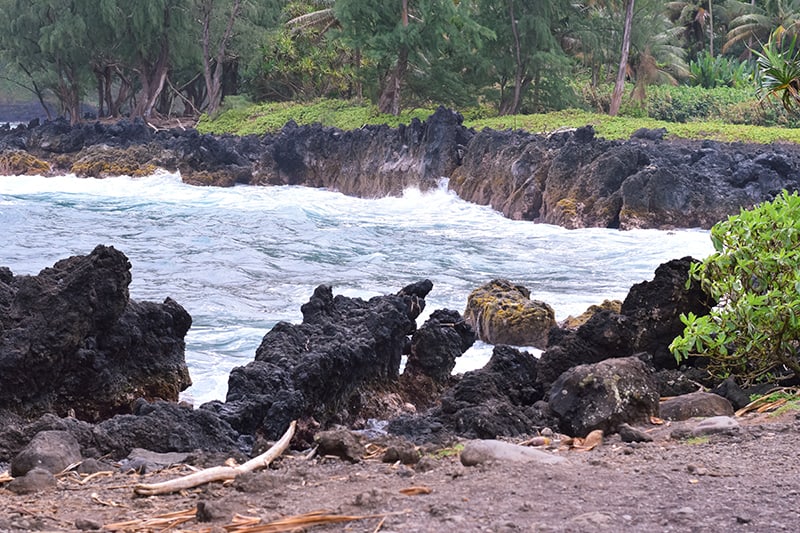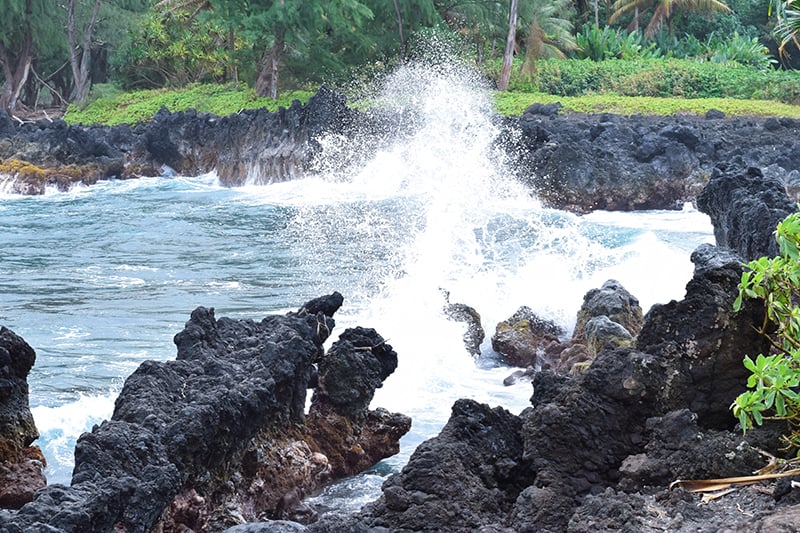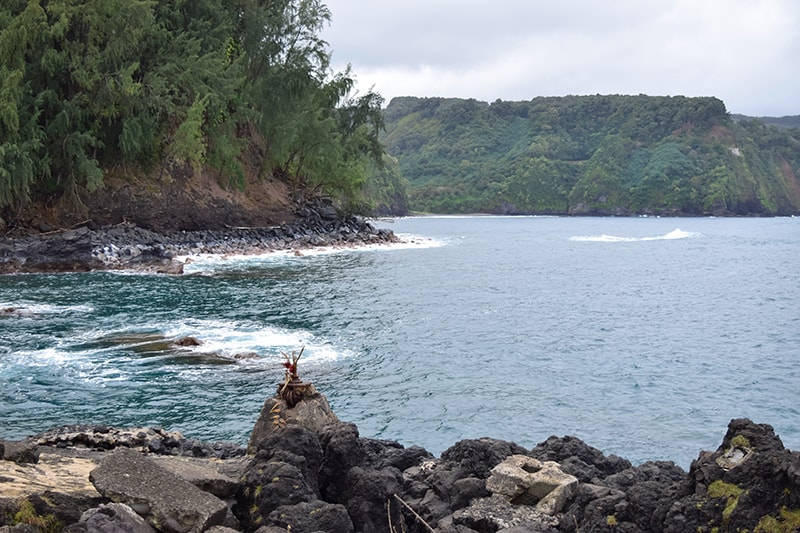 Ching's Pond – Mile Marker 16.8
Ching's Pond was a really cool spot to stop when traveling the road to Hana. It's not easy to find, so follow the advice in the guidebook. But that also makes it really secluded. We visited Hana on a busy day and yet we were the only ones who knew to stop here so we had the place to ourselves.
It's not the most thrilling waterfall but it's literally right off the road and super easy to walk about 20 seconds to. So if you have time, it's a good place to stop for a quick refreshing swim. But if you're short on time, it's OK to skip it.
I don't have a picture of this because we just swan and enjoyed our time and left the camera in the bag. Which is something you need to do every once in a while, to be able to enjoy what's around you!
Halfway to Hana – Mile Marker 17.3
Halfway to Hana is on your right-hand side and VERY obvious to see. We weren't even looking for it, but when we saw it we were thrilled. Already a couple of hours into our trip and we had hiked a few times and swan in several different waterfalls so we were hungry!
Halfway to Hana is what it sounds like… it lets you know you are halfway to Hana. But it's also a great snack place to stop. They have amazing banana bread and even smoothies and sandwiches.
I got a fresh pineapple smoothie and their delicious cookie bar that had cookies, macadamia nuts, coconut, and chocolate in it. I highly recommend you grab a few of these. We bought a dozen and gave them as gifts when we got home. They are SO good!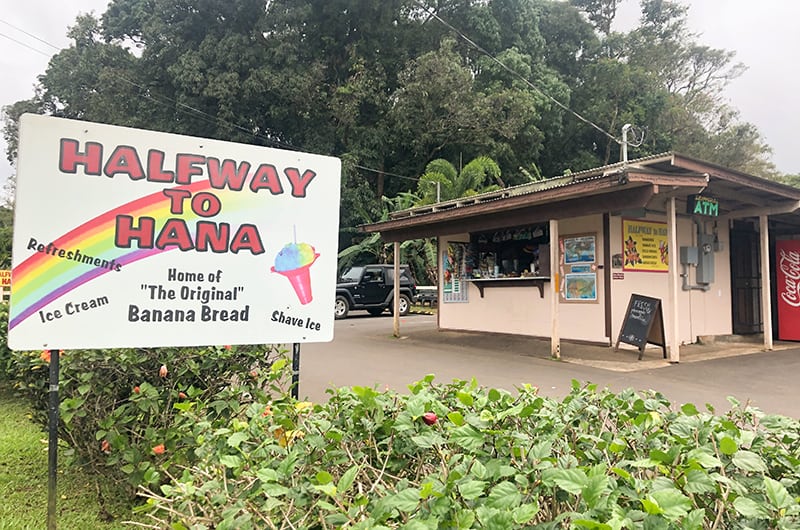 Three Bears Falls – Mile Marker 19.5
Also known as Upper Waikani Falls. If you want to see a gorgeous waterfall, this is a great one to stop at. The parking is very limited here so that's why it's great to get out early before the crowd.
The waterfall is split into thirds, hence three bears fall. And has a great swimming pool at the bottom. So if you can find parking, definitely stop here!
Pua'a Ka'a Falls – Mile Marker 22
This waterfall is barely mentioned in most books and to be honest, doesn't look like much. We pulled over to check it out mostly because it has a big lot to park in and we figured… why not?
But let me tell you… this ended up being our favorite waterfall of the day!
You can easily walk to the first waterfall and hop right in. No hiking or rock climbing is needed. Which makes it a great place for kids and pets to experience. And we had fun splashing around with the crowd.
But thanks to our Maui Revealed book, we read about another waterfall just behind this one and ventured out to find it. If you go to the right of the swimming hole, you'll see a small and narrow dirt path that goes uphill. Follow it!
Once you get to the top, hang left and follow the old metal bridge to the other side. At the end of the bridge is a small log used as a bridge to get over. Follow this and a small path will lead you to a secluded, amazing waterfall.
Here are some photos to help you find the way…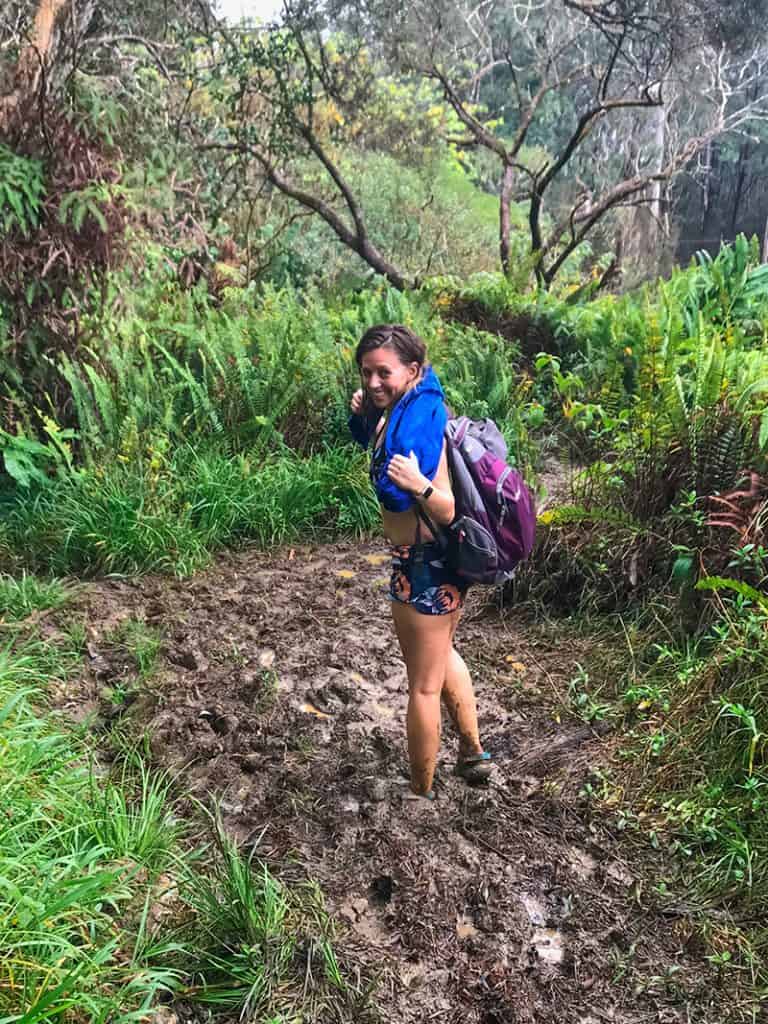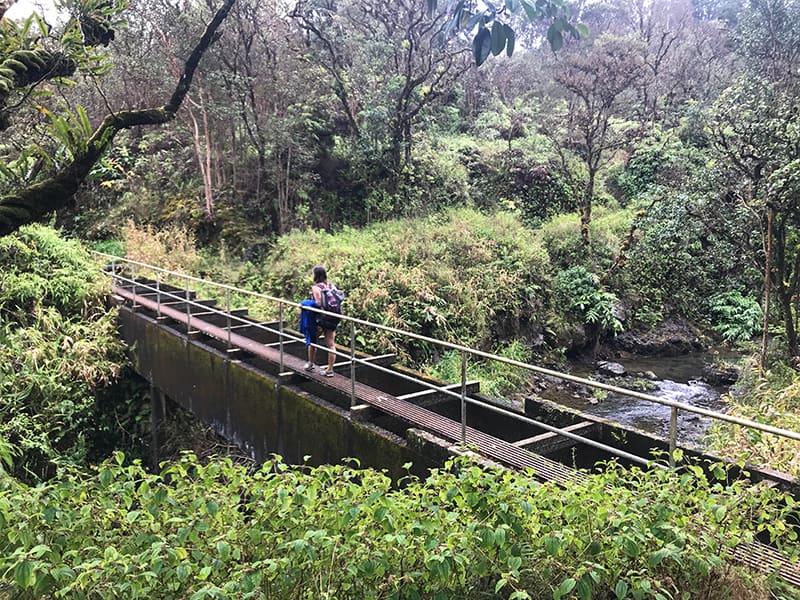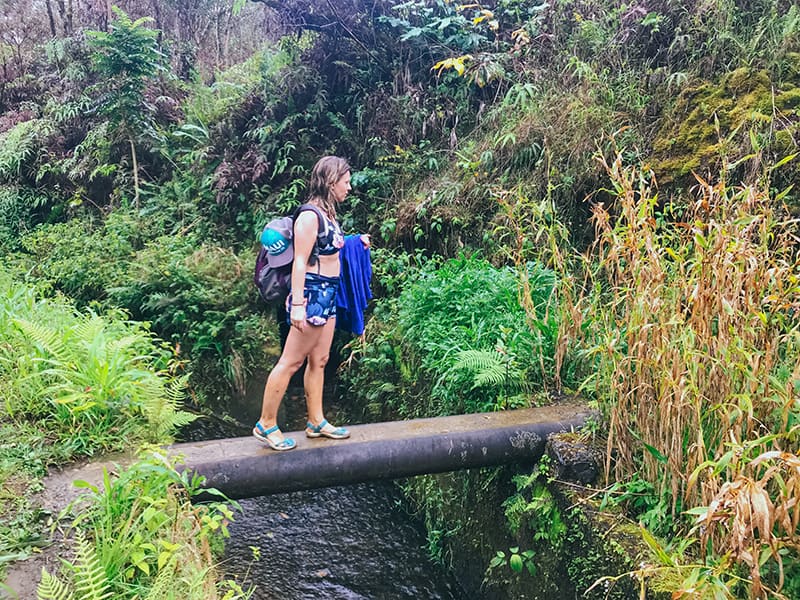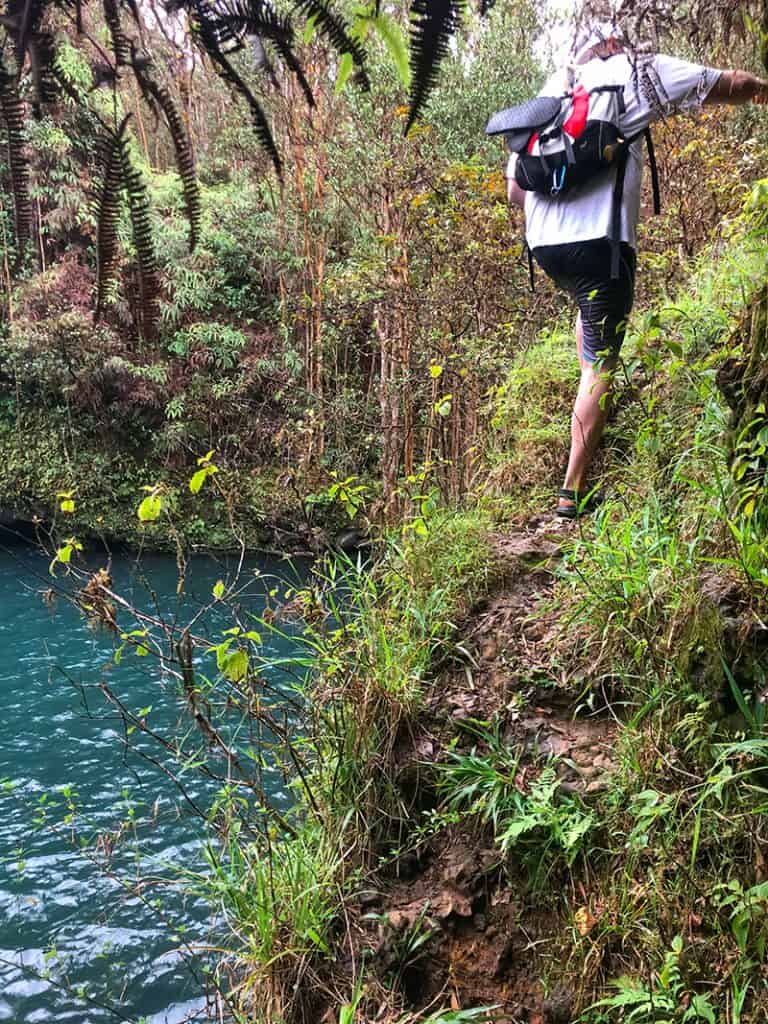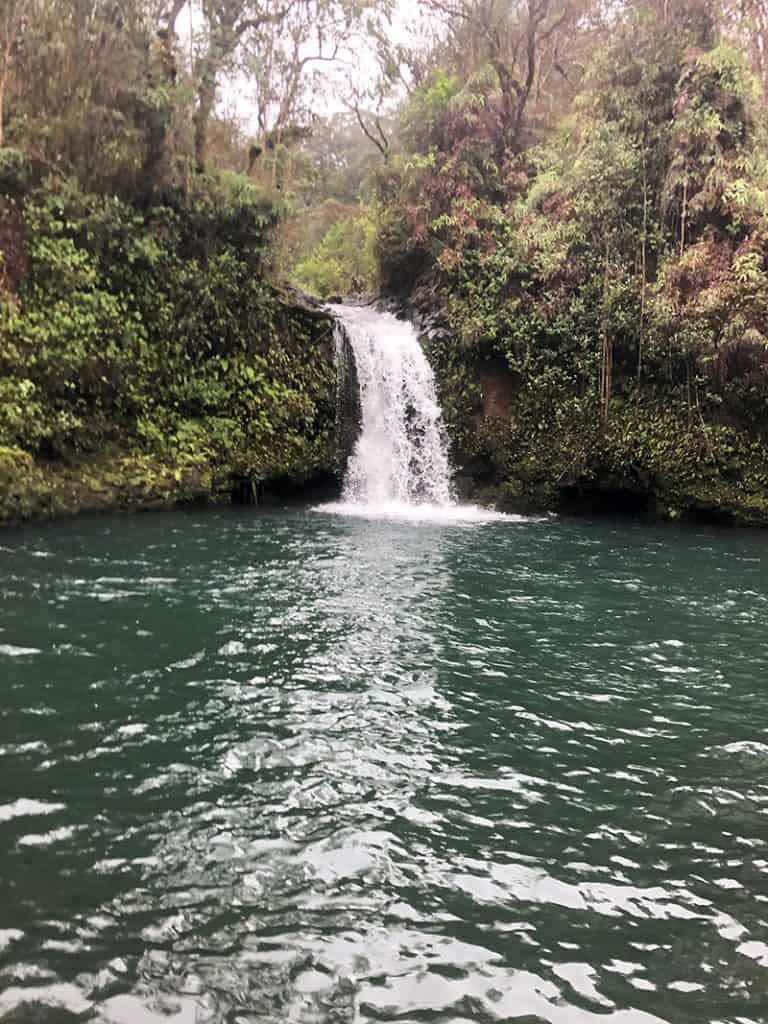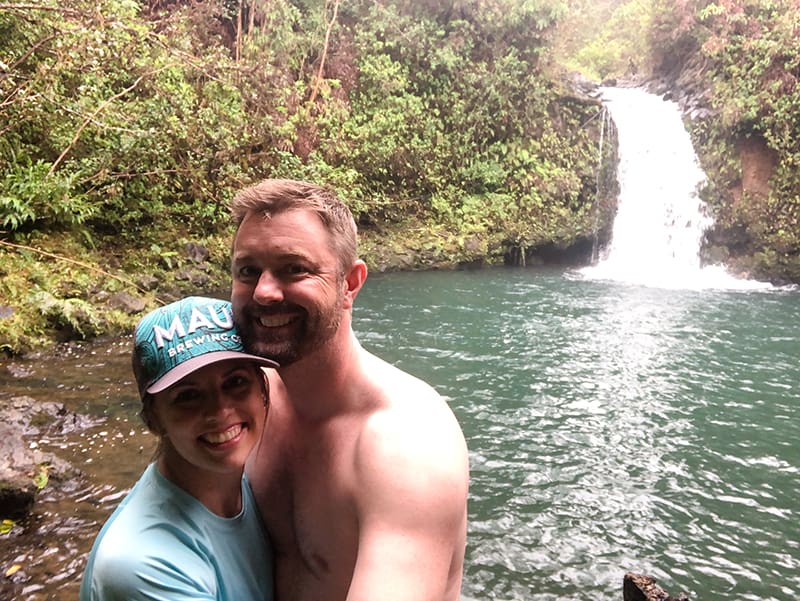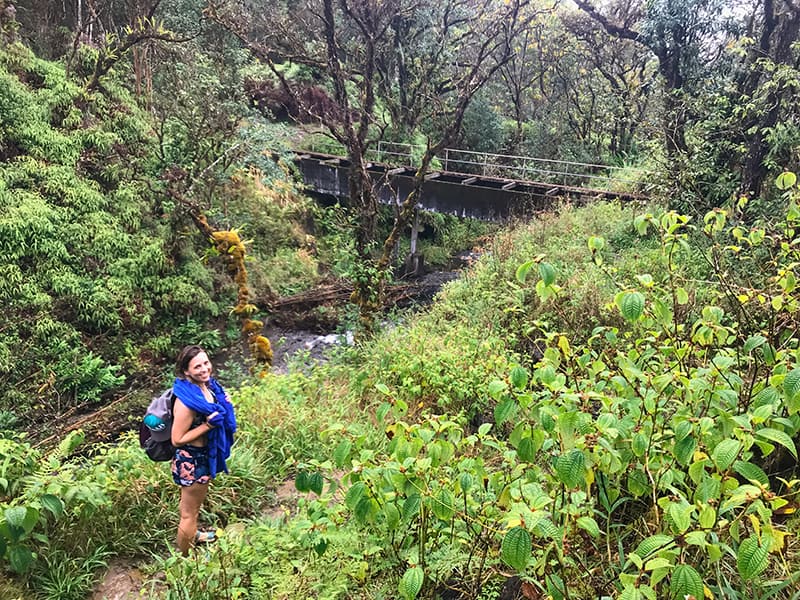 Not many people must read that book because we were the only ones there. We swam and laughed and enjoyed ourselves for quite a while and not one other person showed up!
So even though it may not have been the most majestic waterfall, the privacy of having a waterfall and a swimming hole to ourselves was priceless. Don't miss this one!!
Ka'eleku Cave (Hana Lava Tube) – Mile Marker 31.1
Unfortunately, we did not have time to visit this site and I was so disappointed (it is definitely on our list for next time!). If you do have the time, I would make this part of your stop. It's easy enough for kids to walk.
The lava tubes were formed by flowing lava hundreds of years ago and created these crazy cool caves and tunnels that you can walk through.
Admission is a reasonable $12 per person (5 and under are free) and the tour takes about 40 minutes. They also give you a flashlight to walk through since the caves are basically pitch black inside!
But bonus… there are NO bats in the cave! So no need for little ones to get scared.
Wai'anapanapa State Park (The Black Sand Beach) – Mile Marker 32.2
Black Sand Beach is one of the most well-known spots on the Road to Hana. And you'll see why when you go there. Definitely don't pass up this hot spot. It's located in a state park so there is plenty of parking in a large lot.
This beach is typically crowded but there are still plenty of places to sit and relax for a while. It's also a great place to swim if the kids need a break.
Taking photos here is a lot of fun, I've never seen anything like this sand before. It's literally jet black but softer than any sand you can find in the Caribbean. There is also a really cool cave to the right of the beach, where you can get some cool shots of the waves hitting the opening of the cave.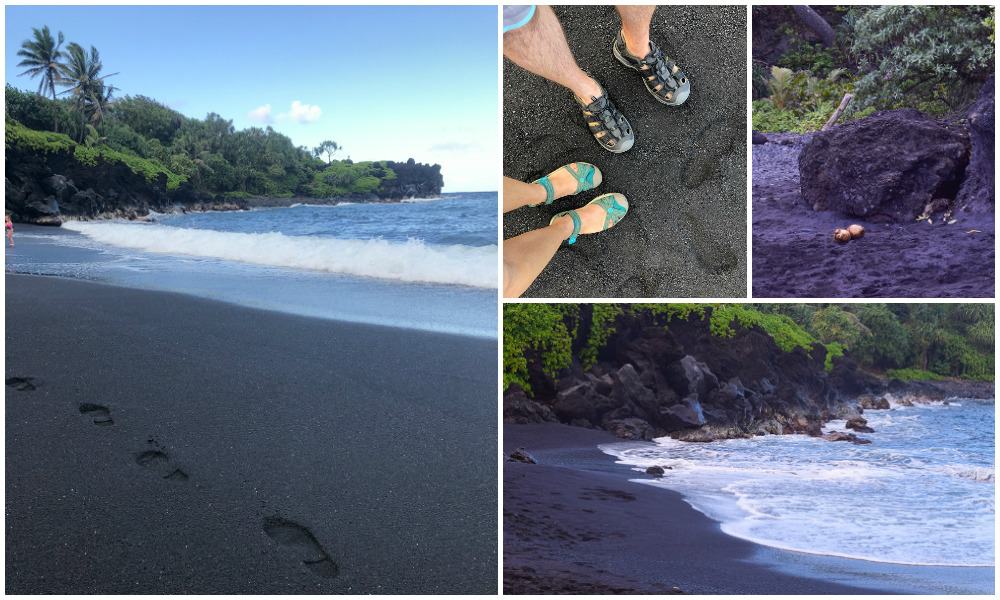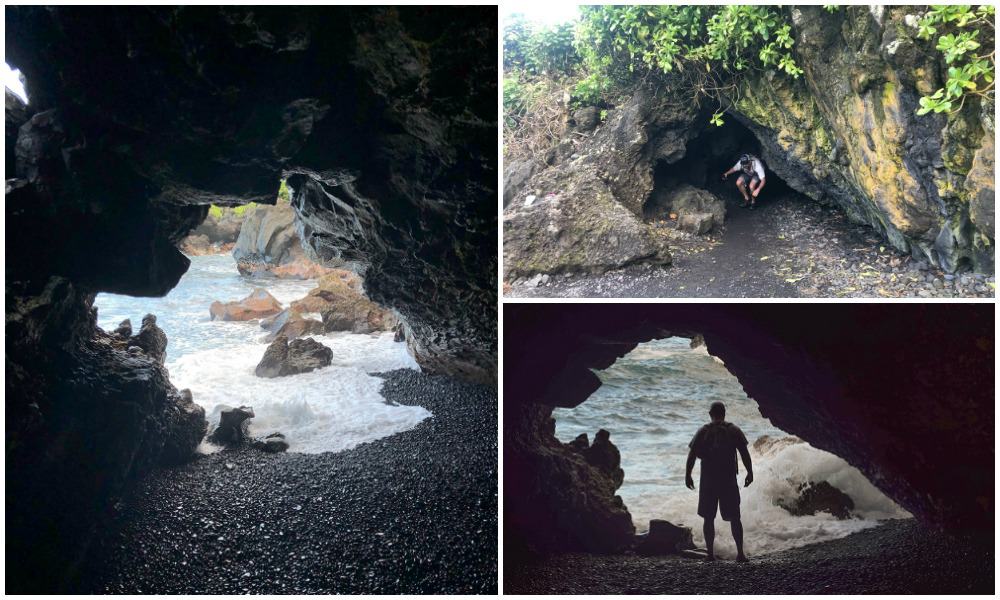 The Road to Hana – Reaching the Town of Hana
Congratulations! You made it to Hana. If you just drive through town, you'll see exactly why I said you should stay a night or two. It's super peaceful and calm and the views are spectacular!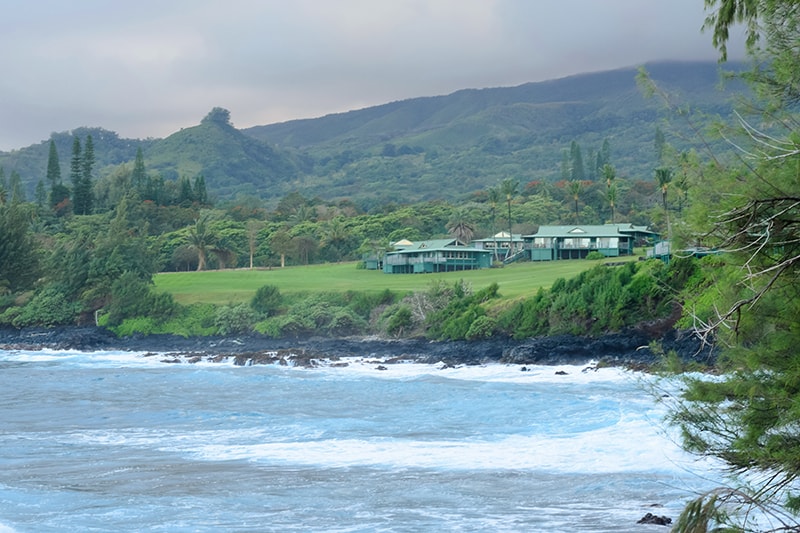 There are a few small restaurants if you've worked up the hunger, as well as an area with several food trucks for a quick bite. There was also a small parking lot that had a bunch of food trucks. This is the perfect place to stop if you need a quick bite before you head home.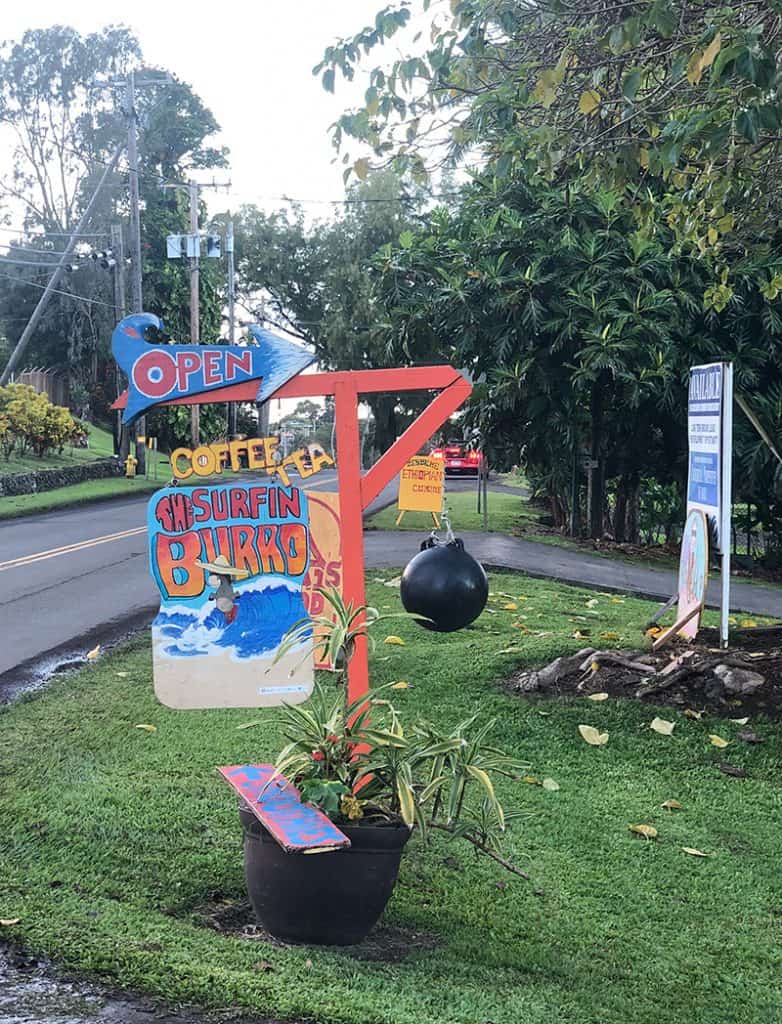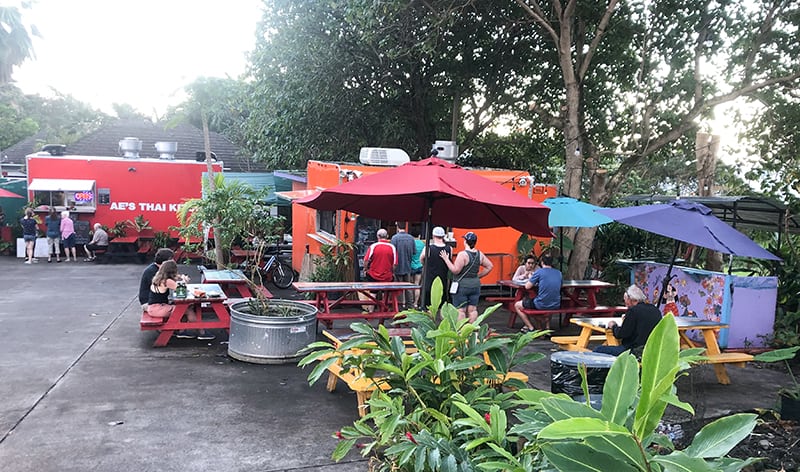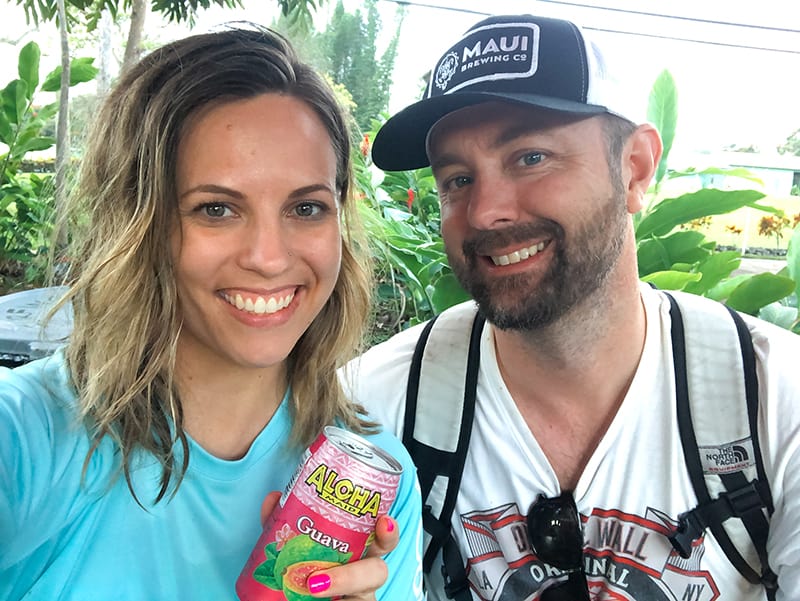 Here is what you will find in Hana, or just beyond the town…
Kaihalulu Red Sand Beach – Hana
The sand here is a deep red and makes for great photos. The water is a little rough and you don't see much swimming here, but it's definitely worth the views and photos.
This is also on private land that allows you to walk through. But there is a sign at the start that warns you people have gotten hurt and you are walking this path at your own risk (aka… you can't sue the owner if you fall).
The hike to get to the red sand beach is short but treacherous. I'm not sure I would have brought any kids here unless I really really trust them. There are some steep, narrow passes that go straight down to the rocks below.
Wear some good hiking sandals or shoes (no flip-flops!) when getting to this beach.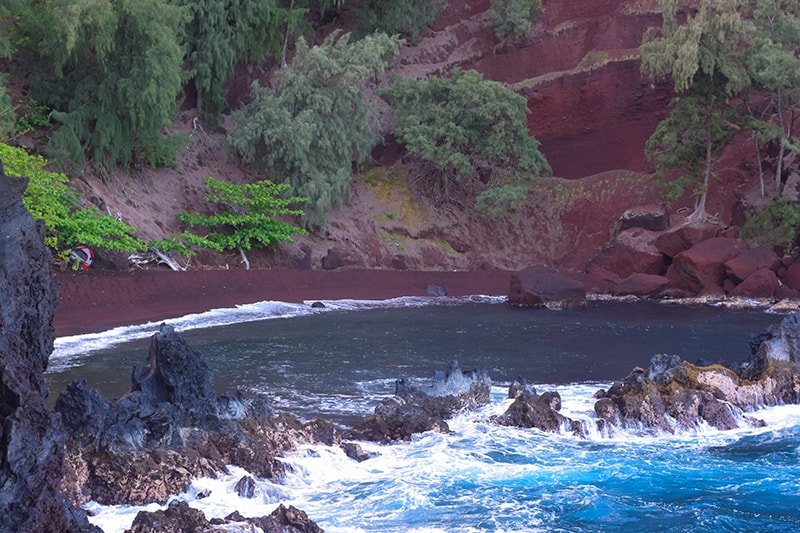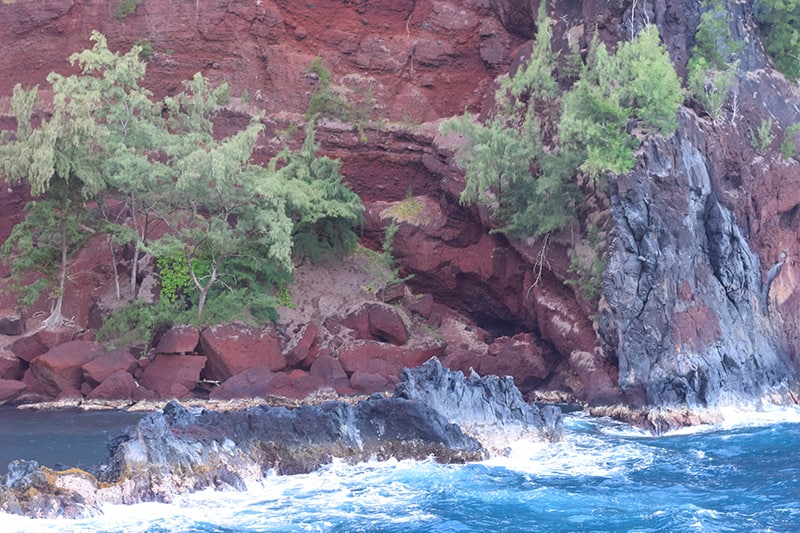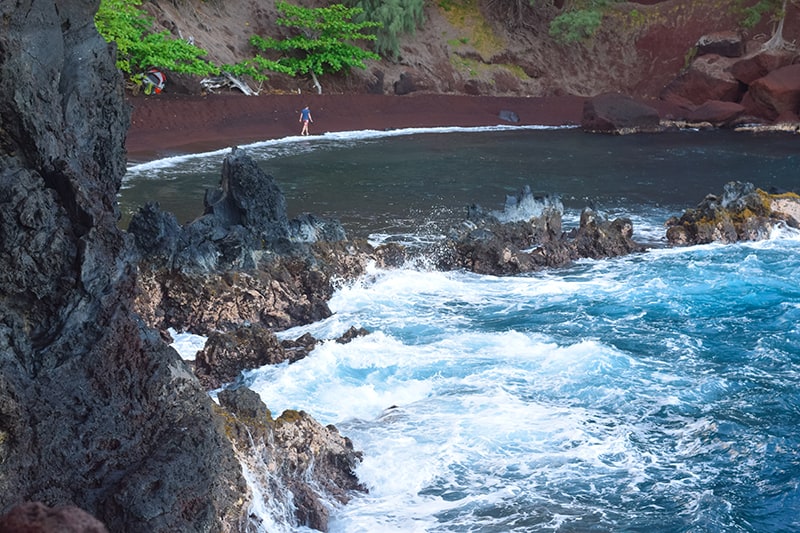 Pipiwai Trail – Mile Marker 42
This is another part of the Road to Hana that we did not have enough time for and the one I was the most disappointed with. This is a longer trail that will require a few hours of your time but ends with one of the most spectacular waterfalls in all of Maui.
I could go on and on about why I think this trail is worth it, but it may be better for you to just read about all the details here. Just know that this hike is one of the most popular, so you won't get any solitude on it. But the people I know who have gone on this trail, credit it with being one of their favorite spots on the island of Maui.
Ohe0 Gulch (Seven Sacred Pools)- Mile Marker 42
Despite its name, there are actually more than 7 pools! This hike is also a great place to park your car and hike into the thick trees to see some great scenery. You'll have a beautiful hike and get to see many waterfalls, all worth the hike.
Like the Pipiwai Trail, this could take several hours of your time. So pack a bag with plenty of water and your lunch and plan to spend some time enjoying this area. Well worth it!
Hamoa Beach – Mile Marker 52
Hamoa Beach is a bit past the town of Hana but happens to be one of the most famous beaches in all of Maui. And rightfully so!
This beach is big, beautiful, and a great place to swim. So if you are looking for a great beach to lay out and enjoy some time playing in the sand and cooling off in thaw waves, Hamoa Beach is the place you want to be!
The Road to Hana
The Road to Hana has too many sites to even mention in one article. There are even several waterfalls or beaches that don't have names, but you might stumble upon them just by getting out and walking around.
It's always a good principle to know that if you see a few cars parked in the same spot, chances are something is good just beyond the trees.
We stopped twice because other cars were also stopped and both times we were not disappointed with what we found… thanks to other people!
We did, however, find the really really good stuff thanks to the book, Maui Revealed. And I truly think we never would have had such a great time without it.
So definitely get the book and take the time to read through most of it long before your trip! You'll be grateful you did!
Otherwise… enjoy the Road the Hana! It truly is an amazing experience.
Enjoy some of these great views we saw just driving along the Road to Hana…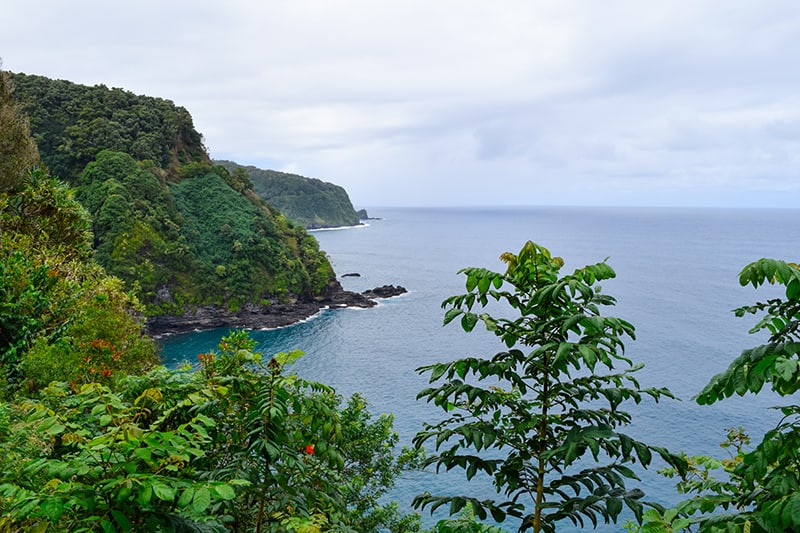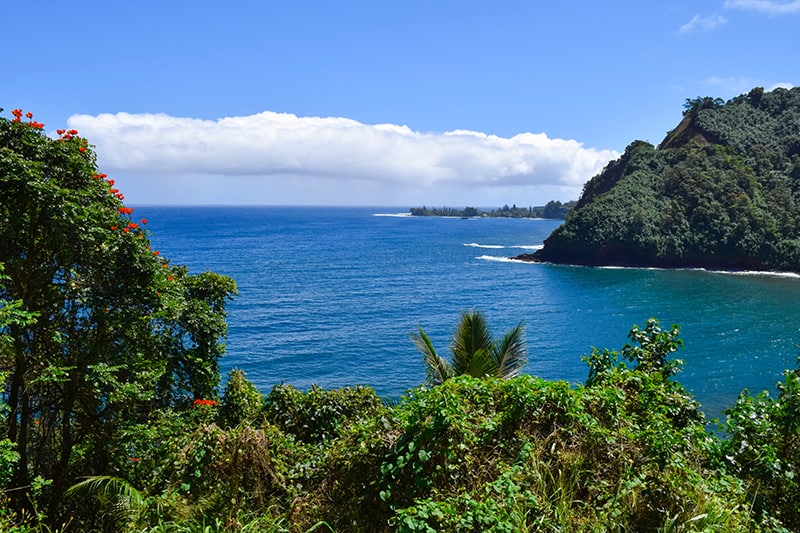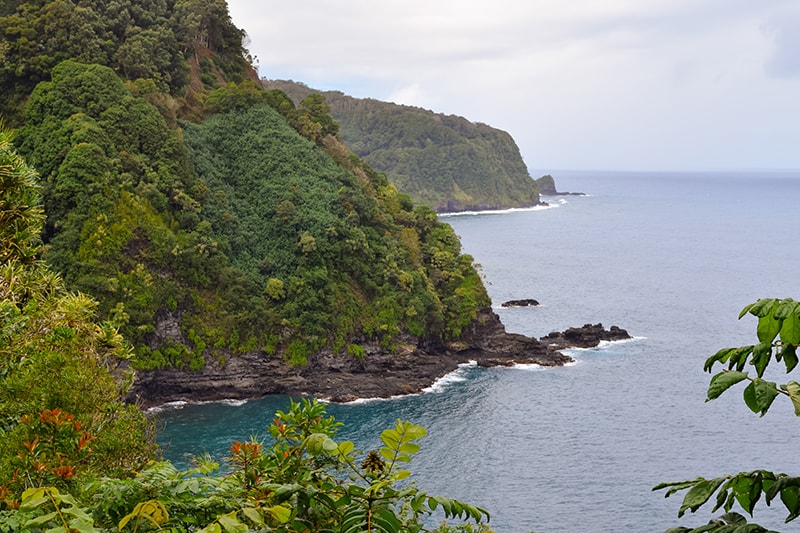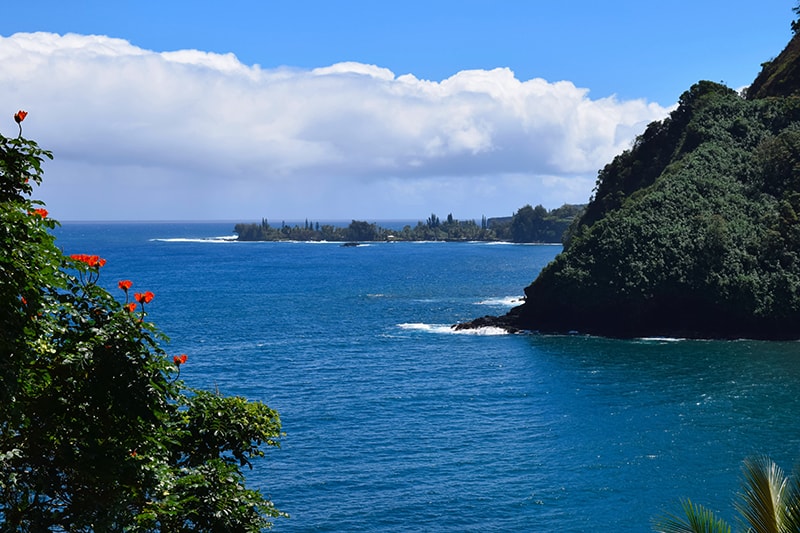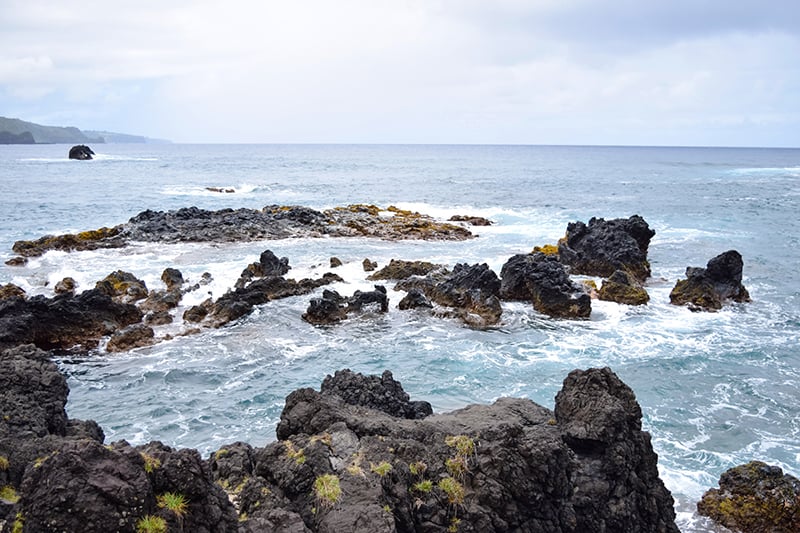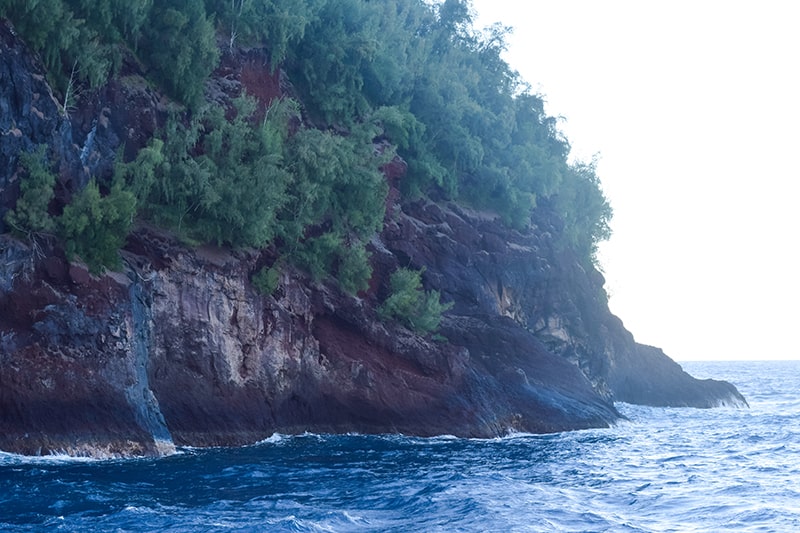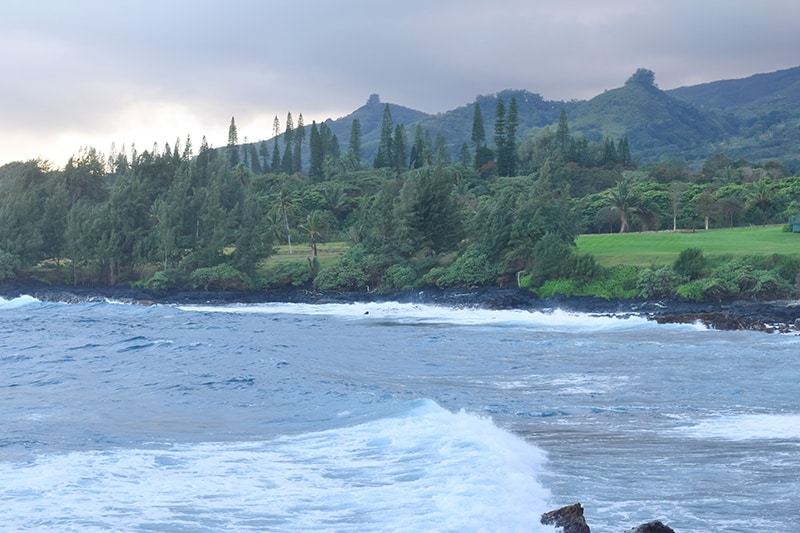 You Might Also Enjoy:
What To Wear and Pack for Your Trip Along the Road to Hana (Coming soon!)
Top Things store Do in Maui (Coming soon!)
Taking an Open Door Helicopter Ride in Maui (Coming soon!)
Explore the Different Parts of the Island of Maui (Coming soon!)
And see more stuff like this by following my PINTEREST boards for more travel tips and destination reviews!


Pin for Later!