15 Unforgettable Things To Do In Kauai with Teens in 2023 – The Ultimate Guide
Are you planning a vacation to the island of Kauai with your teenager? Check out these unforgettable Things To Do In Kauai that you won't want to miss out on!
What Should You Not Miss on Kauai
Wondering what things to do in Kauai?
By now I'm sure you have researched the islands of Hawaii thoroughly and are ready to (or already have) book your trip to the island of Kauai. Good choice! Kauai isn't very large, but with its amazing landscape and pristine beaches, it is definitely my favorite of all the Hawaiian Islands.
It seems like ages since our family took a big trip (ok, it's only been a year since we went to The Bahamas… but still!). Coming out of quarantine and aching for travel made me want to plan an epic mother-daughter vacation.
When I booked our trip to Kauai, it was our goal to experience everything we possibly could. So check out this list of what you absolutely must do on Kauai, and what is not worth your time.
Mahalo!
Kauai Bucket List
Kauai was an unforgettable experience and I would go back a thousand times over. When it comes to vacations, keeping a budget is important but so is experiencing things. So while some of these activities might be free and some of them cost money… they are all worth it!
1 – Experience a Traditional Luau
Going to a luau in Kauai is not just a good time, it's a great way to learn about Hawaiian culture.
Smith's Garden Luau is family-owned and operated so you are supporting a local family when you experience this dinner show. The food is amazing (cocktails are included in the price for the parents!) and the show is fun for kids to watch (think fire eater and hula dancers!) but also a great lesson in Kauai's history.
Or enhance your Luau with a Wailua River and Luau Tour and you can experience two great tours at the same time.
In my opinion, it's not a trip to Hawaii unless you experience a luau.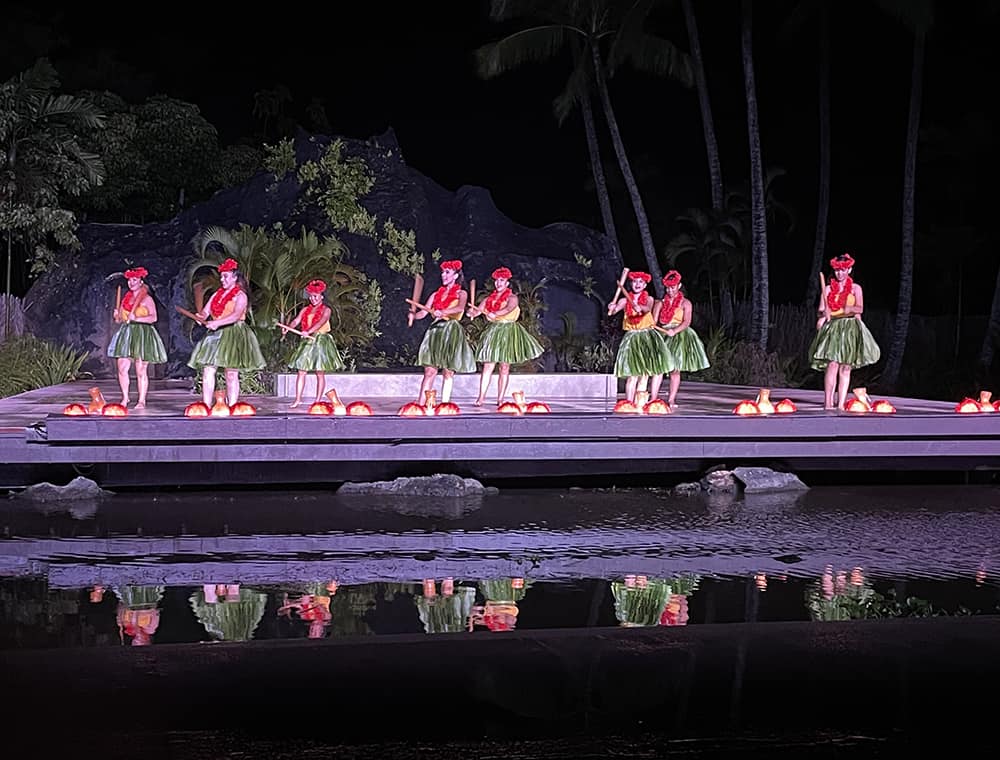 2 –Visit Stunning Wailua Falls
There are 2 ways to experience these gorgeous falls. The first and easiest way is to drive right up to them, park in the parking lot, and take beautiful photos from above.
The second way is illegal and treacherous… but SO worth it!
This is your official disclaimer: hiking down Wailua Falls is not just frowned upon, it is illegal and you can get fined for going down there.
There… I said it. Now let's move on. Because the truth is, every local will tell you they've done it. And every day dozens of tourists do it too. Can you still get caught and fined? Totally! So it's really up to you if you want to risk it.
For us, it was worth it. It was actually one of our top favorite things we did during the entire trip. The waterfall was gorgeous and the water at the bottom was refreshing to swim in. I had a hard time pulling my daughter away so we could go do other things. It's also free to park and free to visit, so that helps.
If you want to risk it… look for the slightly bent fence and enter that way. The hike down is short (only takes about 10 minutes) but difficult. You definitely have to be in good shape to do it. My 12-year-old daughter did just fine but even I struggled a tiny bit.
It is wet, muddy, and steep. There are ropes to help you along the way, but the short hike still requires some good arm and leg muscles – especially when you try to climb back out!
So make sure you wear good waterproof hiking shoes! I bought these water shoes and they went all over Kauai with me.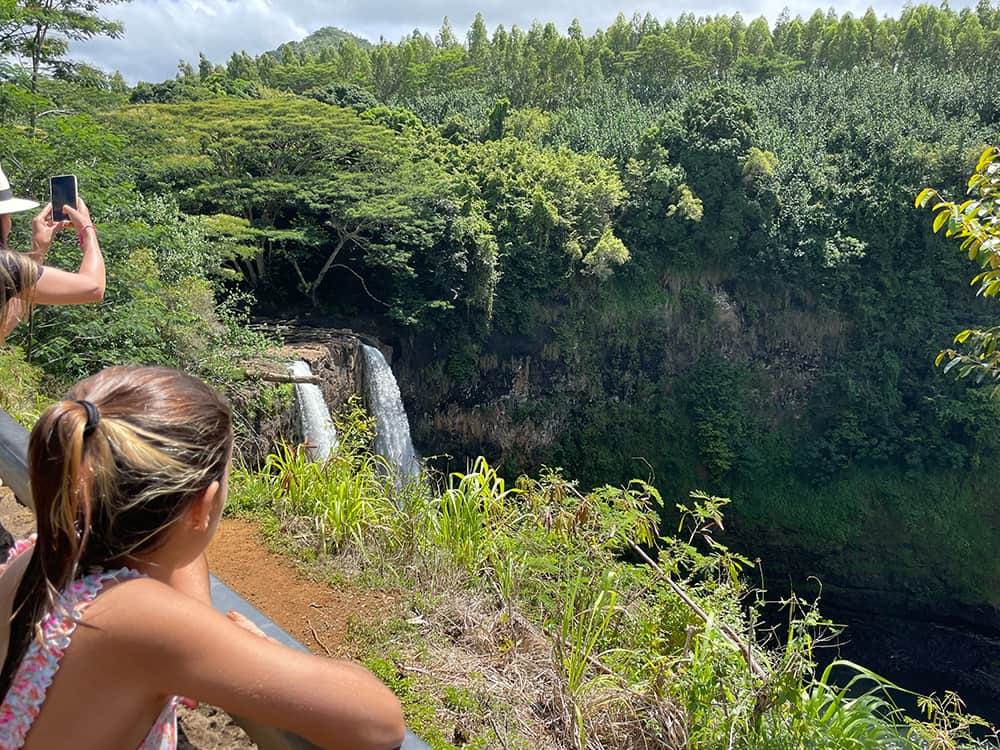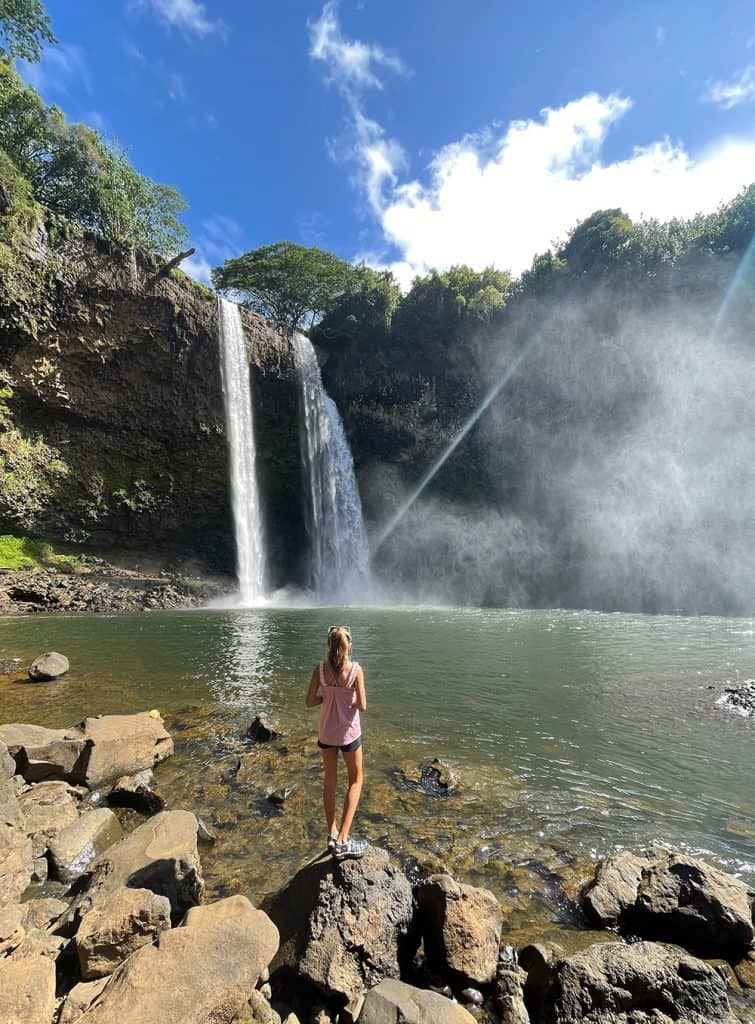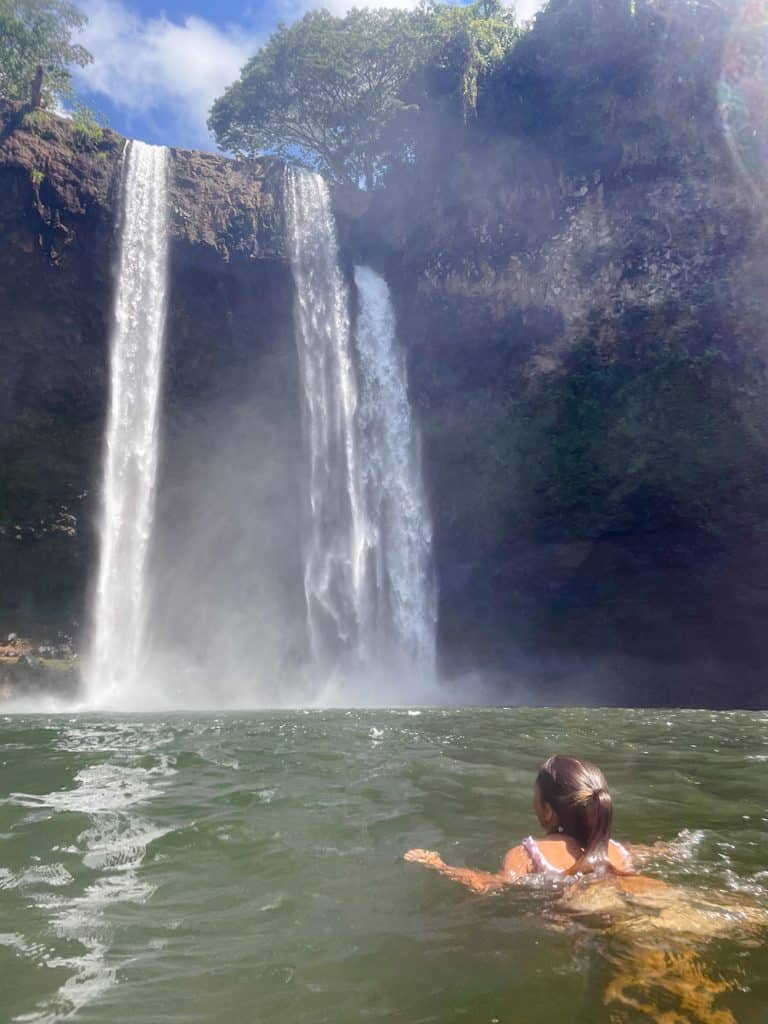 3 – Catch a Wave with Private Surf Lessons
Hawaii is known for its sun and surf. So even if you have never surfed before, grab a board and catch a wave! There are tons of surf schools around Kauai and classes typically only go for an hour and a half (and are pretty affordable too).
I knew I would suck at surfing but it was such a unique experience. And if you're going to attempt to surf… Kauai is the place to do it!
Schedule your surf lesson at the beginning of your trip. That way, if you or your kids really enjoy it, you can rent a surfboard any other time during your stay on Kauai and go surfing anytime you'd like!
Poipu is by far the best (and easiest) place for new surfers to learn how to catch a wave. You can book your surf lesson on Poipu beach for a super affordable rate too!
4 – Float Through Canals with Mountain Tubing
Whatever you do, do NOT Miss out on this activity! It was one of our favorite things to do in Kauai and we honestly could have done it more than once.
You float on tubes down man-made ditches that were created a long time ago for the sugar plantations. Now the water just flows through them and so can you!
Since the ditches are located on private land (as well as the roads to get there) your one and only choice for this activity are to book with BackCountry Adventures. But you will NOT be disappointed! Even if there were other companies, I would pick this one a hundred times over.
The drive to where the tubing starts is scenic and also the site where several movies were filmed. The tour guides crack jokes and give creative facts about Kauai. When you get to the river, you get a helmet and headlamp and off you go!
The river weaves its way through the interior of Kauai, past mountains and unique vegetation. And then the exciting part! You go through 5 different tunnels… and all pitch black besides the little light on your helmet.
You'll even experience some mild rapids that make it even more fun. This activity is great for kids and adults. Everyone will love it! (They also provide lunch).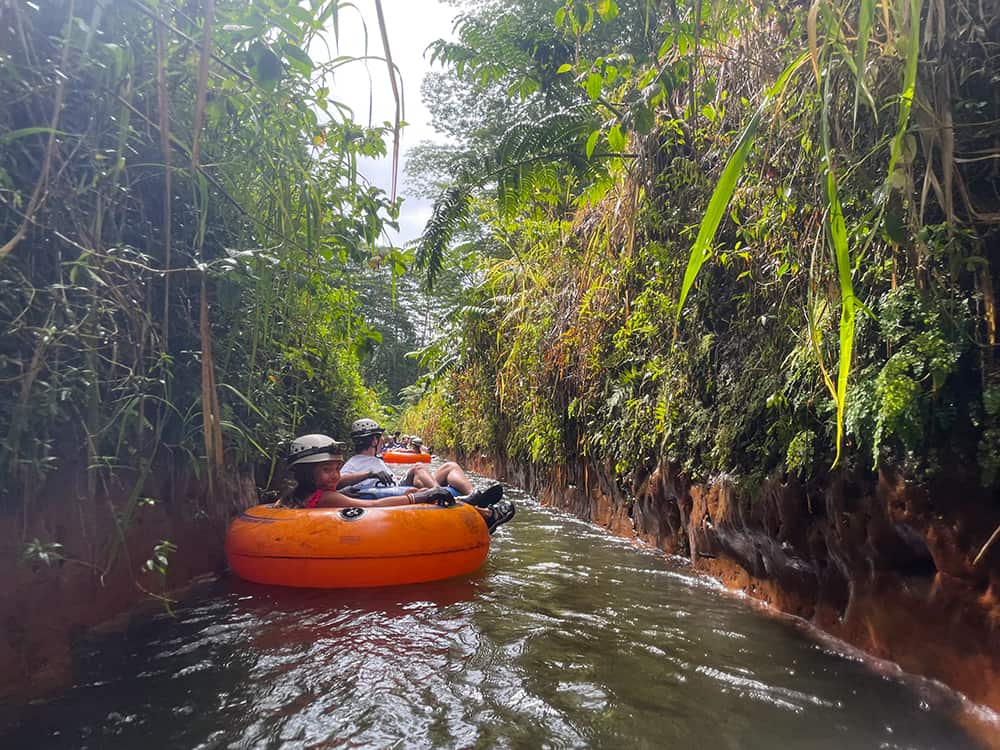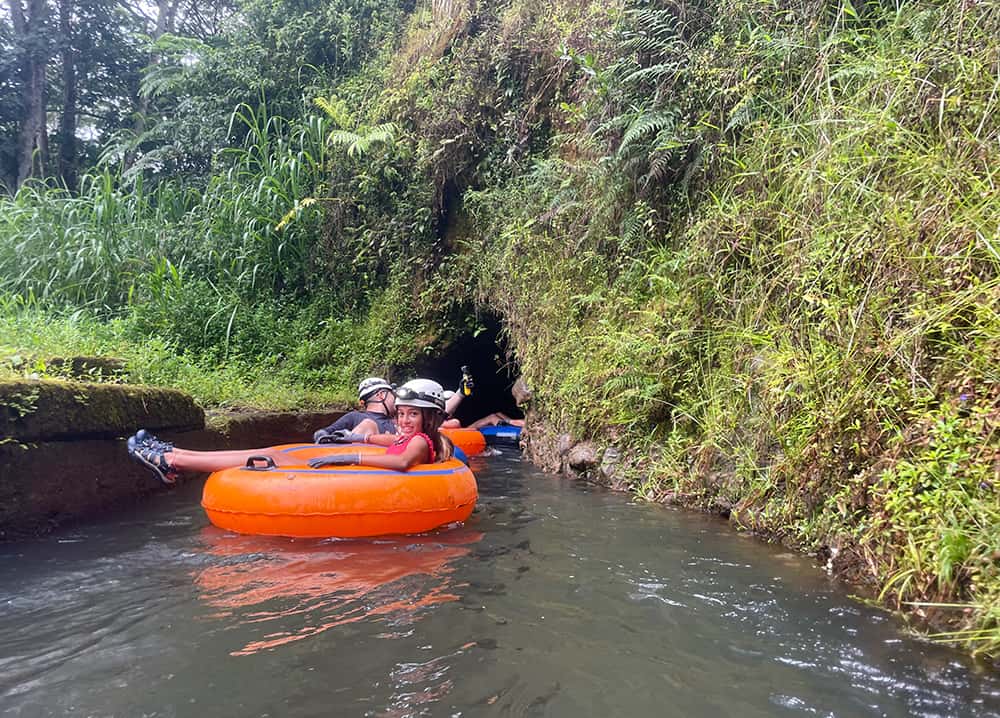 5 – Sail the Coast with a Napali Boat Tour
Put this one at the top of your list of things to do in Kauai. Besides a helicopter, this is your only way to see the majestic Napali coast in Kauai. And trust me, seeing it by boat is 100 times betters. Because you'll not only see the coast, you'll have an amazing adventure too!
You can take two different kind of boat rides depending on your level of adveture and ability.
The rafting boat ride is for those looking for more adventure. It goes a lot faster and can be a bit of a rough ride, but the smaller raft allows you to go inside caves the bigger boats can't (this is the tour I highly recommend if you have the ability, the caves are a MUST see)
The catamaran boat ride to the Na Pali coast is great for people just looking for a leisurely sail. If you have young children, older adults, or anyone who does not want to do anything strenuous, then the catamaran is a great way to see the Na Pali coast!
But if you like a little more adventure, try the raft expedition. You sit atop a raft (make sure you have strong arms to hold on tight) and cruise swiftly through the ocean waves. With this expedition, you get to go inside caves (the catamarans are too big and won't fit) and stop to snorkel. They also provide lunch in a beach area.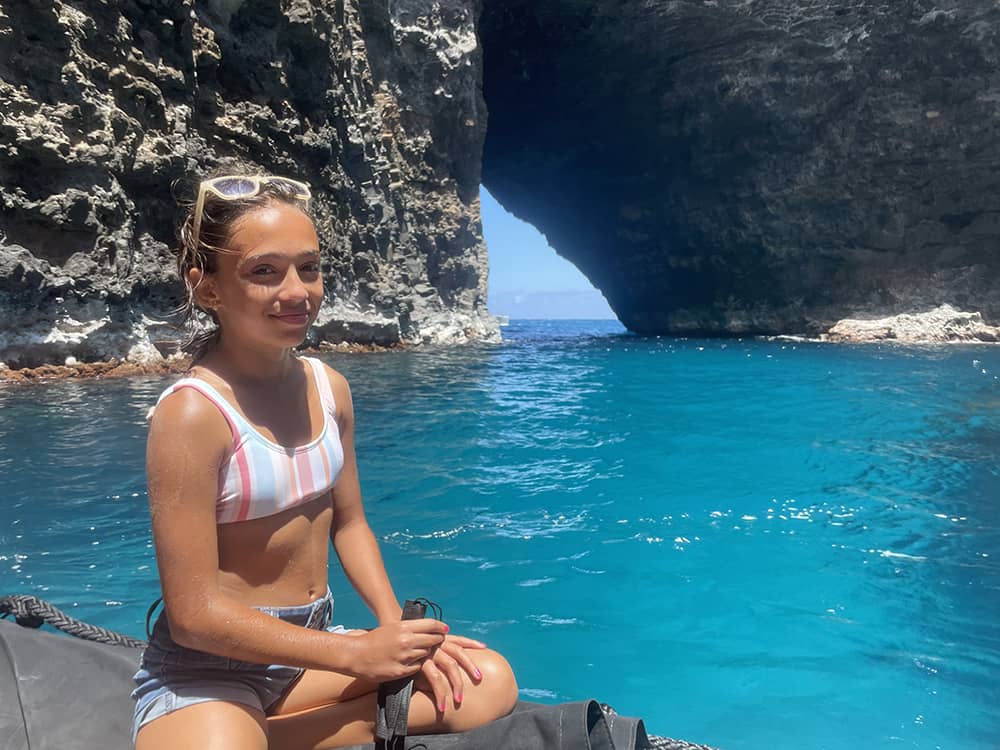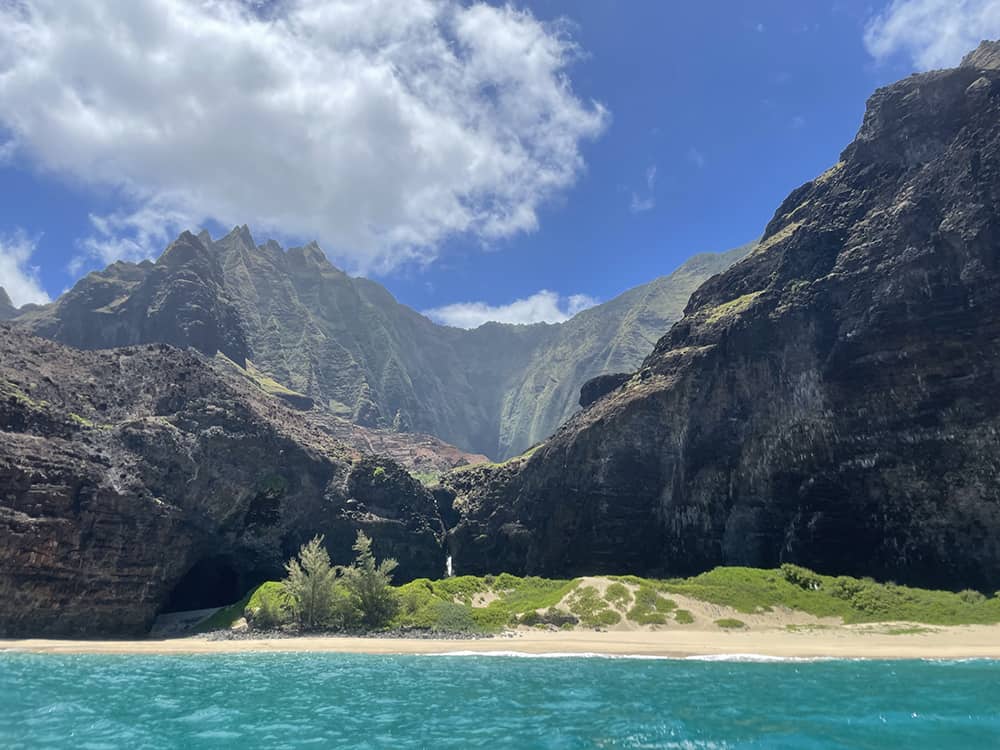 6 – Take a Kayak Tour to Secret Falls
Ok, I know I said it before, but if you are looking for things to do in Kauai, PLEASE add this to your bucket list!
In Kauai, most of the waterfalls are located on private property. So it can be pretty difficult to get to them. But with this Half-Day Kayak and Waterfall Hike Tour in Kauai, you get a scenic kayak tour down the river to an amazing waterfall.
What we loved about this tour was that it started with a 45-minute kayak ride up the Wailua River (it was smooth, easy sailing). And then continued with an approximately 30-minute scenic (easy!) hike to the waterfall.
The hike was not strenuous at all, young kids could easily do it. But I highly recommend a good pair of waterproof hiking shoes because it is very muddy and you will need to cross through part of the river on the hike.
Secret Falls was one of the most beautiful waterfalls I've ever seen in Hawaii (and that includes Maui!).
Once you get to the waterfall, you'll never want to leave! It's deep enough to swim in but shallow enough for kids to enter. The tour provides you with drinks and lunch before you head back.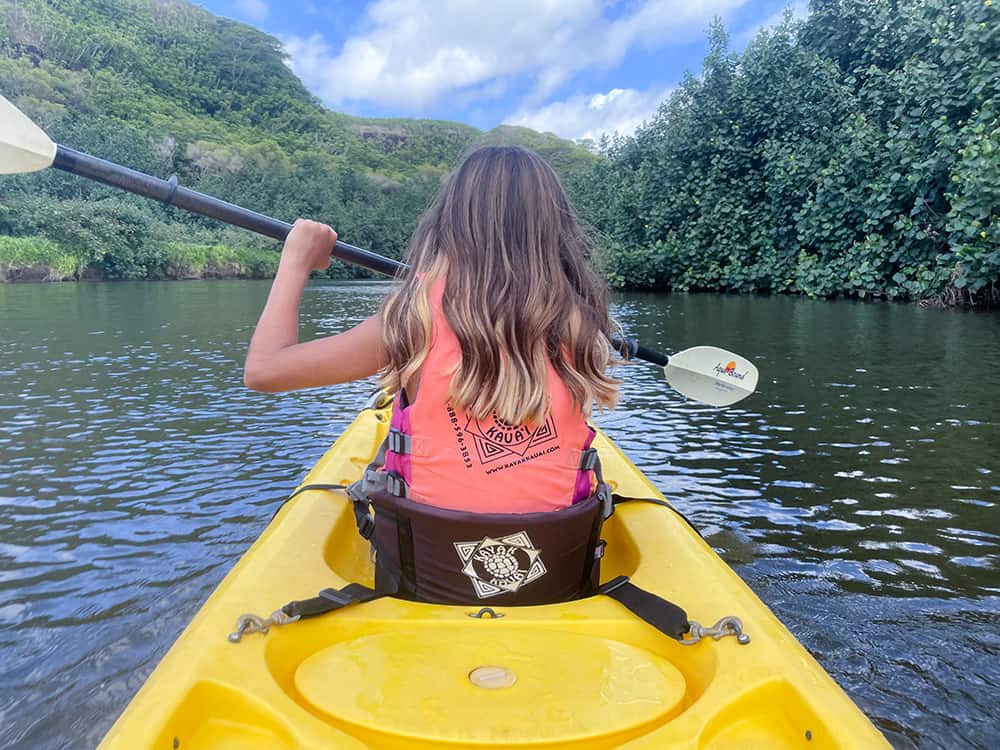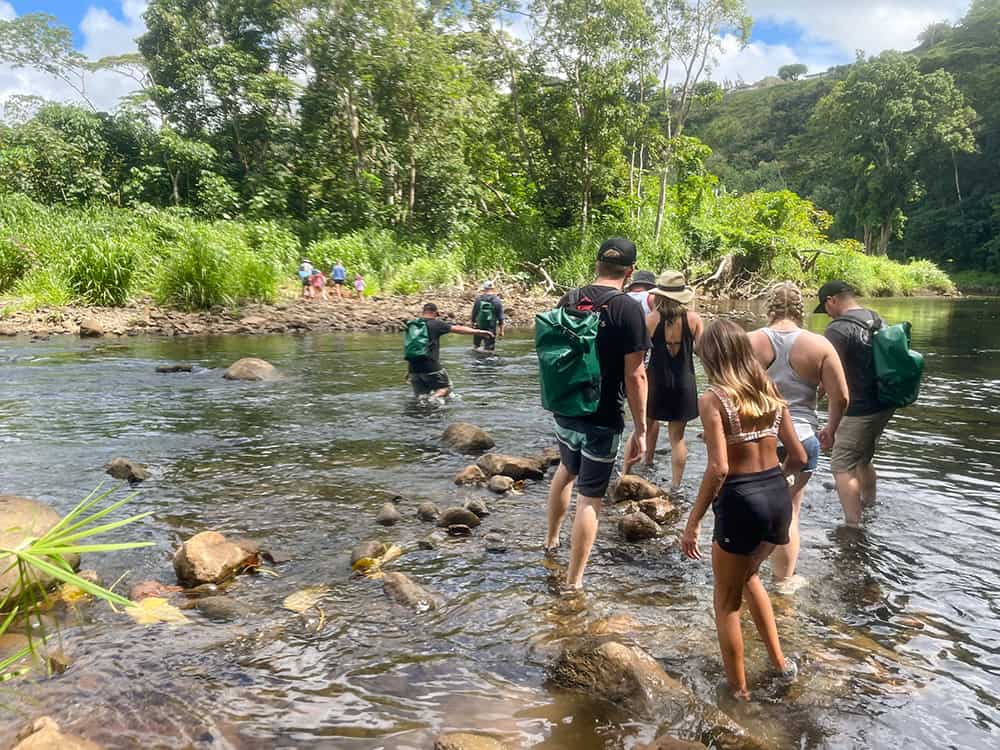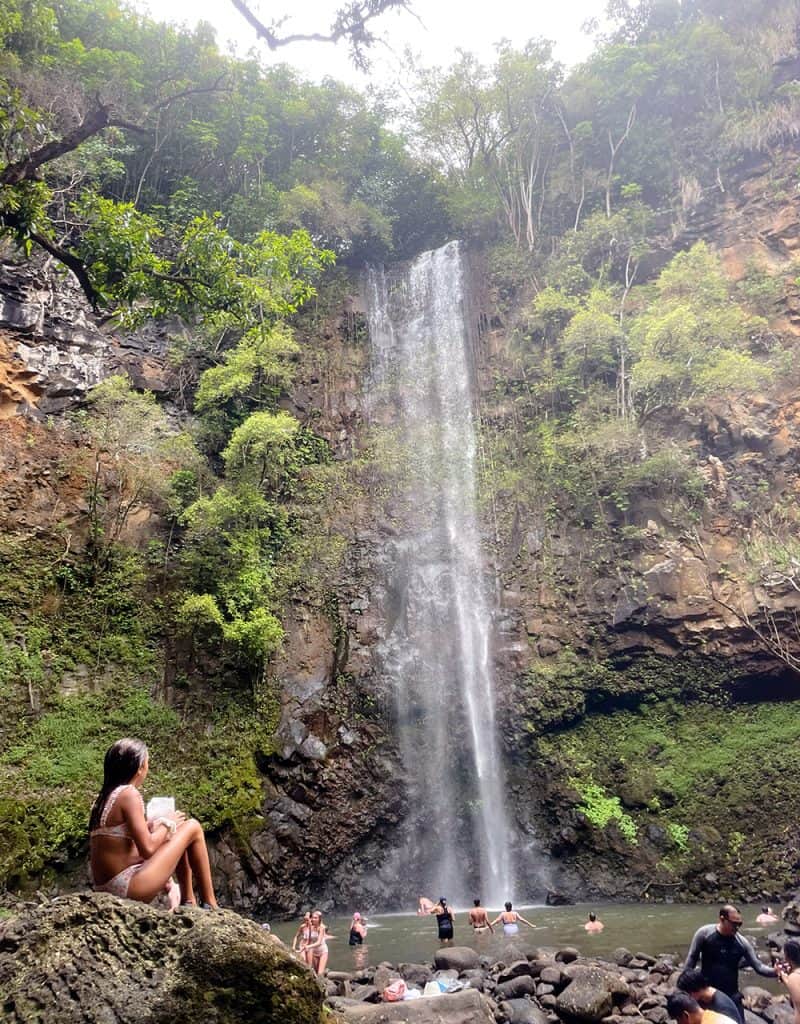 7 – Experience a Zipline Adventure
Fly over the lush landscape, incredible waterfalls, and dense Hawaiian vegetation. If you have a thrill-seeker in your family, this will not only be tons of fun but incredibly scenic as well.
Kauai Zipline Tours has not only the longest zip lines on Kauai but several options if you want a shorter or longer zip line.
You can even make a day of it and book one of their tours that include a kayak ride up the Wailua River, a short hike, zip lining, lunch, and a motorized boat ride back.
8 – Adopt a Dog For the Day
The Kauai Humane Society will let you adopt one of their dogs for a day! You can take them for a full day (10 am-6 pm) or even just for a few hours.
They supply everything you need for your pup, from the leash to water bowls and extra water. They can even supply you with places to take the pup and ideas of what to do with them.
We, unfortunately, did not get to partake in this and were super sad about it. Learn from our mistake… call ahead and make arrangements!
But if you do get a chance to adopt a dog for a day, it will be an unforgettable experience in Kauai. For both you and the pup. Contact them at [email protected] to arrange your doggie field trip!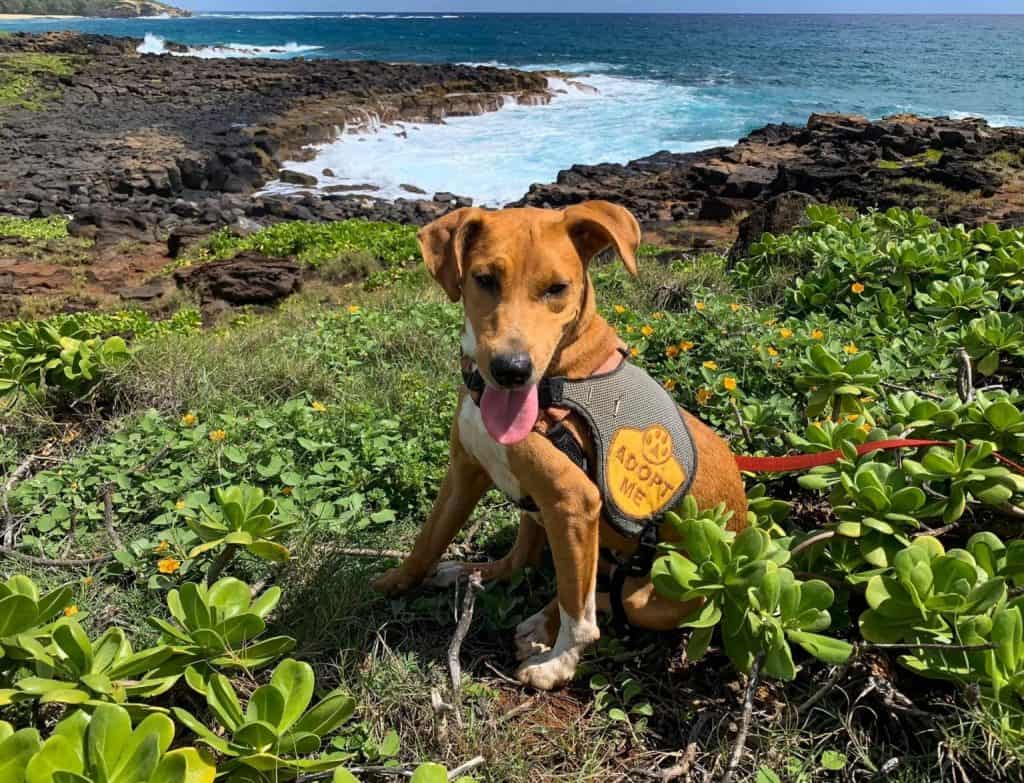 9 – Go Snorkeling with Sea Turtles
You cannot go to Kauai and not go snorkeling. Whether you are old or young, fit or unfit, everyone can snorkel! I recommend renting some snorkel gear from Snorkel Bob's, they have locations on Maui and Kauai. Snorkel Bob's has masks, snorkels and even fins to rent. They will even fit each of your family members to make sure the mask and fins fit just perfectly.
It's super affordable and I find it so much easier to rent rather than pack snorkel gear for every family member.
They even supply you with a map of the best snorkel spots for beginners or experts. We found Anini Beach in the north, and Poipu Beach in the south, to be the best for beginner snorkelers. But a well-kept secret is Lawai Beach in the south. It's super small and only has street parking. But we saw the most turtles and fish at this location!
Or rent a Sea Scooter to make snorkeling even more fun with these great motorized scooters!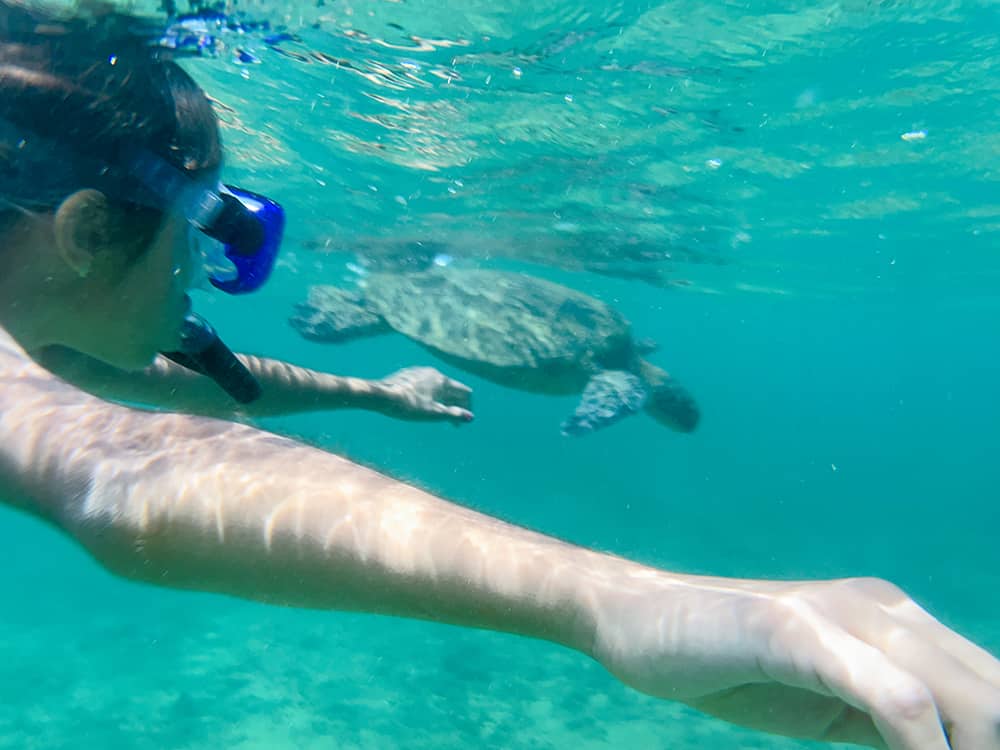 10 – Visit Queens Bath and Lighthouse
I grouped these together because they are both super quick and in the same area. The Lighthouse is a historic site not to be missed and an important part of Kauai'shistory. Not to mention the photos you can get here are amazing! But besides viewing the lighthouse, there isn't much else to do. But still… don't miss it!
As for Queens Bath… it is also an iconic piece of Kauai. But it can also be very dangerous. Not only is it very dangerous to swim in, but the hike down to it can be pretty treacherous as well. You won't need to make a whole day out of either of these places. But if you're in the north, and looking for things to do in Kauai, definitely check them out.
11 – Fly over Kauai on a Helicopter Tour
Although it is one of the priciest activities on Kauai, it is also truly unforgettable. There is just no way to see the island in any other way than sitting in a helicopter.
Fly over the Napali coast and get a close-up view of waterfalls that are only visible by flight. Become truly adventurous and go for the doors-off helicopter ride! It is a once-in-a-lifetime experience.
12 – Visit the Kilohana Plantation
If you need an activity that is a little more subdued and not so adventurous, you can visit the Kilohana Plantation. Dine, shop, and even experience some Rum tasting at this historic plantation with gorgeous scenery.
They also have a really nice vintage train ride that the kids would love. This is also a great choice for a rainy day. The train is enclosed as is their dining and shopping. So you can still get a great view of the plantation and keep yourself dry.
13 – See the Majestic Waimea Canyon
"The Grand Canyon of Hawaii" is an absolute must-do, don't miss place in Kauai. Sure, it may not be the most exciting thing for kids because it's a lot of just driving and scenery. But my 12-year-old loved it a lot more than I thought she would. And it's so important to Kauai, you just can't miss it.
The ride up to the furthest part of the canyon would only take you about an hour and a half if you drove straight there. But even with stopping along the way at every lookout point, we could, it still only took us about half a day.
The first few lookouts are all of the canyons. Bring a good camera! There are waterfalls you don't want to miss. The canyon can be seen at several different points and every time the view is different. So stop often!
Once you get all the way to the top, it turns into views of the Napali Coast. Every stop along the way has hikes for even better views. Some hikes are short and easy, some hikes are longer. It all depends on how much time you want to spend up there. Download the Alltrails app to find the best hiking for your family in Waimea Canyon.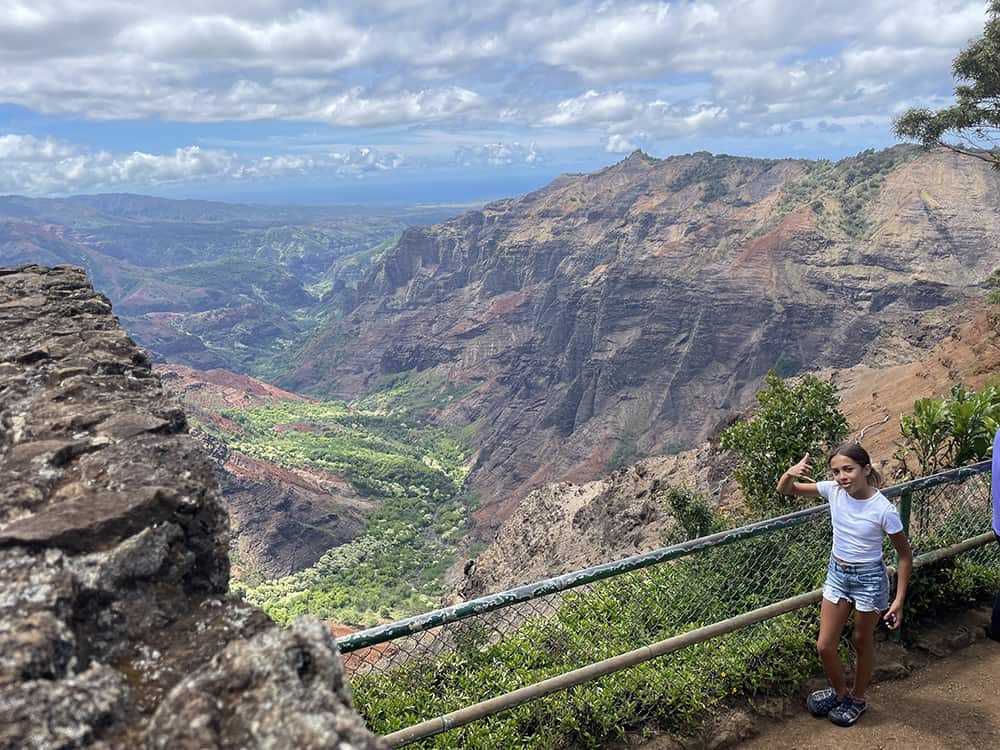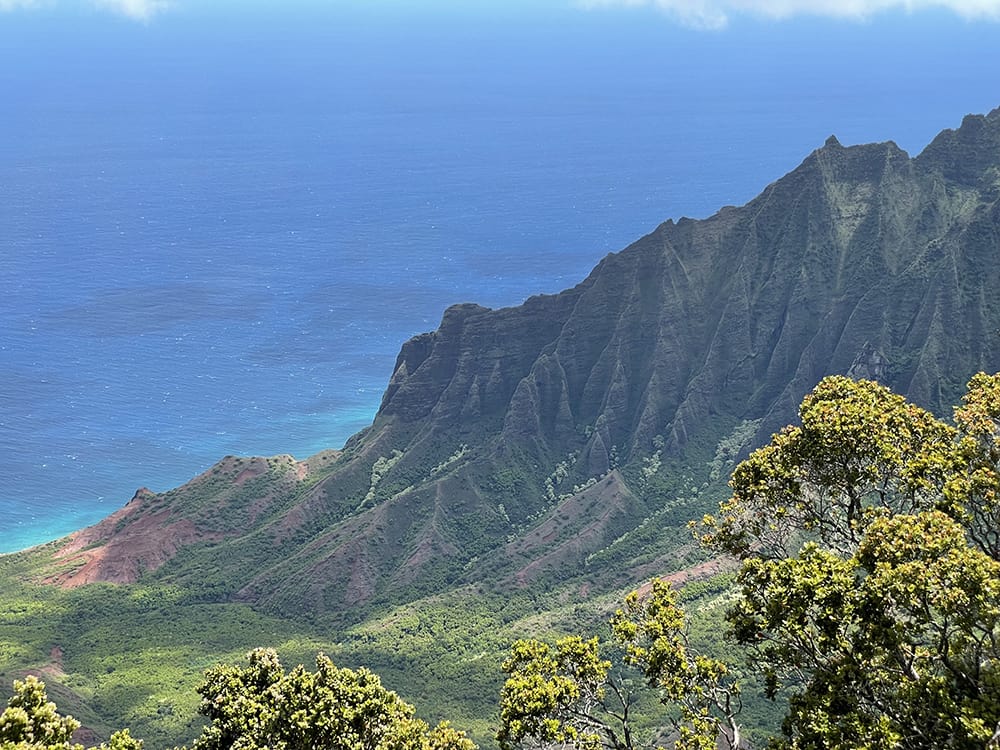 14 – Be Adventurous with an ATV Tour
Get down and dirty with your family with an ATV tour through Kauai. Kids and guys love this adventure-packed excursion because they get to ride in an ATV and get super dirty.
This Kauai ATV Backroads Adventure Tour offers an excursion that takes you through some scenic areas of Kauai and to a waterfall located on private land, that only a tour guide can take you on. So get dirty on your ride and then rinse off in a cool and refreshing waterfall.
15 – Book a Professional Photo Shoot
I fully realize this is not an activity or an excursion. And your kids may not love doing it. But this was by far one of the most memorable things we did when visiting Kauai.
We found a local photographer and booked a family photo shoot.
The photos exceeded my expectations. The scenery was magnificent and we actually had a lot of fun running in the sand and frolicking in the water. It gave us an excuse to dress up at sunset and go to a nice dinner when we were done.
The Memories we got from these photos are priceless. And hey, it might be the only way to actually get Mom in some of the photos from your Hawaiian vacation too!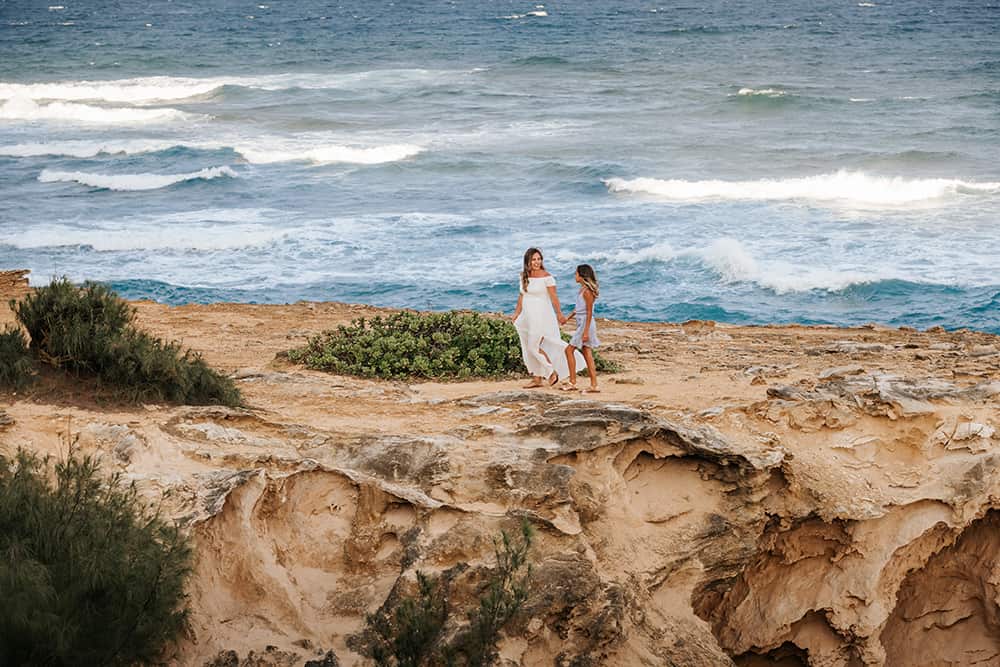 Kauai Experience – Things To Do In 2022
Kauai is truly an amazing island and one of the best vacations we have ever taken. There is just something about the air there and the way of life that makes you breathe better and enjoy life more.
Take time to see the beaches, watch the sea turtles, or have dinner at a picnic table overlooking the ocean.
As fun as all these activities in Kauai sound, don't forget to plan a lazy beach day too!
Do you want to see more of our family adventures? Follow us on Instagram for vacation ideas, travel tips, and lots of fun!
Note: Before you visit Kauai, you MUST get yourself a copy of The Ultimate Kauai Guidebook. It is like the Kauai bible. Everything you could possibly need to know will be in this book.
To make things a little easier, here is a cheat sheet of things to do in Kauai and how to find them…
P.S.- What you CAN miss is Glass Beach. It's located behind smelly industrial buildings and is super small. It has sharp rocks and crashing waves which make it unsafe to swim. And the glass is so small, it really just looks like colored sand. Not worth the trip.
Do you have any questions about visiting Kauai with a teenager or what to do when you get there? Leave a comment below!
Best Places to Stay In Kauai
I'm glad you asked!
If you're looking for facts on Kauai, go check out Wikipedia! But if you are wondering about some basic information that will help your visit, then here you go…
Kauai is broken up into sections; the north (Princeville area), the East (Lihue), the south (Poipu), and the West (Waimea).
When it comes to where to stay in Kauai, I would only recommend the north or the south. The East is beautiful but very congested and crowded. And the beaches there are pretty but the waves are pretty intense so it makes swimming and snorkeling really tough.
The entire island is not that big and you can get from the north to the south in about an hour (depending on traffic). So no matter where you stay, it's pretty easy to explore the entire island and not give up a whole day traveling to do so.
We chose to stay on the south side of the island in the town of Poipu and were not disappointed! There are plenty of beaches, restaurants, and shopping. And the town has that sweet little town vibe we really loved.
Check out Great Vacation Retreats… we nabbed a condo right on Poipu Beach for way less than the resort prices.
You Might Also Be Interested In:


Pin for Later!