Where to Eat in Maui – 10 Great Restaurants You Need to Try in 2022!
10 Maui Restaurants You Need to Try!
Most likely you are traveling to Maui for the amazing beaches and lush landscapes. Planning where to eat in Maui may not be at the top of your list.
For me, however, I was just as excited about the food in Maui as I was about anything else. Mostly because I just really like to eat, but also because I LOVE good seafood. And I hoped beyond hope that Maui had some good seafood.
I was not disappointed.
Keep in mind… I did NOT title this article "10 Best Restaurants in Maui". I feel like this is misleading because there is no possible way you can test every restaurant in order to know which ones are the BEST.
So beware anyone else who claims that (unless they are a local and have indeed tried every single place to eat in Maui).
These 10 places to eat in Maui are some of the many places I visited while vacationing there for 7 days. And only the ones I think are worth mentioning. If I thought it was so-so, it's not on this list!
My review of where to eat in Maui are just a few of the places I would not miss out on if you are traveling to Maui and really enjoy fresh fish and seafood!
Where to Eat in Maui
I will start off by saying that Maui is a very expensive place to eat. And if you plan to do a lot of hiking, visiting waterfalls, snorkeling, or just adventure stuff… you are probably better off bringing a portable cooler and stocking up at the local Wal-mart.
We packed sandwiches and snacks for our Road to Hana trip and most other days too.
When driving the north shore and around the Nakelele Blowhole, there just isn't any place to stop and grab food. So bringing a ton of water and a few sandwiches is your best bet.
But because I am a food lover, I planned a few places around all of our adventures, so we could taste as much local food in Maui as we could.
TIP: Bring a Travel Cooler as your carry on! It can double as a carry on for any items you want to have on the plane. And when you get to Maui, you have your own cooler to take with you everywhere you go!
These are just some of my personal favorites…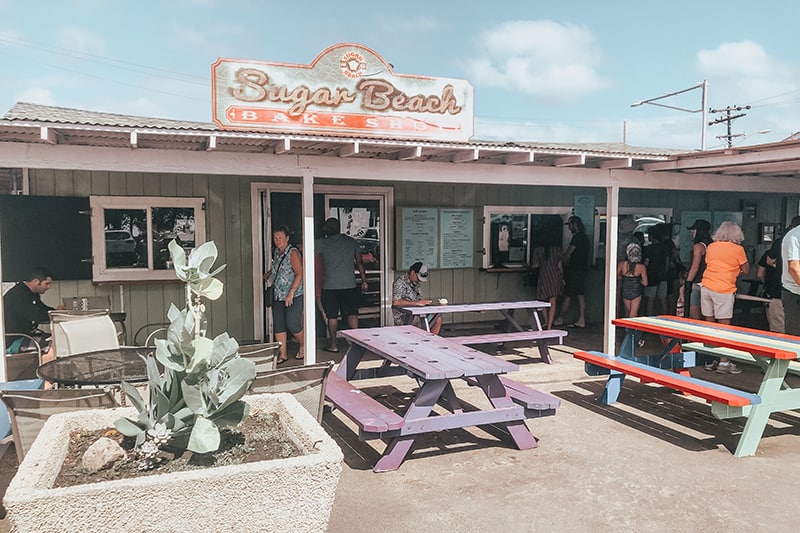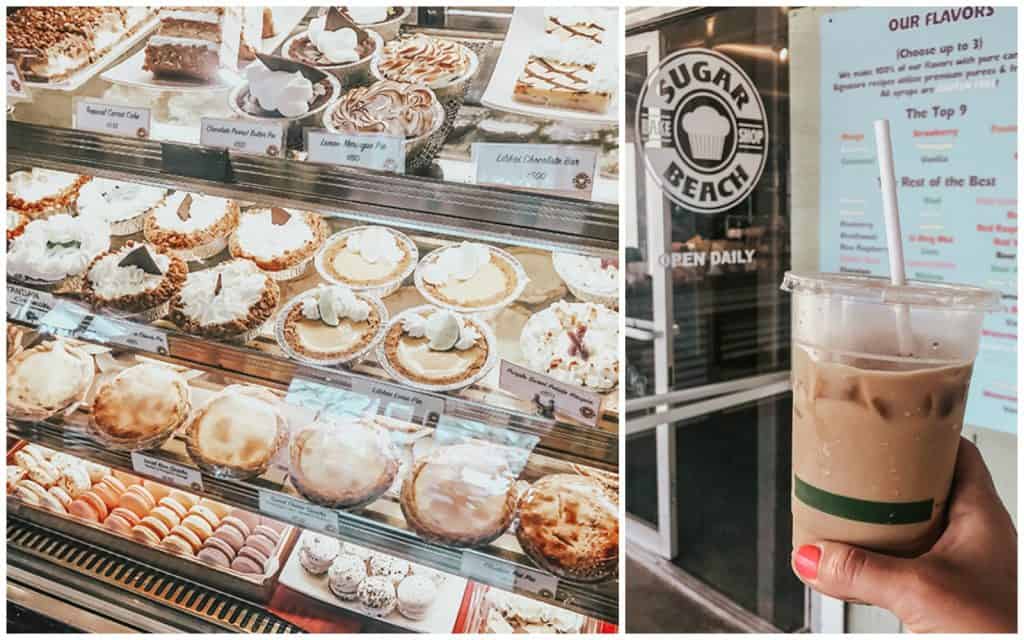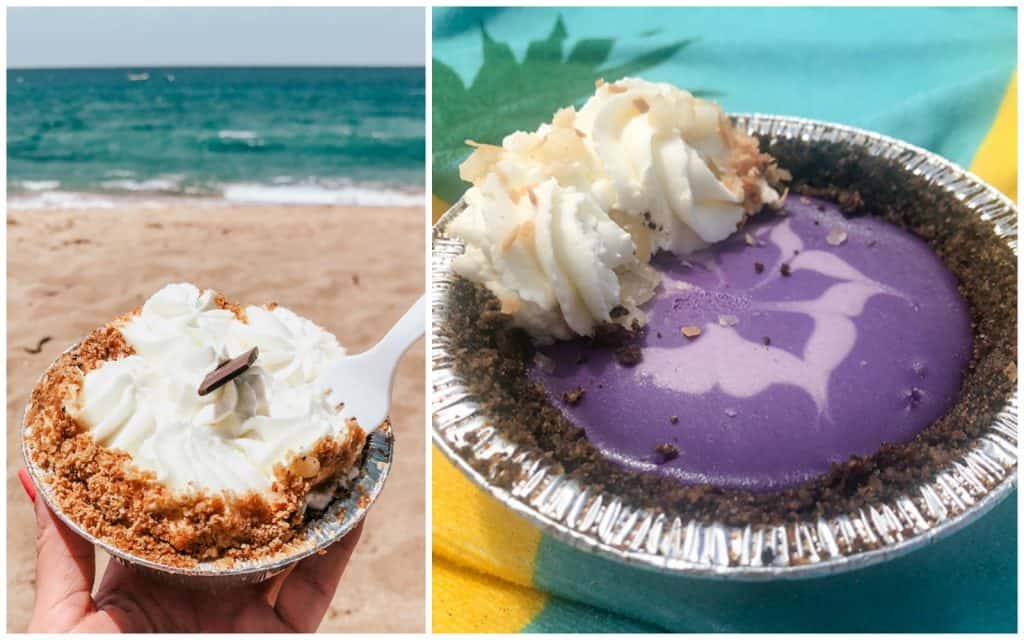 Sugar Beach Bake Shop
I'm starting with a place I found early on and ended up going several times to start my morning. The Sugar Beach Bake Shop is located in Kihei and has the best coffee I had while in Maui.
My favorite was the Coconut Macadamia Nut Iced Latte… a flavor I could never get at home!
They also have tons of breakfast sandwiches and pastries. So we would grab a coffee, a breakfast sandwich and a pie or two to put in our cooler for later in the day.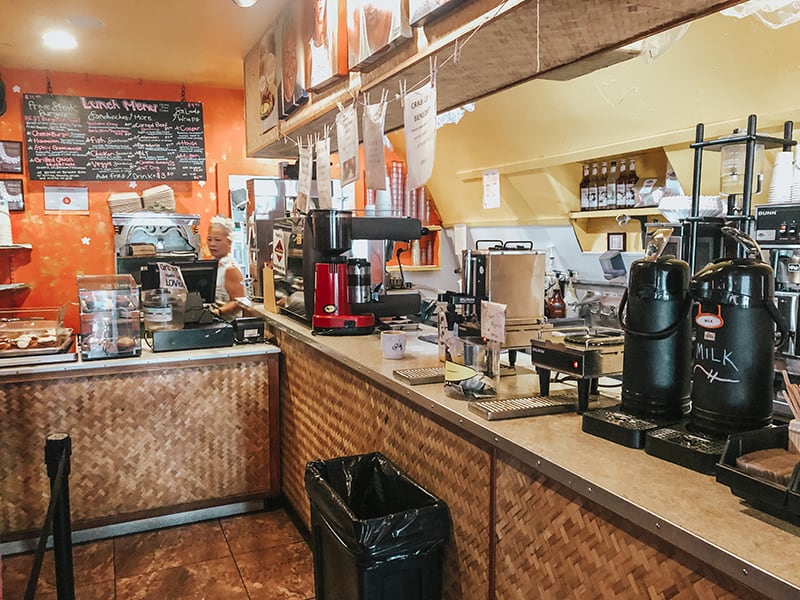 Kihei Caffe
We stumbled upon this place because it was right next to the Airbnb we stayed at so it was an easy walk and had great ocean views. This place is always packed but the line moves quickly.
They are well known for their breakfasts. Definitely try the Banana Nut French Toast or the Crab Cake Eggs Benedict. Both were amazing!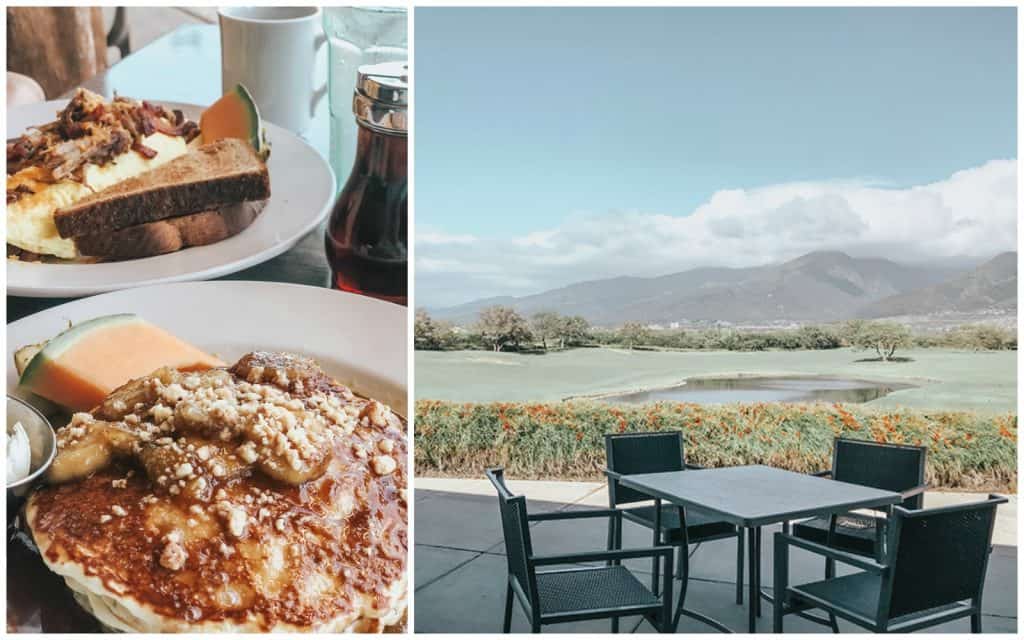 Cafe O'Lei at the Dunes Golf Course
Ok, I know it seems weird to go eat breakfast at a golf course, but this place is fantastic. We stumbled across it by accident and were just desperate for breakfast.
We sat outside on the patio and had the most amazing views of the golf course and mountains. And then the food came and we were blown away.
We ordered the pork omelet and bananas foster pancakes. The pork was sweet and savory and melted in our mouths. And those pancakes… they were dripping with brown sugar glaze and candied bananas.
They were so good, I tried many times to replicate the recipe at home. 
Da Kitchen
You know it's a place worth trying when more than one local recommended we go here. Da Kitchen has a pretty big menu with everything from breakfast to lunch and dinner and several different kinds of cuisine.
They expanded and now have a total of 3 locations to make it easy to try out no matter when you are spending your day!
Down the Hatch
Located near the Giant Banyon Tree in Lahaina, Down the Hatch is a newer restaurant but already becoming a local favorite with all it's fresh seafood options. Try the Lobster and Crab stuffed grilled cheese… doesn't that just make your mouth water?
And since it's right near downtown Lahaina, you can burn the calories off by walking around and shopping.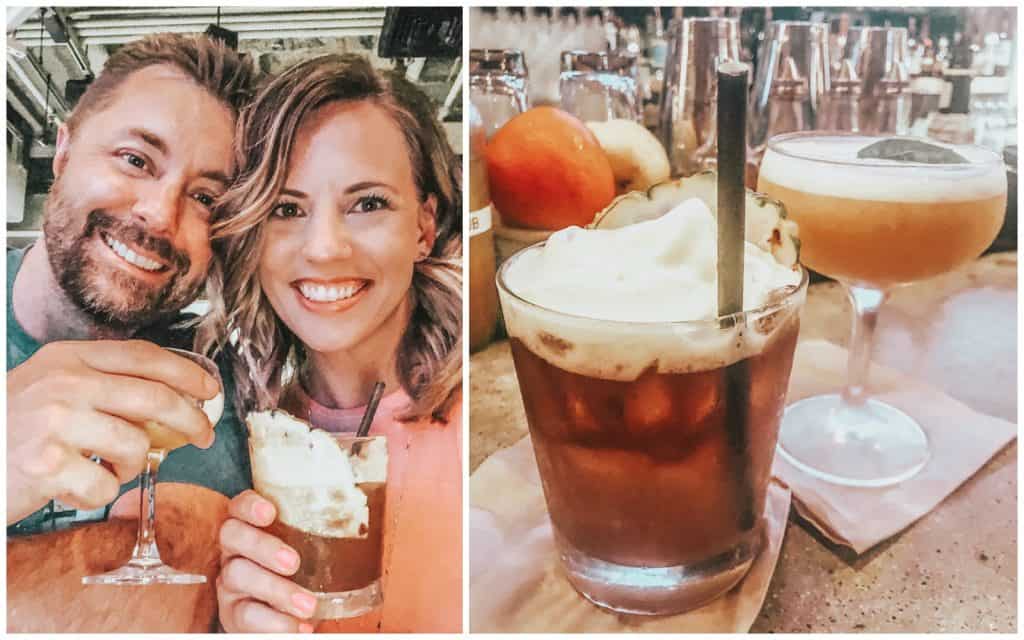 Monkeypod
With two locations in Maui, Monkeypod is a great place to dine if you're looking for a nice dinner. The atmosphere is pretty romantic and the food is crazy good. They have live music playing most nights also.
Monkeypod is famous for their MaiTai's… which are hands down the best ones I've ever tasted. They are so good, I think they should have their own name.
And definitely order the lobster deviled eggs. You won't regret it.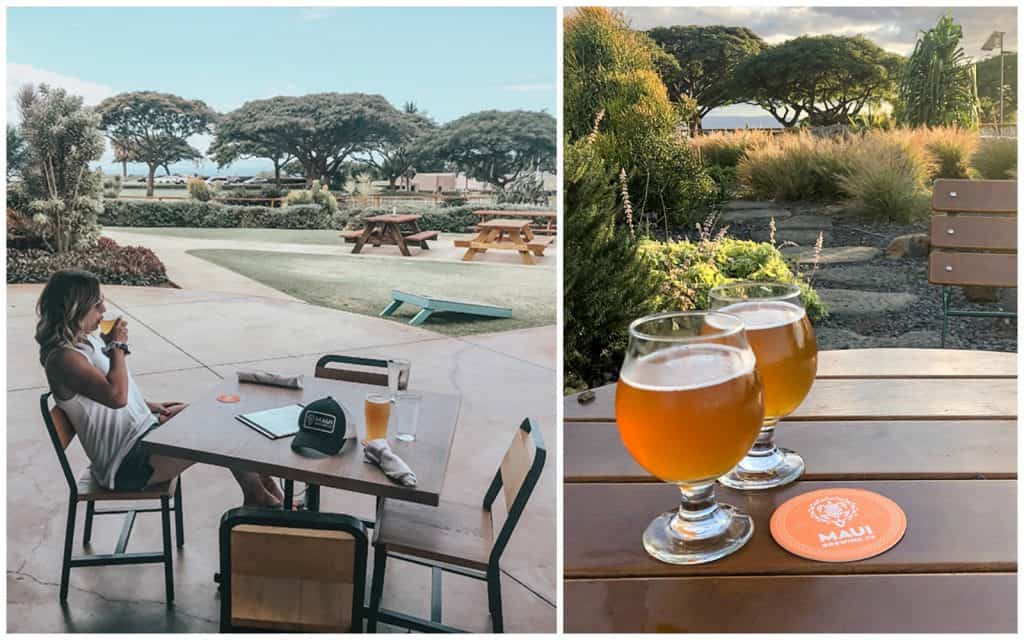 Maui Brewing Company
All beer lovers need to go to the Maui Brewing Company. What started as a local brewery has expanded into a great restaurant with an extensive menu. So not only do they have really really great beer, but the food is just as good too.
Combine all that with a huge outdoor seating area that overlooks acres of lush green landscaping. They have an outdoor tasting room and yard games as well.
We loved Maui Brewing Company so much, we ended up going twice and bought a few hats and teeshirts for ourselves. Oh, and some dogs collars for our pups that have beer bottle openers on them… genius!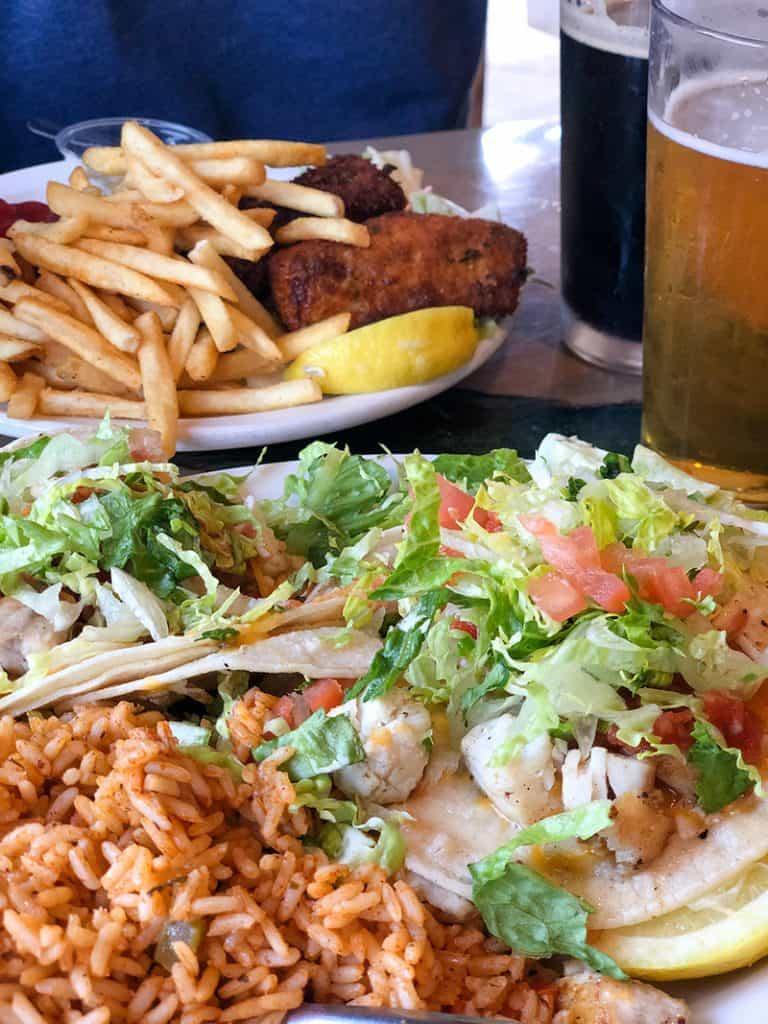 Paia Fish Market
The original Paia Fish Market is in… you guessed it… Paia. They have so many seafood options on their menus you won't know what to order.
You get to pick what kind of fish you want and how you want it cooked. You can choose either grilled, sauteed, cajun, or blackened. And then whatever sides you want.
We tried the fish and chips which were beer battered and SO GOOD. And also the Mahi fish tacos. If we had had more time on the island, I definitely would have come back and tried some other varieties.
Leilani's on the Beach
Located at the famous Ka'anapali Beach, which is one of the prettiest beaches in Maui, Leilani's is a great place to eat some really great food right on the beach. It even comes with the perfect sunset view.
Most of the cuisine is fresh fish and seafood, served with a Hawaiian flair. So you'll find some unique and creative dishes at this restaurant. Perfect if you are looking for authentic Maui food.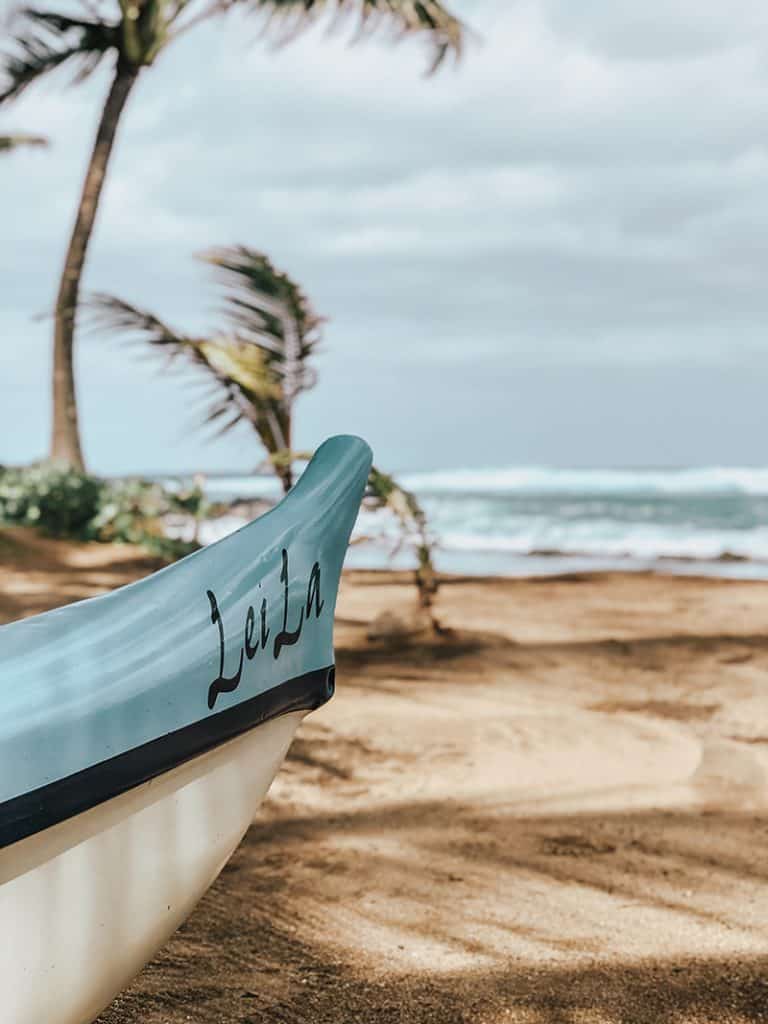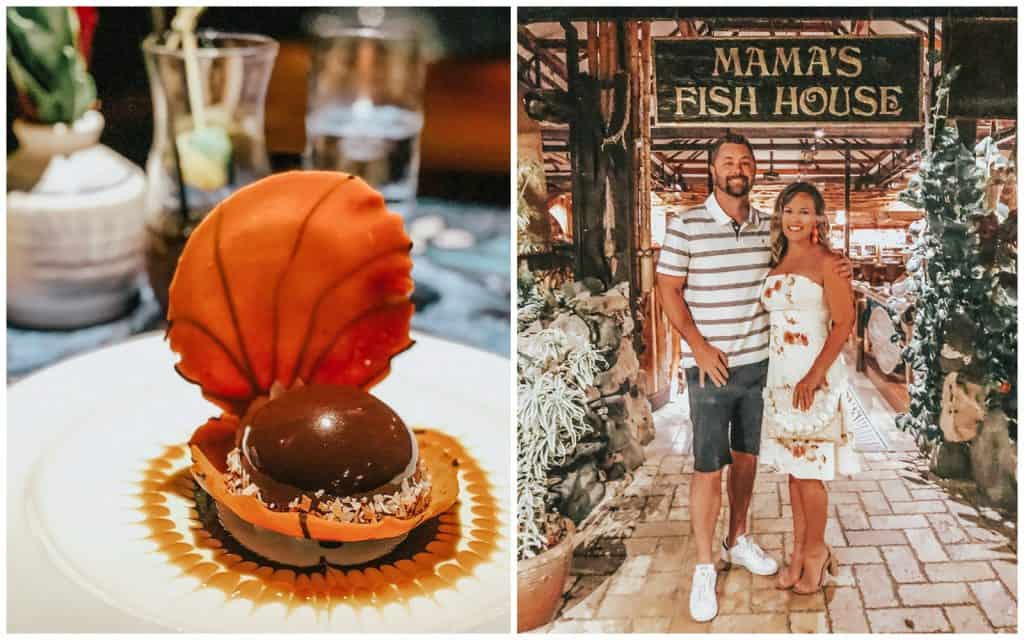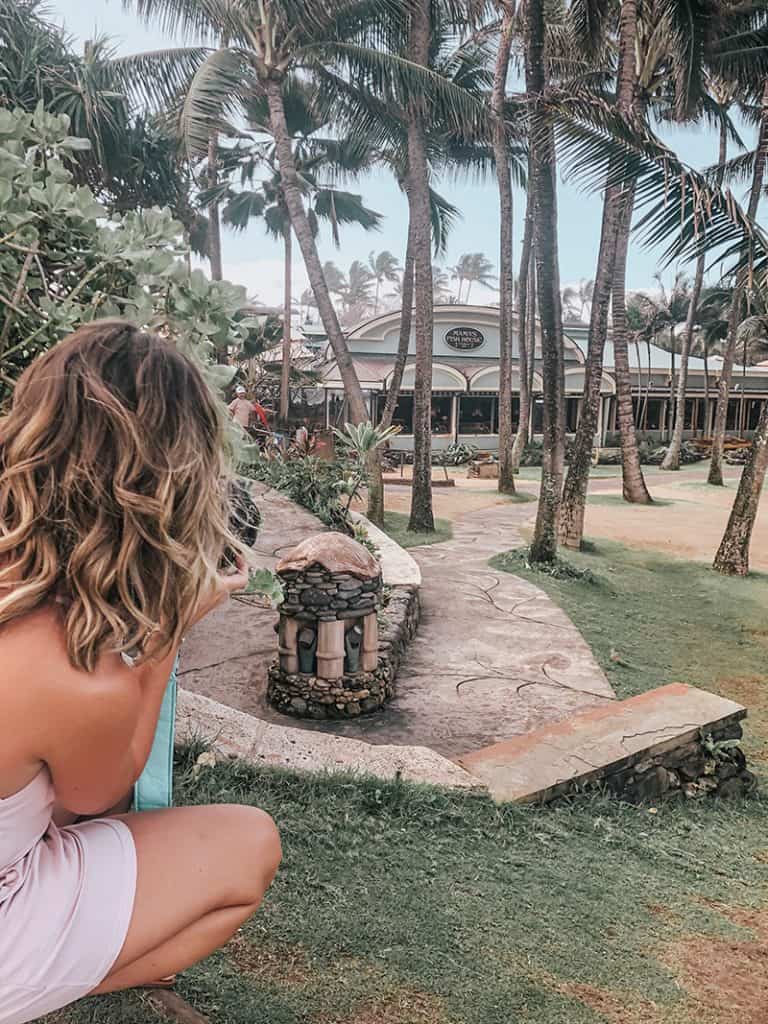 Mama's Fish House
I saved Mama's Fish House for last because it's already on everyone's list of where to eat in Maui. And there's a reason for it. It's really good. The food is truly an experience. Their most popular dish is the Mama's fish stuffed with lobster and crab baked with a Macadamia nut crust. Yummmm!!!!
But what's truly the best thing about Mama's Fish House is their location and decor. Just arriving at this restaurant is an experience all in its own. It was so beautiful, we came back the next day when it was daylight just to take some photos.
Mama's Fish House is a culinary and photography dream. It is really expensive, but I would say it's worth going at least once. If you can't afford the price, go and check out the scenery and maybe just have a drink or dessert at the bar. It's worth it.
Mama's Fish House books up weeks in advance. So make sure to make a reservation at least a month or two before your trip!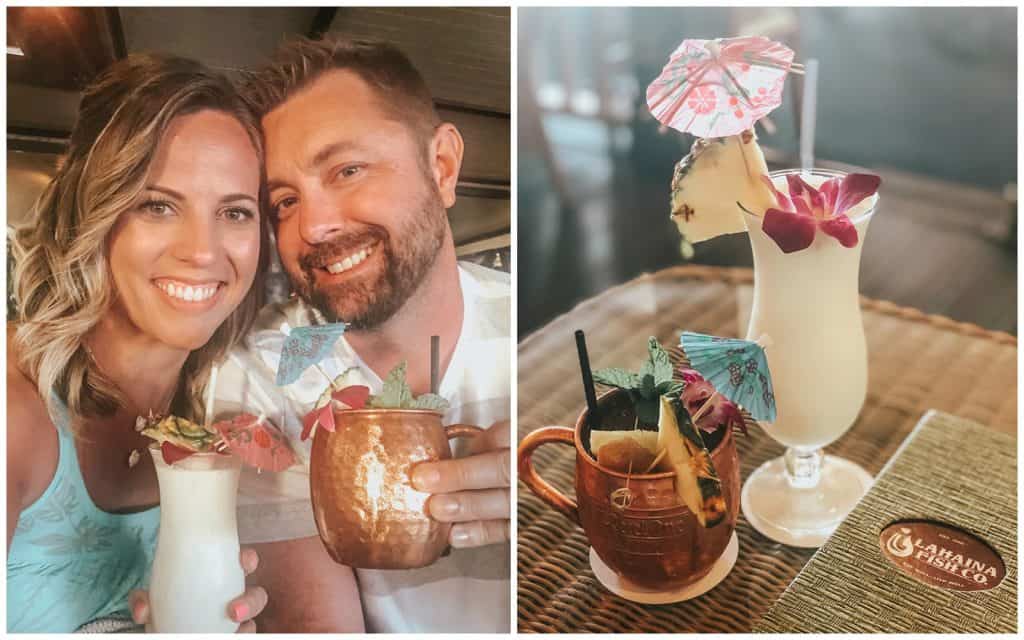 Lahaina Fish Co
Ok, so technically this is number 11 but I couldn't help myself. It's just way too hard to narrow it down to 10. But the Lahaina Fish Co is another great place to eat for several reasons.
First of all, they have amazing drinks. Which is important to us on vacation. I'm just not a happy girl if I can't have a tropical drink on vacay. And this place has several good ones.
Second, they are right on the water. Literally. They are on a deck that hovers over the ocean and faces the setting sun. So if you time it right, your sunset view during dinner is spectacular. Oh, and they have great seafood too!
Don't forget to check me out on INSTAGRAM to see more of my travels and travel tips!
Notable Mentions on Where to Eat in Maui
Since I really couldn't narrow my list down to 10, here are some places you should definitely consider as well!
Luau's
Any Luau will do. Some are better than others but some are also a lot more pricey than others too. Even if you are not a big fan of the show, go for the food! It was unlimited and they had so many things to try, we needed a second plate. I'm pretty sure we had at least 4 or 5 different kinds of meat. And everything they served was fantastic
Maui Food Trucks
I've never really met a food truck I didn't like and Maui was no exception. Fish taco truck at the beach… yes, please! Shrimp food truck in Kihei… don't mind if I do!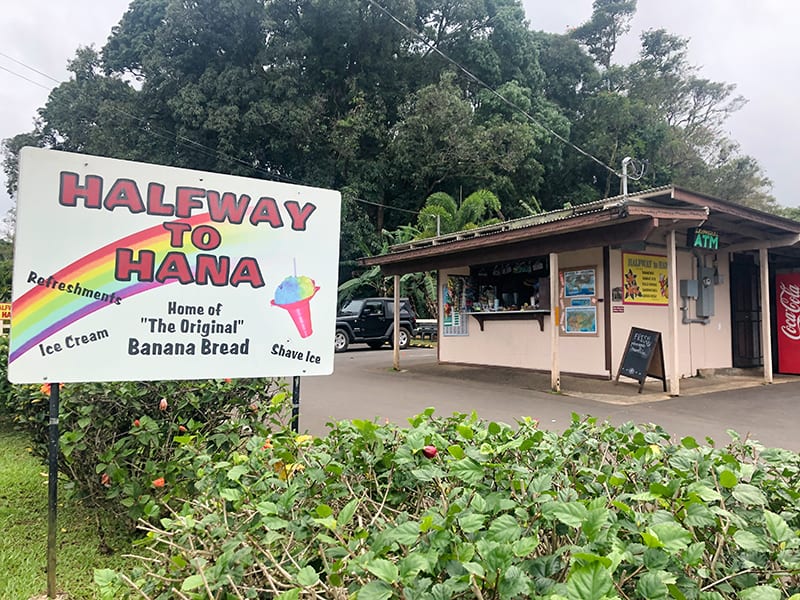 Halfway to Hana
Not really a restaurant and only on the Road to Hana but 100% worth a stop if you are going that direction. They have the best banana bread, amazingly fresh pineapple smoothies, and the greatest cookie bars I've ever tasted.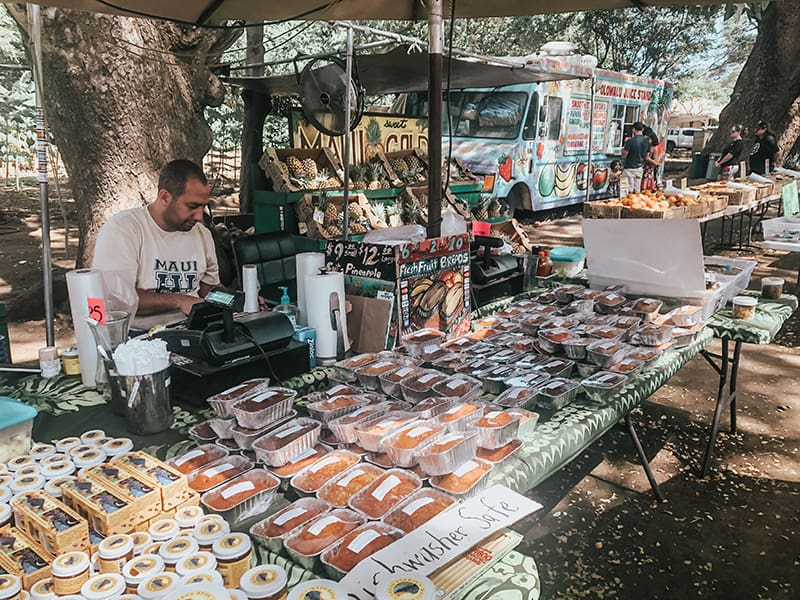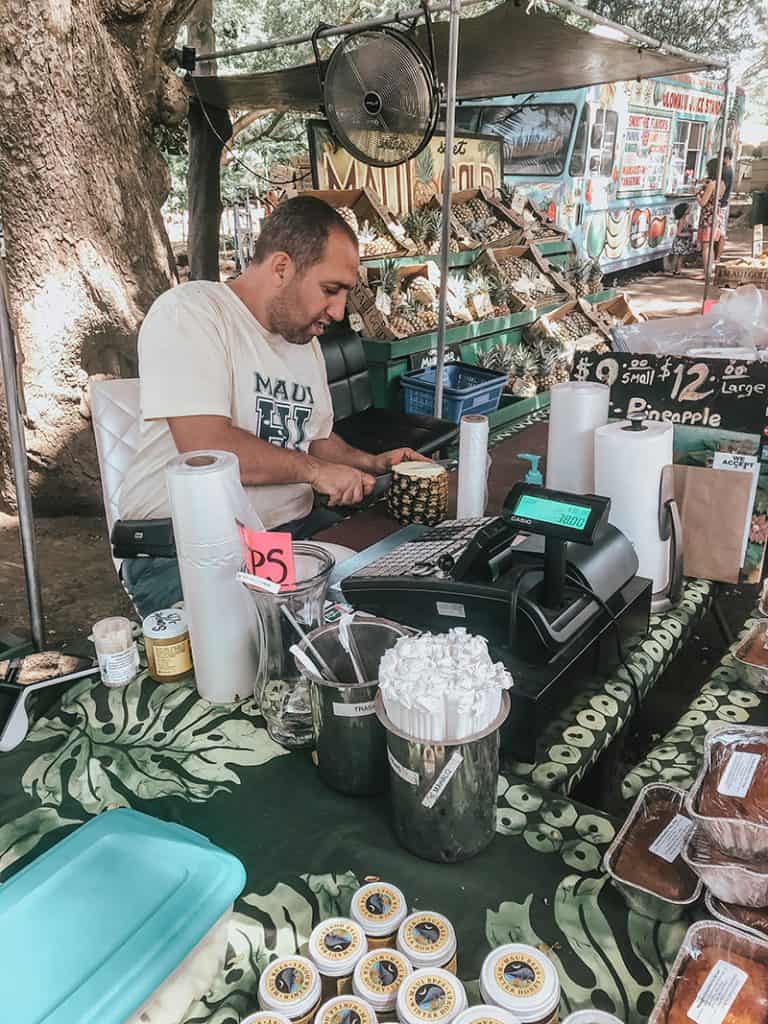 Any fresh fruit stand
A trip to Maui is not complete without a stop at a fresh fruit stand and having someone cut a fresh pineapple for you with a machete.
Oh, and don't forget to get a fresh coconut too. They hack off the top so you can drink the coconut water and then chop it all up so you can take the chunks of fresh coconut home with you.
You Might Also Enjoy:
What To Wear and Pack for Your Trip Along the Road to Hana (Coming soon!)
Top Thing store Do in Maui (Coming soon!)
Taking an Open Door Helicopter Ride in Maui (Coming soon!)
Explore the Different parts of the Island of Maui (Coming soon!)
And see more stuff like this by following my PINTEREST boards for more travel tips and destination reviews!


Did you enjoy this article? Let me know in the comments below! Or add any other questions you have! And as always, please PIN to PINTEREST for later!
Pin for later!