Hiking Water Wheel Falls Hiking Trail in Payson, AZ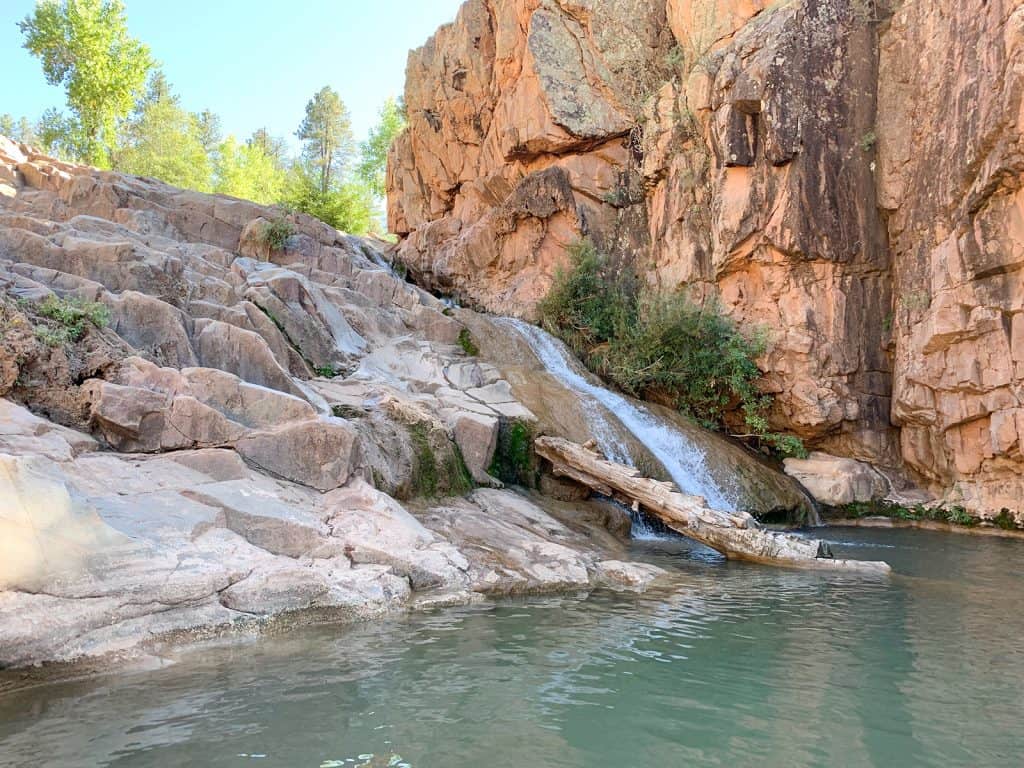 A Guide to Hiking Water Wheel Falls in Payson
TRAILHEAD: Houston Mesa Road, Payson
DIFFICULTY: Easy
DISTANCE: 1.6 miles (3.2 miles round trip)
APPROX. TIME: 1.5 -2 hours round trip
ELEVATION GAIN: 150 feet
BEST TIME OF YEAR: March-October
PETS: Yes!  
KID-FRIENDLY: Yes! 
FACILITIES: Yes
FEES: $10 Parking Fee, Cash Only (as of 2019)
Dog-Friendly Hike Near Payson
Just a short drive from Downtown Payson is one of the cutest hiking trails I've been on in Arizona. Wagon Wheel Falls Hiking Trail near Payson is dog-friendly, kid-friendly, and offers some amazing scenery with the perfect swimming hole at the end.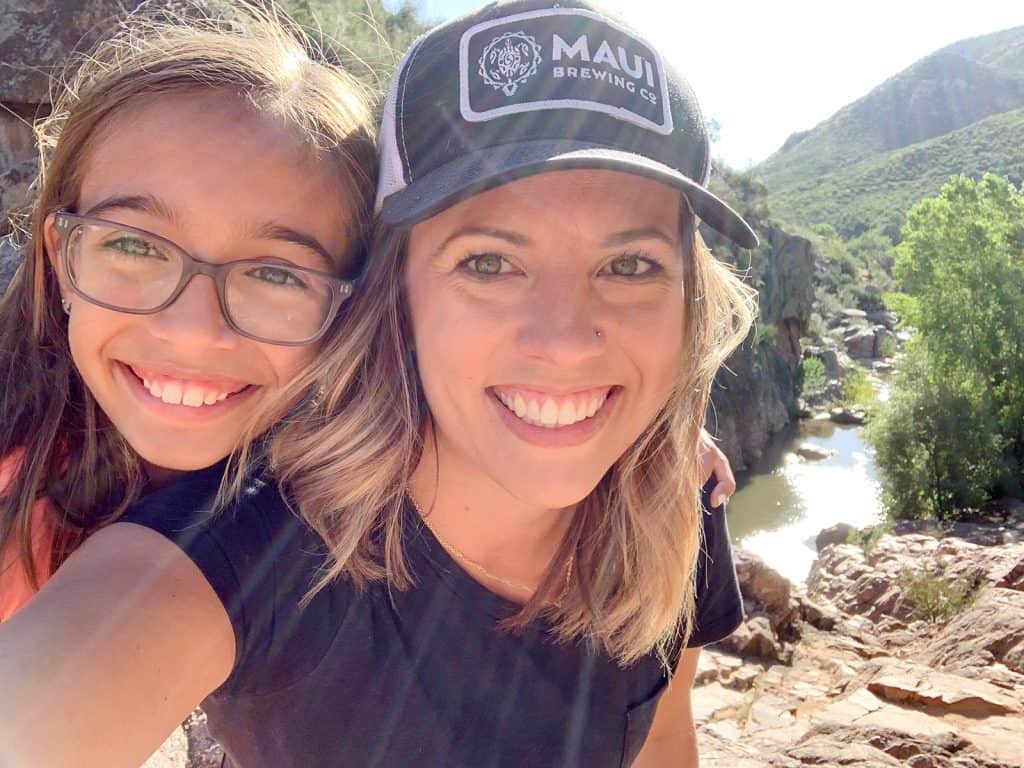 My daughter and I were on a mother-daughter weekend getaway with our pooch, Lucy. We were staying just a short distance away at The Strawberry Inn (highly recommend this place if you are staying near Payson for the weekend).
I wanted to take them both on a hike and get them some exercise and fresh air. Something none of us get enough of!
Water Wheel Falls Hiking Trail was literally the perfect hiking trail to go on for all of us. It was just a short drive from Pine, Arizona, and right outside Payson. It was easy to get to and easy to find the trailhead. Which this single mama always appreciates!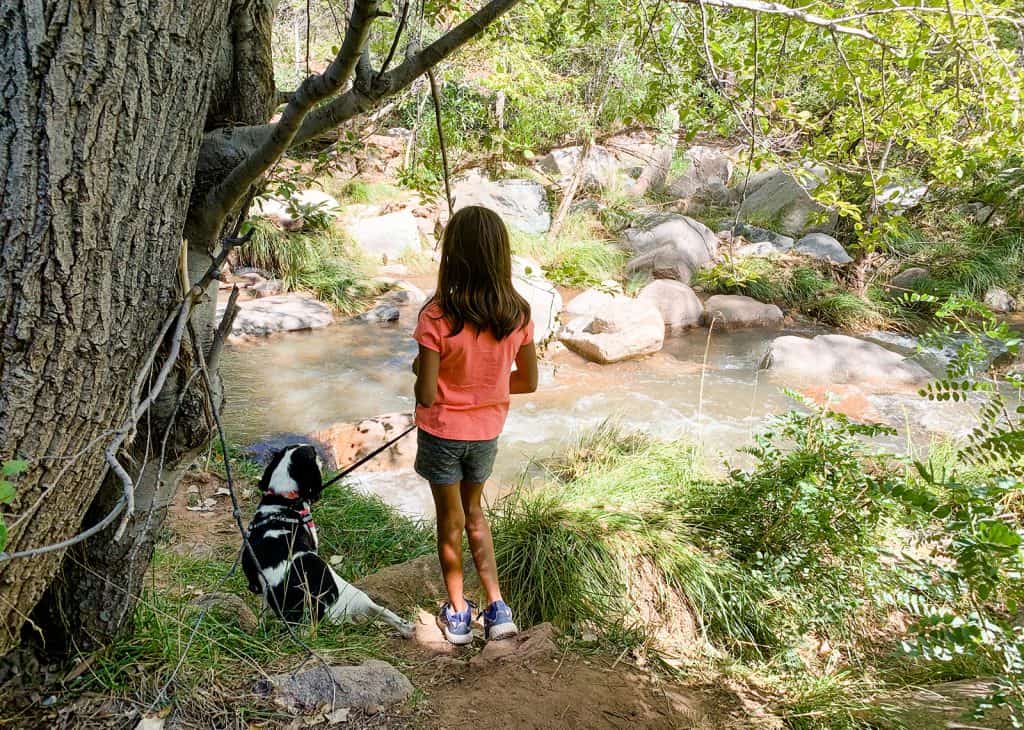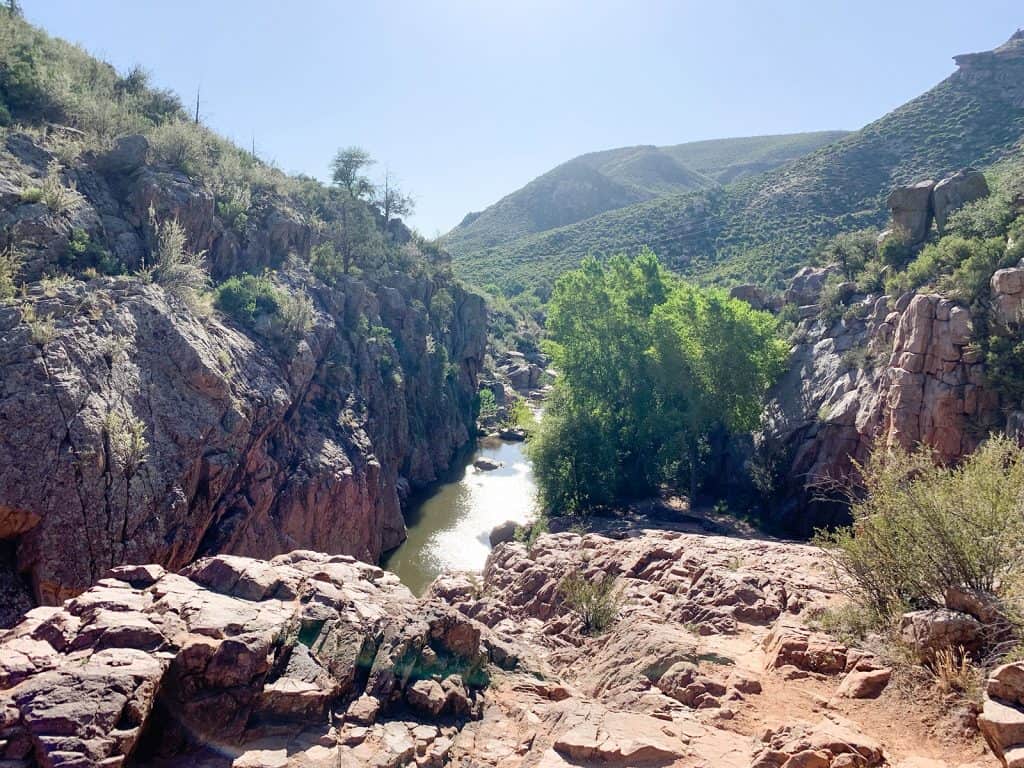 We set out on the trail in the afternoon on a sunny September day and although it was a bit crowded, we easily found a parking space. I imagine the summer months would be a lot more crowded so I would get there early if you are planning on going on a weekend.
TIP: There is a $10 parking fee that is CASH ONLY. So make sure you bring some money with you. There is no one there to make change.
Water Wheel Falls: An Easy Hike
Starting off along the hike is relatively flat and easy, and actually very sandy. The path follows the river so there are several places to stop and dip your toes in the water.
Which is one reason this hike is great for dogs, they can jump in the river and cool off at any point in the trail.
You do come across some boulders and rocks to climb a little further up the path. But it's very easy and we saw several dogs and even young kids able to do it just fine.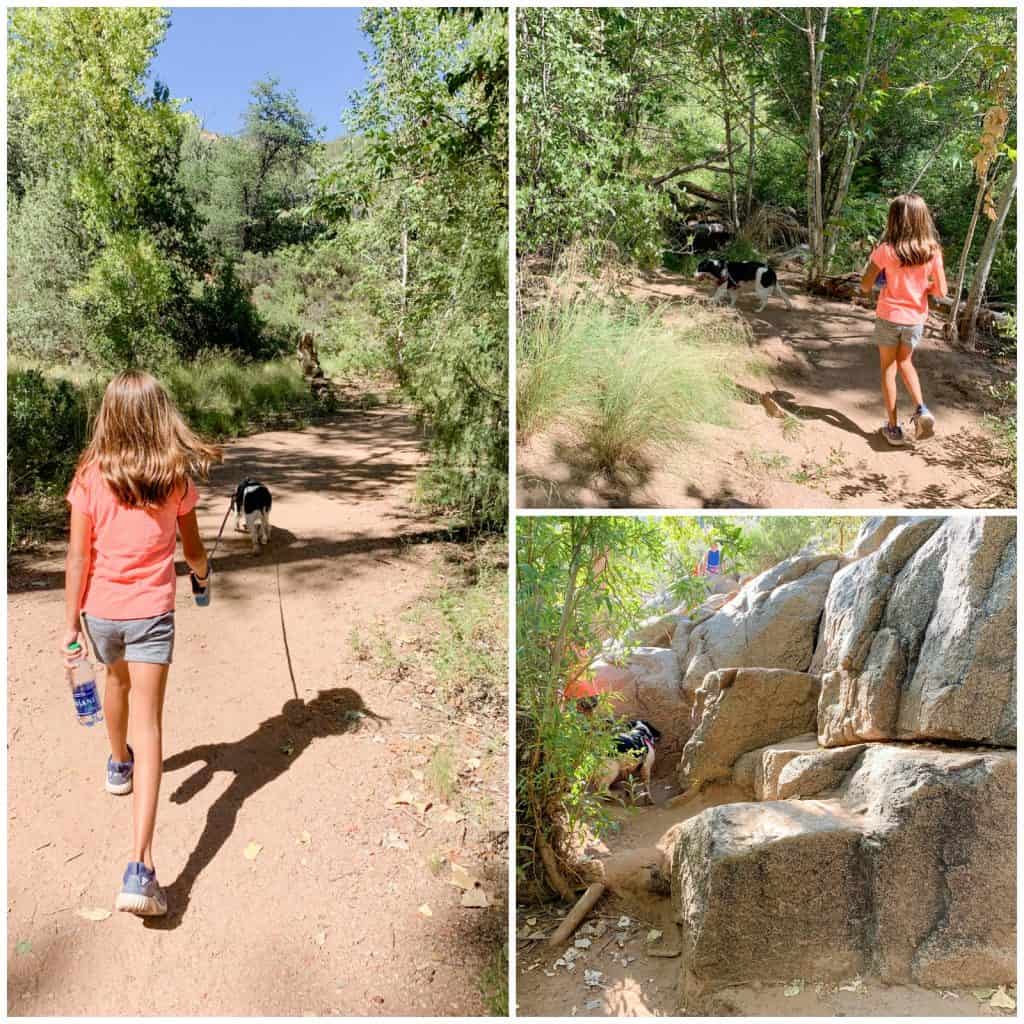 TIP: There are a few parts along the hike that the path seems to disappear and we didn't know which way to go. I cannot stress this enough… just FOLLOW THE RIVER! As long as you follow the river, you will always be able to pick up the path!
The entire path is covered with trees and we were often in shade. Between that shade and the water, it was really easy to stay nice and cool… which is great for the dog! And even better to diminish the complaining from kids.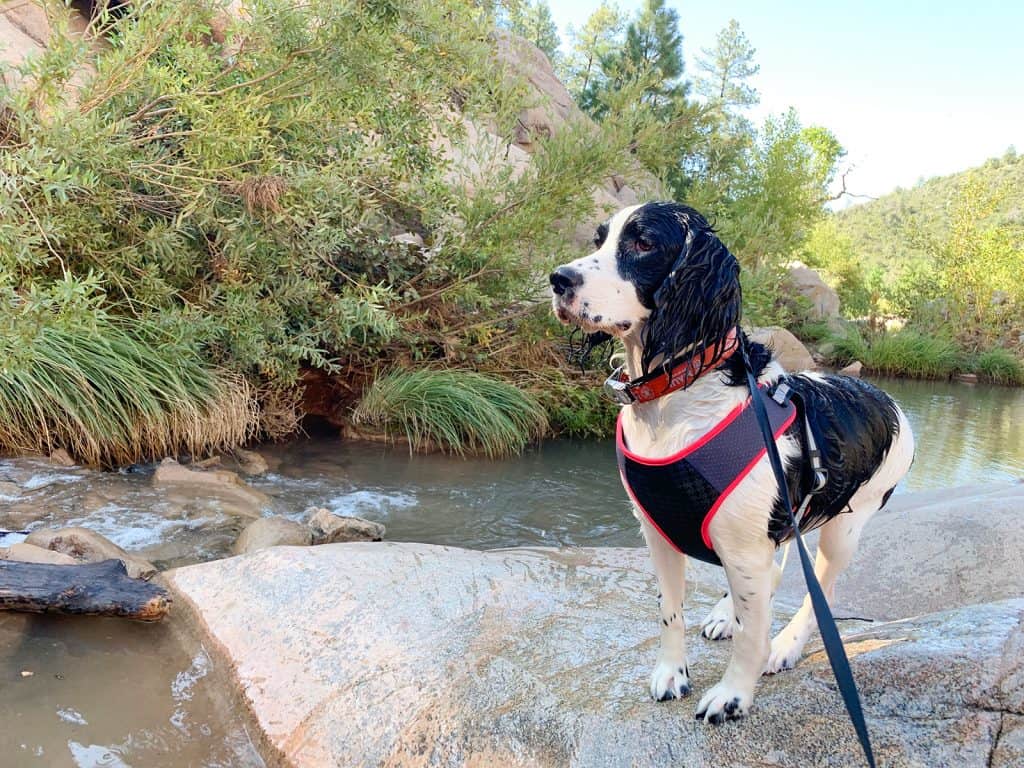 The Water Wheel Hiking Trail Swimming Hole
Once you get to the end of the hike, you come to the best part… a waterfall and swimming hole. You'll want to take about a billion photos of this gorgeous area so bring a camera!
The swimming hole is nice and shallow, making it easy for kids and dogs to swim in. And there is minimal water flow so you don't need to worry about anyone getting swept away.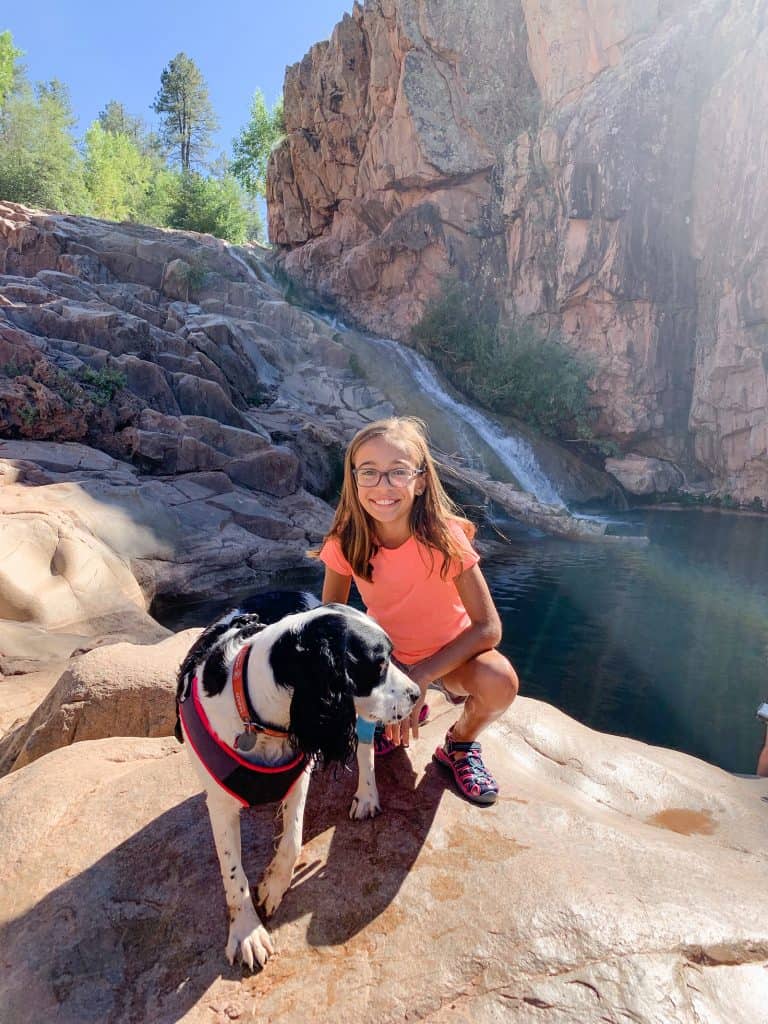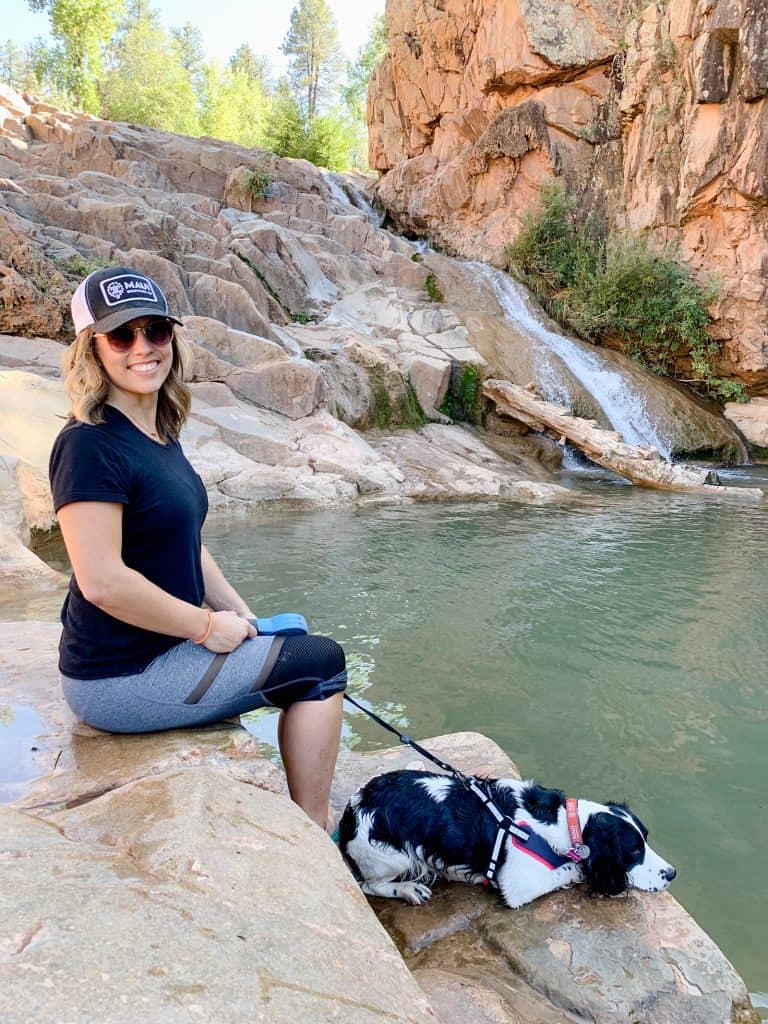 The rocks surrounding the swimming hole are all nice and flat and there are TONS of places to lay out a blanket or towel and have a picnic. You can literally spend all day here, swimming or laying in the sun.
Had I known it would be such a great place, I would have brought lunch and planned to stay much longer. I'm just really glad we brought our swimming suits so we could enjoy the refreshing cool water.
All the rocks in the water are smooth and slippery. So it's a little hard for small feet to navigate without slipping around a little bit. But it made for a really fun water slide for my daughter to slide right into the water!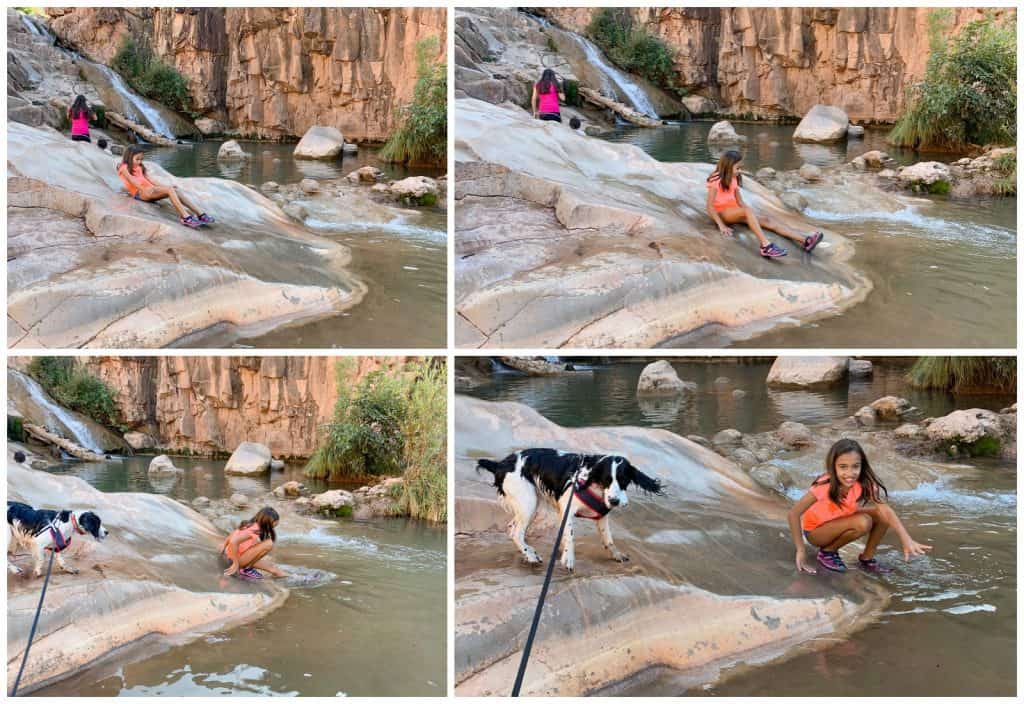 Other Tips While Hiking This Trail
While the majority of the trail is rocks and dirt and sand, there are a few places you need to cross the river. So plan on feet getting wet!
One or two spots have rocks you can jump on to cross but there is one spot in the river that the rocks are too far apart for dogs or little feet. But the water in one spot is about knee-deep (about waist deep for my 10-year old) and it's just much easier to walk across.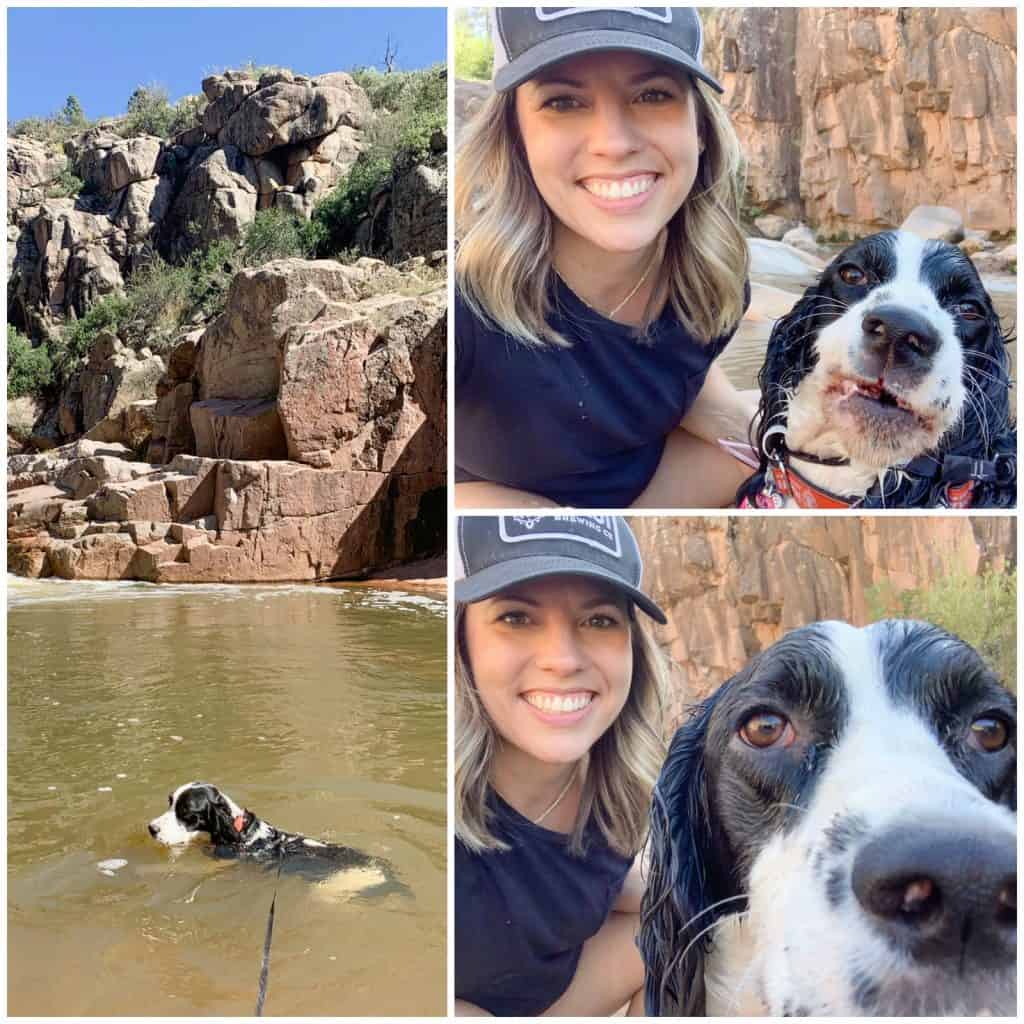 We saw several people just crossing in their gym shoes and socks. And we were super happy we prepared and hiked in our water hiking shoes.
I bought these Keen Water Shoes a few years ago and they have been the BEST investment. They go to the lake with me, on hikes, and even on our cruise to hike the jungle in Belize.
Things to bring when hiking Wagon Wheel Falls Hiking Trail:
Water shoes for you and kids
Backpack
Water bottle
Dog leash and doggie poop bags
Snacks
Towel and/or blanket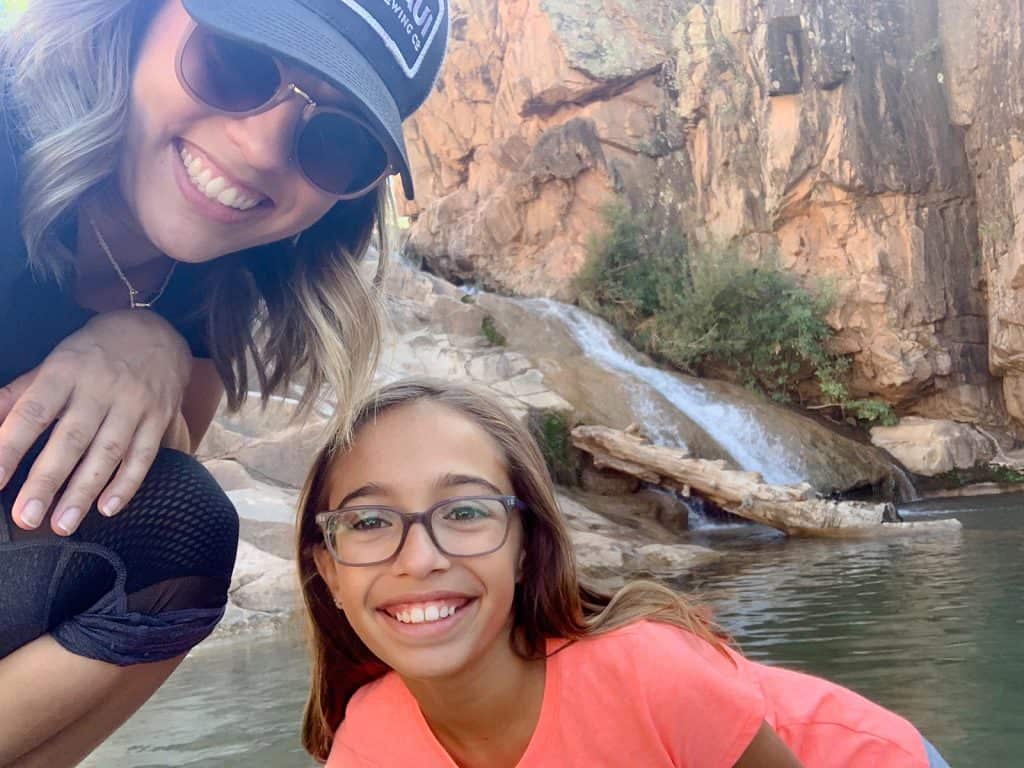 ALWAYS BE SAFE!
In 2017, a family of 9 people died while swimming at the Wagon Wheel swimming hole. It had been raining off and on and there was a sudden flash flood that came through the area.
The hiking trail is along the river with very tall mountain walls on either side of you. It's very easy to see how a flash flood could come tearing through the area and sweep people away.
I'm not telling you this to make you sad or scare you from trying this amazing hike. I'm. reminding you to always be safe. Check the weather before you go. Make sure it's not raining or drizzling or that there is any rain even in the forecast.
I obviously felt it safe enough to take my daughter and puppy. but never would have done so if it hadn't been a very dry day when we went.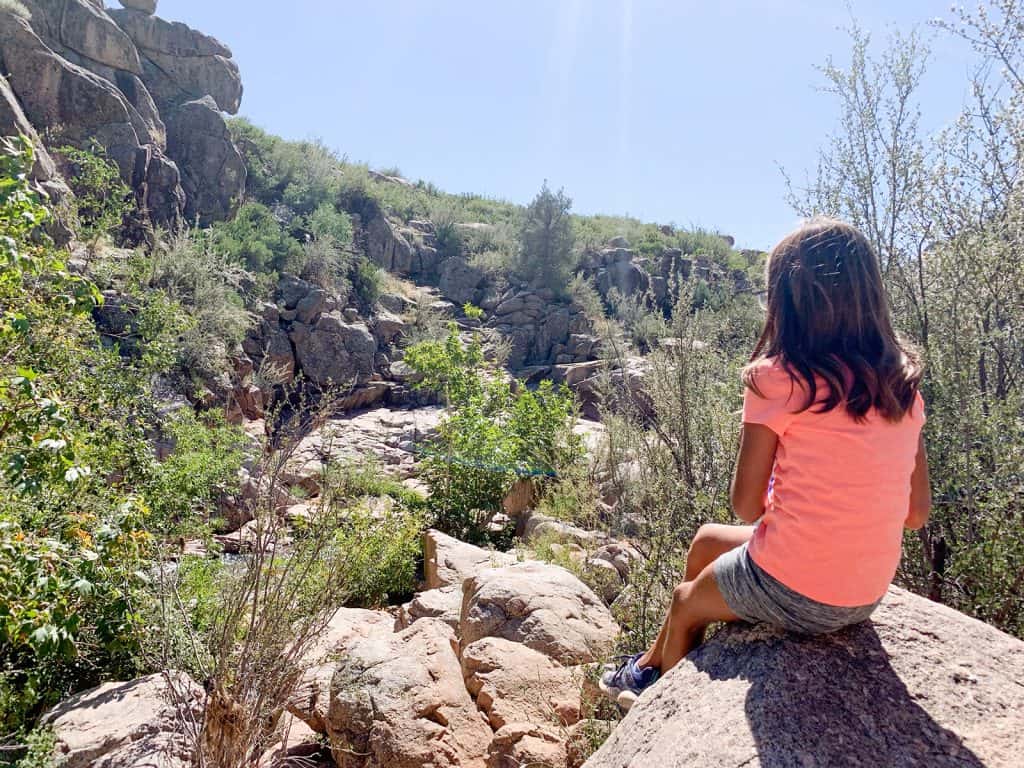 For More Information on Hiking The Water Wheel Hiking Trail
For more information or to check if the trail is open, check out Alltrails info page.
Enjoy your hike!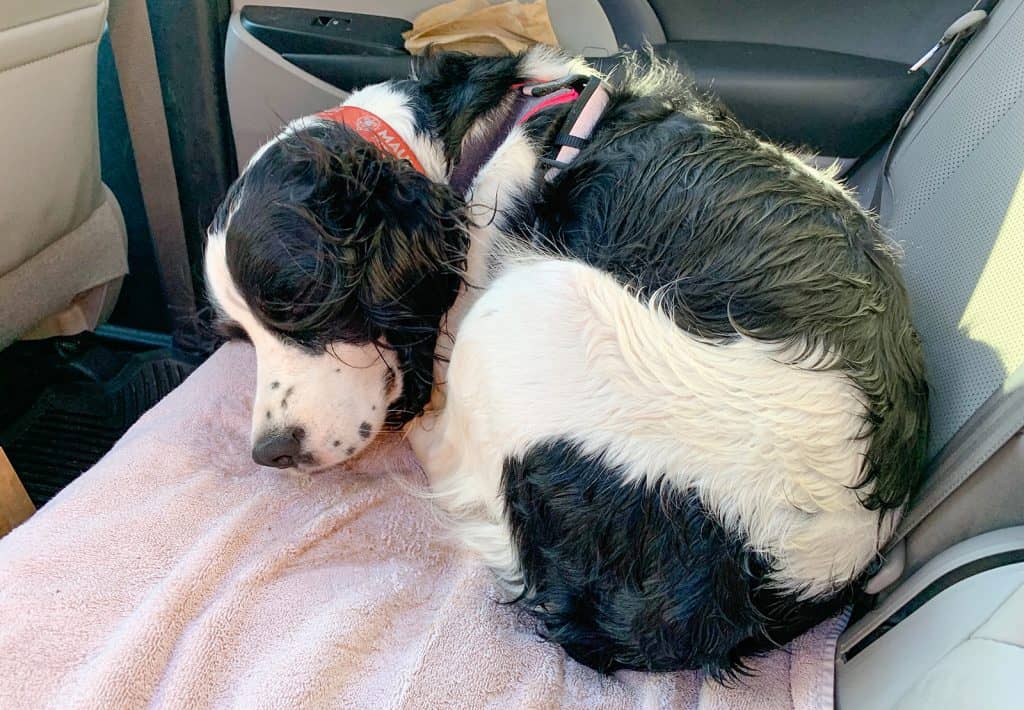 Looking for more hikes around the Phoenix Area? Check out this awesome list of 17 Breathitaking Hikes In & Near Phoenix for all levels!


Pin for Later!