Cute Outfits For An Alaskan Cruise
One of the biggest questions I get asked is what to wear on an Alaskan Cruise. And while there are tons of options for warm weather gear or what you need to pack, the challenge can often be finding CUTE outfits for an Alaskan Cruise.
(You can read more about our 7-day Alaskan Cruise with Princess Cruise Line here!)
I've often considered our Alaskan Cruise one of the hardest trips I've ever had to pack for. There are so many elements to this trip and very limited suitcase room.
You have all these scenerios to pack for:
Excursions (what you do in port)
Comfortable ship clothing
Dinner wear
Formal dinner wear
Swim or workout clothes
The first tip I give to anyone going on a cruise or an extended vacation is to invest in some good suitcases. I purchased these Samsonite suitcases and they were perfect. They are extremely lightweight (which means you can pack more and stay under that 50lb limit).
They also make a great "drawer" by opening them up and laying them flat. You can slide them right under the bed for extra storage in your cruise cabin.
In order to fit everything I could for this trip, I took one full-size suitcase (that I checked at the airport), one carry-on sized suitcase, and a backpack that went under my seat.
Cute Alaskan Cruise Outfits
Let's start with clothing for your Alaskan excursions! This can also be tough to pack for because the weather in Alaska is really unpredictable. One day it was 80 degrees and sunny and the next day it was COLD and windy.
So when you hear people say dress in layers… dress in layers! Or at least bring your backpack to the towns with you to hold extra clothing.
Here are some great suggestions for looking cute during your Alaskan Cruise Excursions….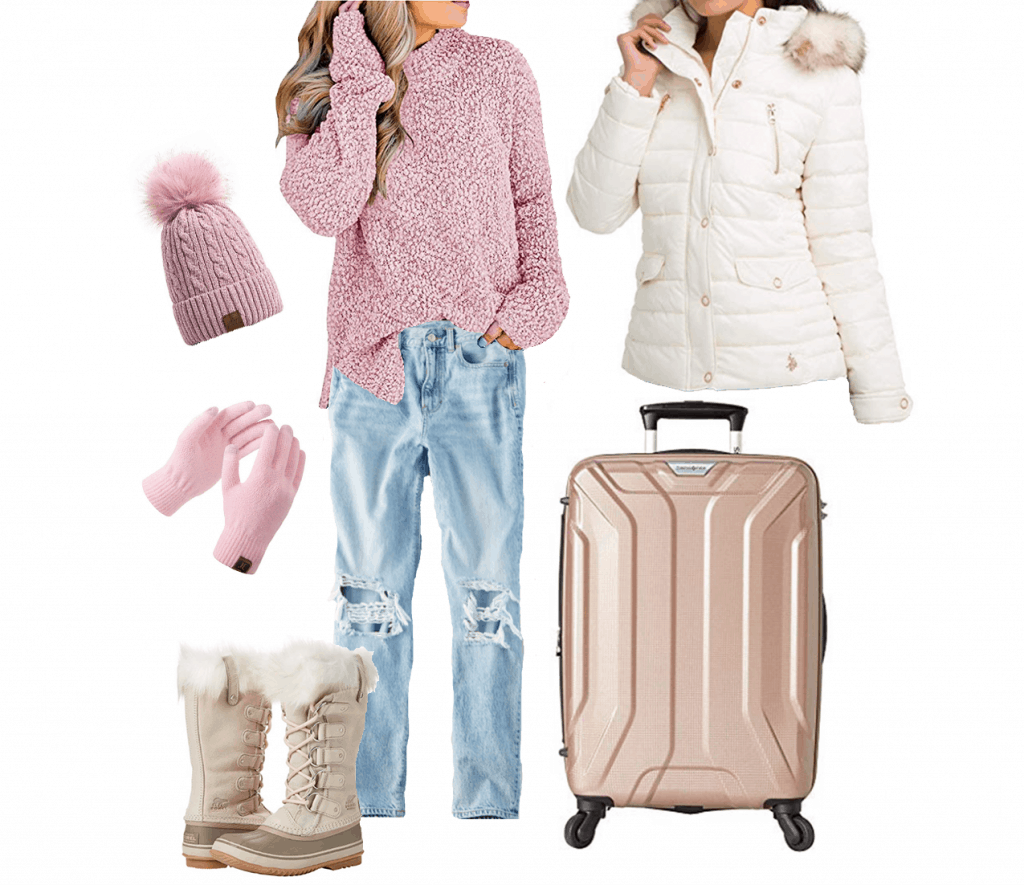 Pink Pom Winter Hat – Bring a girly side to Alaska with this cute but warm winter hat
Pink Cozy Sweater – Great for chilly days around Alaska. Wear it by itself or with a jacket for added warmth.
White Down Jacket – It's always a good idea to bring a warm jacket on an Alaskan Cruise. This white down coat adds a feminine touch with the faux fur collar and gold details.
Pink Touch Screen Gloves – These gloves are slim and warm and allow you to still use your phone so you can take pictures while keeping your hands warm.
Mom jeans – I LOVE mom jeans. They are super cute and since they are a little baggy, you can layer leggings under them if you get really cold.
Sorel Boots – Always a good investment. Sorel boots are really warm, come in tons of colors and very comfortable to walk around all day in.
Samsonite luggage – Lightweight so you can pack more and stay under the 50 lb weight limit!
How Should I Dress For An Alaskan Cruise?
If you plan to do some hiking or sporty adventures like kayaking or boating, go for something warm but athletic. I love starting with basic colors and adding fun colorful accessories. Each of these accessories comes in several different color choices.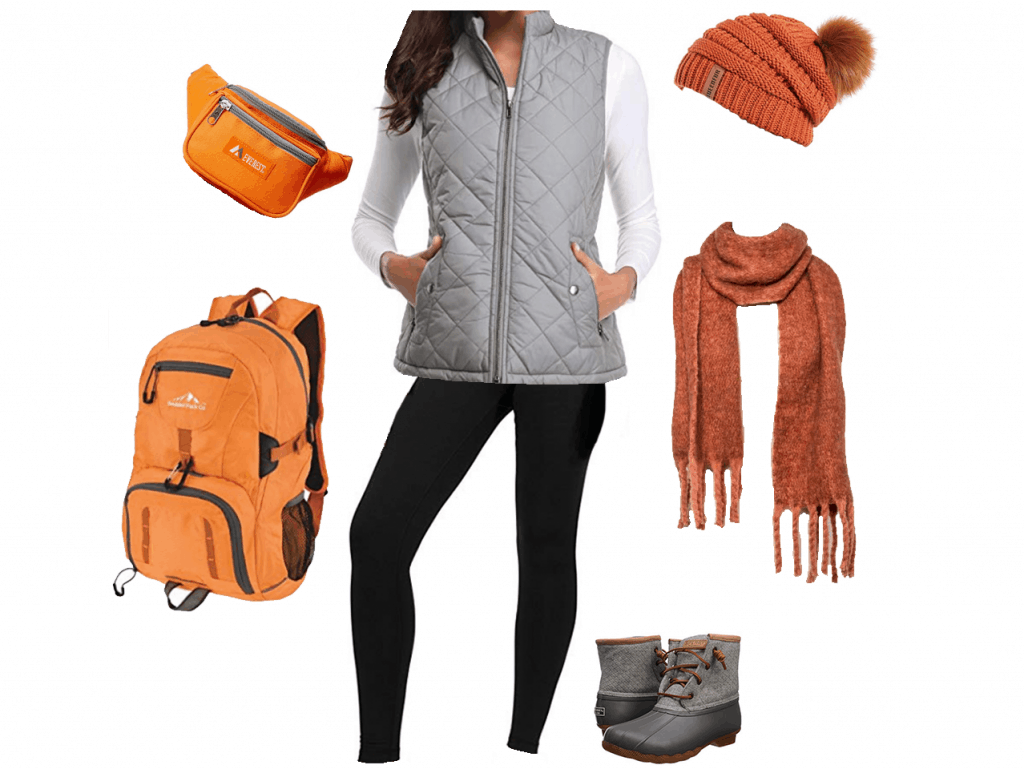 Women's Orange Knit Hat – Soft chunky hat to keep you warm.
Orange Brushed Blanket Scarf – Uber soft scarf that keeps you warm and can also act like a blanket if you're sitting down.
Grey Puffer Vest – Perfect laying piece to keep you warm but easily folds up into your pack if it gets too warm.
Long-Sleeved White Tunic with Pockets – A must-have for an Alaskan Cruise. You can wear this alone or as a layering piece to almost any outfit.
Fleece Lined Leggings – Fleece-lined leggins were one of the best items I brought. They take up hardly any room in your suitcase. And they can be layered under jeans for extra warmth.
Orange Fanny Pack – If you don't want to carry around an entire backpack, the fanny pack is a great option. I'm so glad they are back in style!
Orange Foldable Backpack – This is one of my favorite backpacks because it is very affordable, super cute and can easily fold up for easy storage.
Waterproof Ankle Boots – These are a great pair of boots that won't take up as much room in your suitcase but still give your feet a lot of protection from cold weather and water.
Follow along on PINTEREST for more information about Alaskan Cruises!
More Outfit Ideas For Your Alaskan Cruise
While planning out your Cute Outfits For An Alaskan Cruise, don't forget to add some fun but functional items. You can still look really cute in Alaska with some of these warm-weather pieces…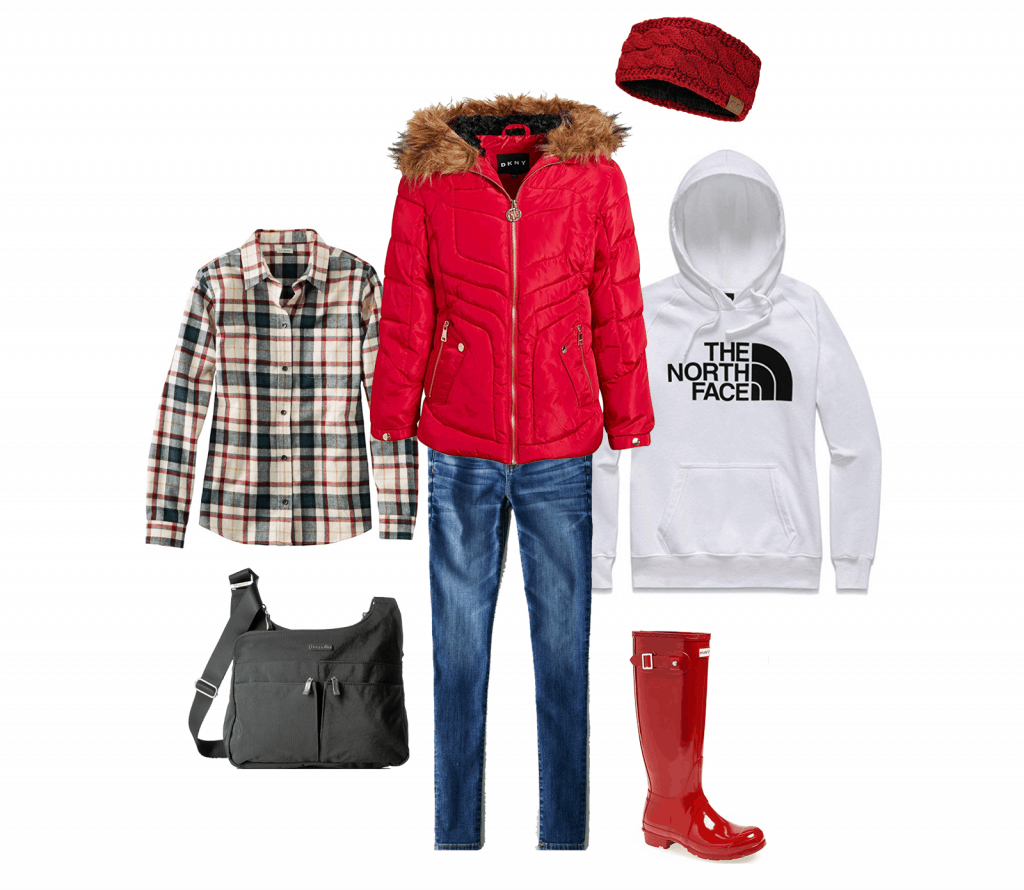 Red Winter Coat with Faux Fur Trim – Add a big pop of color to your Alaskan wardrobe with this bright red winter coat. The faux fur and gold details give it a touch of glam in the wilderness.
Dark Denim Jegging – Get yourself a good pair of dark denim for your Alaskan Cruise. You can wear them out on excursions or dress them up for dinner with a pair of black heels and blouse.
Cross Body Bag – If you arent into the fanny packs, and a backpack is too big to carry around, check out this perfect crossbody bag. It's lightweight and has tons of pockets room for everything you need when walking around Alaska.
Red Glossy Hunter Boots – Still my favorite purchase to date. Add a pir of wool socks and they are wamer than most winter boots. They also keep your feet dry from all the snow or creeks… which Alaska has a ton of!
Soft Stretch Winter Headband – Perfect for the ponytail girls out there. This chunky headband will match your coat and keep your ears warm.
North Face Pullover Sweatshirt – I recommend a good basic pulloever sweatshirt and this NorthFace one has alwyas been my favorite. Perfect under a jacket when you are out exploring, And even better with a pair of leggins when just walking around the ship.
Plaid Flannel Shirt – What better way to look like you belong in the great outdoors than with a flannel shirt? Get one with a touch of red to match your Hunter boots!
Get more ideas on what to wear on your Alaskan Cruise, including Formal wear, swimwear and casual ship attire HERE!
You Might Also Be Interested In:


Pin for Later!