How To Book Two Cruise Cabins For the Price of One
Do you want to know how to book two cruise cabins for the price of one? You've come to the right place! Shhh…don't tell the cruise lines I'm letting you in on this secret.
Two Cruise Cabins for the Price of One
Cruises have quickly become our family's favorite vacations. From the excursions to the free, endless food… we love everything about them!
Except for one thing… the horrendously small cruise cabin rooms.
Fortunately, I have found that if you are traveling with just 2 people, then the rooms aren't so bad if you make good use of the space.
However… if your party consists of at least 4 or more people… you can actually get TWO cruise cabins for the exact (or even less) same price as booking ONE room?
I'm going to show you exactly how to do that, and how easy it really is.
This is the secret that most cruise lines do not want you to know!
Also read: 25 Must Pack Items For Every Cruise
How Cruise Lines Charge You
What most people don't realize is that cruise lines do not charge you per room as most hotels or resorts do. They actually charge you per person, based on what kind of room you are getting.
For example, let's say a balcony room is $1,000 and an interior room is only $500.
If you put 2 people in a balcony room, it will cost you $2,000 total. But if you put the same 2 people in an interior room, it will cost you $1,000. You get the same food options and the same amenities onboard the cruise ship. You're just paying for a nicer room.
So that's all fine and dandy if you are traveling with just 2 people.
But what if there are 4 people traveling in your group? Then the prices would look a little like this:
4 people in a balcony room would cost you $4,000, while 4 people in an interior room would cost you $2,000.
So basically it's the exact same room, but you are actually paying more based on how many people you cram into them. And trust me, 4 people in a cruise ship cabin is NOT fun.
Most people assume you have to book a room to accommodate your family size. And that's what the cruise ships want you to think too…
So How Do I Get Two Rooms For the Price of One?
It's honestly this simple…
If you have 4 or more people in your party, you book 2 rooms.
While 4 people crammed into one room would be $4,000, 4 people spread out into two different rooms would be… wait for it… $4,000. As previously stated, you pay PER PERSON, not PER ROOM.
So when you think about it this way, why on earth would anyone not want two cruise cabins for the price of one?
What If I'm Traveling with Kids?
No problemo! We actually discovered this secret when traveling with two adults, a 9-year-old and a 10-year-old.
Here's what we did…
We booked two rooms. One balcony room and one interior room. The rooms were booked by putting one adult and one kid in each room (you need someone 18 or over in each room to book).
HOWEVER… even though we booked the rooms that way, the two adults slept in the balcony room and the two kids slept in the interior room.
Before you freak out and think I had our kids in a different part of the ship, hear me out. The way cruise ship cabins are laid out is that the balcony rooms are all on the outside of the hallways but the interior rooms are right across the hallway from the balcony rooms.
So even though our kids were in the interior room, they were actually directly across the hall from each other. Our door literally faced their door.
So price-wise… It was 2 people at the balcony rate ($1,000 each) and two people at the interior rate ($500 per person). Which brought our grand total to $3,000. If we had crammed all 4 of us into the balcony room (yikes!) it would have cost us $4,000.
Seems like a no brainer, huh?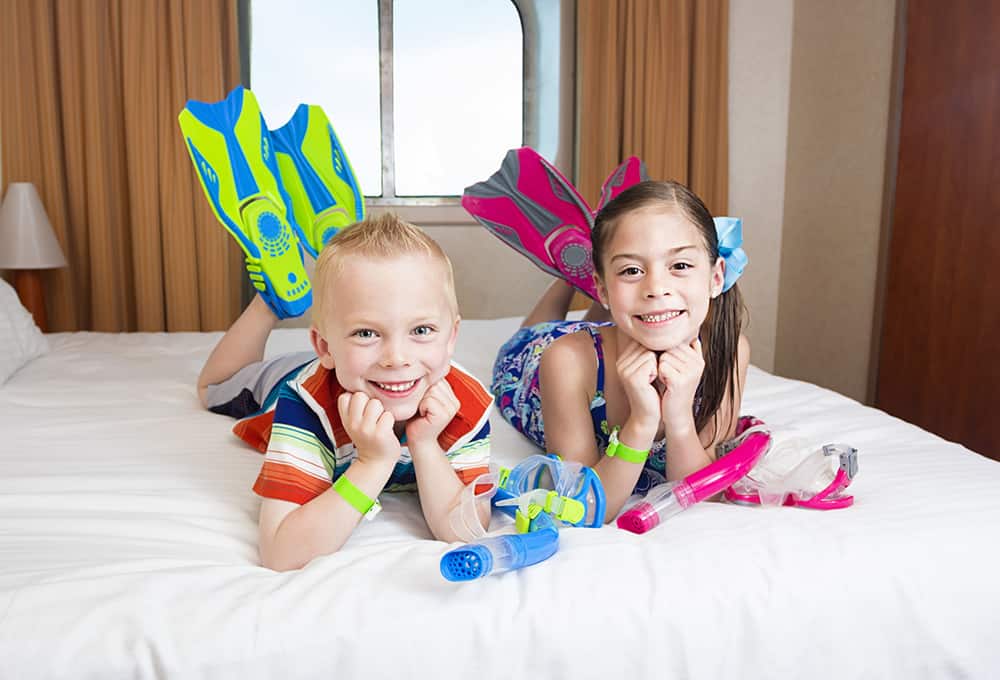 What if I'm traveling with YOUNG kids?
Let's say you are cruising with 2 or more very young kids and they just can't stay in a room by themselves. You can still use this strategy!
Most balcony rooms that are side by side have a shared door. So you can book 2 rooms right next to each other and just keep the door open. Then it basically becomes a 2 bedroom cabin!
And the bonus part is, you have 2 bathrooms and double the closet space.
How this prices out:
2 adults and 2 kids in one balcony room = $4,000
2 adults in one room and 2 kids in another room = $4,000
So really… why would you NOT book two rooms if traveling with 4 or more people?
Getting Two Cruise Cabins For The Price of One
This strategy may not seem earth-shattering but time and time again I see families of 4 (sometimes even 5!) crammed into one cruise ship cabin because the cruise line wants you to think that's your only option.
In reality, no one should ever have that many people in one cruise room if they can get a second room and pay the exact same price (or less!). But of course, the cruise companies won't tell you this because they lose money that way.
Happy cruising!
You Might Also Be Interested In:
Don't for get to follow along on all our adventures on INSTAGRAM!