Where To Stay In Lake Tahoe: A Cozy Cabin Retreat
Wondering where to stay in Lake Tahoe? There is no better way to experience Lake Tahoe than by staying in a unique vacation cottage, like Cedar Crest Cottages, a cozy Lake Tahoe cabin retreat.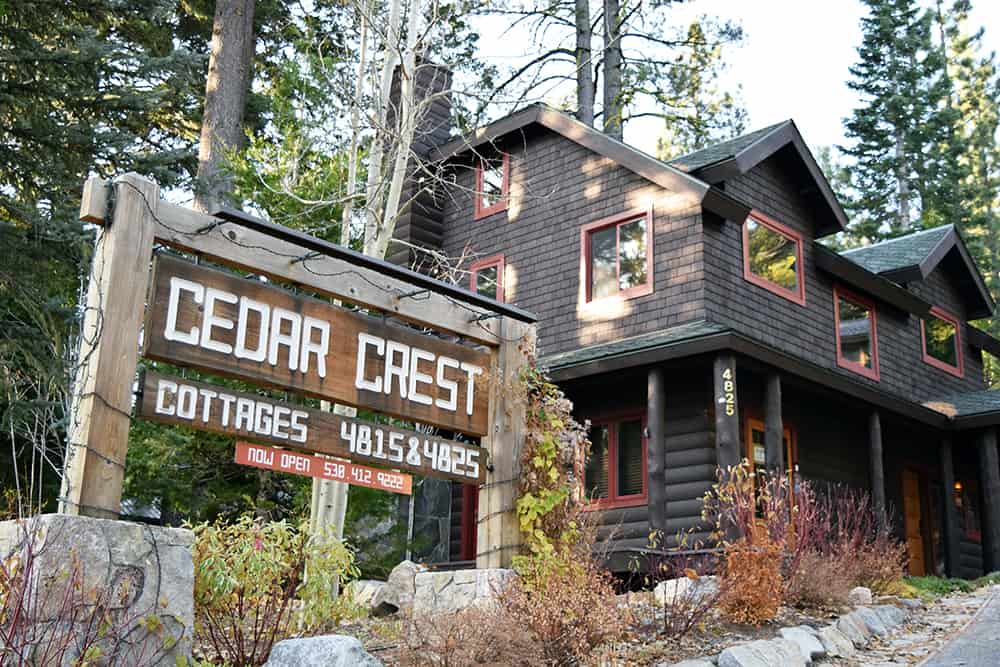 Where to Stay In Lake Tahoe
Is it better to stay in South Lake Tahoe or North Lake Tahoe?
North Lake Tahoe is known for being a bit quieter and better for families. You'll also see some of the fancier resorts along the shoreline, as well as some pretty impressive properties.
South Lake Tahoe has more nightlife and seems to be where more adventurous travelers go.
You can also find Emerald Bay near South Lake Tahoe, which is the prettiest part of the lake if visiting during the summer months.
The entire East side is a national forest and you won't find any homes or resorts there. And the West side is a beautiful compromise of the busy south and relaxing north.
Cedar Crest Cottages are located on the West side, about halfway between North and South Lake Tahoe. This made it not only quiet and relaxing but a short drive to either side of the lake.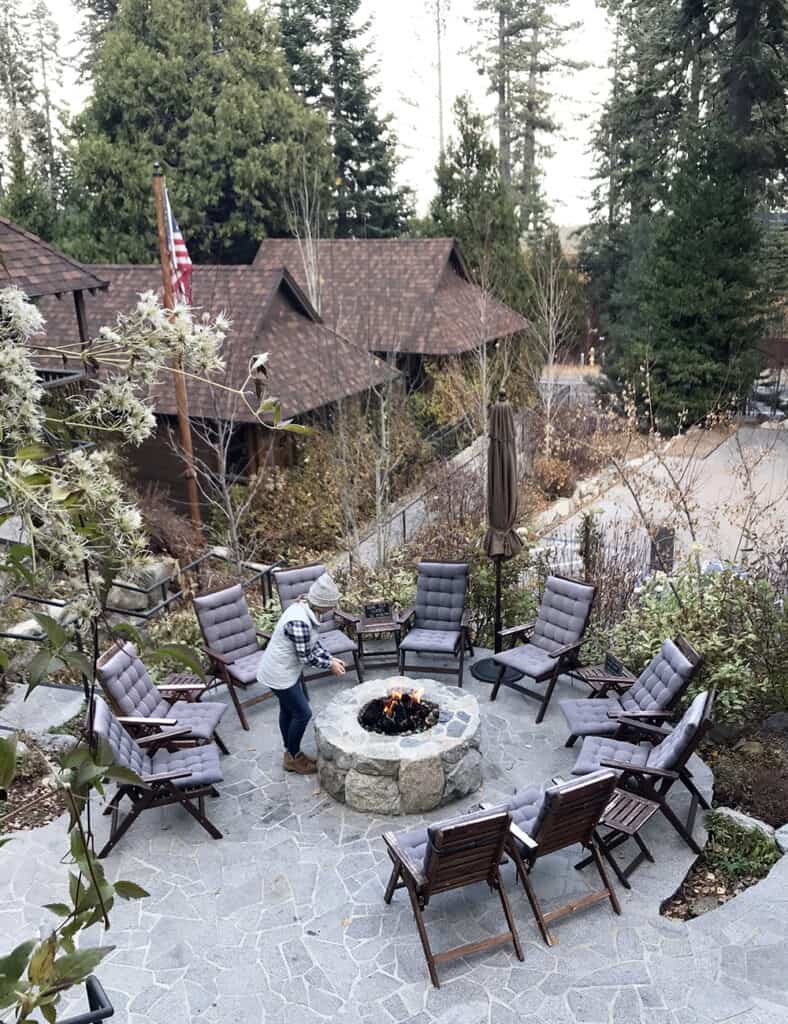 Visiting Cedar Crest Cottages in Lake Tahoe
Living in the desert, I am always in search of a weekend getaway where I will see more than just cacti and sand. 
When the chance came to visit Lake Tahoe in the fall came up, I jumped at the opportunity. While still around 80 degrees here in Phoenix, Lake Tahoe was a cool 50 degrees during the day. And no better place to enjoy the cool mountain air was in a Lake Tahoe Cabin.
Hello, sweaters and boots!
I was so ready to trade in my palm trees and sun for some tall pines and cool mountain air. And being just a quick hour and a half flight from Phoenix… I was gone!
Lake Tahoe is surrounded by gorgeous mountains and is less than an hour's drive from Reno, making it super easy to get to. I rented a car and set off to the mountains for my Lake Tahoe weekend getaway.
One of the things I like most when traveling is staying at a place that offers a unique experience, and my trip to Lake Tahoe was no exception. Cedar Crest Cottages was by far the perfect place to stay while visiting Lake Tahoe.
As soon as I pulled up to the cottages, I knew this was going to be the highlight of my Lake Tahoe trip.
This Lake Tahoe Cabin was everything I imagined. From the second you drive up to stepping foot inside your cabin.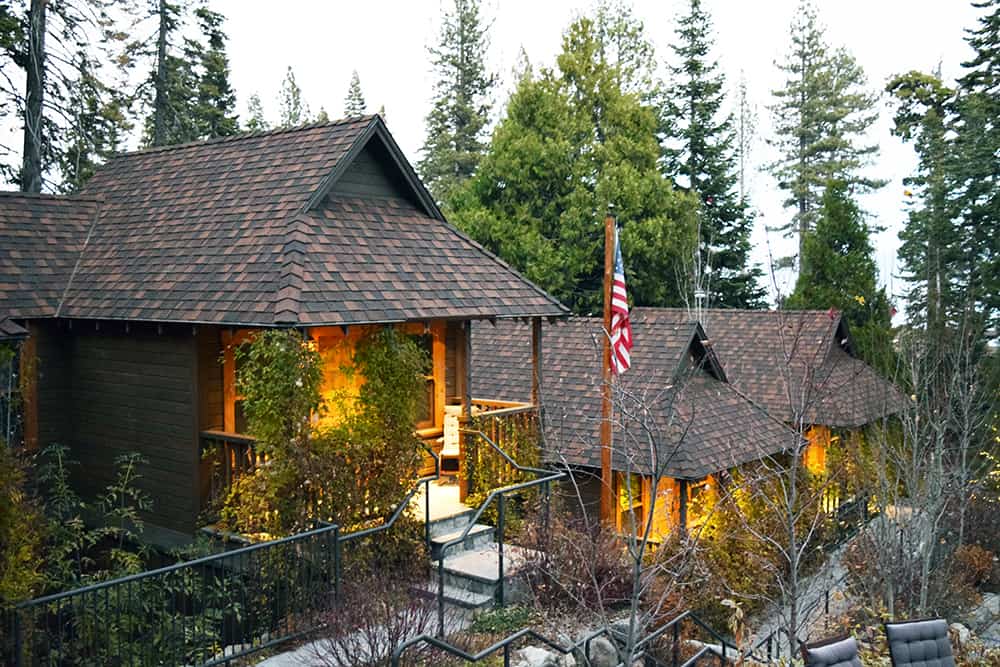 About Cedar Crest Cottages
The best part of a stay at Cedar Crest Cottages, in my opinion, is the stunning mountains that surround this cozy cabin getaway.
Once you are on their grounds, you can look around and all you will see are mountains and tall pines. Which makes this a quiet and relaxing getaway.
Cedar Crest Cottages is a family-run business and you can definitely feel that during your visit. I was immediately greeted by Blythe and her sweet puppy when I arrived.
The cabins range from 1 bedroom up to 4 bedrooms. So these would make a great place to stay if traveling in a large group.
Every cabin has been completely renovated inside, but I'll get to that more in a minute!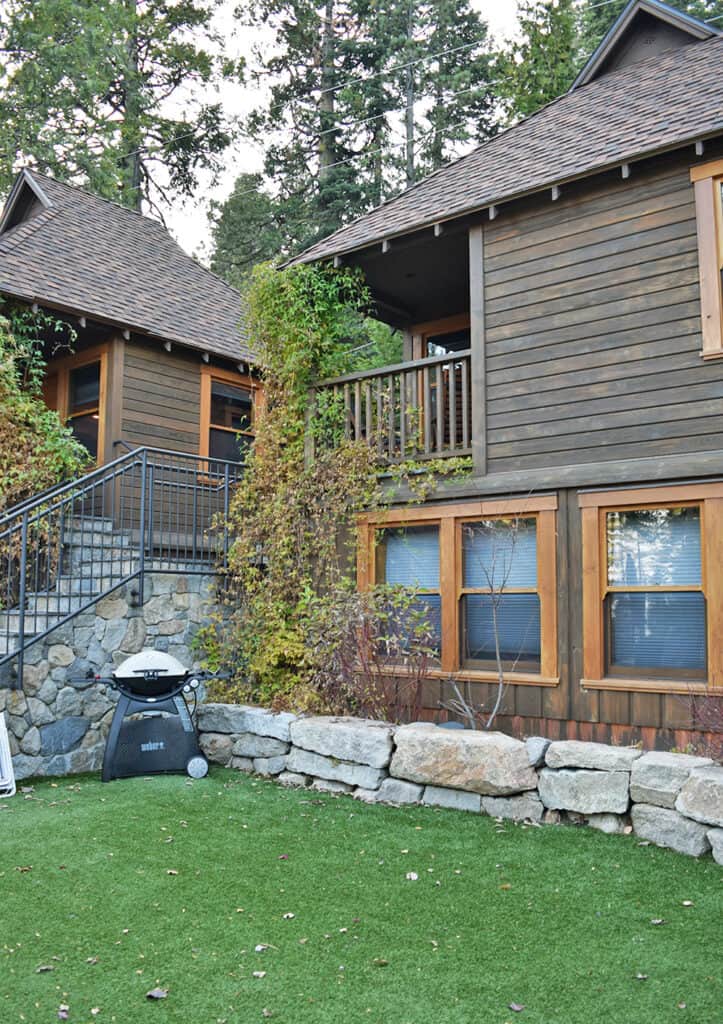 THE LOCATION
If you've never visited Lake Tahoe before, you need to know how it's laid out to really make the most of your trip. The Lake is pretty much split down the middle, with Nevada being on the east side and California on the west.
The north end of Lake Tahoe is known to be more luxurious, with nicer resorts and more upscale boutiques.
South Lake Tahoe is known for more of a party atmosphere with lots of places to eat and drink. Both north and south Tahoe have AMAZING views and scenic hikes that can't be missed.
Cedar Crest Cottages is located on the west (California side) of the Lake, almost right in the middle between North and South Lake Tahoe.
This couldn't be more ideal.
It meant that getting to either end of the Lake was super easy.  I spent one day up in North Lake Tahoe, and one day in South Lake Tahoe. Each day was a quick 20 minutes drive from Cedar Crest Cottages.
This gorgeous place is also as close to the water as you can get. Our cottage's private porch overlooked the firepit and had amazing views of the lake. Every morning started with a cup of coffee and a view of the sun rising over the lake.
Staying In Lake Tahoe: Cedar Crest Cabins
Now here's the best part. Each and every cabin has been renovated on the inside. And not just to look nice. But with the most exquisite details, I've ever seen in a vacation home. From custom herringbone wood floors to textured wallpaper, and bathrooms covered in marble tile… I truly felt like I was staying at a high-end luxury resort.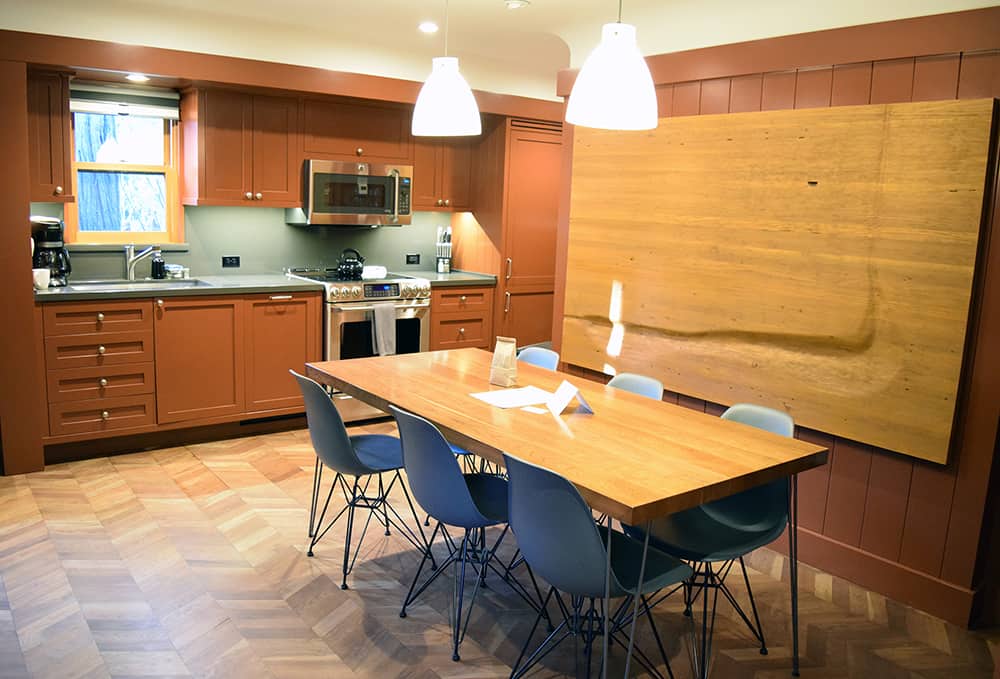 Each cabin comes with a fully stocked kitchen, complete with a coffee maker, fridge, and freezer. Which was great for bringing home leftovers from all the restaurants we visited. Because let me tell you, I ate A LOT while visiting Lake Tahoe!
You'll have everything you need with cookware, utensils, and even a wine bottle opener. Having a glass of wine with your s'mores by the fire is a MUST! Oh, and they even have washers and dryers in every cottage. How nice is that?!?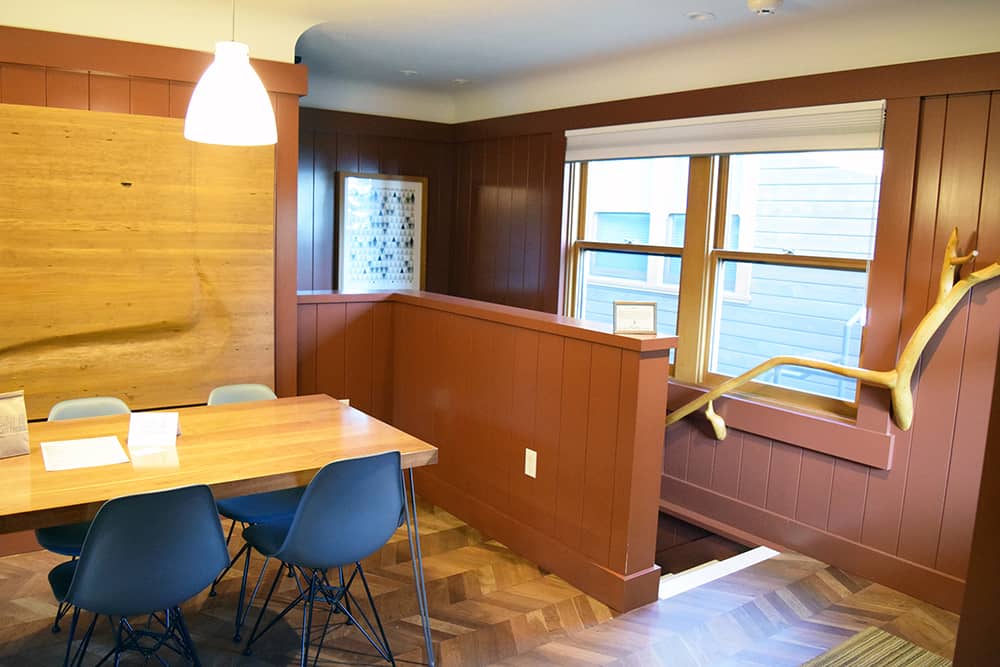 The best part about these Lake Tahoe cabins is that the floors have radiant heating. Which is a lifesaver for your chilly toes after a day out hiking in the cold mountain Lake Tahoe air.
The bathroom floors were so warm, that we joked about sleeping on them. I maybe wasn't kidding 😉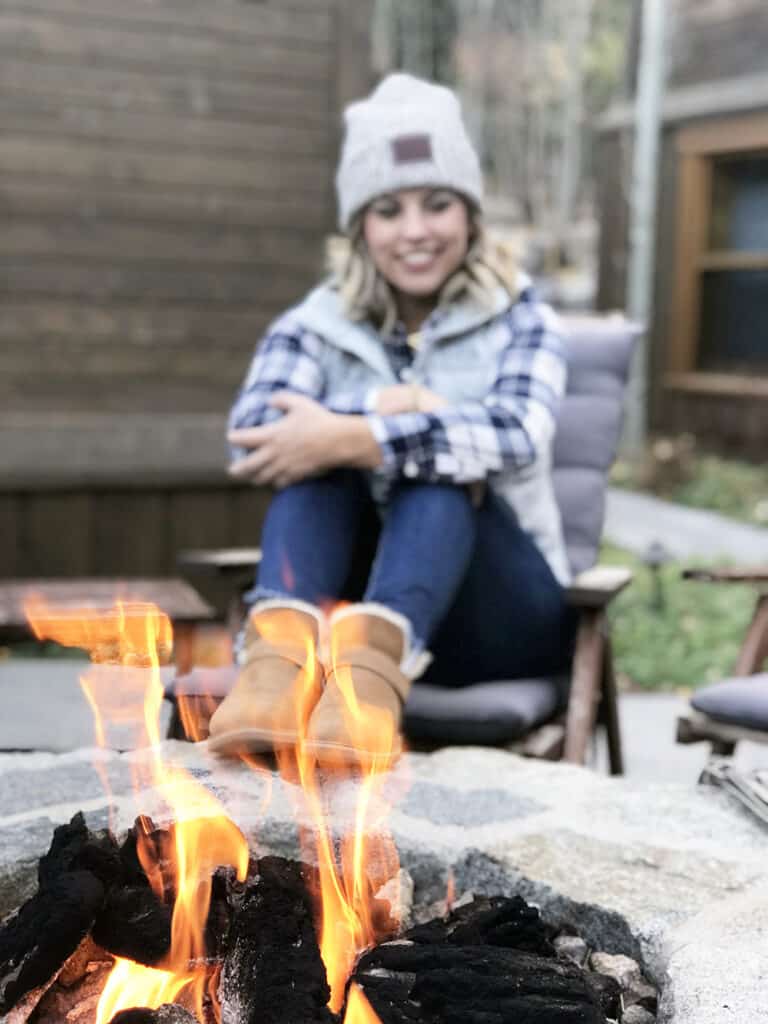 While I absolutely adore rustic cabins, you simply can't beat the luxury and amenities of a modern cabin. Cedar Crest Cottages does an amazing job combining the two. So your stay here is super comfortable, but you also feel as if you are in the middle of the woods.
Skip the big overcrowded resorts where you get nothing more than a hotel room. Cedar Crest Cottages is the only place I'll stay when I visit Lake Tahoe in the future!
The One Downside To Cedar Crest Cottages…
The only negative thing I can say about this great place is that they don't allow dogs. I love to travel with my pooches and would be sad to have to leave them behind!
Conclusion: Where To Stay in Lake Tahoe
If you're headed to Lake Tahoe soon, check out Cedar Crest Cabins. They are the perfect outdoor getaway where you really feel like you are surrounded by peace and quiet.
They are far enough away from both the busy North and South ends but an easy drive to either location.
You Might Also Enjoy…