How to Spend a Day at Coney Island, New York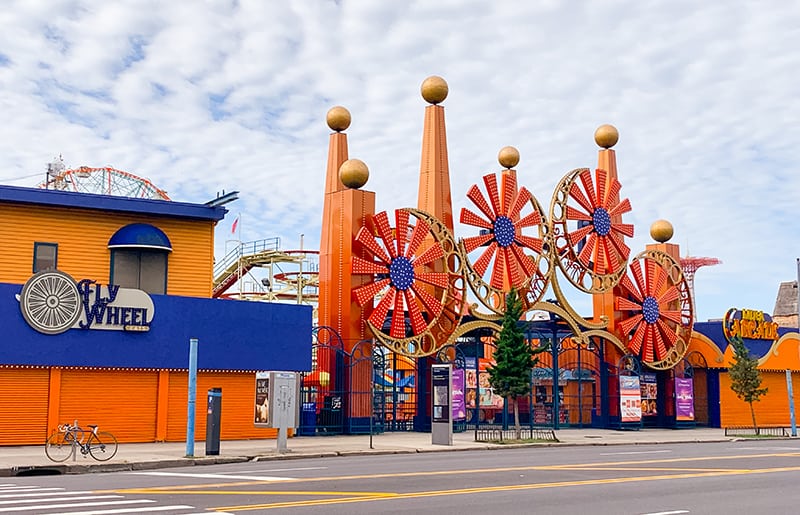 Top Things to Do at Coney Island
I've been to New York City several times but never had the chance to make it out to Coney Island. Most likely because I had no idea where it was.
I knew it was somewhere near the city, but there was always just too much going on in Manhattan that prevented me from going too far out.
So on this trip when I flew in to JFK airport and had an entire day to spend in the Brooklyn area (yes, this is where Coney Island is located… I found that out!) and I knew Coney Island would be first on my list.
I stayed at this fabulous hotel right at JKF airport and I was able to take an easy Uber ride right over to Coney Island.
History Note: Coney Island actually DID used to be an island! It was filled in by the state of New York for easier transportation. Crazy, huh?
Getting to Coney Island
You can take a train straight from Manhattan to Brooklyn and get off with just a short walk to The beach and the boardwalk.
If you are staying or near the Brooklyn area, I recommend you taking a cab, Lyft, or Uber. There really is not a lot of parking around the amusement park area. And what little there is, fills up early.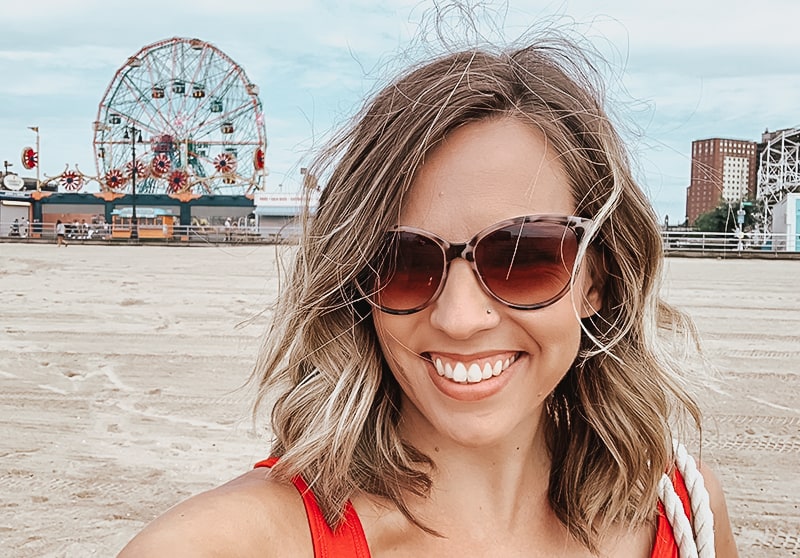 Fun Facts
1 – It is open year round
A lot of the rides and attractions have limited hours and are open only certain days in the winter. So double check the schedule before you go.
2 – Coney Island has been around for over a hundred years
It fell into disrepair after WWII but was taken over again in the 1970's and full revitalization took over in the early 2000's.
3 – The Cyclone was opened in 1927
And it still operates today! You can ride the Cyclone and take its famous 90 foot drop on one of the worlds oldest wooden roller coasters.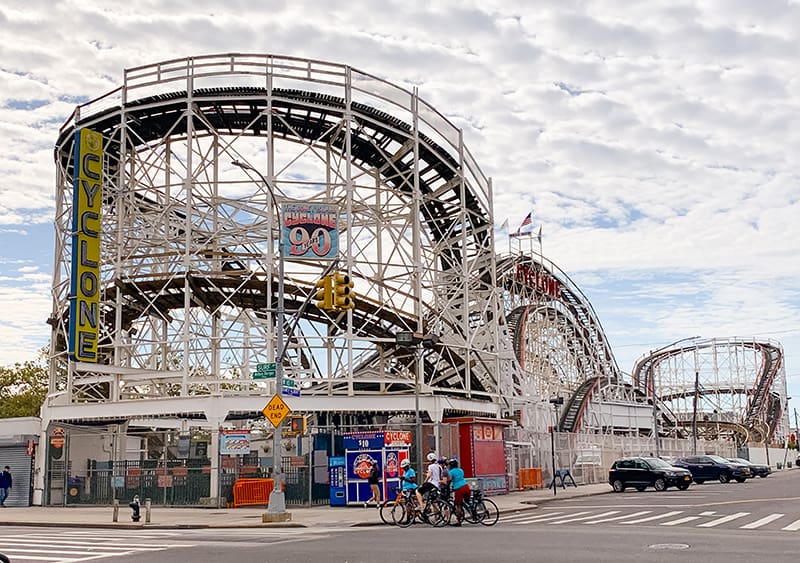 4 – It was originally called Sea Lion Park
It was the first enclosed amusement park and opened in 1895. Visit the Coney Island museum to learn more about its fun history!
Top 7 Things You MUST Do at Coney Island
1 – Go to the Beach!
The beach at Coney Island was WAY bigger than I thought it was going to be. It rivals some of the really long and wide beaches I've been to along the Jersey Shore and Myrtle Beach.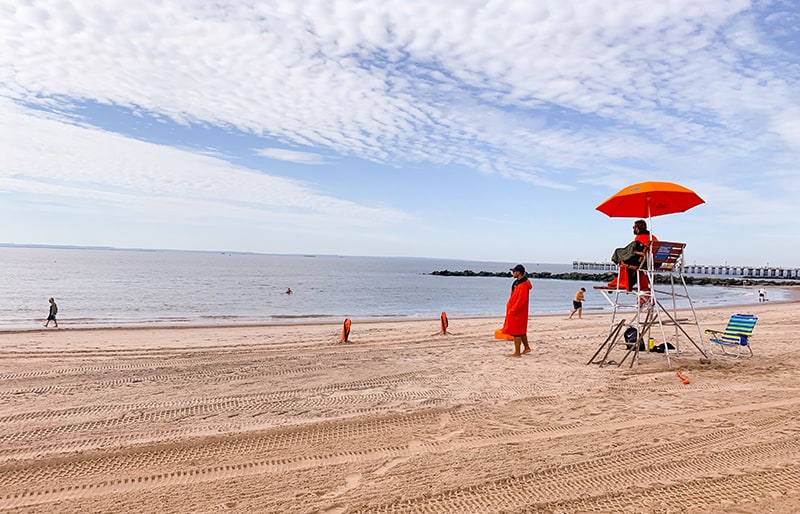 The beach is all public access and FREE! You can literally walk straight on to the beach and start enjoying your day. There are lifeguards there (double check what times) and even things like Volleyball nets to get in a fun game of sand Volleyball.
Oh, and public restrooms. There are restrooms all along the beach area, which is essential when traveling with kids.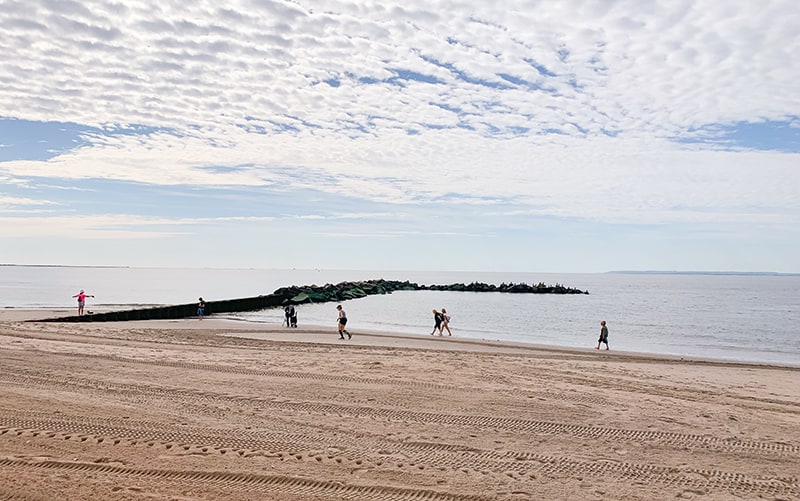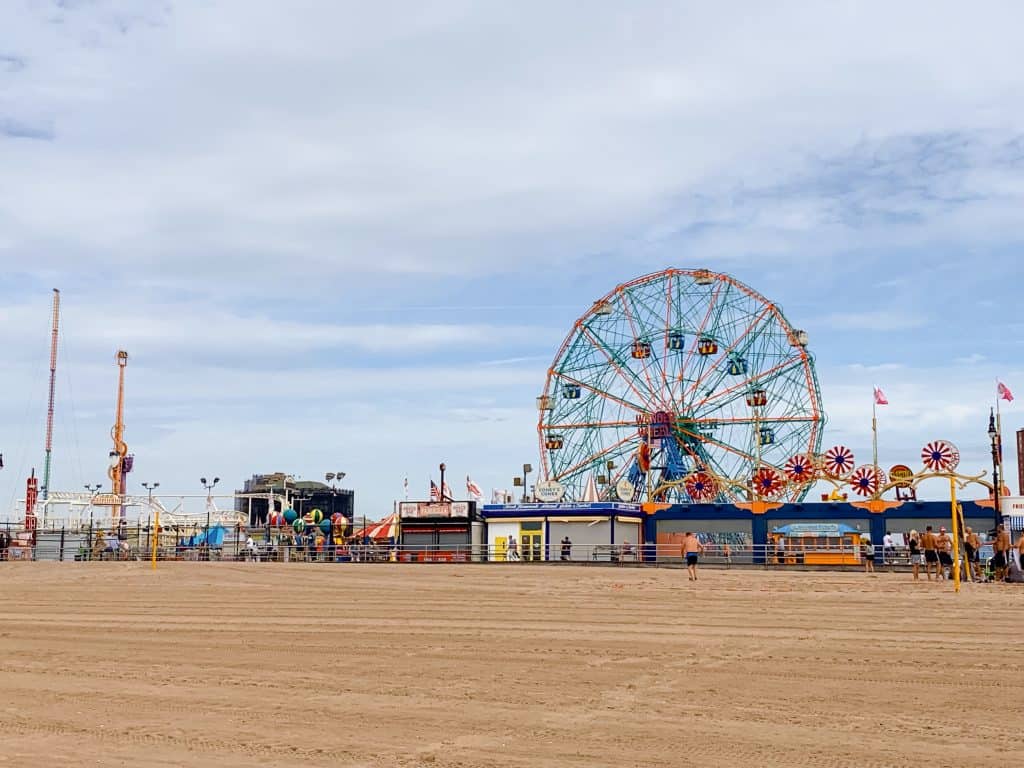 2- Walk the Boardwalk
The boardwalk is often a favorite of mine. This is one of the reasons I love visiting the Jersey Shore and the boardwalk at Coney Island is just as good. It's super wide, which leaves plenty of room for casual walkers to bikes and runners.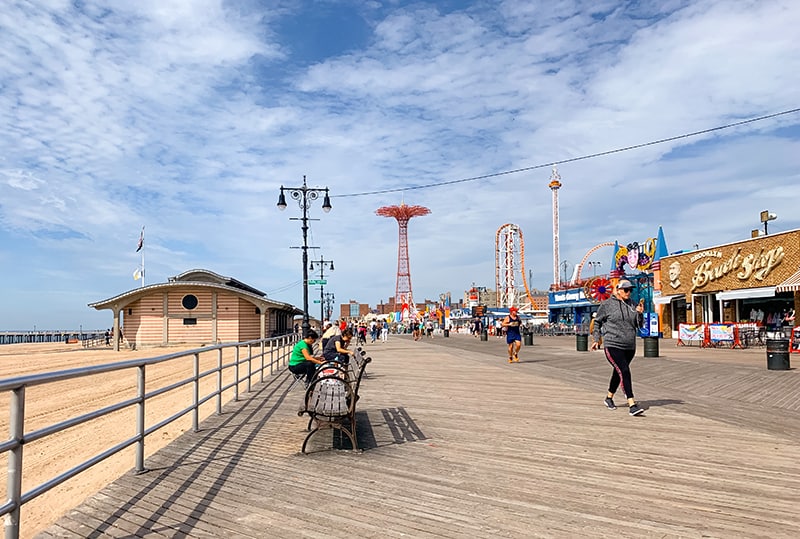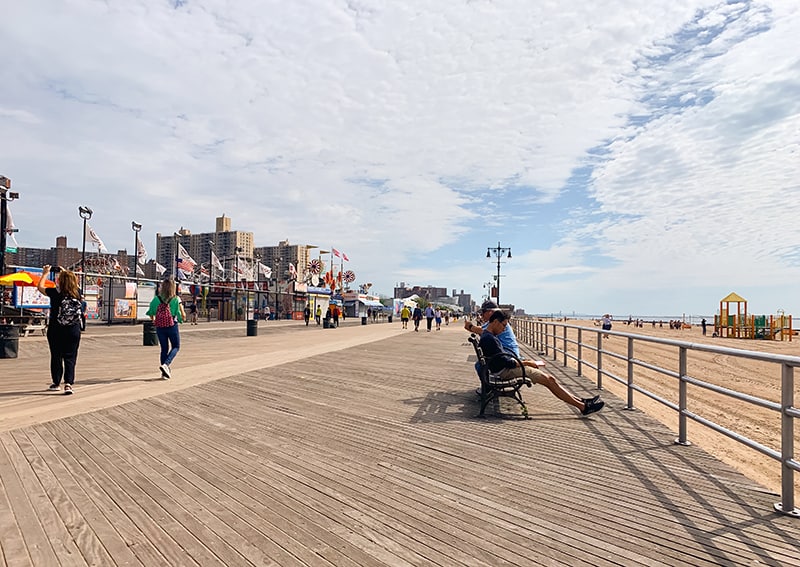 The boardwalk is lined with places to eat and shops to get souvenirs. And food. Lots of lots of food! Did I already mention that?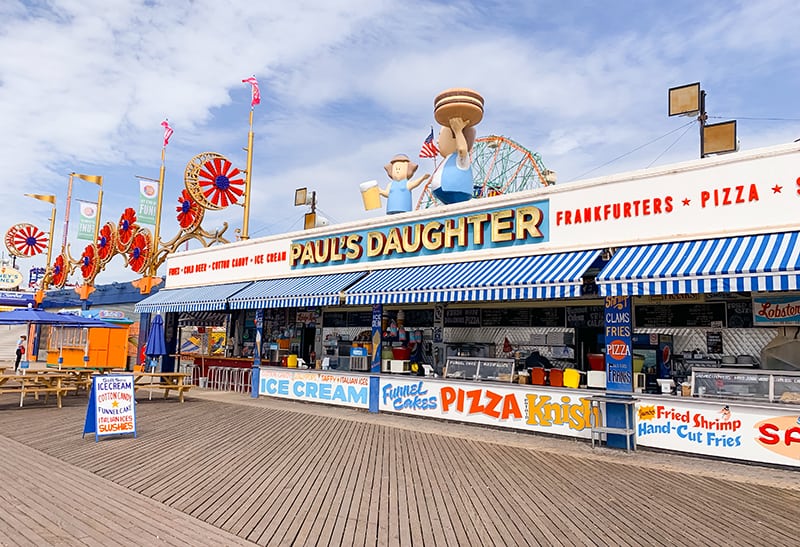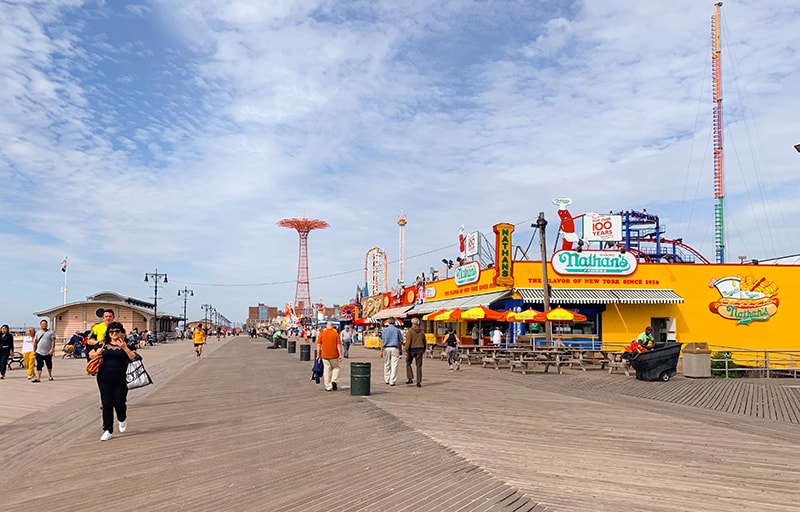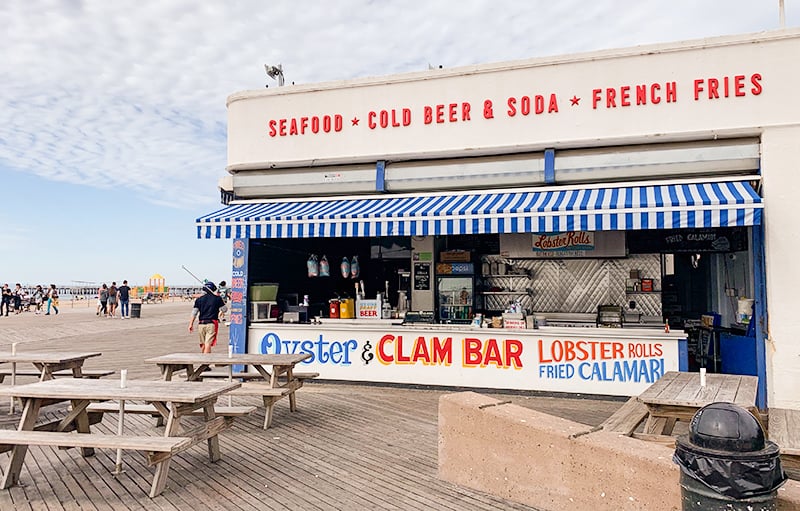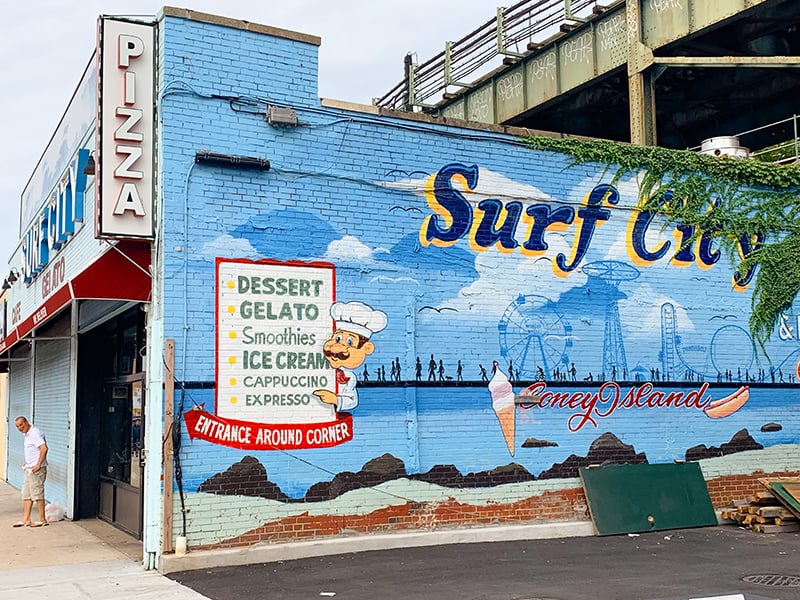 Even if you don't have anywhere in particular to go, take a stroll down the boardwalk. You have the beach and ocean on one side, and the shops and food on another. Not to mention people watching here is a lot of fun too.
3 – Luna Amusement Park
Probably the most famous part is the amusement park. Luna Amusement Park has over 50 rides that include the Cyclone and the Wonder Wheel. There are plenty of rides for thrill seekers and little kids too.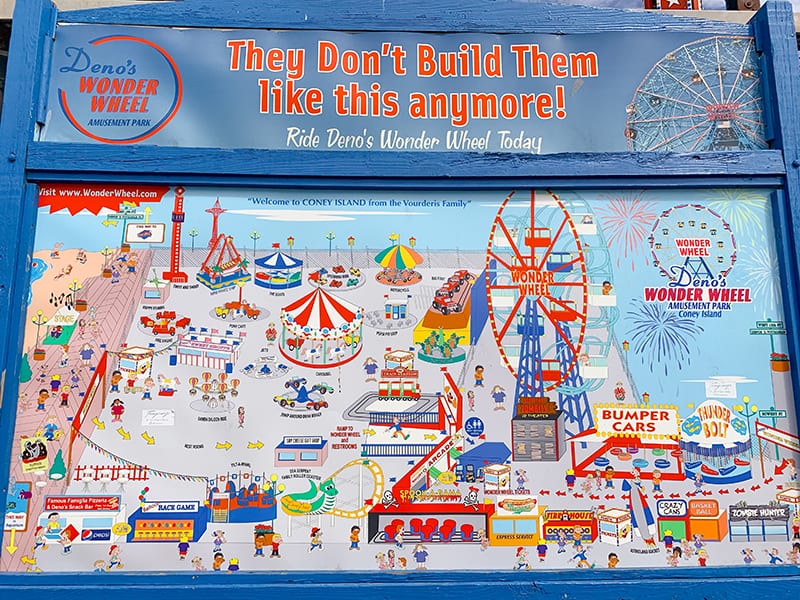 It's free to get in so anyone can walk around and take a bunch of Instagram photos. You can either buy tickets to enjoy a few rides or get a wristband to ride all day.
Check out their website for more information and what times they are open. It varies day by day and by season!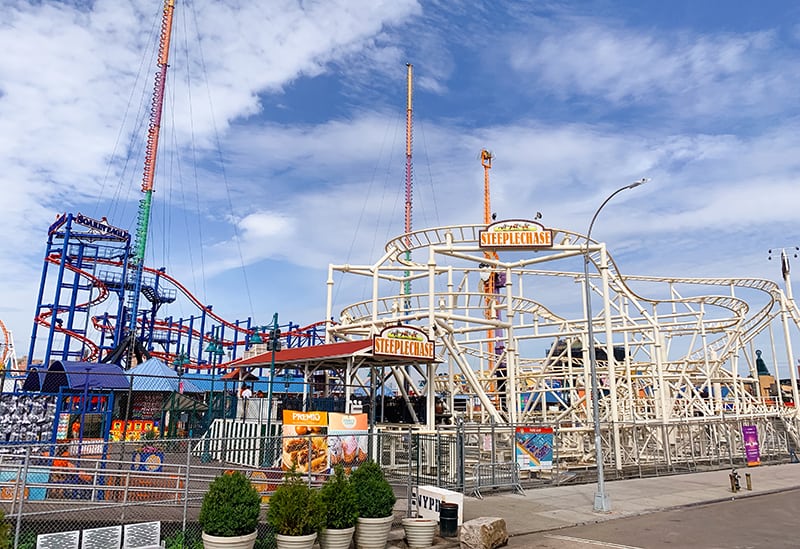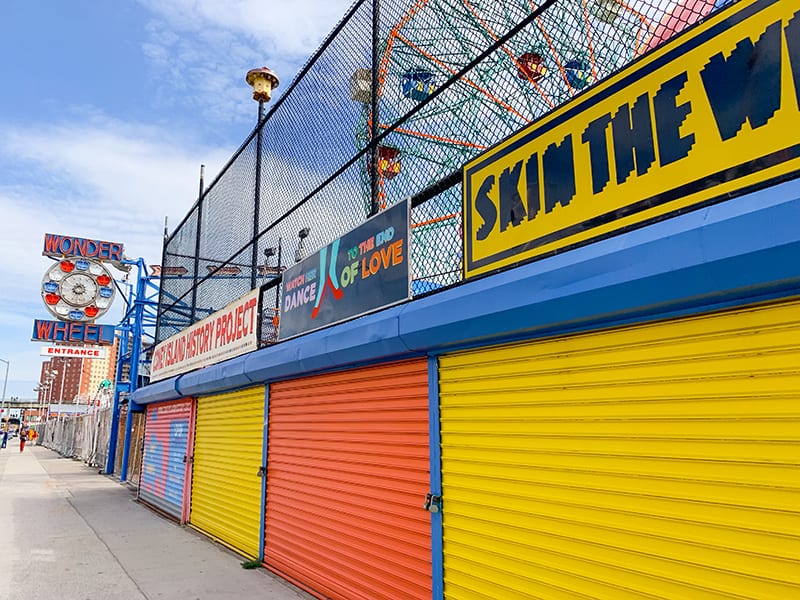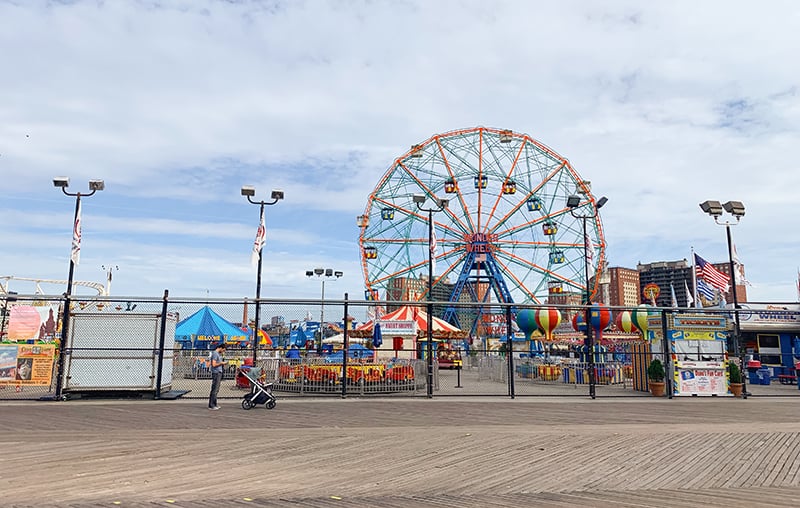 4 – Eat at Nathan's Hot Dogs
Nathan's Hot Dogs has been around for decades and currently is the world's largest hotdog stand. Isn't that reason enough for trying them out?
Nathan's even has a world-famous hot dog eating contest every year right around the 4th of July. In 2019 that winner ate 71 hotdogs!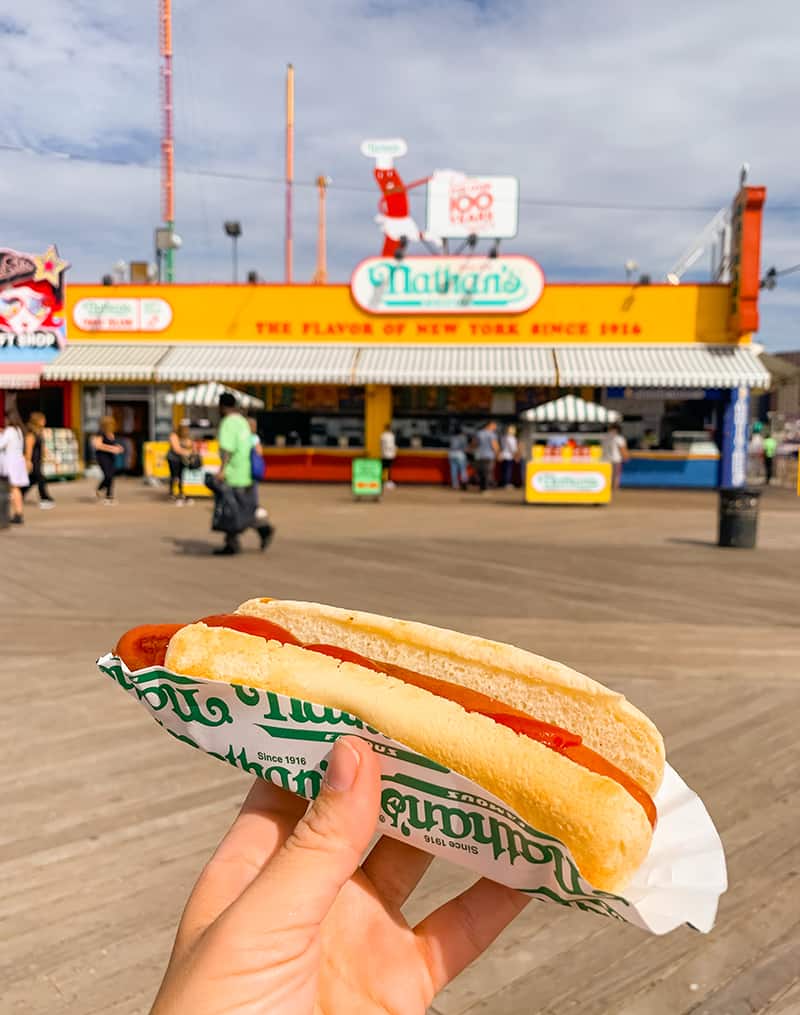 The stand is open year round so you can even grab a dog in the winter if you happen to be in the area. I of course had to try one, and helped myself to a plain dog and diet coke. And I can say… they are as good as people say!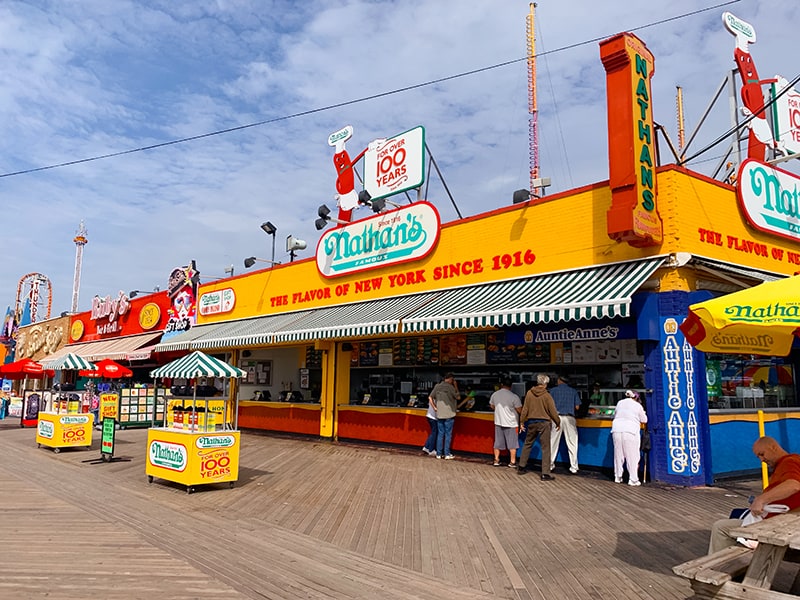 5 – Visit the Coney Island Museum
This small museum is definitely worth a visit. It only costs $5 to get in ($3 for kids and seniors) and shows a really cool history of Coney Island. They have all sorts of artifacts dating to over 100 years ago.
You'll see several historical photos and learn a ton of really interesting facts about Coney Island too.
It's a cute place to visit and worth the budget-friendly price tag. Not to mention a great place to get out of the rain if a passing storm tries to ruin your beach day.
6 – See the Coney Island Side Show
If you have kids and they aren't really into history and museums, check out the Coney Island SideShow. This great show is a throw back to old circuses and is a really fun time for everyone.
They even promise you "Freaks, wonders and human curiosities!"
Who wouldn't want to see that?!?!?
7 – Visit the New York Aquarium
Who doesn't love a fun aquarium? The New York Aquarium is a great place you could actually spend most of your day at looking at several different kinds of sea life.
Prices are not cheap but you can get admission for 50% off if you go after 6pm in the summer! So that would be a great place to end your day at Coney Island.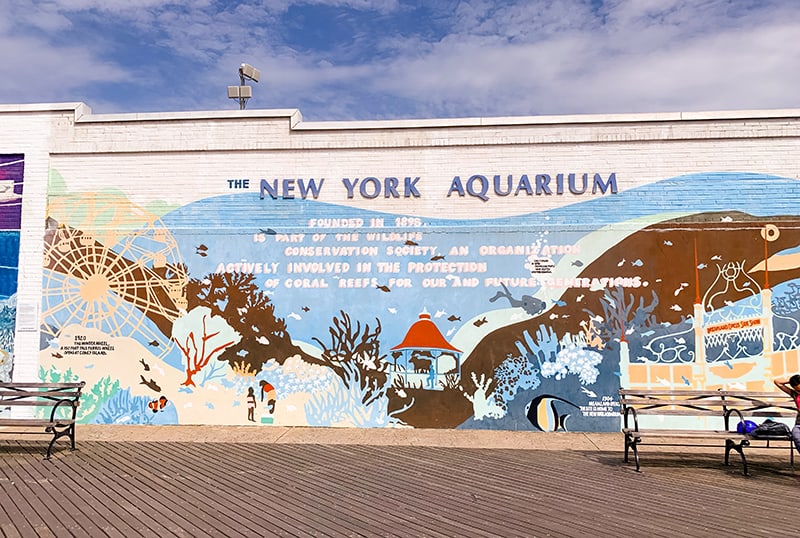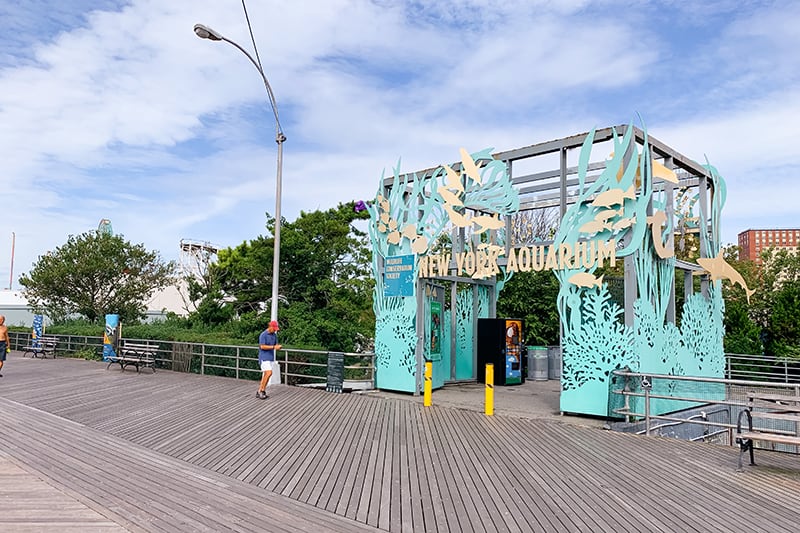 8 – Look at all the Mural Art
One of my favorite things to do! I love wall art, murals, tagging… any kind of art really! The murals along the boardwalk at Coney Island are not only super gorgeous, they have a great message too.
Read it to your kids and have them learn a little about ocean life and how to protect it!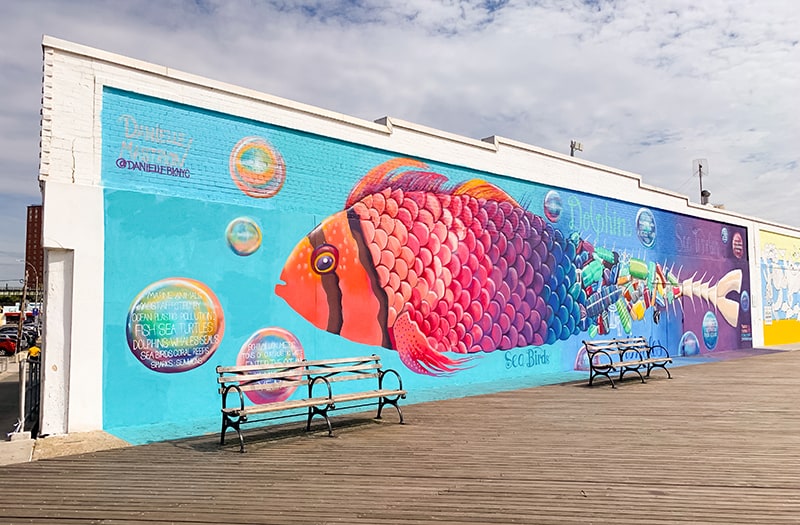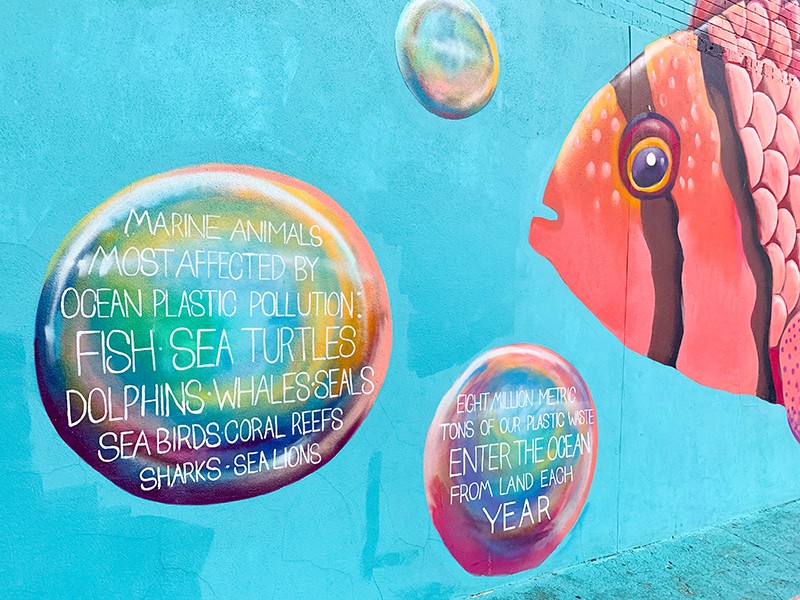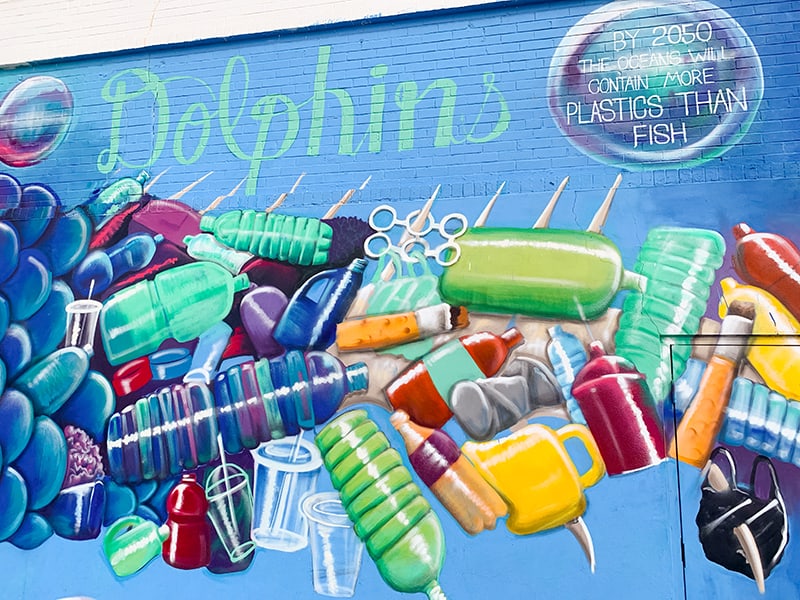 New York City's Getaway
Coney Island is just a short train ride from Manhattan and basically the only beach around (besides the uber expensive Hamptons). So it's a hot spot for lots of New Yorkers and a great tourist attraction.
The beaches are so big, they never get overcrowded. And I loved just walking around and seeing how diverse everything was. I heard several languages being spoken, and watched dozens of people from around the world enjoy this relaxing playground near New York City.
So if you fly in to JKF or LaGuardia, make sure you stop at Coney Island to experience a little bit of Brooklyn, before heading into the city. Even just an hour or two is worth it to have a Nathan's hot dog and walk the boardwalk.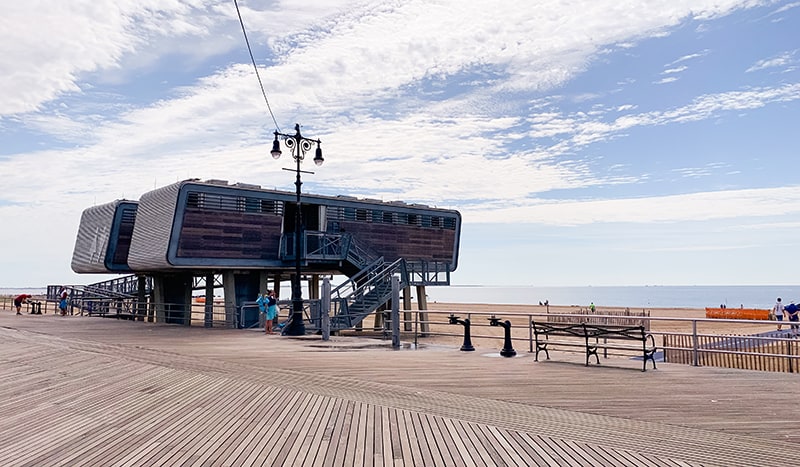 You might also be interested in:
Stay at the TWA Hotel when Visiting New York City


Pin for later!