The Hyatt Regency Scottsdale: A Family Friendly​ Resort and Spa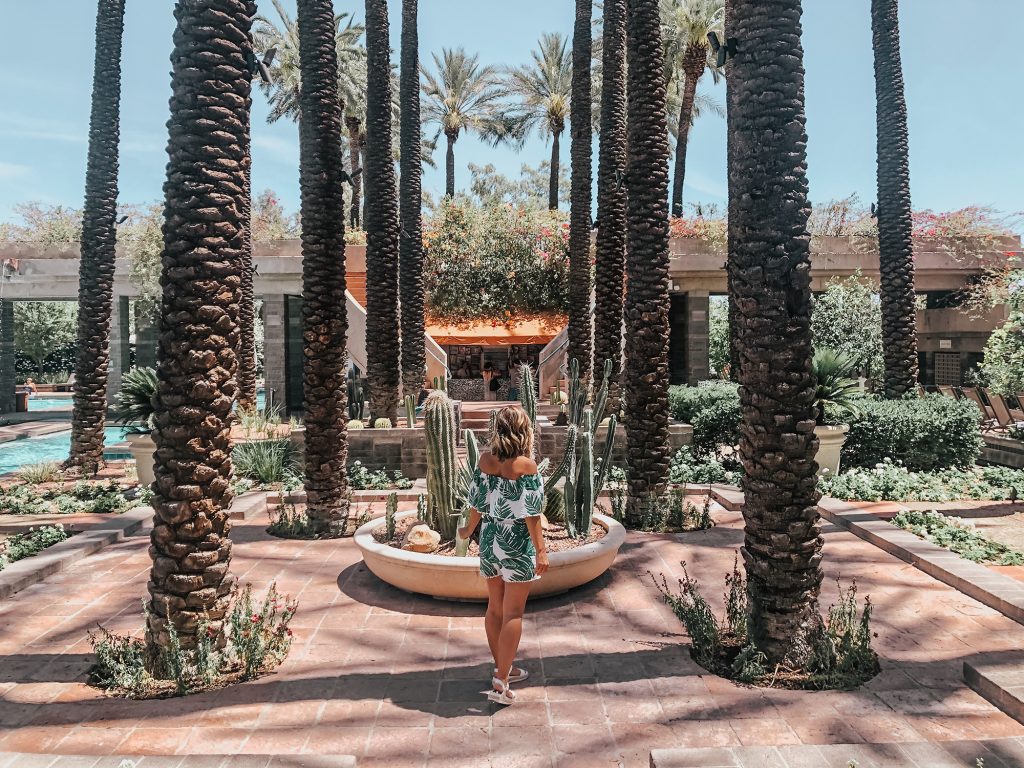 Why Your Family Should Stay at the Hyatt Regency Scottsdale
Between all of our crazy schedules, it's hard to find time to take all the vacations that we'd like to. So we try to take advantage of the weekends as often as we can. On this occasion, we decided to stay local and spend a weekend at the Hyatt Regency Scottsdale Resort and Spa for a family staycation.
(Not sure what a staycation is? It's when you take a vacation in your home town. Something you don't need to travel for. Hence… STAY-cation)
Scottsdale is one of the most popular places to visit in Arizona and it's no wonder why. There are loads of shopping and dining around town, and the scenery of the sonoran desert is amazing! (Check out Experience Scottsdale for more ideas on what to do around town)
While most people avoid Arizona in the summer like the plague, we locals have learned to love it. You just have to know the right places to go! So when the temperatures hit over 100 (it's a dry heat!) you will find us at one of the many lakes and beaches, or at a resort pool.
*Don't forget to follow me on Pinterest to get more ideas of what to do in Arizona!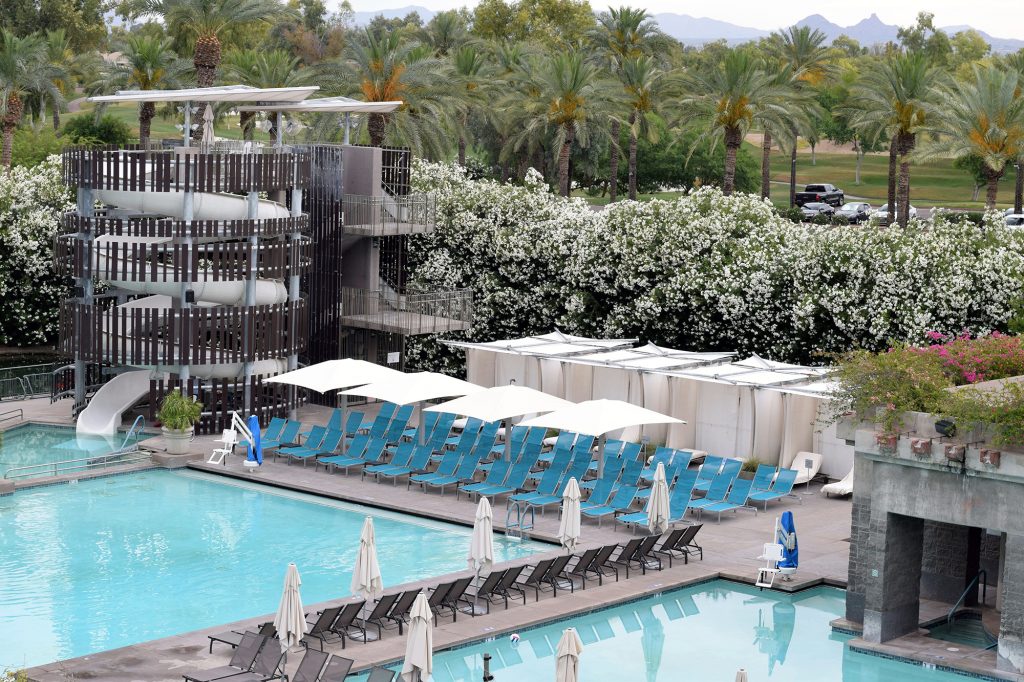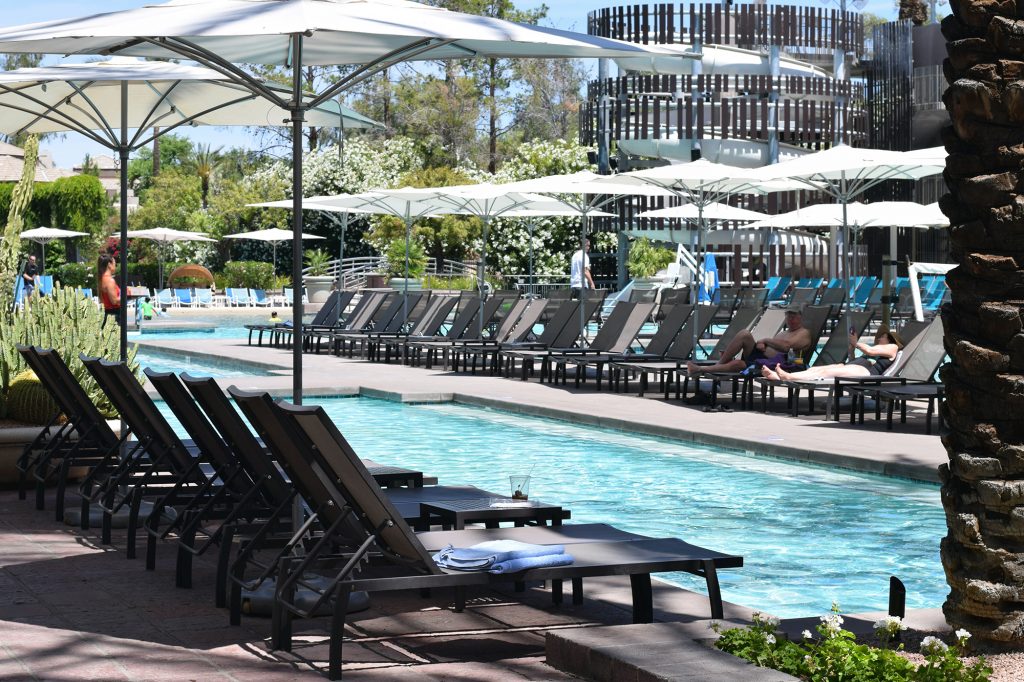 Best places to stay in Scottsdale
The Hyatt Regency is definitely one of the best resorts Arizona has to offer and I'd love to tell you why.
To start with, Hyatt Regency is a family-friendly resort set close to Old Town Scottsdale, but with the gorgeous McDowell mountains as a backdrop. They have 2.5 acres of water playground that include 10 pools and its own sandy beach.
* This post may contain affiliate links, you can view my disclosure policy here.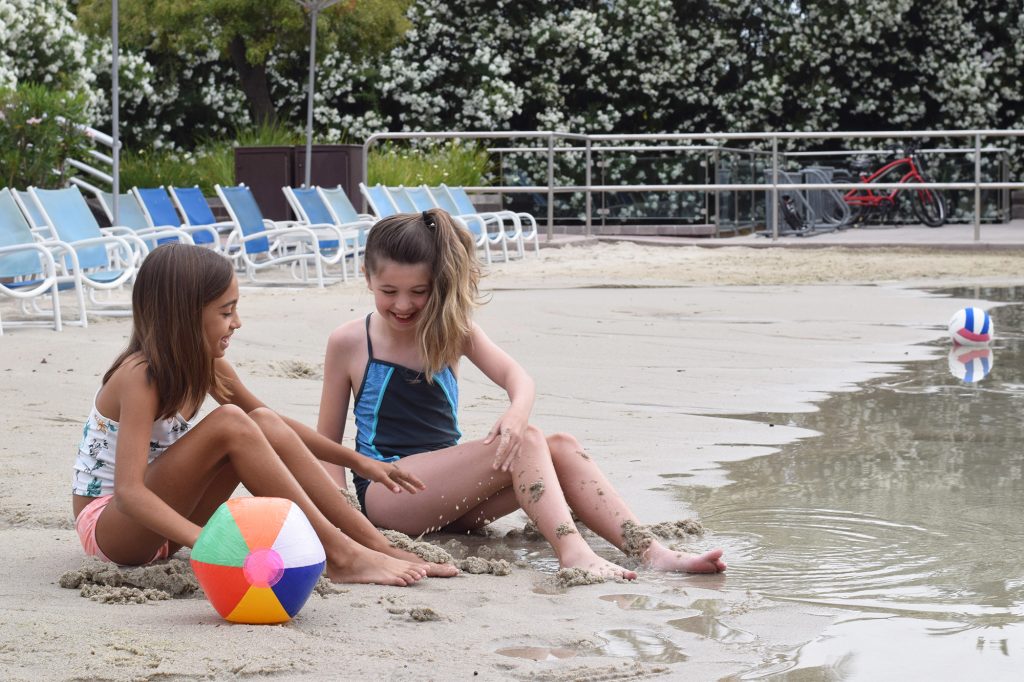 You'll also find a 3-story waterslide and pool volleyball and basketball for the kids. Or you can relax in their Grecian-style water temple featuring a 25 person jacuzzi. In addition to 40 water spouts and 10 fountains.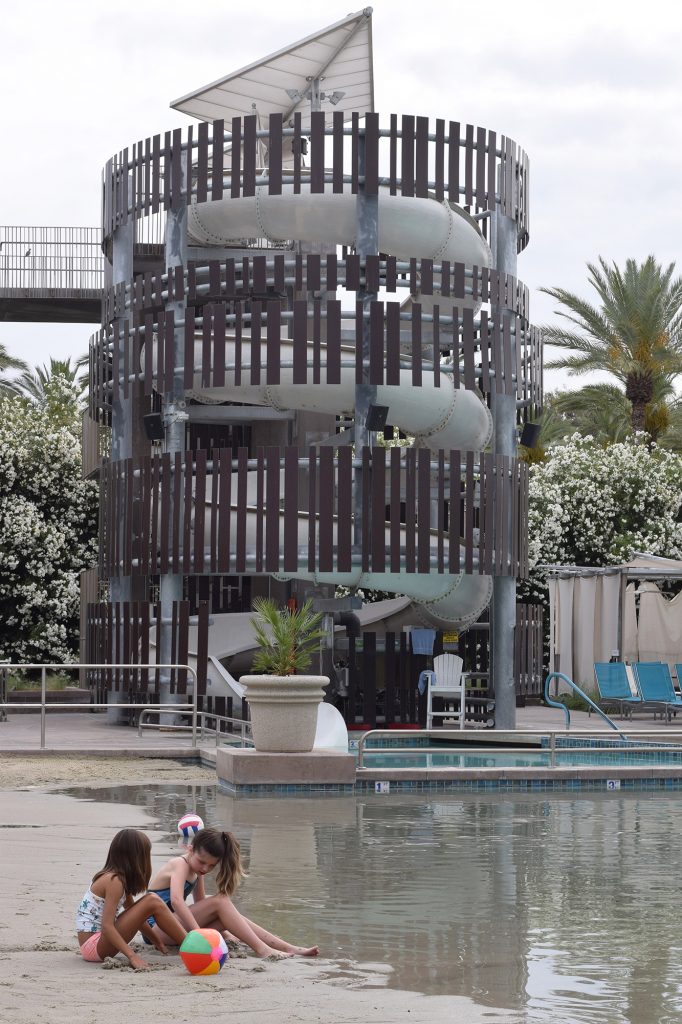 Between the pools and fountains and lush green landscaping for tropical flowers and tall palm trees, the Hyatt Regency is one of the best places for those Instagram poses!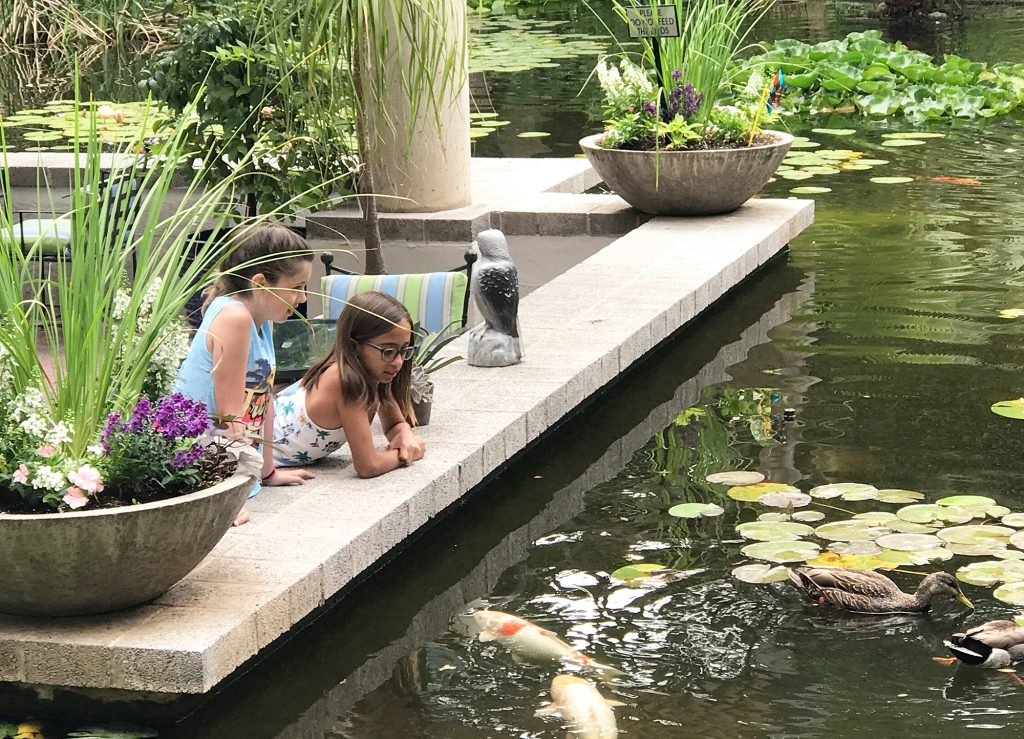 Still need more? Adults can have some kid-free time in the adults only pool with their own private poolside bar and lounge chairs.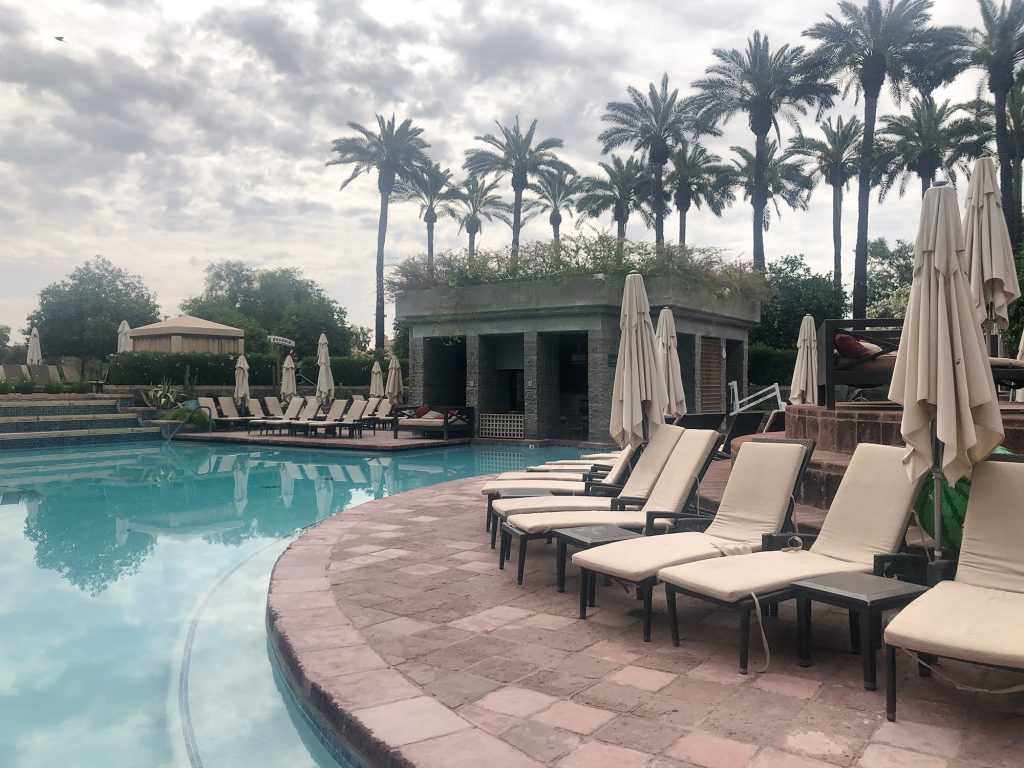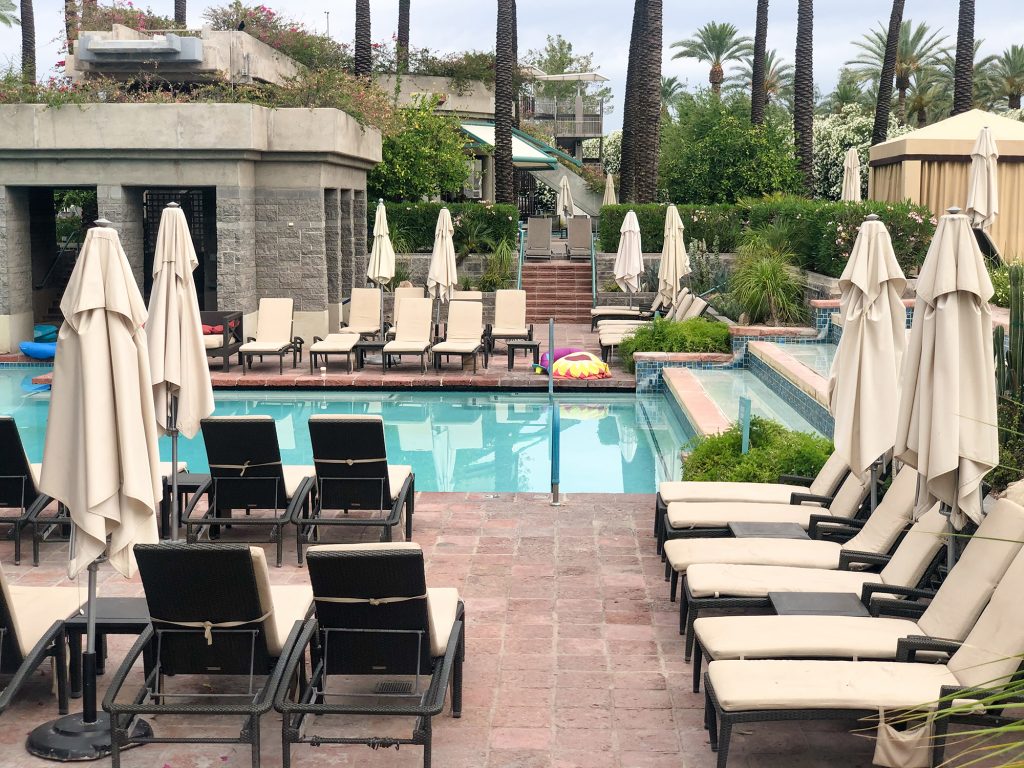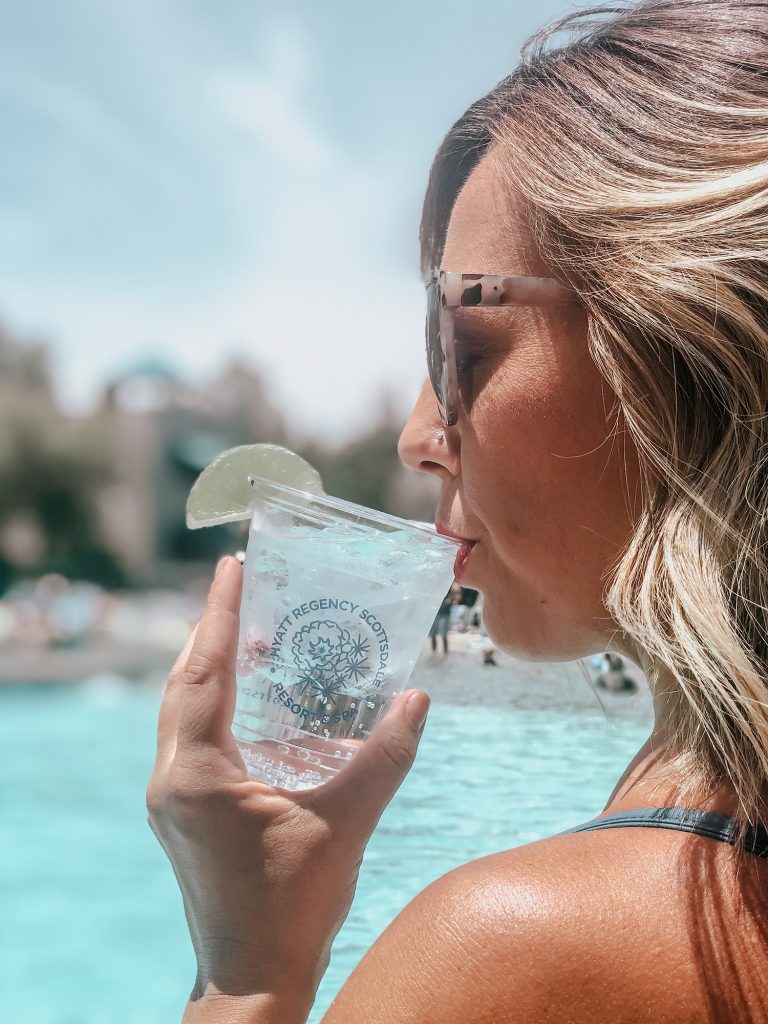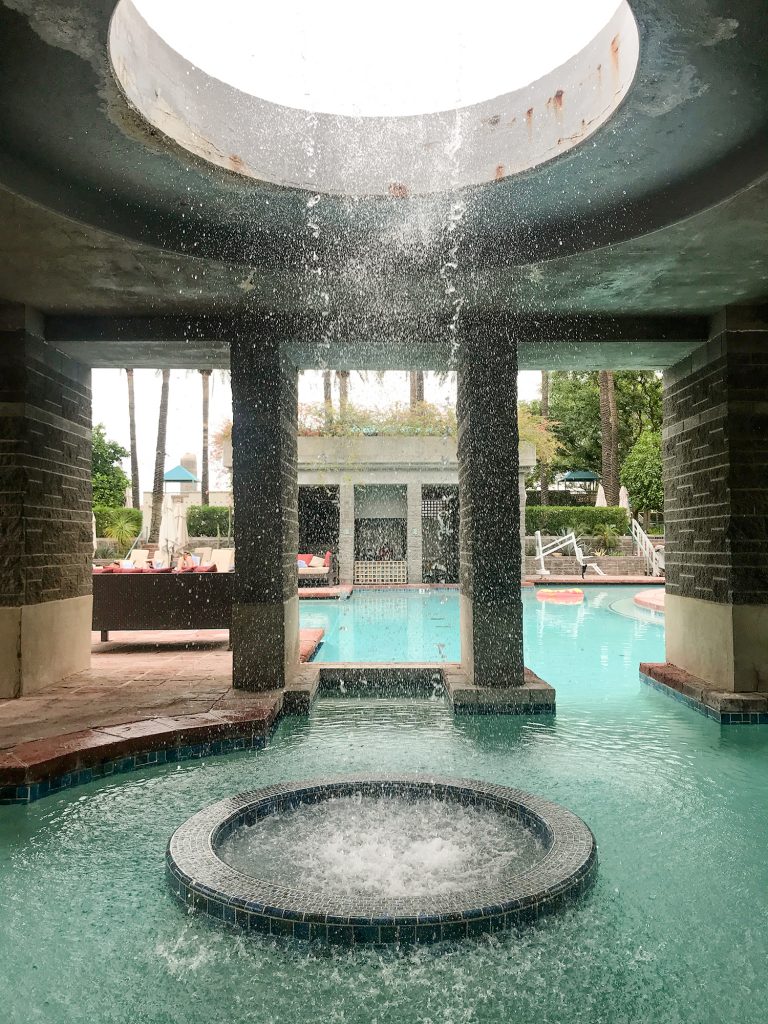 (Download my FREE printable packing list before you go!)
What We loved about the Hyatt Regency
Since our kids are getting a little older, we take full advantage and let them run off and play while mom and dad have a little relaxing time. But if you do have young kids, Hyatt is great for that too. The beach comes equipped with sand toys so that's one less thing you need to pack and haul around.
So while the kids were going down the waterslide a hundred times and jumping off the pool platform, we grabbed a few lounge chairs and let our friendly server from the H2Oasis Bar. We also indulged in a big plate of nachos. Which were GREAT!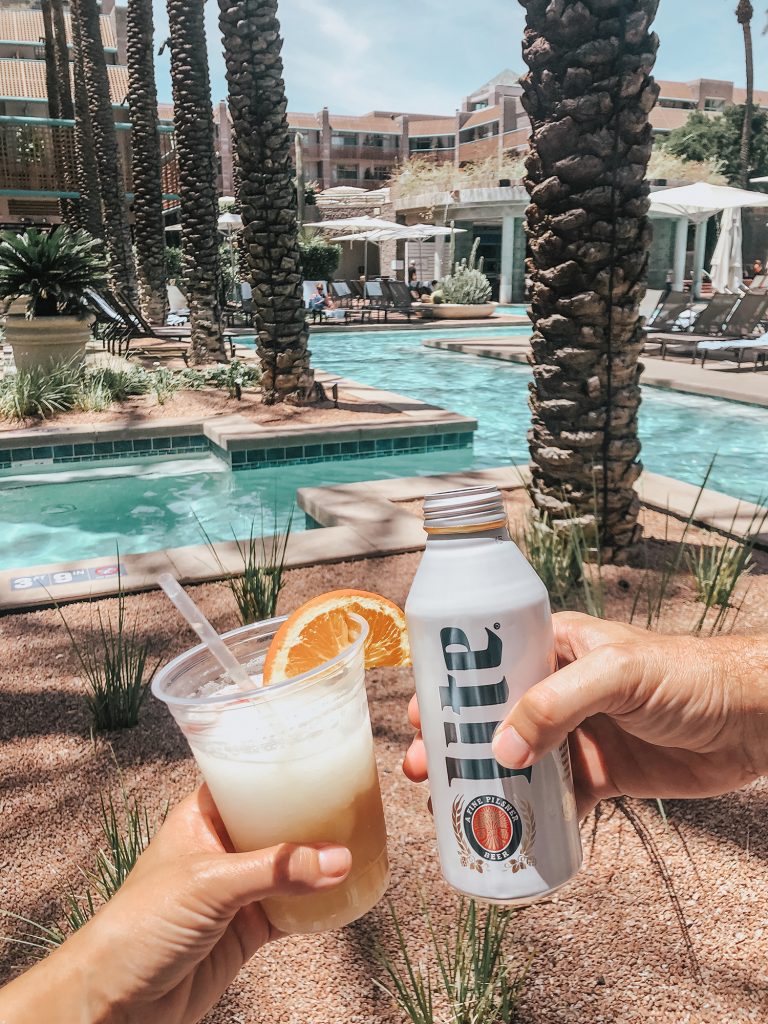 There were so many areas to swim and play in, the kids couldn't even get to them all. When we had to pull them away to go get ready for dinner, they were not happy. You can easily spend a full day at the Hyatt's pools and not even have to leave your resort.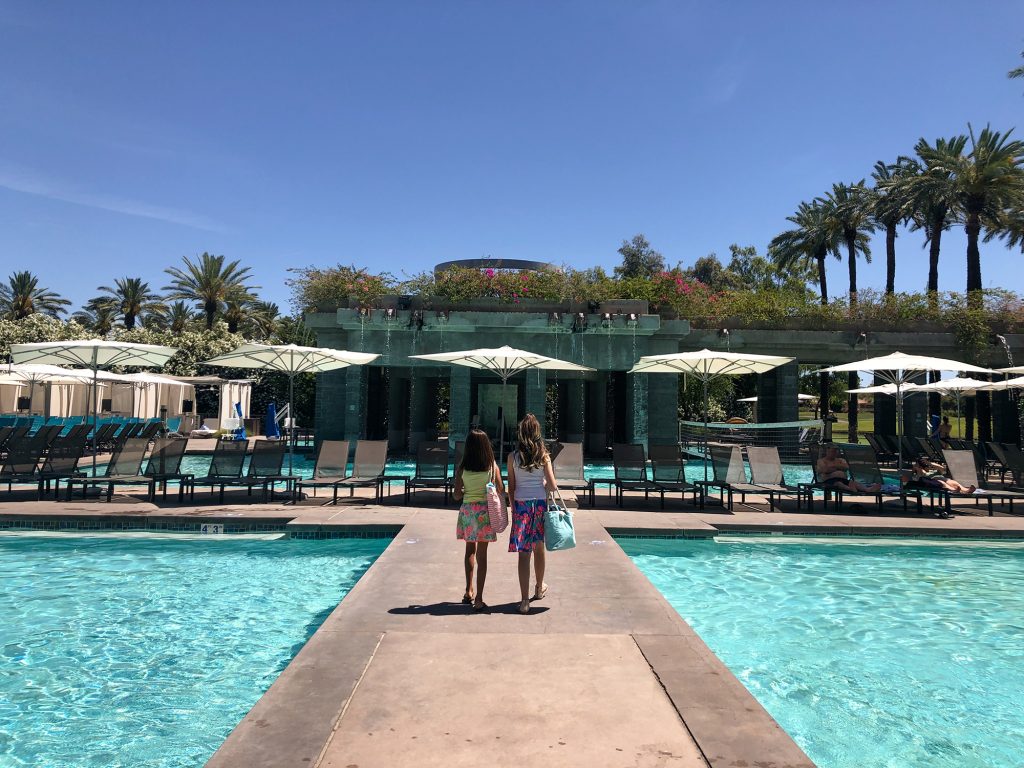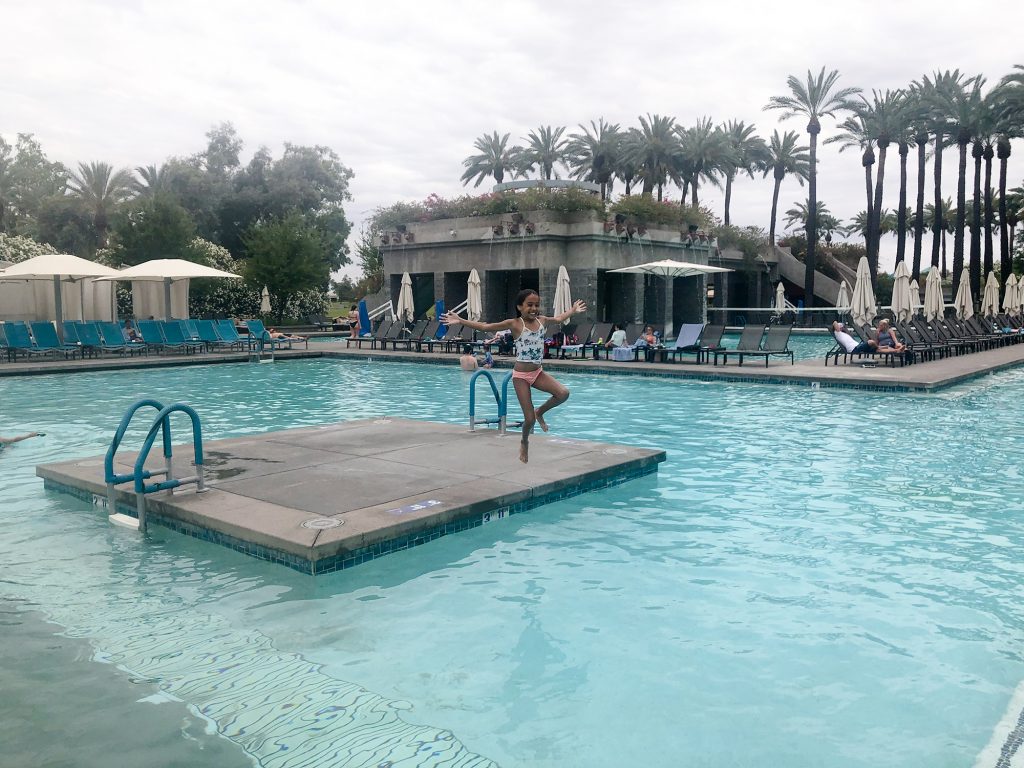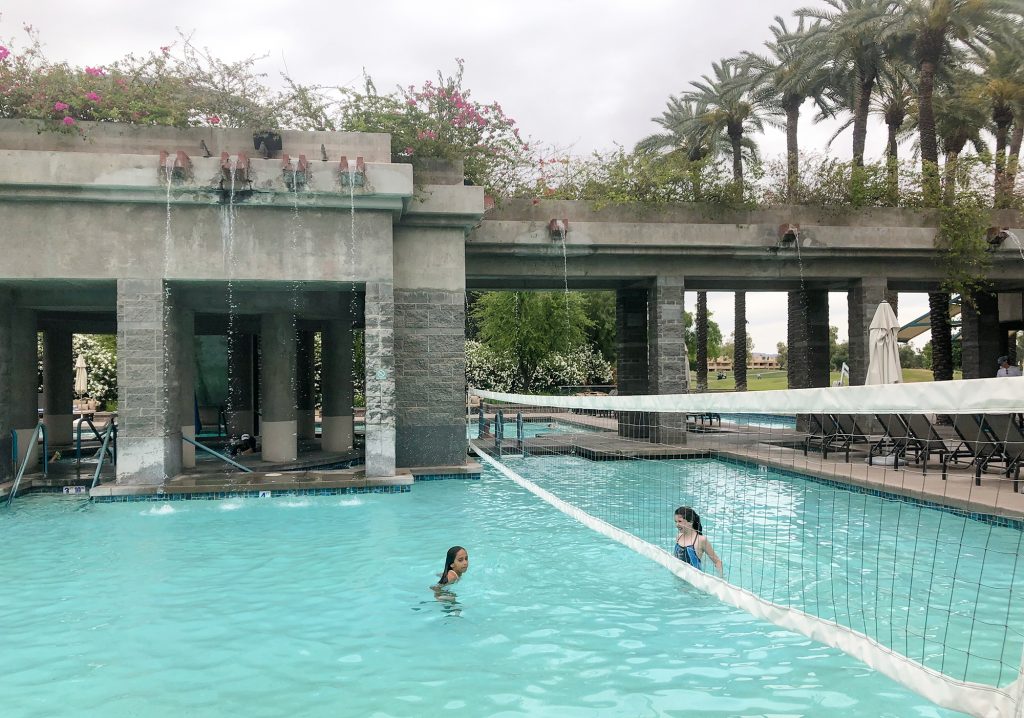 The Rooms
The rooms at the Hyatt were very typical of your average hotel room. We had 2 queen sized bed and a balcony. But the balcony was one of the best I've ever had at a resort. It was big enough for a table and 2 lounge chairs. So you had plenty of room to lay out and relax in your own room.
This is great for parents of little kids who need to take naps. You can put your kid down for a nap, and still have some drinks and soak in the sun out on the balcony.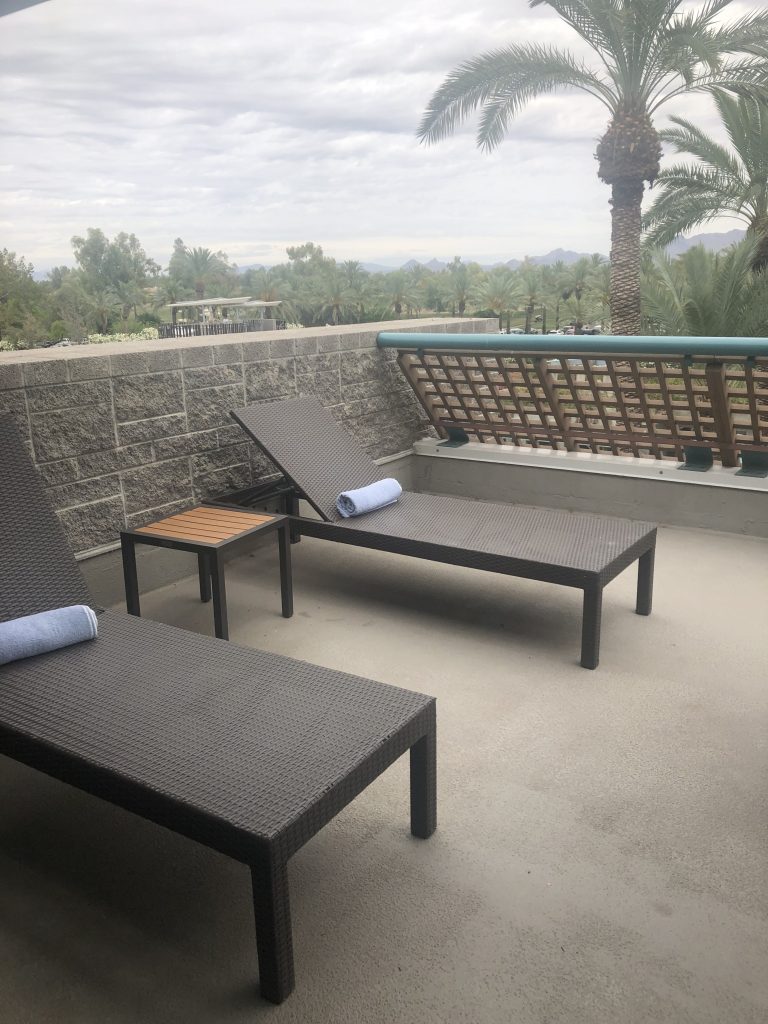 What we loved most about the rooms were the details they came with. The kids got a box of popcorn filled with snacks for the night, as well as 4 cans of soda. The adults got a bottle of wine and a meat and cheese board. Which after a full day of sun and water play, we scarfed down in 5 minutes.
The Restaurants
There were 4 restaurants total and we chose SWB for the night since it was a little more casual and we had our kids. Who are not the most refined diners!
The weather was just perfect so we were able to sit at a table outdoors among all the gorgeous lush landscaping of the resort. The food was incredible and they had a great kids menu too.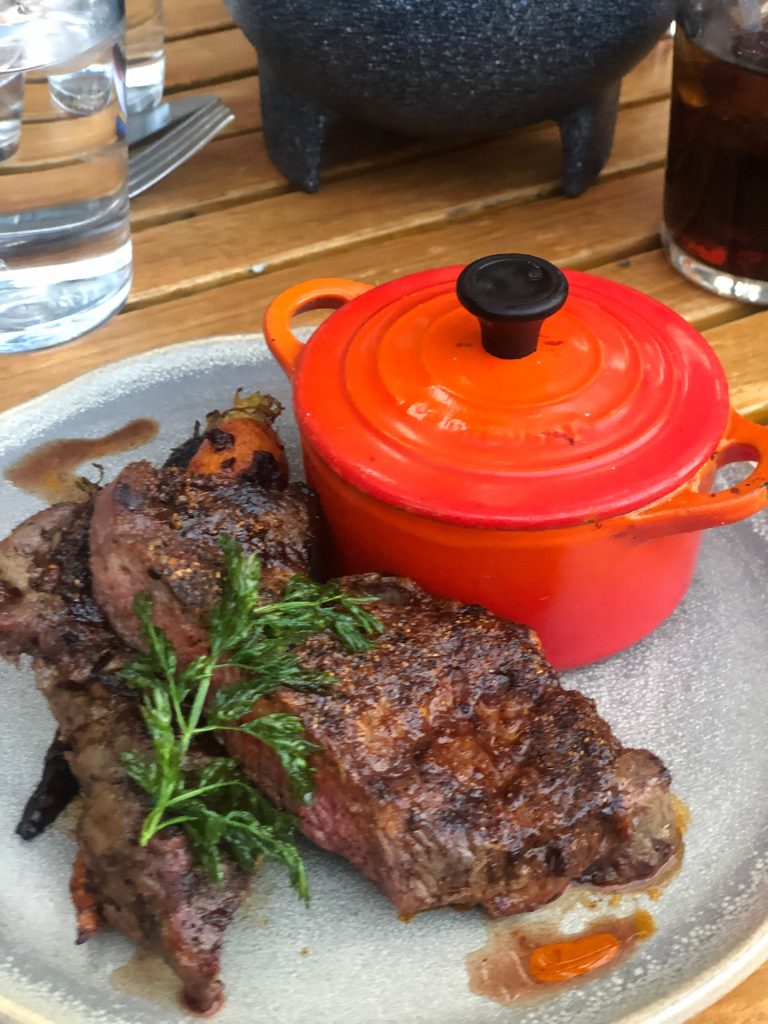 You can try 'Alto ristorante e bar ' if you're looking for a more upscale, fancier kind of meal. Named one of the top Italian restaurants in Scottsdale, we would have loved to try this out. But we try to avoid higher priced places when our kids only eat Mac n Cheese.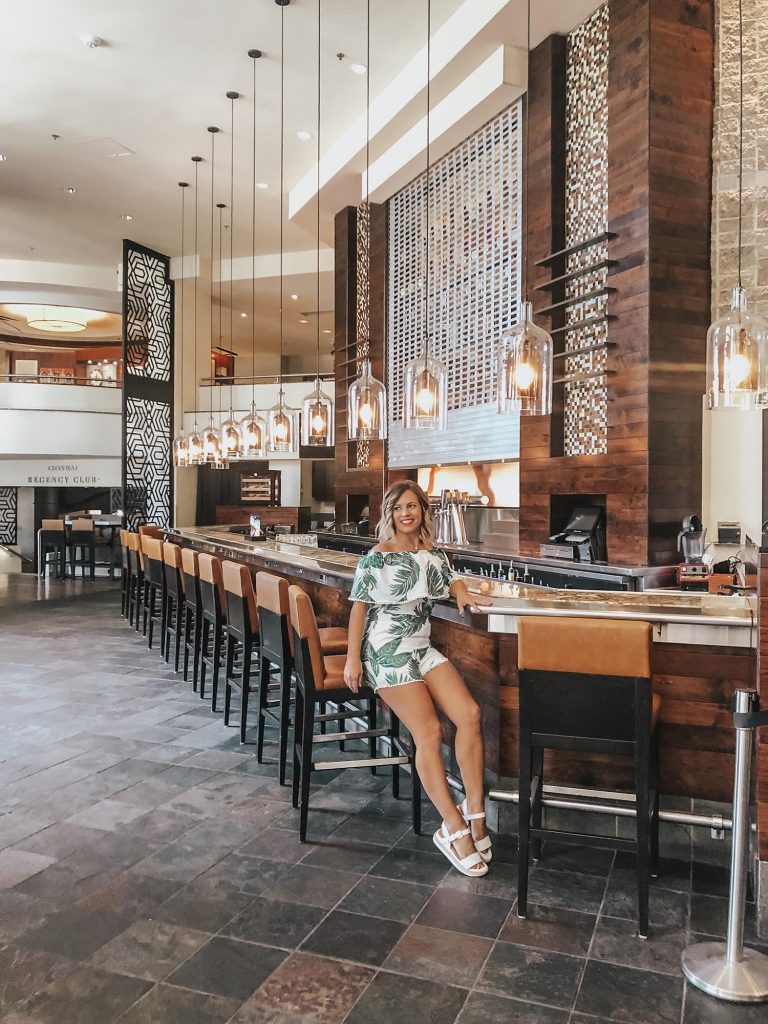 They also have a few bars and room service if your little ones crash early on you. I definitely wouldn't have minded having room service delivered to me while relaxing on that big balcony overlooking the sun setting over the mountains.
Gondola Rides
One thing The Hyatt Regency Scottsdale has that no other resort in town does (that I know of) are Gondola rides!
After dinner, the four of us walked down to the water and got to enjoy the sweetest gondola ride around the waterways of the resort. We had our own Gondolier even sing us Italian love songs as he rowed us around.
It's a very romantice thing and I was worried the kids would be bored, but they surprisinly really loved it and wanted to go again.
Spa Avenia
If mom or dad need to get away for a little bit, Spa Avenia is ther perfect place to go. They have too many treatments to even list. I signed up for a swedish massage, and to be perfectly honest, it was one of the best massages I have ever had.
They recently started CBD in there lotions and oils and I was so happy to hear that. We use CBD all the time in our house for aches and pains.
The spa even has several different areas you can relax in before and after your treatments. They start you off in a relaxation room and have small tranquility pools to dip in at the end. If I didn't have to get back to my kids, I could have spent several hours there!
Other Exciting Things to do at the Hyatt Regency Scottsdale
If you plan to stay for a few days, you can play a round of golf at their championship course, or go for a bike ride on their many miles of bike and jogging paths.
The kids can even enjoy more activities by the pool that include rock climbing, ping pong, giant jenga, and giant chess.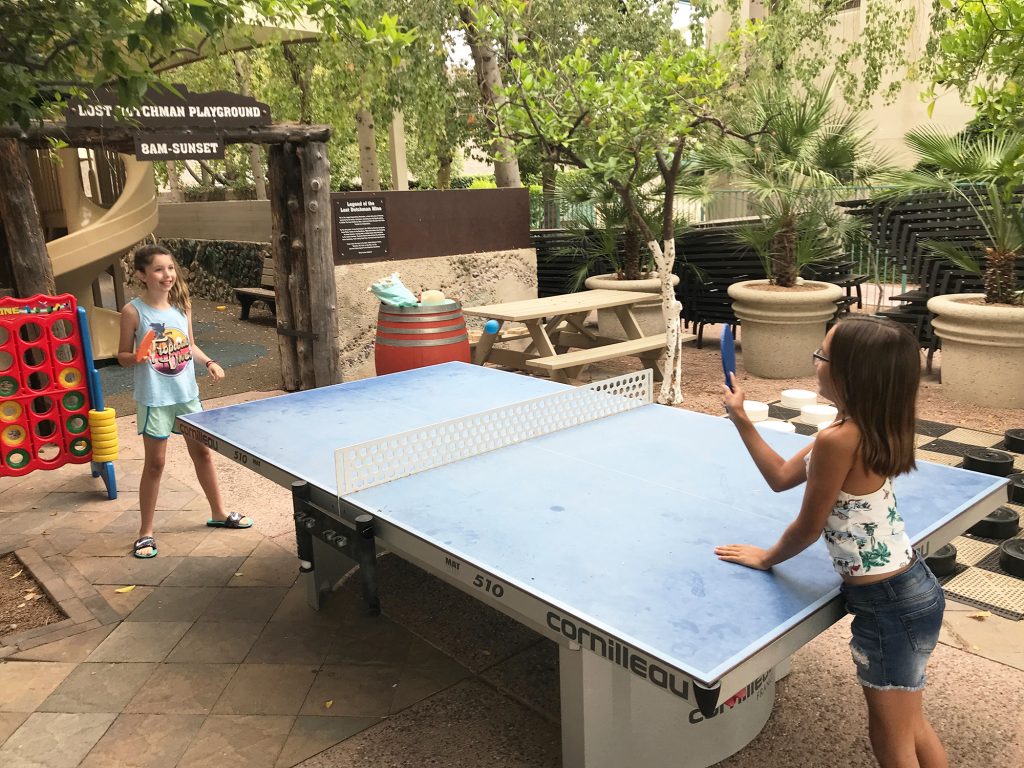 Or let Hyatt set you up with a local activity such as a hot air balloon ride over the mountains or a jeep tour. No matter what you choose, you will not get bored staying here!
Also Check out: Spending a Day on Saguaro Lake, Arizona
*We were graciously invited to stay by Hyatt Regency Scottsdale. But as always, all my opinions are my own and I would never recommend something I didn't really freaking love.