The Sky Ranch Lodge – A Dog-Friendly Resort In Sedona
Looking for a dog-friendly place to stay in Sedona? Check out the Sky Ranch Lodge!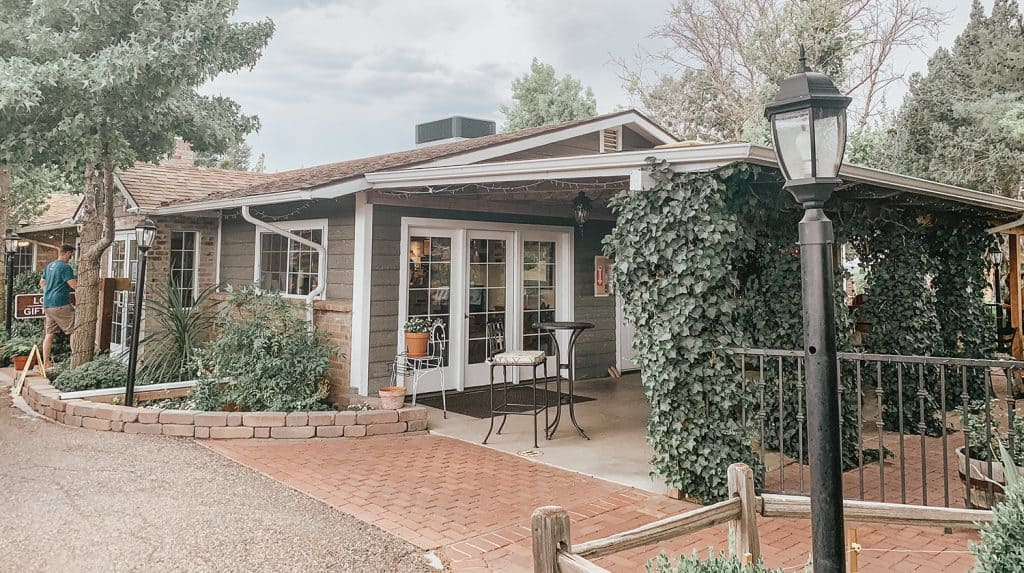 A Dog-Friendly Place To Stay In Sedona
Call me crazy but I LOVE traveling with my dogs. And I'm always trying to find some cool places to visit where my pups can come along.
The heat in Phoenix has been cruel this summer (think 115 degrees and up!) so it became absolutely essential that the whole family get up north to cooler weather.
You know, somewhere we could actually enjoy some fresh air and not melt to death.
Traveling with dogs should be a lot easier, in my opinion. Usually, it's the crappy hotels that allow dogs. And if you can find a nice resort to accept them, they often have a limit of 1 dog, or small dogs only, or they want to charge you another $100 just for your pet to stay there.
Thankfully, we found Sky Ranch Lodge in Sedona.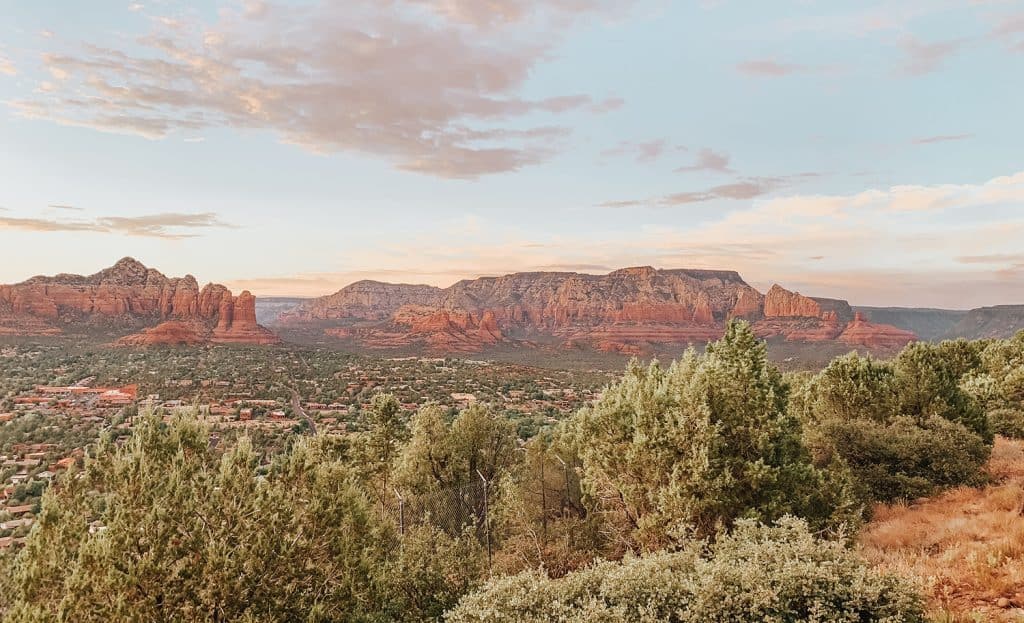 Sky Ranch Lodge in Sedona
I did a bunch of research and finally settled on taking the family to Sky Ranch Lodge in Sedona. They were super reasonably priced compared to other Sedona resorts. And even though they do charge a $25 pet fee per dog, this was a lot less expensive than most other resorts in the area.
It was well worth it. It was almost like this resort was especially made for dogs.
They had a dog-walking path you could take your pups around and plenty of trees and grass for them to frolic on.
Check out this amazing dog-walking area that winds through part of the resort…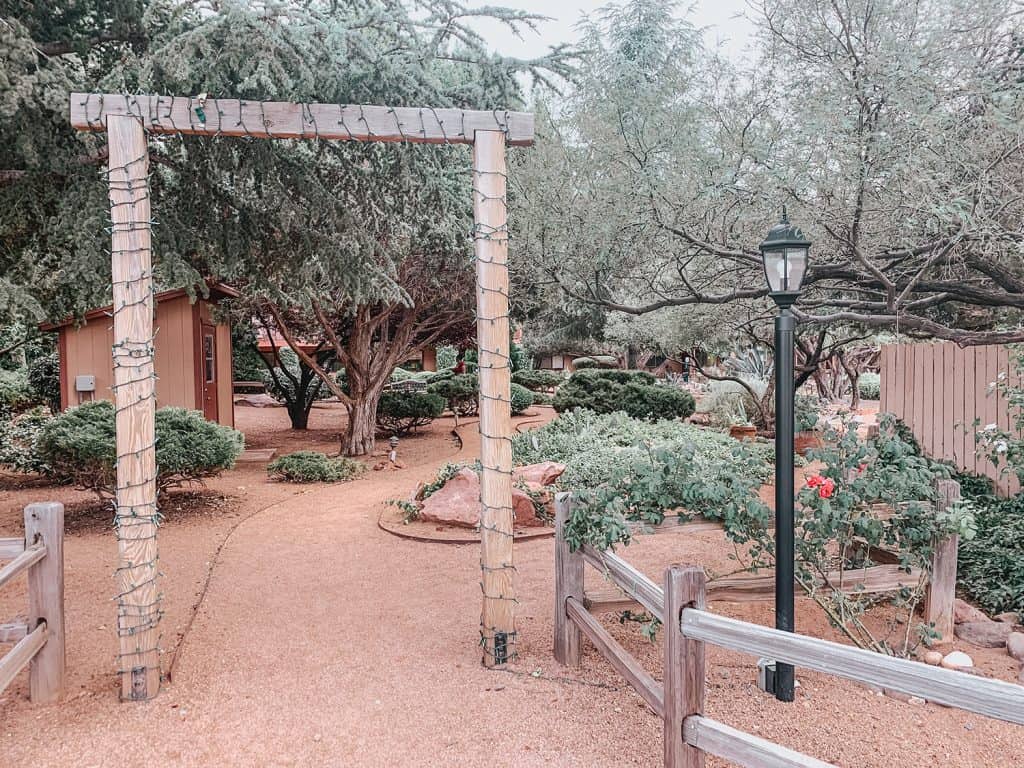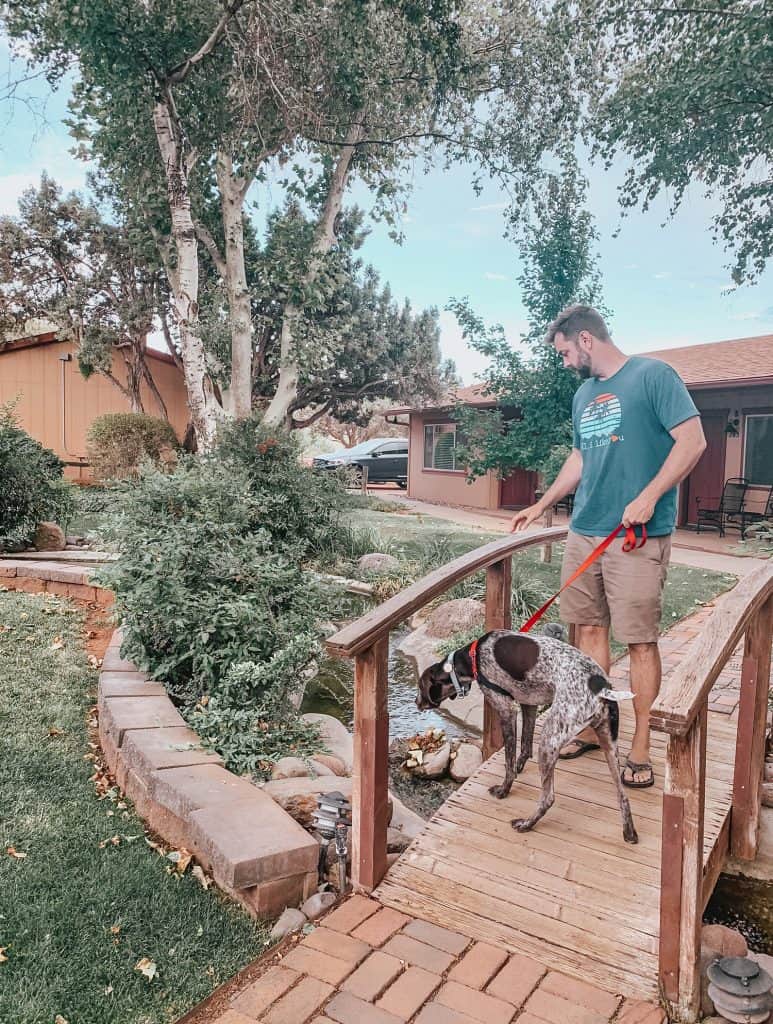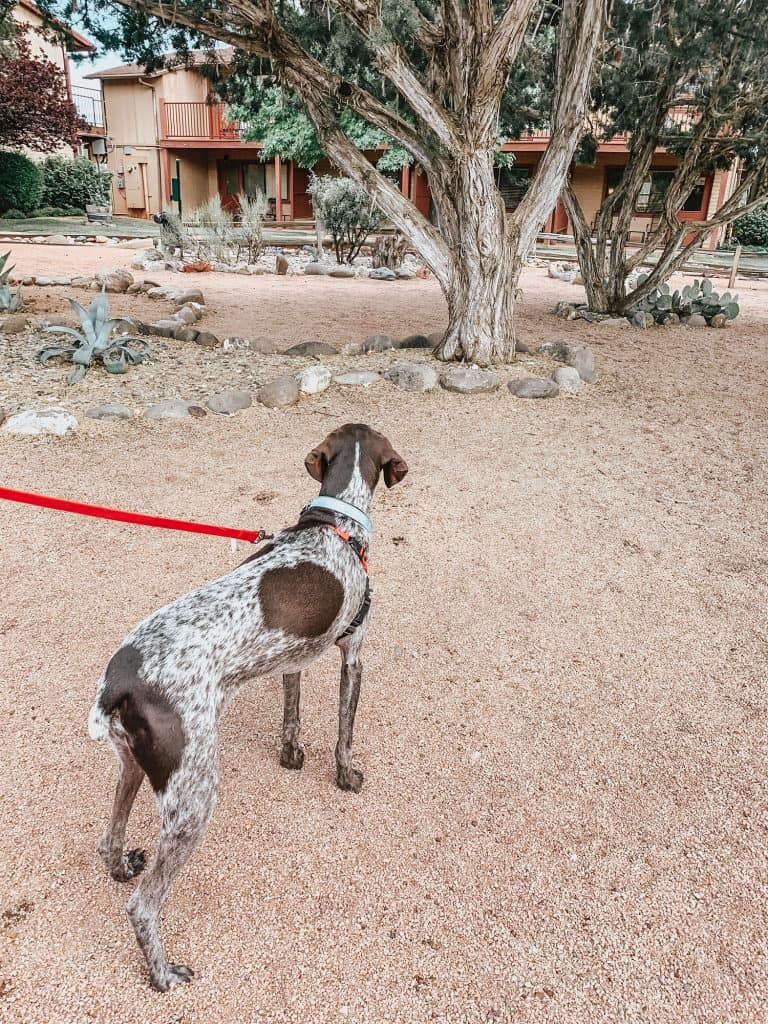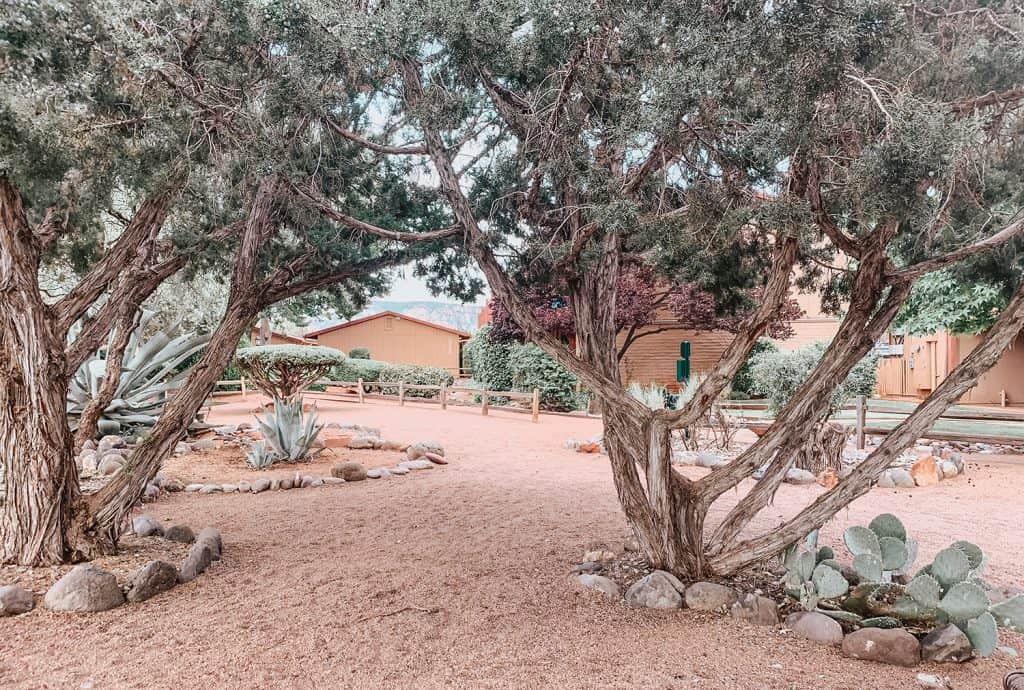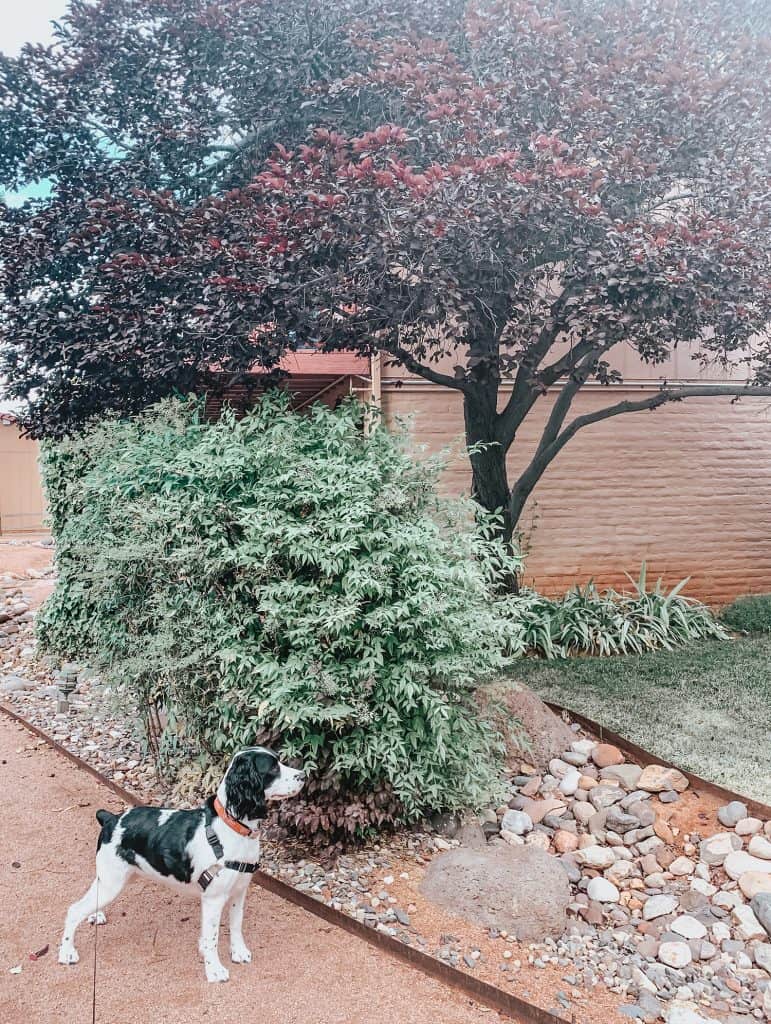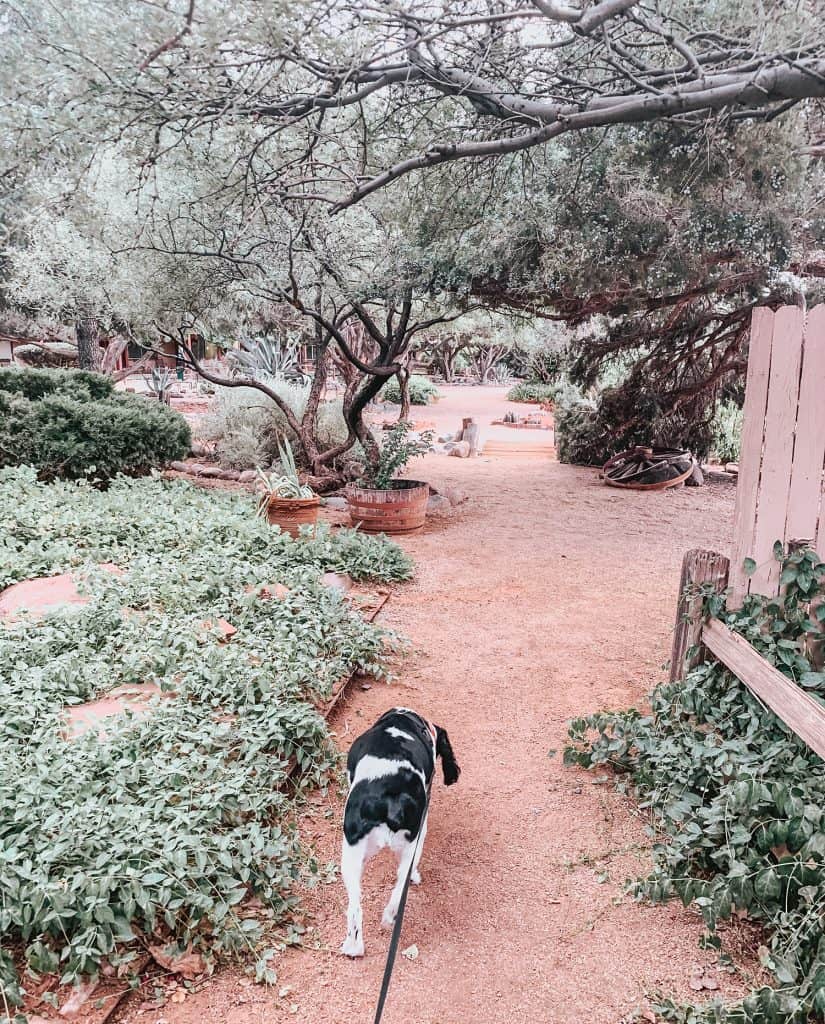 Scattered all over the resort were doggie poop bags and garbage cans to make it easy to pick up after your dogs.
What's even nicer is that every room is a dog-friendly room. You don't need to request a certain room or cross your fingers the pet rooms are sold out. This also means you can book yourself in one of their really nice rooms that overlook the mountains with amazing views.
TIP: The rooms show rates of $300 a night or higher on their website. But hotels.com had rates at half the price. And when I called the resort, they honored the rates I found on Hotels.com
The resort was gorgeous. The landscaping took my breath away and I could have taken a million great photos. Even without the views of the town below and the red rocks, The Sky Ranch Lodge is absolutely stunning everywhere you look.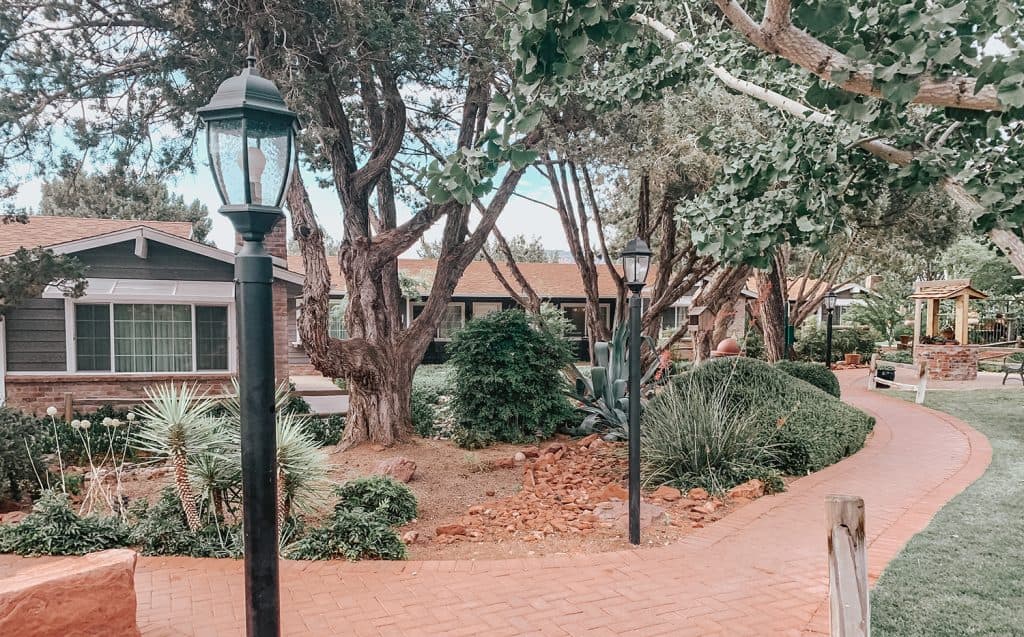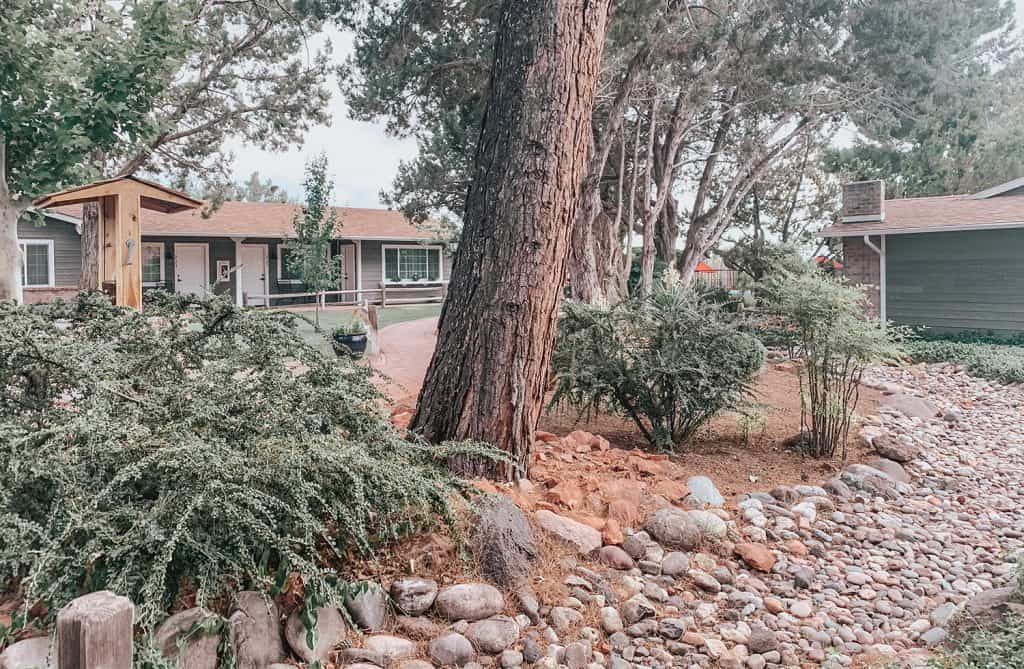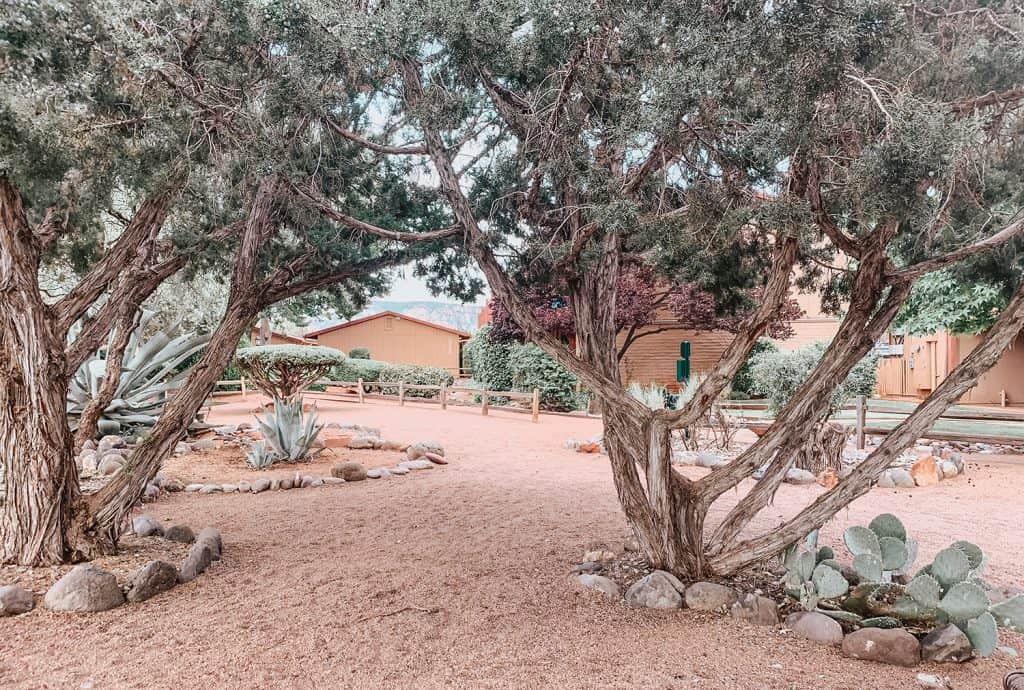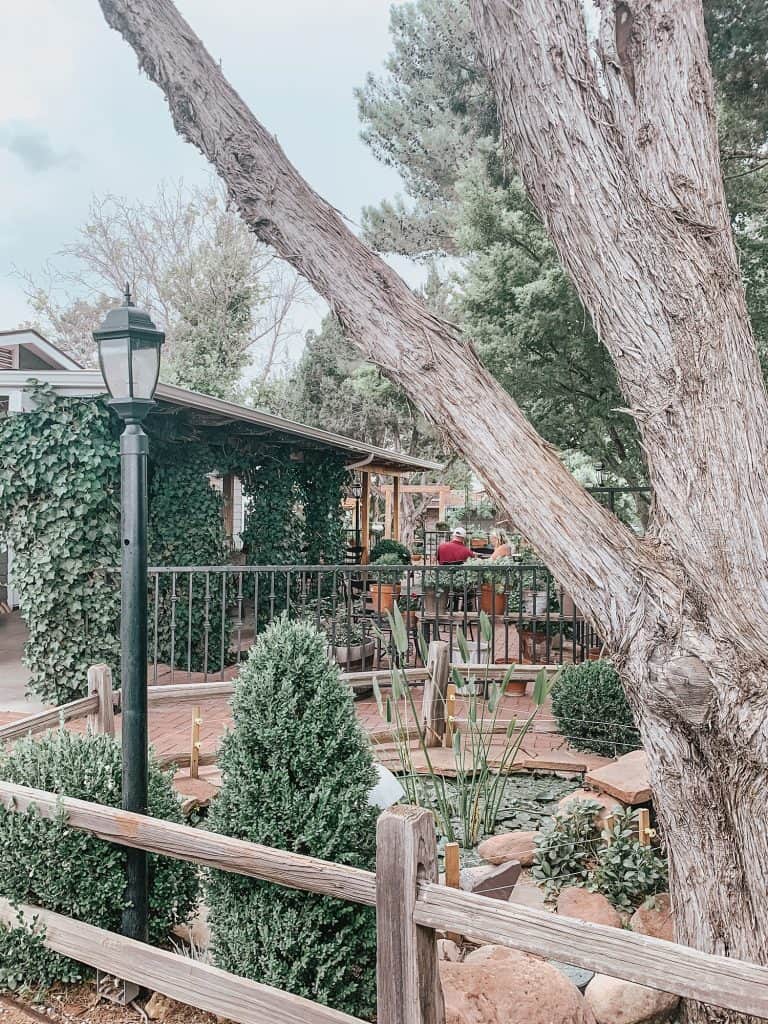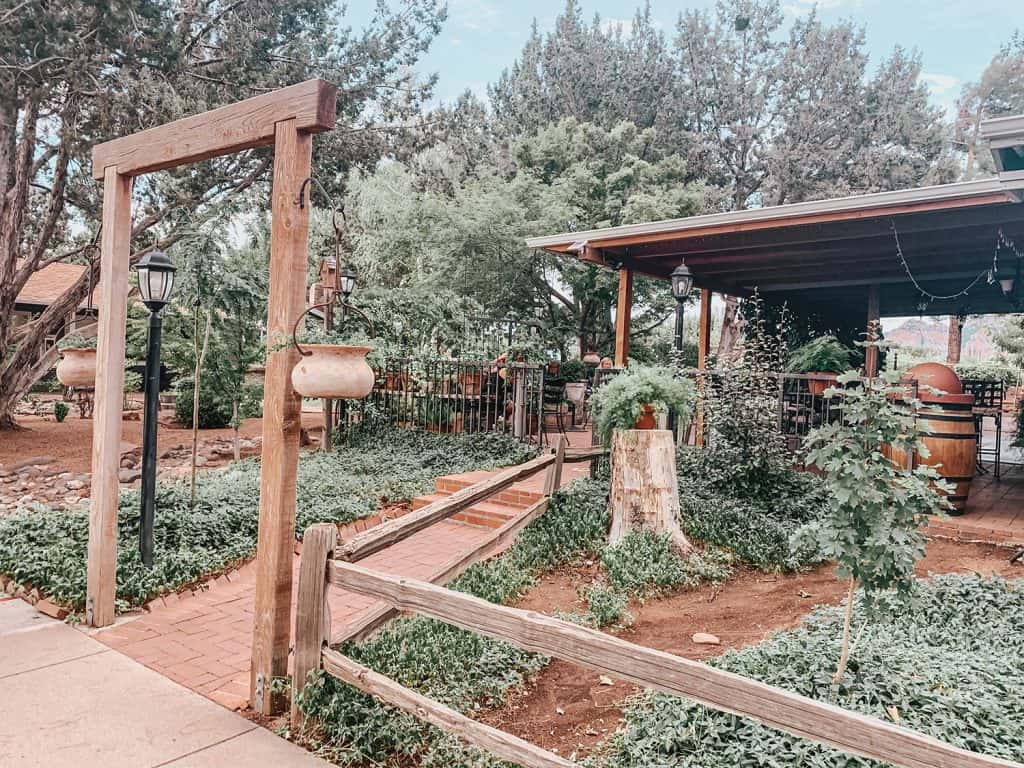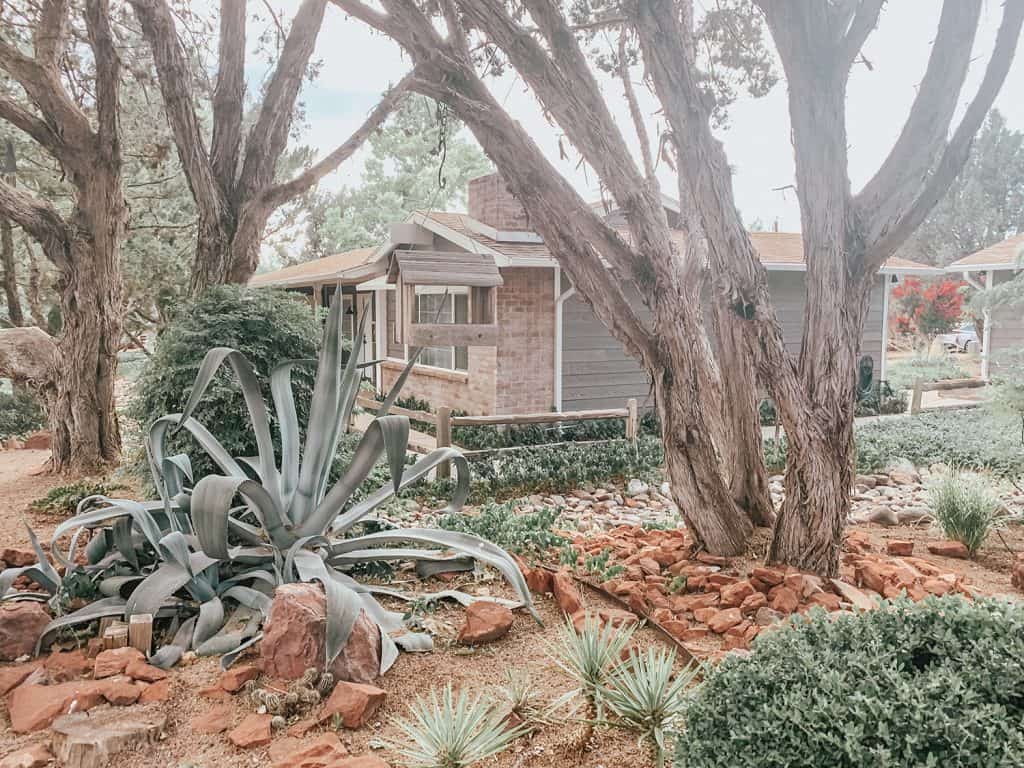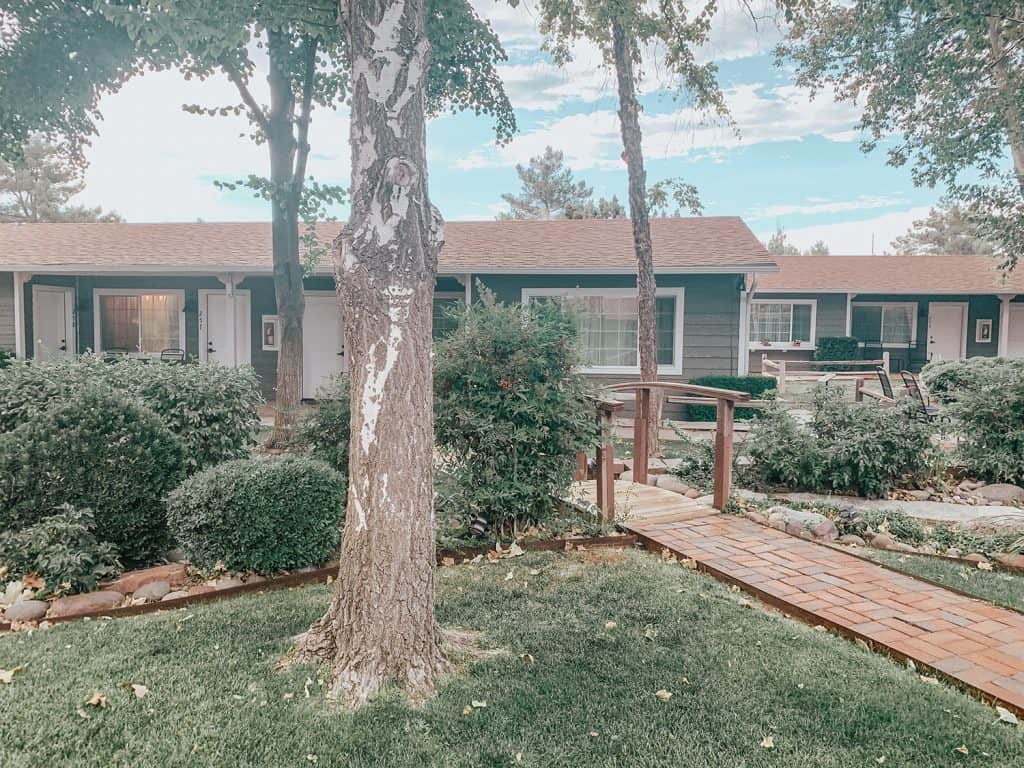 Accomodations
Each room has been renovated recently and the decor is a super cute farmhouse style. We stayed in a basic king-sized bedroom and were perfectly happy.
There were a large dresser and table for 2 to eat on. What I REALLY loved was the oversized fridge AND microwave that automatically came with the room. Which was great for storing water and sandwiches in for our hike the next day.
The resort also has a nice sized pool and hot tub. Perfect to relax in after a long day of adventures. And the hot tub is always a big hit with the kids.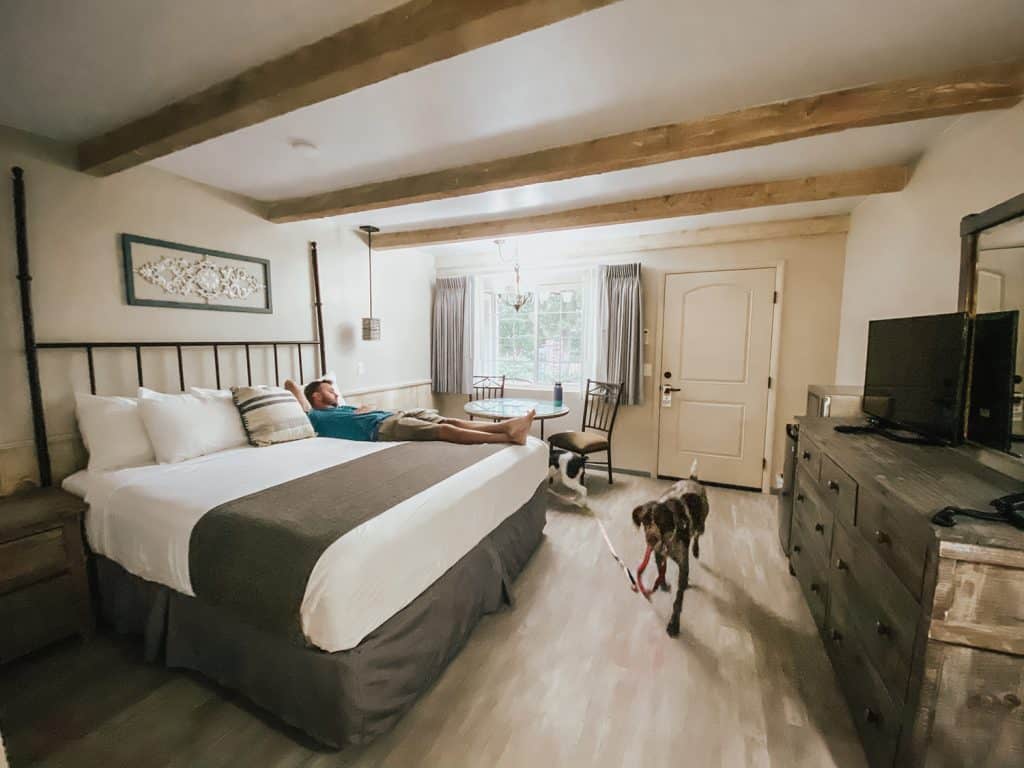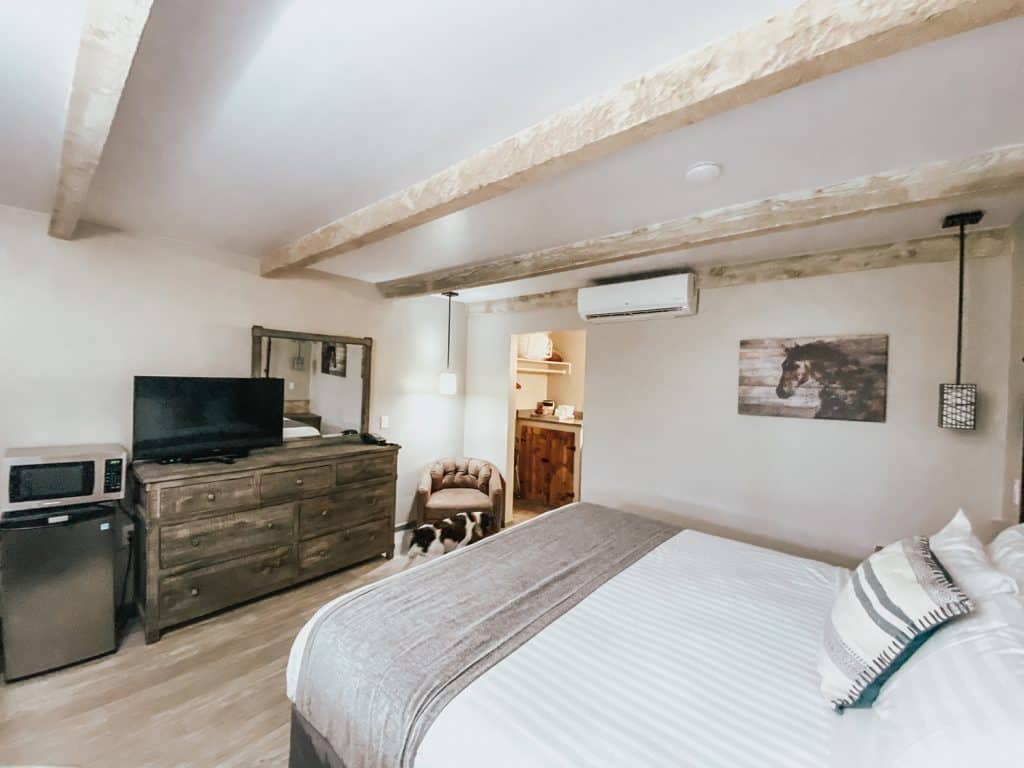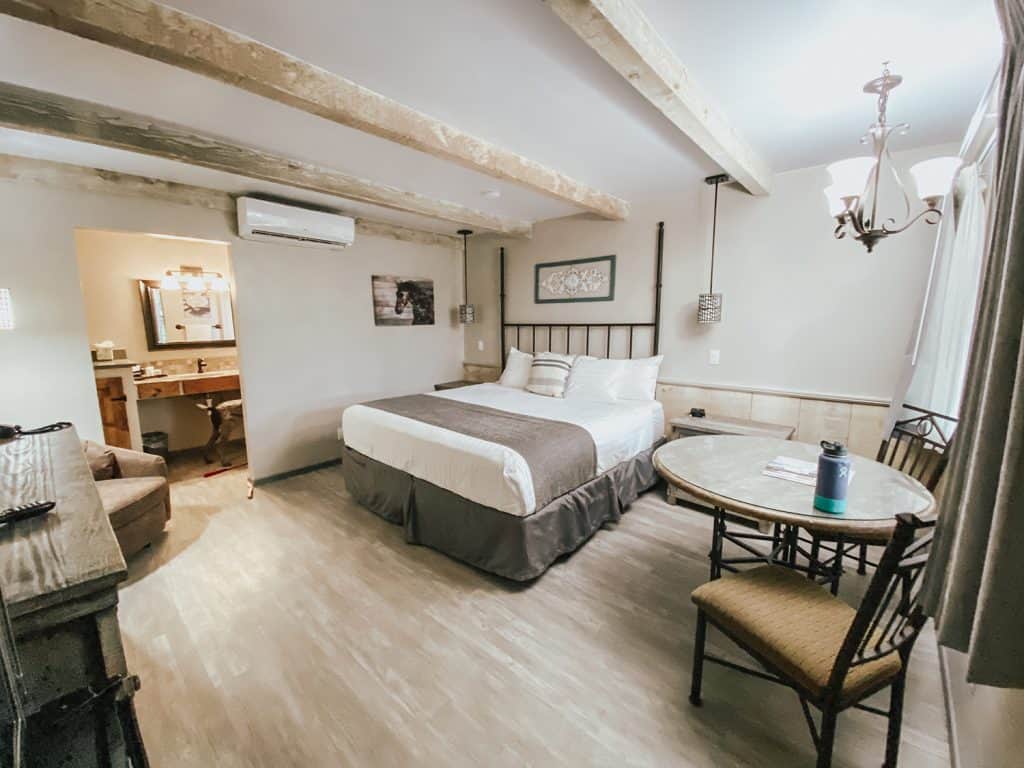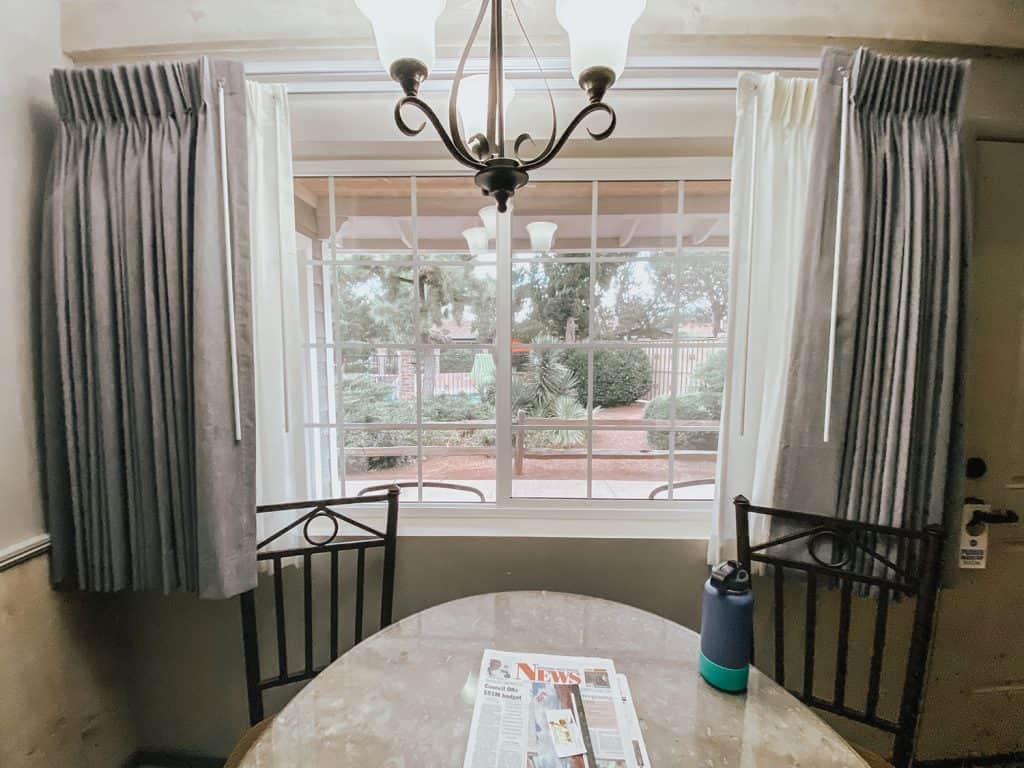 Where is Sky Ranch Lodge Located?
If you're familiar with Sedona, then you'll easily be able to find the Sky Ranch Lodge. You can take Airport Road straight up to the scenic overlook and the lodge is just directly behind that.
The scenic overlook is a VERY popular spot in Sedona to get some amazing photos. There is a large parking lot up there where you can park to see the views, but it gets really crowded around sunset (everyone loves those sunset photos!).
Look at some of these photos from the Sky Ranch Lodge!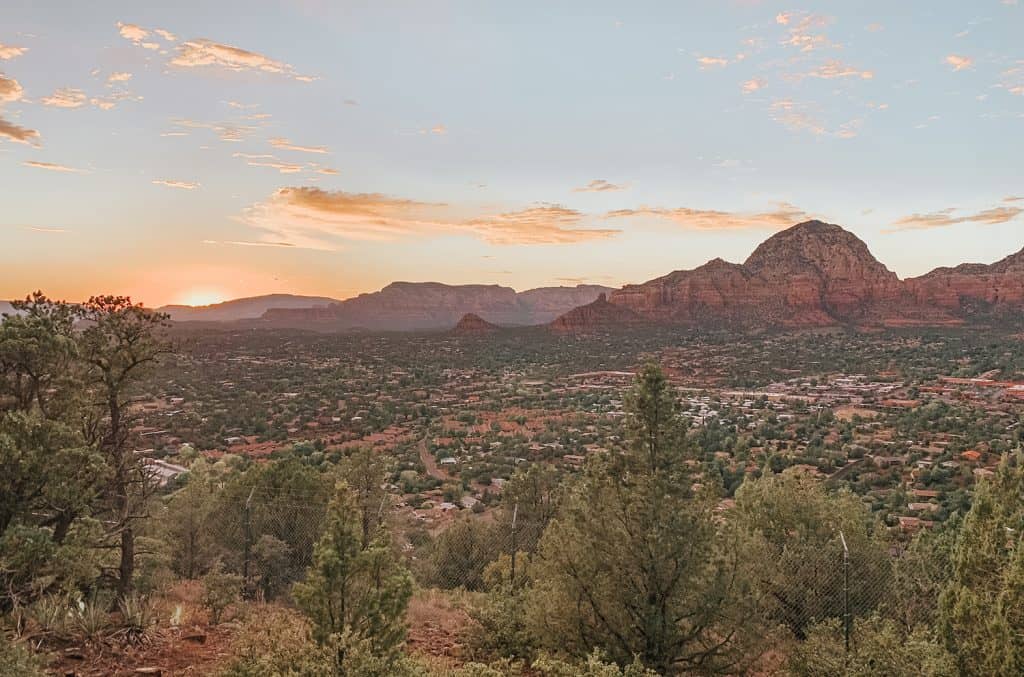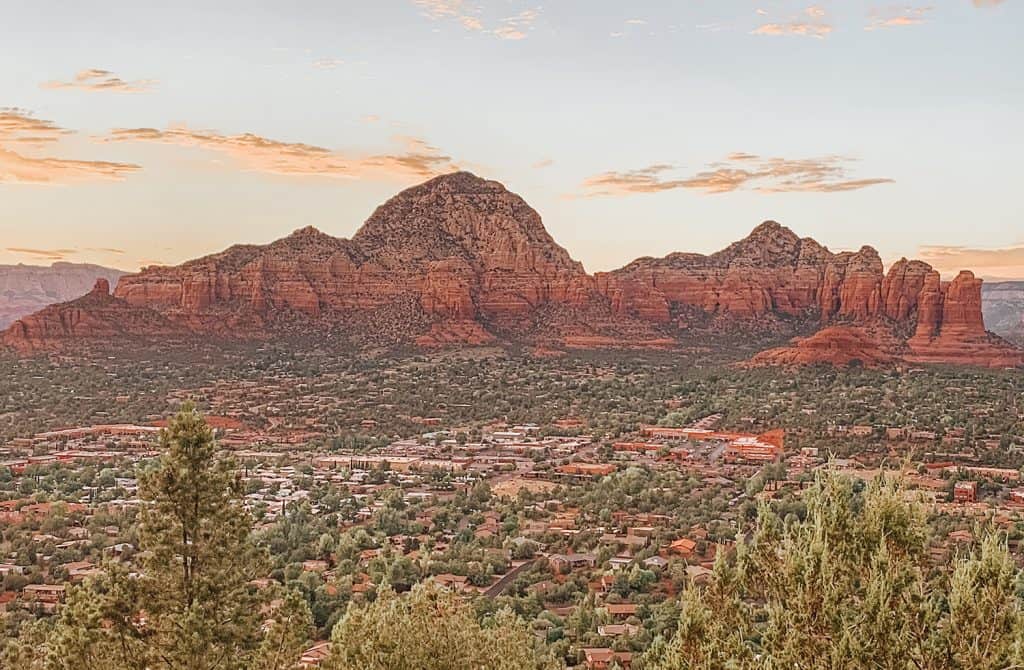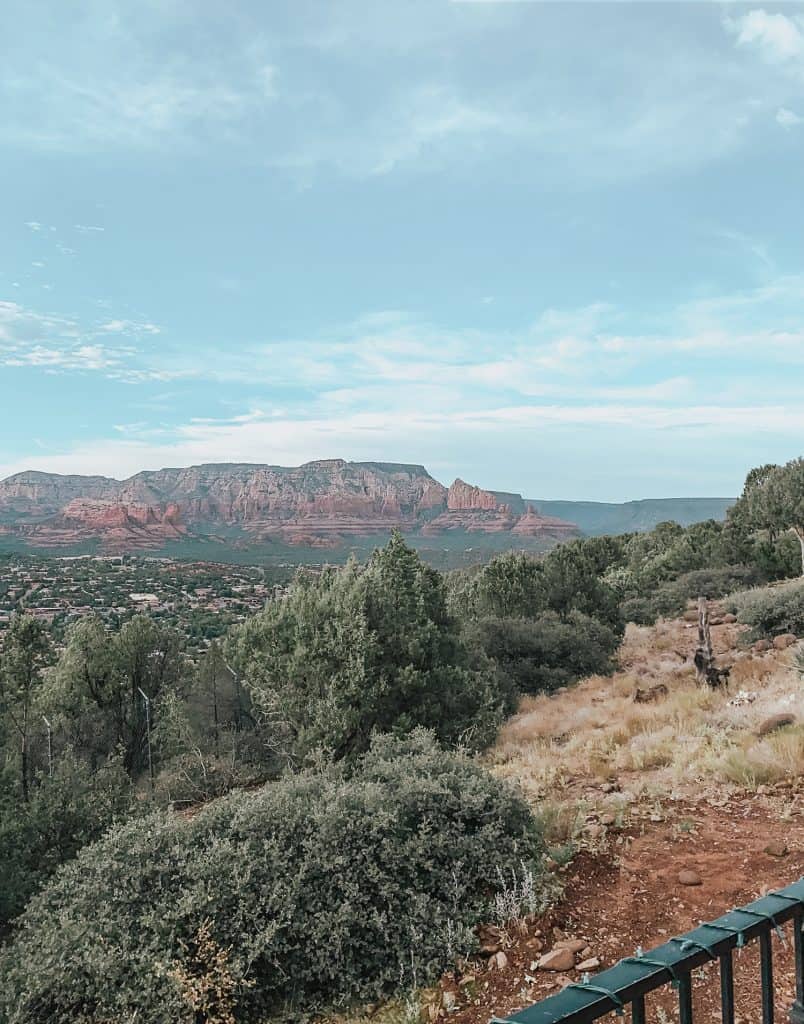 Staying at the Sky Ranch Lodge was especially nice because they have their own viewing platform you can sit and watch the sunset over the red rocks of Sedona, and not have to battle the crowds at the scenic overlook.
This also happens to be a popular wedding spot.
The Sky Ranch Lodge even has an adorable wine bar where you can grab a glass of wine or bottle of beer (or any drink really) and walk over to the viewing platform. We enjoyed some drinks watching the sunset on both of the nights we were there.
It was heavenly.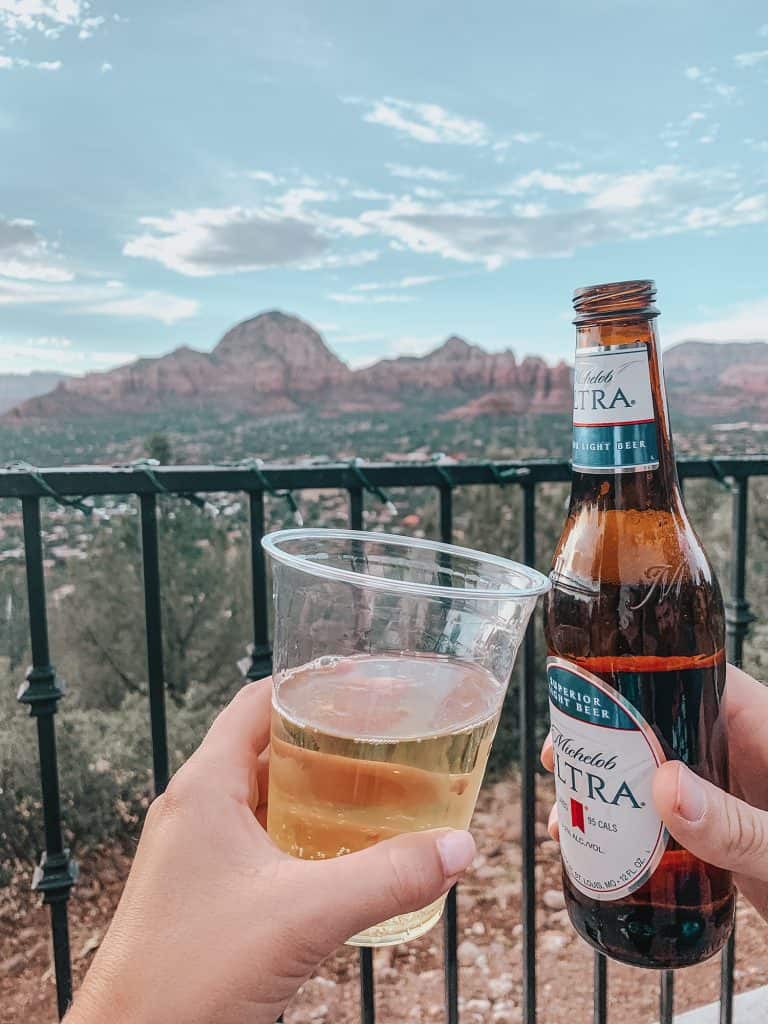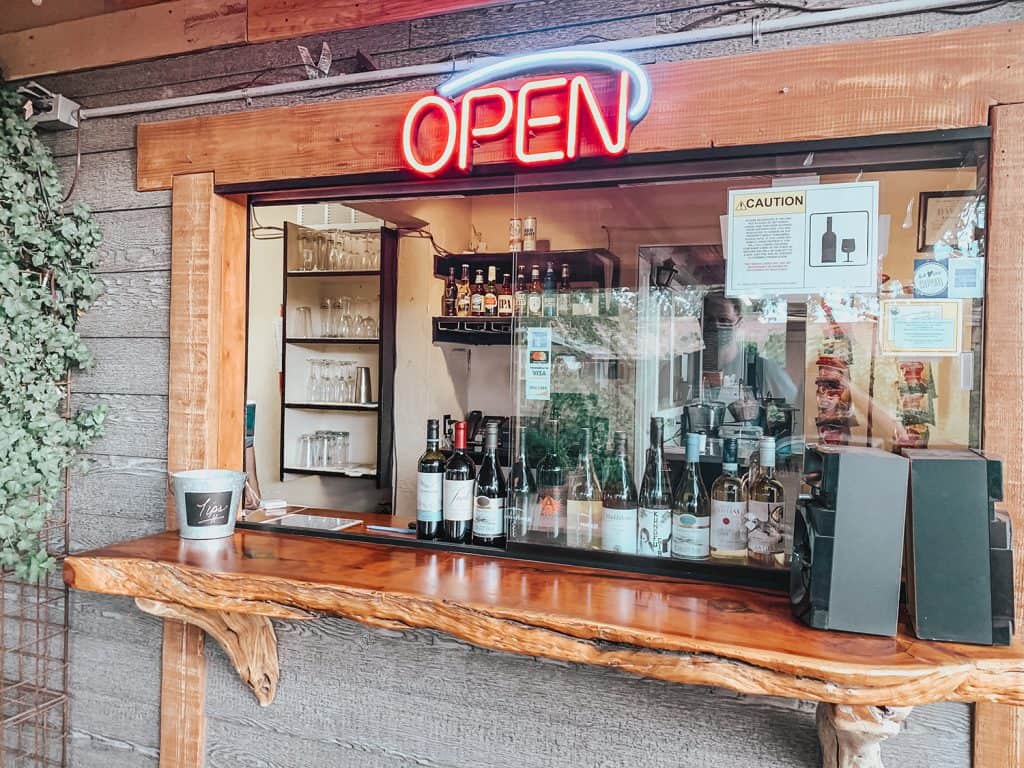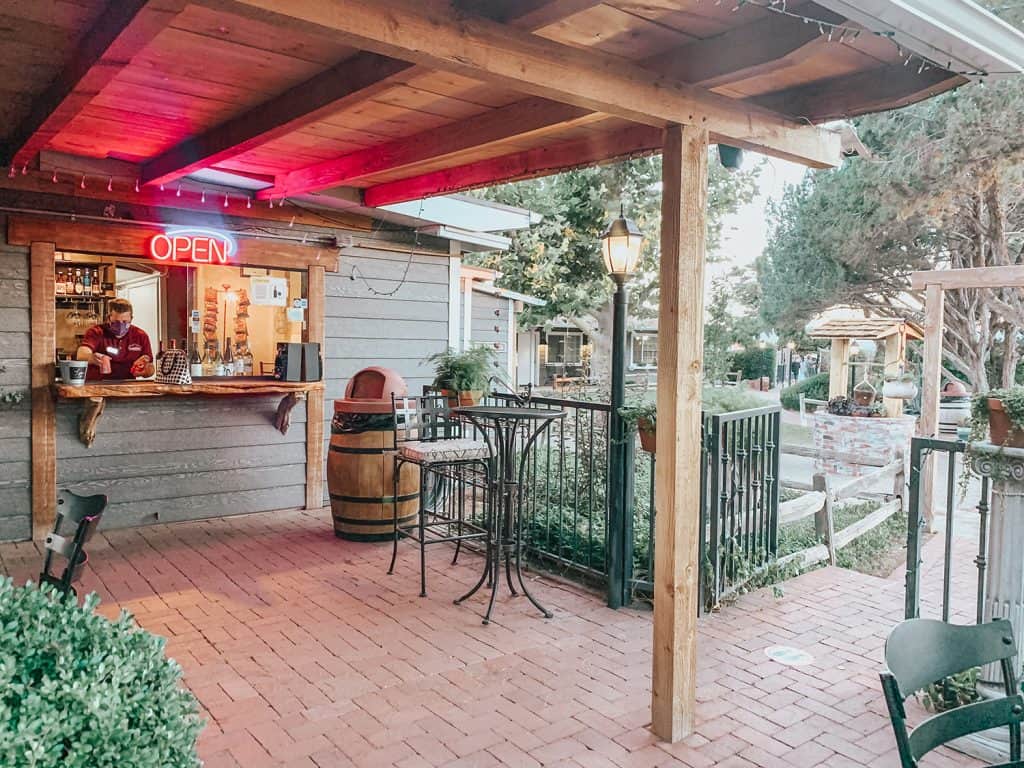 Staying with Dogs at the Sky Ranch Lodge
We really couldn't have picked a better place to stay with our dogs. The floors of the rooms were laminate so we didn't have to worry about them making any stains on the carpet. And every room opens directly to the outside, making it really easy to take them to go potty in the middle of the night.
There is a dog-walking path all around the resort. Perfect to take your pups for a quick walk to let them go potty, or just sniff around in the cool air.
But if you're looking to get the dogs a little more exercise, there's also a great hike right by the lodge.
So you can go on a hike with your dogs without having to drive anywhere.
Just head to the parking lot by the scenic overlook and look for the trail head sign. You can't miss it! It's pretty obvious.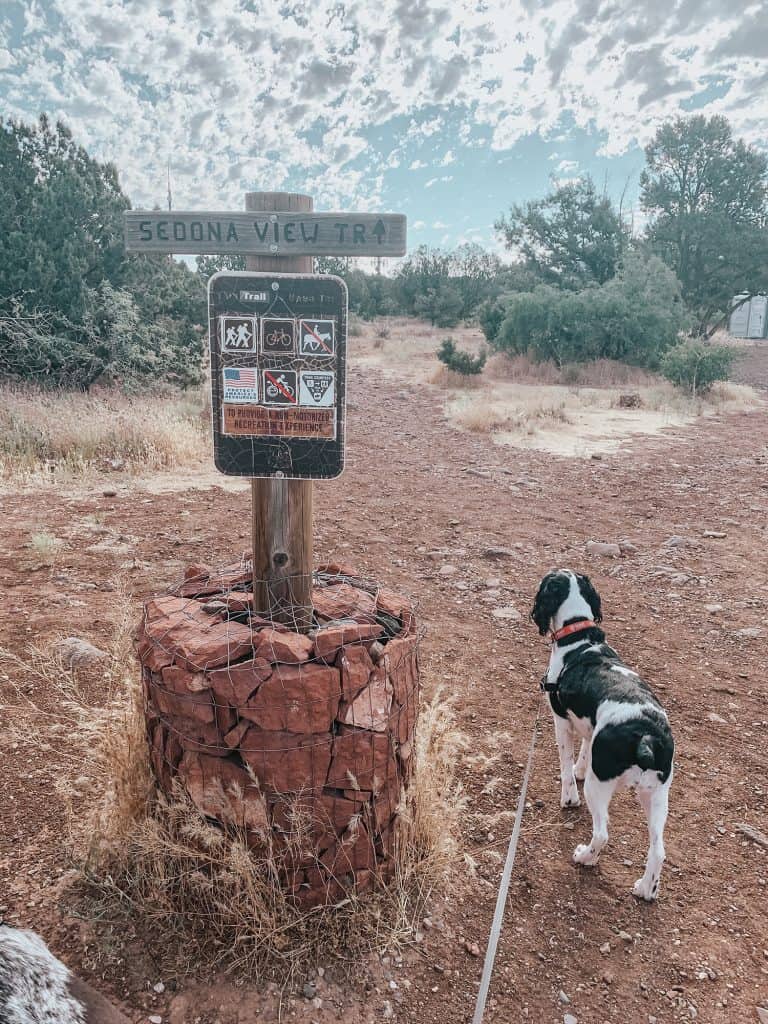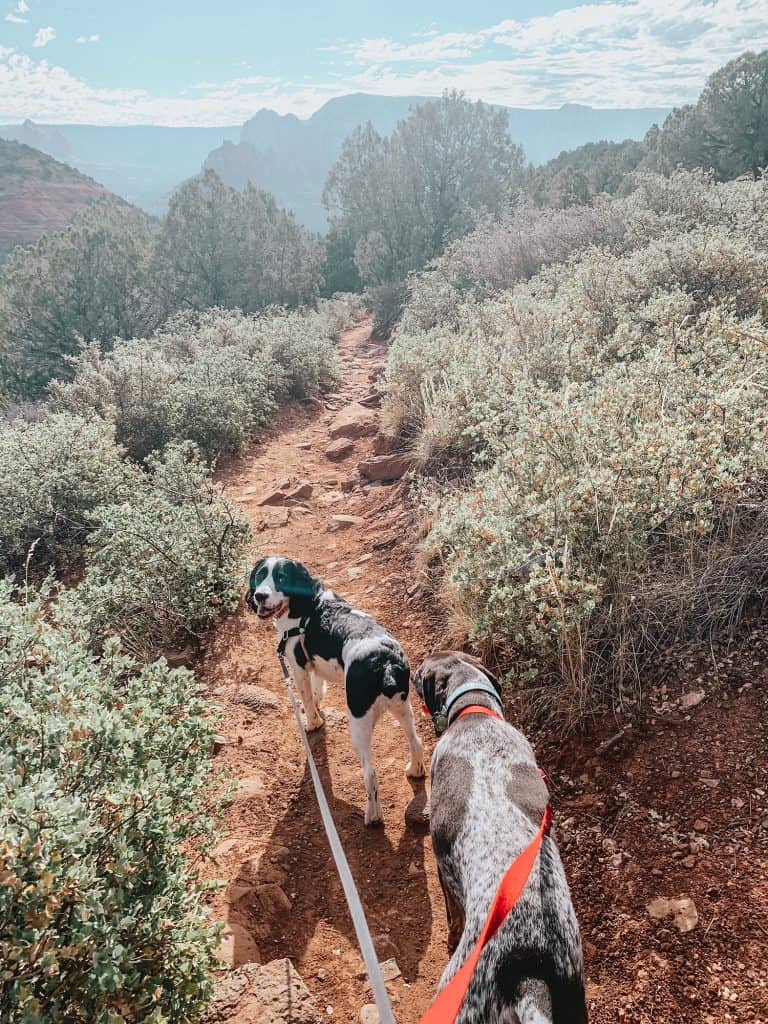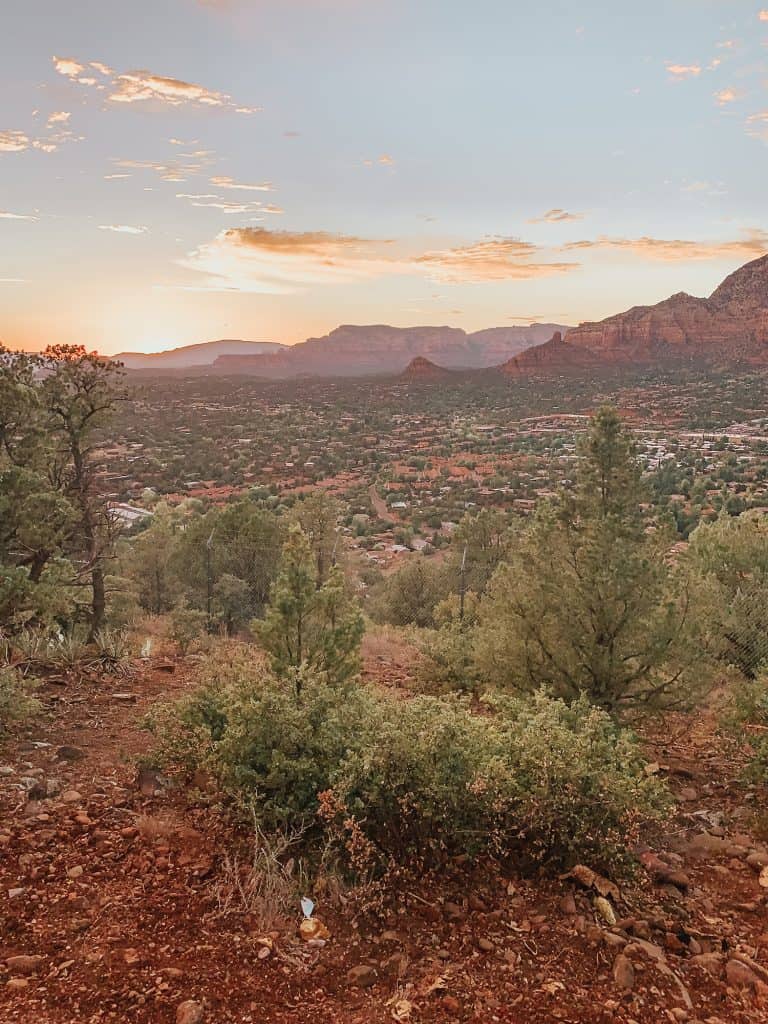 The hike is nice and flat, easy for anyone to do. And you'll actually find much better views there than you do at the scenic overlook.
The hike was a great way to start the day with the dogs early in the morning before you set out for daily activities.
Food at the Resort
Unfortunately, there is no food at the Sky Ranch Lodge. They do have the wine bar and a few vending machines, but you'll have to go elsewhere for food.
But the good thing is, there is a great restaurant just next door!
The Mesa Grill is just a short 2 minutes easy walk and you can get breakfast, lunch, or dinner there. They even have an outdoor patio that is super dog-friendly. Our pups were spoiled with water and dog treats!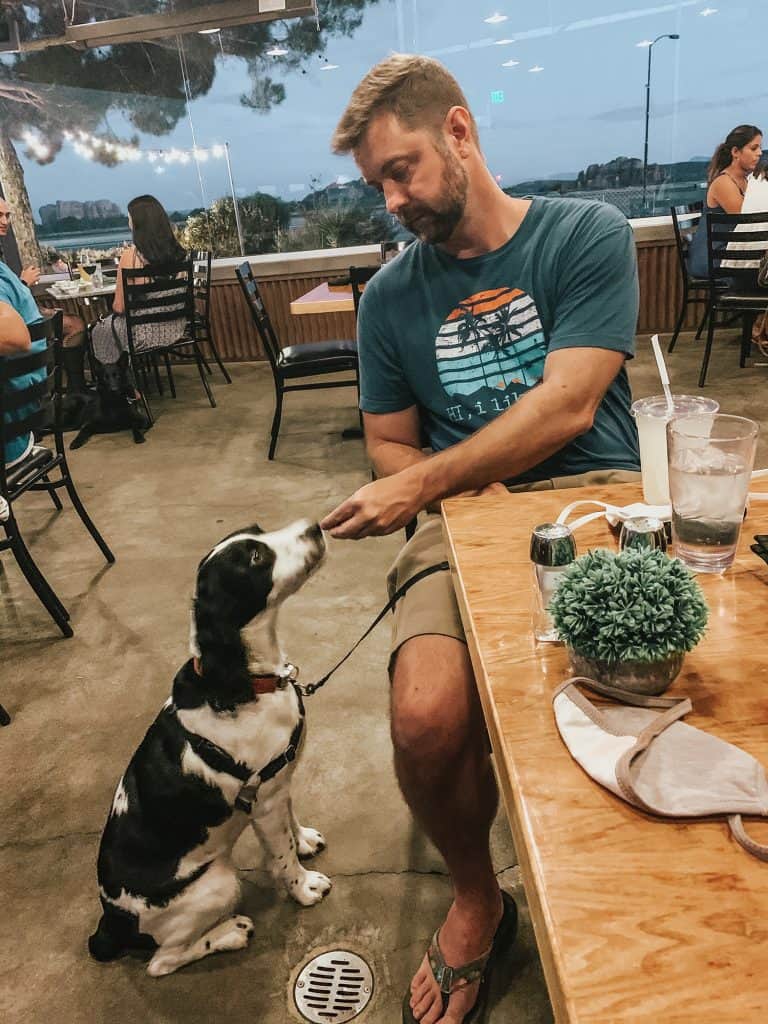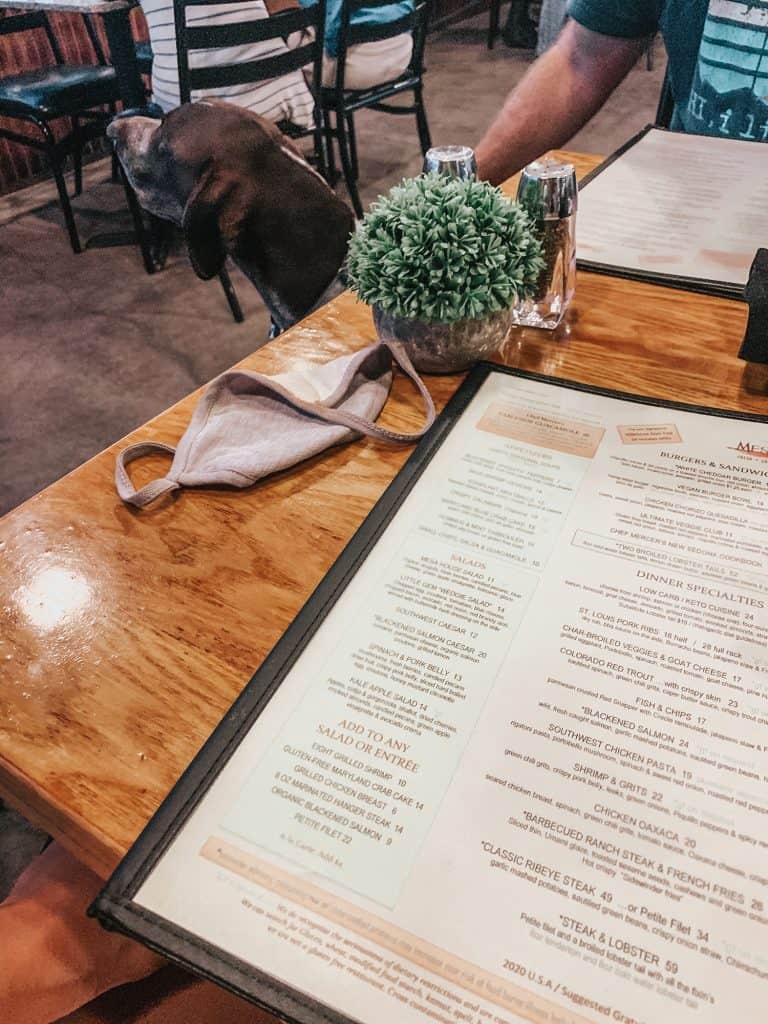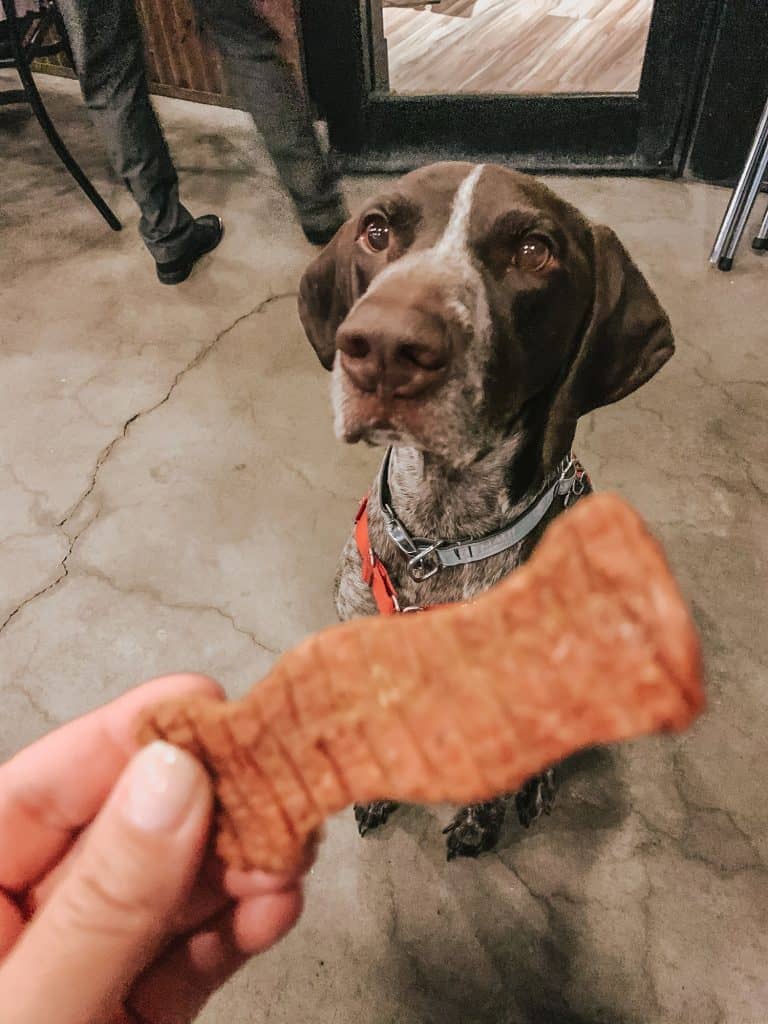 If you go during daylight hours, the restaurant has great views of the Sedona airport and you can watch small planes and helicopters fly in and out.
At night you can sit by the large fire pit and enjoy the desert breeze.
Check Out The Sky Ranch Lodge
I've been to Sedona many many times and usually stay in Airbnbs, but I think the next time we go back, it'll be the sky ranch lodge for us every time.
Not only were the pet fees very minimal, but the accommodations they made for pets were really welcoming.
Add in a pool and hot tub that most Airbnbs don't come with and I think The Sky Ranch Lodge in Sedona is our new preferred place to stay.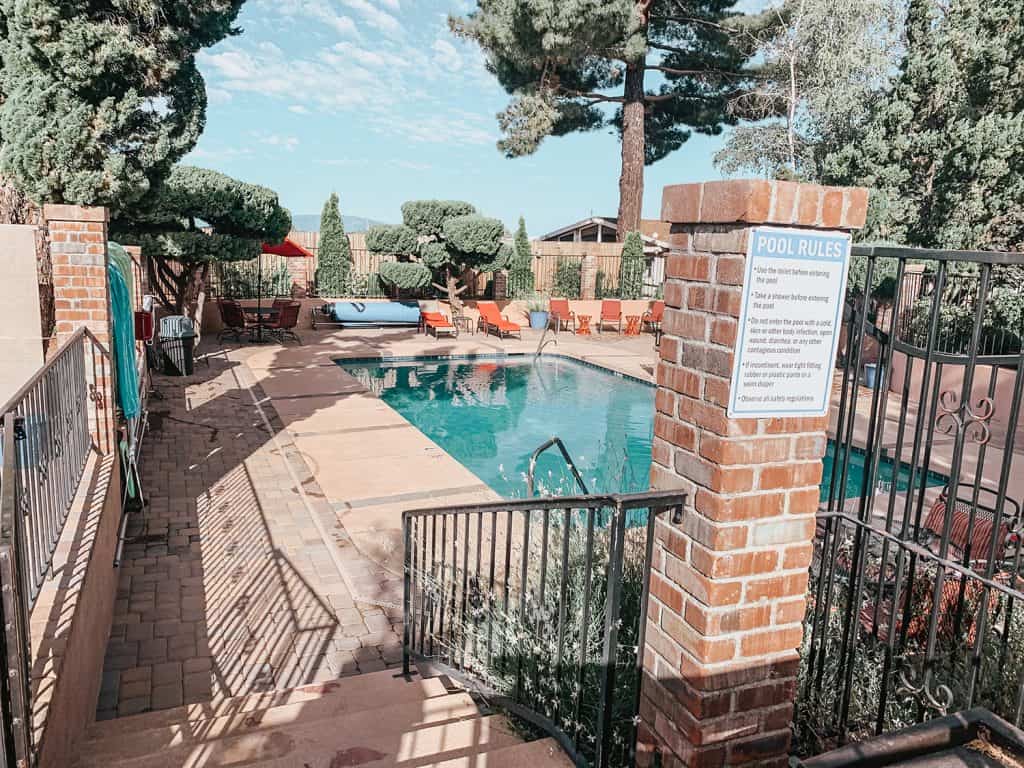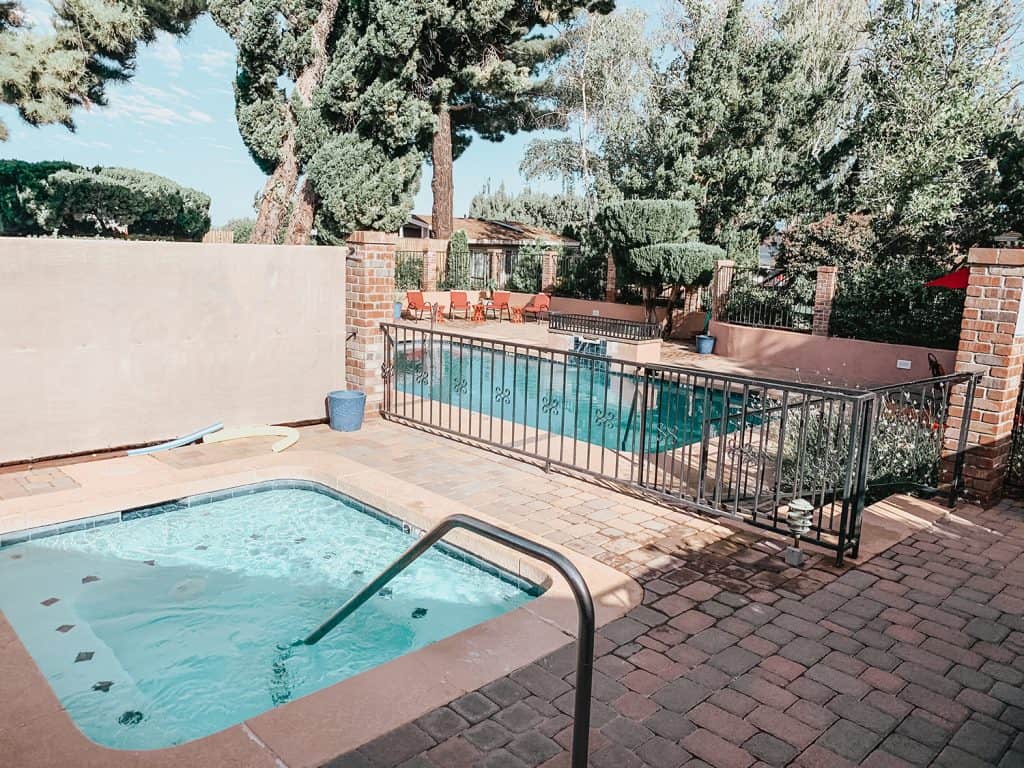 You Might Also Be Interested In These Other Dog-Friendly Places To Visit In Arizona:
And don't forget to follow our big adventures on INSTAGRAM!