Secrets to Visiting The Wizarding World of Harry Potter Hollywood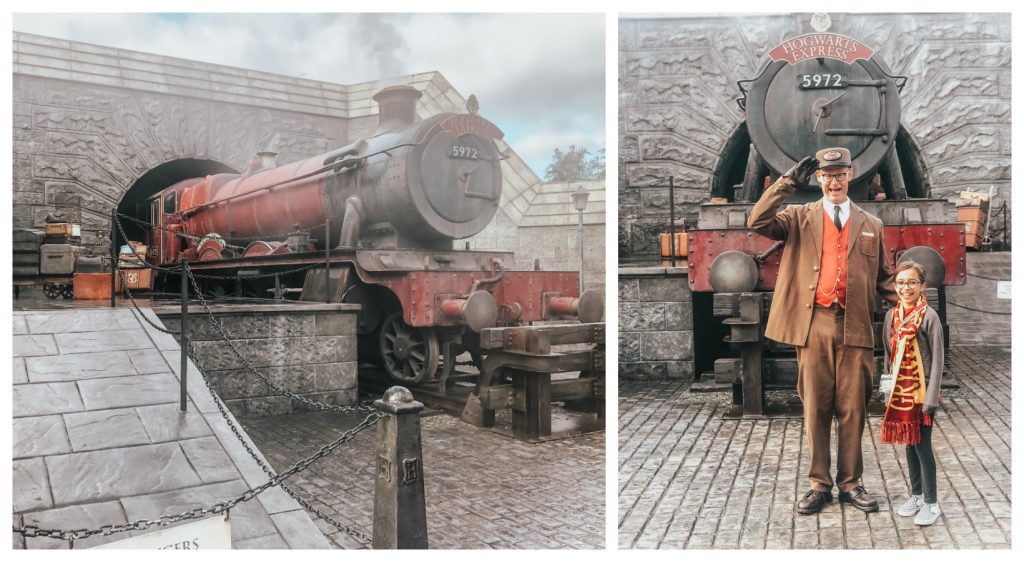 Tips to know before you go to The Wizarding World of Harry Potter in Hollywood, California
Getting ready to visit the Wizarding World of Harry Potter in California? I'm happy to tell you, you are making a GREAT choice.
My daughter recenelty turned 10 years old and we needed a fun way to clecbrate her turning double digits. 10 is a big deal! And since we have gone to Disney about a dozen times, it was time for something new.
Thank goodness I basically forced her to watch the Harry Potter movies a few months beforehand. She became as addicted to Harry Potter as I did when the books first came out. So when I mentioned going to Universal Studios for her birthday and getting to see Harry Potter World, she was ecstatic!
I had a lot of questions about visiting the Wizarding World of Harry Potter before we went, so I imagine you do too. I'm here to help get you totally prepared for your visit so you can make the most of every minute there. Because let's be honest… you're probably more excited then your kid… amiright?!?!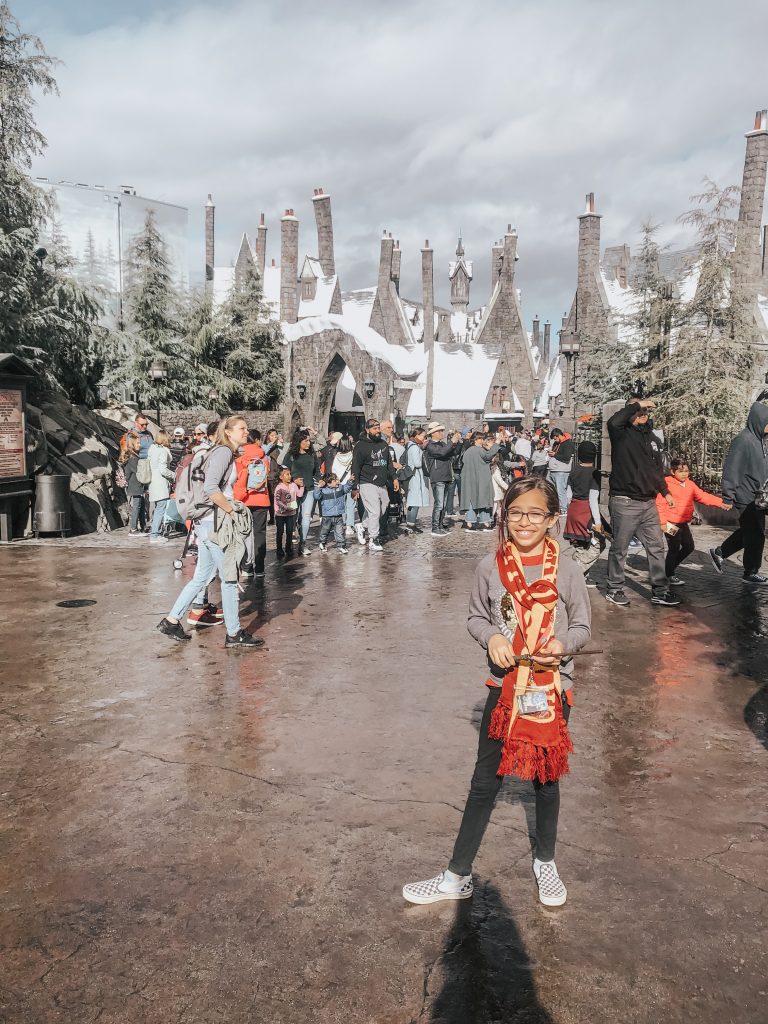 Does The Wizarding World of Harry Potter California require separate admission?
Harry Potter world is a themed area lcoated inside Universal Studios Hollywood.
No, it does not. I believe in Orlando, its a lot bigger and does require an additional fee. Harry Potter Hollywood is not as big (bummer) but also does not require a single extra dollar to visit if you buy a regular Universal Studios Ticket (whoohoo!)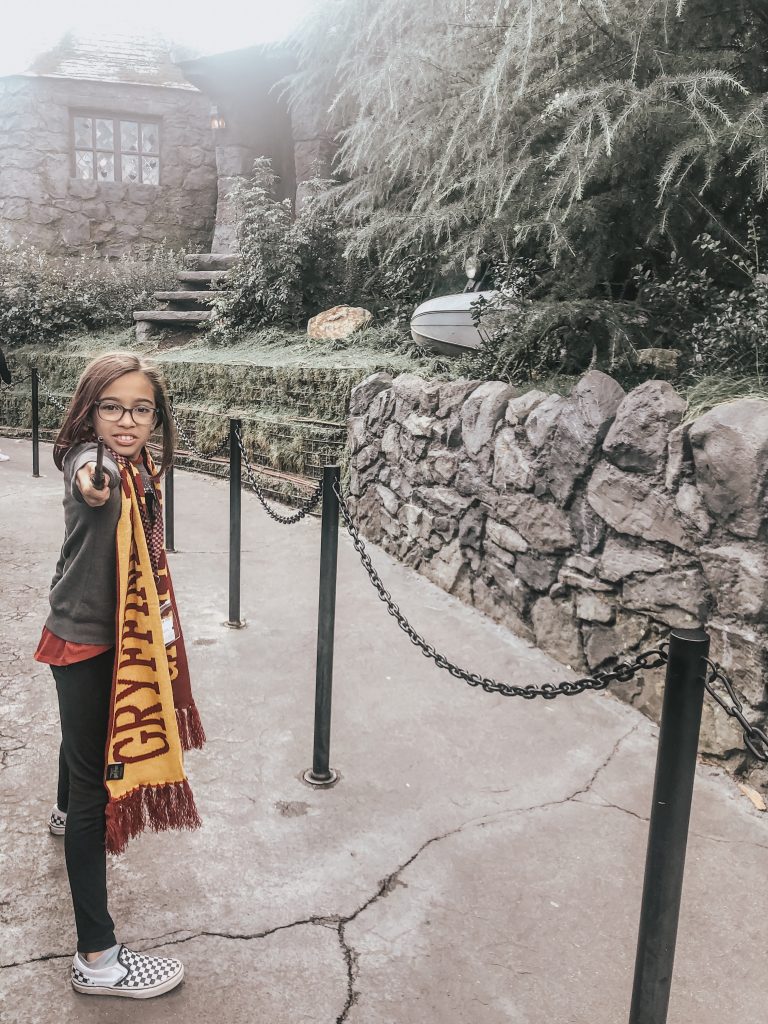 What is the Universal Express Pass and is it worth the extra money?
Well, that depends on how much money you want to spend. The Universal express pass is a lot different than Disney's fast pass. Disney's fast pass gives you a ticket to ride a certain ride at a certain time. Universals express pass is a pass you buy at the start of your trip that allows you to go to the express lane at any ride.
The only catch is that you can only use it once per ride. So you don't have to worry about what time to be at a certain ride, but if you want to ride a second time then you need to wait in the long line like everyone else.
When we visited, we did get the Universal Express pass and I LOVED having it. We booked our hotel and theme park tickets right through Universals website and got a good deal on a two-night stay at a partnering hotel that included the express pass tickets.
Make the most of your express pass tickets!
And you can make the most of your express passes if you just plan it right. First thing in the morning and right before closing are when lines are at their shortest. So for a ride like Harry Potter and the Forbidden Journey (that has the longest lined in the whole park) we went on first thing in the morning and went through the regular line, and only waited about 5 minutes for the ride.
Then in the middle fo the afternoon when the line wait was almost 2 hours (no joke!) we used our express pass tickets and got on in 10 minutes. At the end of the night, about an hour bfore closing, the line was short aain and we went on a third time with only about a 15 minute wait.
So we got to go on the most popular ride in the park 3 times and never waited more than 15 minutes each time. THAT'S what good planning will get you!
What to do at the Wizarding World of Harry Potter Hollywood
There is a LOT to do but it won't take you all day as I imagine the Orlando location would. We booked it over to Harry Potter World the second the gates opened because it does get busy fast. But we were able to do every single thing within a few hours.
Harry Potter Wands
When you visit Ollivanders, you get to pick out your very own wand (for a steep price). It's a few extra bucks for an interactive wand, but I highly recommend it. There are areas around the park that the wands magic tip can make magic happen and your kid will be amazed. There are 13 magically spots in all and a map to help you find them. I'm pretty sure this was my daughters favorite part of the whole area.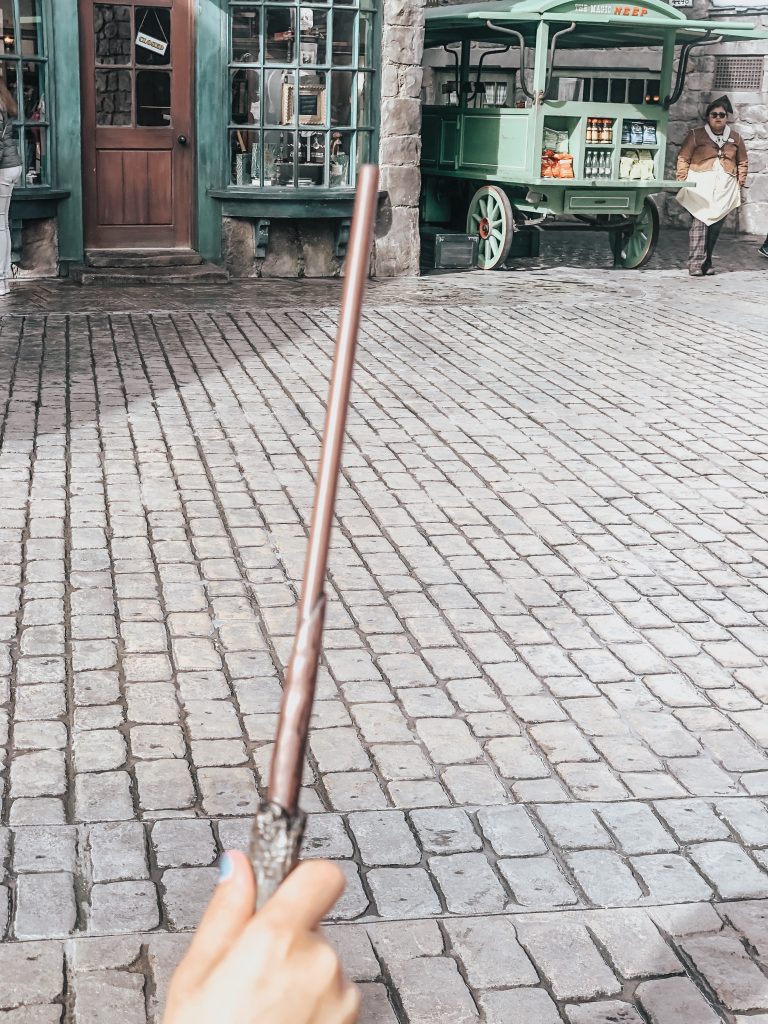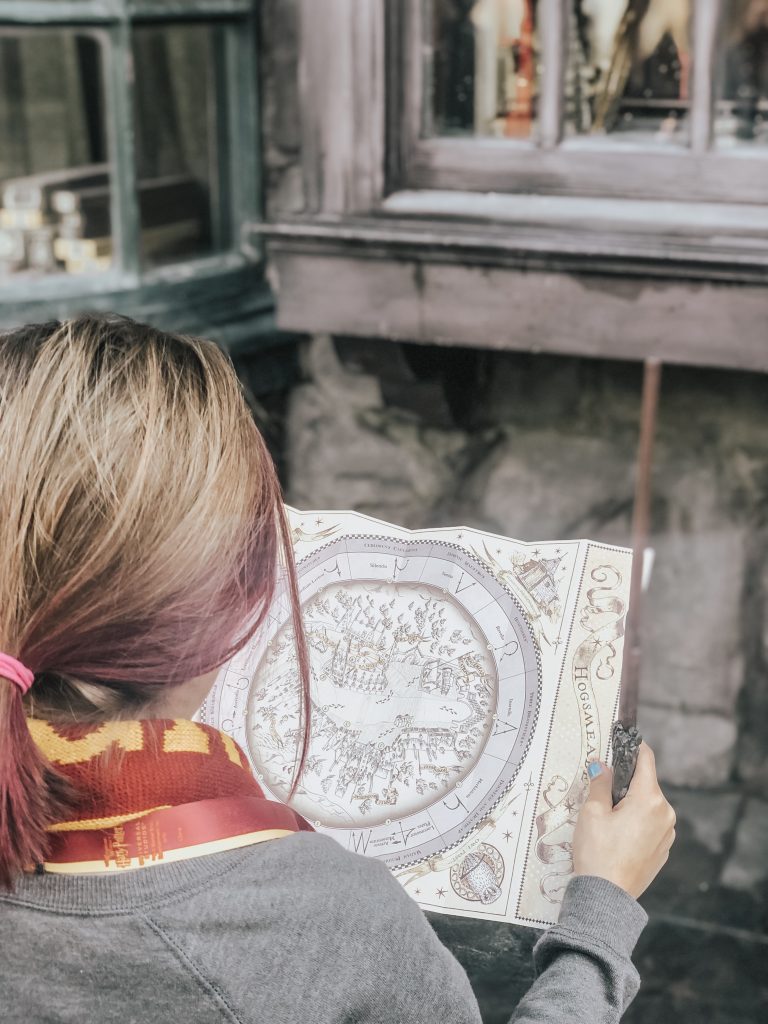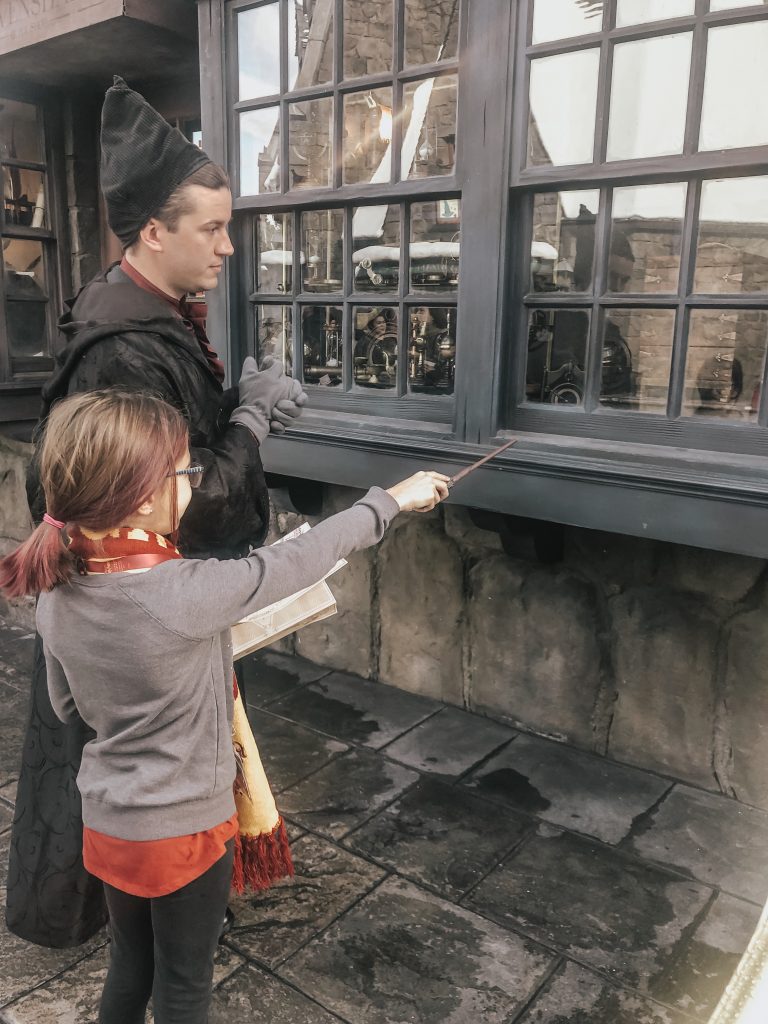 The rides inside Harry Potter World
Harry Potter world really only has 2 rides. The first is the Flight of the Hippograph. This is an entry level rollar coaster that is as tame as you can get. Great for younger kids or kids still a little too afraid of the big rides. My daughter is 10 and loved this ride, we went on it three times.
TIP: If the lines are long, skip this ride. It's cute, but also less than 30 seconds long and not that exciting. A great ride to go on over and over again but nothing I would wait an hour for.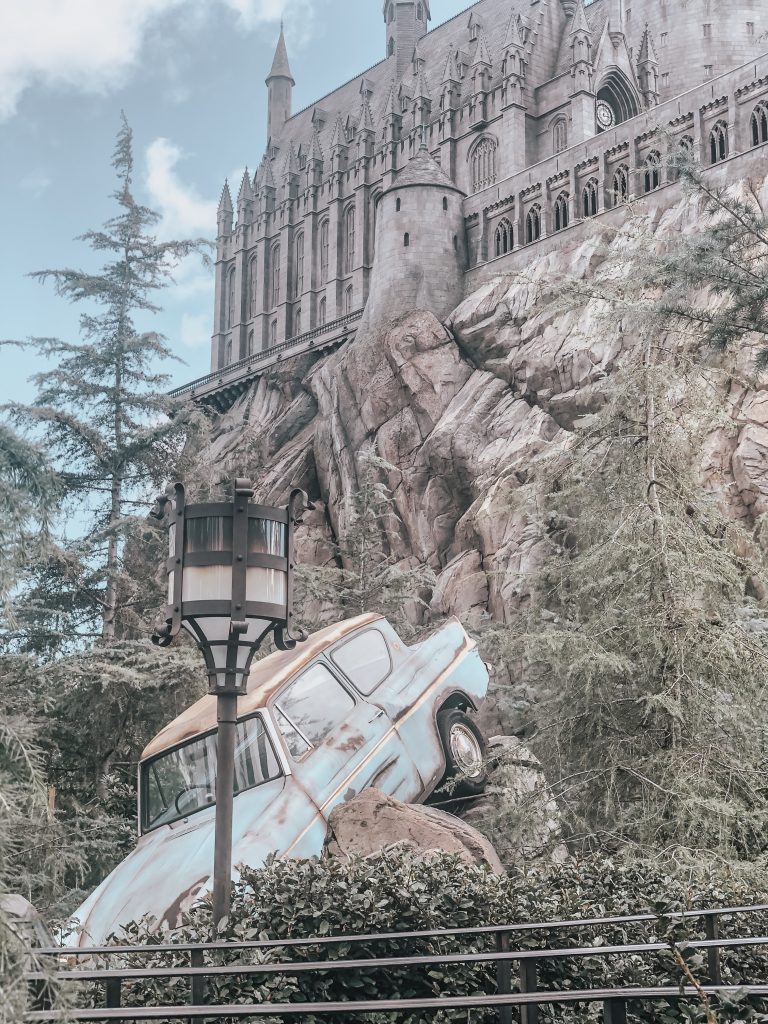 The second ride is the popular Harry Potter and the Forbidden Journey. And it's very clear why it's such a favorite. Before you even get to the ride itself, you walk through what is basically a replica of Hogwarts. You see the talking pictures. the moving stairs, and REAL items from the movies like desks and books.
I won't reveal all the spoilers but trust me, waiting in line is half the fun with this ride.
Then you get to the ride itself and it is… amazing! Seriously, it's one of the most fun rides I've been on and I've been to a LOT of theme park rides in my life. And again, my 10-year old (who is still too scared to ride Space Mountain) LOVED this ride… hence why we went on it three times.
TIP: There are signs warning you against dizziness and I didn't take it seriously because I never get sick or dizzy on rides, but this one is different. It does get your stomach a little tipsy. Just take slow deep breaths during the ride and you'll be fine!
The shops inide the Wizarding World of Harry Potter
Even if you don't plan on buying anything, go inside every shop! They are EXACTLY like the movie. It really was crazy how detailed they are.
Ollivandars: Make Ollivanders the FIRST stop when visiting Harry Potter World! The line gets long fast and they only let a few people in at a time to watch the wand selecting ceremony. To see the special effects like you are in the movie… so worth it! Beware that wands are pricey… $50 for an interactive wand. But you're at Harry Potter World. How can you say no?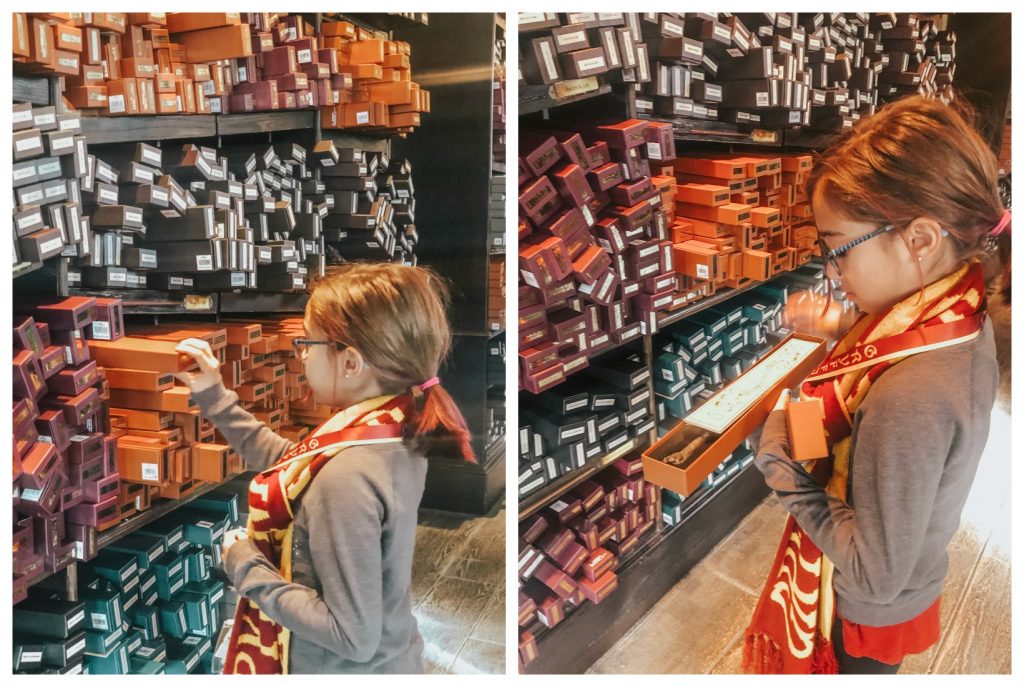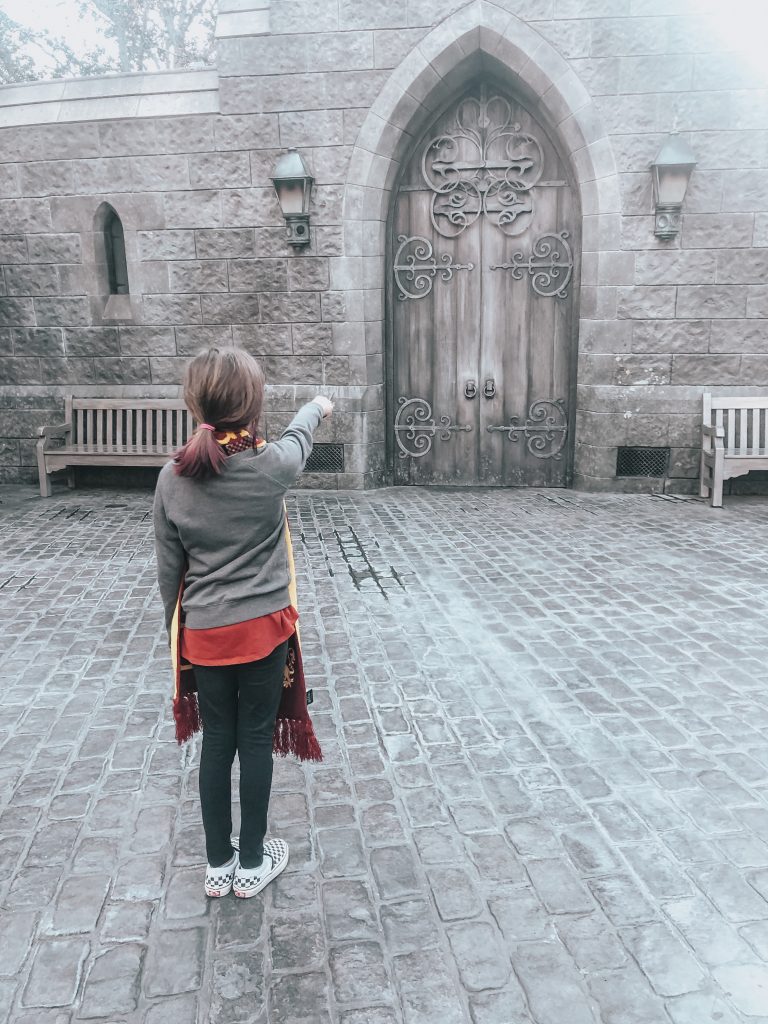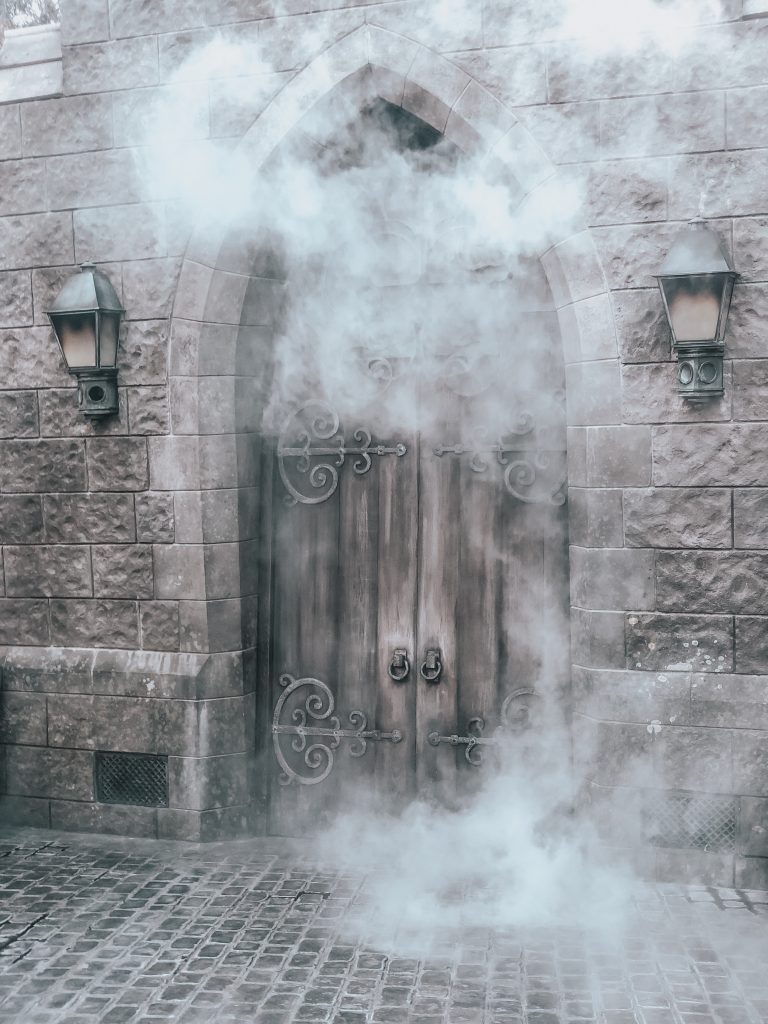 Honeydukes: Just like in the movies! Honeydukes is the candy shop where you can get a variety of sweets. The chocolate frog is the most popular and an iconic part of the film. So pick one up for everyone you know!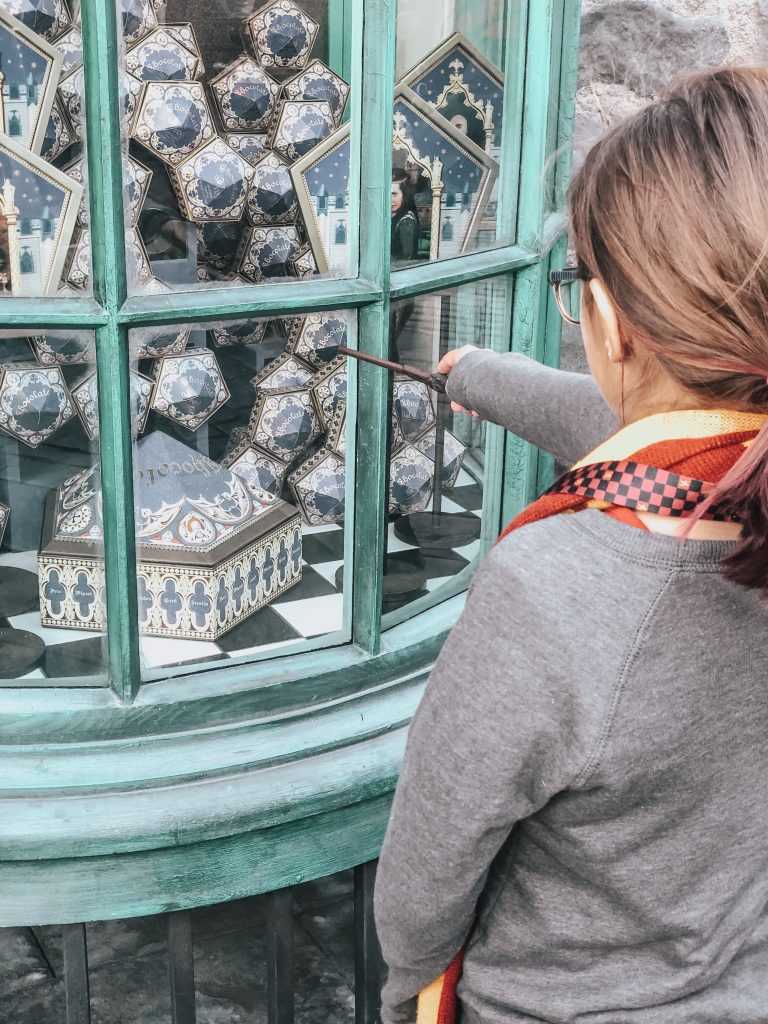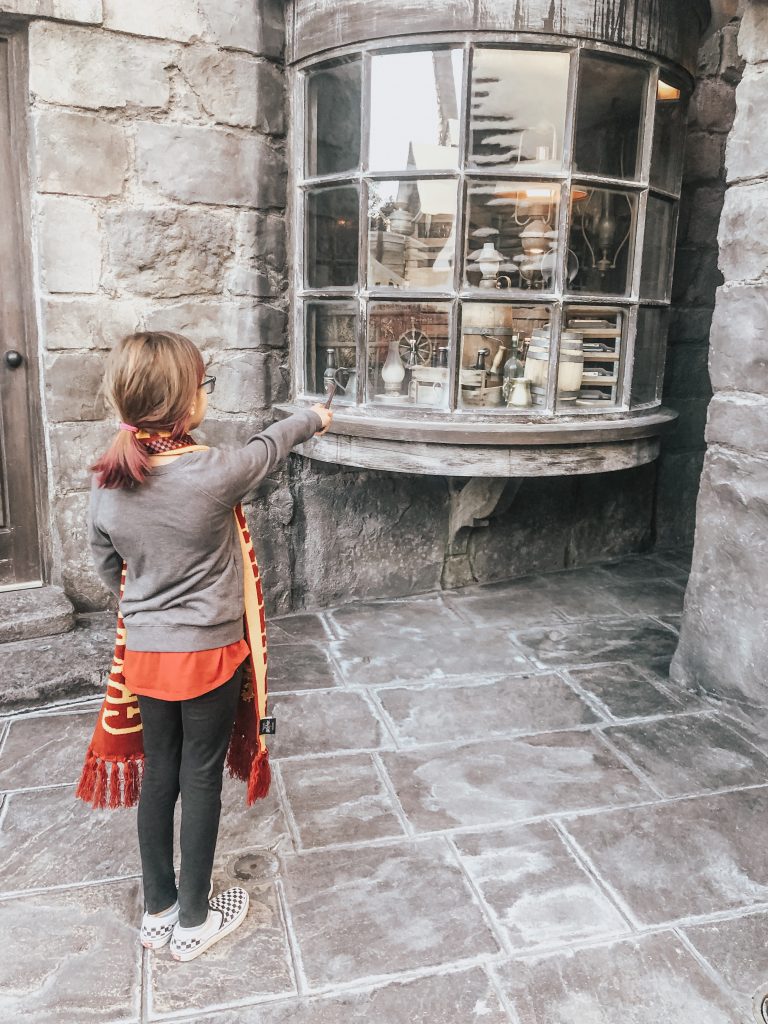 Owl Post: REally it's just another place to buy more Harry Potter Merchandise but that building itself is worth a walk through. The detail is amazing. And if you're willing to pay the high price, you can buy a postcard and have it mailed right from there. Postmarked Hogsmeade!
Zonkos Joke Shop: Located inside Honeydukes, you can find all the fun joke and prank supplies used by the Weasley twins. Even the extendable ear!
All the other stores have fun names but are really just merchandise. And pretty much the same merchandise over and over again.
Dining in Harry Potter World Hollywood
Three Broomsticks is the only sit down place to grab a meal, but the meals looked amasing! They also looked big. So I would only go here if you have a big appetite!
You can grab Butterbeer at carts throughout the street. Get a Butterbeer! I mean, how could you not!?!? They come in two versions: Frozen and cold. Frozen butterbeer is blended like a smoothie while the cold is just a cold drink the consistency of milk. My daughter got one and I got the other and they were both sooooooo good! We loved them!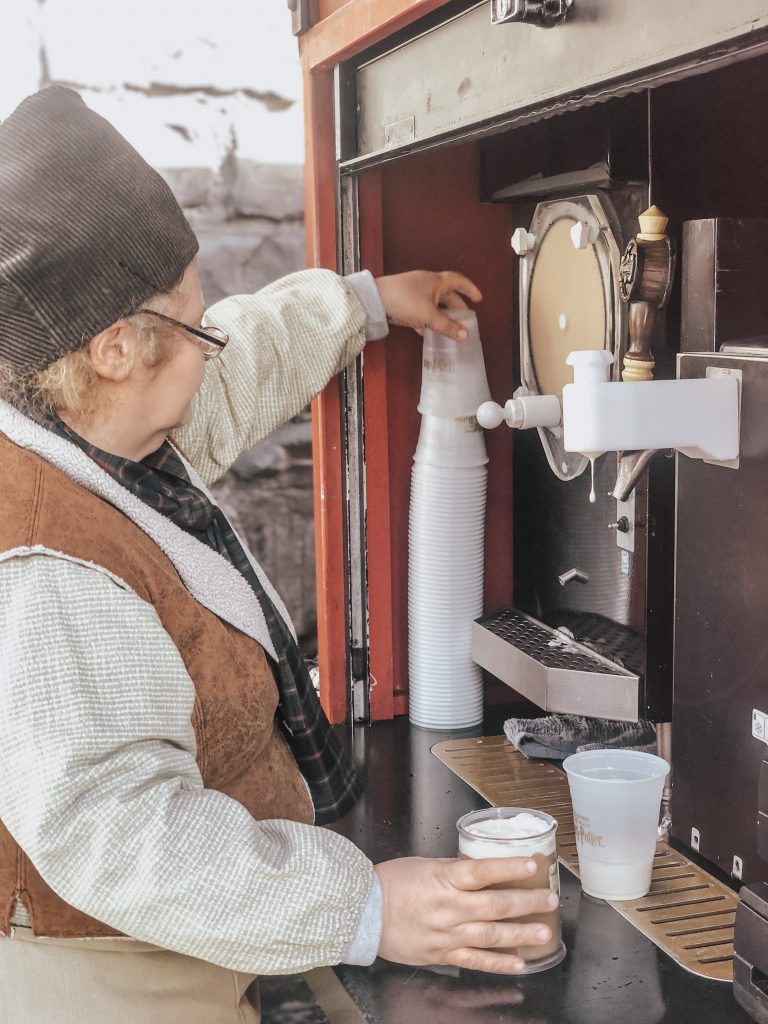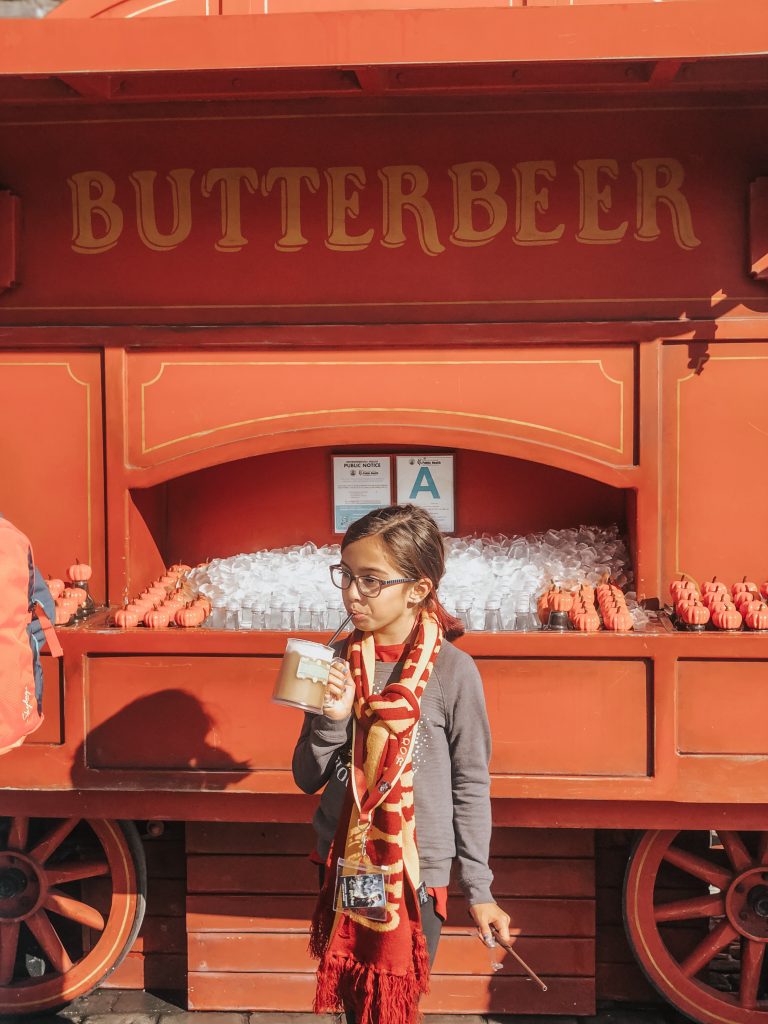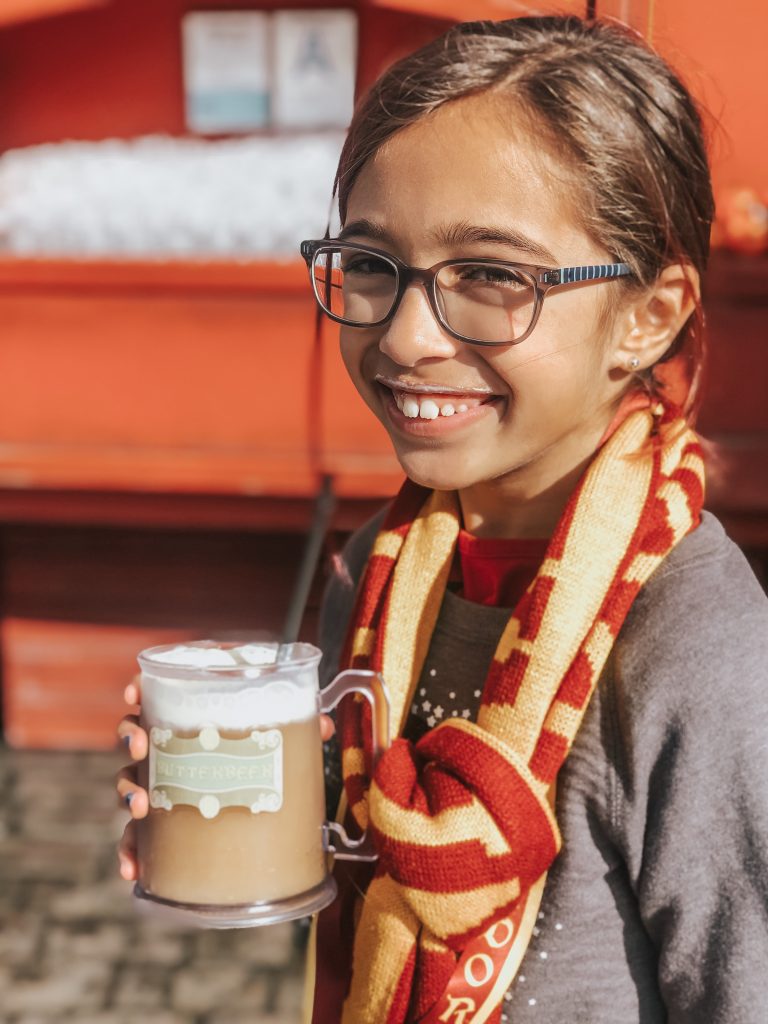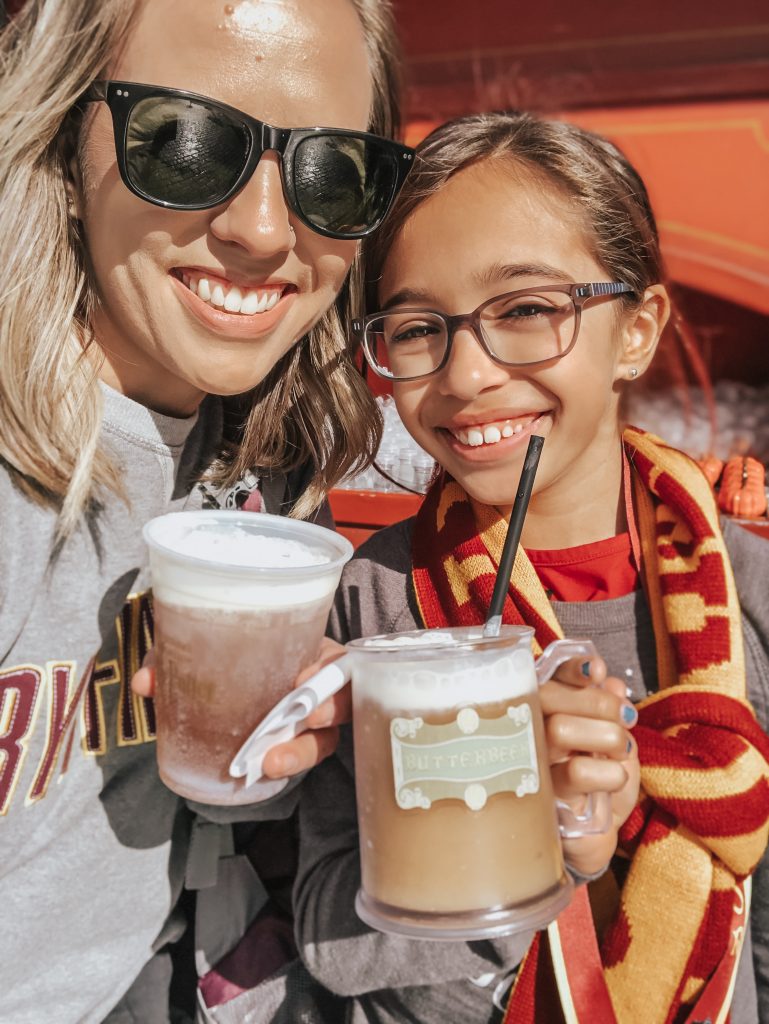 Can I buy Harry Potter Merchandise inside Harry Potter World?
Is Malfoy a bad guy? of course! There is so much menrchandise, your head will spin. They also sell the exact same merchandise at Universal City Walk and throughout Universal Studios.
TIP: The merchandise is pricey! Save yourself some dough by buying stuff online before you go. A sweatshirt forme was $60, $40 for my daughter, and the scarf was $38. It's all super cute, but it adds up too.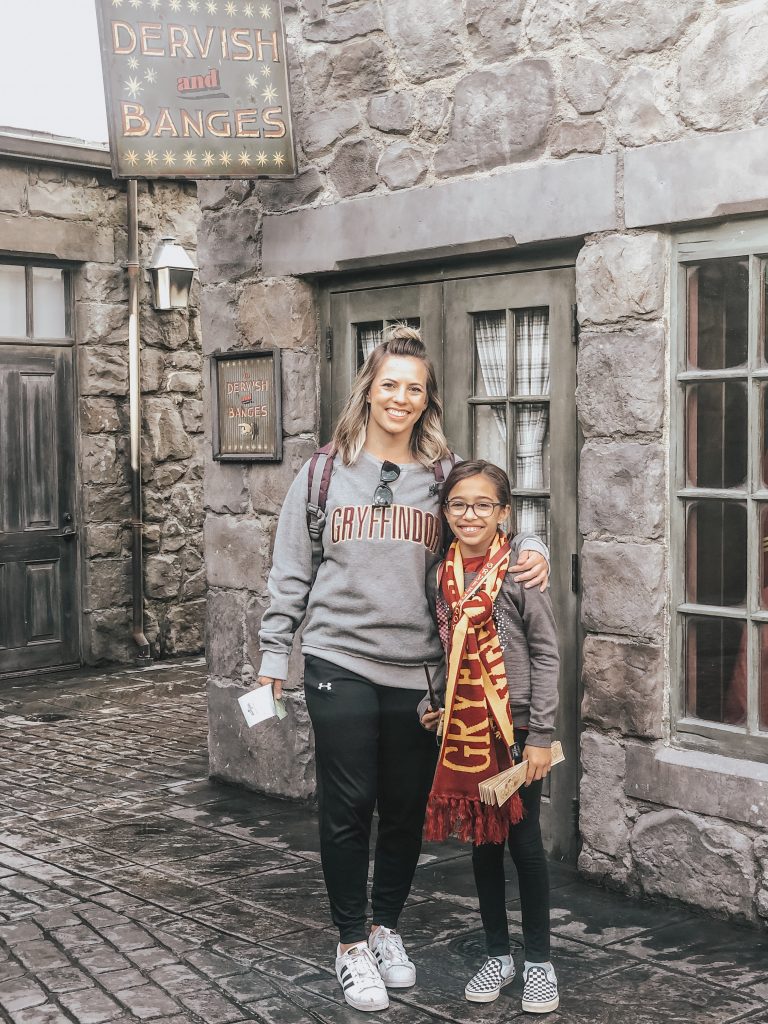 More secrets to the Wizarding World of Harry Potter California…
Get there early! When you enter the park, go to Harry Potter World FIRST. It gets busy very quickly.
Utilize the free lockers powered by your fingerprint to hold belongings when you go on rides
Go to Ollivanders FIRST… It's the busiest and takes the longest!
Don't forget to get a butterbeer!
Related Post: Tips For Visiting Universal Studios Hollywood
If you have questions about your visit to the Wizarding World of Harry Potter in California, feel free to leave them in the comments below and let me know how you enjoyed your trip!