Dog-Friendly Weekend In Pine, AZ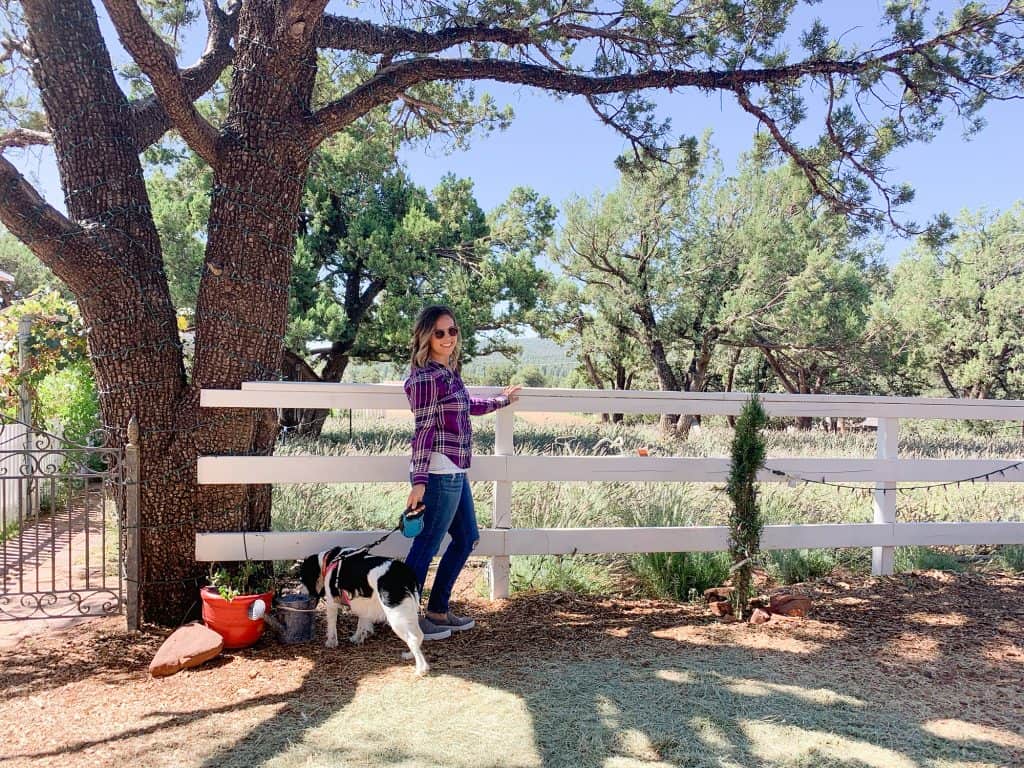 Get To Cooler Weather In the Mountains of Pine, AZ
Residents of the Phoenix area are always looking for ways to get out of the extreme summer heat. And one of the best places to do that is up in Pine, Arizona.
Pine is located just 20 miles north of Payson, which is about 90 minutes north of the valley (Phoenix area). The drive is easy and scenic and there are tons to do. Not to mention a taste of fresh air, tall pines, and peace and quiet.
If you're looking for a weekend getaway or even day trip where you and your dog can get out of the heat, then you need to head up to Pine!
How To Spend a Weekend in Pine, Arizona
I love traveling with my dog and my daughter and it's important to find places that will both amuse a kid and accept my four-legged friend. After spending a weekend in Pine and Strawberry, I can honestly say this was one of the best places to bring both.
Here are some fun things to do and places to eat that are all kid and dog-friendly (and not boring for the adults!)
Where to Stay
This is a no-brainer. Pine and Strawberry both have multiple Airbnb's you can rent but really you shouldn't look much further than the Strawberry Inn. This renovated Inn has an adorable rustic farmhouse vibe and is totally Instagram ready.
They allow dogs and have tons of lawn games for the kids. We loved our time here and will definitely be back!
See Related: Staying At The Strawberry Inn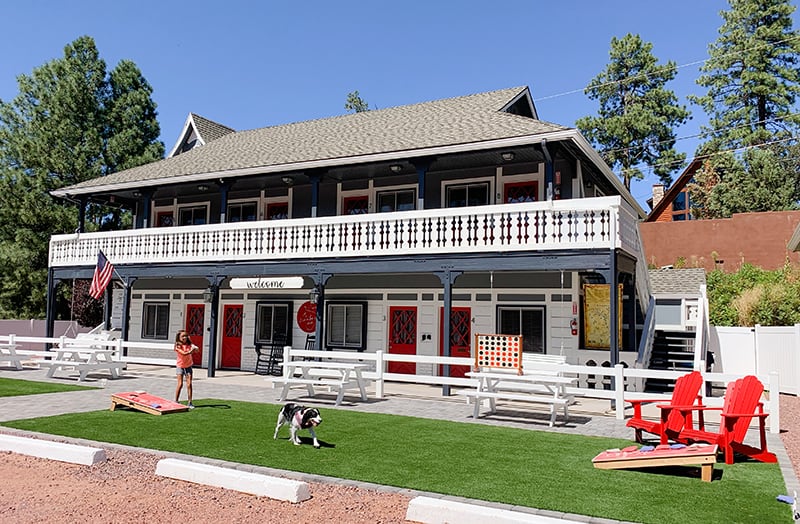 Where To Eat
Even though there are plenty of places to check out, not all are dog-friendly. But I found the ones that are and have great food too. When you get hungry up in Pine, AZ, go check these places out.
The Randall House – Check out the Randall House for a great breakfast. This adorable farmhouse was converted into a small restaurant. All seating is outdoors so your pooch can join you. Its gardens are peaceful and the portions are plenty big to give you energy for the day ahead of you.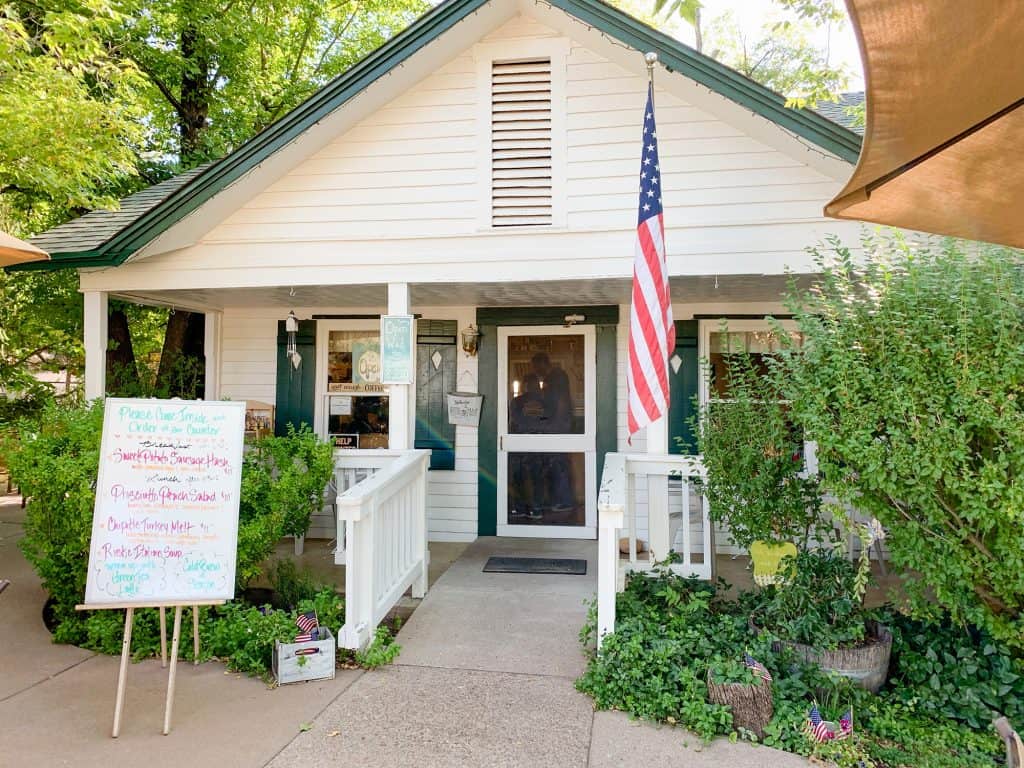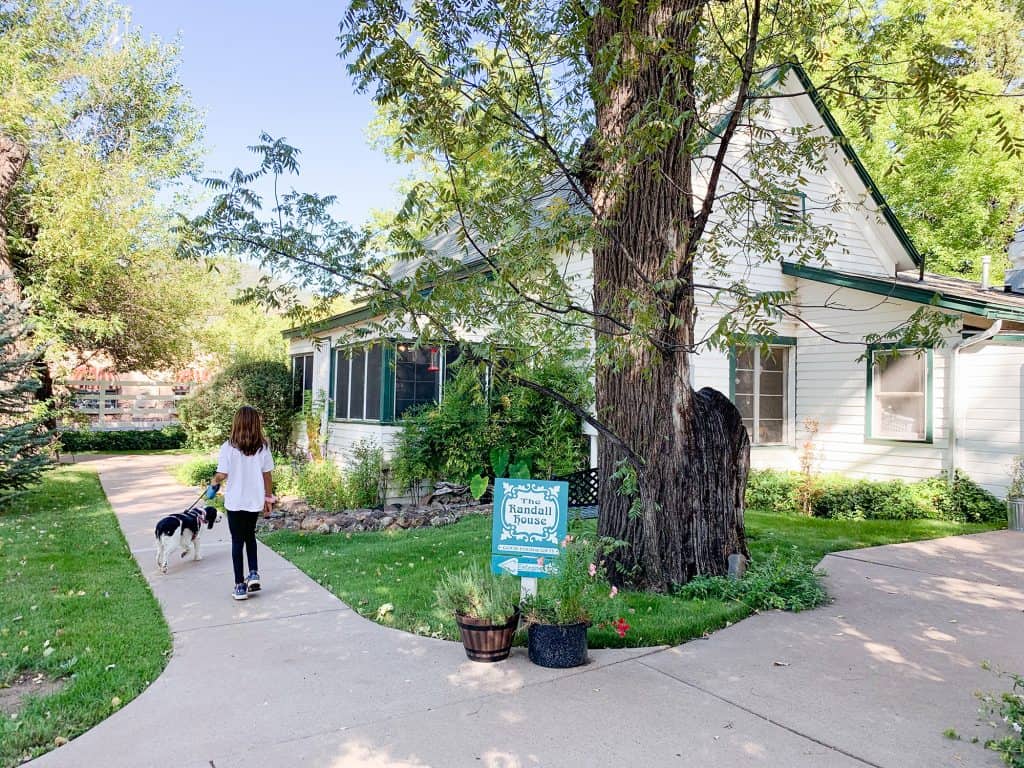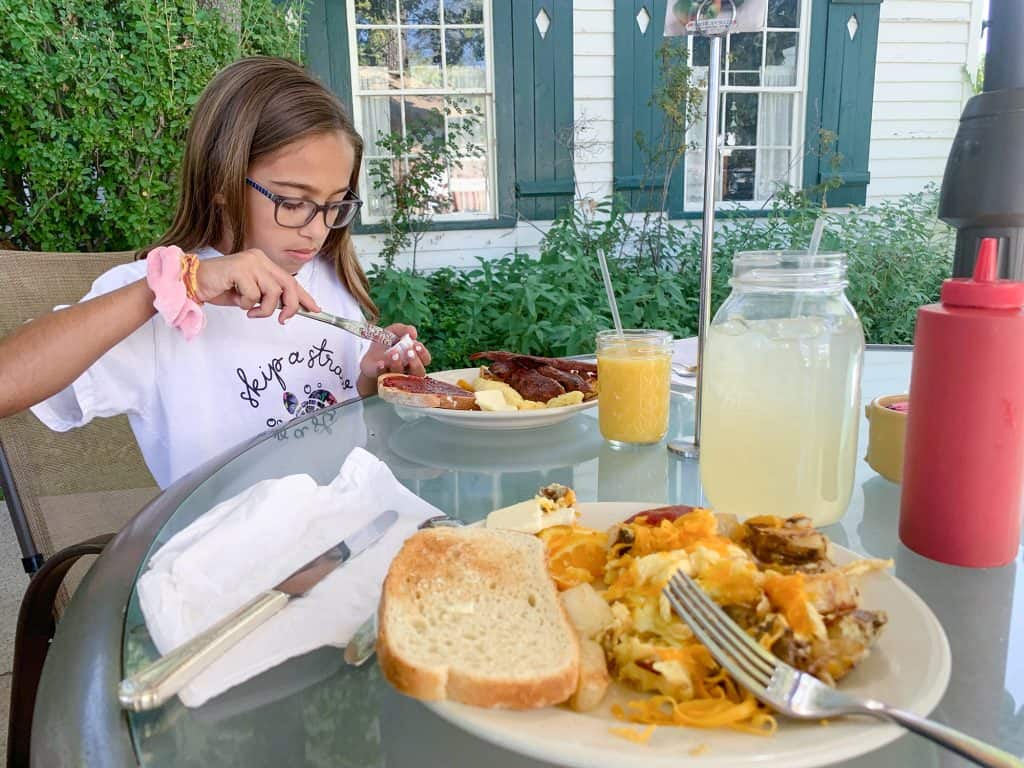 Old County Inn – If you talk to anyone, they will surely tell you to stop here for a bite to eat. And it's no surprise why. The pizza here is the BEST. Not to mention the appetizers we got. I ordered some chips and wasn't expecting much but out came these warm, thick, potato chip slices with dips that melted in my mouth.
The huge outdoor patio is also dog-friendly. They even brought my sweet little pooch a bowl of water. There is a giant fireplace and tons of heaters on the patio, so even if you go in winter it stays plenty warm out there.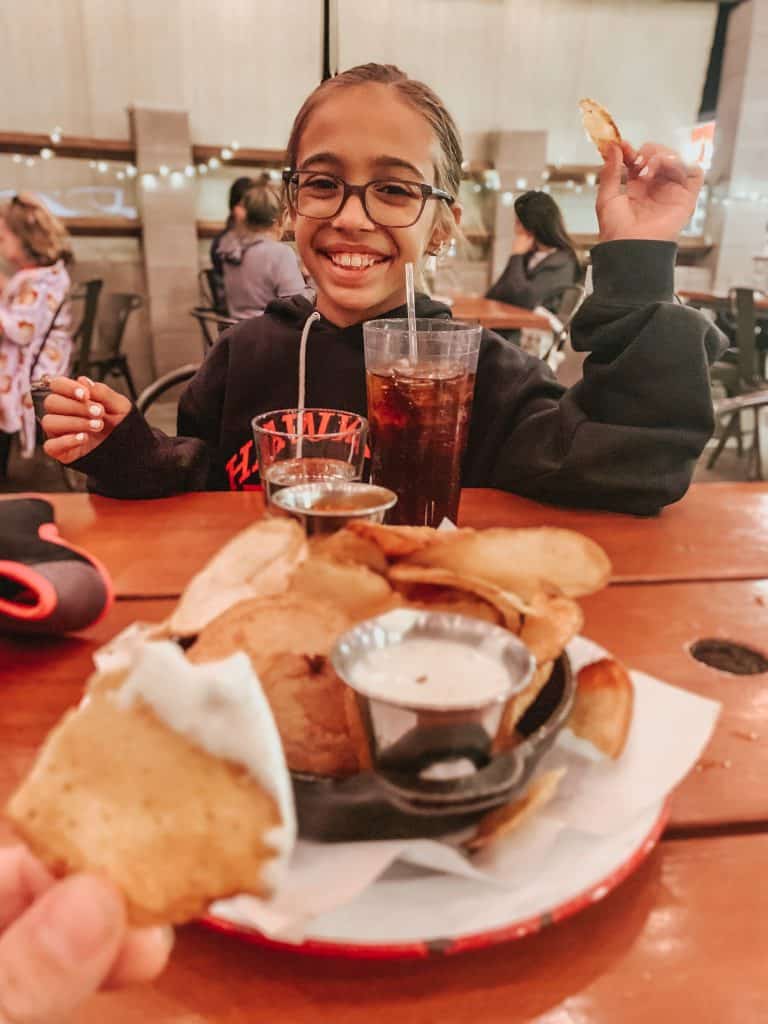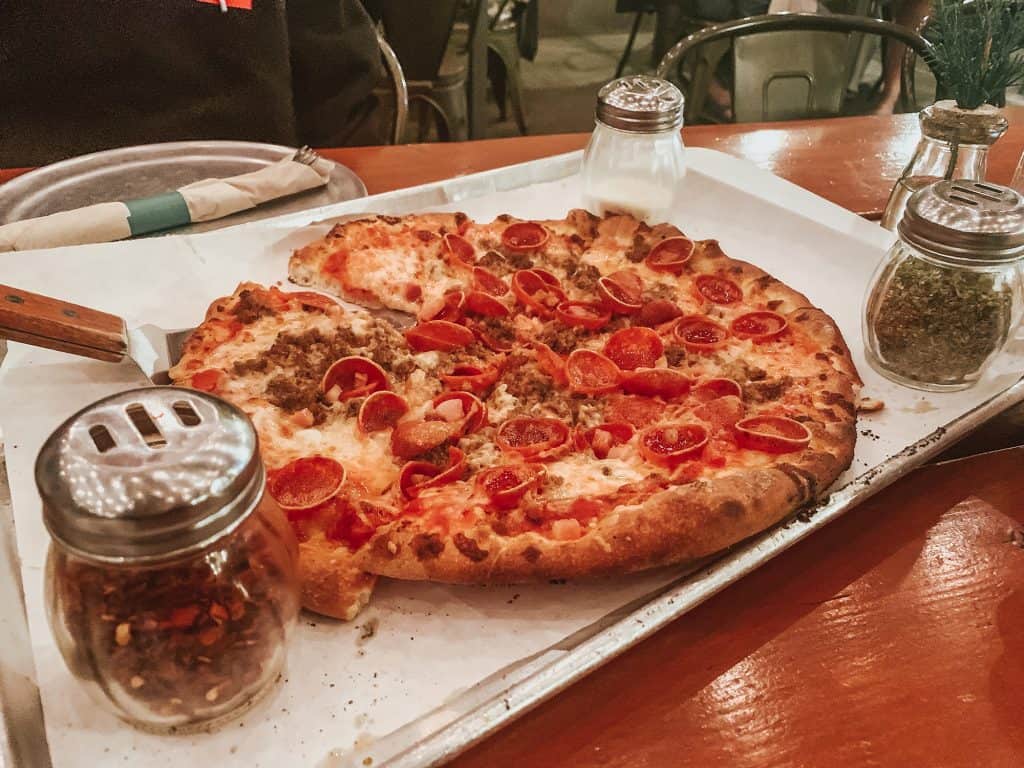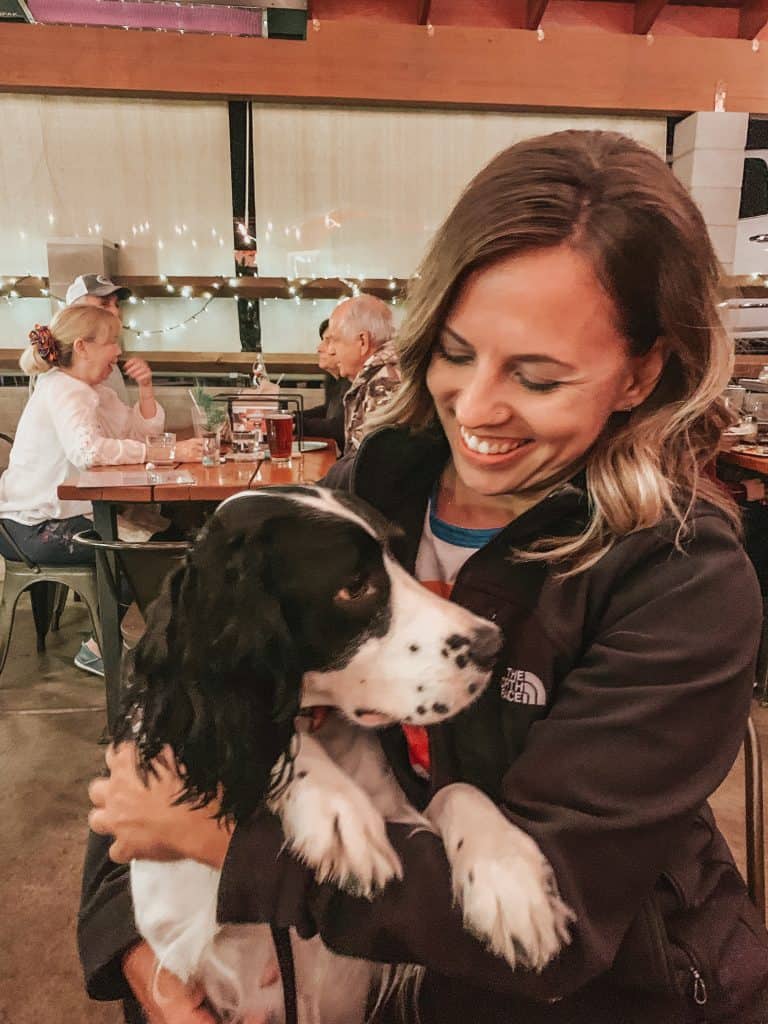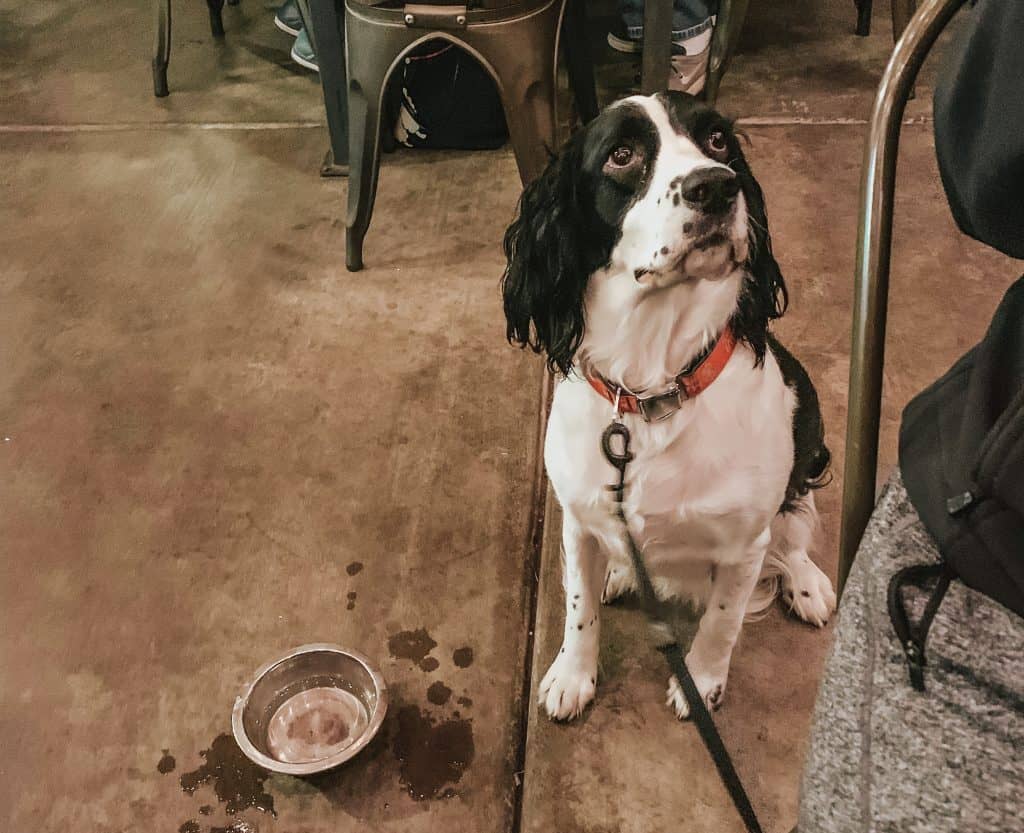 THAT Brewery – If you are a craft brew fan, make sure to put THAT brewery on your list (yes, that's actually the name). They also have a really big dog-friendly patio and a great menu. And some nights you'll find a live band playing. Not to mention the amazing beer.
Pine Creek Fudge – A great place to stop for coffee and ice cream. You can't take the pups inside but they have a ton of outdoor seating. Stop here for a gourmet morning coffee or some fun treats in the afternoon.
Mamajoe's Italian Grill – This is the perfect place to go if you are craving warm Italian food. Or if you are visiting in the fall or winter and need something warm to fill your belly. Mamajoes is not dog-friendly, unfortunately, but you can get it to-go.
And since it's right across the street from the Strawberry Inn, you can place your order, skip over to pick it up and eat it in your room or on one of the many picnic tables at the Inn.
What To Do In Pine Arizona
After you found a place to stay and have your belly full of great food, you're probably asking "Great, but now what do we do for a whole weekend?"
Pine seems like a small town, but trust me, there is plenty to do to fill a weekend!
Go on a hike – One of the best dog-friendly hikes in Arizona is just right outside of Pine, called the Water Wheel Falls hike. This great hike takes you along a scenic path and over a river (easy enough for a kid or dog to cross) and ends at a water hole with a great waterfall. Pack a lunch and hang out swimming for the day at the water hole.
See Related: Water Wheel Falls Hike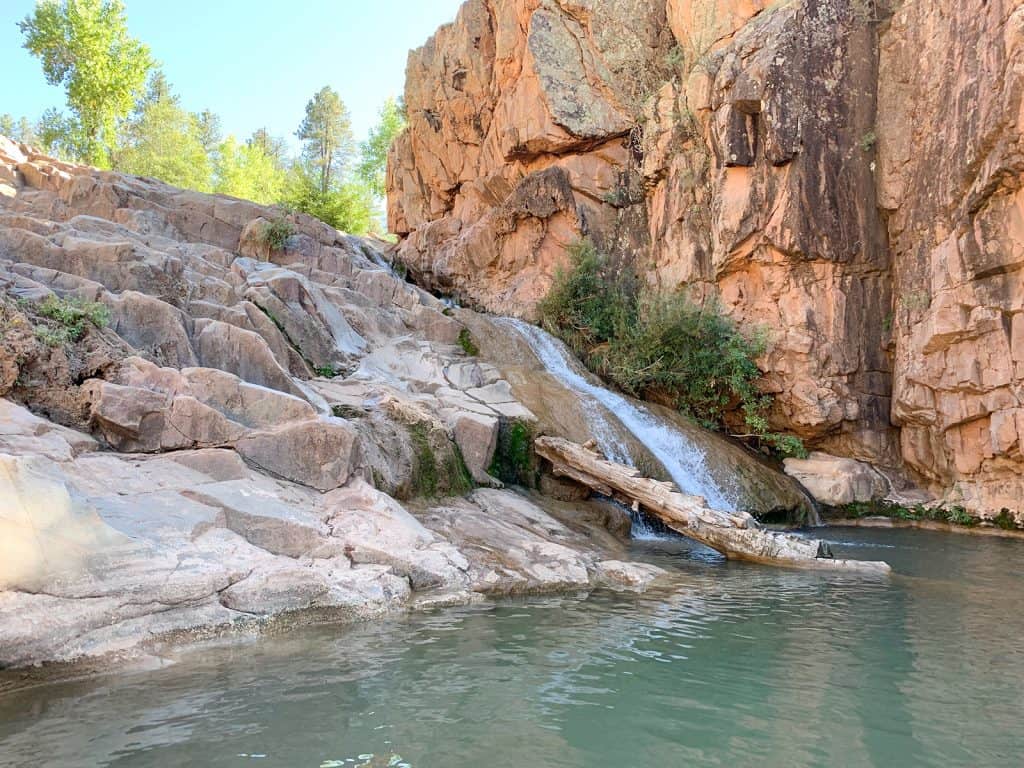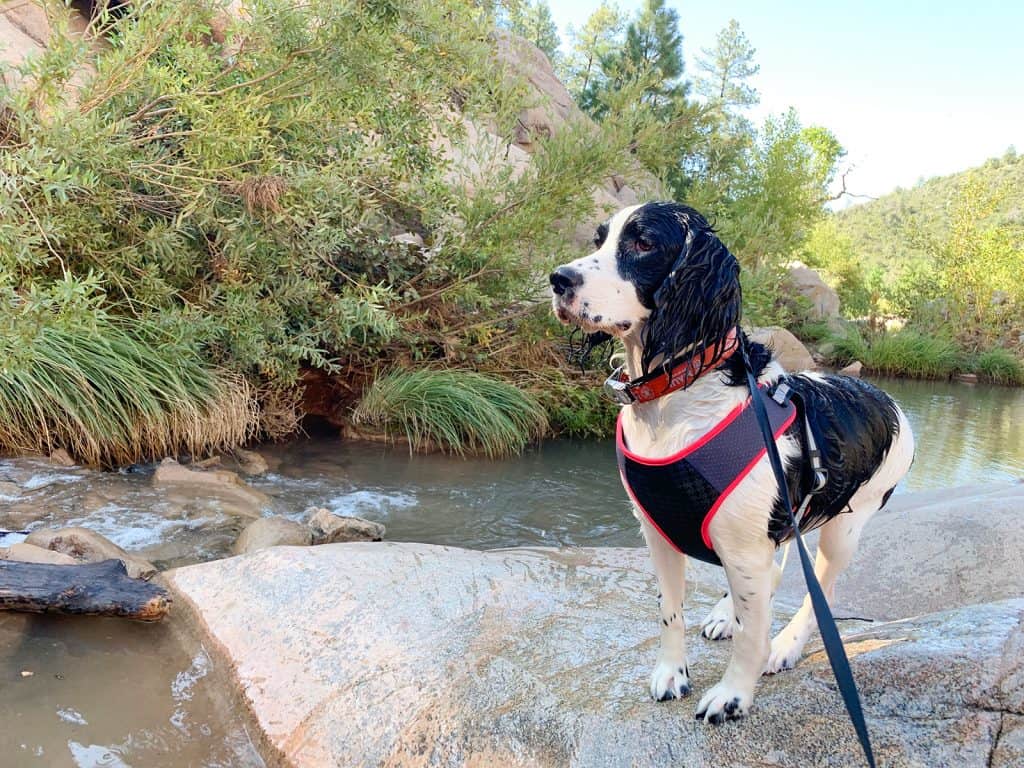 Visit Tonto Natural State Bridge – This natural bridge is the world's largest natural travertine bridge and provides an easy hike with some amazing scenic views. Pop into the ranger station (a small cabin) before you see the natural bridge, to glance at some really cool objects and things like coloring books for the kids.
It's a short but steep hike that won't take you all day. You can definitely visit this in an hour or two and still have plenty of time to do some more stuff in Pine, AZ.
The Honey Stand – If you like homemade items then don't forget to check out the honey stand right off the main road in downtown Pine. They are so dog-friendly, they let you bring your pup right into the store and even give them a doggie treat!
They have tons of homemade jams, jellies, jars of butter, salsas, and even candy and trail mix if you are heading out on a hike.
I piled up on some jelly and even some honey hazelnut spread… delicious!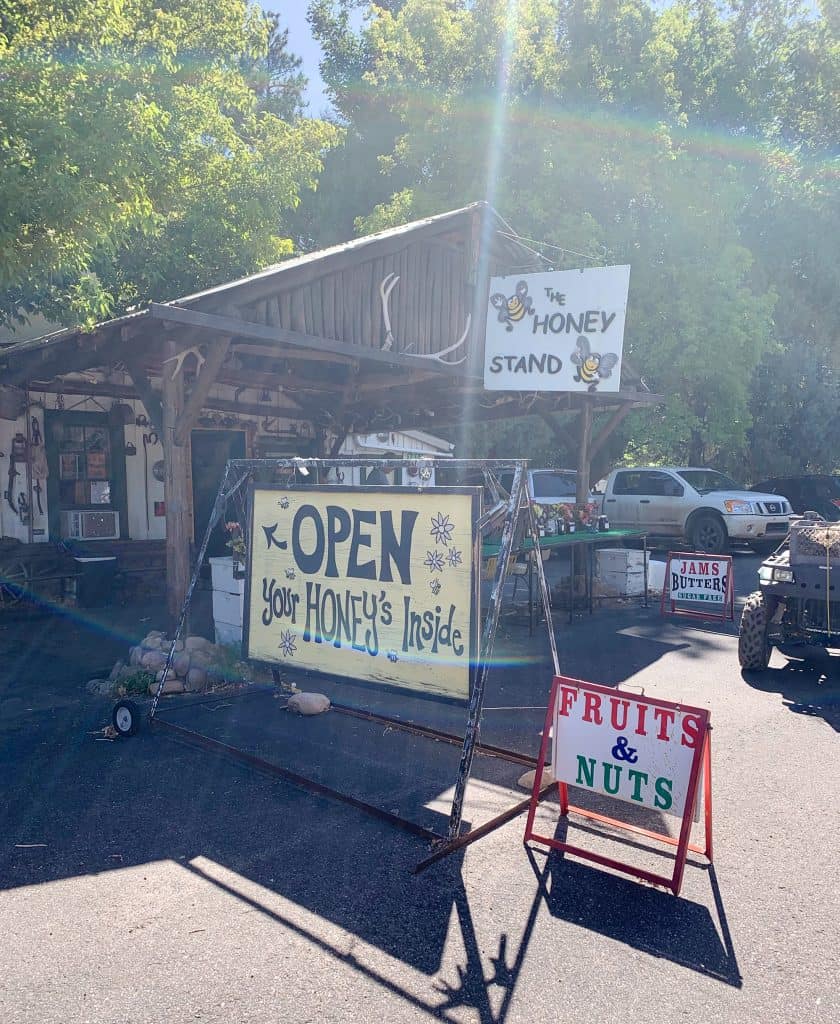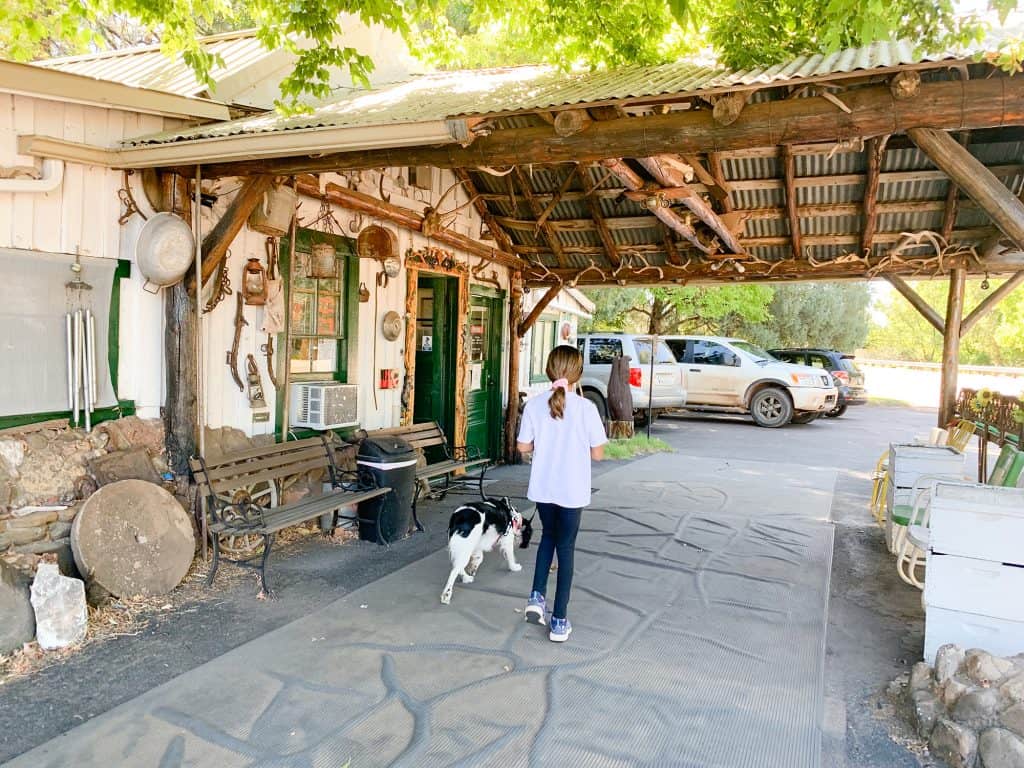 Pine Creek Lavender Farm – What can be more relaxing than a field full of lavender. This quick stop is well worth it just for the views and the photo taking. Stop inside their little shop and find everything lavender you can possibly think of.
There are just some of the items they had for sale that all contained lavender:
Dog calming spray
Yoga mat spray
Beard oil
Bath bombs, soaps, lotions
Tees and bags
Chapstick
Lavender Cocoa
Lavender Inhaler
Honestly, the list goes on and on. I've never seen so many lavender things in one place before!
Check out their website for events. They sometimes have lavender cooking classes and lavender flower arranging.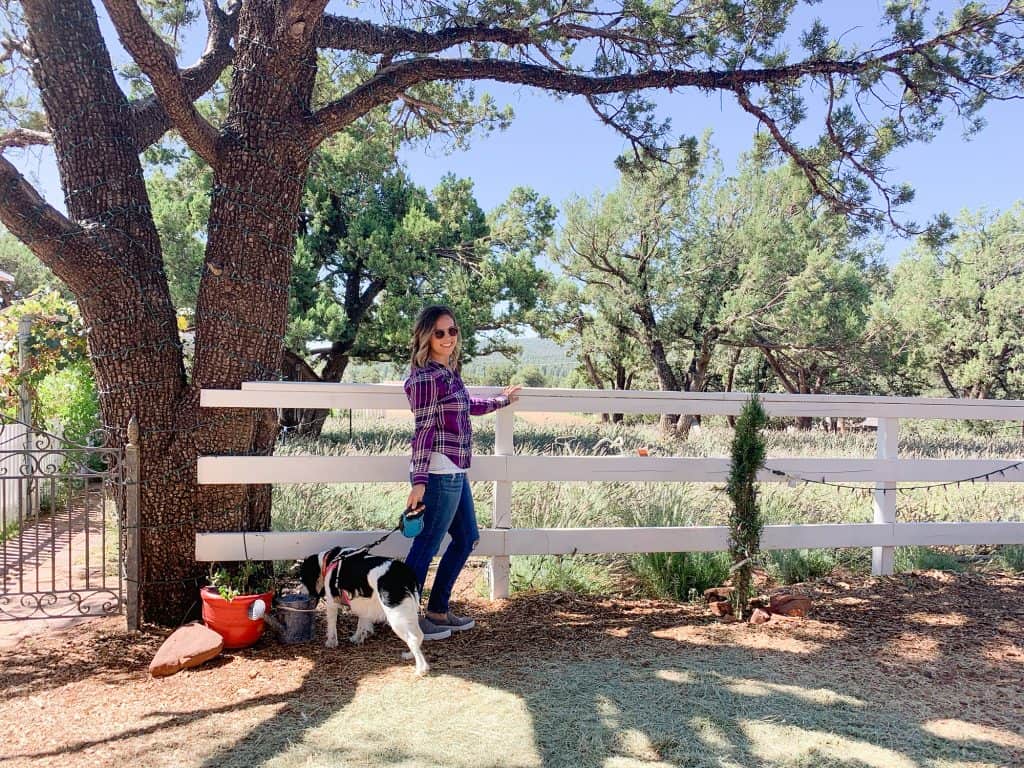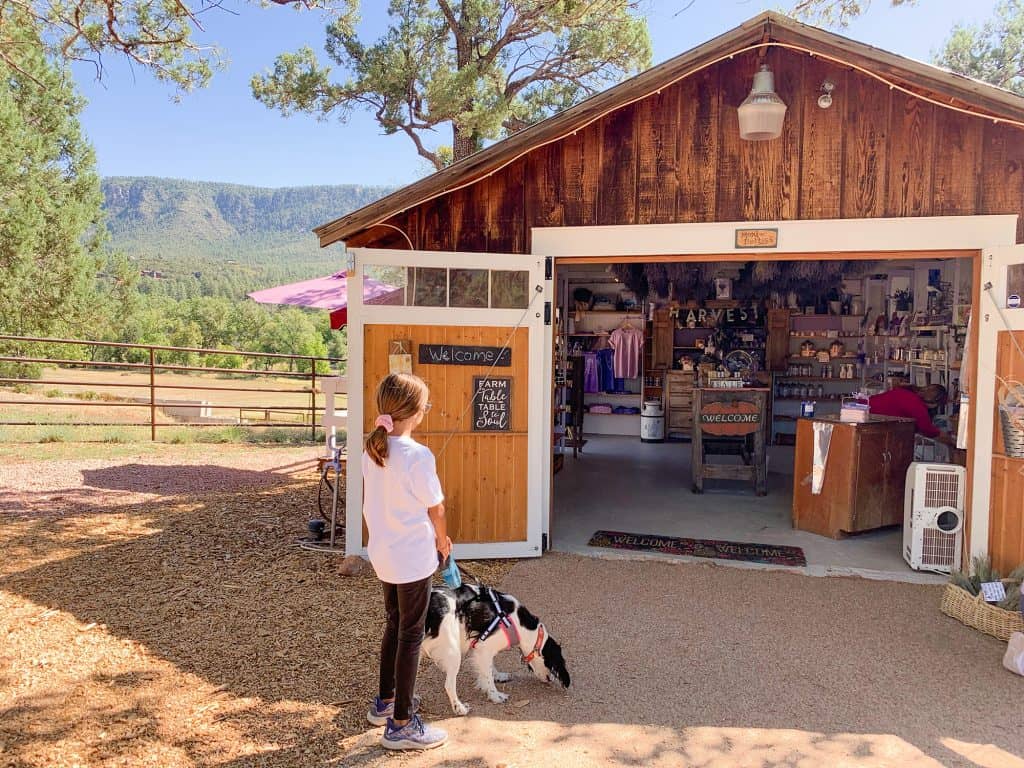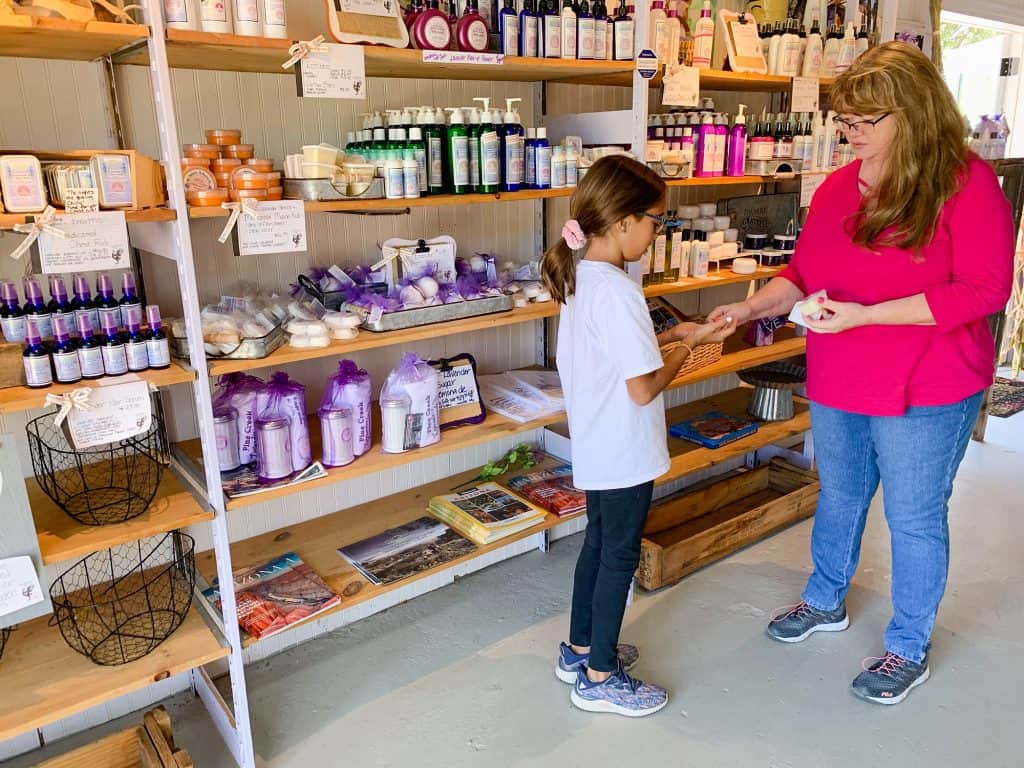 The Strawberry School House – One of the oldest schoolhouses in all of Arizona! This quick tourist spot was fun to go to and you should have seen the look on my daughter's face when she learned THIS is what school was like a long time ago!
You can visit anytime and peak in the windows to see the full inside of the school set up like it was when it was built. Or contact the state recreation for an inside tour.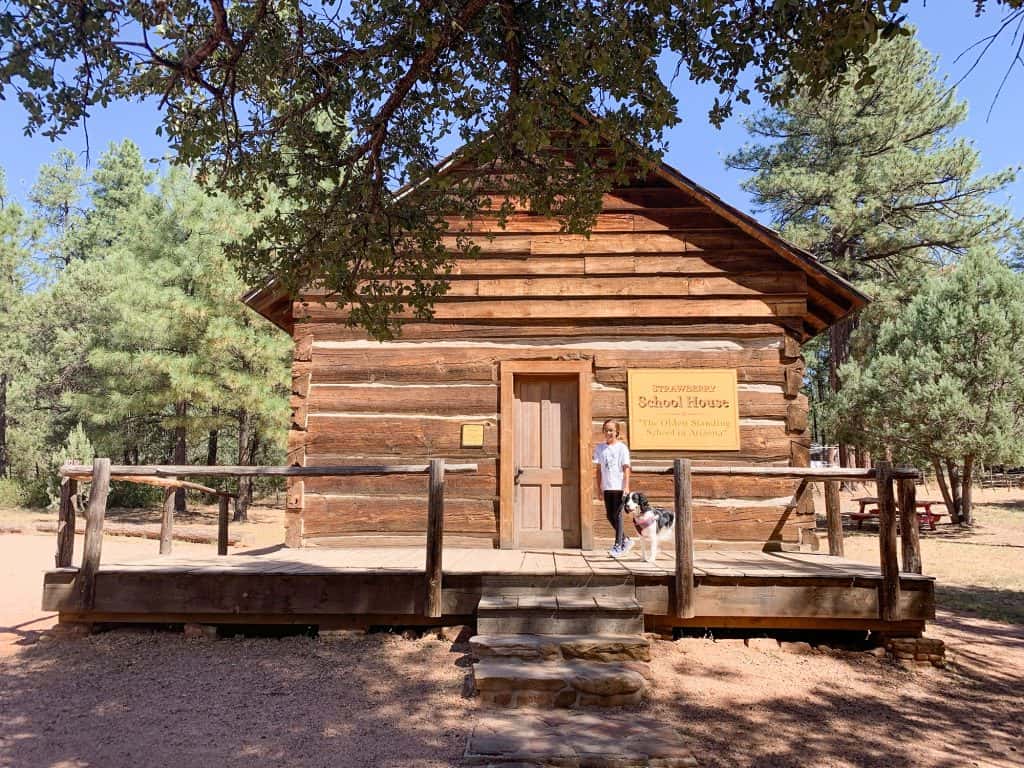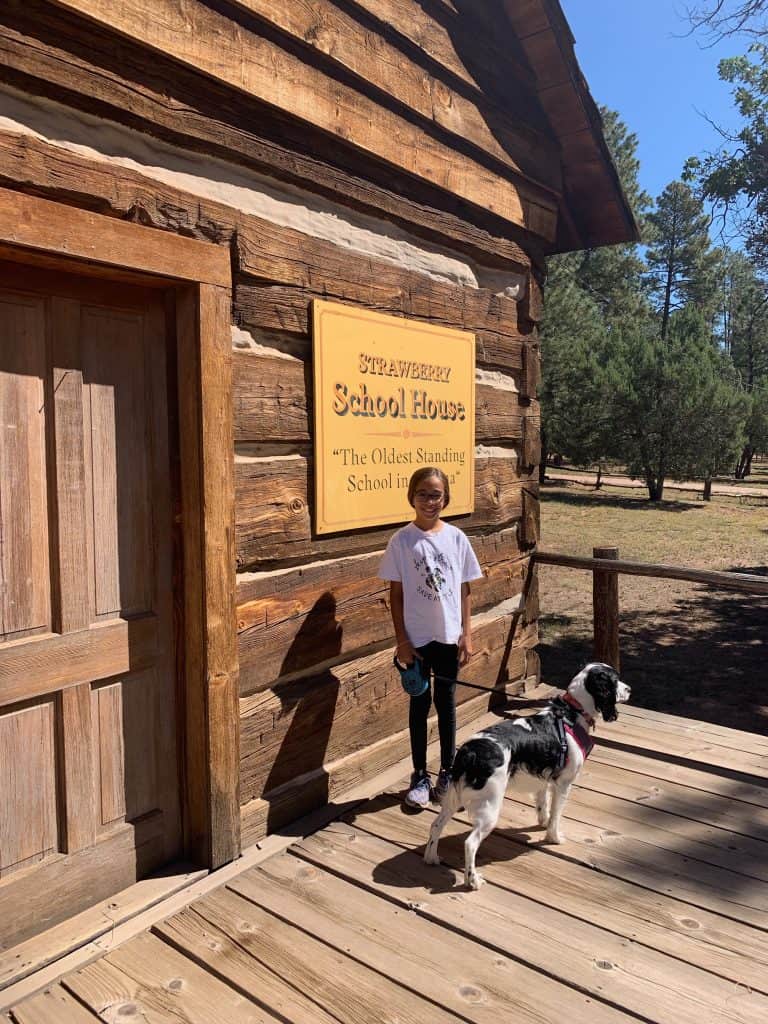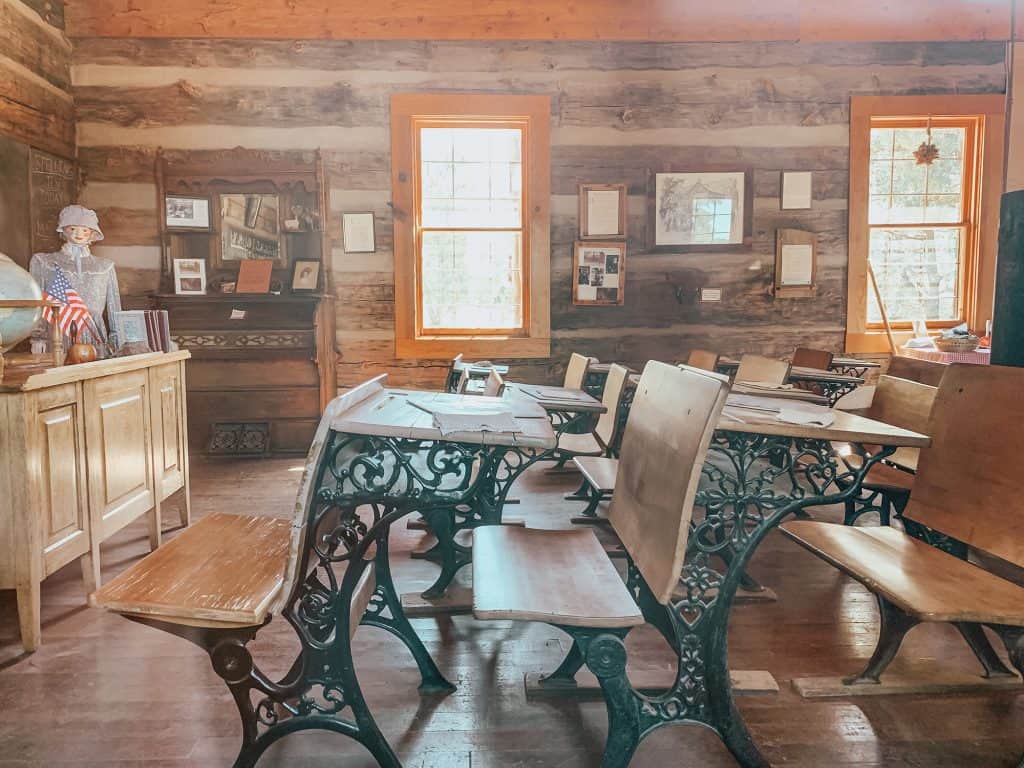 Take a Trip To Pine, Arizona
Pine was the perfect little town to get away from it all. Located up in the mountains lets you escape the heat and the tall pines make you feel like you are miles from anyone.
I loved how the town was spaced out so you always felt like you were in the middle of nothing. Even the restaurants had tons of pine forest souranging them.
Pine and Strawberry were the perfect little towns in Arizona for a realizing weekend with your kids and your dogs.
Definitely go check it out!
And don't forget to follow me in INSTAGRAM for more travel tips and pictures
Dog Travel Essentials
I love taking my pup everywhere from car rides to hiking and hotels. Here are some of the essentials I absolutely cannot travel without!
Do you Love Exploring Arizona? You Might Also Be Interested In:
There are tons of things to do and discover in Arizona! Check out some of these great places to visit.