A Weekend at the Andaz Scottsdale Resort and Bungalows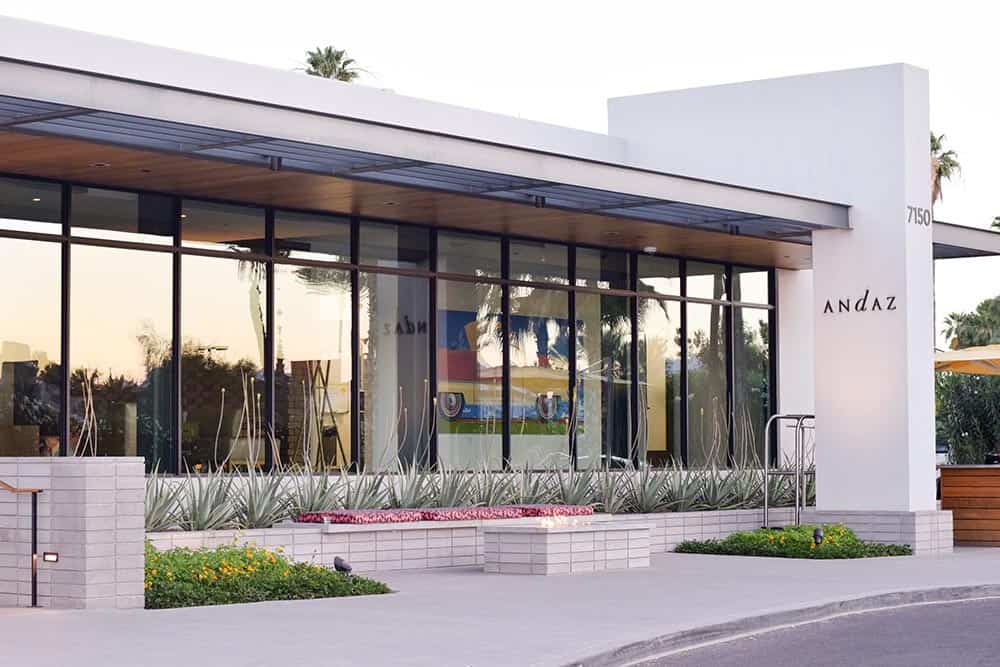 The Andaz Scottsdale Resort and Bungalows is a perfect mix of mid-century modern meets desert. And happens to be the perfect getaway for a super relaxing quiet stay in the desert.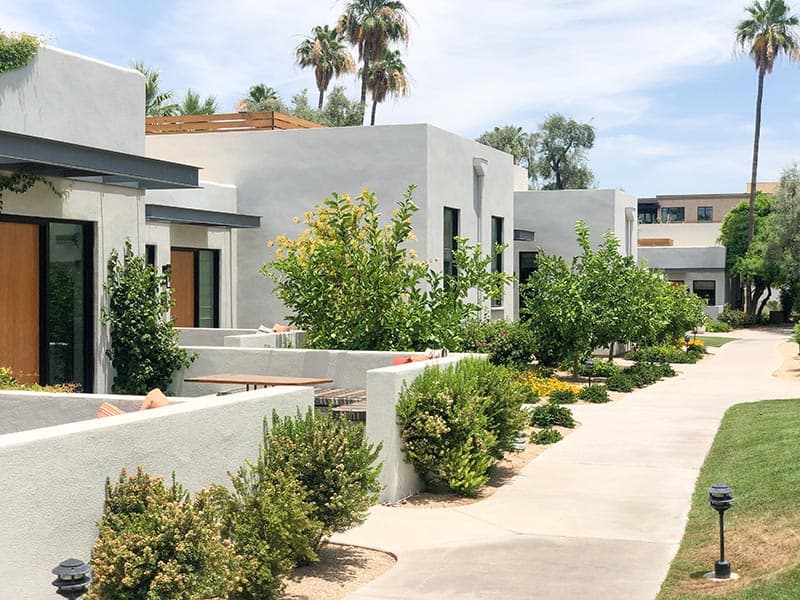 * This post may contain affiliate links, you can view my disclosure policy here.
Where to Stay in Scottsdale Arizona
I've lived in Arizona for over 10 years now and have learned that one of the best ways to survive the summer is by checking into a local resort. Fortunately for me, I'm a short drive from Scottsdale, Arizona.
Scottsdale is a well known location for some of the countries nicest resorts, with the best pools and yummiest cocktails. Yes please!
I had the good fortune of attending BlogHouse Scottsdale recently and was able to stay at the Andaz Scottsdale for a few days during the conference. They couldn't have picked a better location!
Andaz Scottsdale is located in gorgeous Paradise Valley, Scottsdale, Arizona. It consists of 22.5 acres with views of Camelback Mountain. And they are located just minutes from all the excitement of Old Town Scottsdale.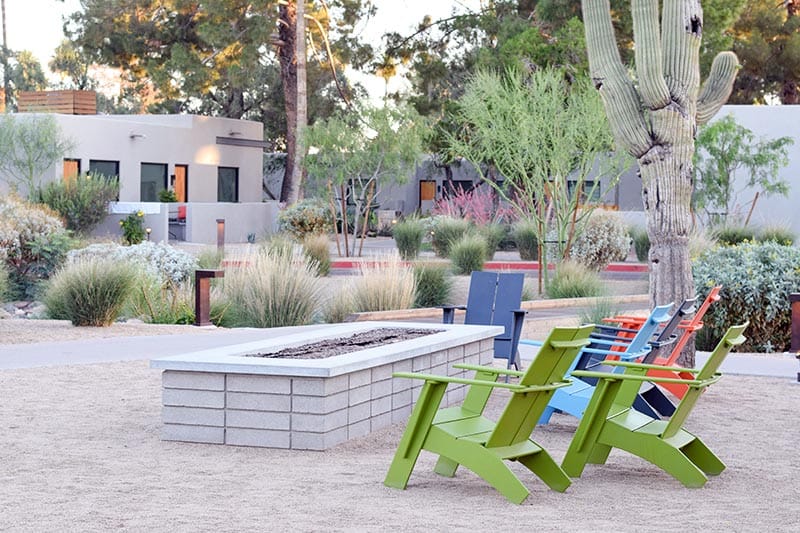 Checking in to the Andaz Scottsdale
Bracing myself for a long check-in process like most other hotels, I was really surprised when I entered their lobby and there was NO check-in desk! Just two super helpful resort staff with Ipads in hand.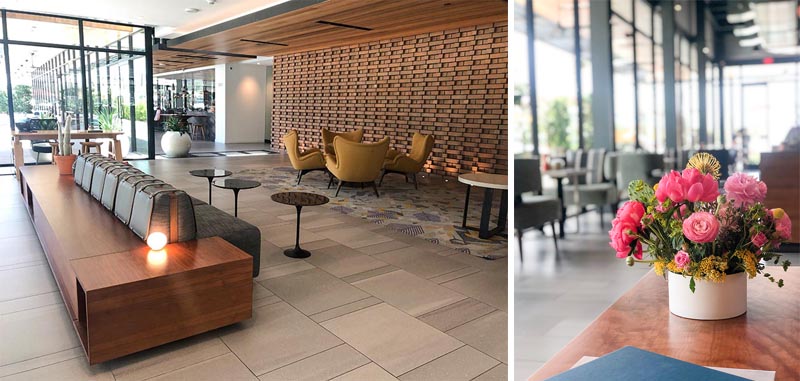 They actually walked up to me with a smile and got me checked in within 5 minutes. And the best part… get this… they offered me a beverage. Not like a glass of water, but a beer or glass of wine. And several to chose from! She handed me a nice cold blonde beer and my rooms keys at the same time. Now that's impressive!
Andaz Scottsdale makes it a point to have every guest feel relaxed and comfortable when checking in, hence the unconventional lobby and check-in process.
TIP: Hyatt has a great check-in process online that helps checking in go a lot faster. I definitely recommend you take advantage of that!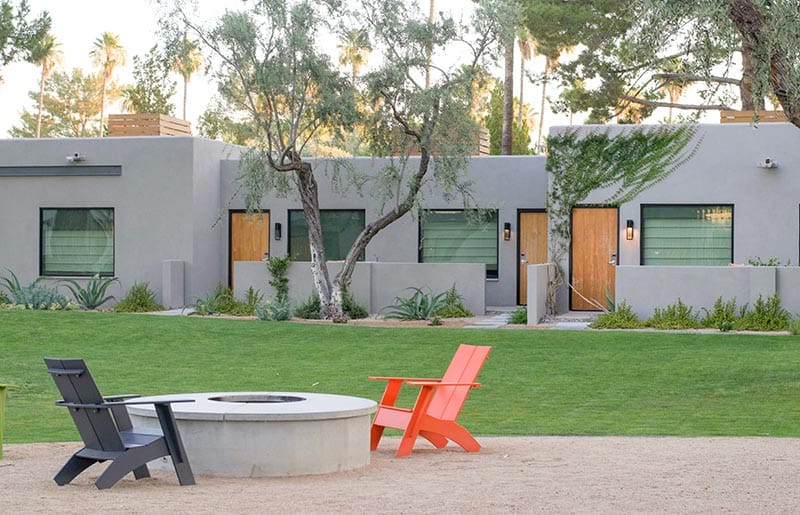 The Resort
Walking through the resort to get to my room was a treat in itself (probably helpful with the cold beer in my hand). The grounds are filled with green lawns, towering palm trees, olive trees, cacti, and succulents galore.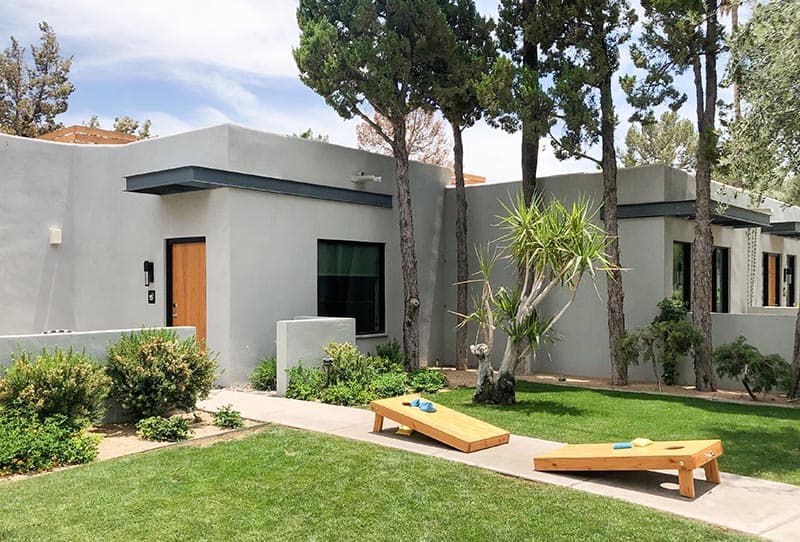 Maybe it's because I got a weekend to myself and left the kids at home, but it was unbelievably peaceful just walking the pathways to my bungalow.
The Andaz Scottsdale has 185 guest rooms that are all private bungalows with a cool southwestern modern feel to them. You definitely won't find your standard hotel room here. From the front door to my room to the private back patio, it's almost like you have your own mini casita.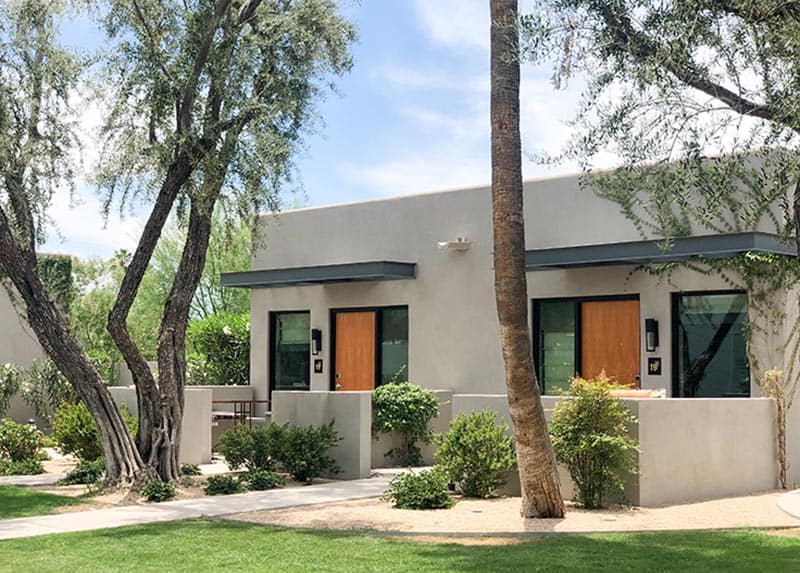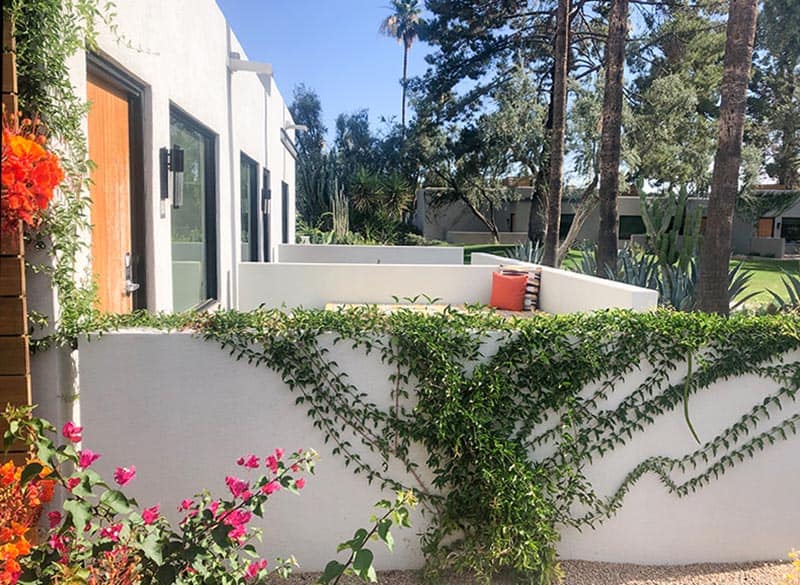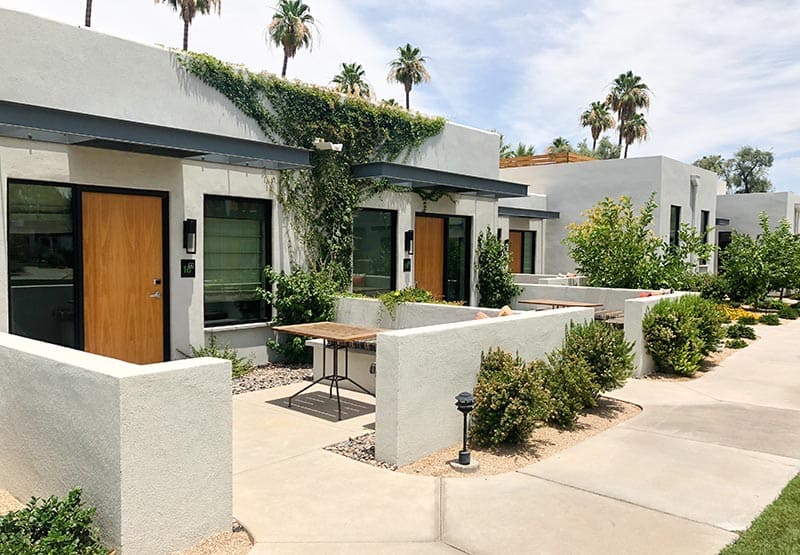 The Rooms
One of my favorite aspects of the rooms is how Andaz Scottsdale uses local artists to design and decorate their rooms. The artwork on the walls and even the mugs are handmade by local Arizona artists. You can even buy these items in the gift shop… which I did! I mean, what better souvenir than local artists hand made designs?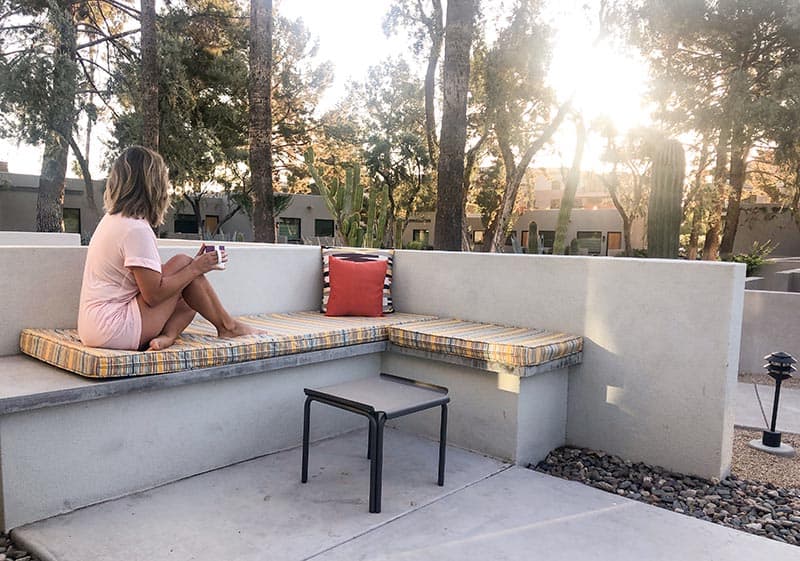 Each room has unique features and a wonderful modern minimalist feel. The decor was so perfectly done, you will get a great sense of being in the Sonoran desert but with an updated modern feel to it.
And that patio! Having a big padded bench was the perfect spot to drink my morning coffee (they supply Keurig machines!) each day. It's crazy how close you can be to all the shopping and dining of Scottsdale, yet still feel worlds away and have such absolute quiet around you are the Andaz.
The Amenities
The Andaz Scottsdale features a resort style pool with a pool-side bar, cabanas, and plenty of lounge chairs that face amazing views of Camelback Mountain. It's a pretty laid back vibe here. Although there were a few families with kids swimming, it was definitely a lot more peaceful then I anticipted.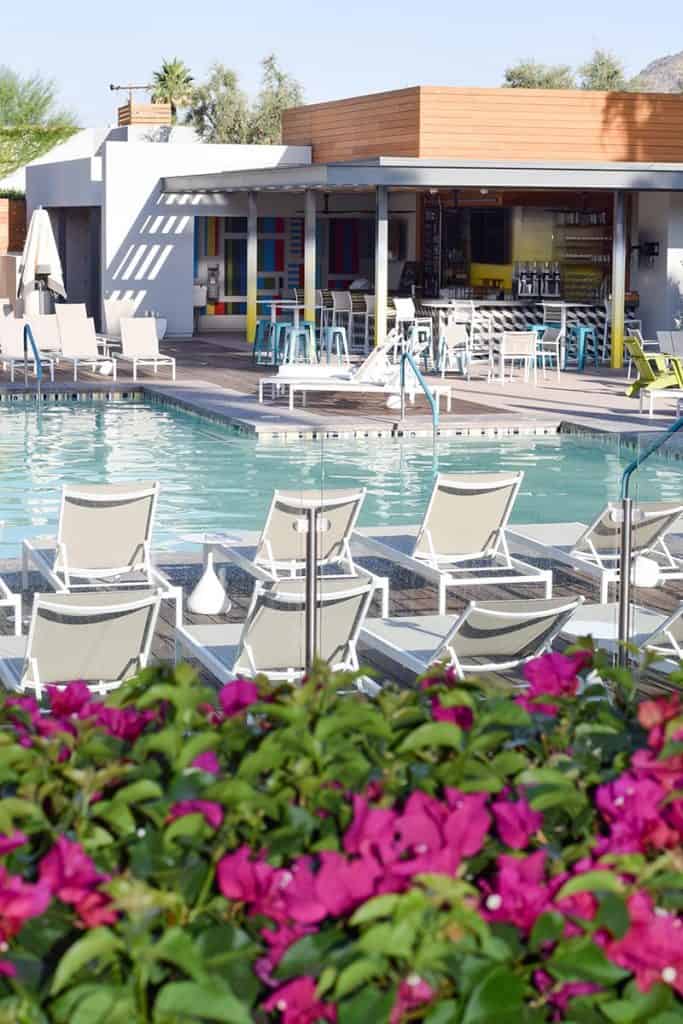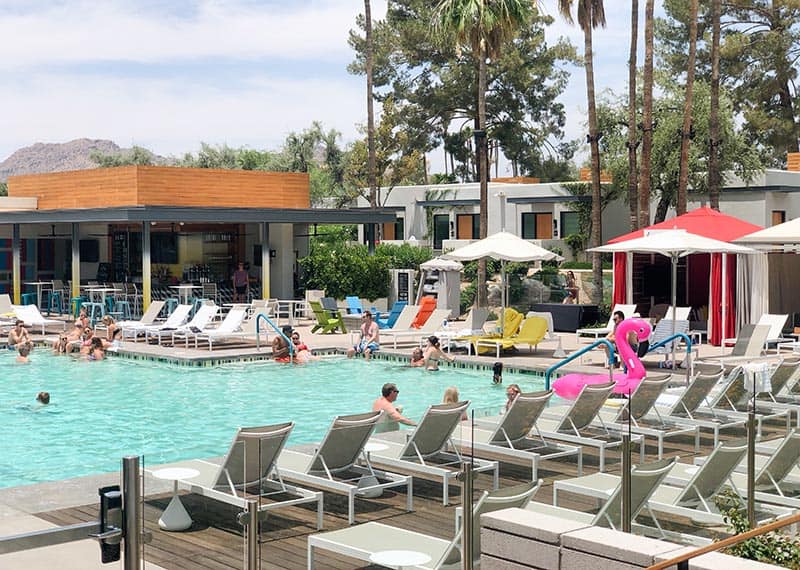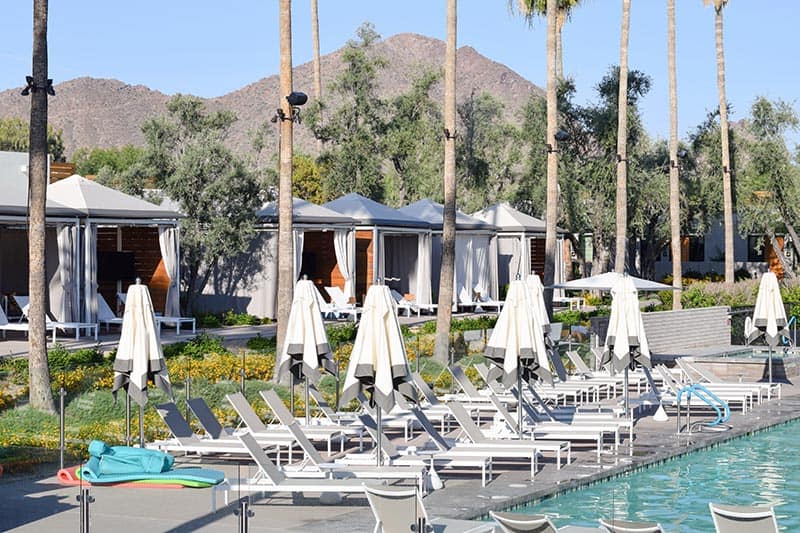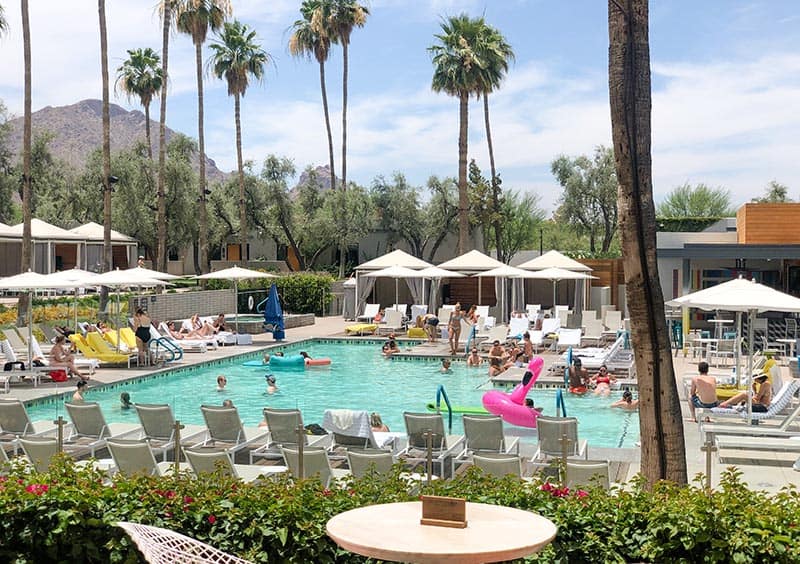 Try chilling in the hot tub at sunset and you'll never want to leave!
You can also find the Weft & Warp Art Bar and Kitchen located just off the main lobby, overlooking the pool. They have indoor and outdoor dining along with some of the best southwestern style food you will find!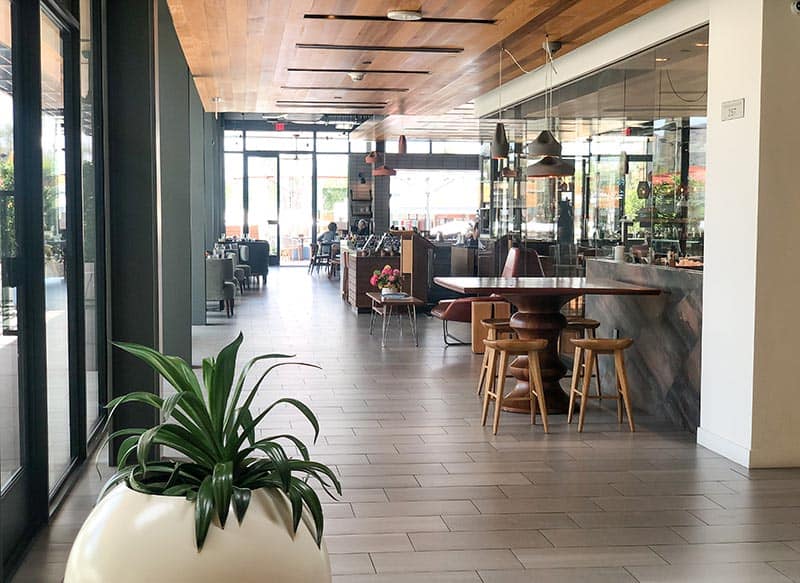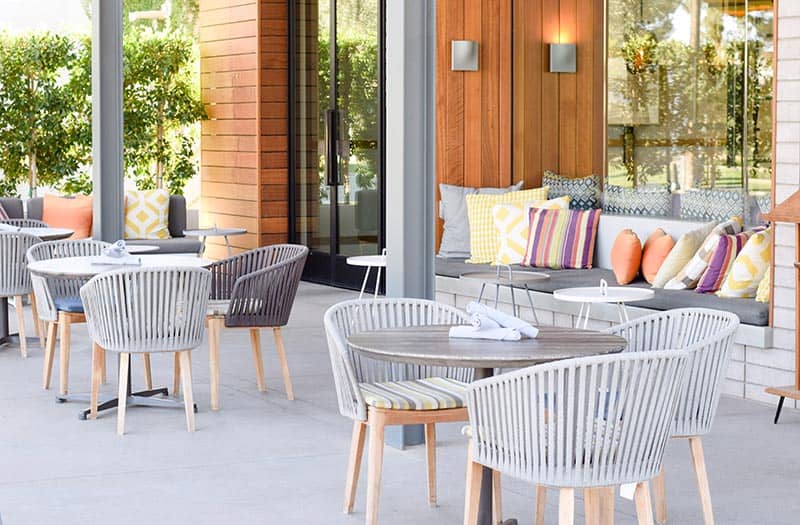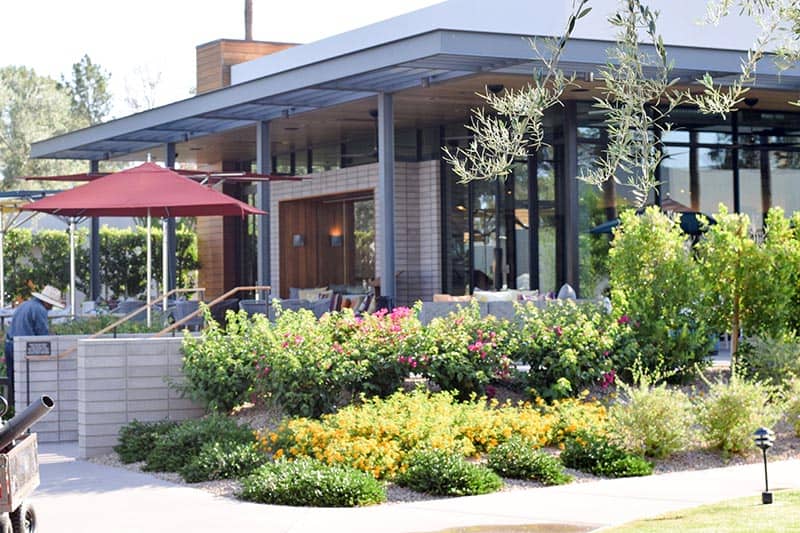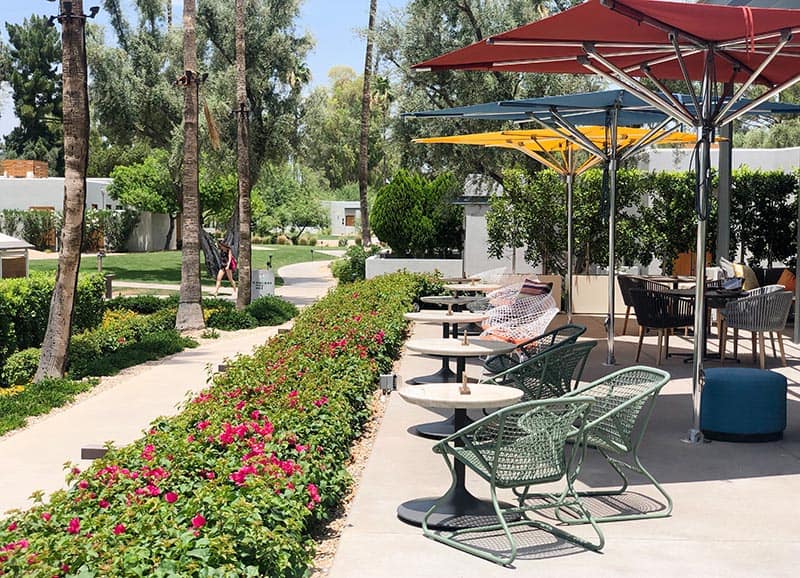 The Palo Verde Spa and Apothecary
While most resorts have a spa, the spa at Andaz Scottsdale also comes with a tranquil meditation lounge, private spa pool, and a spacious lawn on the edge of the resort. So you can relax in absolute peace and quiet and gorgeous mountain views.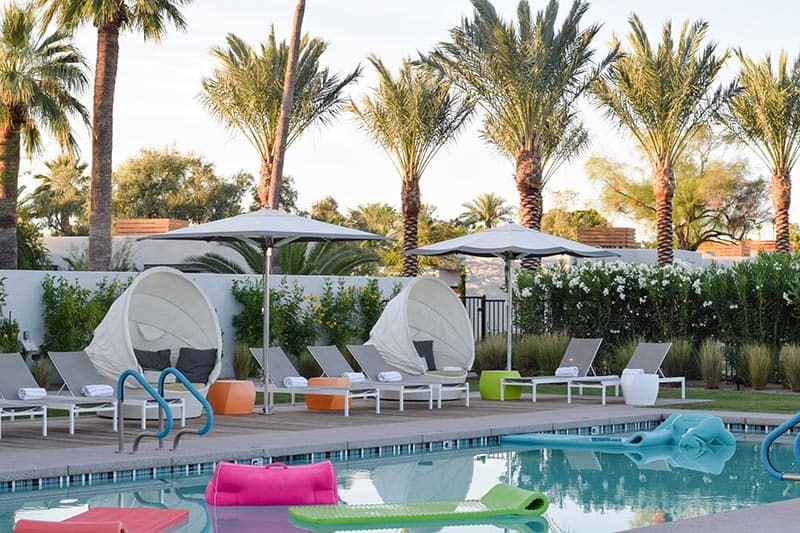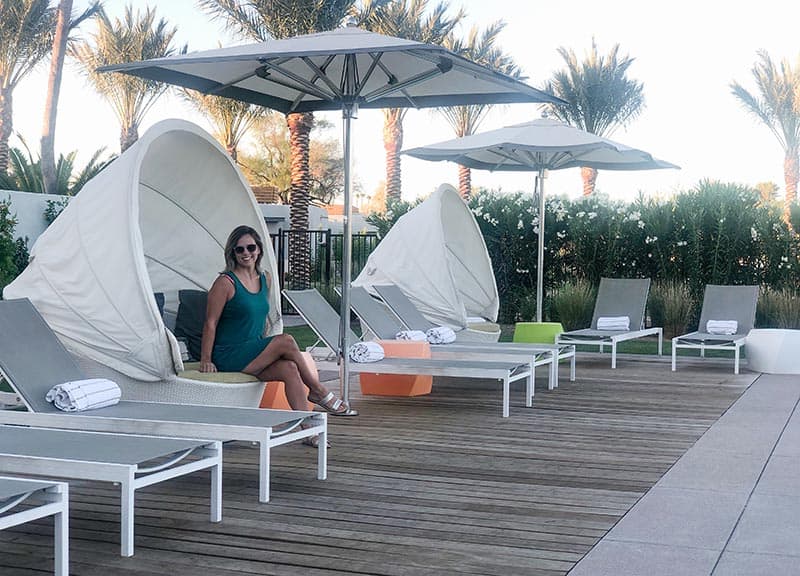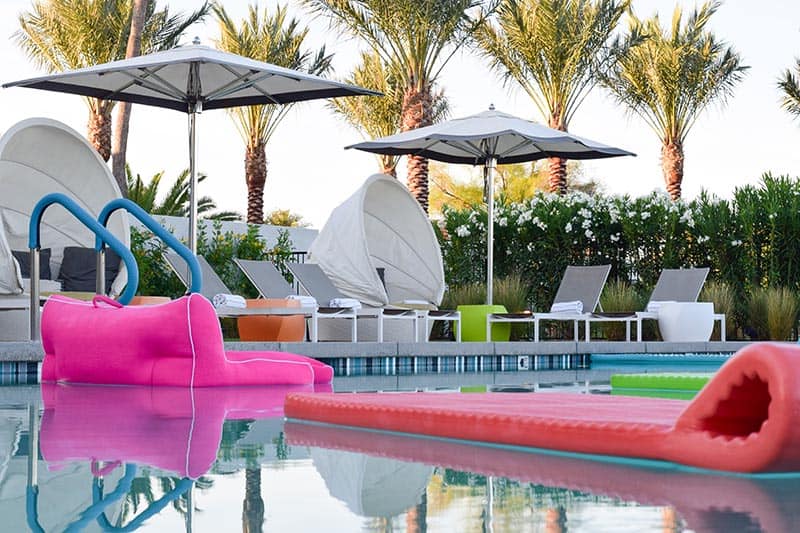 Unique Features of Andaz Scottsdale
In the cooler months, look out for their vintage convertible outside the main lobby. You can take some amazing Instagram photos or even get a ride in it. They also have a Tesla that will take you anywhere you want to go within a five-mile radius of the resort.
So you can cruise around Old Town Scottsdale in a vintage cadillace convertible or Tesla!
TIP: Look out for the local artists of Cattle Track Artist Colony who sell their work at the resort, or even get a ride to their artists studios to see more.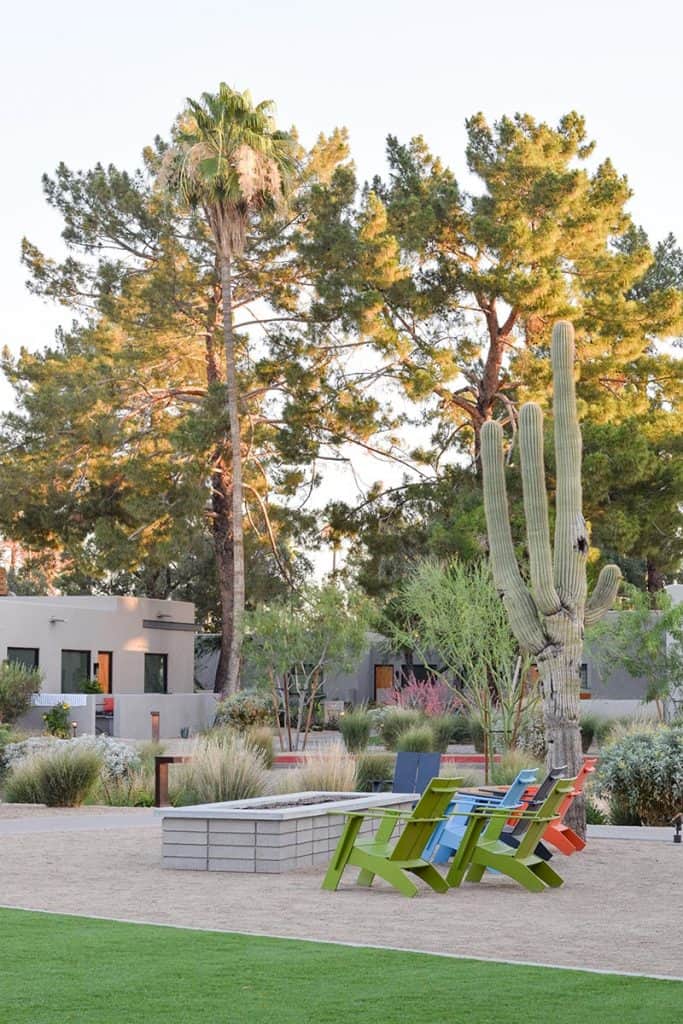 Pets Welcome!
If you are obsessed with your fur babies, then don't worry! Andaz Scottsdale is very pet-friendly. You can pay just a one-time fee (versus daily like other resorts) to have pets under 50 pounds stay with you. I saw several dogs there that weekend and the property has so much green space, the dogs even have places to stretch their legs.
Things to Do In Scottsdale
You can hang out at the pool and relax with some cocktails or enjoy a massage at the spa. But if you want to get out and experience the area, Andaz will help set you up with some really fun adventures. Go on a hot air balloon ride, head over to Cattle Track to see local artists at work. Not to mention, there are also tons of hiking trails and golf courses within minutes.
Old Town Scottsdale is just minutes away with tons of shopping, restaurants, and even art museums. Some of my favorite places to include Hula's Modern Tiki (where I get the Macademia crusted Mahi and coconut rice). The Mission, with its stylish Latin American cuisine (get the street corn, you won't regret it!).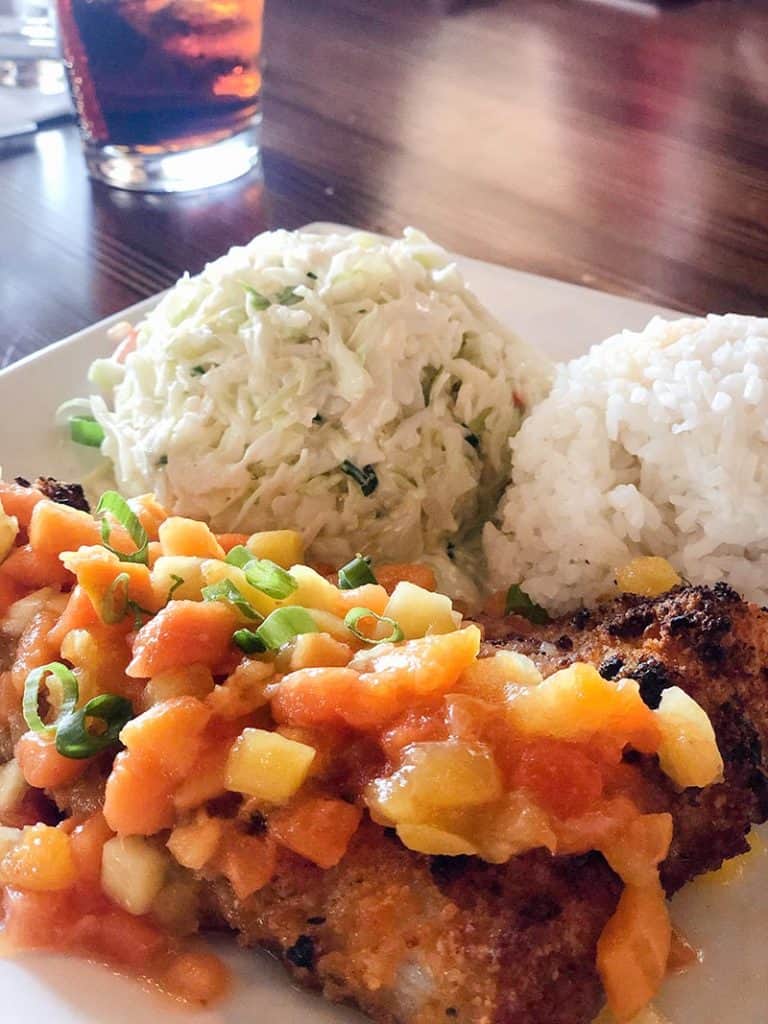 Or try the newly opened winery, The Merkin, for some wine tasting. The Merkin is owned by Tool frontman Maynard James Keenan and their wine is sourced from their own vineyards right up in Cottonwood, Arizona.
Why I Would Recommend the Andaz Scottsdale
While most of my traveling is focused on finding fun family-friendly places to go and stay, every now and then the parents need some time away too! The Andaz Scottsdale is the perfect place to relax and take a breath from the hustle of every day mom-life.
Arizona residents can even get a really special deal to beat the heat! They have Summer Packages that include; low rates, waived resort fees, daily breakfast, complimentary cocktails, and 25% off spa services. Tell me, what mom would pass that up?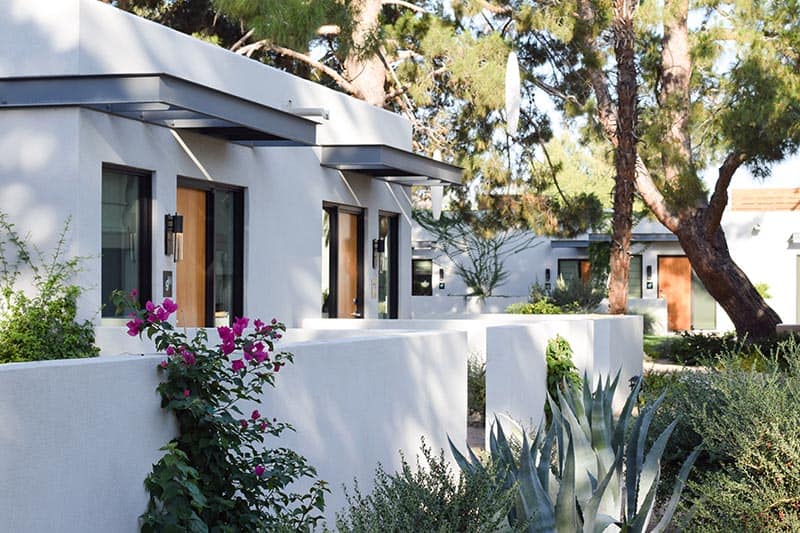 Too Hot to Stay in the Summer?
Most people are too afraid to visit Scottsdale in the heat of an Arizona summer. But don't let that stop you! Summer is when you can find the BEST deals at Arizona resorts. And when you sit at a pool all day, drinking cold drinks, you won't even notice the dry heat around you.
Arizona is filled with water actiivties to keep you cool in the summer. Rent a boat on one of the many lakes, go kayaking, or swimming at a local beach. You can rise early and beat the heat to enjoy several hiking trails or even a hot air balloon ride.
Visit It's That Hot! for more inspiration on visiting Scottsdale in the summer!
* Thank you so much to Experience Scottsdale and The Andaz Scottsdale for hosting our event. Like always, all opinions are my own and I would never recommend anything I didn't freaking love.
Follow me on Instagram for more travel photo inspiration!


Pin for later!