Staying at the TWA Hotel at JFK, An Honest Review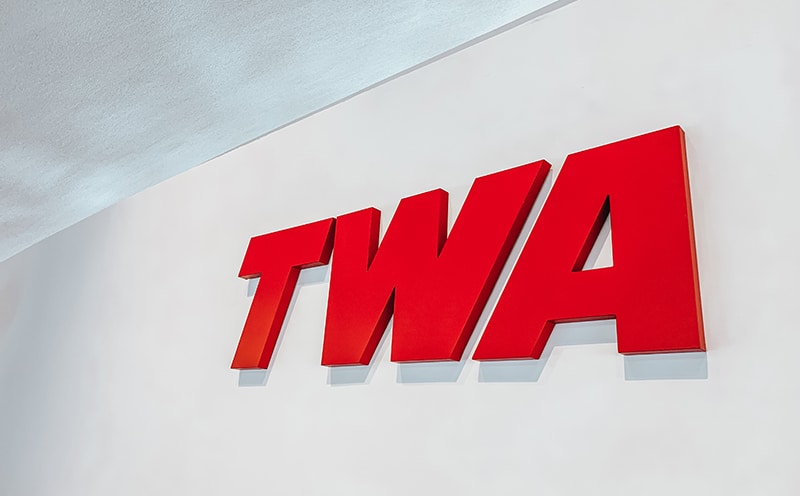 A review of my stay at the TWA Hotel at JFK
My stay at the TWA Hotel was purely on accident. I was flying into JFK airport in New York the night before heading out to a week long vacation in Pennsylvania and needed a place to stay just for the night.
I spent an exhausting amount of time searching for hotels around the Brooklyn and Queens area to find something close to the AirPort, but at a reasonable rate (and that wasn't crawling with mold and cockroaches).
In my search came up the TWA Hotel and I cannot even begin to describe my excitement.
The TWA hotel is located right off of terminal 5 at JFk. Which means you don't need to take an Uber, or a train, or any other transportation to get there. I simply got my bags, took the air train at the AirPort to terminal 5 and walked straight into this amazing hotel.
TWA Hotel opened in May of 2019 and I read a LOT of reviews saying there were tons of issues and things wrong with the place. But my visit was in September of 2019 and they had all the kinks worked out by then.
Staying at the TWA Hotel was a great experience and I would highly recommend this hotel if you are flying into JFK and Staying in New York! I'll tell you more why in a little bit!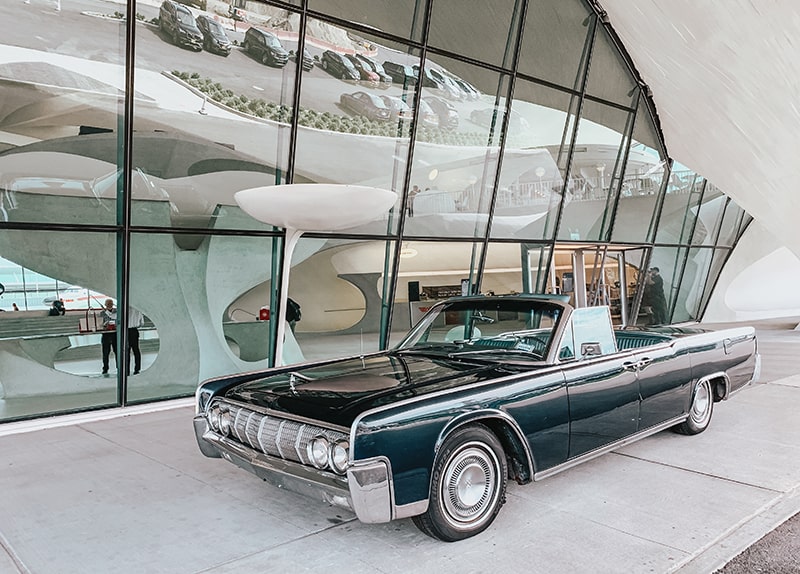 A Little TWA History
One of the reasons I liked staying at this hotel in New York is because of the history. I love learning about things that have a really cool historical aspect and the TWA Hotel is just that!
(Just skip this section if you don't care about history stuff)
TWA stands for "Trans World Airlines" and this hotel used to be a flight center back in 1962. It was once owned by Howard Hughes. And if you don't know who that is, Leonardo DiCaprio played him in the movie "Catch Me If You Can" and part of the movie was even filmed at this location.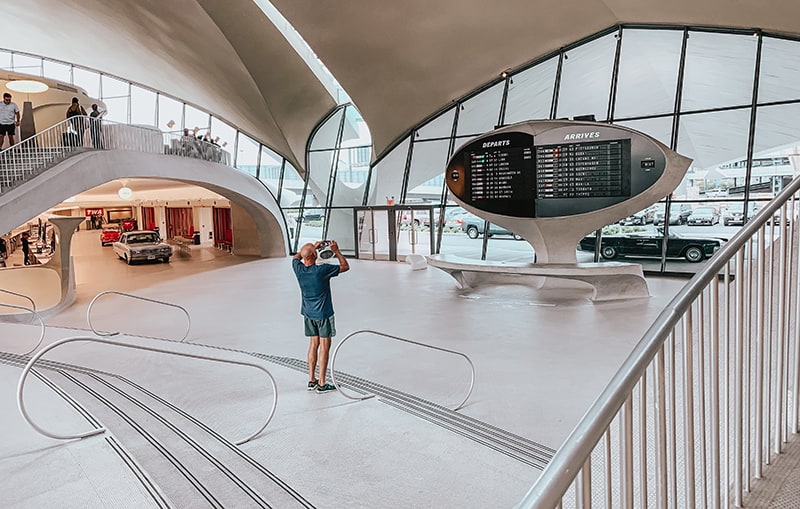 It earned the title "Grand Central of the Jet Age" and was once a huge terminal for TWA which flew a bulk of their aircrafts out of JFK.
It closed down as an airport terminal and sat vacant for over 18 years. Then in 2005, it was added to the National Register of Historical Places. And soon started a $300 million renovation to turn it into the hotel it currently is today.
It just recently opened its doors on May 15, 2019 for customers and is one of the most unique hotels I've ever seen. The main lobby alone is over 200,000 square feet. And the entire place resembles the old TWA terminal down to every last little detail.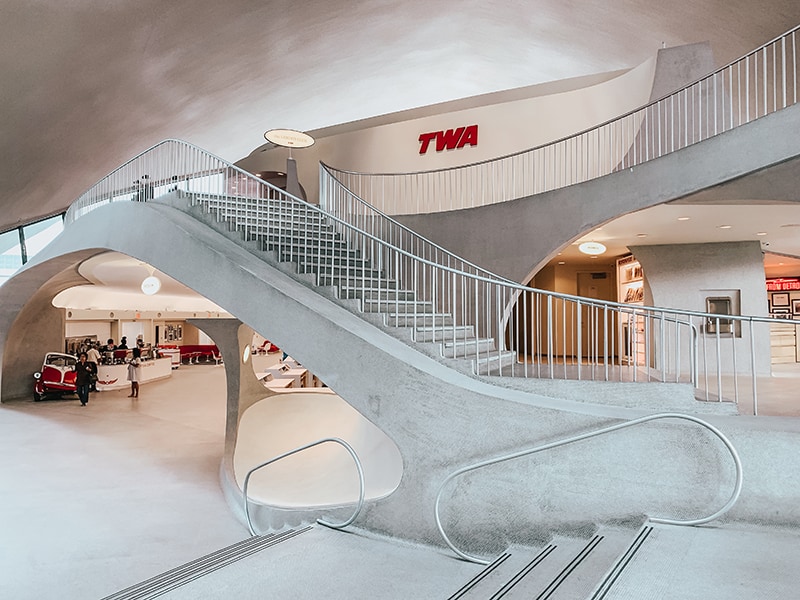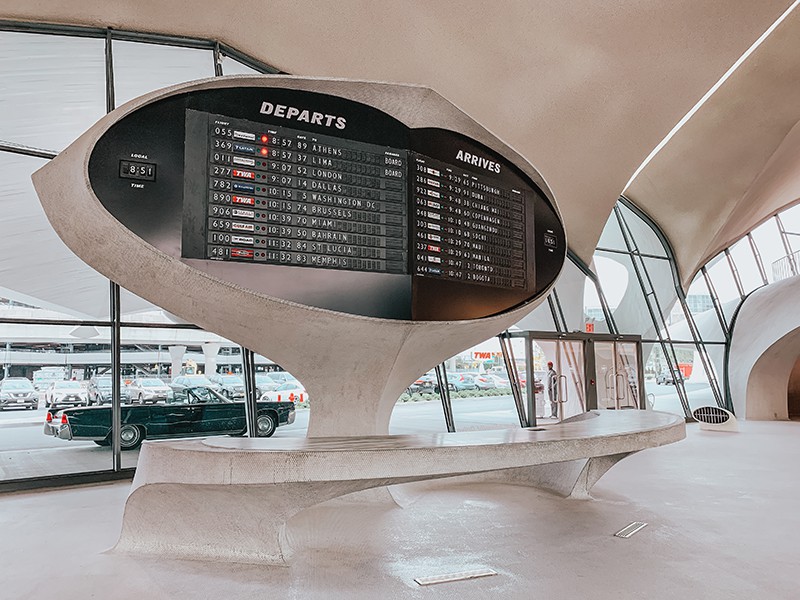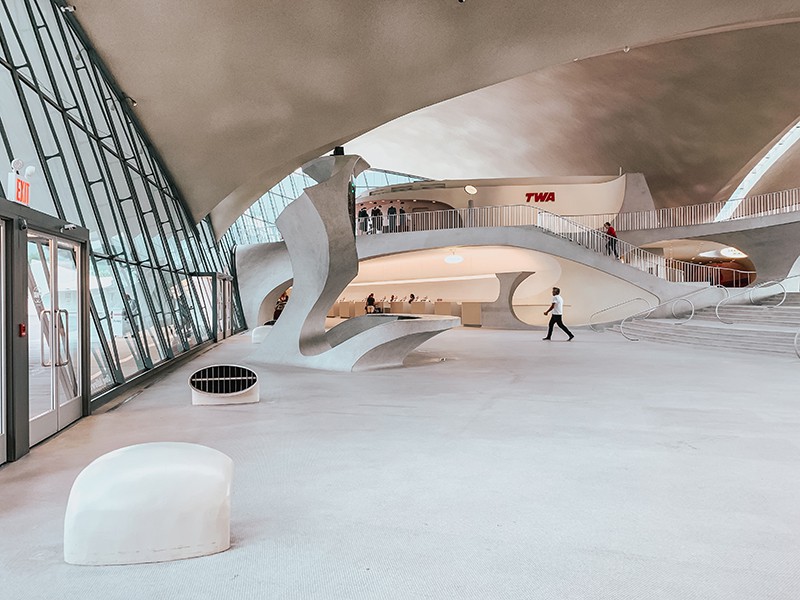 It's super easy to get to
My flight didn't land until 8 pm and by the time I grabbed my luggage, I was tired and hungry. I took the air train to terminal 5 (Jet Blue) and easily followed the signs to the hotel.
There is literally one elevator door with the TWA logo on it and once you get inside, you only have one option of what floor to go to. So you really can't mess it up!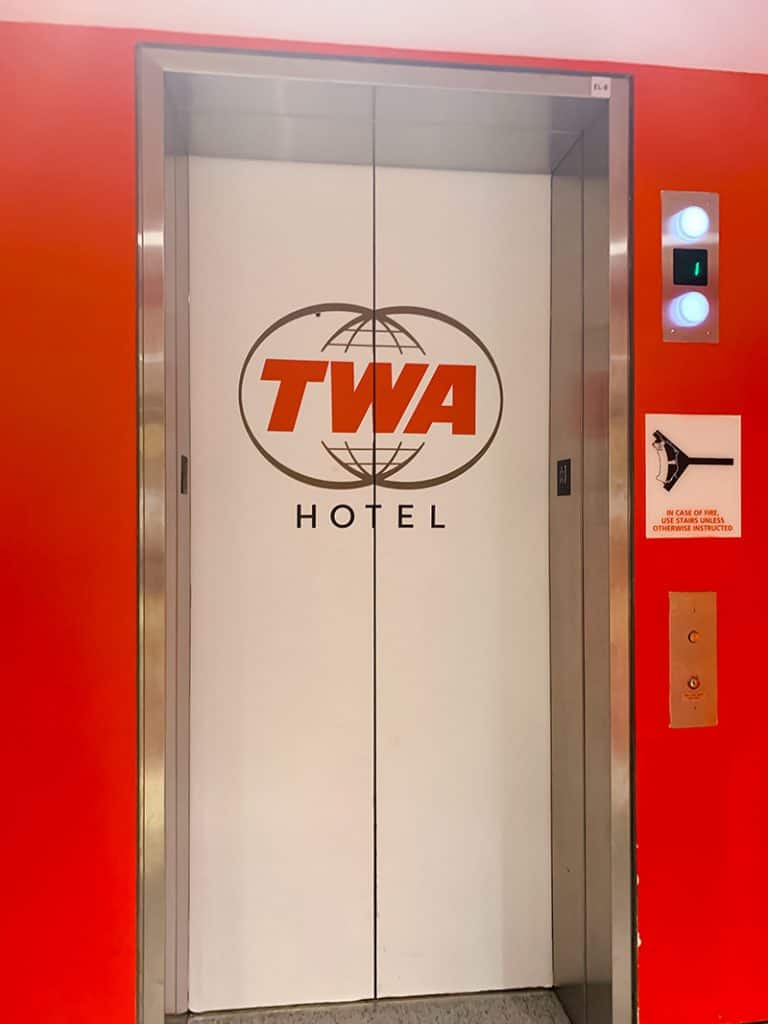 Once the elevator opens, you are immediately transported back to the 1960's. They even had 60's music playing! And that big red tunnel is right in front of you. Just follow the tunnel to the hotel and check in.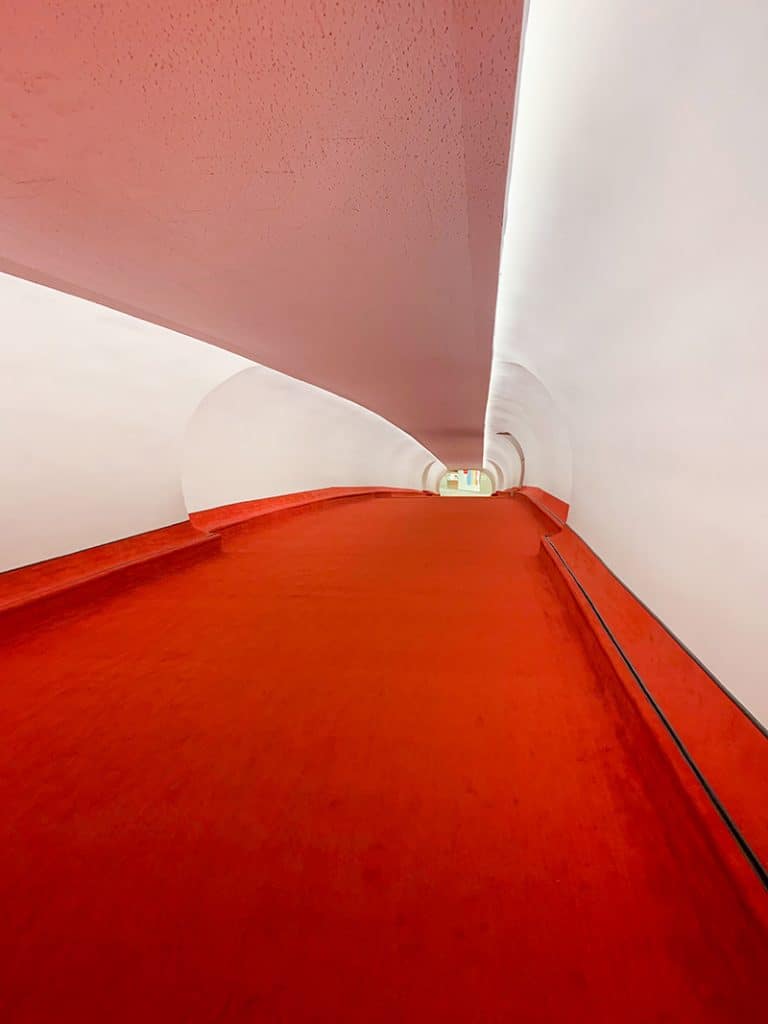 TIP: The tunnel is super cool looking but is made with thick red carpet and arches. It is NOT easy to roll luggage on. I have a super lightweight suitcase that is easy to roll and I struggled getting that up and down that red carpet.
But I will tell you this… there is nothing better than getting off a long flight and being able to just walk to your hotel room. No cabs, no train, no waiting for you Uber driver who circles the airport 5 times before they find you.
WORTH IT!
My room at the TWA Hotel
Checking in was really easy. They have these self check in monitors (iPads really) where you can check in yourself and even make your own key card. But there was several staff nearby that immediately came over and helped me check in and explained how to get to my room.
TIP: There are 2 wings in the TWA Hotel… the Saarinen and the Hughes. Make sure you know which one your room is in because they are NOT close to each other and going to the wrong one would be a long walking mistake.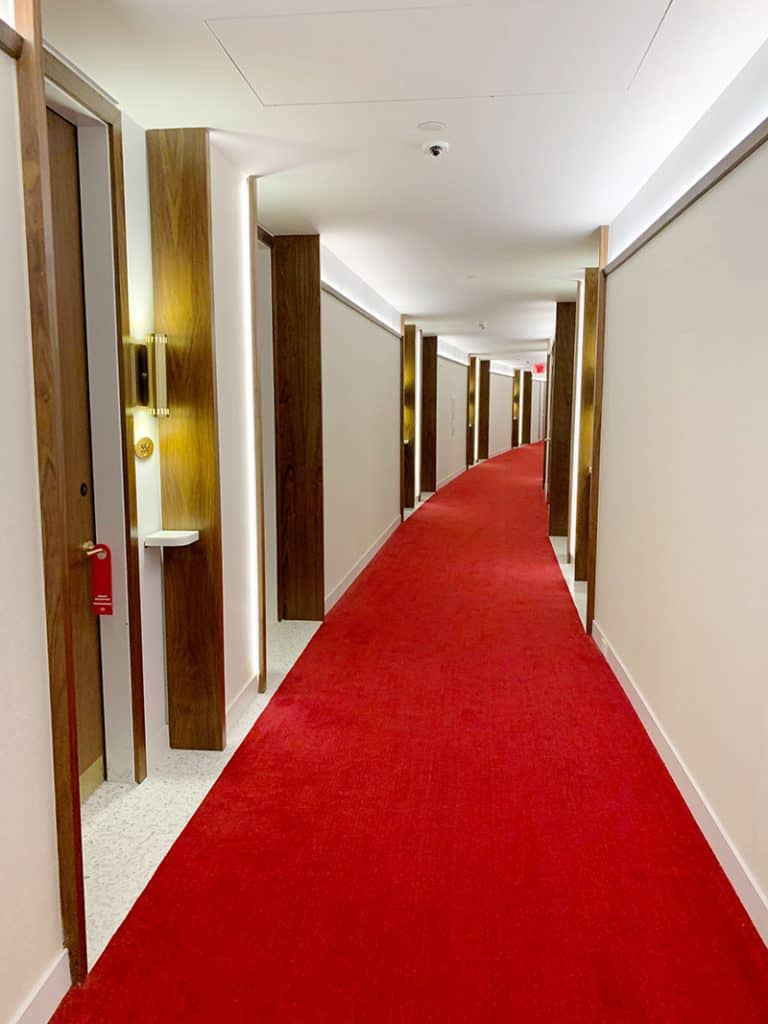 You have a choice of several rooms and the prices vary from $250 on up. Which I have to say, for New York City standards, that is VERY reasonable. I would have paid the same for a chain hotel 10 miles away.
I chose the Deluxe King with Historic TWA View. The runway view would have been fun but I was trying to stay in a budget!
The room was super cute and all decked out in retro-themed furniture and accessories. The bed was turned to face the large window and the view really was great.
Don't worry, there is a screen that comes all the way down to give you privacy!
And the windows are extra thick and sound proof so you won't hear any airplane noise at all.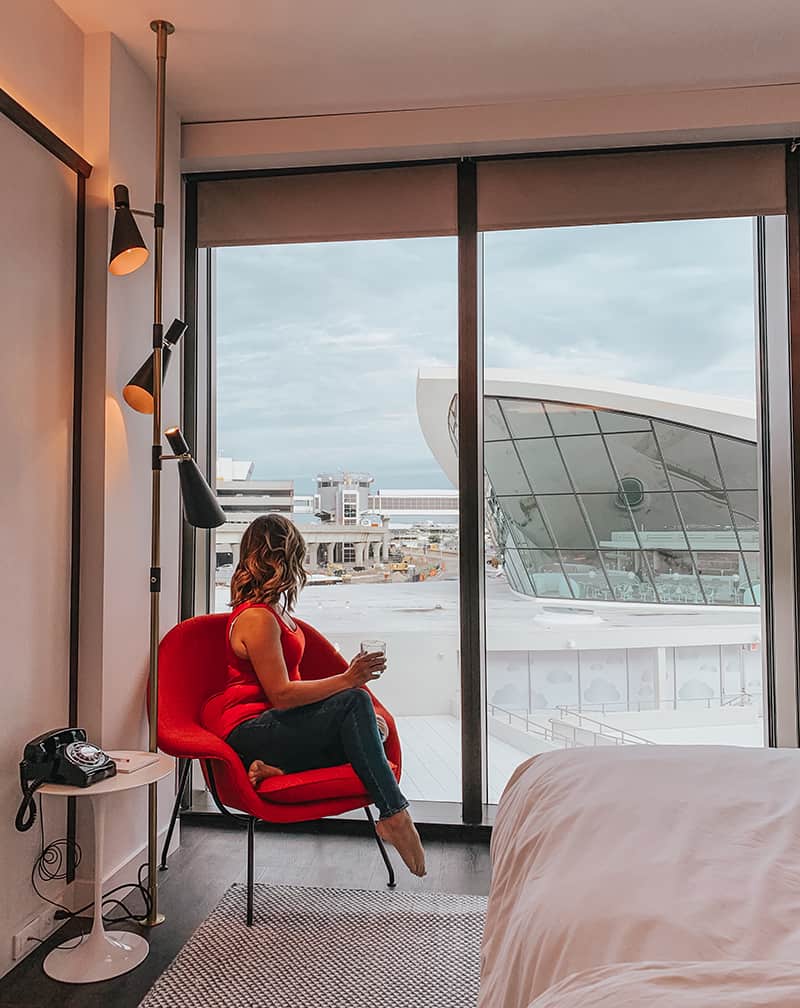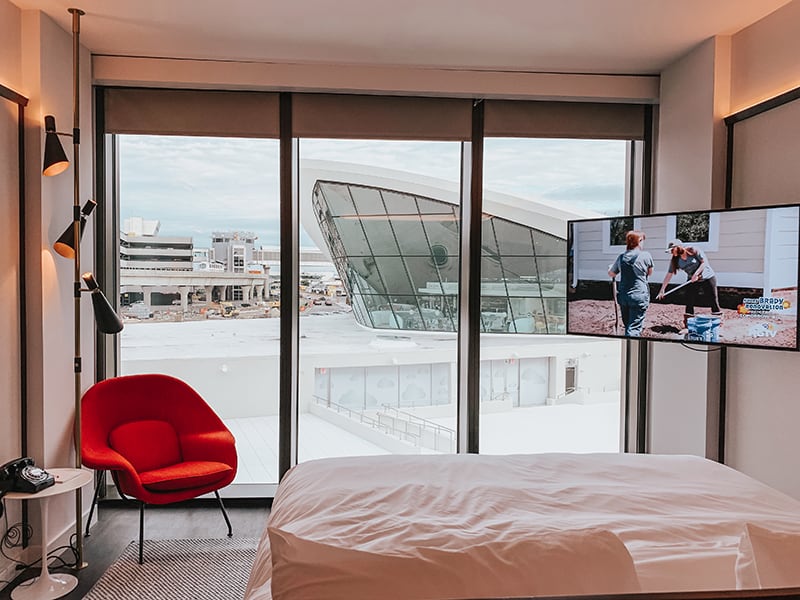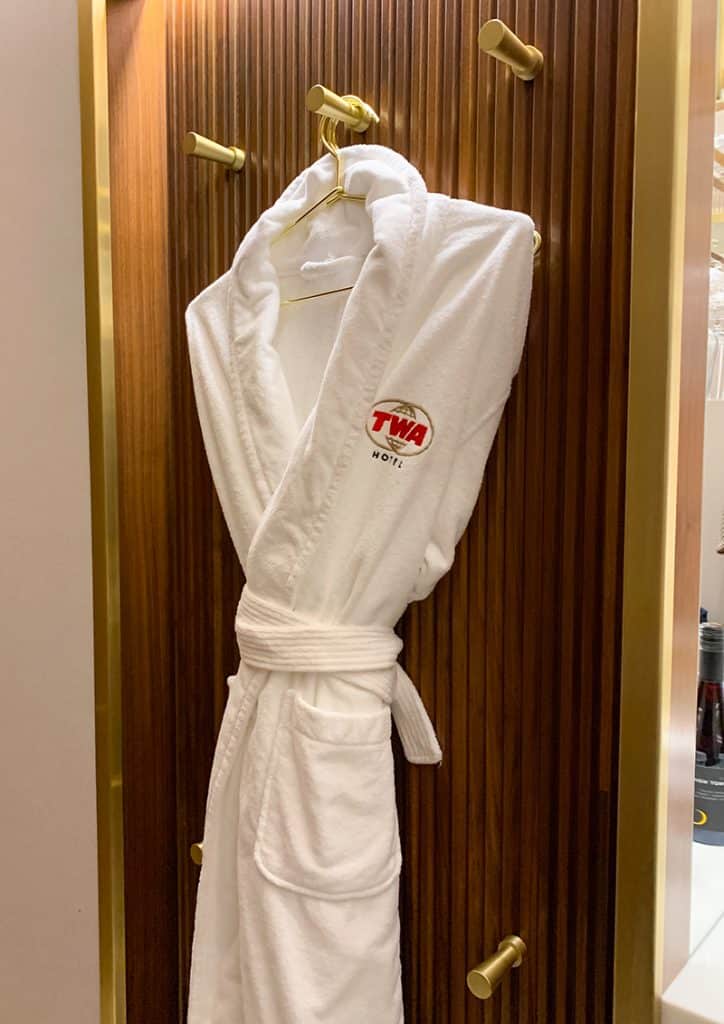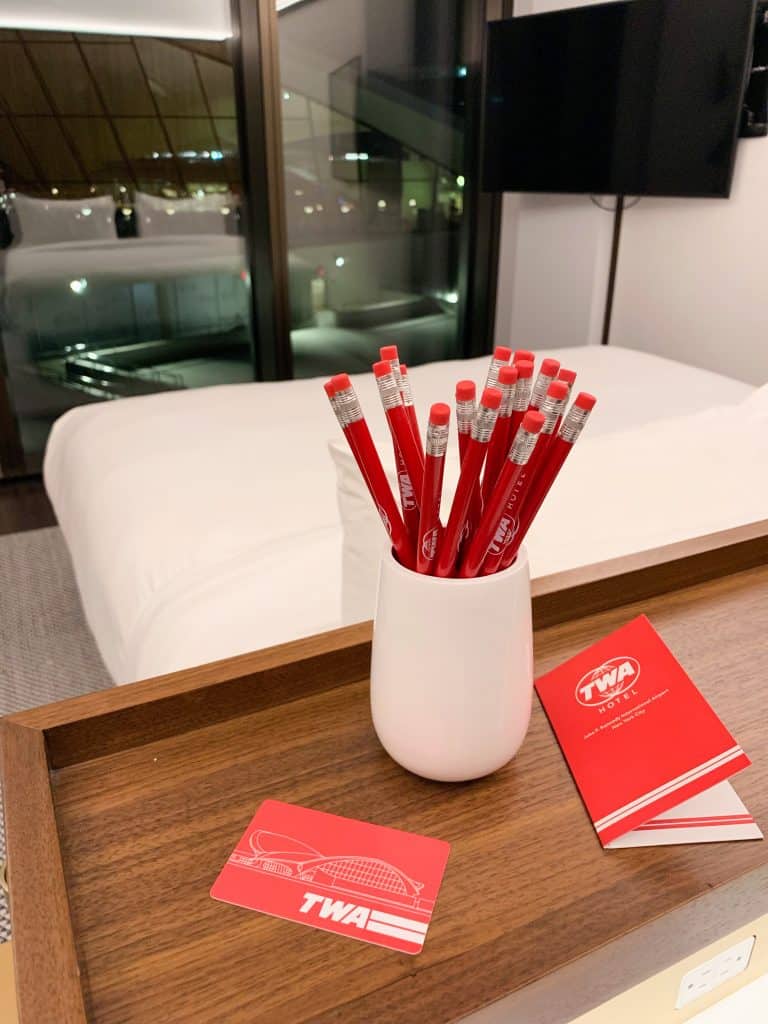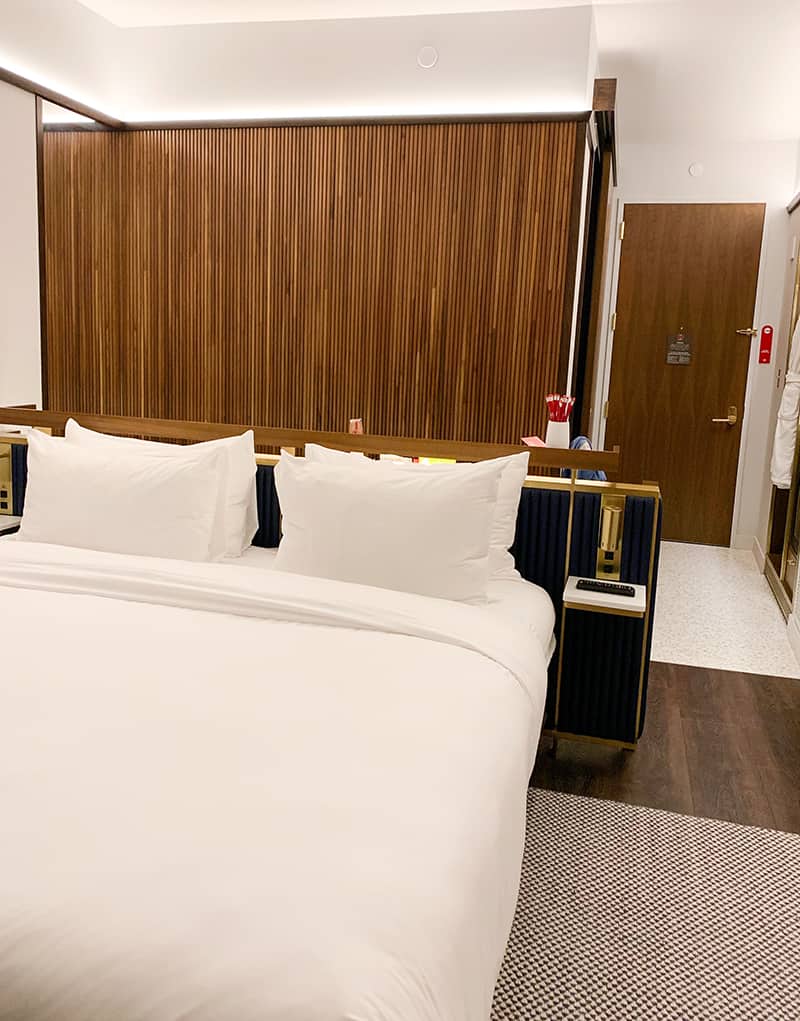 My only complaints about the hotel
One complaint I have about the room was that there was no storage. No closet, no dresser or drawers. I guess they figure people stay one night at a time for layovers and not longer stays.
Sorry, two complaints! There was also no coffee maker. Granted, the hotel had some great coffee spots. But sometimes you need a cup of coffee before you can pull yourself together enough to go down and mingle with the public.
In keeping with the 1960's theme, they had a mini bar with TONS of alcohol. I did not enjoy any of that, but I did put some diet coke in my glass so I could look very "Mad Men" like for this photo.
This is great for photos but hard for temptation! Not to mention the dozens of snacks sitting out that are crazy expensive. So if you have kids, you might need to get into the room first to hide those.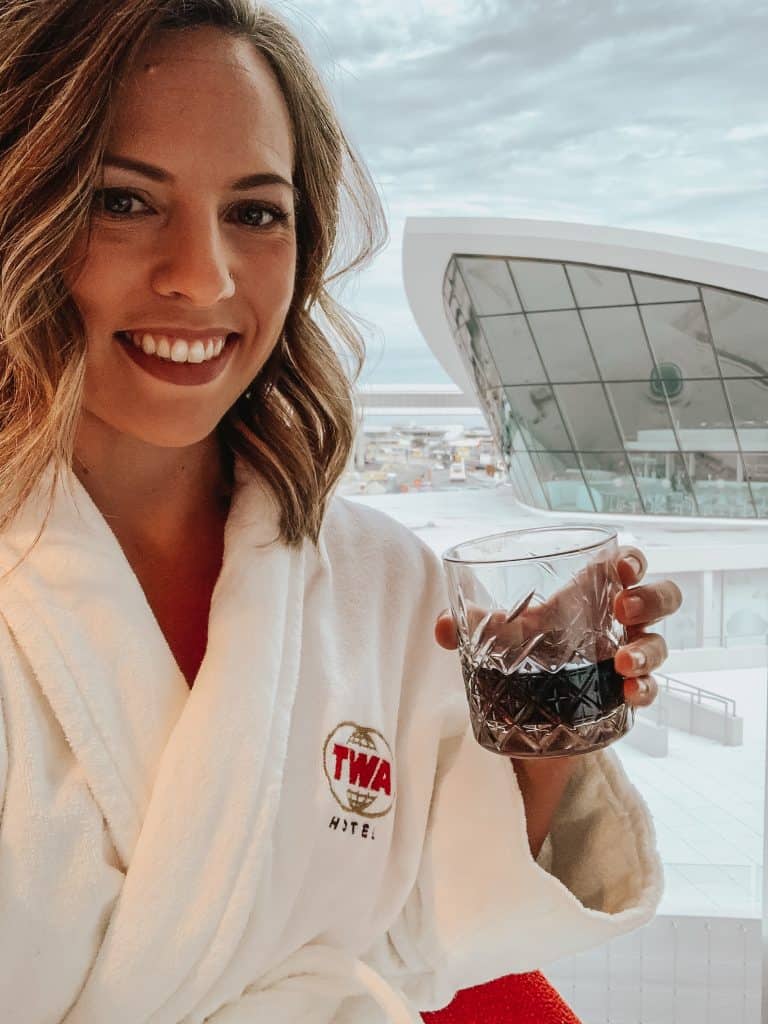 Where to Eat
The TWA Hotel does over several food choices but does not have room service. And several of the places were not open very late.
So if you arrive past 10 pm, grab something to eat in the airport before you head to the hotel.
I was lucky enough to be checked in by 9 pm and headed up to the pool deck to enjoy a late night dinner. The food is very pricey (again, it's New York, that's their standard) but overall really good. Or maybe I was just starving, but the fries and fish tacos were really great.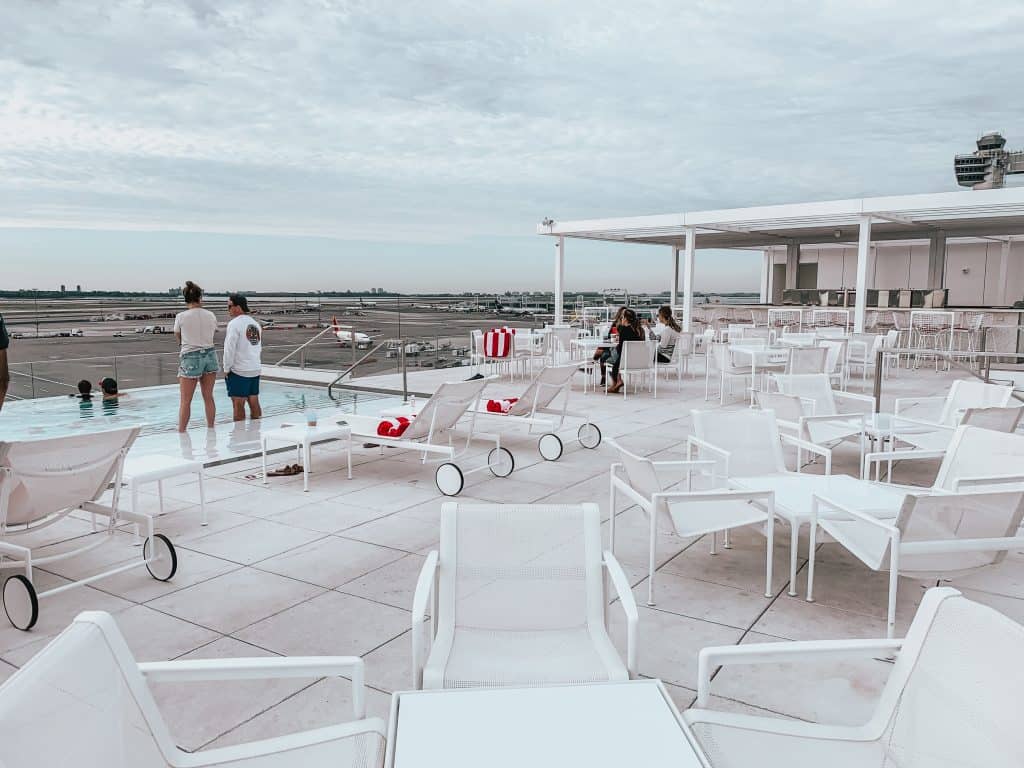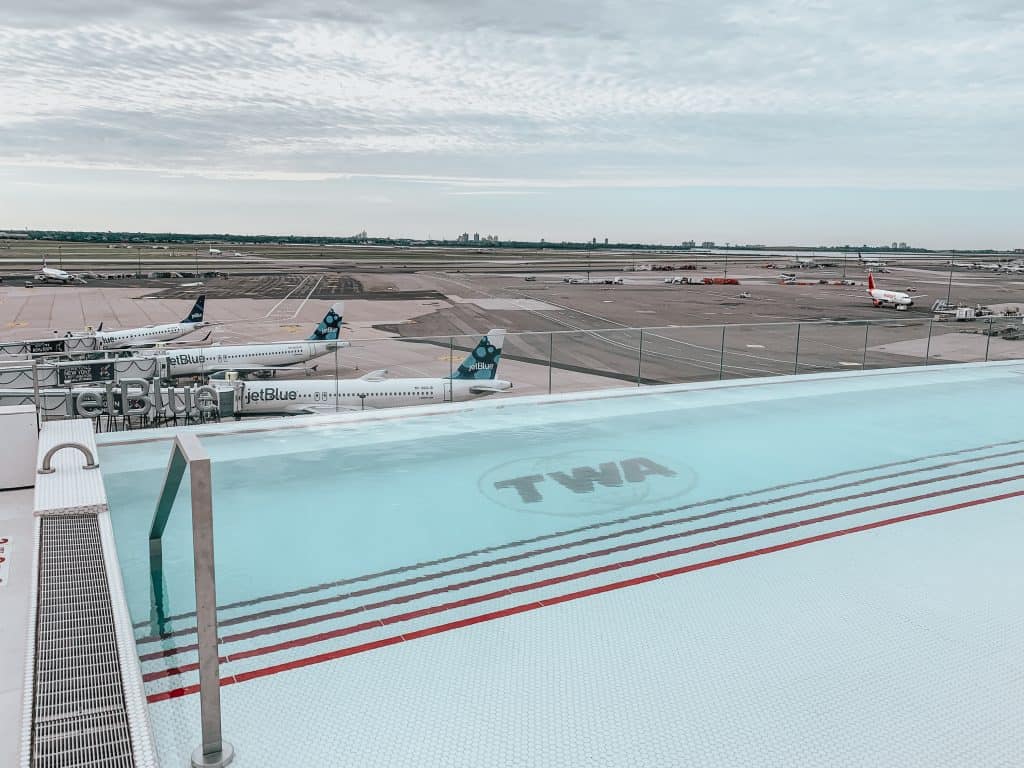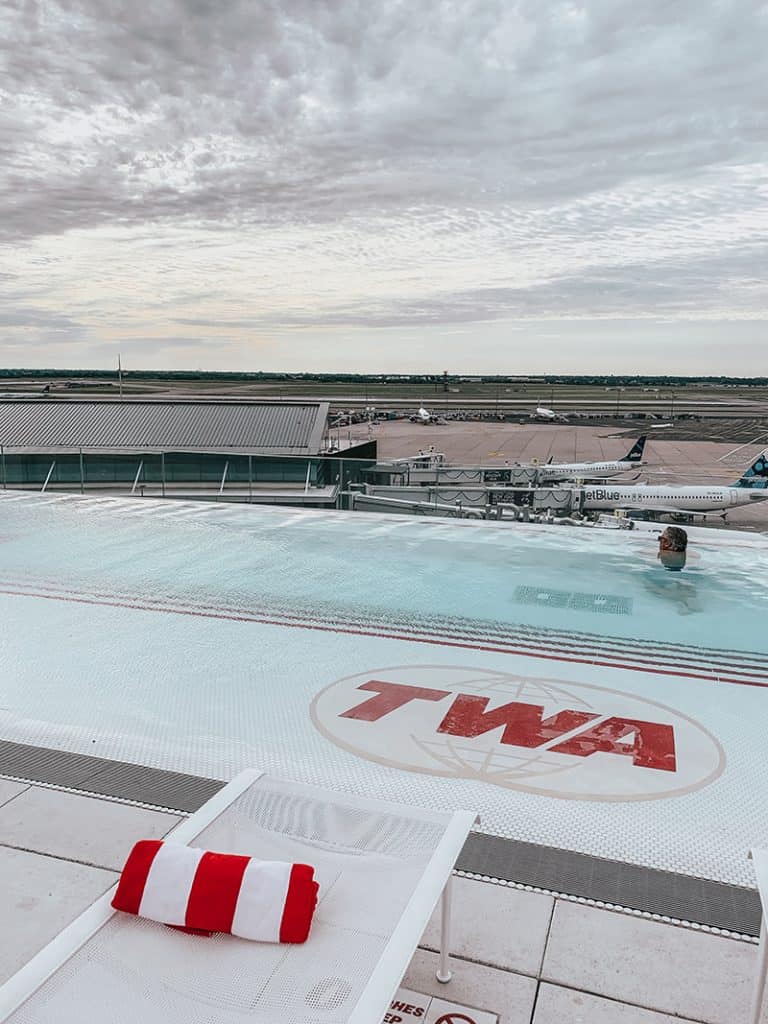 They have the food court that stays open until 9 pm, and the Paris Cafe that serves finer food. Otherwise, a few coffee bars and that's it.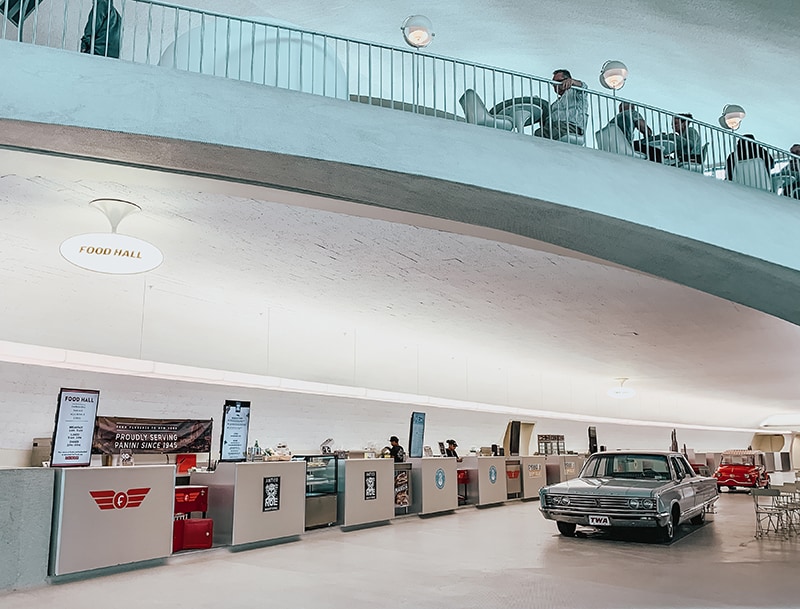 So make sure you know the times of the food here or you'll end up really hungry until the morning!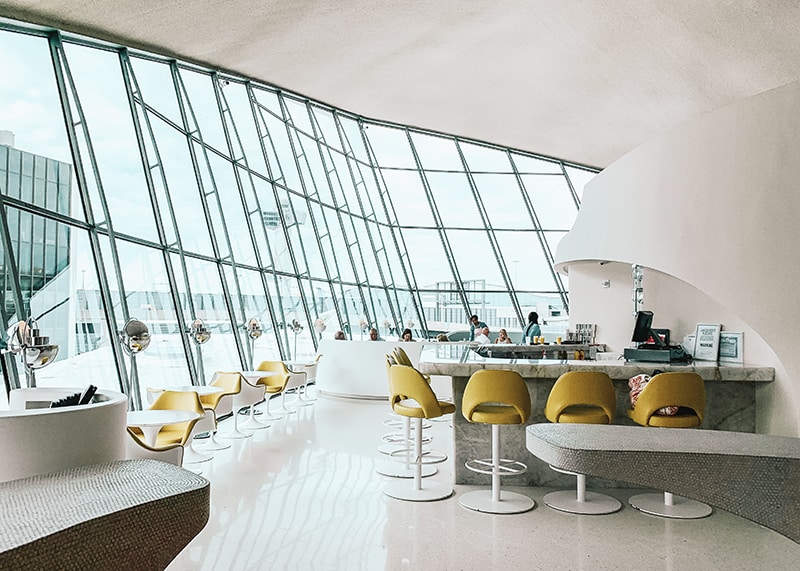 What else is at the TWA Hotel
I spent a good hour just walking around the hotel, and honestly could have spent a lot more time then that.
Upstairs, they have a great little museum area with tons of vintage clothes, uniforms, and suitcases from the 1960's. There were several really cool places to sit, or walk around.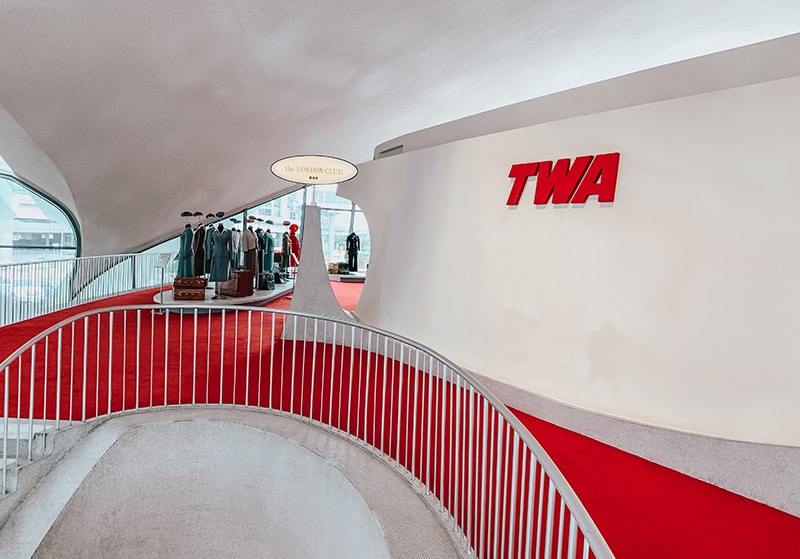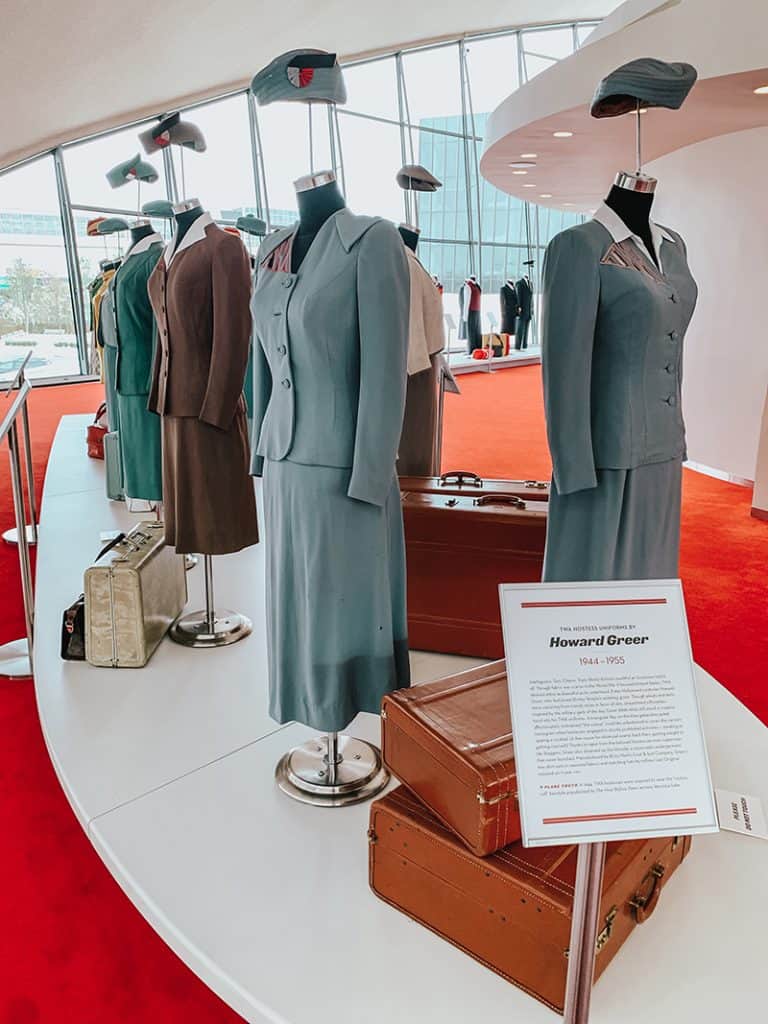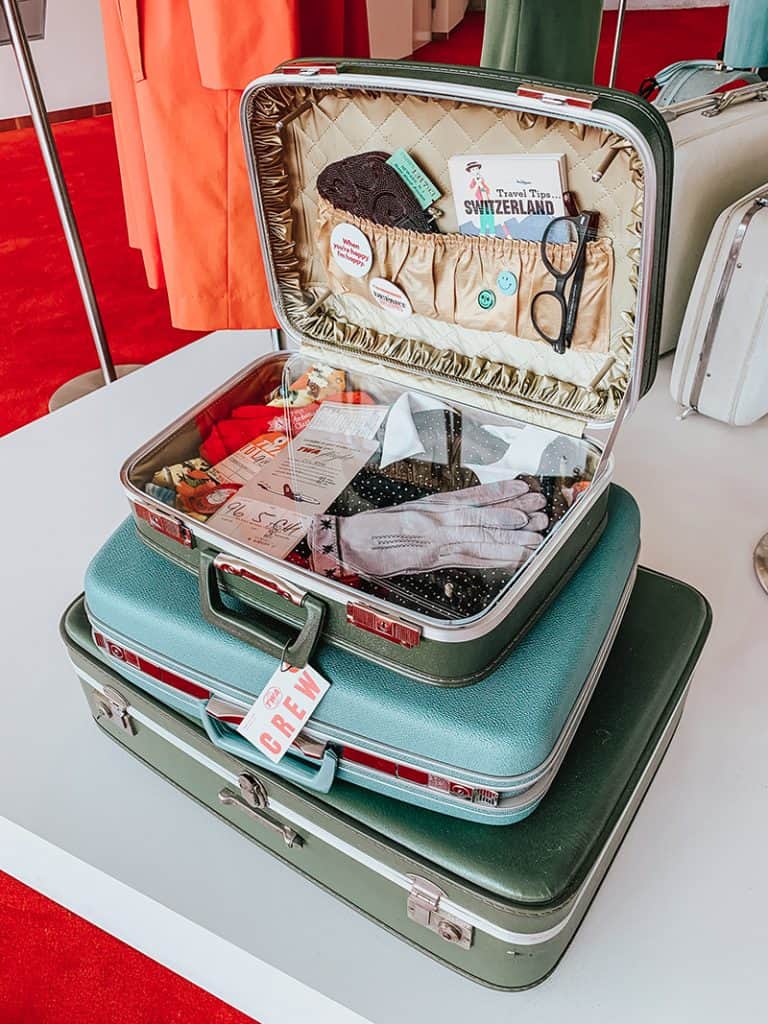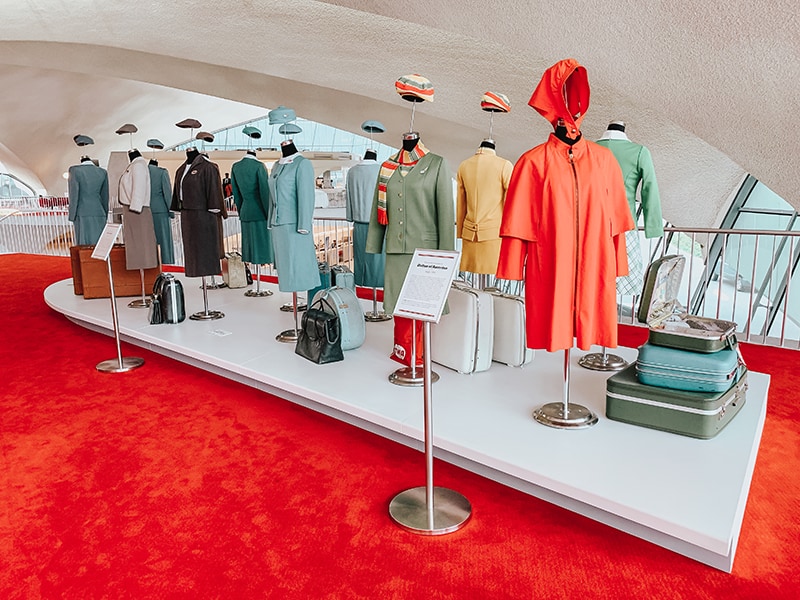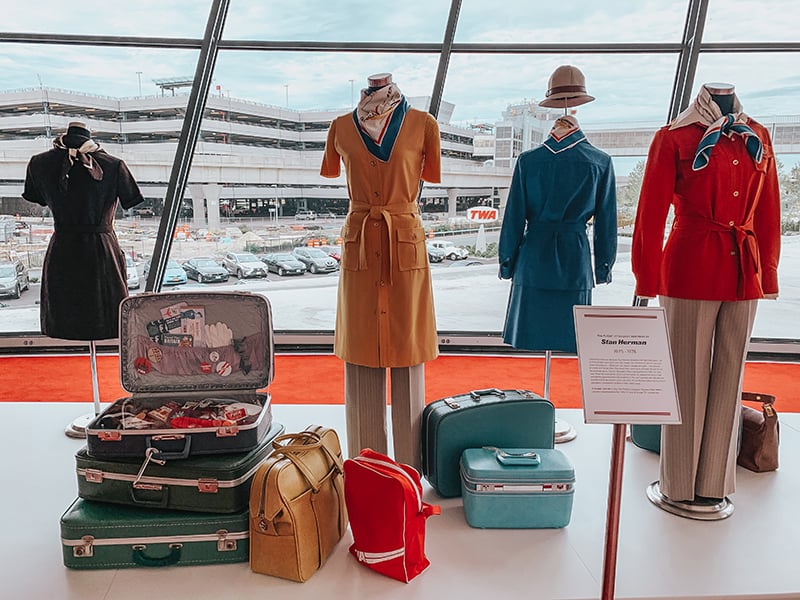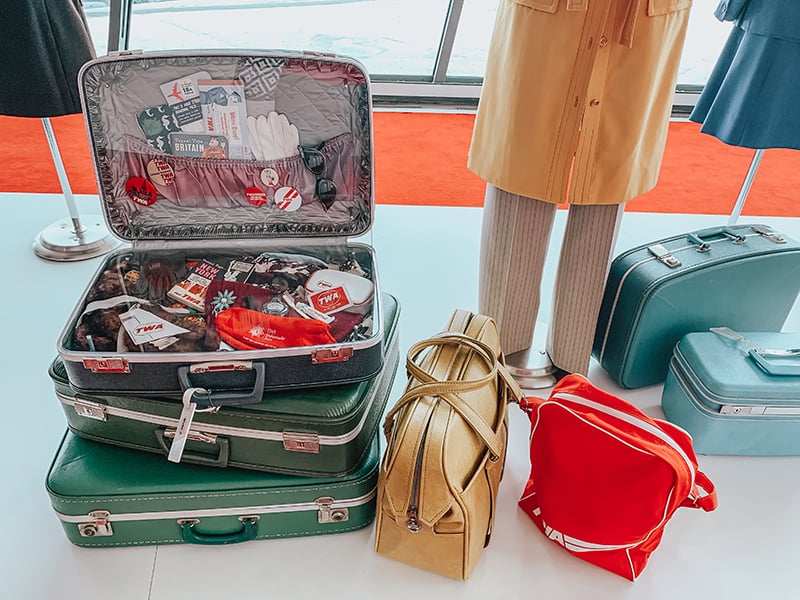 You won't have a hard time finding a good Instagram photo spot here!
Downstairs you'll also find a TWA Store where you can get tons of souvenirs, and a giant fitness center (I'm not really a fitness center girl so I skipped this).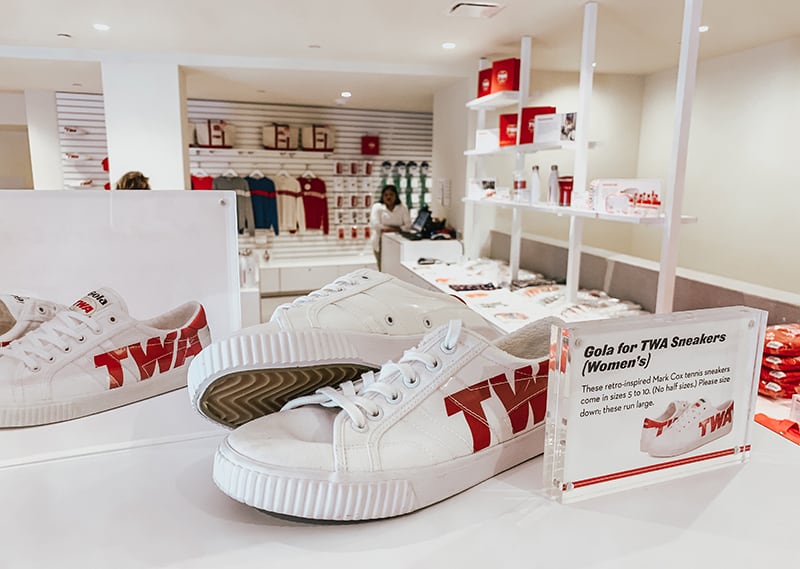 Later in the morning they opened up the reading room and I was fascinated by all the books. If you love design and architecture, this is a place you want to make some time for.
There are literally thousands of books and tons of cool mid-century modern furniture you can lounge in to glance through.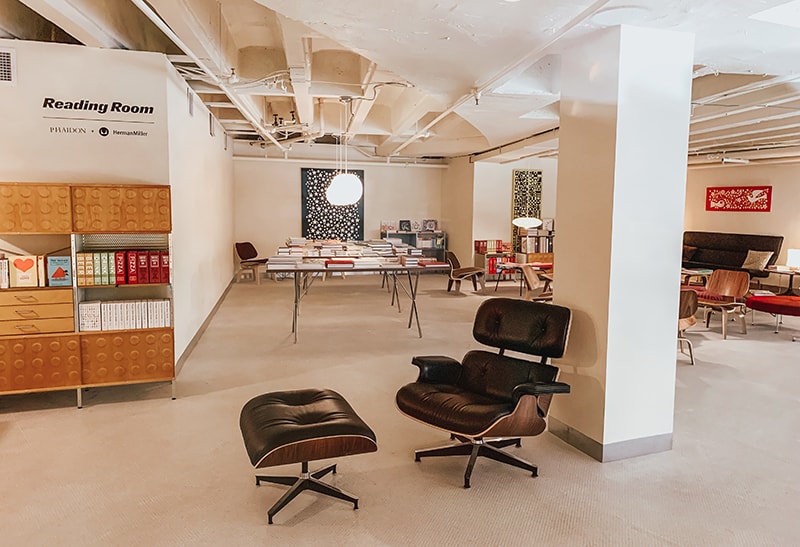 A great place to lounge between flights
One thing I LOVE that the TWA Hotel is doing is allowing visitors to come and hang out and enjoy the hotel even without booking a room. So if you have a long layover, you can wander around the hotel. You can have a bite to eat, sit in the lounge, hang in the reading room, or even go up to the pool.
You can even book rooms at 4 hour increments. So if you have a really long layover, you can take a nap, take a shower, or just relax in a room without having to stay the night. GENIUS!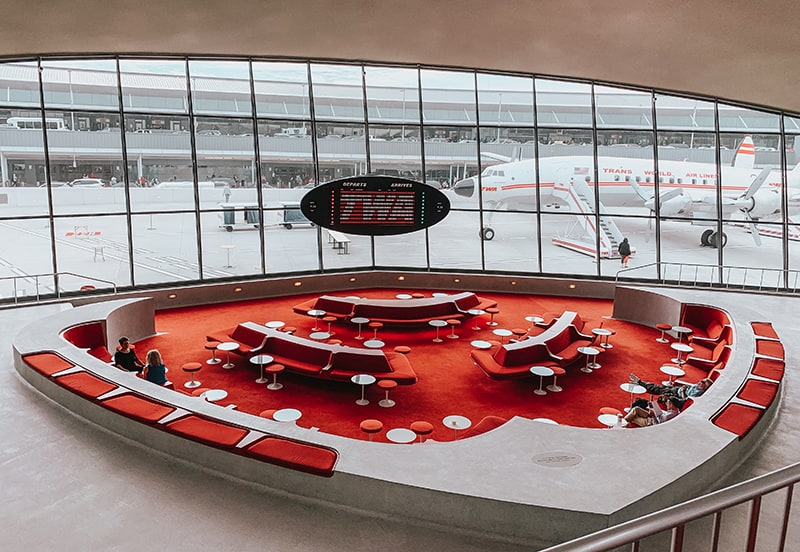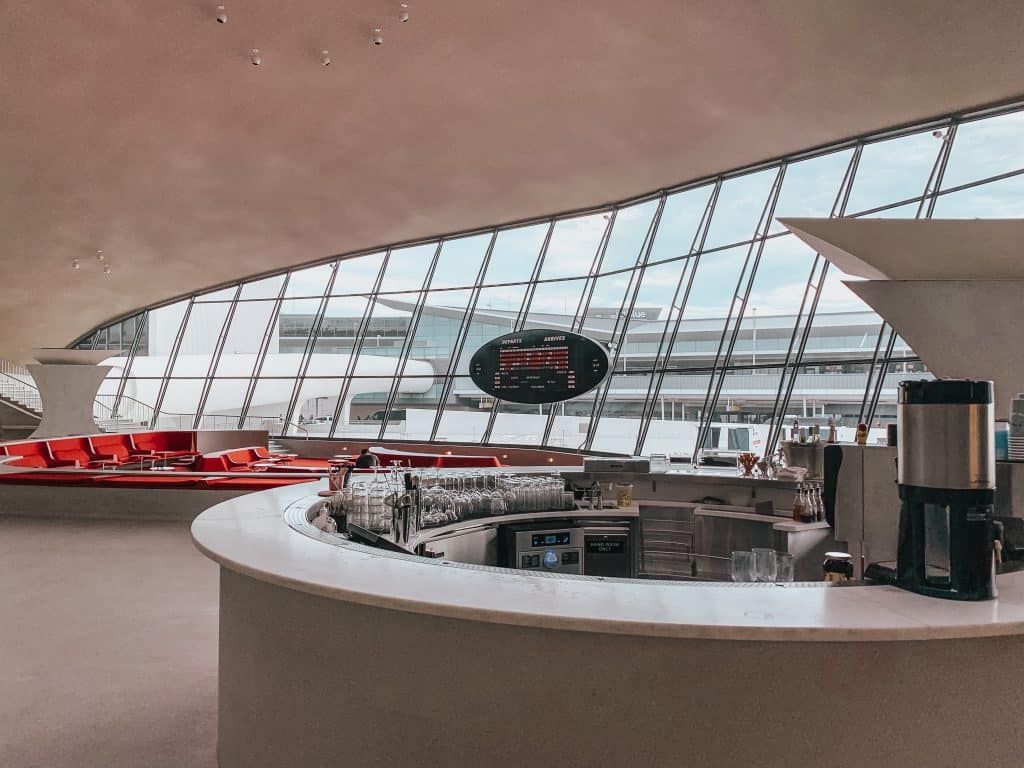 Connie the Airplane
Also one of my favorite parts of the hotel is the Connie Airplane. And not to mention, another great idea by the TWA Hotel!
They took an old plane from the 1960's and revitalized it to be a lounge. It's located just outside the hotel, with easy access from the lounge area.
You can walk around the tarmac and get some great Instagram photos like mine below.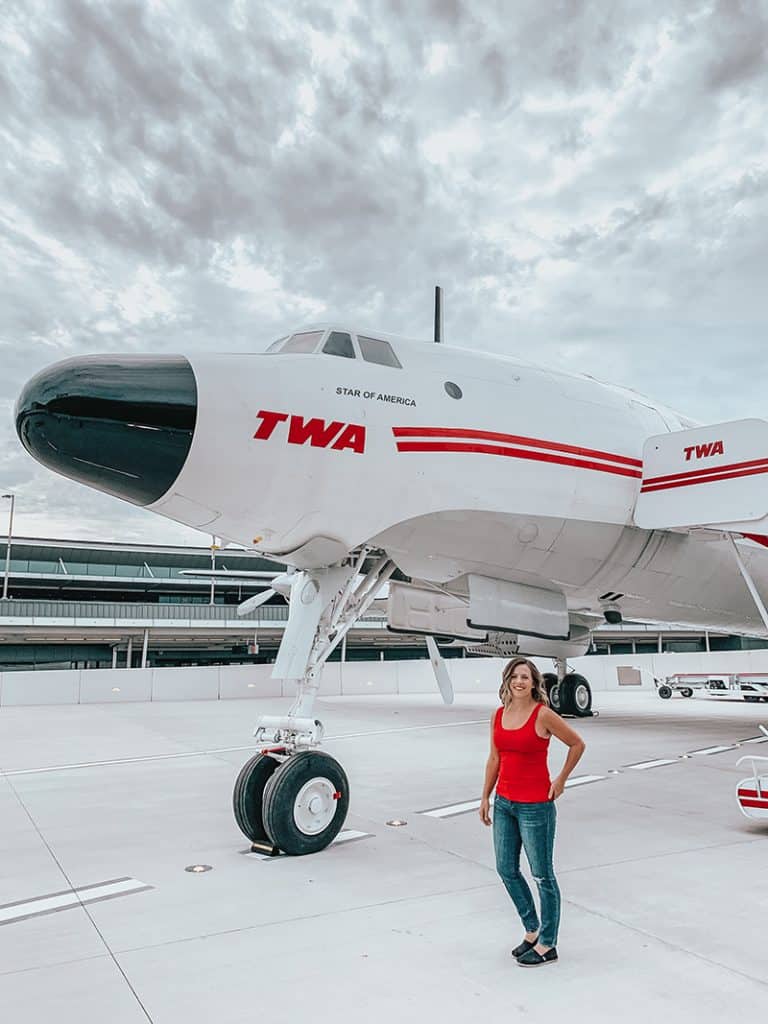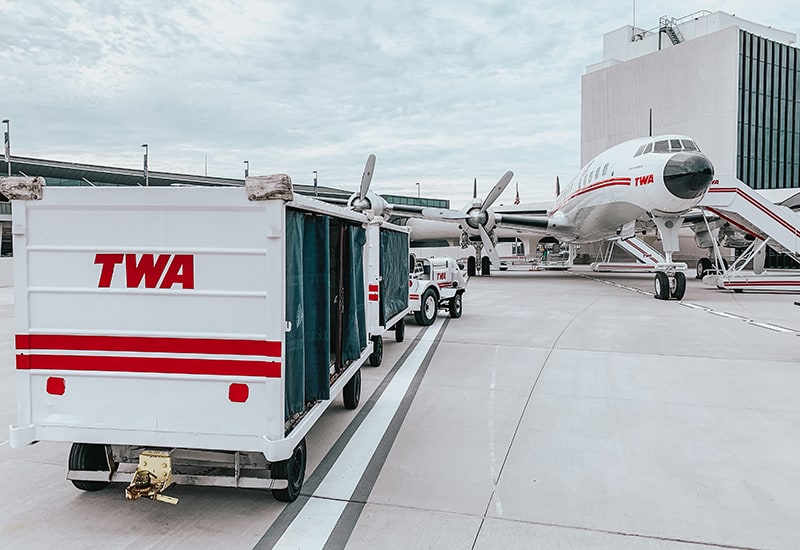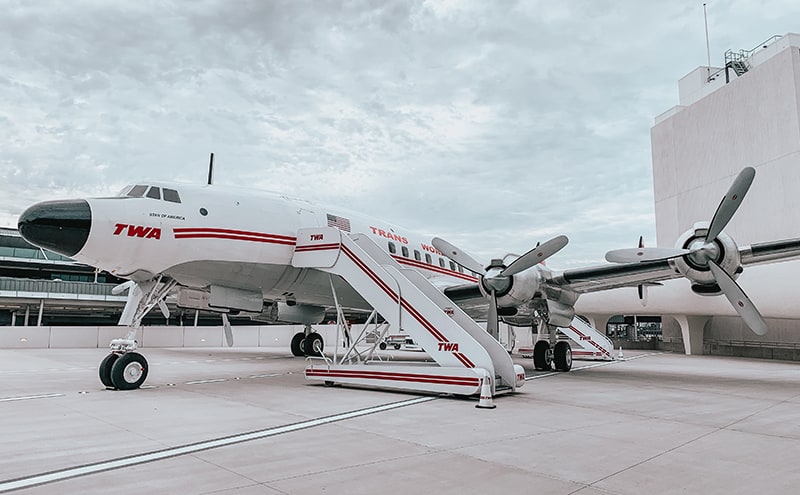 Connie doesn't open its doors until 11 am. So I didn't have a chance to walk through her, or have a drink. But she looks like a lot of fun and even has kiddie cocktails if you want to bring your kids inside!
Take Some Time to Walk Around
I apent about a good hour just walking around the hotel, and prorbably could have spent evn longer.
They have vintage cars from the 1960's, tons of memorabilia, and fun spots to just check out and look at. Check out some of these cool spots I found just wandering around…
Like this vintage car you can sit in and take some cool photos of.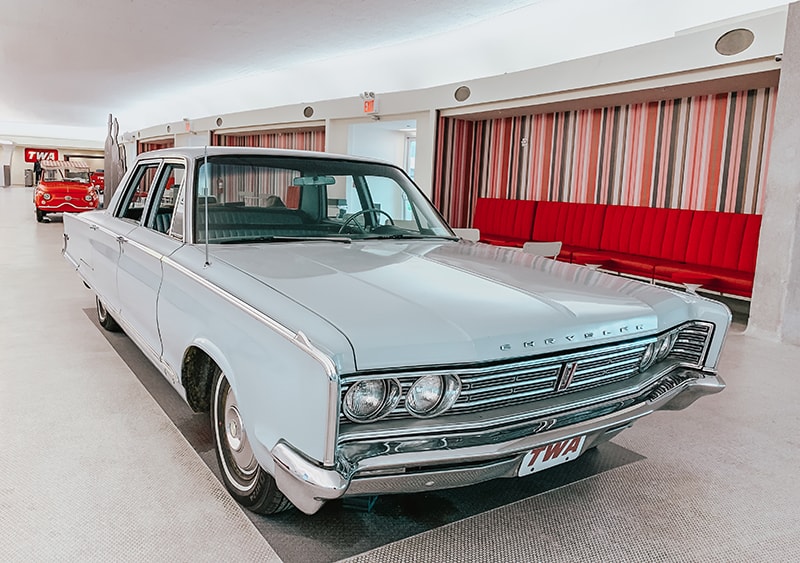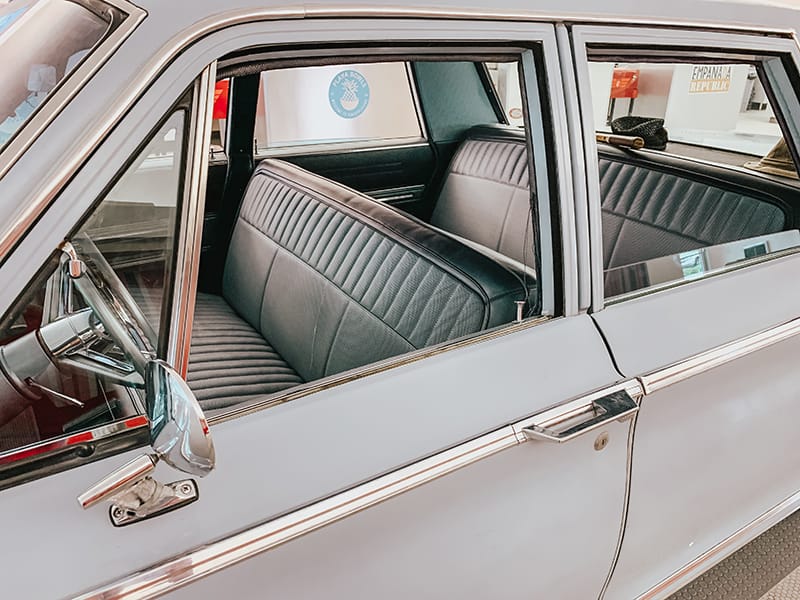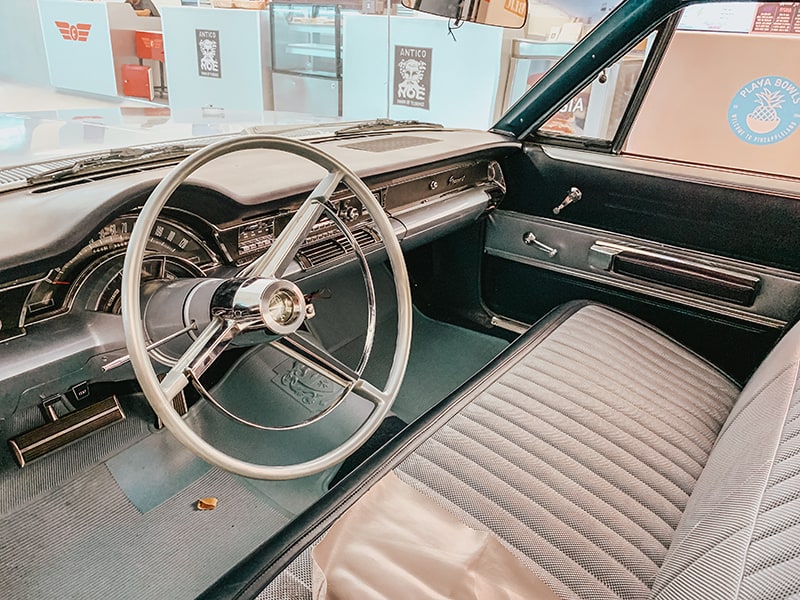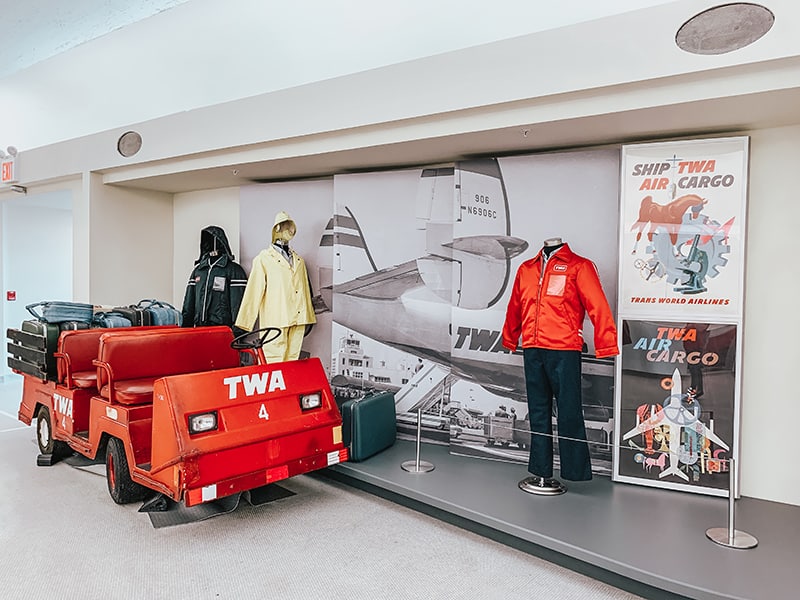 Or this super tiny car I don't even know how anyone would fit in!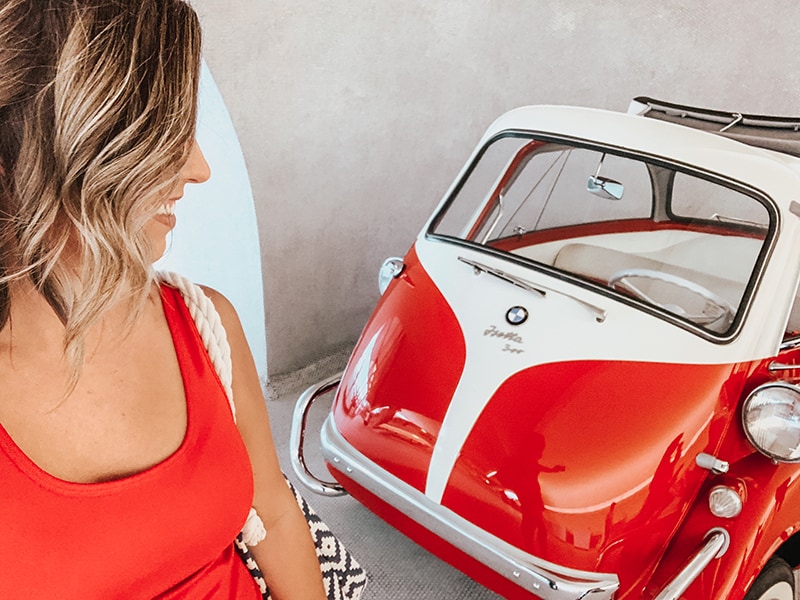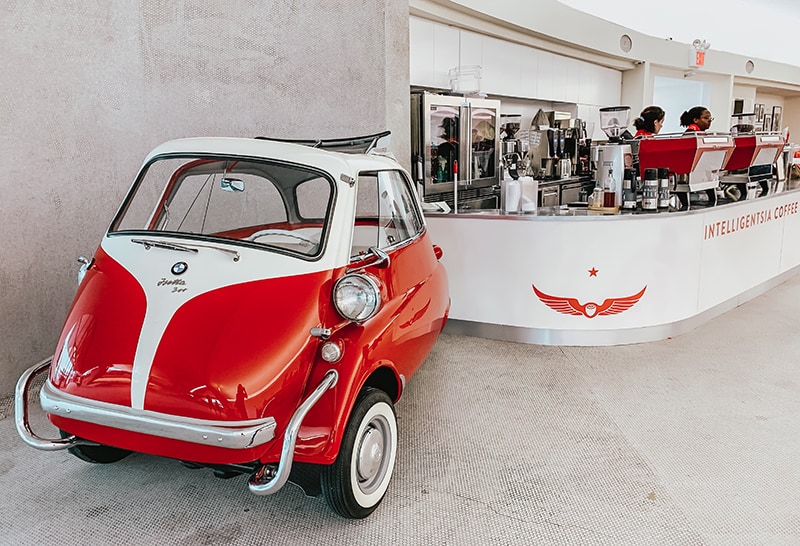 Take a look at this wall of famous people who once visited the old TWA Terminal, and enjoy the sitting area.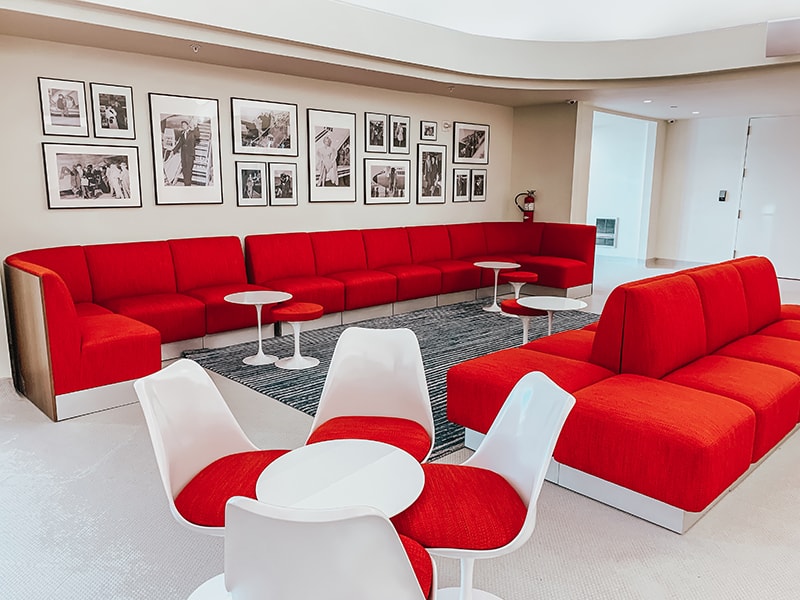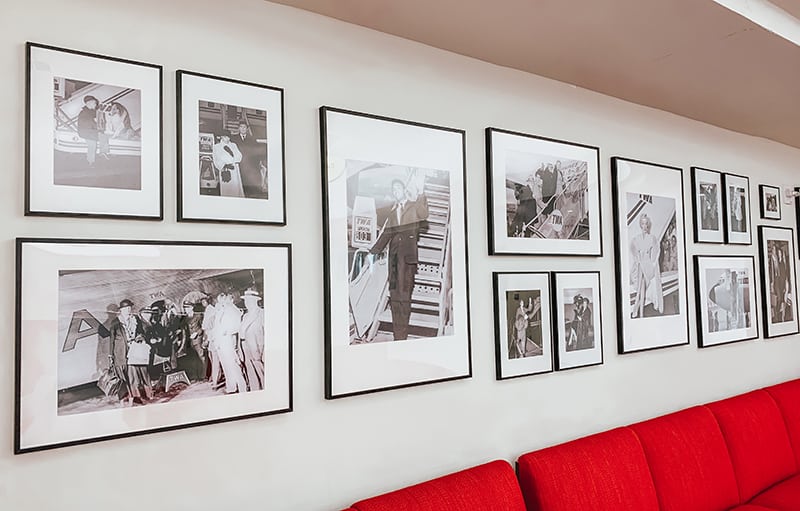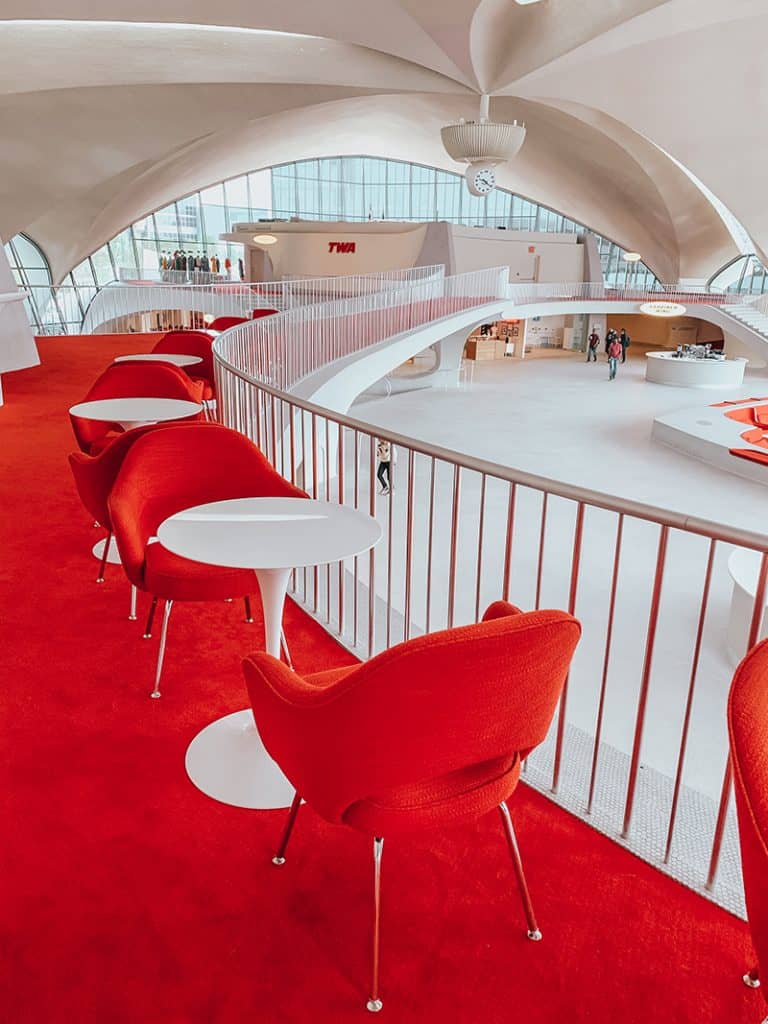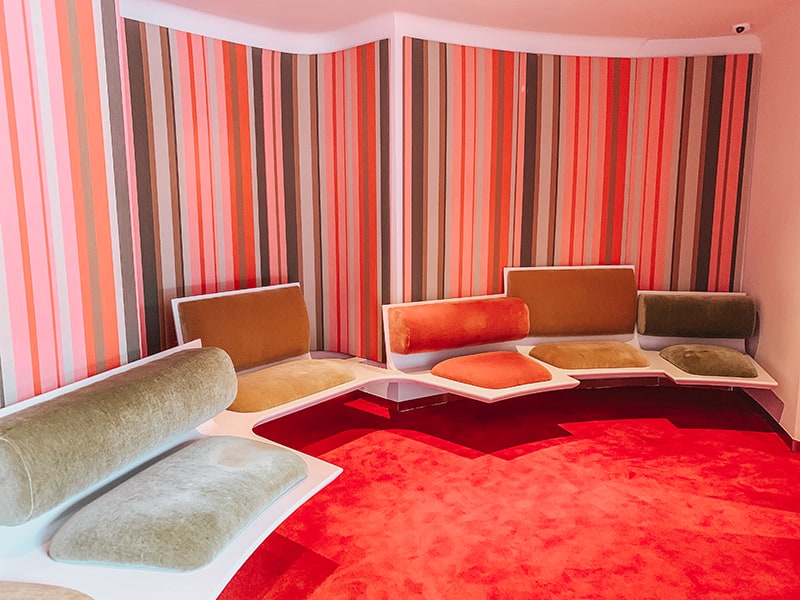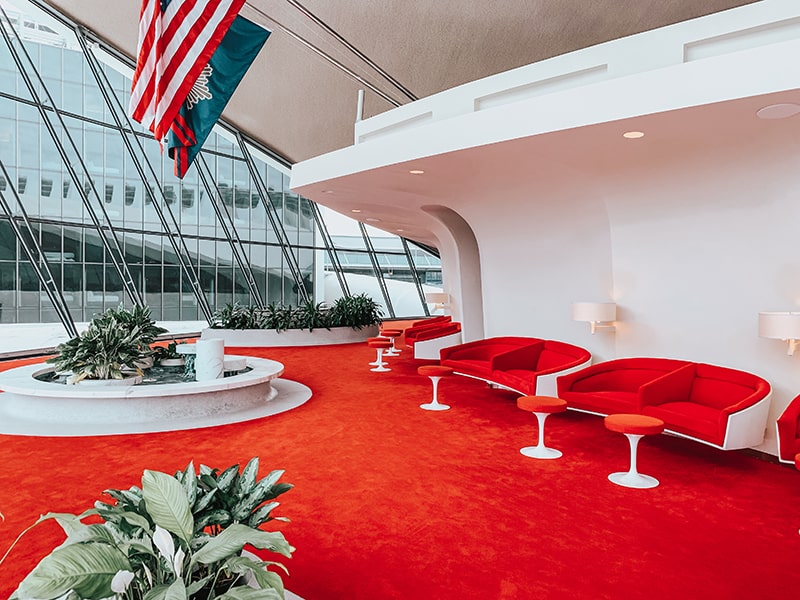 Final Thoughts on the TWA Hotel
As far as price goes, the TWA Hotel is actually very comparable to any other hotel in New York City or around JKF airport. The close proximity to the airport makes it a GREAT option for anyone flying in.
And to be honest, I LOVE staying at fun and unique hotels. So this place was exactly perfect for my one night stay.
I wouldn't stay here if you need something for a longer stay. But its definitely worth at least one night and then moving on to another hotel for the rest of your stay.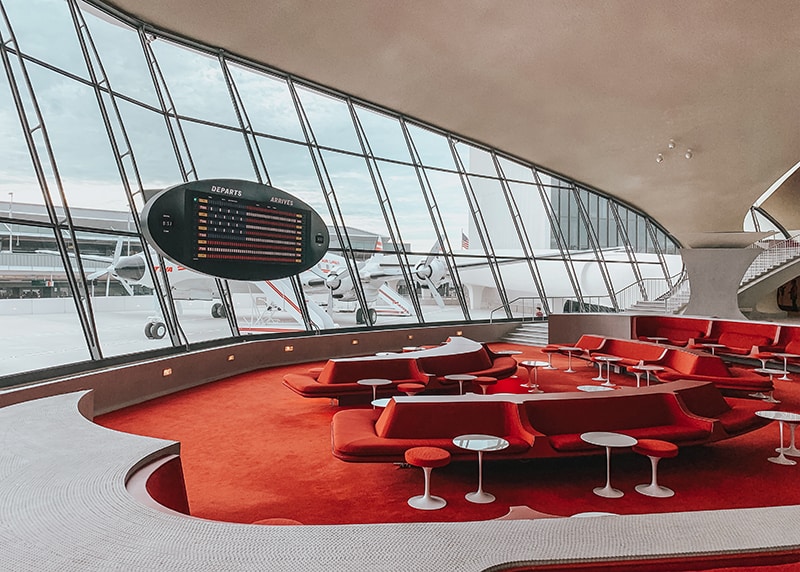 I'd love to hear your thought if you had a chance to visit the TWA Hotel! Or if you have any questions, feel free to drop me an email at [email protected]
Like always, follow along on all my PINTEREST boards for more great travel tips, destinations, and hotel reviews for budget-friendly family travel!
You Might Also be Interested In:


Pin for Later!