What You Need to Know Before Flying with Kids
Take the stress out of flying with kids. Here are the top things you need to know before traveling with your kids on an airplane. Including TSA Guidelines!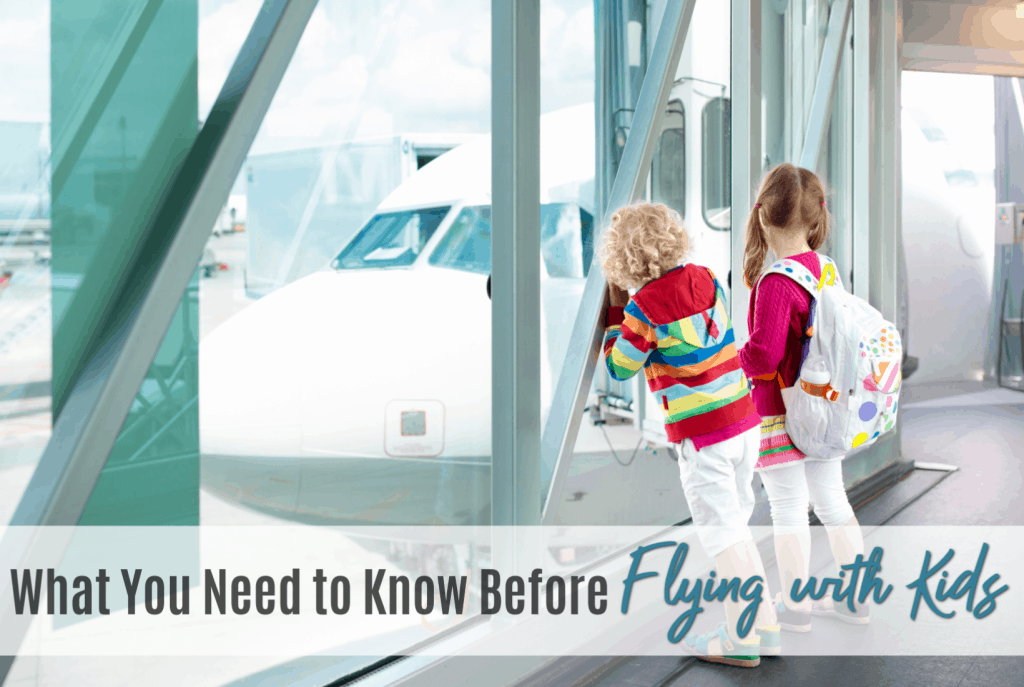 Flying with Kids: Things to Keep in Mind Before Your Child's First Flight
Flying with kids doesn't have to be as hard as it seems. As long as you know the rules beforehand!
Traveling has always been a passion of mine and having a child did not slow me down! That, and having all my family in different parts of the country meant that we would need to fly a lot. 
My daughter took her first flight when she was just 4 months old. I was stuck in a middle seat with her on my lap, and vowed to never be that miserable again. 
Since that first flight, my daughter and I have flown all over the country.
Short flight, long flights, connecting flights… she even flew on a plane all be her self as an unaccompanied minor at the age of 7! 
We've learned a lot from all those flights we have taken and are now the most seasoned travelers in the world. OK, maybe not the world… but we definitely know our stuff!
So if you are thinking about booking a flight with your kids, you need to read below!
I'll give you all best tips and advice on checking in, getting through security, what documents you need, what you can check as luggage, and what to bring on the plane to keep them occupied. 

Flying with kids does not have to be a nightmare as long as you are prepared!
(This post may contain affiliate links. You can read all about that boring nonsense here)

Traveling with Kids Under Two

What age is a child free to fly?

If your child is under 2 (on the day you travel, not the day you book) then they get to ride on your lap for free. This includes any kid up until their 2nd birthday. So literally the day before they turn 2, they can fly for free. Once they turn 2… you're paying!

You have the option to purchase a ticket for them if you want to, to make them and you more comfortable, but you don't have to. 

Airlines don't like giving away things for free. So if your young child looks like they could be anywhere near age two, the airlines will ask for a birth certificate for proof. Always bring a copy of your child birth certificate if they are flying on your lap!
I've see airlines ask for birth certificates for kids barely a year old. And if you don't have a copy, they will make you pay for an extra seat.
Traveling with Kids age 2 and up

So your kid turned 2 and now you have to pay full price for a plane ticket. That's right, there are no discounts for children. You buy a seat and that seat is the same price no matter who sits in it.
The good news is, they get their own seat now. So they are not stuck on your lap, making your arm go numb, or not allowing you to move a single muscle cause they fell asleep. 

You have several options of how your kid can travel in their airplane seat.
Airlines do not require a car seat of any kind (cause you're technically not in a car… get it?) so you can have your kid sit with the seat belt across their lap, or you have the option of bringing your own seat for them.
I always chose to just let me daughter sit in a seat all by herself. She was a lot more comfortable and could move around a bit more. And if she felt like taking a nap, she could easily curl up in the seat and put her head on my lap.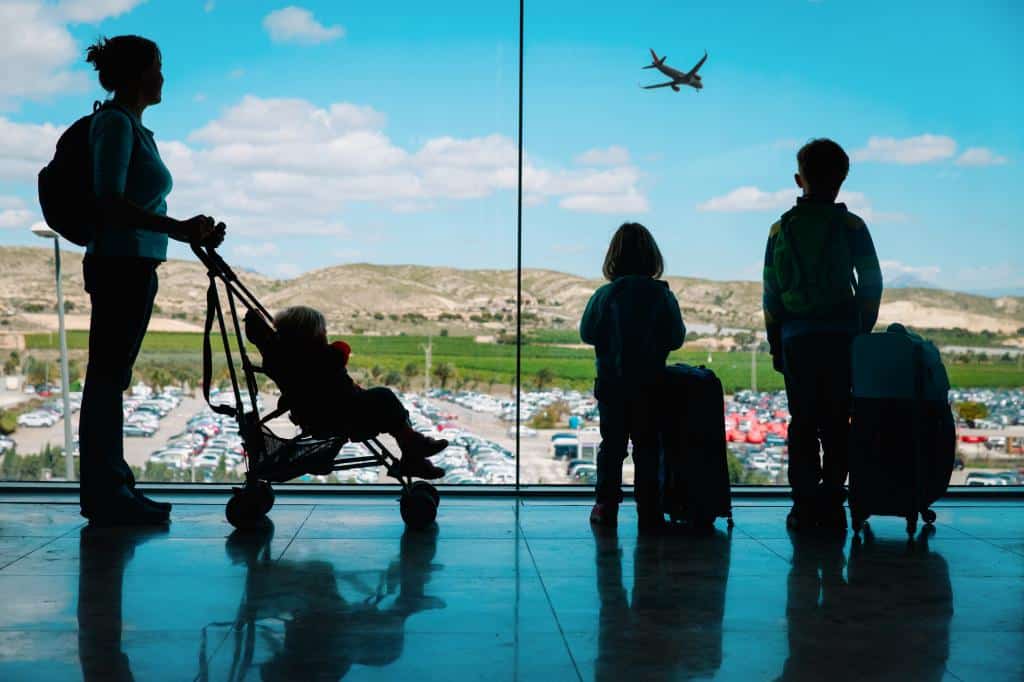 If you're worried about it not being safe, then think of it this way. If the plane goes down, car seat or no car seat, it ain't gonna make a difference! 

Now, I say this because my daughter was a busy body and if I made her sit strapped into her car seat for a 5-6 hour flight… it would have been about 4 straight hours of screaming. 
If your kid does better in their car seat and is comfortable that way… then by all means, bring their car seat on the plane!

If you do choose to have them in a car seat on the airplane, you are welcome to bring your own. Otherwise, here are some good options when flying with kids…
Travel Tip: Bring a stroller to the airport!
Strollers are great for keeping your kids buckled down while you handle everything you need. Checking in, security, grabbing snacks.. will all be a thousand times easier if they are in a stroller rather then trying to run off every 10 seconds.
I see moms with baby carriers and think they are crazy! What do you do when you need to use the restroom? Or eat a snack? Don't their backs hurt?
Strollers are not only great for keeping your kids strapped down, but for holding most of your carry ons and personal items too. And if your child falls asleep in the stroller, you can kick back and have a drink or read a book while waiting for your flight. You can't do that with a baby on your chest!
I highly suggest getting a slim and compact stroller for travel. Something that folds down fast and is easy to pick up like this travel stroller.
Checking into your flight with children

Two things I hated most about flying with children was checking in and security. So let me help you get through both of these in a breeze. 

Do you need documentation for a child to fly?

This is usually the number one question most parents ask when flying with their kids for the first time. So let me give you the official word from TSA:

"Children under the age of 18 and traveling on a domestic flight do not need to show identification or documentation unless they are under 14 days old (physician's letter required) or are traveling as a lap child (proof of age may be required)"

I always recommend bringing a copy of your kids birth certificate. Make a copy, and keep it in your travel bag so you just always have it. Most of the time, no one asks. My daughter and I even have last names and still no one asks for her ID. 

But you're at the airport…ready for your flight… do you really want to risk it if they ask for your kid's ID and you don't have it?  

Checking in luggage

Travel Tip: Even though you can bring more then one suitcase on different airlines… DON'T!  I recommend one full-sized suitcase per adult. So if it's just you and your child, try to keep it to one suitcase (even if it's big). 

With everything you need to carry and push and pull… the less bags the better.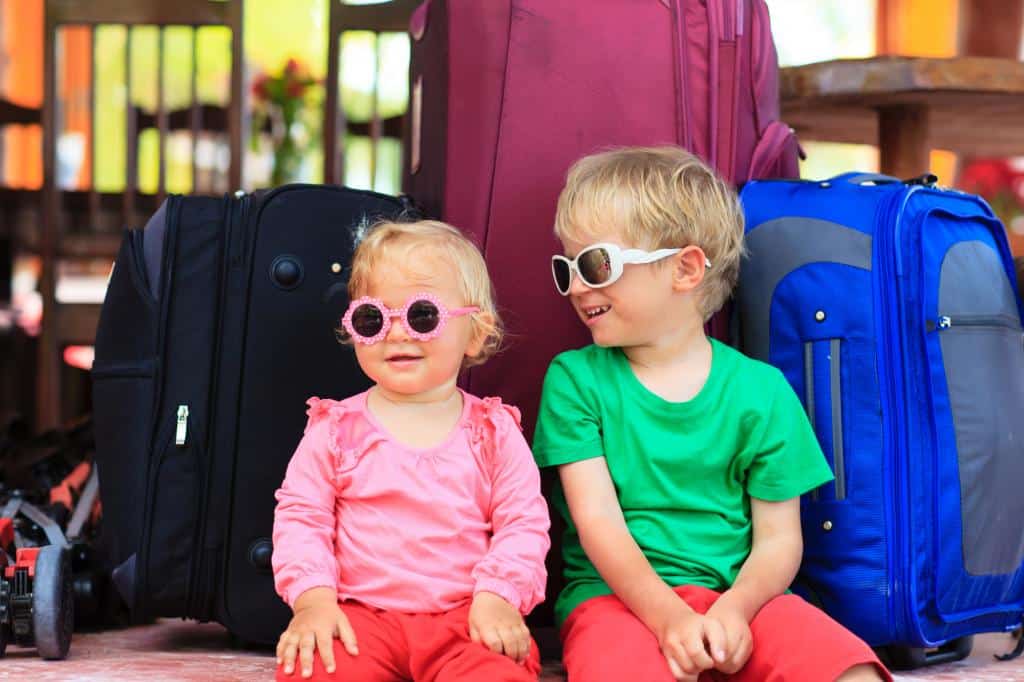 I use this handy device to make sure I pack right up to the 50lb limit… but never over!

What also helped me was trading in my heavy old suitcase for a really nice lightweight one. This lightweight suitcase is not only so smooth and easy to push or pull, but it's several pounds lighter than most suitcases. Which means you can stuff more inside! 

Checking in Car seats and strollers

If you want to bring your car seat with you because you need it for a rental car, but you don't want to bring it on the airplane, you can check it. 

Now listen close cause this is important! TSA guidelines says you are allowed to check in car seats and strollers and they do NOT count as your luggage.
Which means you cannot be charged extra for checking them!

Twice, I've had ticket agents try to charge me for my car seat after I checked my luggage. Both times I kindly asked for a manager and reminded them about TSA  guidelines on car seats. Both times I checked my car seat free of charge. 

Do not ever let any ticket agent tell you that you can't check a car seat, or they will charge you extra for it. Ask to speak to a supervisor! 

Carry-ons with kids

If you have a lap child, the airline does not allow any additional carry-ons.
So you would only get your one carry-on and one personal item. If your kid is under 2, you'll most likely have a diaper bag. So that counts as your carry on. 

But for your personal item. I would recommend a small bag or backpack, or a large purse. If you have a small purse, stick it inside the bag. 

Don't worry too much about bringing stuff for you. If you have a lap child, you won't be able to do much anyway. I usually bring my wallet, a sweatshirt and a book. Everything else I pack is for the kid!
If your child is old enough to have their own seat, then you each get a carry-on and a personal item. Let each kid have their own backpack, filled with items they need for the flight. 

Luckily, you now have room for your own bag or purse! But I still recommend keeping it light. You're still the one that has to carry it all. And trust me, no mom gets to just sit back and watch a movie with a drink in hand. So don't worry about packing stuff to keep yourself occupied… you have kids for that! 

Going through airport security with kids

Is it just me, or is airport security the most stressful part of the entire process? 

You're trying to follow all the rules, the line is moving, people are pushing your bins, your hopping on one foot trying to get your shoe off… it's a nightmare. Now let's add in the fun of doing it with kids! 

This is where I tell you… less is more. I think it's ingrained into our heads that we have to pack everything under the sun when you travel with kids, but that's just not true. 

And one place you will appreciate it more then ever is by going through security. 

What I do:  I always took my stroller to the gate with me. One reason for that is because then my daughter can be strapped inside while I handle business. Checking in is even 100 times easier when they are safely secured in a stroller and not running around. 

So when going through security, keep your babes strapped into the stroller. Handle all your stuff first. Put your bag and purse on the conveyor belt, take out your electronics and small metal items. Then take off your shoes. 

Once you are completely finished with your stuff, take your child out of the stroller and put the stroller on the table. Carry your child (or let them walk if they can) through the x-ray machine. 

Once you get to the other end, strap them immediately back into their stroller and then worry about all your stuff. 

Trust me on this one, keep them in the stroller as much as you can!

Going through the airport

This is where I am going to say again, I keep my daughter in the stroller as long as I can. I make sure we get to the gate and stop for snacks or drinks on the way.

Once we get to the gate area, I immediately go over to the counter and ask for a stroller tag. You'll need this if you take your stroller to the gate! 

At this time, I also ask if there is any special family boarding, or boarding with small kids. This is one reason why I actually LOVE flying with kids… you get to board first!

Southwest is great and lets families board right after their "A" group. Years ago, almost every airline allowed families to board first but it seems like a lot of them have gotten rid of that rule. So always check at the gate counter to see what your options are. 

Waiting for the plane

Once I get everything done, I do my best to find a small spot, usually in the corner, out of people's way. A place where I can sit in a chair, but where there is also space on the floor if your kid needs to walk around. 

This is when I let my daughter out of her stroller and stretch her legs before the flight. We also do a diaper change or a potty run so we are fresh and ready for the flight!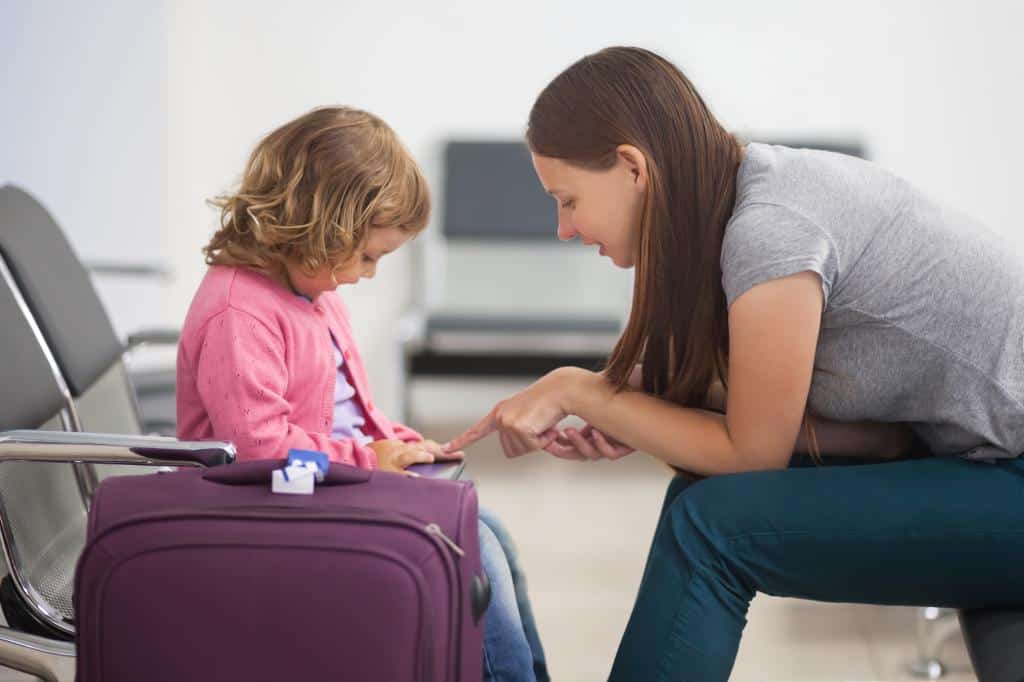 Once we start to board, I strap her back into her stroller and I don't let her out until we are down the walkway, about to enter the plane. If you do gate-check your stroller or car seat, this is the place you leave them. And they will be nicely waiting for you when you step off the plane at your destination! 

Where to sit on an airplane when flying with kids

I usually recommend sitting as far in the back as you can. It's closest to the bathrooms in case you need to rush. It's also close to the flight Attendants in case you need help with a spill or an accident. 

Just not the last row!  Last rows usually do not recline. And if the person ahead of you reclines, and you can't, your child will be miserable. 

If traveling just the two of you, always let your kid have the window seat and you take the middle. This helps keep them contained and they are less likely to try to get out and run up and down the aisle. 

It also allows them to slump against the window, or use the window to play on and keep busy.
Looking for tips on where to travel with kids? Check out:
Final Thoughts on Flying with Kids
Nothing with kids is easy. But you can at least try to make it as stressree as possible. Always being prepared won't make your flight a dream… but it sure will help make it less miserable!
Follow all our family travel adventures on Instagram!


Pin for later!