First Time Cruise Tips: Everything You Need to Know For Your First Cruise!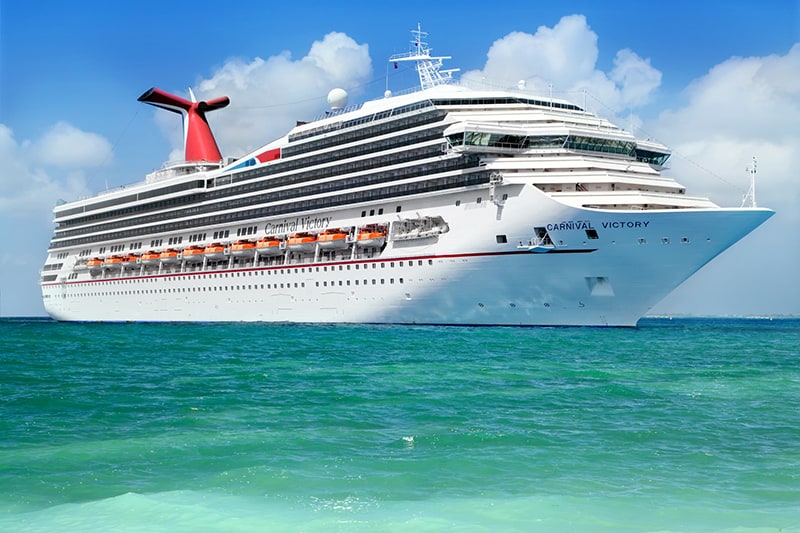 Going on a Cruise For the First Time?
Congrats! I'm so jealous. I've been on a few cruises and I go through withdrawal if I don't have another planned for a while. For every cruise I go on, I learn more and more tips. That's why I want to share my knowledge with you and give you the best first-time cruise tips and tricks! So you can worry a little less and enjoy your cruise a little more.
(Most of these tips work for ANY kind of cruise; Alaskan cruise, Caribbean cruises, etc.)
You can also make your trip a whole lot easier by grabbing my printable Cruise Planner!
Cruises can be a great way to visit several places at one affordable price. My first cruise was an Alaskan Cruise because I wanted to visit Alaska, but couldn't narrow it down to what area. An Alaskan cruise was a great choice that let me visit several towns, see glaciers and wildlife, and enjoy plenty of seafood.
And you don't have to worry about transportion in between! The ship takes you to every port so you go to sleep and wake up in a new location every day. How great is that?
* This post may contain affiliate links, you can view my disclosure policy here.
What Should First Time Cruisers Know?
Because cruises are unlike most other vacations, first time cruisers tend to have a lot of questions before they go (I know I did!). And finding the right information all in one place can be tough.
So I've put together a list of the most important things you need to know. Tips for before you book your cruise, when you arrive for your cruise, and while you're on your first cruise!
Here are some simple first-time cruising tips to get you started and make your trip a little easier.
First Time Cruise Tips For Before You Book
Booking a Room
Try to go for the balcony if you can afford it. Whether it's sailing pas glaciers in Alaska or watching the sunset with a cocktail in hand through the Bahamas… you won't want to miss a single glimpse.
A balcony room is also the only room where you can open the door and get fresh air in, or listen to the sound of the waves.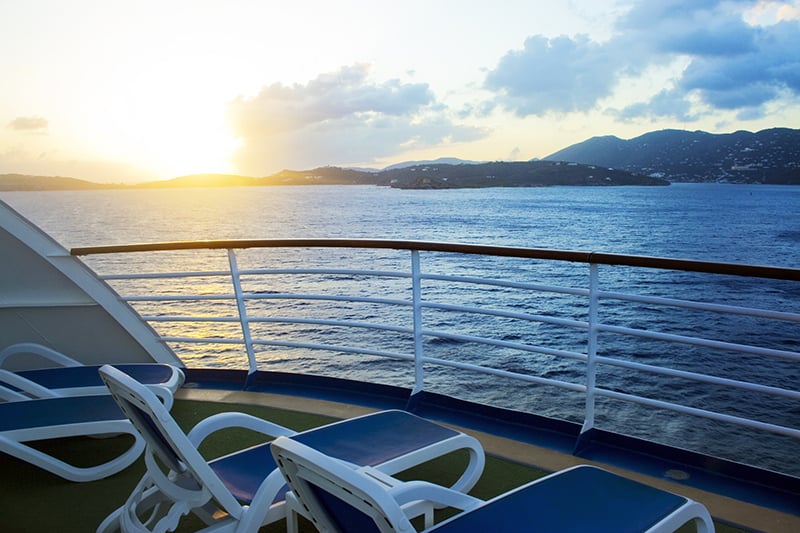 Book Two Rooms is You have a Family of Four or More. One little know cruise tip I love to share! Cruise lines book by the room type and charge PER PERSON (not per room!). So if you have 4 people in one room, you get charged the EXACT SAME amount as having 4 people split between 2 rooms.
Even if you have young kids… get an adjoining room and then you at least have double the closet space and 2 bathrooms. Seriously, anyone with at least 4 people traveling in their group should get 2 rooms. It's basically a second room for free.
Not many people know about this on their first time cruise, but you definitely learn it for your next ones!
Get Your Travel Documents Ready
Passports for everyone! Does everyone need a passport? Technically no. But I always advise you to have one. Even kids. You never know what might happen and if the boat leaves you behind and you don't have a passport… you can't get back the States!
Cruises go by what country they dock out of. So if you board and set sail out of Miami, but go to Mexico, Honduras, or Belize… you won't need a passport. But when we sailed to Alaska, our last port was to Canada. And Canada made us show a passport to get in. So play it safe… get a passport.
Print all excursion documents. My handy printable cruise planner makes it easier to keep track of all your excursion details. But try to print out anything you can also. The ship charges A LOT to print things for you, and you most likely won't have cell service. So if you can't remember the details, you might be out of luck.
Have Kids documents ready too. We had passports for the kids before we sailed to the Caribbean but never ended up using them once. A birth certificate will do fine for boarding the ship, but other countries never asked us for a single thing.
Keep Reading:
Research Your Ports
Spend some time looking up each place you are going to stop. Go on YouTube, Pinterest, or just good ole Google. Don't just read the cruise line tips. Look for personal experiences. That's how I found out about this amazing Sloth Sanctuary where you can actually hold a sloth!
Make sure you note the times of departure and when you have to be back on the boat. Keep in mind you have to be back on the boat 30 minutes before sail time. So if a port is listed as "6 AM – 3 PM" That means you actually have to be back on the boat by 2:30 PM.
Know what you can and cannot bring
Cruise lines are completely different then airports and have very different packing restrictions. For instance, a cruise line does not care how many bags you bring or what they weigh (whoo hoo!).
You also do not have to restrict your fluids and will have no problem bringing in a full-size shampoo bottle. But there are some things that are forbidden to bring on like irons… they won't have them in the room and you absolutely cannot bring one on with you (bring some wrinkle spray or a travel–sized steamer instead).
I've put together a complete list of what you need to bring on a cruise. Take a glance at it to make sure you aren't missing anything… and to make sure you are not bringing anything you shouldn't be.
First Time Cruise Embarkation Tips
Embarkation is a fancy work for boarding the ship. Something I didn't learn until I became a cruiser! The embarkation process can seem a little daunting for first-time cruisers. But you might be surprised it's easier then you think. Here are some tips to get you on the ship and ready to go!
Cruise check in process
Fly in the day before your cruise, never on embarkation day! I understand the desire to save money on a hotel room for the night before your cruise but it's so worth it. Don't take a chance! If your flight is late, the ship will not wait for you (or refund your money). So if you miss the boat, your vacation is done… why risk that?
Or even if your flight is on time and they misplace your luggage, you won't have time for the airline to find it. And you'll be spending the entire cruise with whatever was on your back.
Plus, it's a great chance to visit the city your port is out of. We spent a great day in Seattle before our Alaskan cruise, had fun in Miami before our Western Caribbean cruise, and got to explore Puerto Rico before our Southern Caribbean Cruise. Worth it!
Know your check-in time! And request an early time if you can. Cruise lines give you a certain time to check in so everyone isn't trying to do it all at once. If they give you an option, choose the earliest time you can. Literally the second you get on the ship, you can start eating, drinking, swimming, and enjoying everything the ship has to offer. So take advantage and board early!
I see other tips for a first-time cruise saying to board later to avoid the crowds. I think this is silly. I've boarded the ship as early as I can on every cruise and I get on with minimal wait times. The ports are very efficient and organized.
Go Through Security. You go through security at the port the same as you would at any airport. Put everything through a scanner and walk through a metal detector. They'll also ask you to fill out some forms about your luggage and then they take your luggage away and deliver it right to your room later in the day.
After that, you go to the check-in booths and each member of your party checks in and gets their own key card (even the kids). Once you have all that done, you wait in a sitting area until they call your group number. When they call your group number, line up and get your butt on the boat!
* If you brought wine with you, you can leave it in your suitcase or carry it on with you. I've done it both ways and no one seemed to care either way.
Once on Board the Cruise Ship…
Grab a chair on warm weather cruises. The FIRST thing everyone does on a warm weather cruise is head straight to the pool deck and claim their lounge chair. The pool is open and the drinks are flowing. Those chairs fill up fast. So board early, and go grab your chairs. Your room won't be ready for several hours anyway.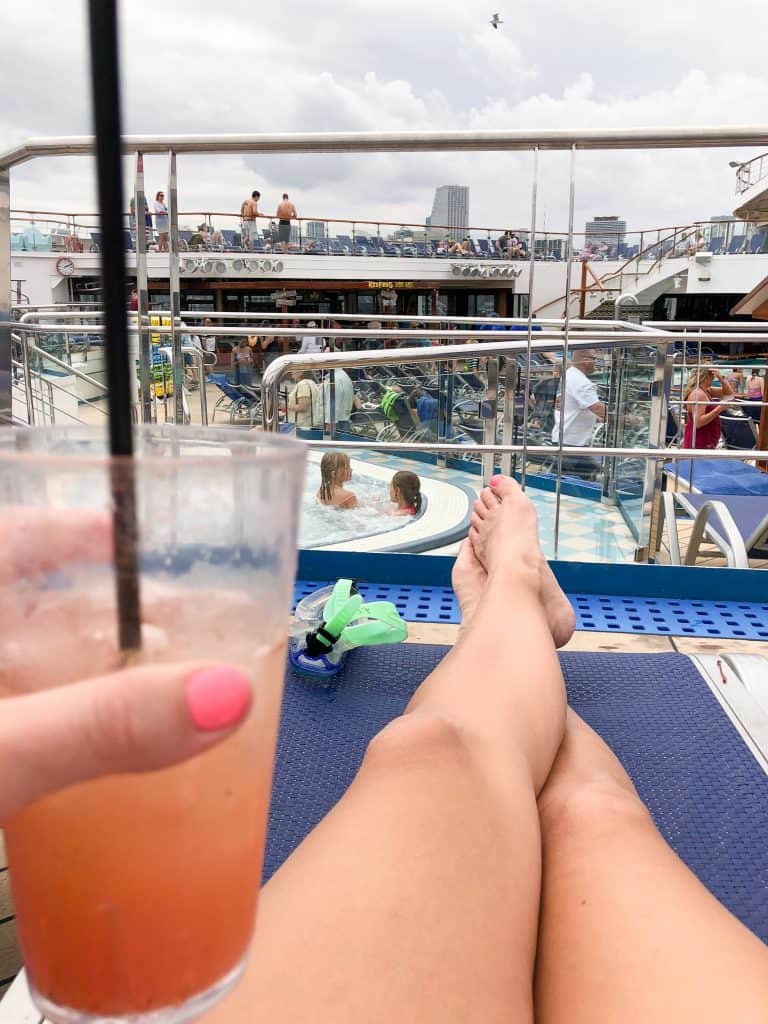 Pack a Carry On with Essentials. Your luggage is taken from you when you check in and you might not get it back for several hours (they deliver it right to your room). So make sure you bring a carry on with items you can use right away.
When we went on a Caribbean cruise, we all just wore our bathing suits with cover-ups over them so we could hit the pool right away. We each had a small backpack that had a change of clothes, swimming gear, money, and our cameras. Pack whatever you think you might need for the first few hours in your carry on.
You'll have access to your rooms if you need to change, just not to your luggage right away.
Start Eating! The buffet is open and ready to go. So take advantage of your all-inclusive cruise and start eating! But beware, this is when the buffet line is at it's longest. Don't get freaked out, it won't be like that at any other part of the cruise.
You can also head to the dining rooms for a nicer lunch. Those are open as well and much less crowded.
Read Your Newsletter. Every cruise line has its own newsletter and you'll get a new copy every day. Each newsletter outlines what's going on for that day, including port location and times, what time dining is open, and any show times. Take a second to look it over and see what's going on.
I like to bring a highlighter and highlight the things I want to do or see. There are MANY! The list is really long. And you might miss something really cool if you don't read the newsletter.
Get to know your Steward. Each cabin (room) has a steward assigned to it. Your Steward will make it a point to find you and introduce themselves to you on the first day. BE KIND! Your steward is there to make your life easier. You can ask them for extra pillows or whatever requests you want to make.
Our kids would leave our steward notes and ask him to make certain towel animals each day. And he totally did! Make your steward your new best friend and your cruise will be even better.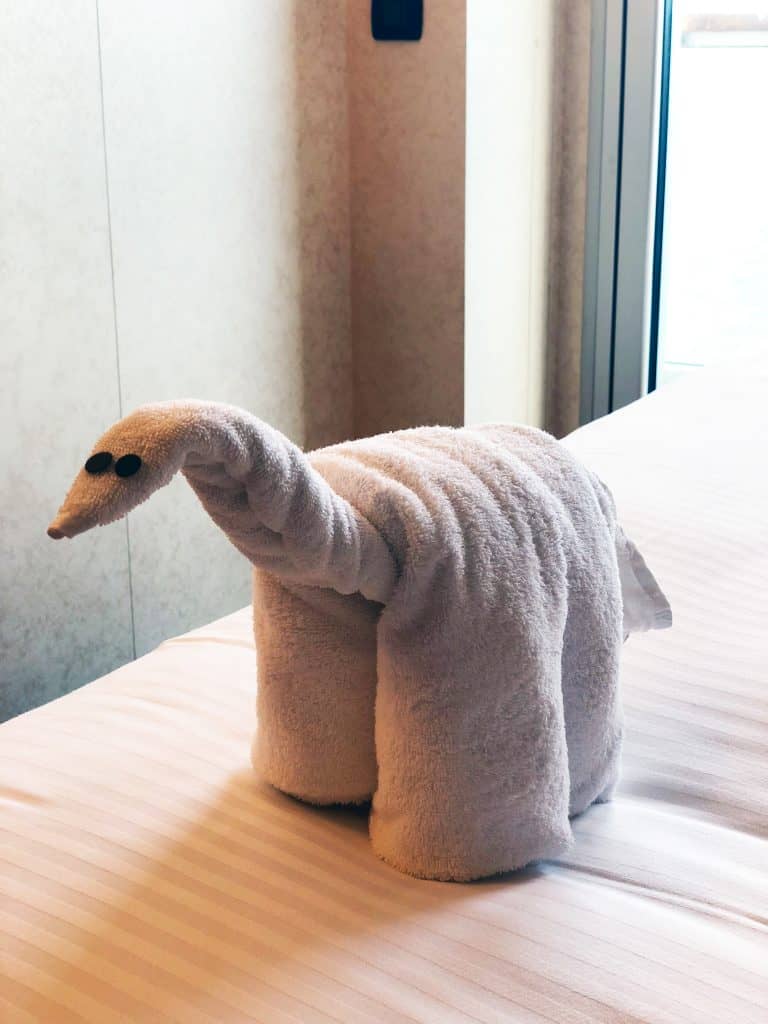 First Time Cruise Tips For an Amazing Vacation!
Leave the stress of planning a vacation behind and get ready for your first time cruise! These tips will make your first cruise so much easier and get you well prepared to just relax and enjoy your trip.
If you have any other cruise related questions, shoot them to me in the comments below!
And don't forget to check out my PINTEREST Cruising Boards for more cruise tips and adventures!


Pin for Later!