Visit Mahogany Beach in Roatan On Your Carnival Cruise
Spend a day at Mahogany Beach Roatan Honduras. It's the perfect place to catch some sun and have some fun on Your Carnival Cruise!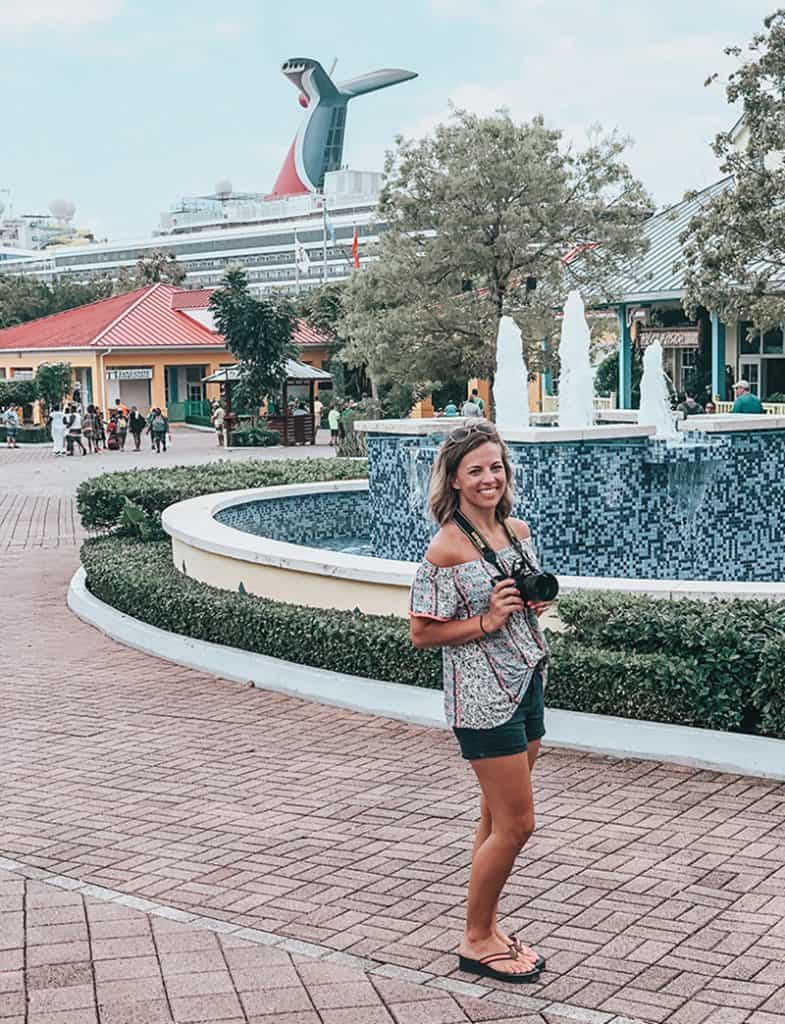 Roatan Honduras is home to Daniel Johnson's Monkey and Sloth Hangout and for me, the highlight of my Western Caribbean cruise. But since visiting the sloth sanctuary only took about 2 hours, we had the rest of the day to just relax and enjoy some sun.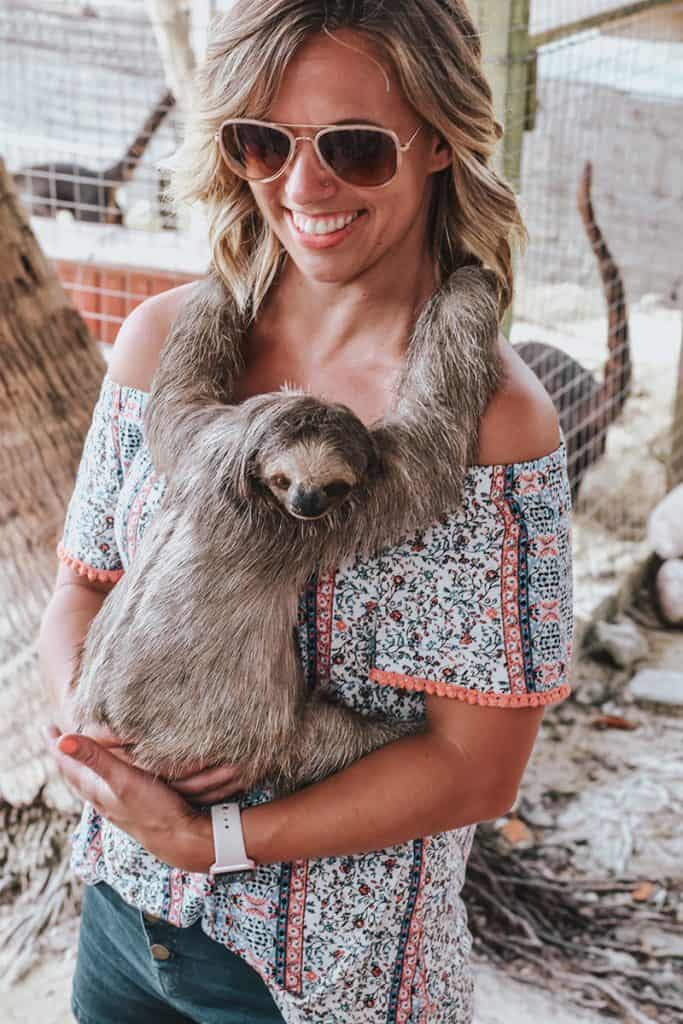 Mahogany Beach was the perfect place to do that!
Located on the South West side of Roatan (an island off the mainland of Honduras), Mahogany Beach is a 20-acre place built just for cruise ships of the Carnival cruise line family. Which does include Princess and Holland America.
So if you are taking a western Caribbean cruise on one of these cruise lines, you'll be lucky enough to visit this private area.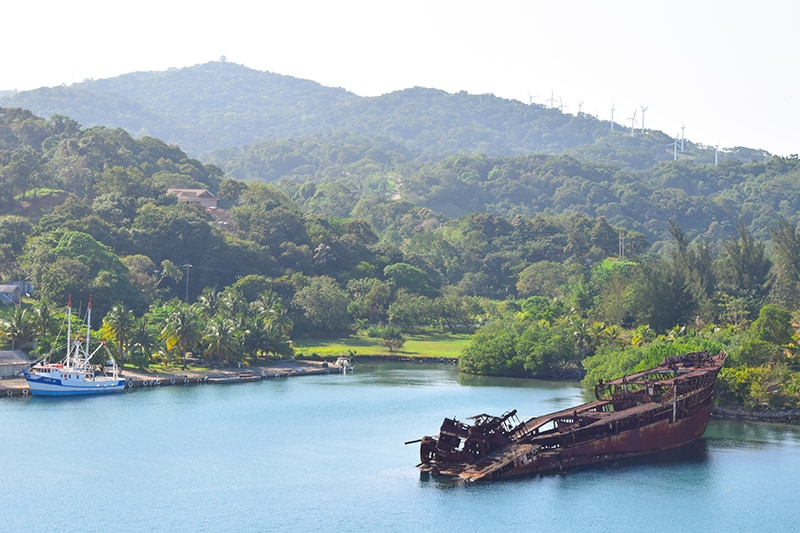 Honduras has been known for having some unrest in their country and it not being safe. But since Roatan is an island off of Honduras and Mahogany Beach is a private area, it was perfectly safe and we never once felt uneasy. In fact, you need your cruise ship ID card just to get into the area.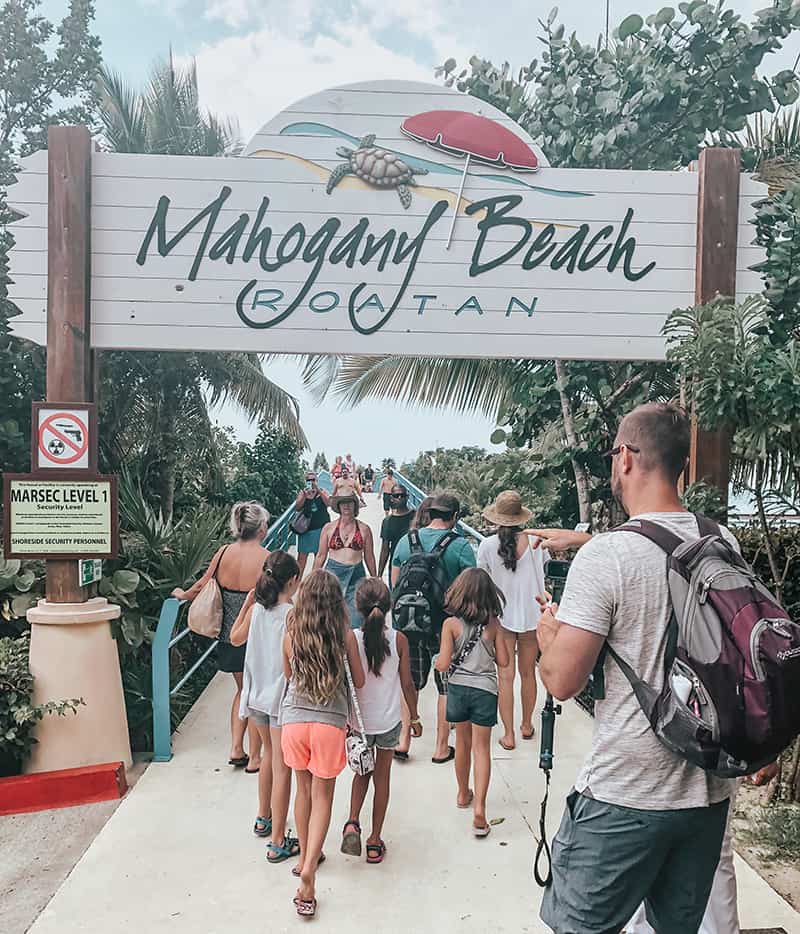 Arriving At Mahogany Beach
The ship docks right at Mahogany Beach so you don't need to walk far to get there. In fact, it's so close that you can easily walk back onto the ship in the middle of the day if you want to take advantage of your all-inclusive food and not spend money eating out.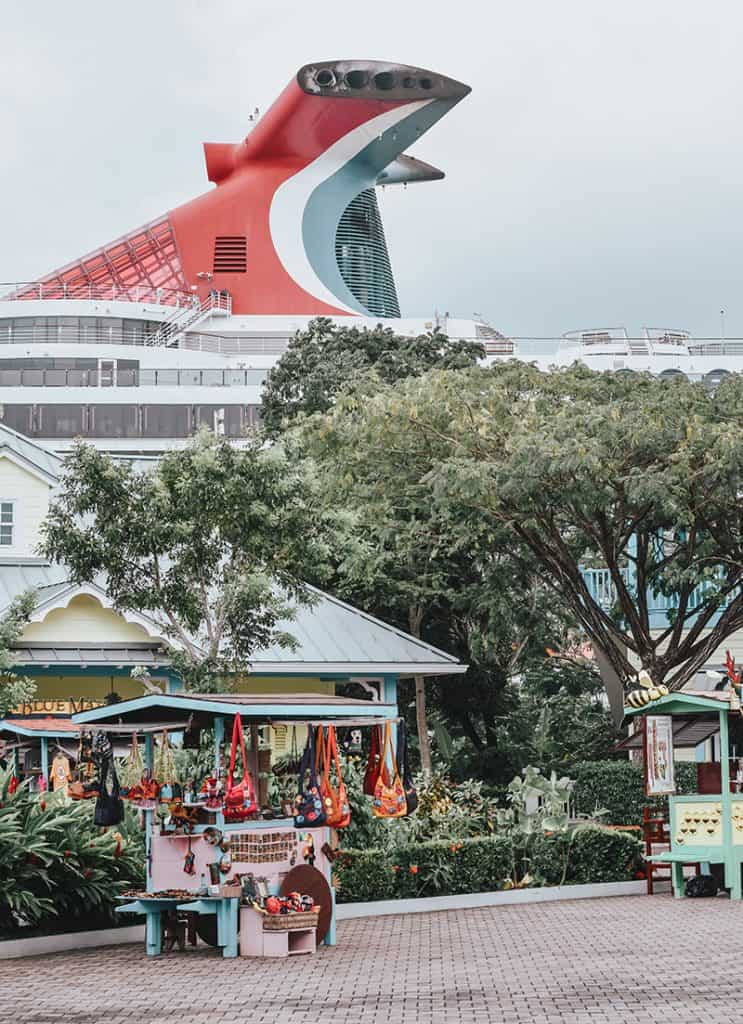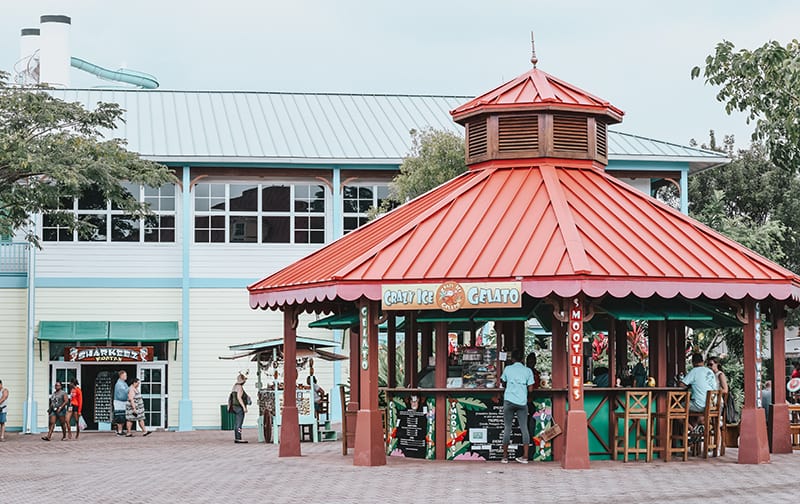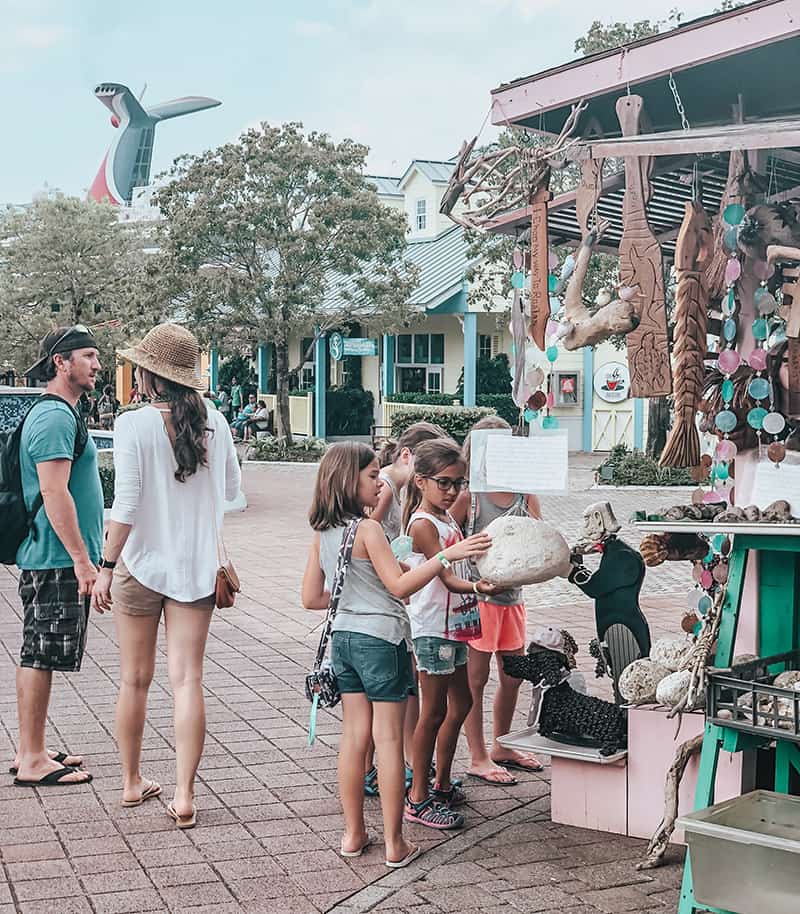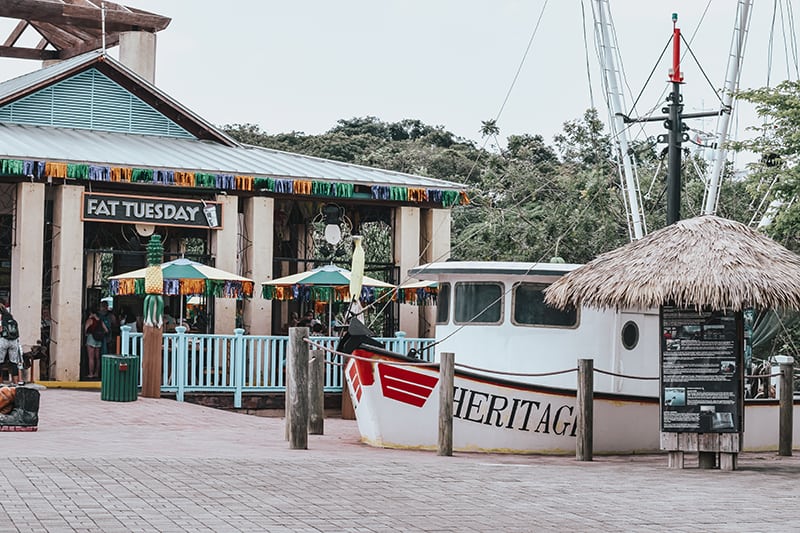 When you step off the ship, you walk down a short dock right into a little shopping area that has several bars, restaurants, and shops.
We actually found some really great items here that looked authentic and not just the same old cheap touristy stuff. The staff is also hired by Carnival so no one was too pushy and trying to force you to buy stuff. Which was really nice!
Head over to your right and you'll see a big sign that says "Mahogany Beach" on it. You can't miss it!
There are two options. You can take the sky chair lift (it was $14 the last I checked) or you can simply walk down a short nature path to get to the beach area.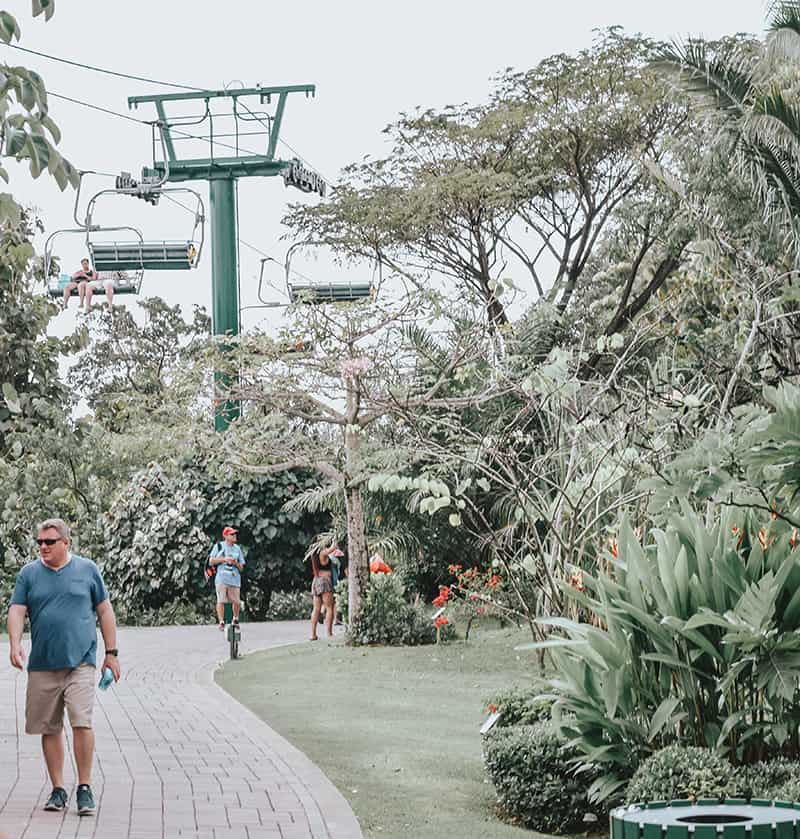 We saved the money and walked. It was a really short walk and super easy for anyone to do. I think the chair lift is more for the views and not so much to save you from walking.
The path to get to the beach was actually really cute and had fun plants, hammocks, chairs, and stuff to look at as you walked. So either way, you get some great stuff to look at, but the path does save you some money.
This is what the path along the way to the beach area looked like. It was a very short walk and REALLY pretty!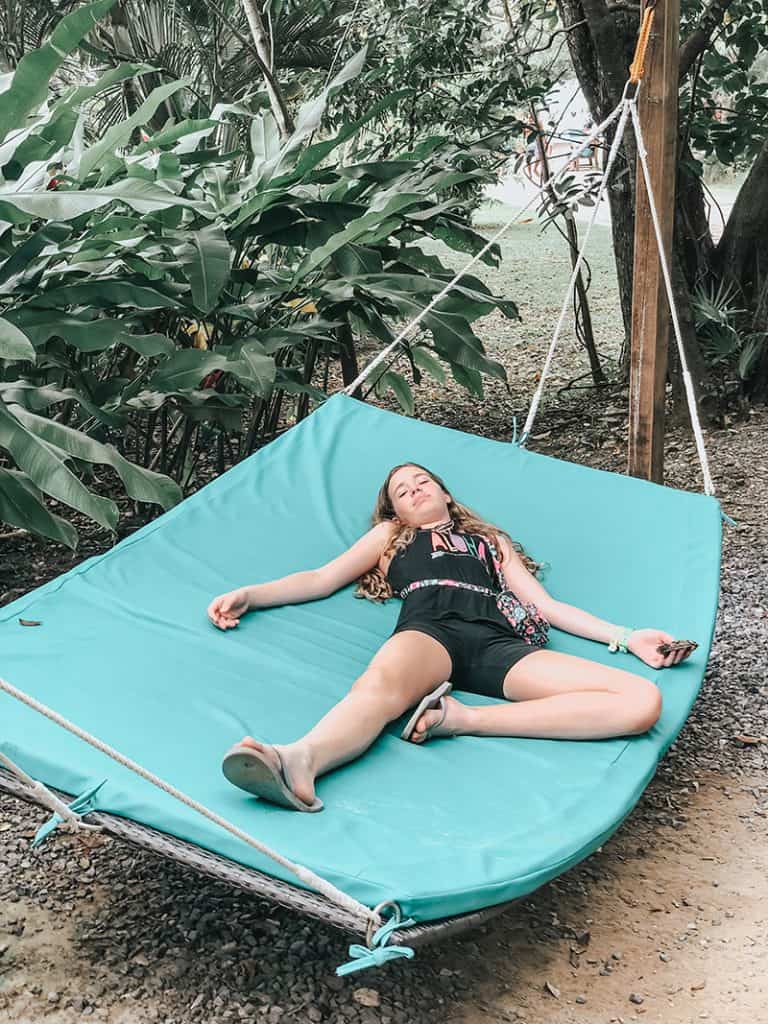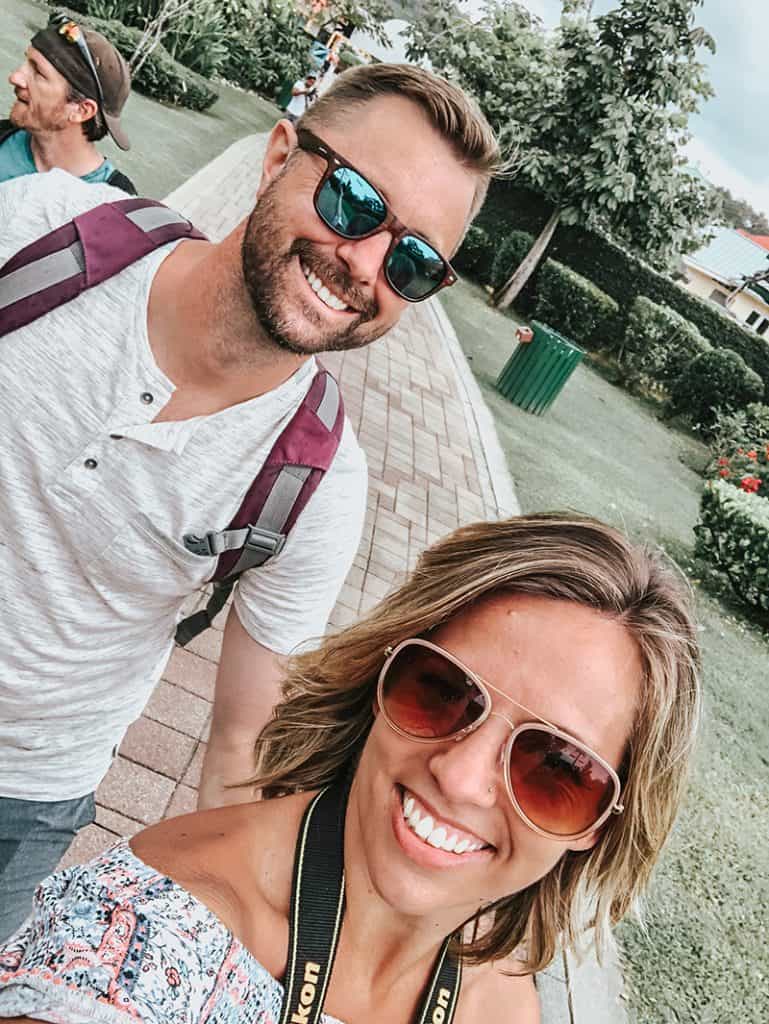 The Mahogany Beach Area
Once you get to the end of the path, you run smack into the big beach area and can instantly see everything there is to do!
The first thing that caught my eye was Fat Tuesday's! And I treated myself to a nice cold Pina Colada in one of their reusable cups. I got a lot of use out of that baby!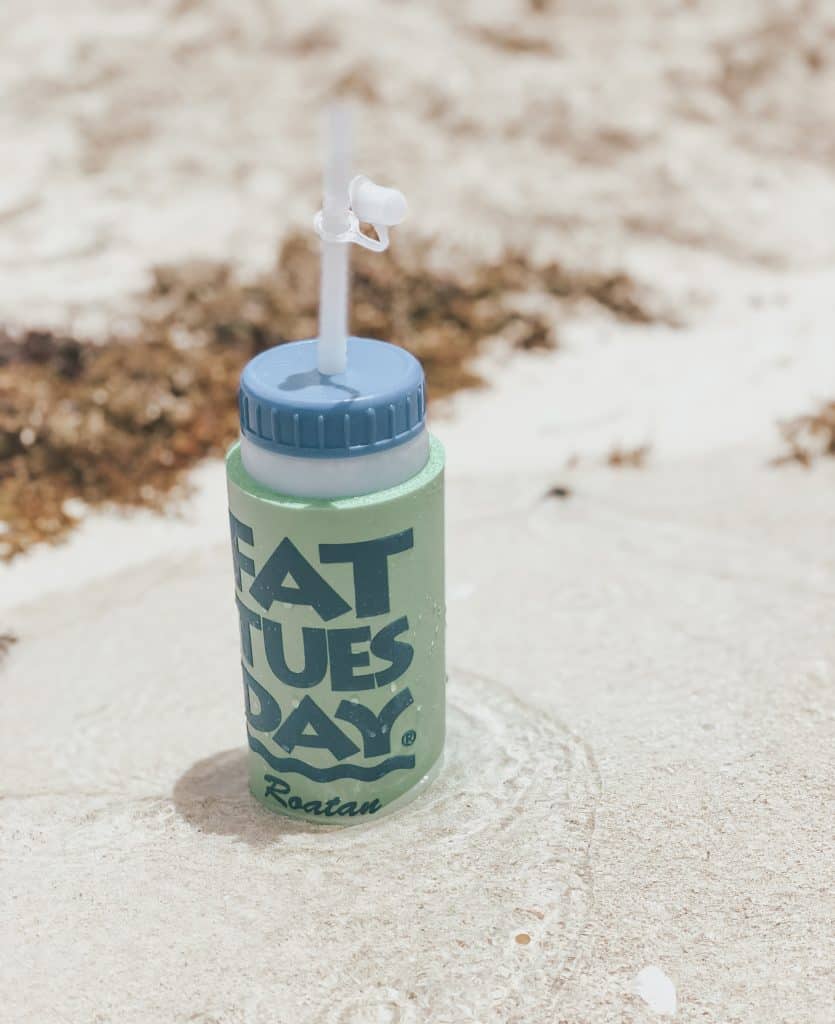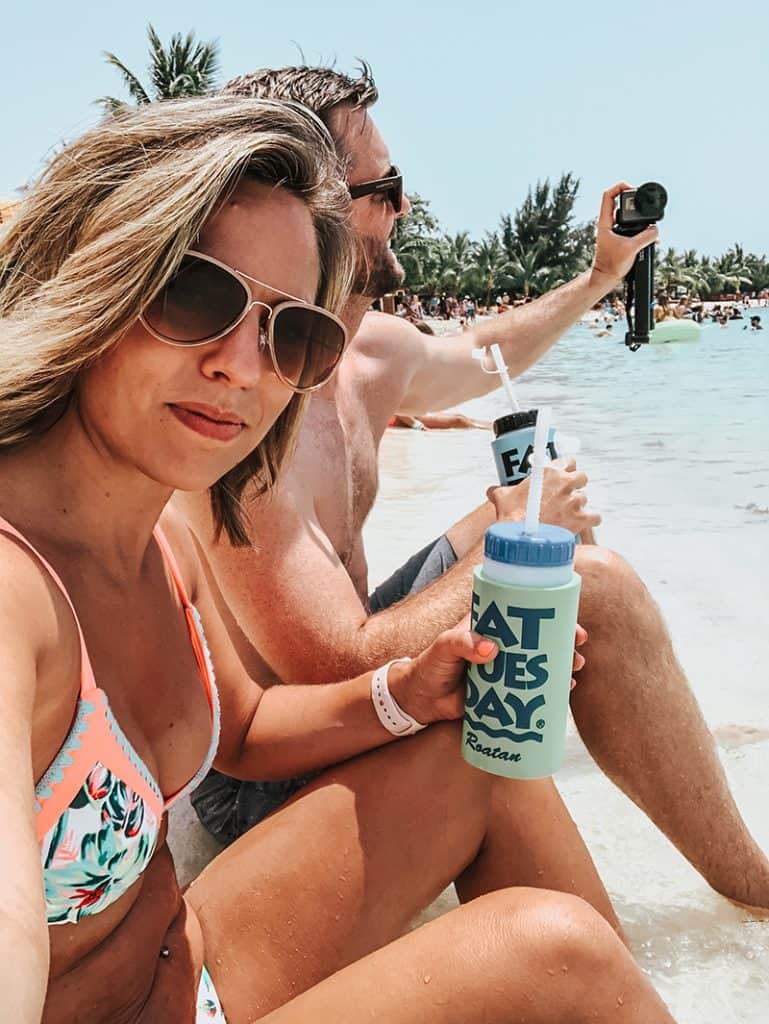 Everything there makes you feel like you are on an exotic island. The open tiki hut restaurants, girls getting their hair braided, the fun Caribbean music playing… this is definitely a place you can hang out all day if you want to.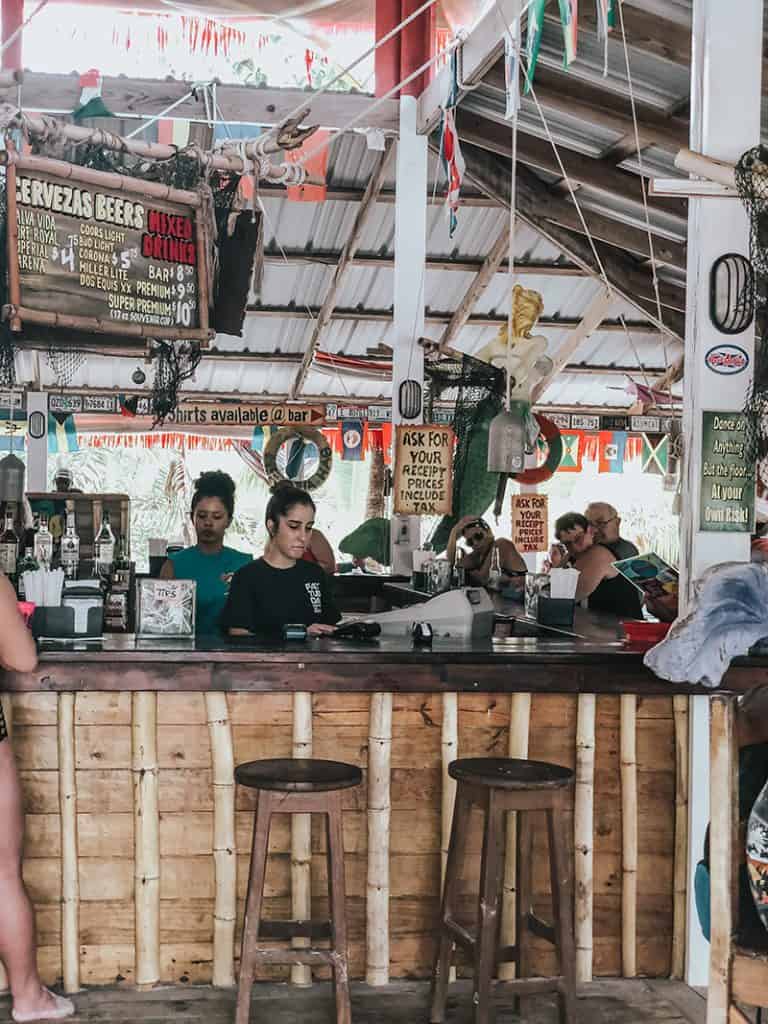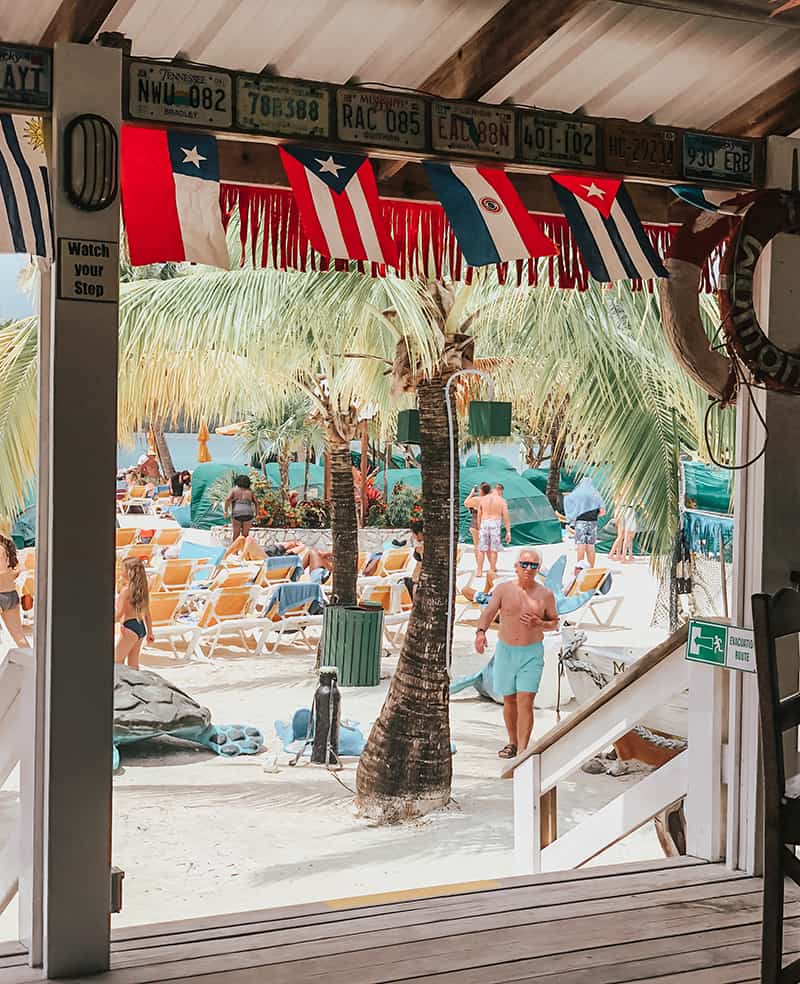 The beach chairs are free and there were plenty there. Since we went to the sloth sanctuary first, the rest of the cruise ship was already at the beach. And I was worried we wouldn't be able to find anywhere to sit.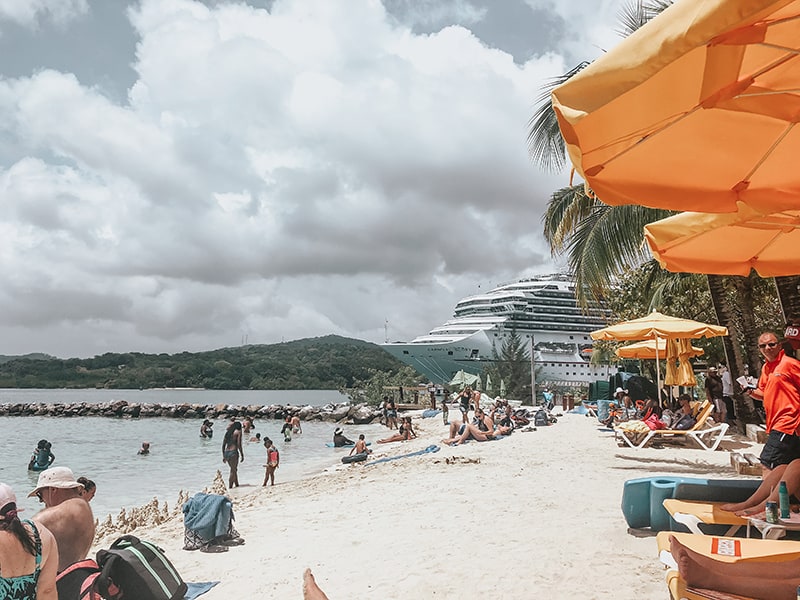 But there were lounge chairs everywhere. We were able to grab 4 of them right along the waterline. So we had a place to sit and eat our nachos while our kids ran in the ocean.
The water at this beach is so crystal clear, you can see the bottom no matter how far out you go. Which makes swimming great for little kids who get scared of what's in the water sometimes.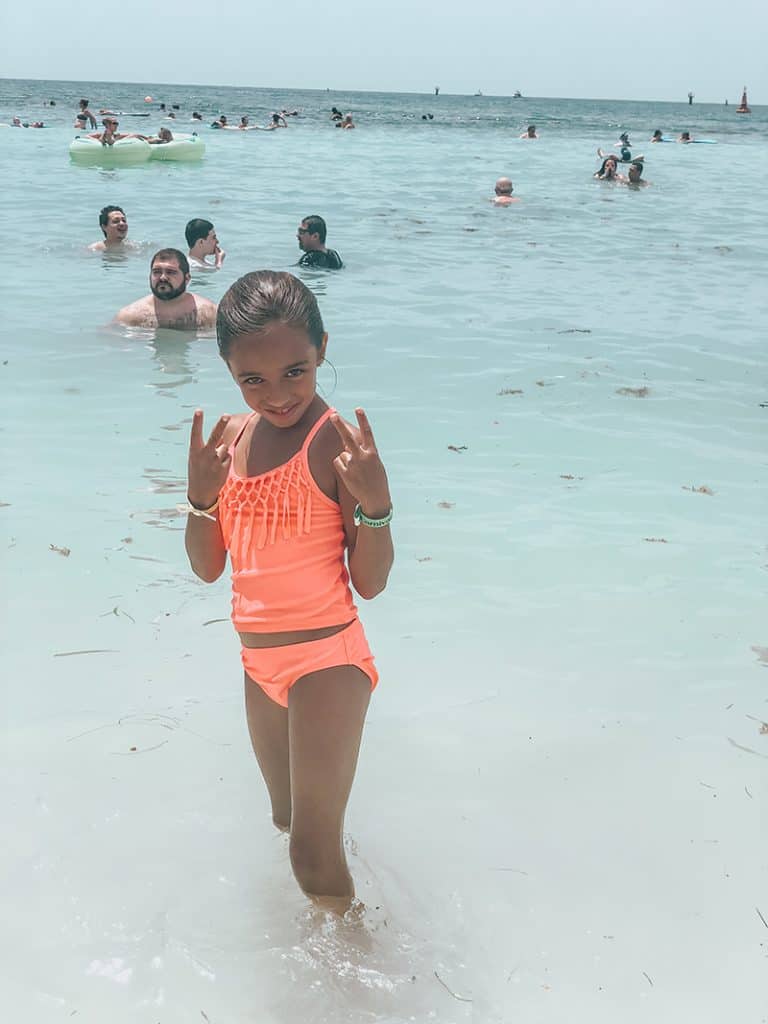 Mahogany Beach also has activities galore if you feel like doing something more than just laying around. You can rent jet skis, paddle boats, water trikes, kayaks and more.
You can even get your hair braided or get a massage!
We didn't feel the need to do most of that. Since we had our adventure day in Belize (cave river tubing and ziplining), we wanted to just chill and enjoy the sun at Mahogany Bay.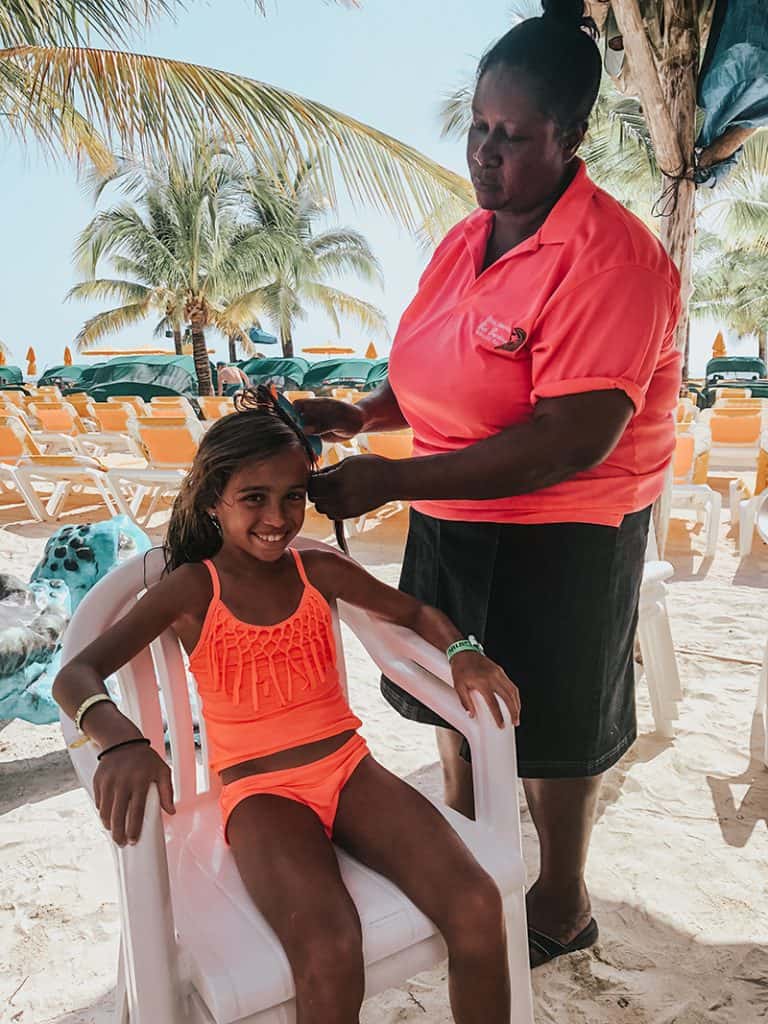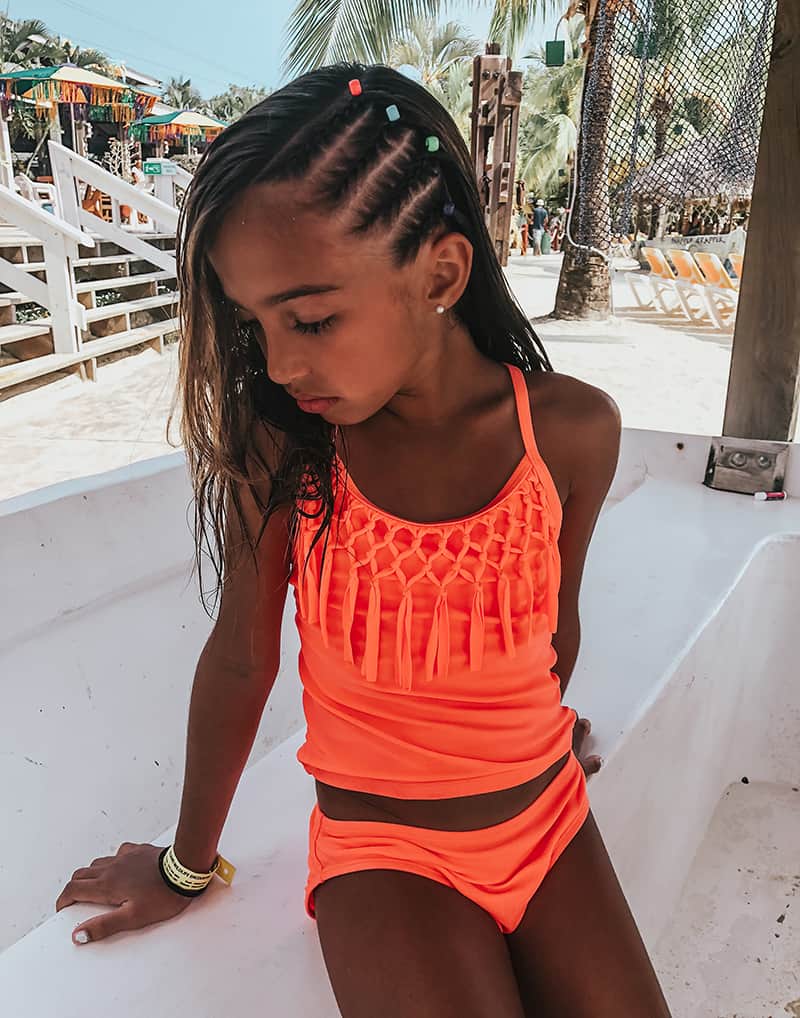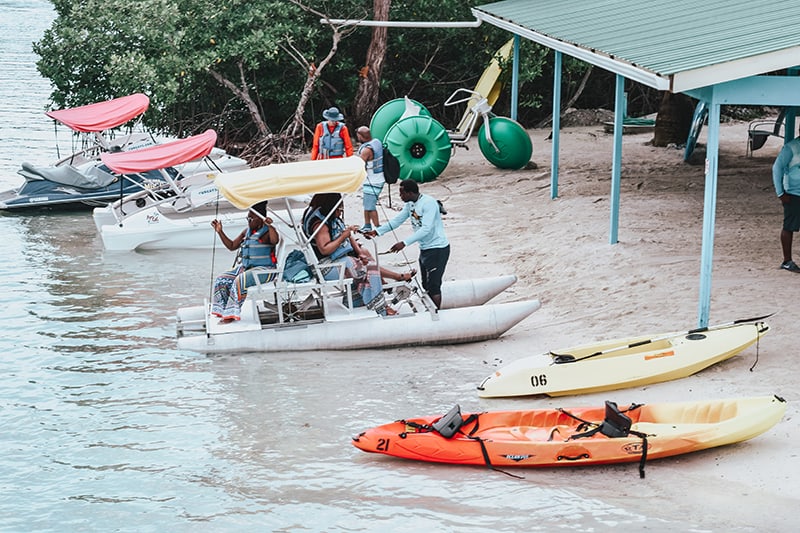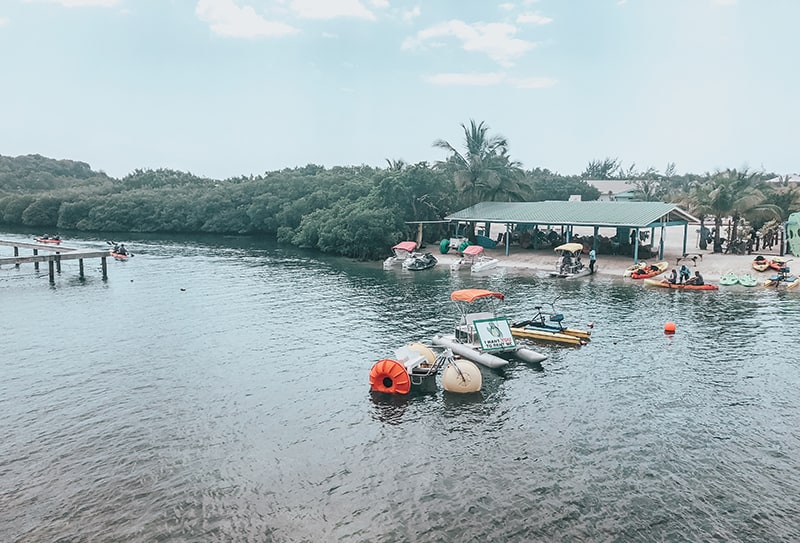 Food and Drink
Like I mentioned before, you can hit up Fat Tuesday's for some great drinks. Or they also have Playa Tortugas Chill n' Grill for some really great food. And even normal stuff like burgers, hot dogs, and nachos for the kids.
You will also find waiters walking around the beach area. It wasn't hard at all to order food and drinks from our chairs by the water.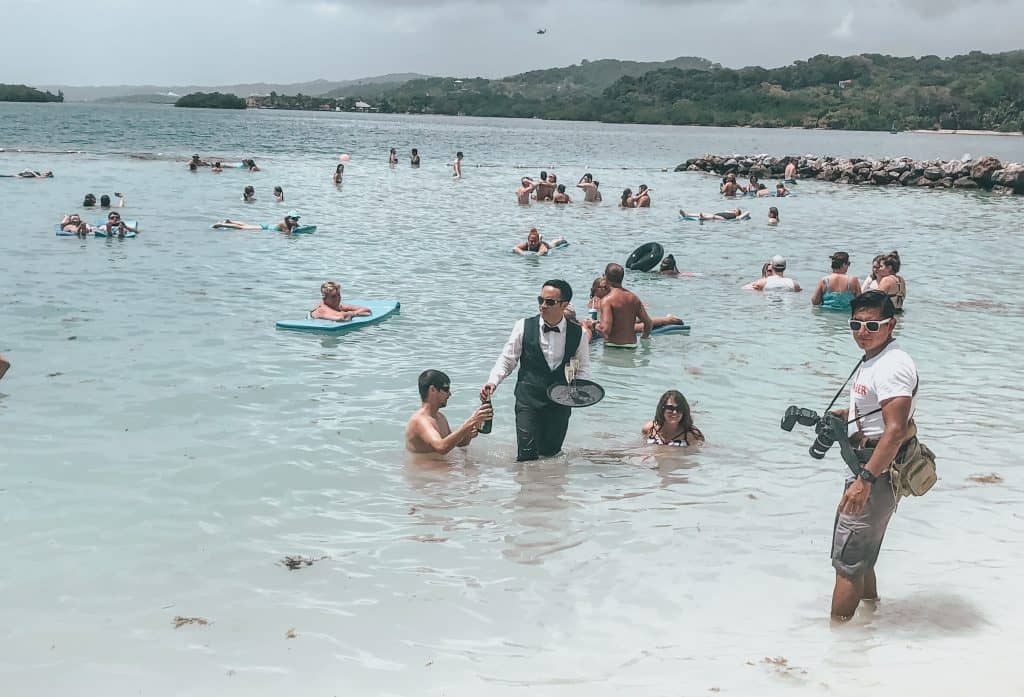 If you need to save money, it's a very short walk back to the cruise ship to have lunch at the buffet. It would be a great time for a nap for the younger kids too! And then return back to Mahogany Bay in the afternoon for a few more hours of fun.
Do You Want To Spend a Day in Mahogany Beach?
If you're looking for a good old ay or playing and laying in the sun, then Mahogany Beach in Roatan Honduras is the perfect place for you!
It's super close to the ship, free to get in for Carnival cruise line passengers, and has everything you and your family could need for a super fun day.
I'm so glad we had a chance to visit the Sloth Sanctuary before we got to visit Mahogany Bay, but I definitely could have spent all day here too!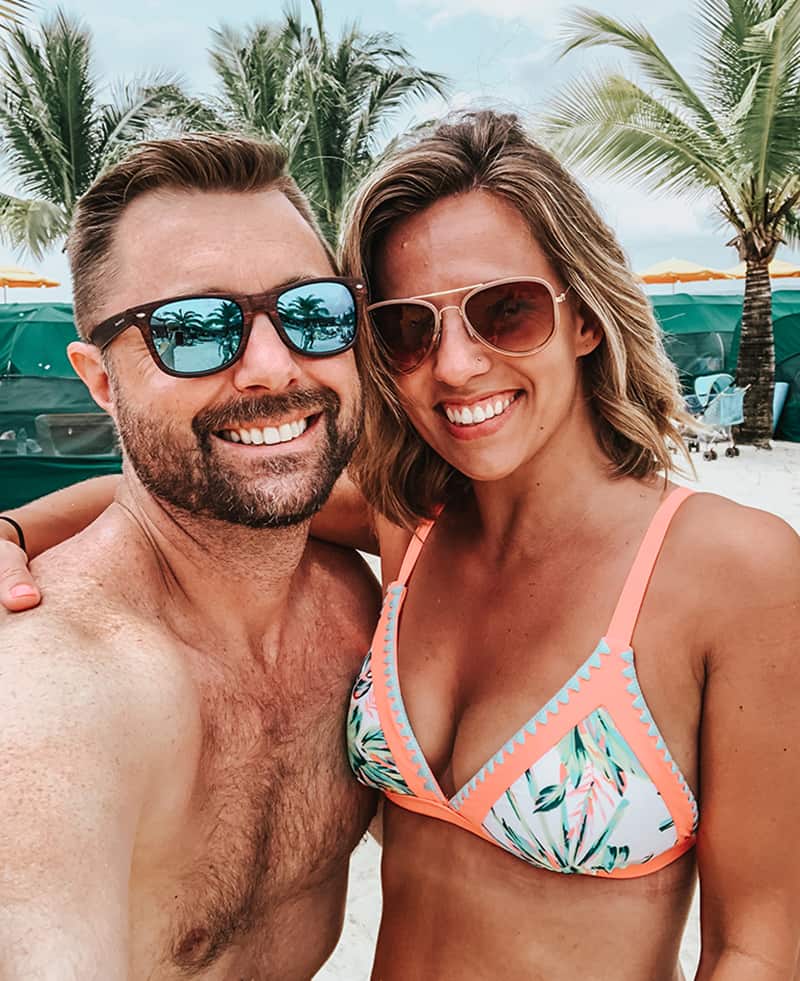 You Might Also Be Interested In:


Pin for Later!