How To Enjoy Seattle Before a Cruise
If you are heading out on an Alaskan Cruise and leaving from Seattle, you're probably thinking about spending some time there first! Here is how to spend a few days in Seattle.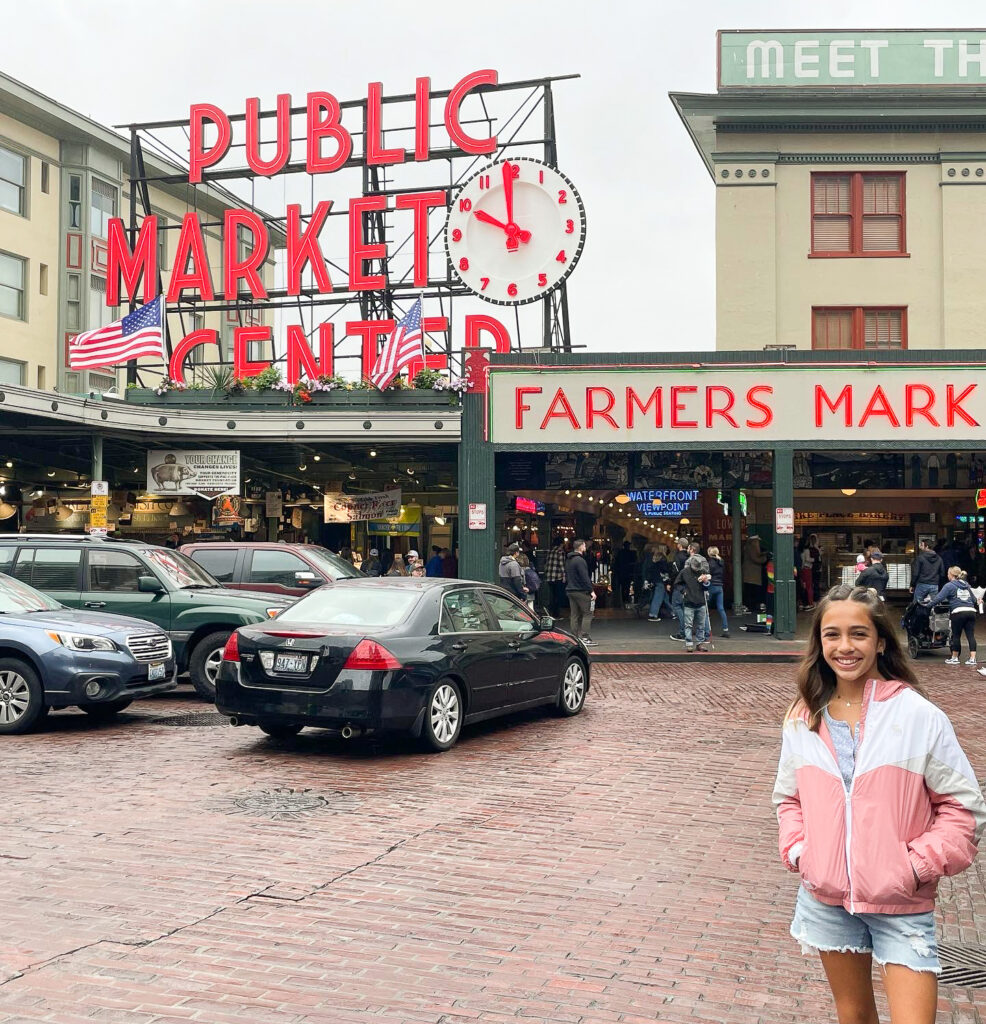 What To Do In Seattle Before a Cruise
Going on an Alaskan cruise was the trip of a lifetime. But what I enjoyed even more, was that we sailed out of Seattle. I had never been to Seattle before and this gave me an opportunity to explore Seattle before the cruise.
Whether you only have one day in Seattle or more, here is the best way to make the most of it.
Where to Stay In Seattle Pre-Cruise
Seattle is like most other major cities. You have the main downtown area and then several areas just around downtown as well. While these other areas have a lot to offer, we are going to stick to Downtown Seattle since it's close to the cruise ship ports and you may only have limited time to explore the area.
If you plan to stay near Downtown Seattle, you have PLENTY of options. We stayed at the Homewood Suites because we were traveling with a big group and it was easier to accommodate all of us. It was within walking distance to the waterfront and had a shuttle to the cruise port for only $9 per person.
Had we been traveling in a smaller group, I would have loved to stay somewhere more unique like a Haunted hotel (yes, you heard me right) this list of Haunted and historic hotels is perfect for the traveler who likes a little adventure.
But really, there are so many options from hotels, to Airbnbs, it just might require a little bit of searching to find the right place to stay before your Alaskan Cruise. My best advice is to keep it close to Pikes Market and the Space Needle. That area is only a 10-minute drive from the cruise port and near almost everything you'll want to see!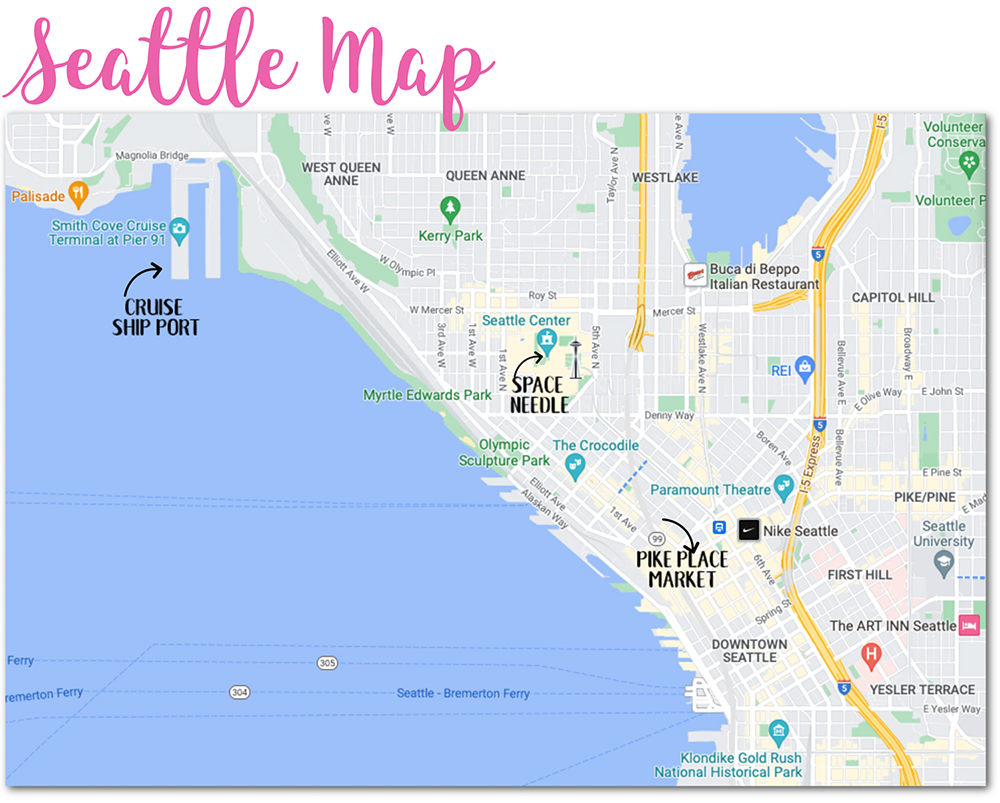 What To Wear In Seattle
I see this question asked so much and here's my honest answer. I don't know!
I've been to Seattle a few times (always in the summer) and I've experienced a variety of weather. One time I went and it was 90 degrees and hot as heck. The next time I visited Seattle for a weekend, it was 60 degrees, cloudy and rainy.
The point is, you never know about Seattle weather. So check the forecast shortly before visiting, and base your outfits on that.
That's really the best advice I can give you! Now on with the good stuff…
What To Do In Seattle Pre-Cruise
Luckily, downtown Seattle's main attractions are all pretty close to each other… and the cruise ship terminal you'll be sailing away from.
So it's pretty easy to see everything in a day if you are super productive. If you have 2 days in Seattle, even better! Then you can really take your time.
While there is a lot to do both in and around the Seattle area, here are my top choices of must-visit Seattle hot spots that are perfect to see pre-cruise.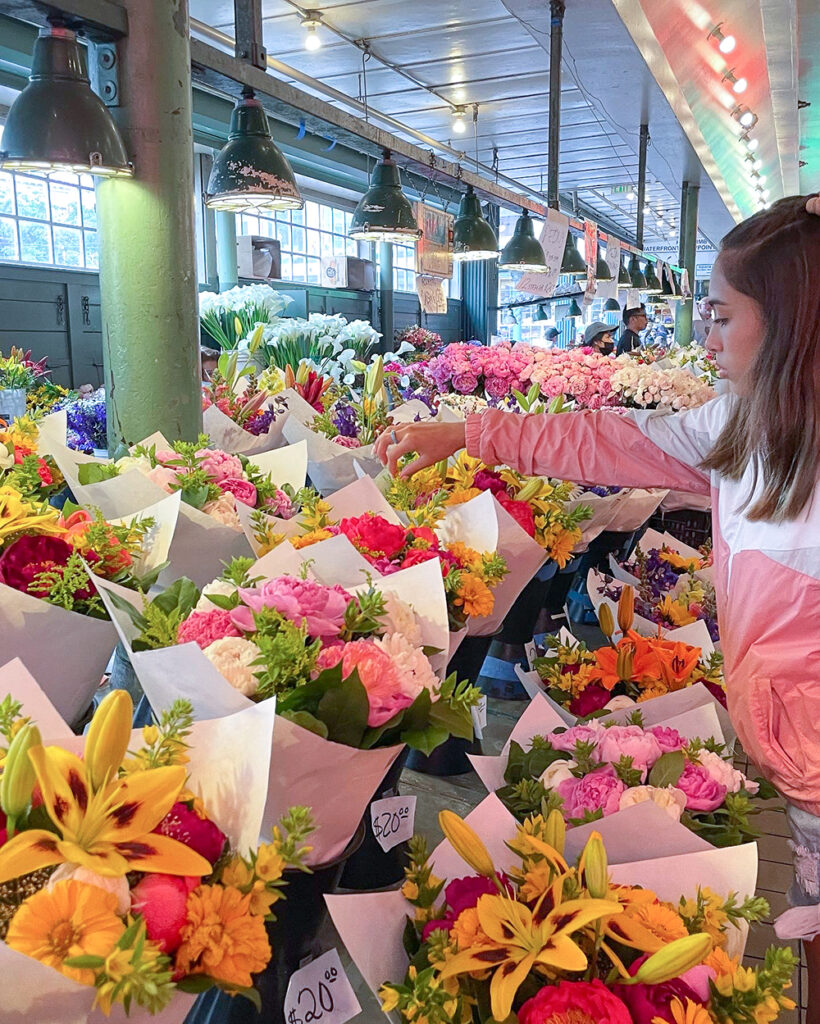 1 – Pike's Place Market
I feel like I have to start with this one, just to get it out of the way. Not much needs to be said. It's one of the most popular places to visit in Seattle and most people come to Seattle just to visit here.
Trust me, it lives up to its hype. Pikes Place Market is a super fun place to spend an entire day if you want to, but can also easily be done in a few hours. From gorgeous flowers to flying fish (yes, they throw fish, and it's REALLY fun to watch) Pikes market is a hub of activity and can get pretty crowded on the weekends.
Pike's Place Market is very well known for its food. You can get tons of treats here from the world's best Mac N Cheese, to macaroons, and fresh fruit.
Inside are local vendors selling goodies such as wine, loaves of bread, seafood, and any kind of homemade crafts you can think of. If you want to get an authentic Seattle souvenir, Pikes's Market is the best place to do that.
Here are a few spots in Pikes Market you might not have known about…
Gum Wall: Why is a wall of gum so amazing? Who knows! But it's fun to visit and add your chewy piece, so make sure to bring some chewing gum with you. The gum wall is located in Pike's market, just slightly south of the throwing fish.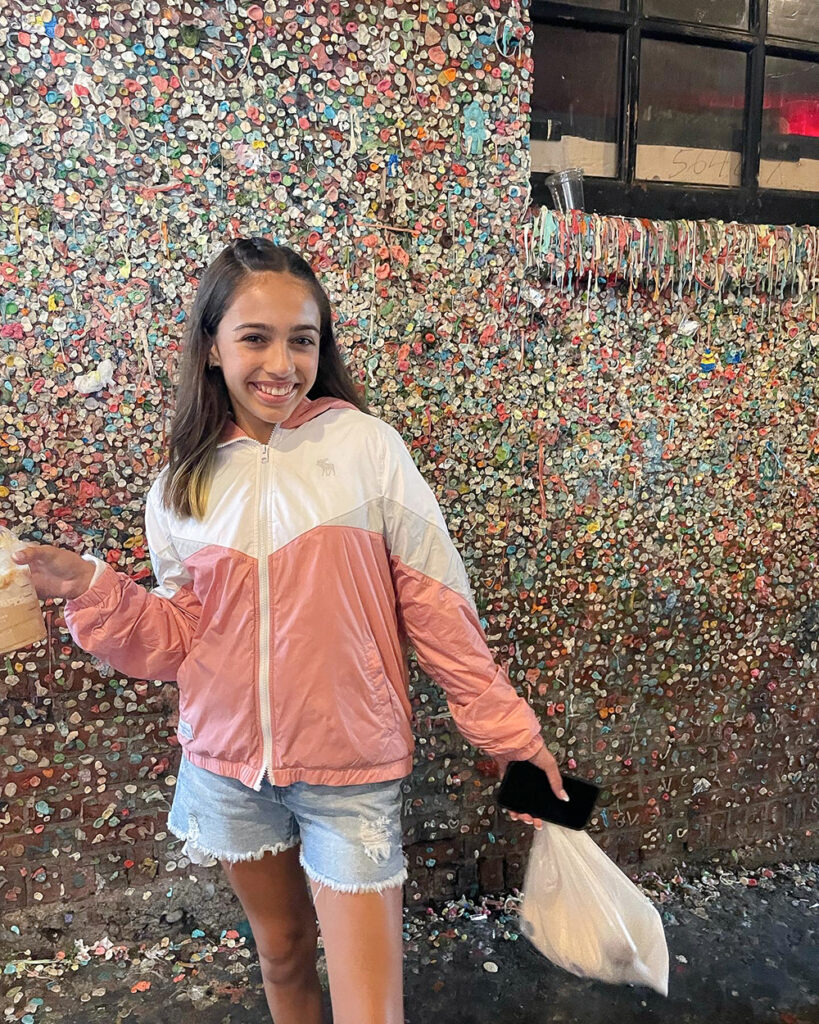 The Throwing Fish: is located right at the entrance of Pike's Market. You can actually buy seafood here, but the fun part is watching them shout and throw the fish around.
The First Starbucks: A must-see for coffee lovers. Take a photo out front (it has the original Starbucks logo) but do yourself a favor and skip getting coffee here. It's the same Starbucks coffee you get at the other locations but the line can often be up to an hour long.
2 – The Space Needle
You'll see a lot of people telling you to skip this because of the price. And yes, I agree that the price is pretty high (about $35 per adult). But the Seattle Space Needle is an iconic part of Seattle and I just feel like it would be a mistake to miss it.
You not only get really amazing views (we could see our cruise ship!), but the observation deck is a pretty unique experience. There are 2 levels to the space needle. The top level is a 360-degree view of Seattle and the Waterfront. You can even go outside.
The lower level is a glass rotating floor. Yes, that's right! The floor is made of glass so you can look directly down! But it also rotates (very slowly).
And my favorite part… they actually serve drinks and snacks up there. So head up during sunset and grab a glass of wine with killer views.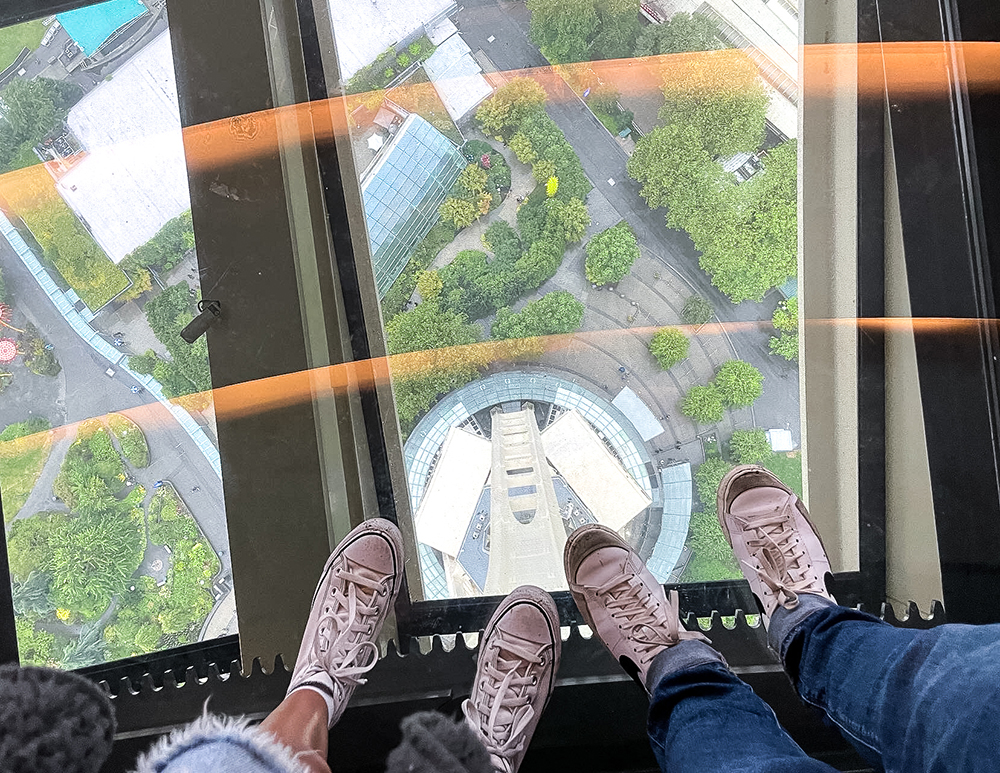 3 – Chihuly Garden
While this one doesn't sound exciting at first, the Chihuly Garden and Glass Exhibition is not to be missed. Adults and kids love this one. The glass displays are unlike anything you've ever seen.
And the best part, it's literally located at the Space Needle. So if you visit one, it's easy to visit both (they have a price bundle if you purchase tickets for both as well).
We had to drag some family members to the Chihuly Garden, but this stop ended up being one of our favorites when we visited Seattle before our Alaskan cruise.
4 – Seattle Underground Tour
If you are looking for a really unique experience in Seattle, you absolutely must see Bill Speidel's Underground tour. Seattle actually existed as an entire city that was buried over time and remnants of this lost city still exist underground.
Learn a little bit about Seattle's historic past and get a glimpse of buildings, pubs, and even streets that used to be above ground.
The underground tour doesn't take very long (maybe an hour or so) and is located within a short walk from the Space Needle.
5 – Seattle Waterfront
Seattle is known for its waterfront so don't miss out on walking along the boardwalk! If you like Seafood, this is your place to go. There are several restaurants along the waterfront where you can enjoy crab, lobster, clams, and more with a great view of the harbor.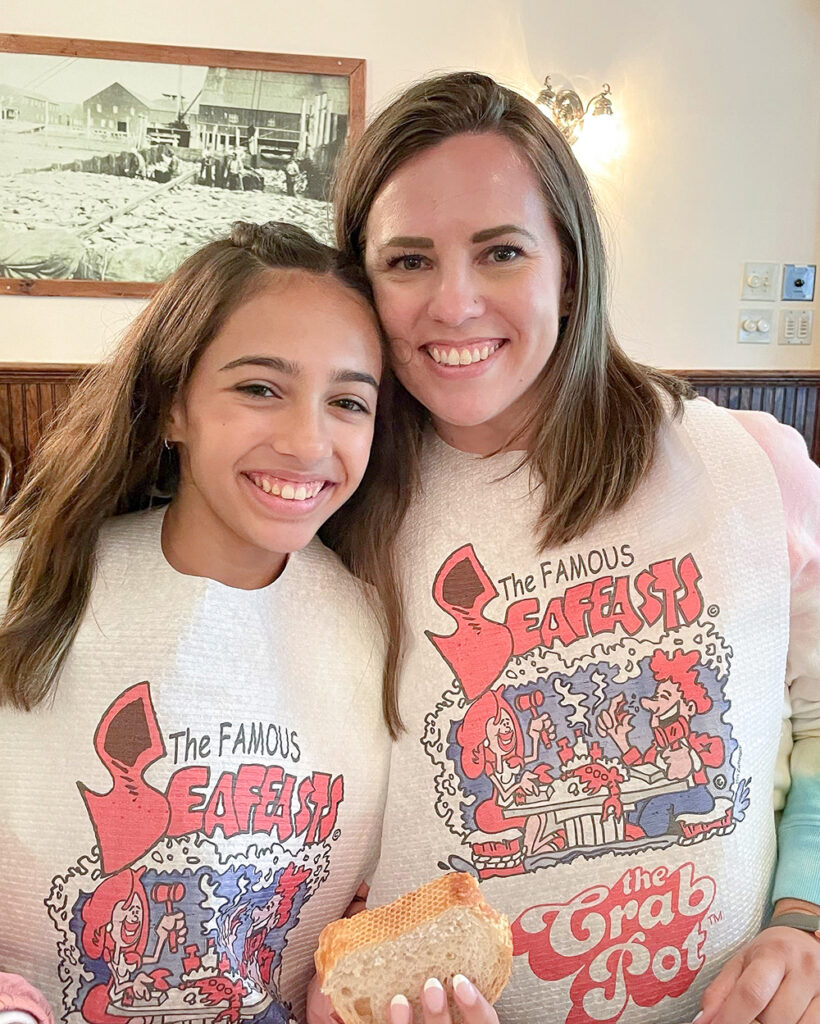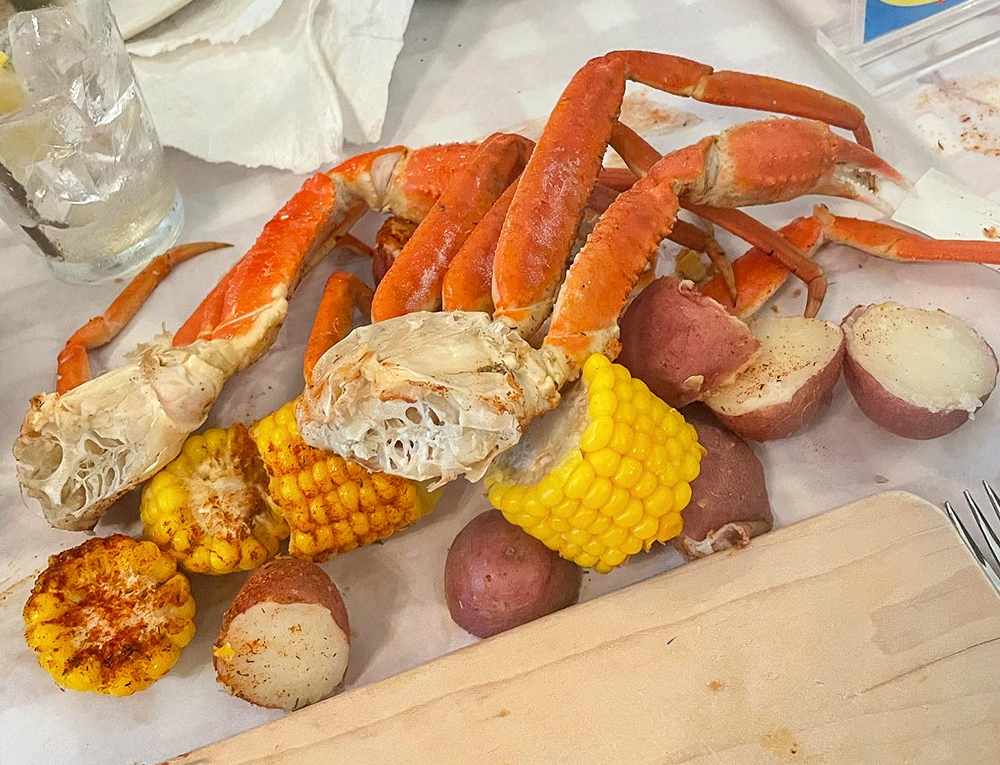 The Great Wheel is located here (fun to ride but ok to just take a photo in front of) as is the Seattle Aquarium. The aquarium is a fun place to visit if you have kids, but ok to miss if you're just traveling with adults. Even with the kids, it'll take you a few hours to see at the most. Which leaves you plenty of time to stroll the rest of the boardwalk.
The Seattle waterfront is located just on the other side of Pike's Place Market so it's a short and easy walk. We visited the Market in the morning for a few hours and then headed over to the waterfront for lunch and shopping, which still left us plenty of time to see the Space Needle before dinner time.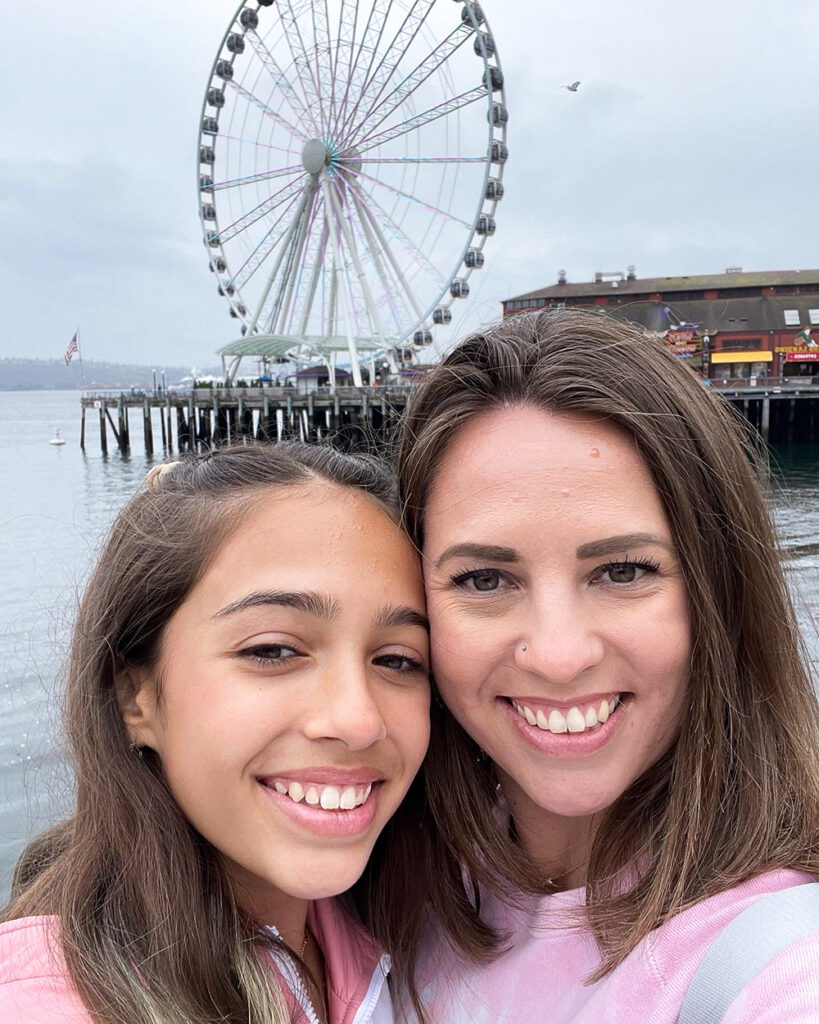 6 – Seattle Harbor Cruise
Even though you'll shortly be on an Alaskan cruise, it's not a bad idea to take a short little cruise around the harbor! Seattle Harbor Tours are only about an hour long each, so they are easy to fit into a 1 or 2-day itinerary.
You'll get some amazing views of the skyline, and the harbor, and might even get to see some wildlife! This is a great option for older adults or people who are less active (or just need an activity where you sit and rest after all the other walking around!)
7- Museam of Pop Culture
Mentioning the word 'museum' to your family member usually gets a few groans, but the Museum of Pop Culture in Seattle is a fun and unique experience both kids and adults end up loving!
Located just a few steps from the Space Needle and Chihuly Gardens, the MoPC shows you the history of music in Seattle including Kurt Cobain and Jimi Hendrix. You can even make your own music!
8 – Olympic Sculture Park
Last but not least, if you are looking for a fun outdoor stroll, go check out the Olympic Sculpture Park. Home to some of Seattle's most iconic pieces, and a very instagramable spot as well!
Home to one of the largest green spaces along Seattle's waterfront, this is a great place to lounge on the grass if you need a break. It also makes a really good picnic spot.
You can stroll leisurely through the park, or even rent some electric scooters or bikes for some added fun.
Follow us on instagram to see more of our Alaskan Cruise travels!
Here is a cheat sheet of things to do in Seattle Pre-Cruise…
Pike's Place Market
Seattle Space Needle
Chihuly Garden
Underground Tour
Seattle Waterfront
Seattle Harbor Cruise
Museum of Pop Culter
Olympic Sculpture Park
Pre-Cruise Weekend in Seattle
When booking our Alaskan cruise, we were so excited that it sailed out of Seattle. Seattle was a city we hadn't explored before but it's always been on our bucket list.
So when you already have airline tickets to a city you've never been to before, you take advantage!
We flew into Seattle on a Saturday afternoon and our cruise sailed out on Monday. So we had a good day and a half exploring the city. Two full days would have been better if you want to try to tackle this whole list, but we were able to still see everything in the limited time we were in Seattle.
If you have any questions about Seattle, or tips on places to visit that I might have missed, please drop them in the comments below.
Enjoy your weekend in Seattle!
You may also be interested in: