What It's Really Like on an Alaskan Cruise in 2023
Get ready for your first time on an Alaskan Cruise!
Hooray!  You're about to go on an Alaskan Cruise! Want to know what it's really like? I'll fill you in on all the details about my 7-day Alaskan Cruise aboard the Ruby Princess. 
I've been hearing about Alaskan cruises for years but always assumed they were for old people and all you really did was sail around and look at snow-capped mountains. I could not have been more wrong!
Check out the most EPIC Alaskan Cruise Excursion HERE!
We originally wanted to discover Alaska but did a lot of research and found Alaska very hard to get around if you wanted to see multiple places. So we decided on a cruise as our best bet to be able to see several different areas of Alaska in one trip.
Fun Fact: The City of Juneau, which is also the capital of Alaska, can only be accessed by boat or plane. There are no roads leading in or out of Juneau… crazy huh?!?
We loved our cruise so much, we are already planning a second one with the kids. So sit back and let me tell you everything you need to know about your first time on an Alaskan Cruise!
Related: Genius Cruise Packing Hacks!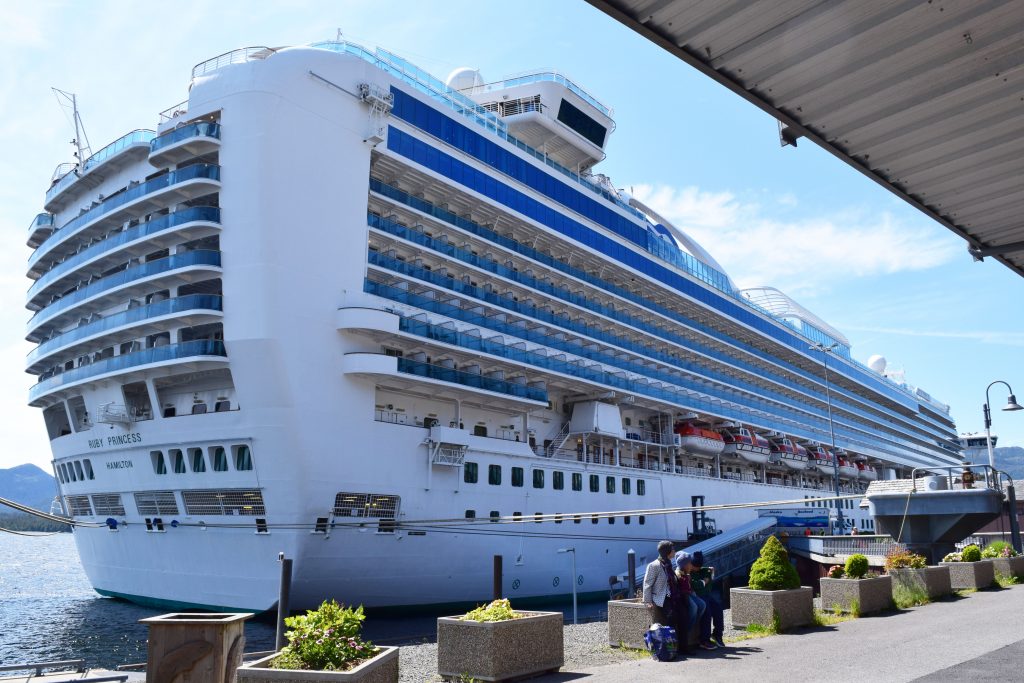 Our 7-day Alaskan Cruise Itinerary
Day 1: Embarkation from Seattle
Day 2: At Sea
Day 3: Ketchikan
Day 4: Juneau
Day 5: Skagway
Day 6: At Sea
Day 7: Victoria, British Colombia
Day 8: Return to Seattle
There is just way too much information to include about what to do and see at each port in just one post, but you can read more about the best excursions at each place:
Along with…
Is an Alaskan Cruise Mostly for Old People?
They sure are. BUT… they are for kids and young adults and everyone in between too. While the crowd is a bit older than a Caribbean cruise, there were also plenty of young couples and families aboard our cruise with Princess Cruise Lines.
We decided to make this an adults-only trip (rare!) but every step of the way we kept saying "The kids would LOVE this!" There is so much to do on the ship and tons of excursions that work for any age group. And c'mon, show me one kid who wouldn't be excited getting a sled dog ride and then holding puppies at the sled camp. Yeah… I thought so!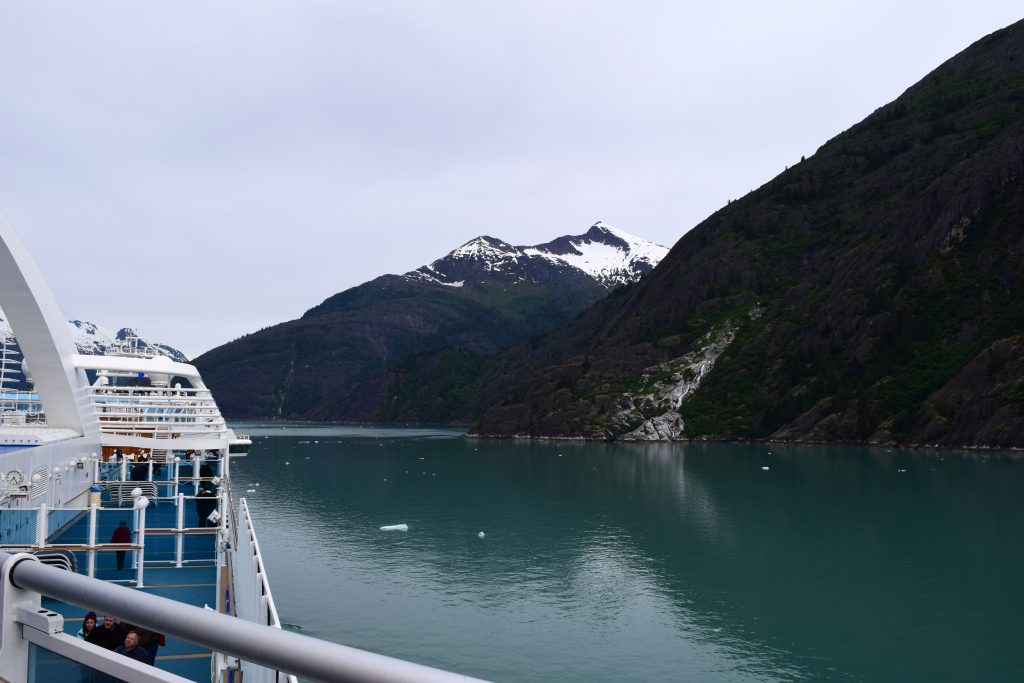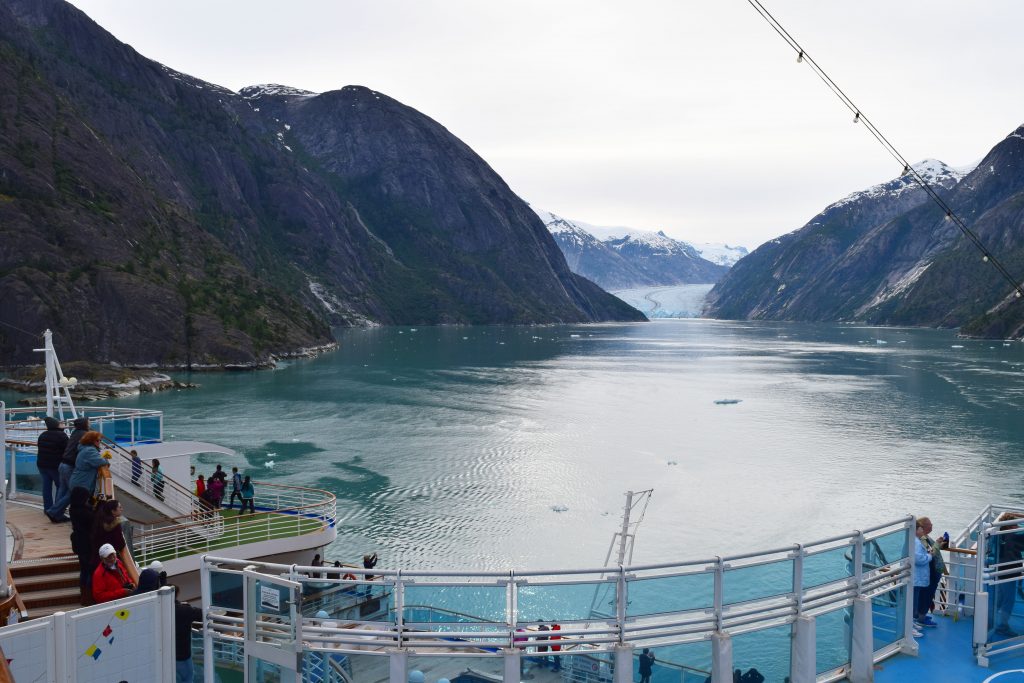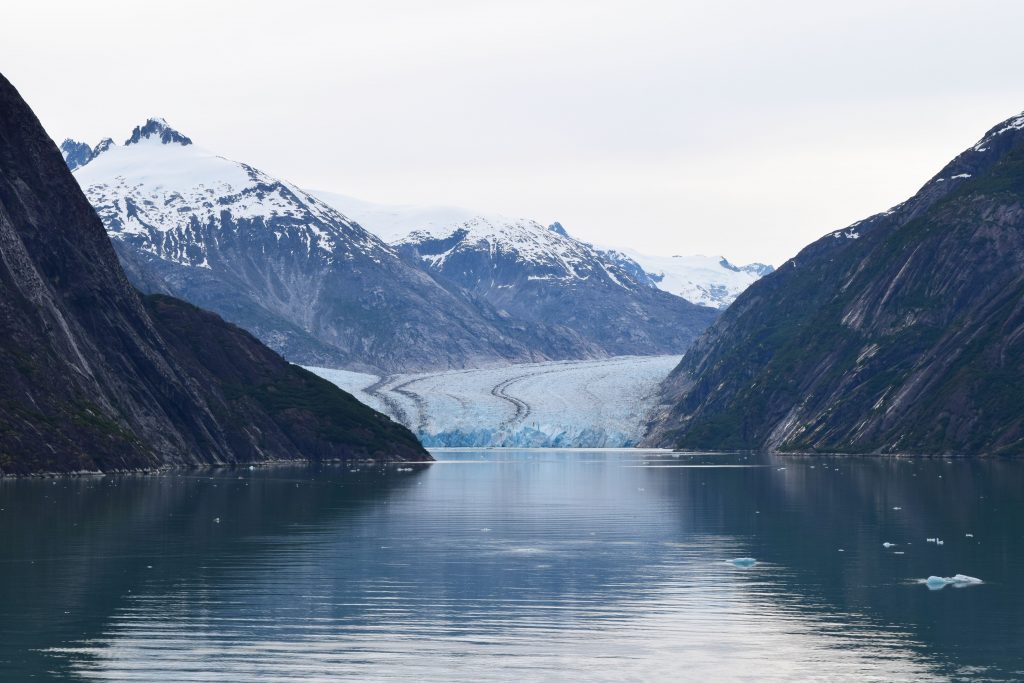 How Big are the Rooms? Should I get a balcony?
I'm not gonna lie, the rooms are small. you pretty much just have a bed and a small bathroom. It worked just fine for 2 adults, but I would go crazy if I put my family of four all in one room together.
Fun Tip: Did you know you can get 2 rooms for cheaper than the price of 1 on ANY cruise line when you cruise with at least 4 people? It's a secret not many know about. Check out that secret HERE!
I did think there was ample storage space. You have closets, some drawers, nightstands, and even some room under the bed to store clothing and other items.
Oh and YES… GET A BALCONY! Trust me, it's SO worth the extra money. Not only for the extra sitting room but each night we left our door open and listened to the sound of waves as we slept. And we had amazing sunset views, saw glaciers and ice floating by as we sailed, and even got a glimpse of some orcas swimming as we got ready for dinner one night.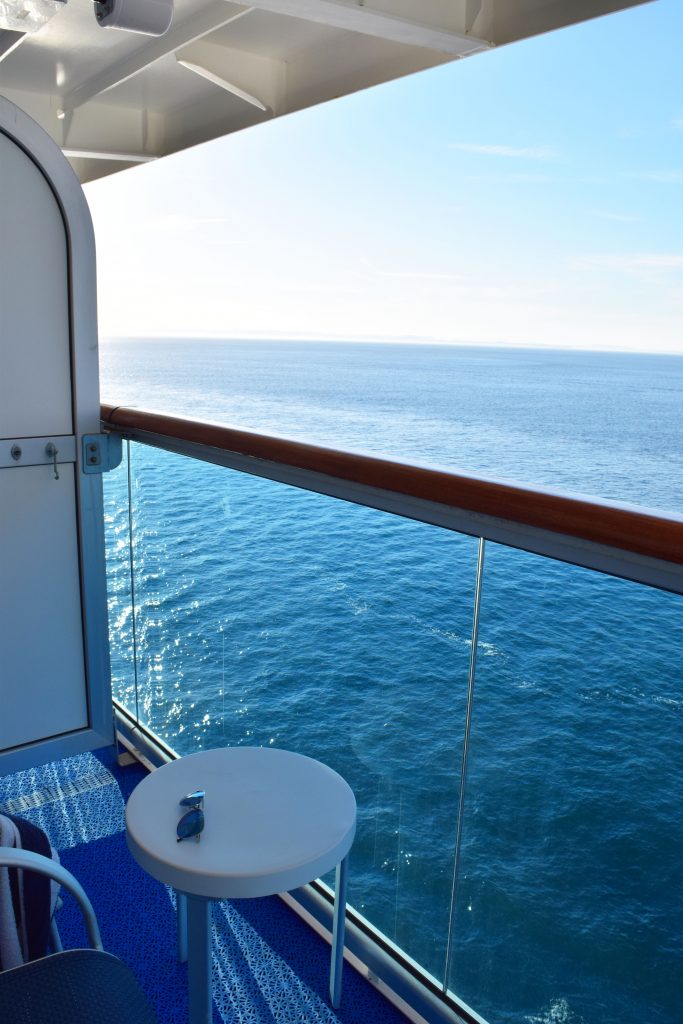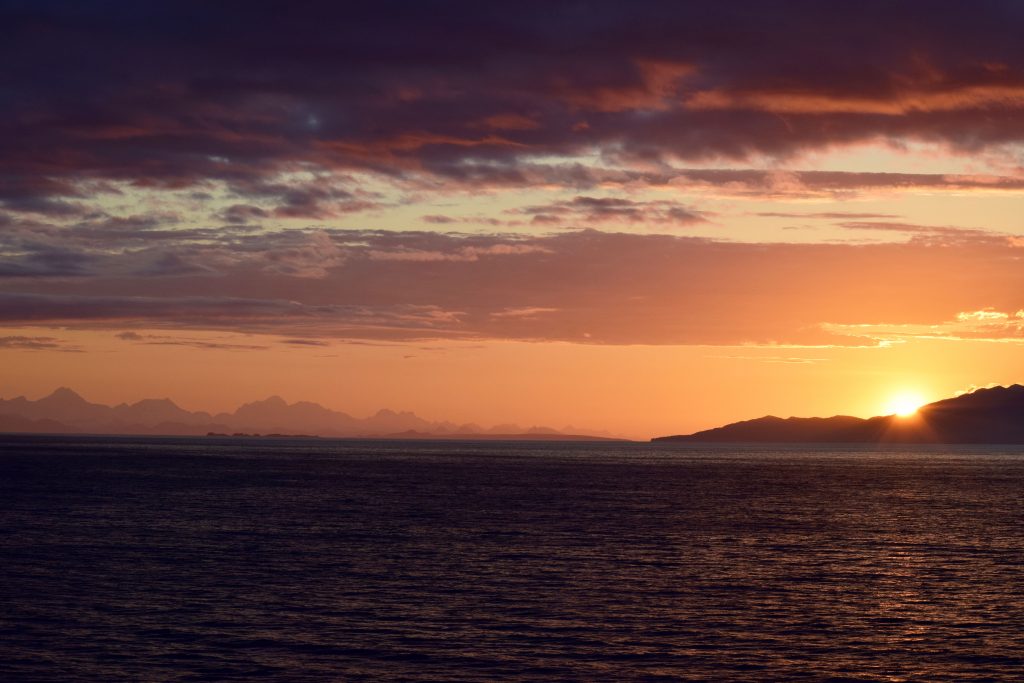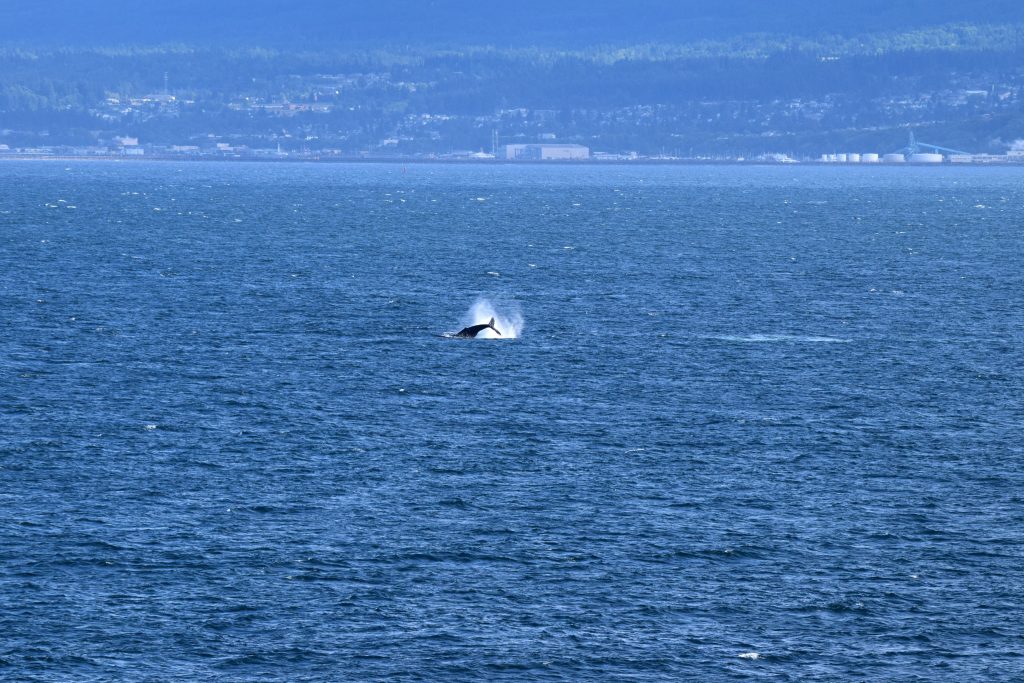 What's the food like on an Alaskan Cruise?
In one short word… amazing! Make sure you start your trip with loose-fitting clothes because chances are they will be tight at the end of your trip!
The buffet is stocked full of food, too much for me to even mention. We seriously could have eaten every meal here, it was that good. Oh, and there are a TON of desserts at every meal too.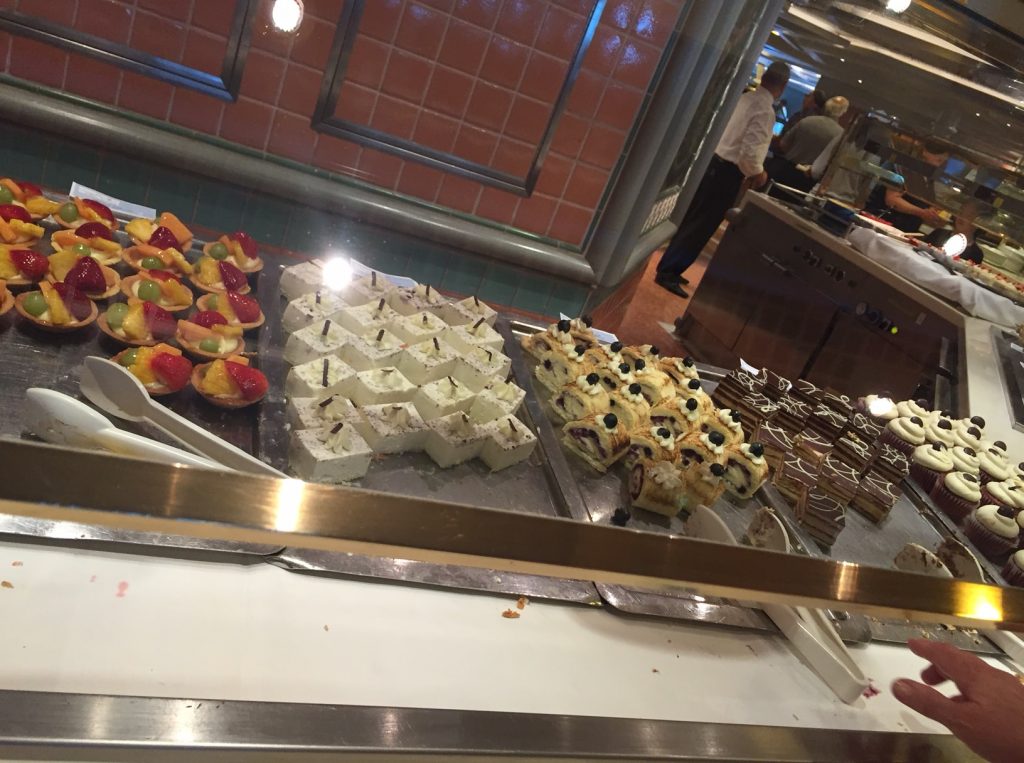 The dining rooms are even better. We tried almost everything we could and each thing was better than the next. Everything in the main dining rooms is included and you can even order as much as you want. There were times we couldn't decide between the main dishes so our server encouraged us to get 2… why not!
From the appetizers to soups and salads and the main course and all the way to the desserts, the dining was phenomenal.
Even the Room Service was great. and not to mention 24/7! Do you want a piece of chocolate cake at 2 am? Go ahead! And I highly recommend ordering breakfast to your room in the mornings. There's no better way to start your day than to enjoy eggs and coffee while sitting on your balcony, watching whales swimming in the distance.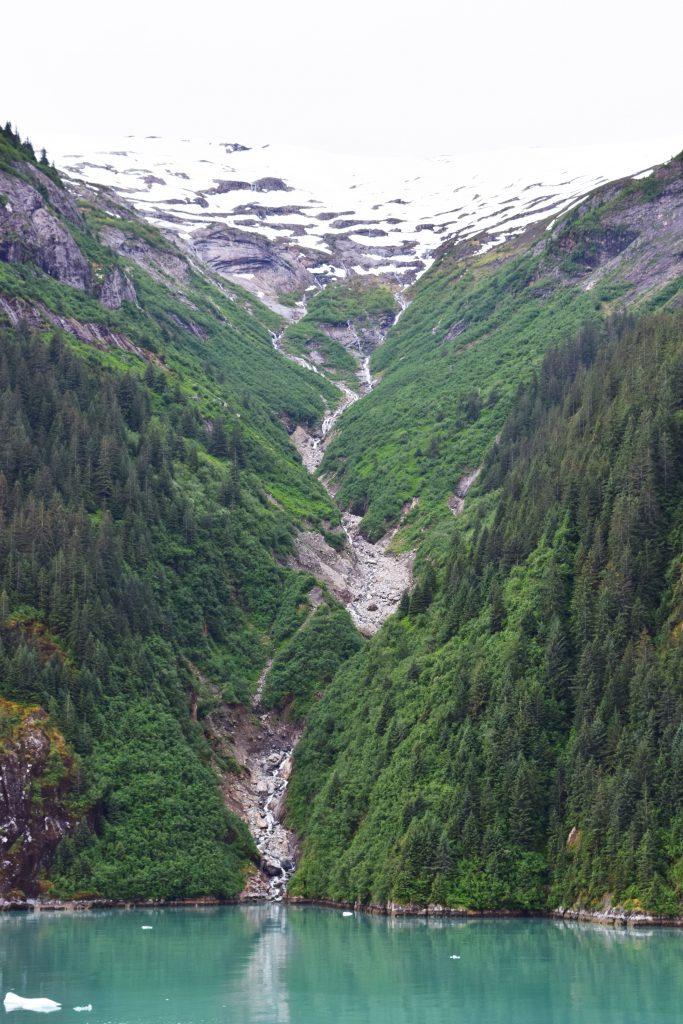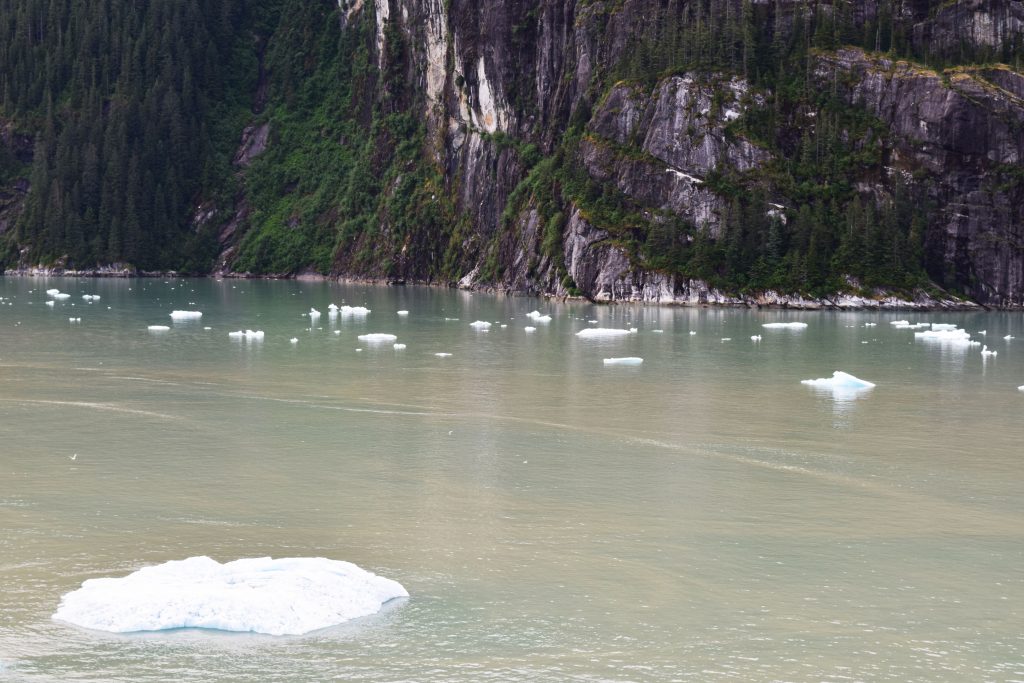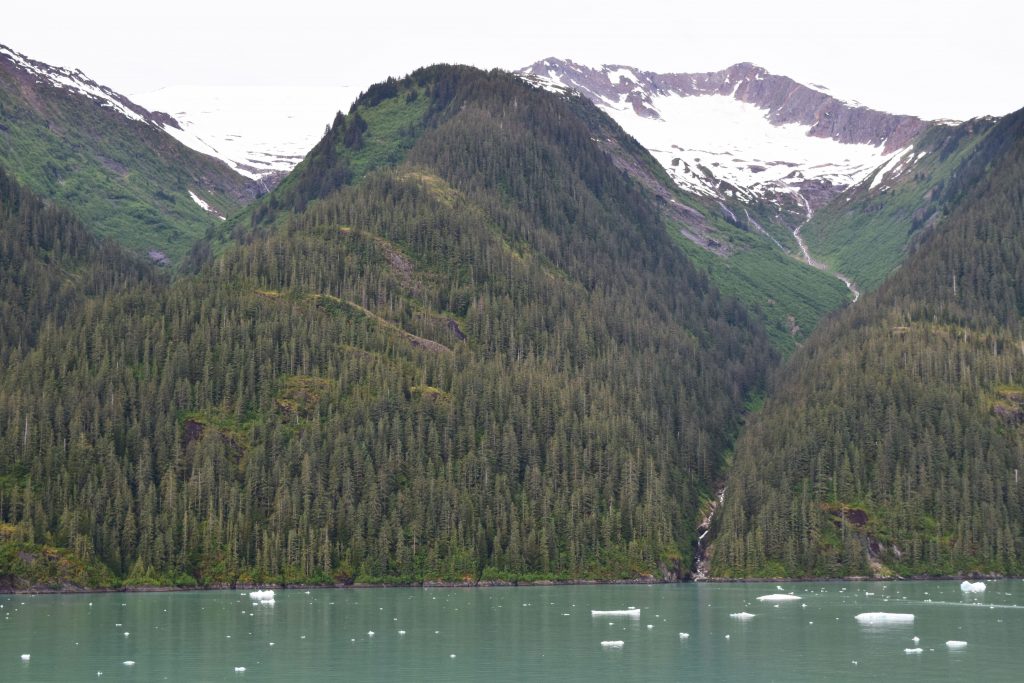 What is the Weather Like on an Alaskan Cruise?
The weather really can vary greatly. When we left Seattle, it was 88 degrees and sunny. We spent embarkation day in our swimsuits, drinking fruity cocktails by the pool… and even got a great tan.
But by the time we woke up the next morning, we were FREEZING. When you are out at sea, it's cold. And then that can change greatly again when you get to port. We walked around in short-sleeved shirts all day in Ketchikan but then froze our butts off sailing the same afternoon on the ship.
So when people say "dress in layers" DRESS IN LAYERS! And don't be afraid to pack a wide variety of warm and cold weather gear. This brings me to…
What Should I Wear on an Alaskan Cruise?
I really recommend you pack everything and anything you think you might need. Bring your swimsuits (even for the hot tubs when it's cold out!) and lighter clothes (we had 80-degree temps in Alaska in May at all three of our ports).
But also make sure you bring plenty of cold weather outfits. The days out at sea are bitter cold. So even sitting on your balcony requires multiple layers. And if you decide to do an excursion like a helicopter ride to a glacier… that'll be really cold too.
And finally, don't forget your formal wear. There are usually 2 formal nights (not mandatory) that require almost a wedding-guest look. But even on normal nights, you have to follow a dress code to eat in the dining rooms (no dress code for the buffet).
You can see more specific outfit ideas by going here and seeing exactly what I packed for our Alaskan cruise.
What is there to do on the cruise ship?
Seeing as we spent all day at the pool on our Caribbean cruise, we were nervous there wouldn't be too much to do on our Alaskan Cruise. But that's not the case at all.
First, you have hot tubs. And one of my favorite activities was to alternate between the hot tubs and relaxing with a glass of wine while reading a book.
Second, they do have a great kids club for all ages that really keep the kids busy if you do decide to bring them along.
And Third, there are TONS of shows and plays and games and planned activities for everyone. Not to mention the casino if you want to win your cruise fare back!
Each day at sea also had a newly released movie play on the big screen on the top deck, and stewards passed around hot chocolate and blankets to watch movies under the stars.
Other Tips for your First time on an Alaskan Cruise
Get to know your cabin Steward. You get one assigned to you for the entire week and they will become your new BFF. They are super kind and can do just about anything you ask (including making the towel animal of your choice). Don't forget to tip them at the end of your trip!
Bring a good camera. The scenery is AMAZING! Don't just rely on your phone. Try the Nikon 3500 if you are a newer photographer, or get good travel camera if you plan to do some more traveling!
Bring binoculars. If you want to get a good look at the wildlife, you will need a decent pair of binoculars. Even just on the ship to see all the whales in the water.
Formal nights are not mandatory but are a lot of fun! If you choose not to partake, you can't eat in the dining rooms, but you can still enjoy the buffet for dinner. Both formal nights are held on the days you are at sea.
Don't bother with the spa. Unless you have nothing else to do and a ton of money to waste. It's the same as any service you would get at home but at three times the cost.
The Wifi is terrible! Don't bother buying wifi, even the most expensive package doesn't really work too well. You're better off going to the internet cafe and using the wifi down there.
You have no cell service at sea. You will only be able to use your phones and update your Instagram when you are at each port, but the second you sail out to sea you will have no service at all.
Get up Early. Most port days get you in at 6 am and I highly recommend you be ready to go to get every minute you can in each town. Sound impossible? Not when sunrise is at 4 am!
There is a LOT of daylight in Alaska in the summer. The sunset is late… I don't think it got fully dark until almost midnight. And then sunrise was an early 4 am. Use your curtains to get a good night's sleep!
Final thoughts
Going on an Alaskan cruise was a trip I'll never forget. There was so much to see and do, it'll take several more trips to get it all done. One thing is for sure, I WILL be going on another Alaskan cruise soon!
You Might Also Be Interested In: