Discover Roatan! Hold a Sloth on Your Caribbean Cruise
I was super excited to go on our 7-day Western Caribbean cruise with Carnival Cruise line… but the most exciting part was getting to visit Daniel Johnson's Monkey and Sloth Hang Out. Because I got to hold a sloth!
Hold A Sloth When You Visit A Sloth Sanctuary in Roatan, Honduras
I have an obsession with sloths.
And I have always wanted to hold a sloth.
Sure, they have become wildly popular in recent years. But I promise you… I have always been obsessed with them.
They are just so dang cute… those smiley faces, their slow and calm way they move.
You can pretty much buy sloth stuff anywhere you turn these days.
It's safe to say I've handed my love of sloths down to my daughter. So we were both shaking in anticipation when the time came to actually hold a sloth!
In doing research for our cruise, I came across some information about Daniel Johnson's Monkey and Sloth Hang Out and was hooked.
It became my only request for the whole cruise! You can't hold a sloth in the States, so this was the oppurtunity of a lifetime!!
Visiting Daniel Johnson's Monkey and Sloth Hang Out ended up being the highlight of our entire cruise and such an amazing experience.
If you are traveling to Honduras on your Western Caribbean cruise, you NEED to check this place out!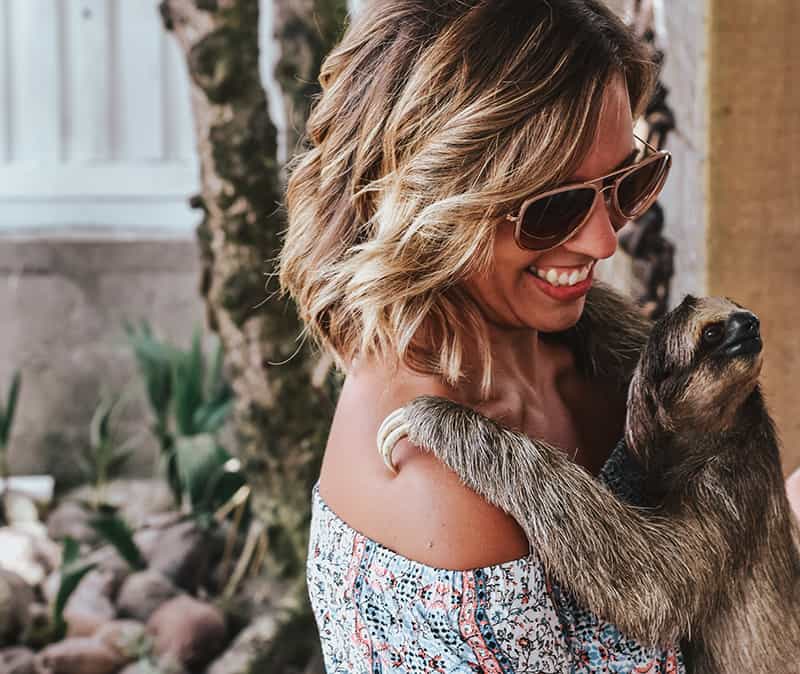 Booking the Trip to the Daniel Johnson's Monkey and Sloth Hang Out
The only tough part about visiting Daniel Johnson's Monkey and Sloth Hang Out is that none of the cruise lines offer this trip as an excursion.
So you have to book this tour on your own. We booked the tour through Discover Roatan and had an amazing experience. Discover Roatan set everything up for us and gave us detailed and easy to follow instructions. Like, they literally emailed me printed instructions and a YouTube video of where to walk to find the van. You really can't mess it up!
We had 9 people in our group and they had a really nice (and air-conditioned!) passenger van waiting at the port to take us directly to Daniel Johnsons Monkey and Sloth Hangout.
The ride was about 45-minutes to the other side of Roatan (Roatan is a giant island) where the sloth sanctuary was located. But it didn't seem that long because we got to drive through sections of Honduras and saw a whole different lifestyle then we are used to.
It was a great experience for the kids to see how people live in other countries.
Our van pulled right into Daniel Johnsons Monkey and Sloth Hangout and stayed the entire time we were there. I loved that they did this so we could stay as long as we want. It made it so convenient! And when we were ready to head back, our van and driver were just there waiting for us in the parking lot.
Once You Arrive
Once we arrived at the sloth sanctuary (our entry price was covered by Discover Roatan tours) we met our guide that would be taking us around. Within five minutes, we walked right into the sanctuary and right up to a sloth!
I almost wasn't even prepared!
I was literally holding a sloth within minutes of walking into Daniel Johnsons Monkey and Sloth Hangout. It was so incredible!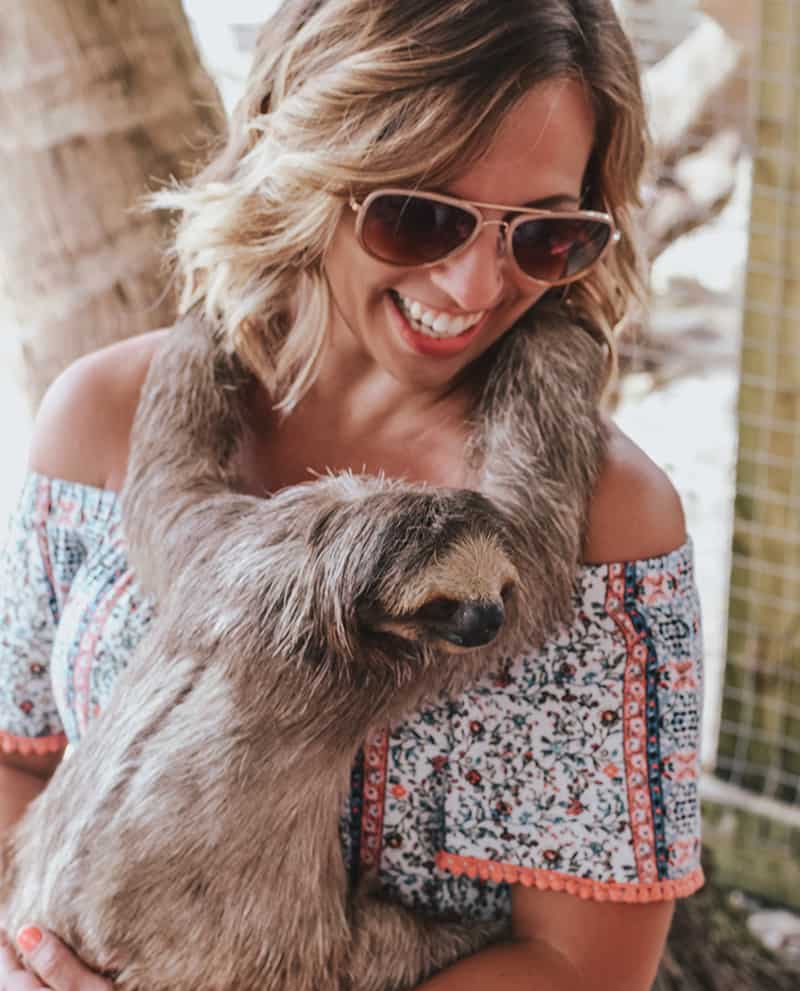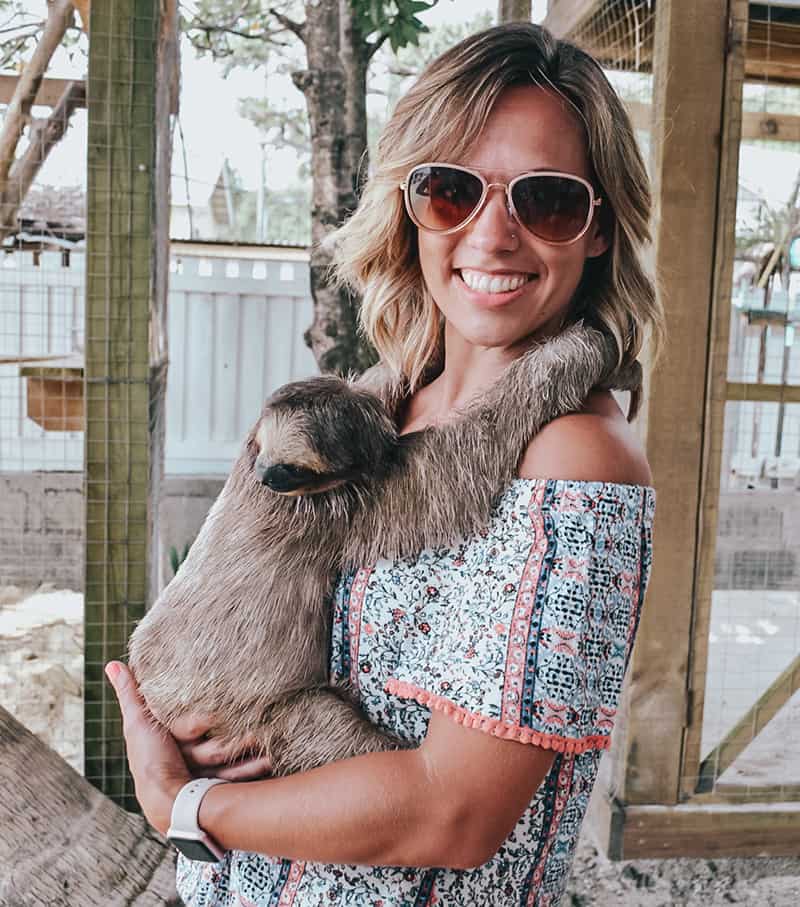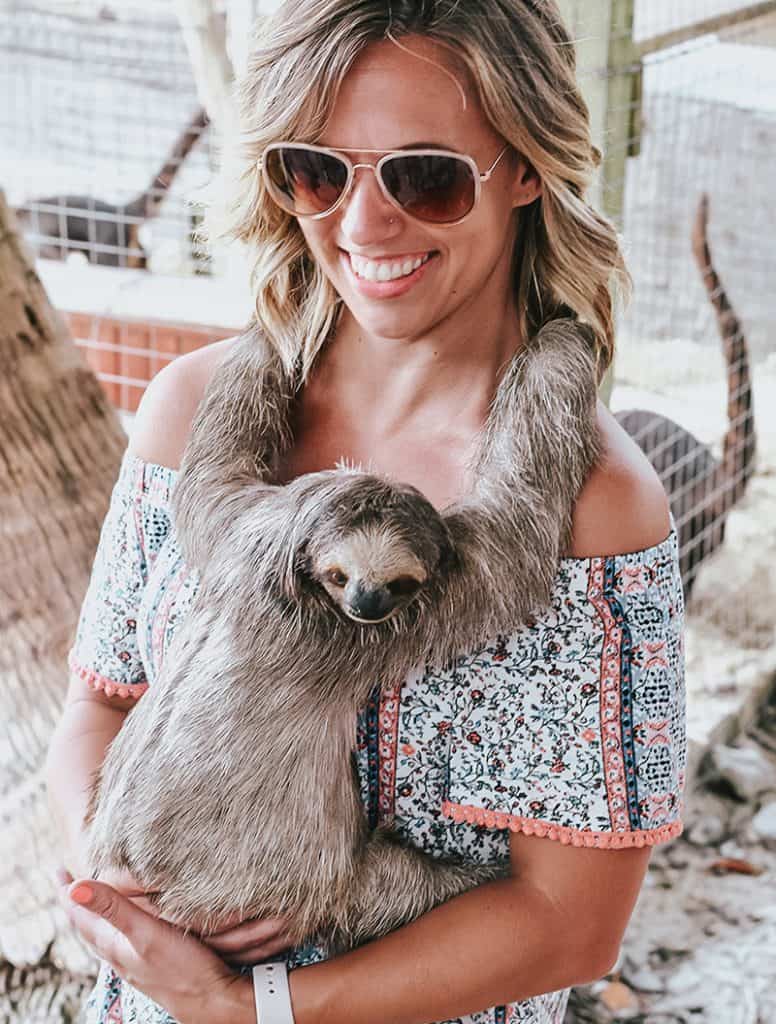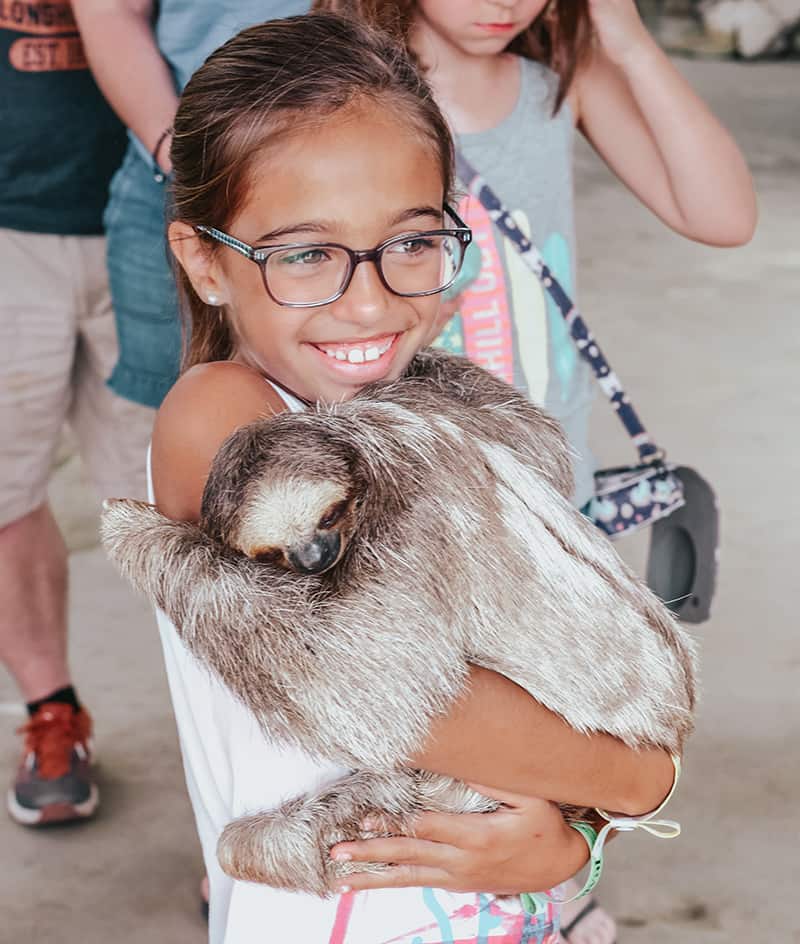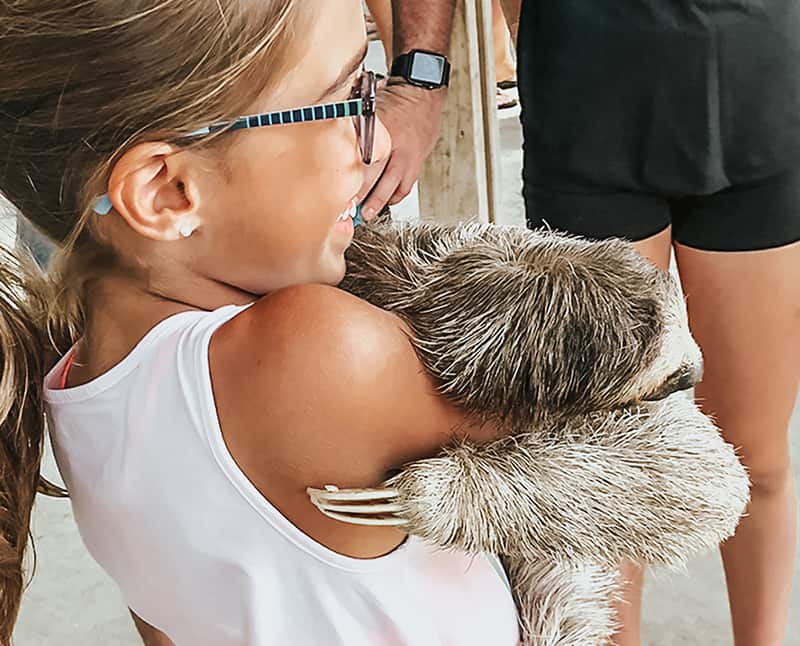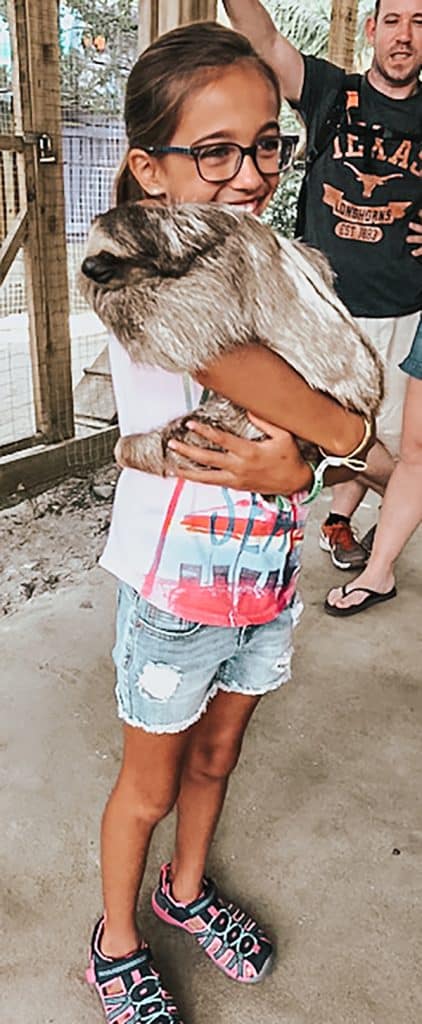 You can clearly see the joy on our faces. They let you hold the sloth as long as you like, and get as many photos as you can. They also didn't charge you for photos like every other place at cruise ports.
I had my iphone, a GoPro, and a camera snapping photos of my first sloth-holding experince!
Finally a cruise excursion that doesn't add expense after expense on!
Our sloth was adorable. She just sat in our arms, and we held her like she was a little baby. She would turn her head and look around and we just soaked it all in.
All the sloths at Daniel Johnsons Monkey and Sloth Hangout are rescued from the island and live freely around the sanctuary. They are not in cages. They just live among the trees and stay by choice.
After we got to hold a sloth (we did have to give her up eventually!) our guide took us around to the rest of the sanctuary.
The sanctuary is home to several animals such as spider monkeys, macaws, parrots, white-nosed coati, capuchin monkeys and agouti (the Roatan island rabbit).
One of the first animals we got to see was the monkey who is a little cranky and not very nice to people sometimes. So we could only feed him through the fencing, and not go in with him.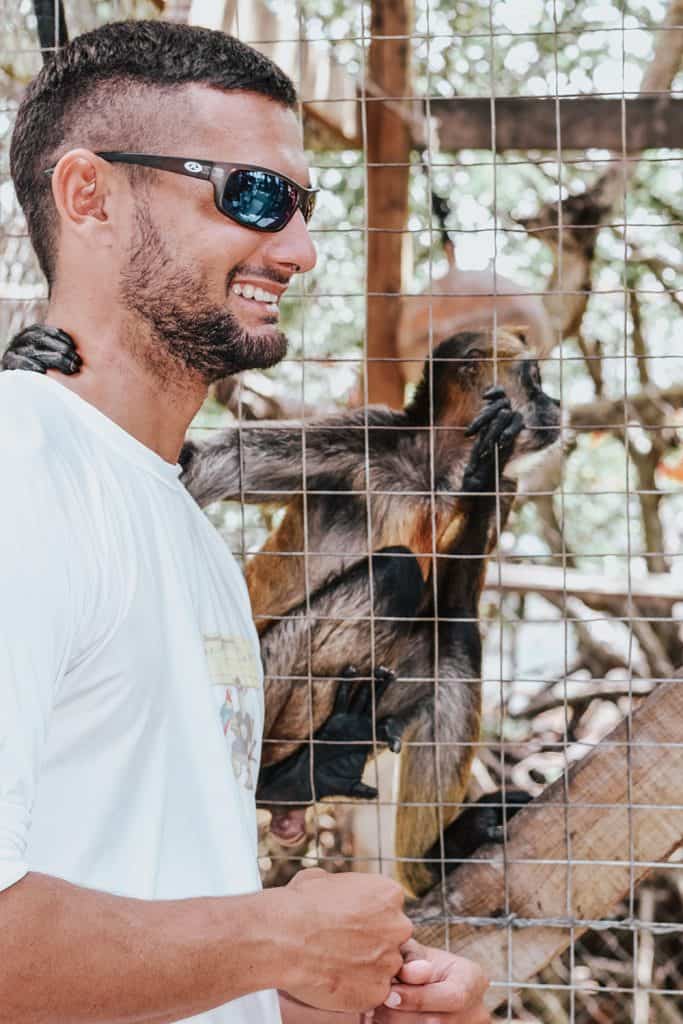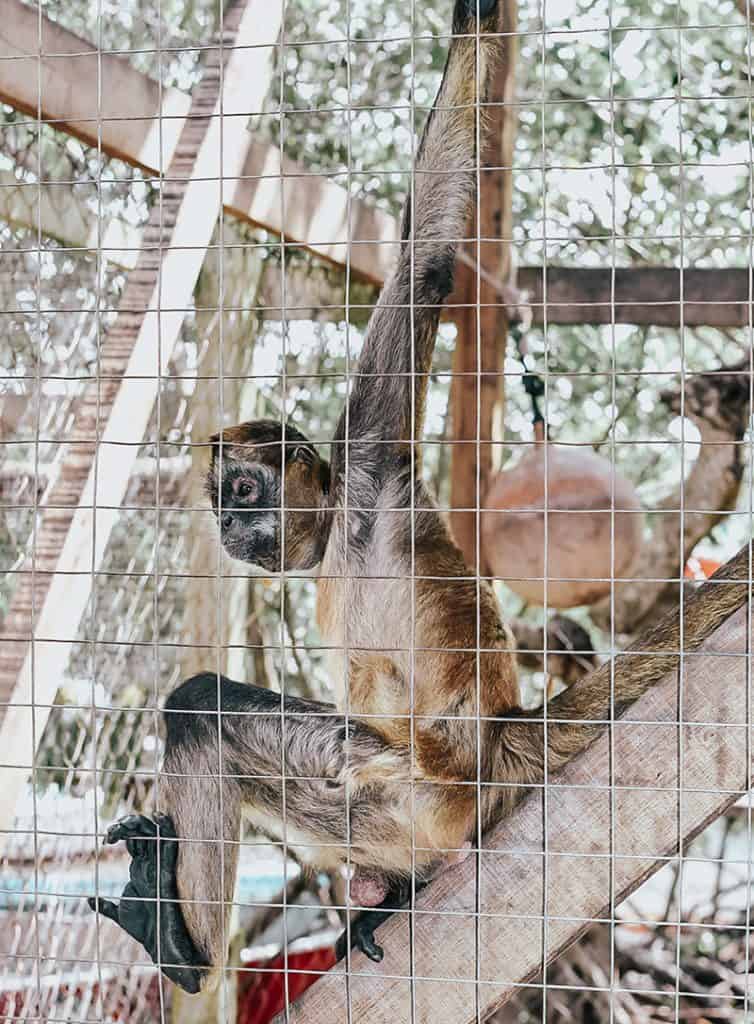 Right after feeding him, we went into a macaw home and had a blast there too. The birds were flying around and we thought it was cool just to see them up close. We had no idea they would be so friendly. They landed on our hands, sat on our shoulders and even our heads (with the help of some treats of course). And I'm happy to say… no one got pooped on!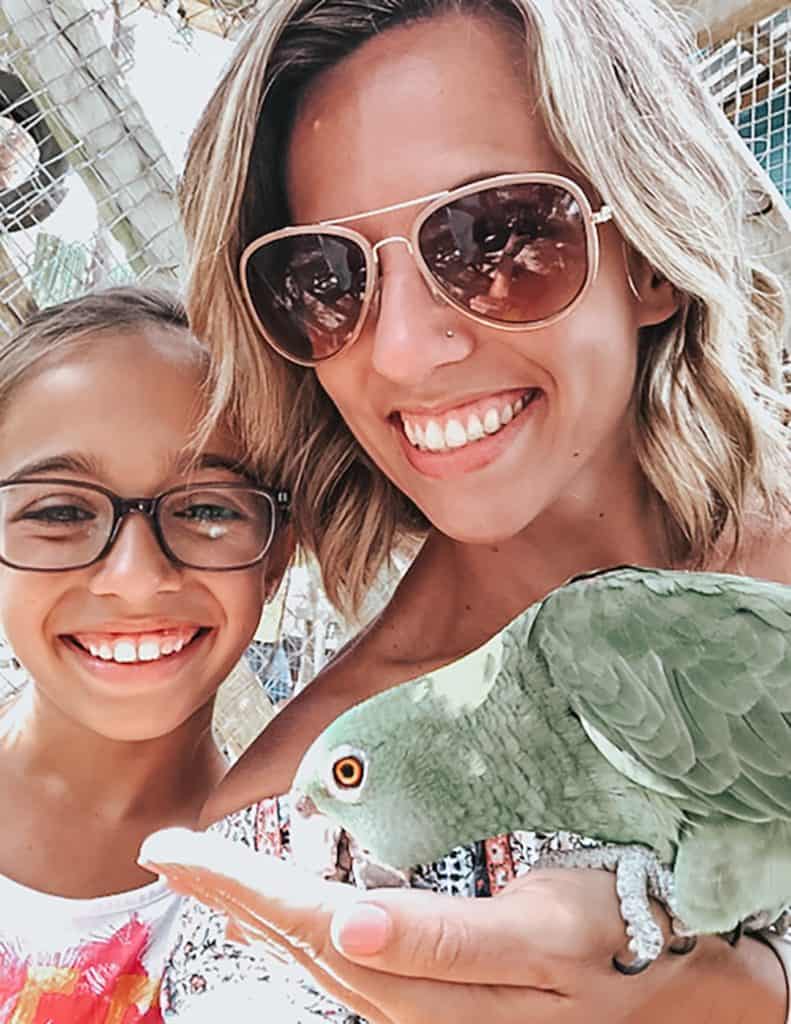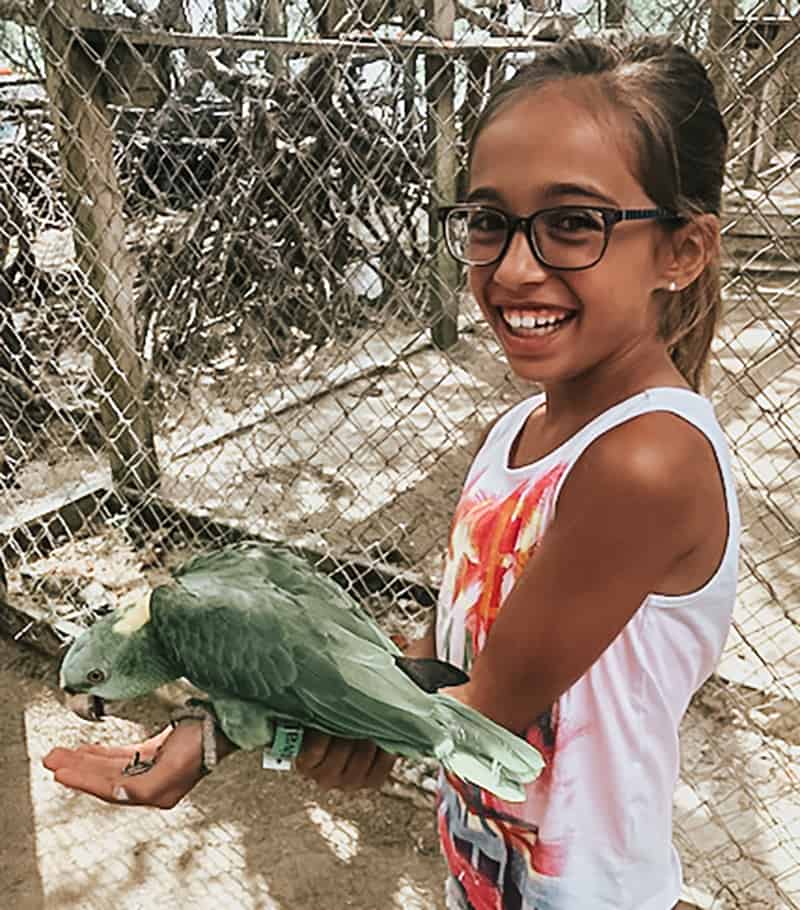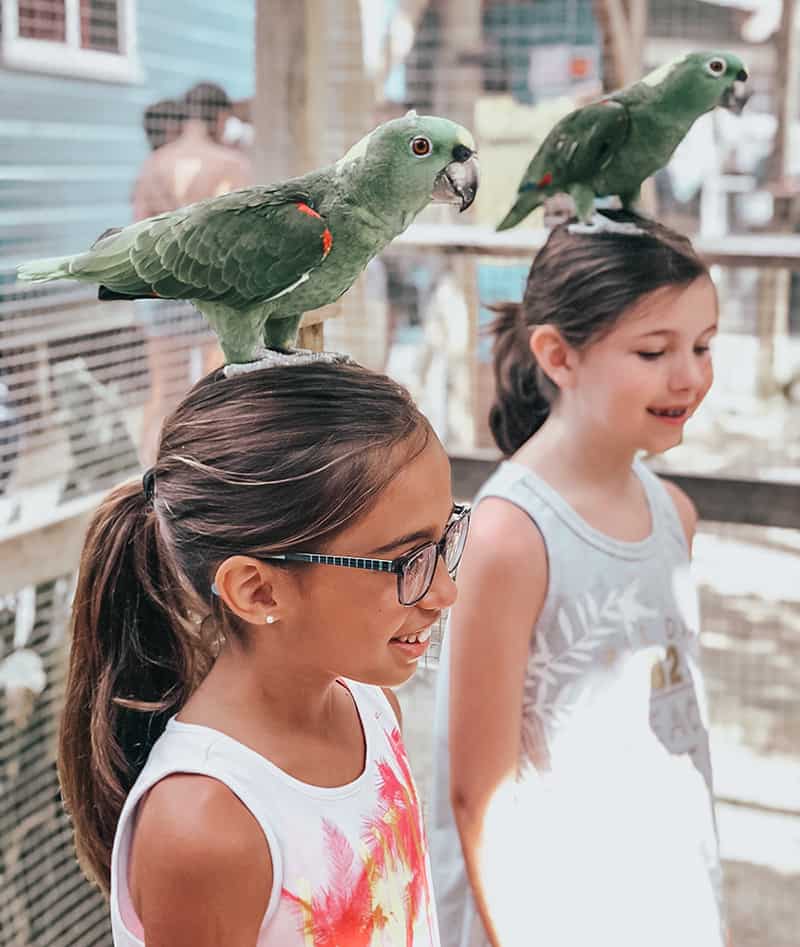 And then we got to experience the BIG parrots! They were so brightly colored and just gorgeous. I've never seen one so up close before and we were lucky to not only be around them but to hold them as well.
Just a word of caution… their talons are not comfortable on the scalp! The adults were able to take it, but it would have been too painful for the kids.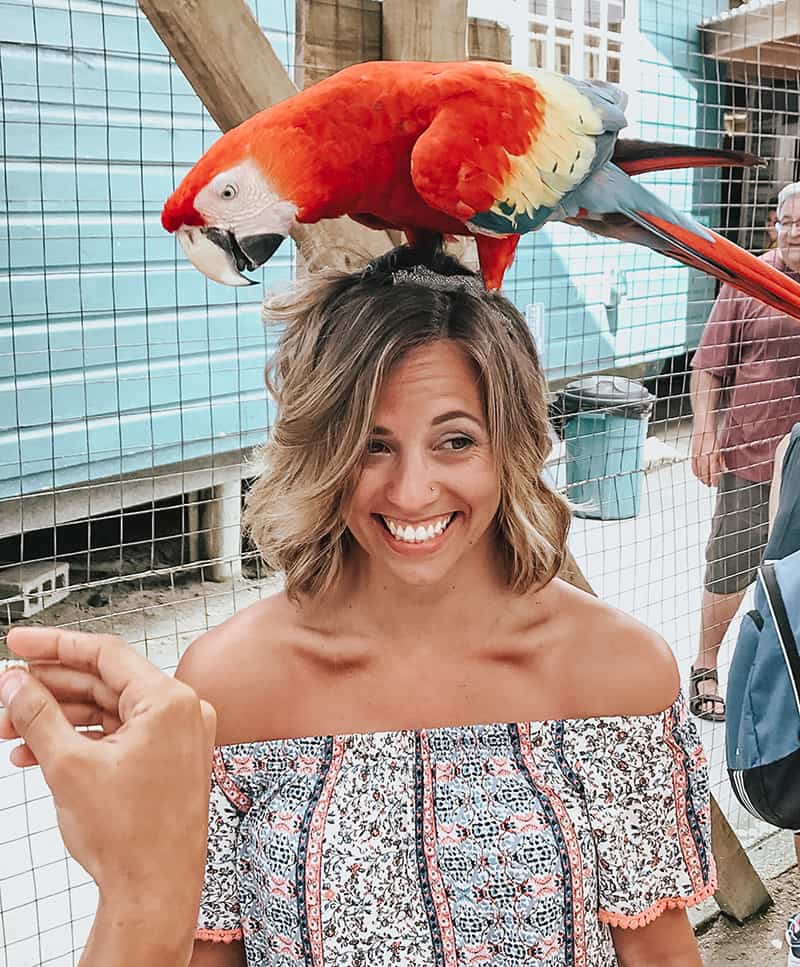 Capuchin Monkeys
Next up was the capuchin monkeys! These little guys were seriously funny. We were allowed to go inside their habitat but first, we had to take off anything that was loose. And I mean anything. Even earrings, glasses, purses. They even told us to empty our pockets because these little guys will steal anything you have.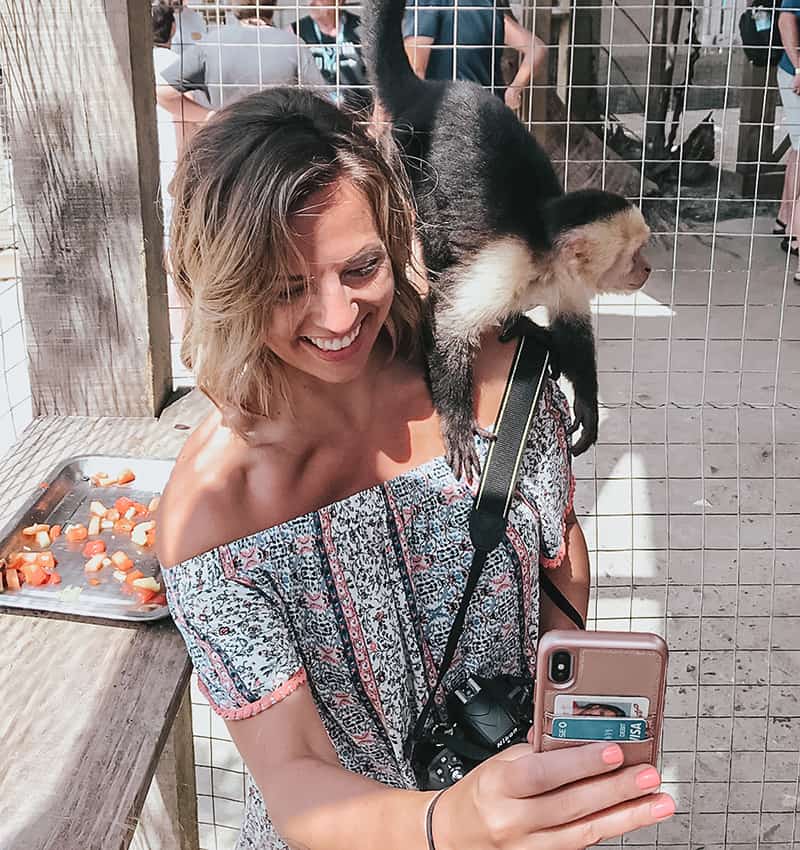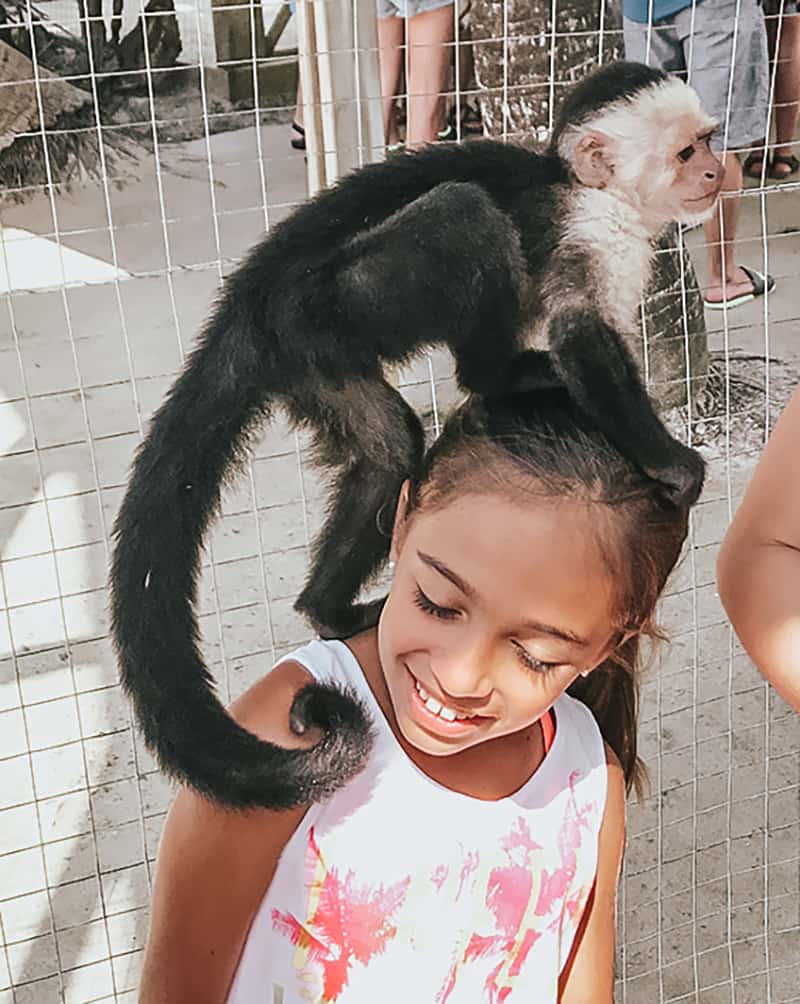 Our guide use skittles as treats to get the monkeys to jump on our heads, our hands, shoulders… and they loved it! Skittles are apparently a monkey's favorite treat. These little guys were all over the place and the guide wasn't joking. Their little monkey fingers reached into our pocket, and even went down the shirt of someone in our group!
But the capuchin monkeys were really friendly and we had so much fun laughing at them jumping around and jumping on our heads like we were a play gym! The hardest part was trying to get a photo of them. They are super fast!
For the rest of the time we spent at Daniel Johnsons Monkey and Sloth Hangout, we were able to walk around and look at some of the other animals on our own. The Sanctuary is right up against the ocean and had a pretty spot with chairs you could sit and relax in.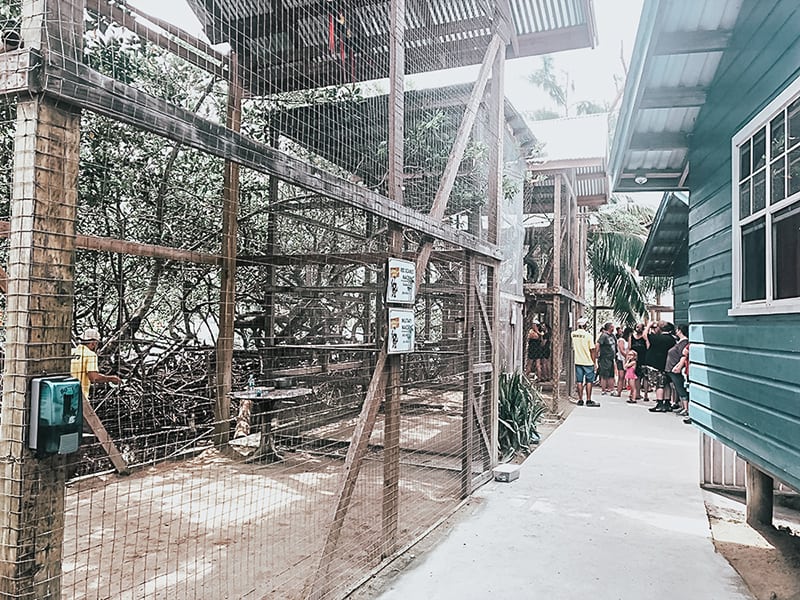 There was also a lady selling handmade sloth and monkey items. Of all the touristy items you can find at cruise ships ports, this was by far my favorite place to buy stuff. The prices were low and each item was handmade and unique. We got some sloth ornaments and the kids got some necklaces and hand-woven coin purses.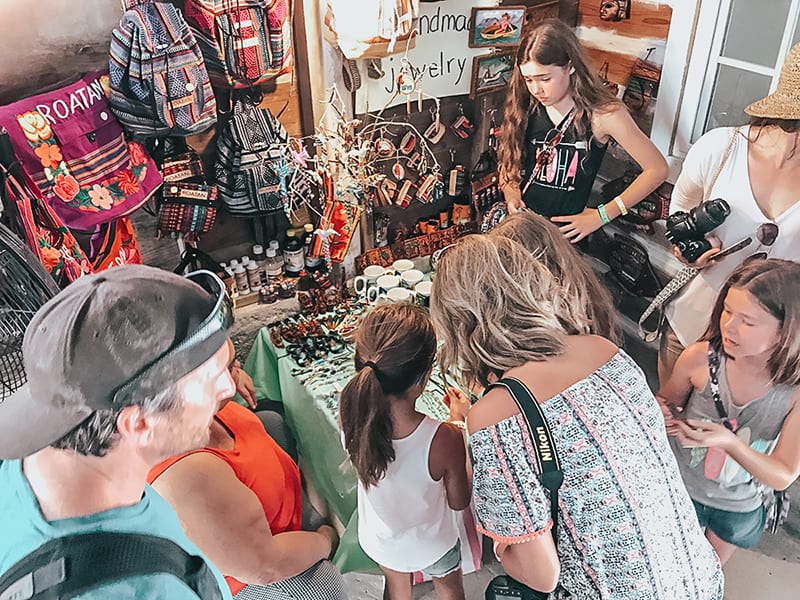 Get to Hold a Sloth: The Experience of a Lifetime!
Holding a sloth was a dream come true and I will never forget the experience thanks to Daniel Johnsons Monkey and Sloth Hangout. Overall, we spent about 2 hours at the sloth sanctuary. It was just enough time to see everything and have a great time. We never felt rushed, and we could have stayed much longer if we wanted to.
It also left us with plenty of time to discover other parts of the island while our cruise ship was docked.
It was truly an amazing experience and part of me wants to book another cruise just to come back here! If your cruise ship stops at the island of Roatan, Honduras… do yourself a favor and DO NOT miss this great place. Daniel Johnsons Monkey and Sloth Hang Out was by far the highlight of my entire cruise.
Follow more of our Family Adventures by being our friend on INSTAGRAM!
You Might Also Be Interested In:


Pin for later!