What To Do In Nassau With Kids
Headed to The Bahamas and looking for things to do in Nassau? You've come to the right place! Whether for kids or adults, there are tons of unforgettable things to do in Nassau.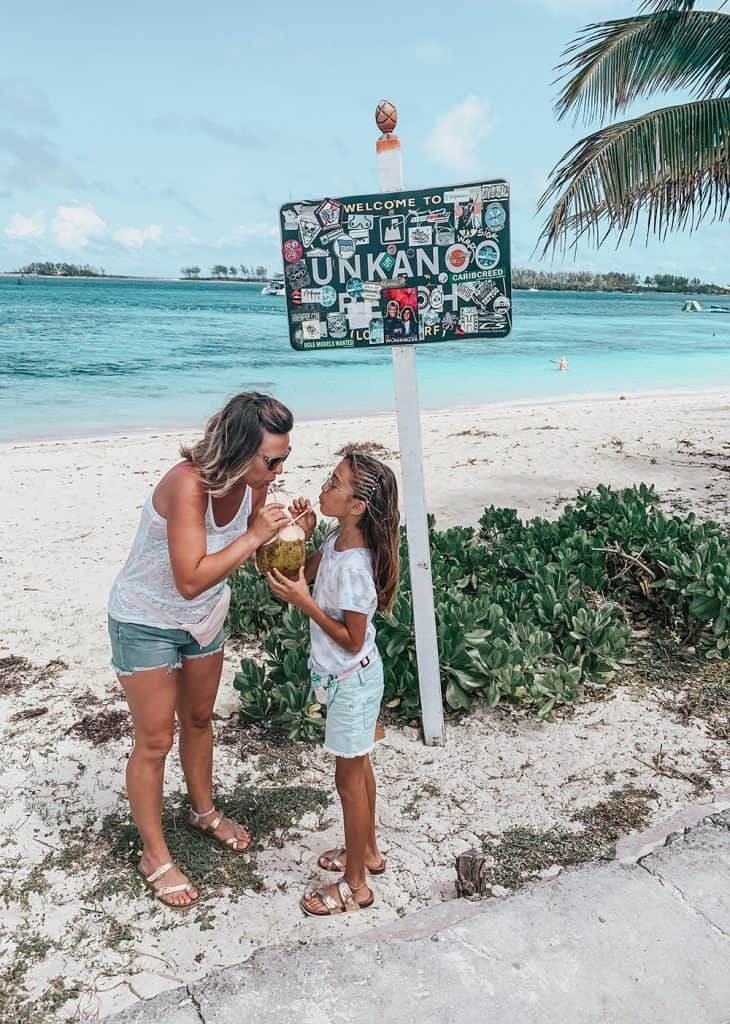 Finding what to do in Nassau with kids is not hard! The Bahamas are a beautiful place to visit and downtown Nassau is the hot spot of the island. I dare say we enjoyed our time around Nassau more then we did at the Atlantis.
This year, our family decided to take our Spring Break trip to The Bahamas. Mostly because we wanted to visit the Atlantis Resort (which was a real let down and you can read more about that here).
But I also knew that even the best resorts do no hold my daughter's attention after a few days. And since this trip was going to be 8 days long, I knew I needed to find more of what to do in Nassau!
Exploring Downtown Nassau
Everything we did in downtown Nassau can easily be done in one day if you don't have a lot of time. But you can definitely spread it out and not rush around if you want to spend more than a day exploring the area.
We planned for one day, but ended up coming down for a second day (mostly because the kids were bored of Atlantis).
Getting Around Nassau
Navigating Nassau was actually a lot easier than I thought it would be. They have tons of taxis for all the tourists and its really easy to find one.
TIP: Taxis don't measure their fare like they do in the US. They just wait until the end of your ride to tell you how much you owe. Don't fall for this! Tell the taxi driver where you are going and what the cost will be to get there. And don't be afraid to negotiate…it's almost expected!
Take the Jitney! The jitney is the Bahamas public bus. They are extremely safe and easy to travel on. And the best part is they are only $1.25 per person. This means our family of 4 were able to travel from the Baha Mar Resort to downtown Nassau for only $5.
We also felt super safe in the jitney. It was actually packed with other tourists because the jitney runs from most of the resorts to the downtown shop area. We met some other travelers on our jitney ride and our kids said the jitney was one of their favorite things to do in Nassau. Go figure!
The Best Things To Do In Nassau, Bahamas
The best part is, everything I mention is super affordable. Because The Bahamas are super expensive and it was nice to have a day where we didn't spend our life savings. This is a list of everything you'll want to do when going to Nassau with kids.
The Pirate Museum
One of our favorite things we did in Nassau was the Pirates of Nassau Museum. Even the kids loved it!
It cost around $12 per person to get in (less for kids) but check their prices online to make sure they haven't changed. The museum is a self-guided tour that takes you through tons of history of Nassau and the pirates that landed on shore hundreds of years ago. They have a full-sized pirate ship and lots of interactive stuff to look at.
We were able to walk right in with no wait and it wasn't too crowded either. The entire museum took us about 2 hours and of course, it ends with a gift shop to buy some cool pirate gear.
I wont give away all the secrets and surprises but I will say this… both the kids AND the adults really enjoyed this museum!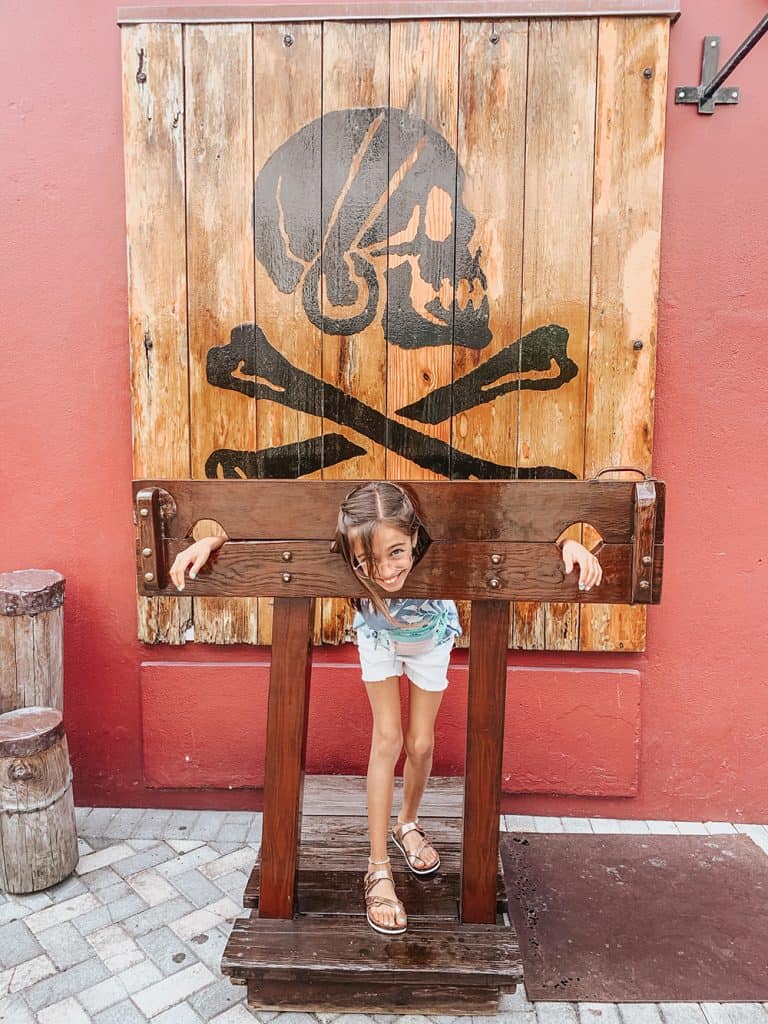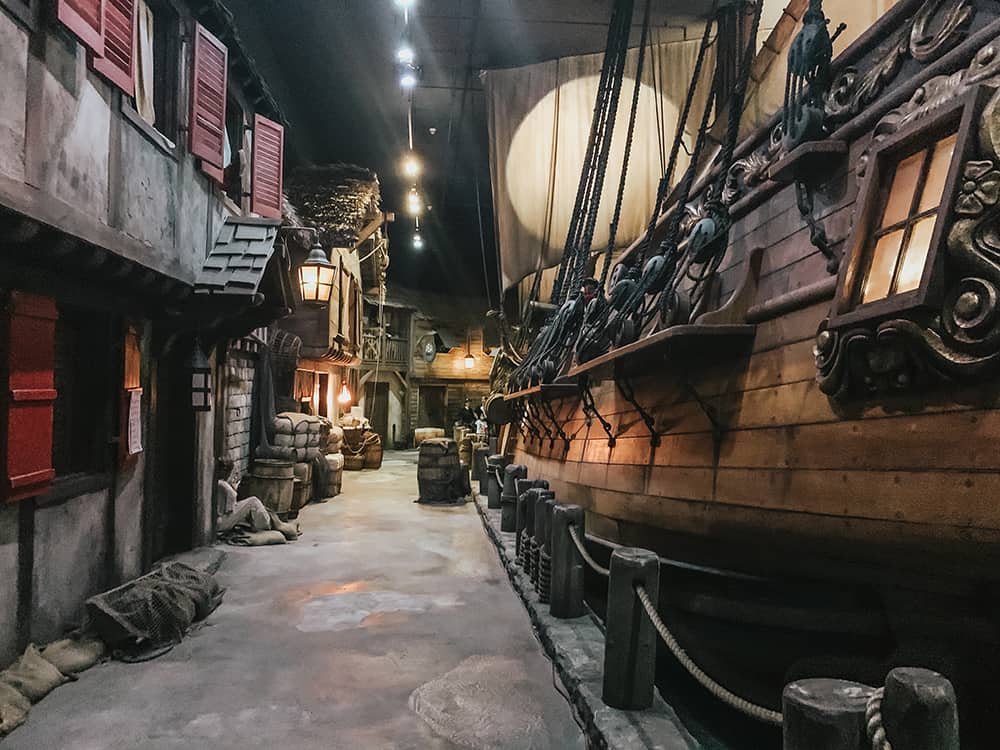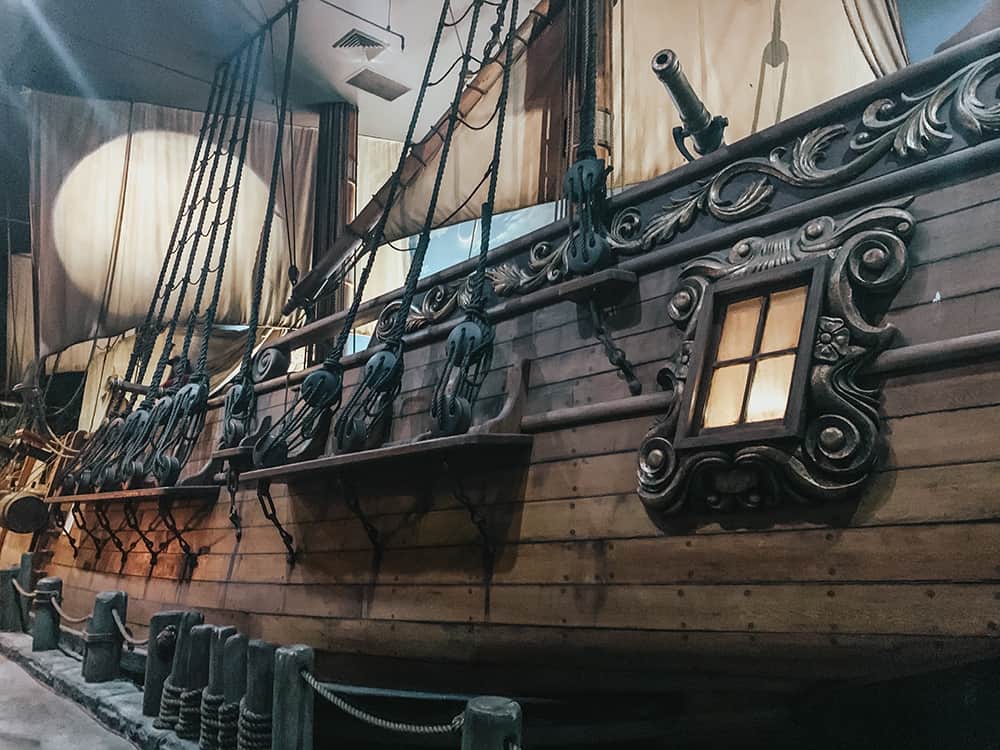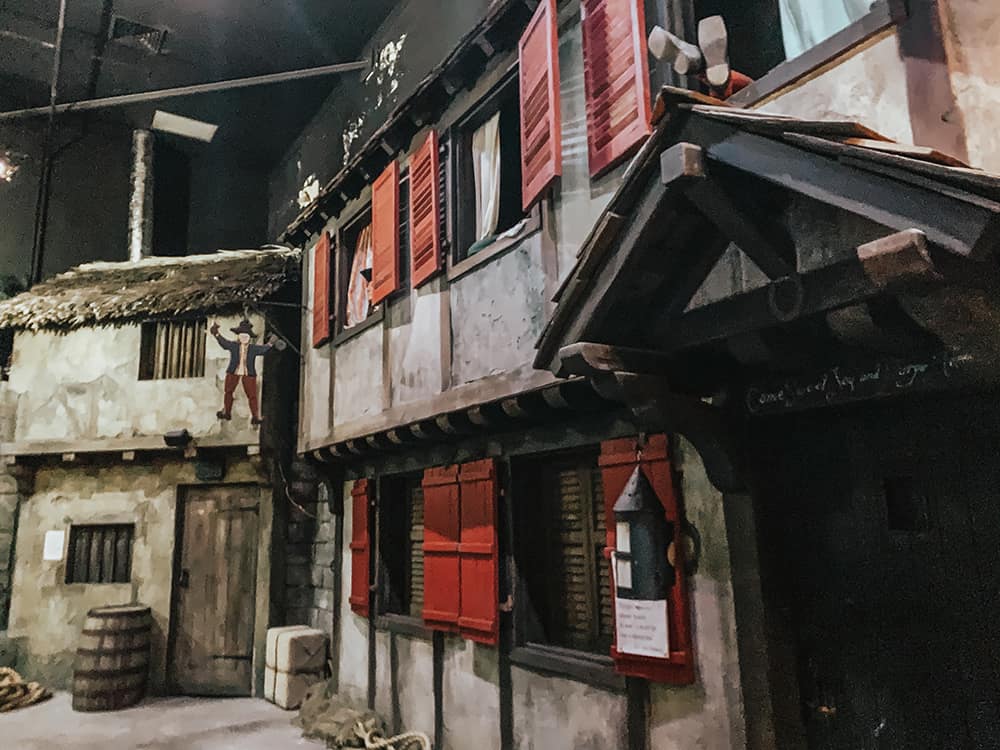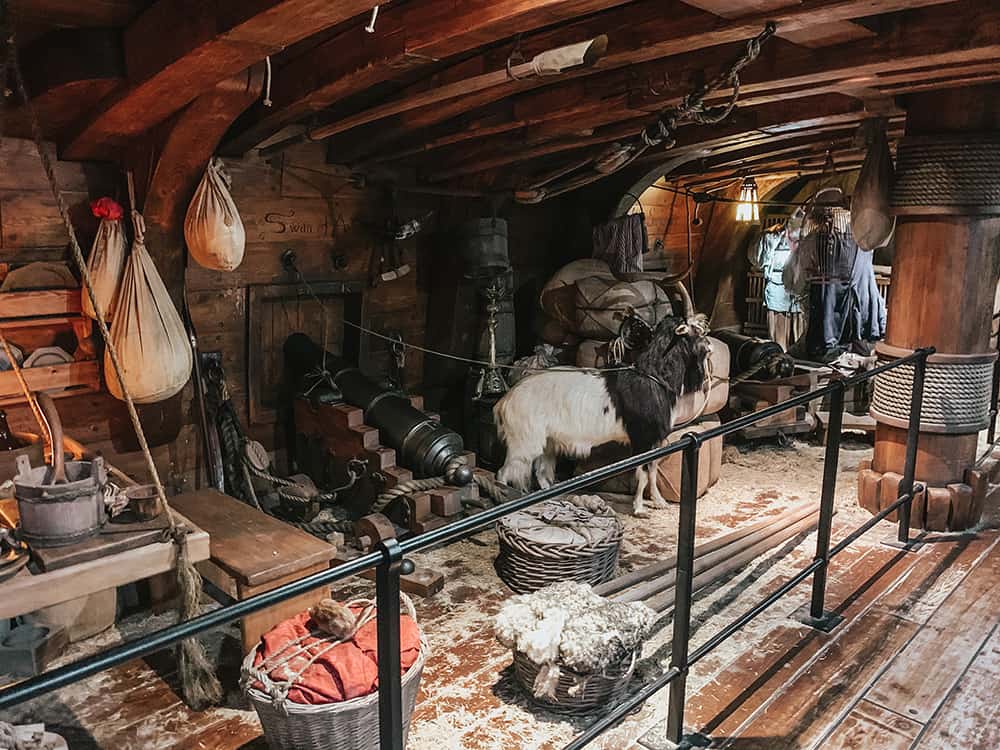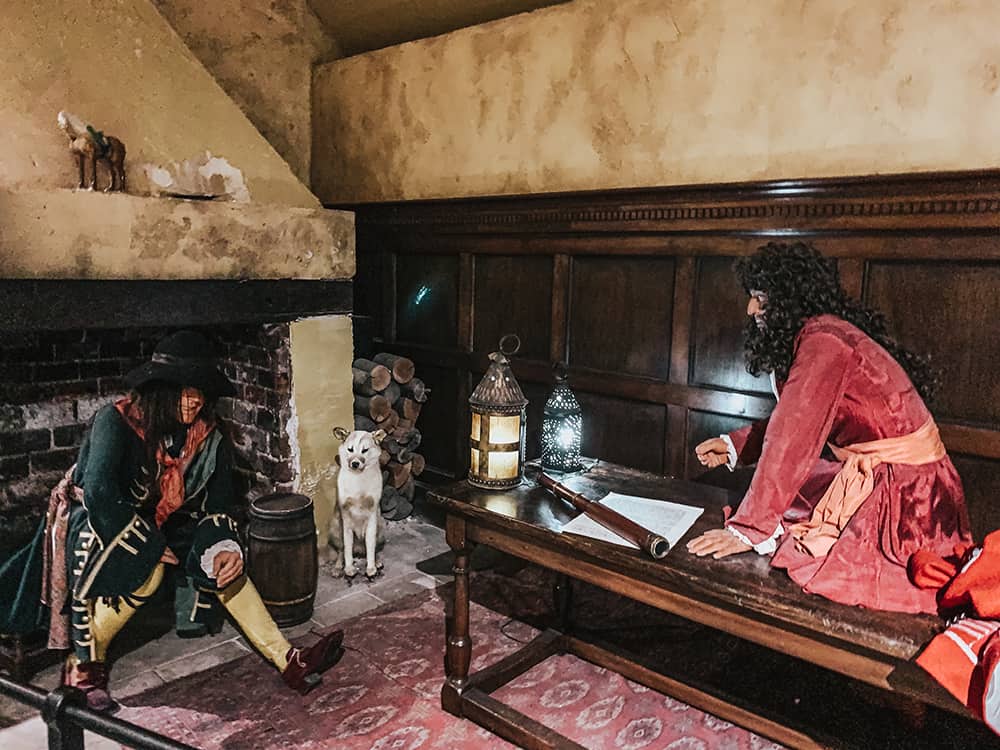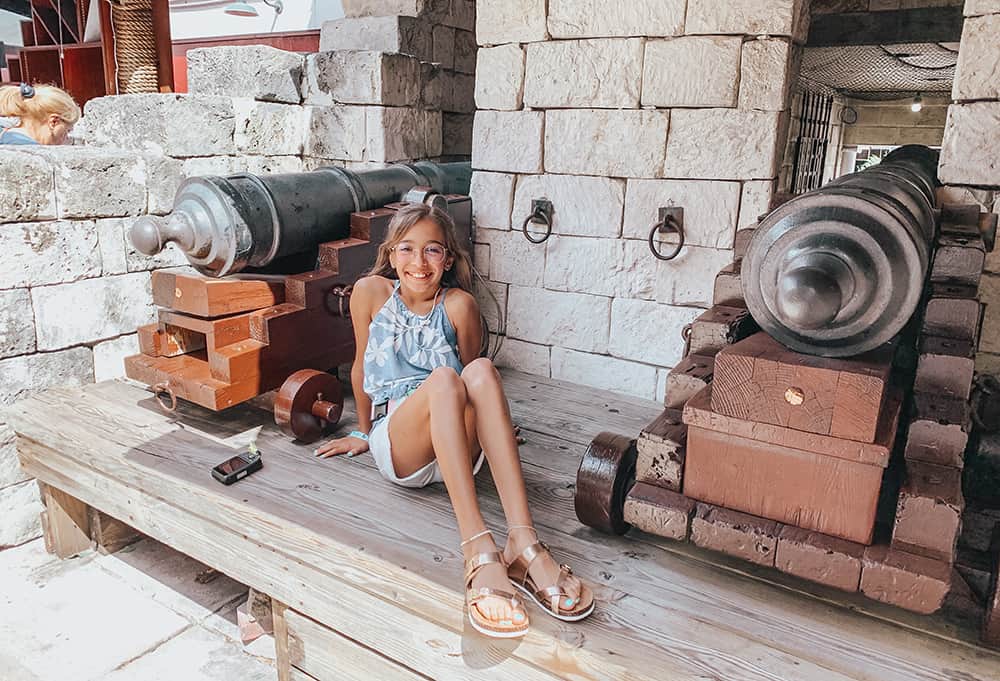 Fort Fincastle
After the pirate museum, we took about a 10-minute walk to Fort Fincastle. The walk was easy but the kids did complain a little. A horse-drawn carriage would also have been a fun way to get there.
Fort Fincastle was built around 1793 and was built to provide protection for Nassau during the time of pirates. It sits on top of the highest point of Nassau so you can look all the way around it and see the entire island. Guided tours were only like $5 and I highly recommend them. You can walk through yourself, but our guide was funny and made the fort a lot more interesting for the kids with lots of cool and gory facts.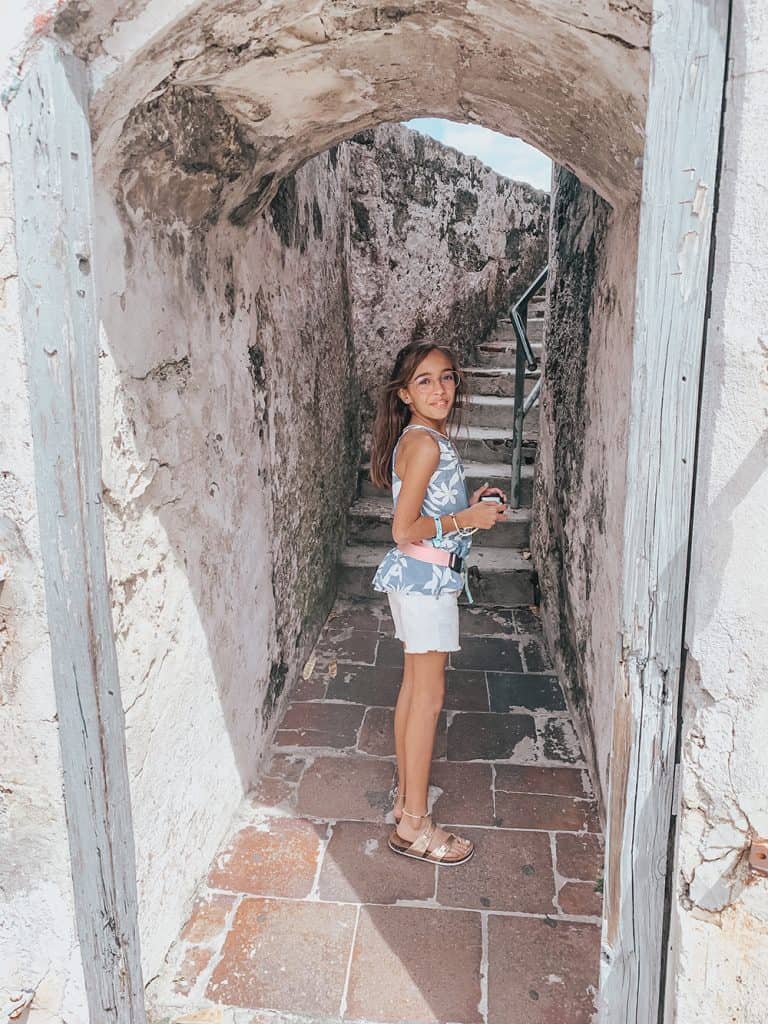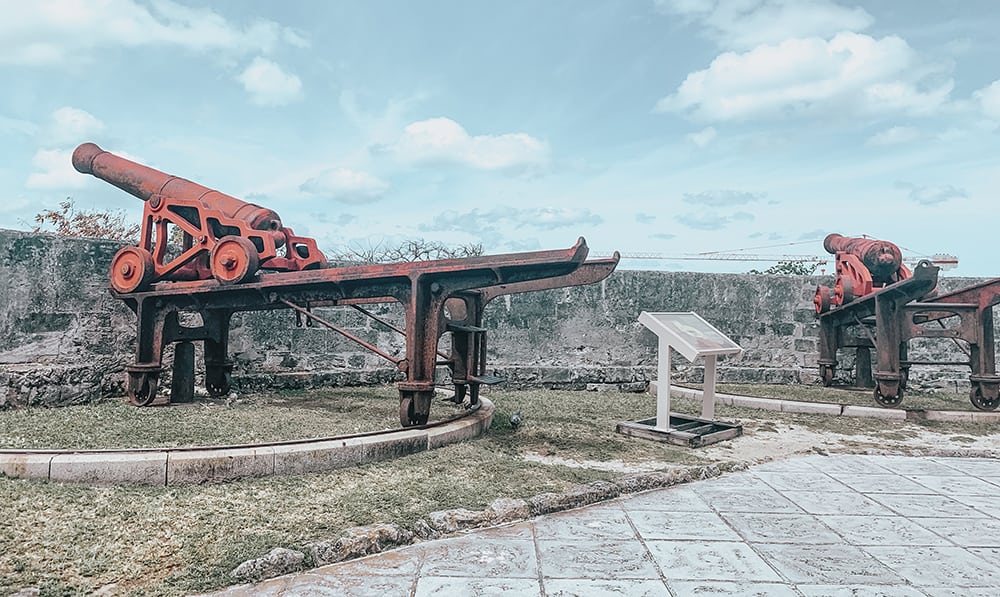 Queens Staircase
If you go to fort Fincastle, don't miss seeing the Queens Staircase (I mean, its literally right next to it).
The Queens staircase is literally something you just walk to and take a bunch of cool photos of. It wont take you long. But the history of it is pretty cool. It was built solely by slaves BY HAND. They cut the limestone out of the mountain to form this giant staircase.
The walls surrounding it flow with water from the rocks and it is pretty impressive. It makes for some really great Instagram photo ops!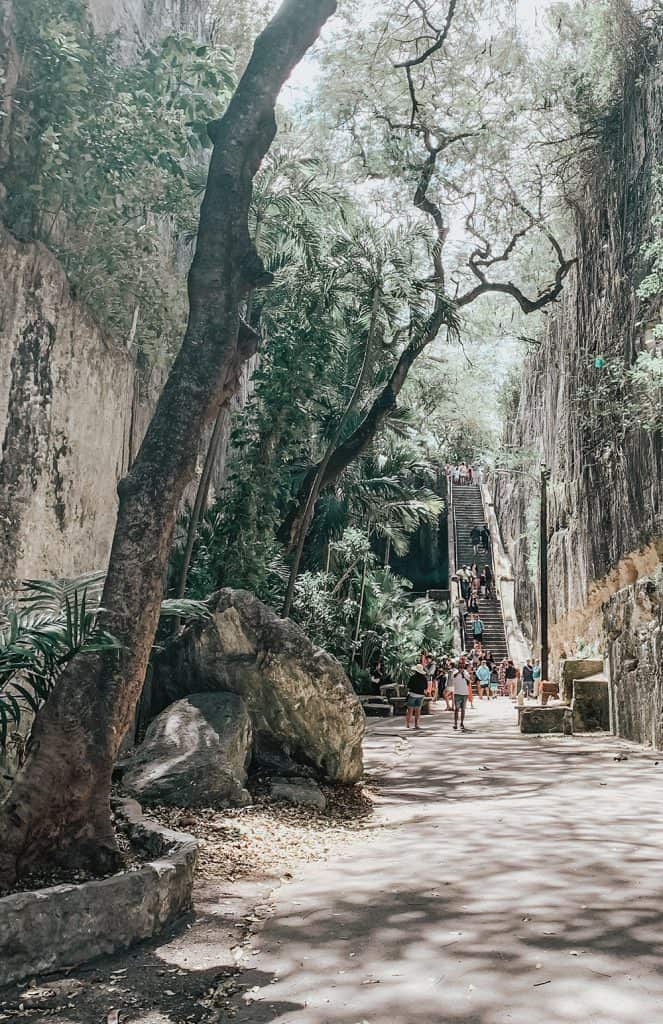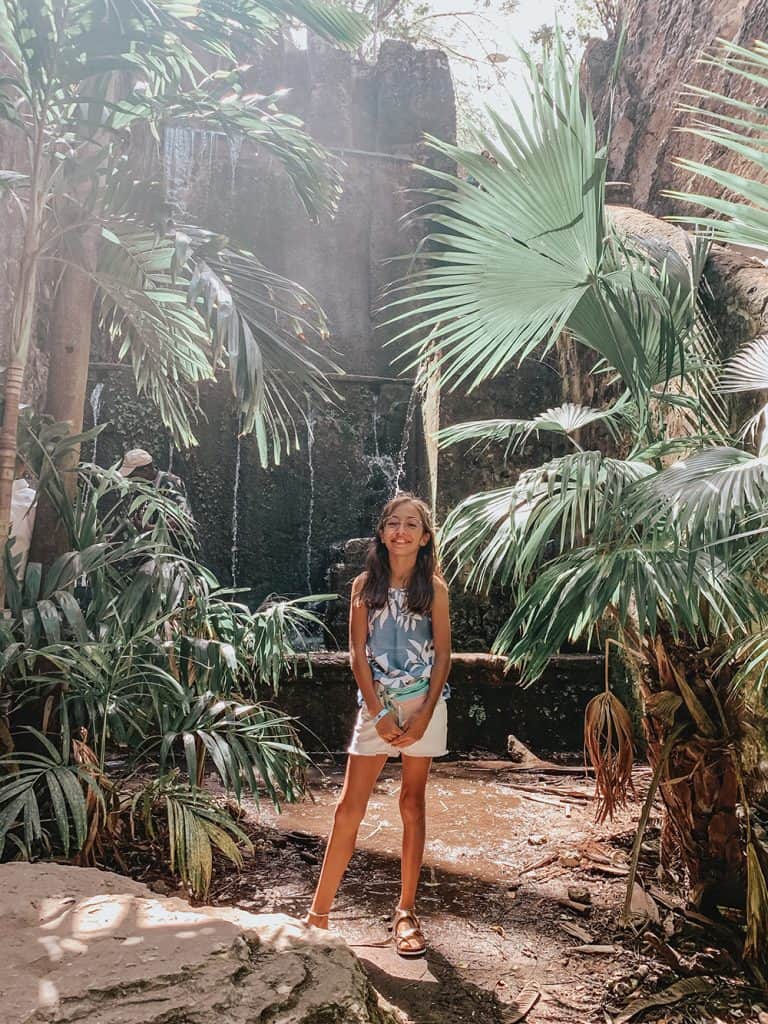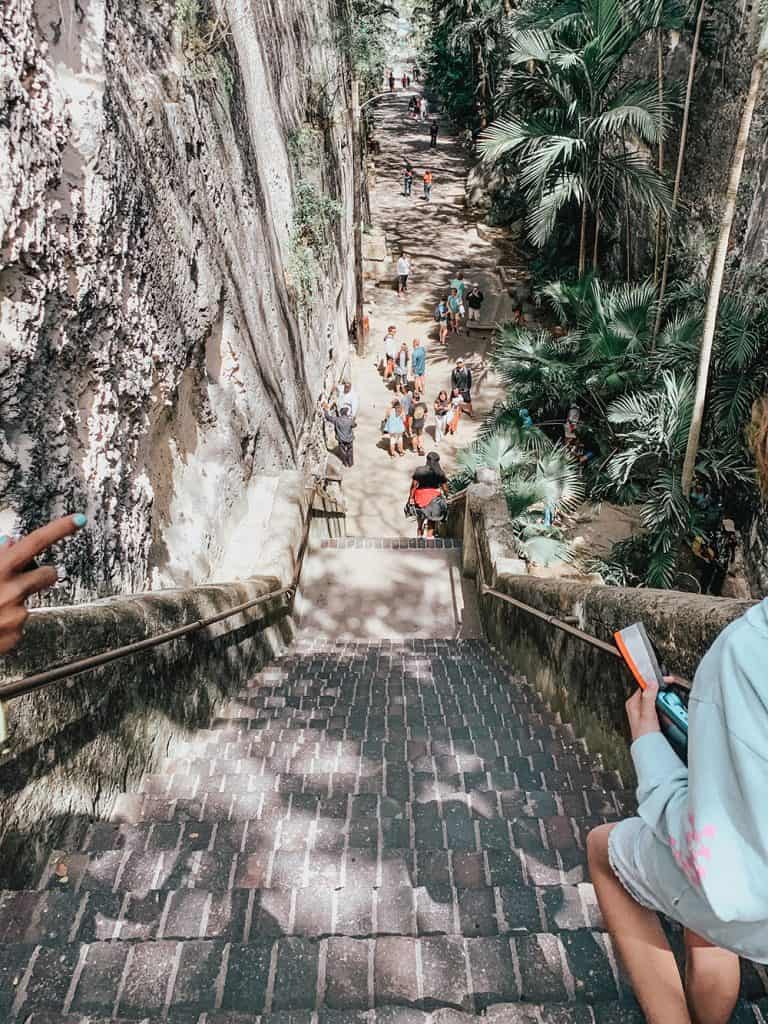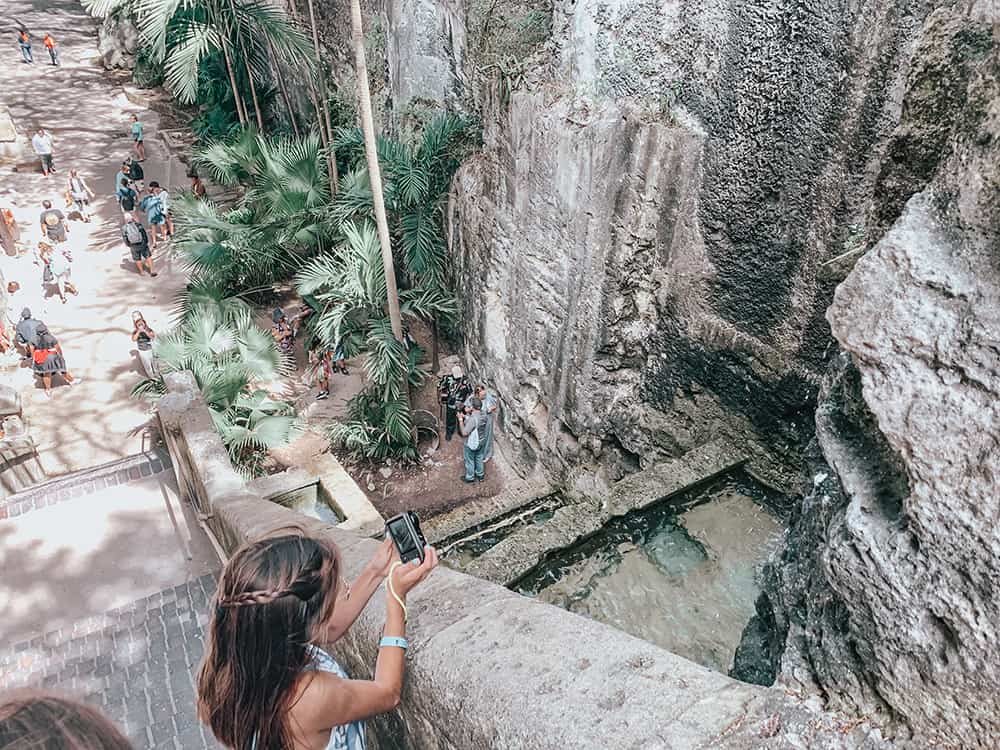 The Straw Market
After out time at Fort Fincastle and the Queens Staircase, we took a light walk back to downtown Nassau to the Straw Market.
The straw market is an open air market located along the shore near the cruise ships. Its a great place to buy some souvenirs like bags, shirts, statues, mugs, and even some authentic hand made items from local Bahamians.
Fair warning! Vendors at the straw market are very pushy and make it hard to stroll around and look. You need to have thick skin if you intend to shop there. It's something I was used to but it really bothered the kids and made us leave early.
Before we left, my daughter dig her hair braided here. There are several ladies who do the hair braiding at the straw market. The rest of the vacation, people would stop my daughter and compliment her braids and ask where they could get them done… so if you are looking for hair braiding, head over to the straw market!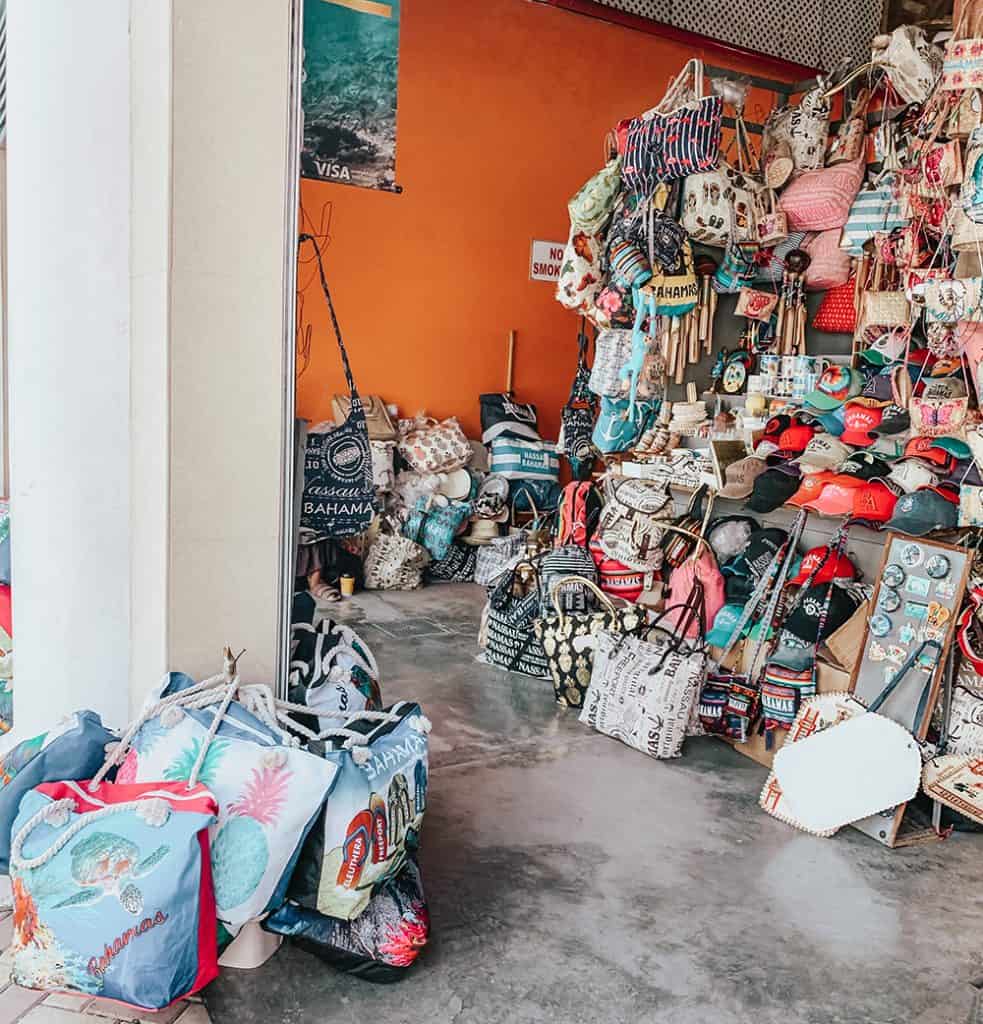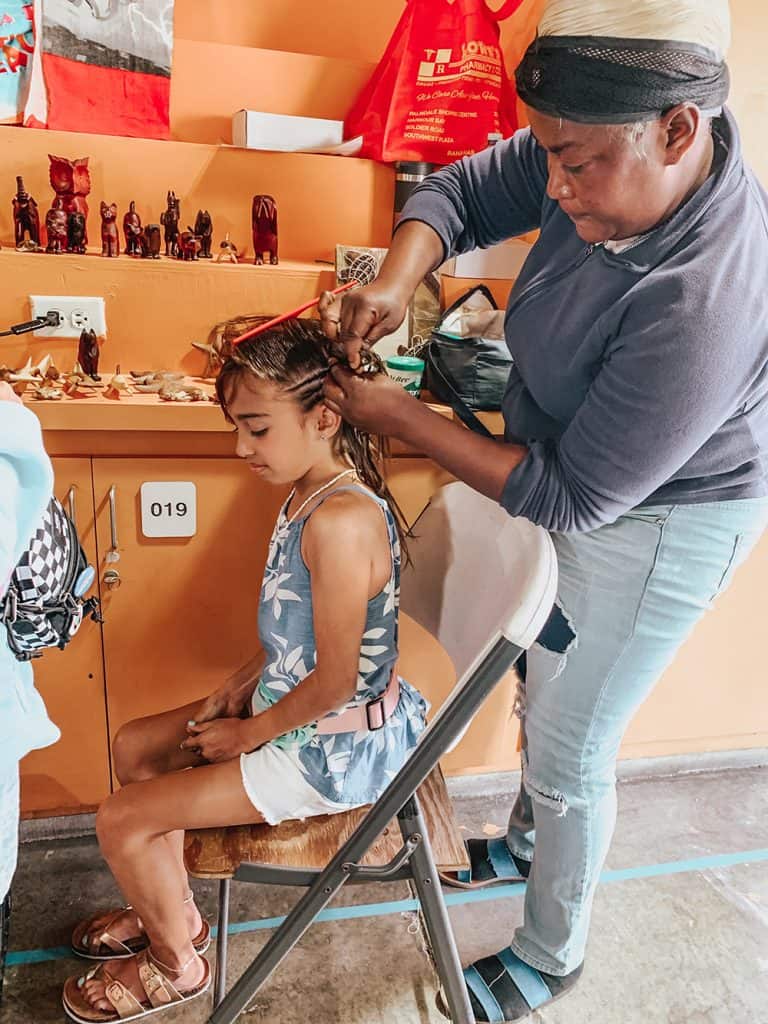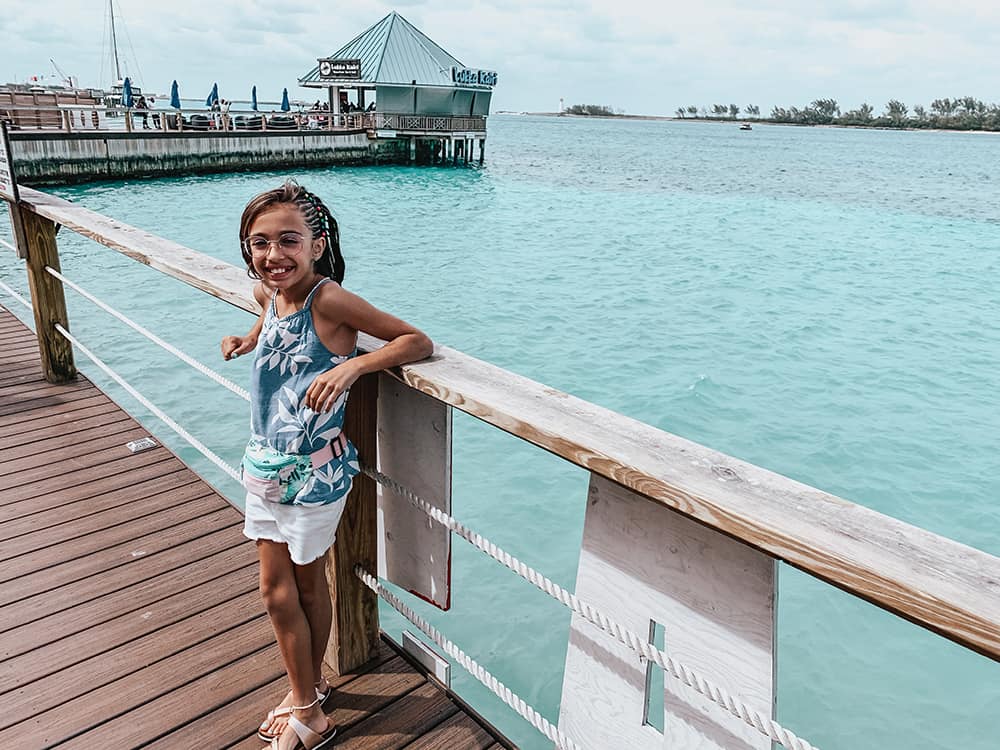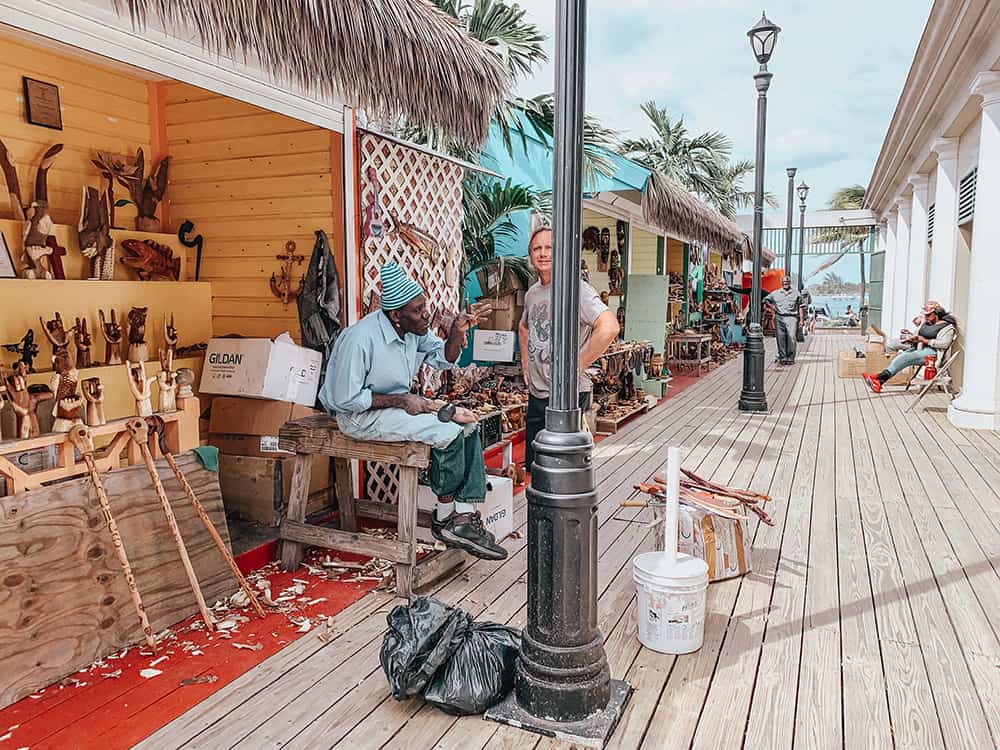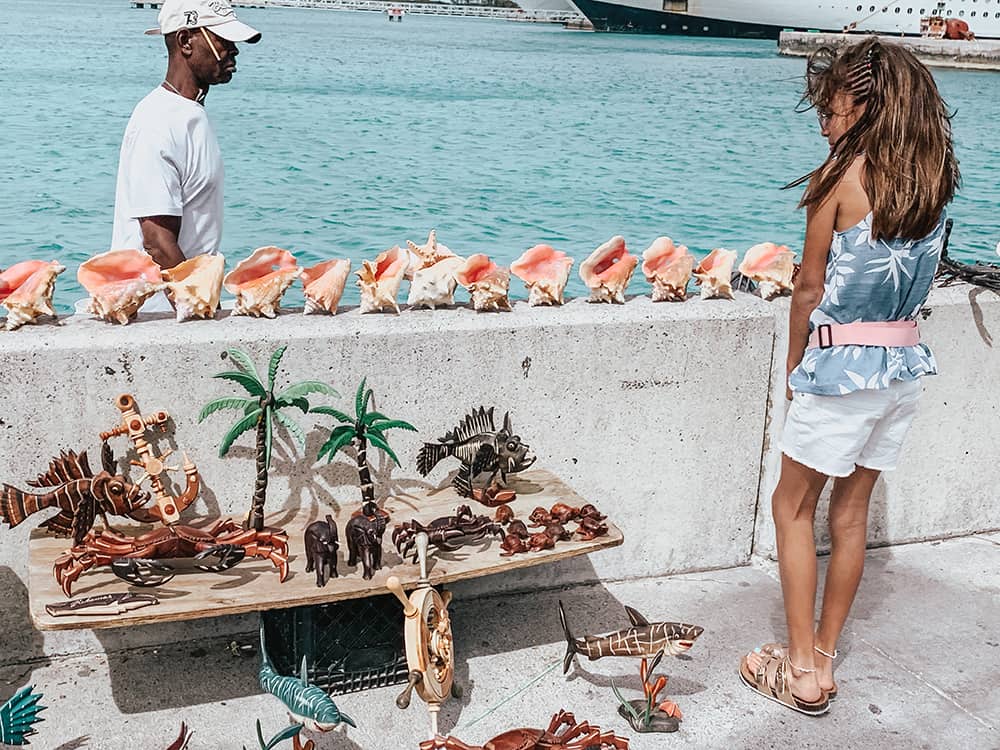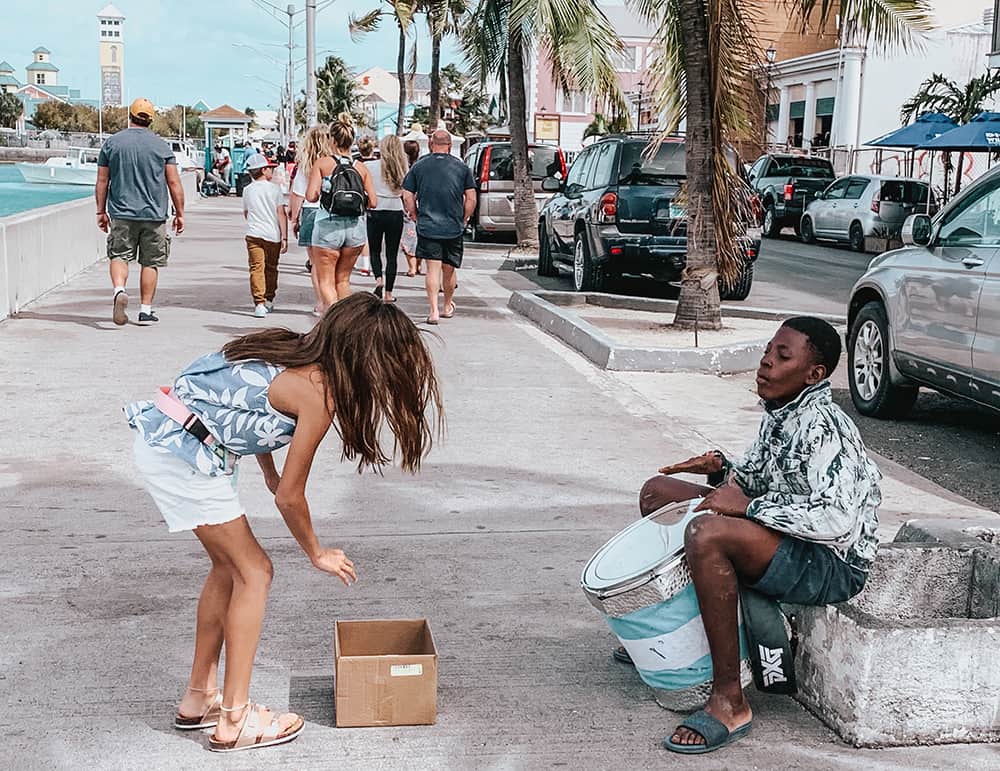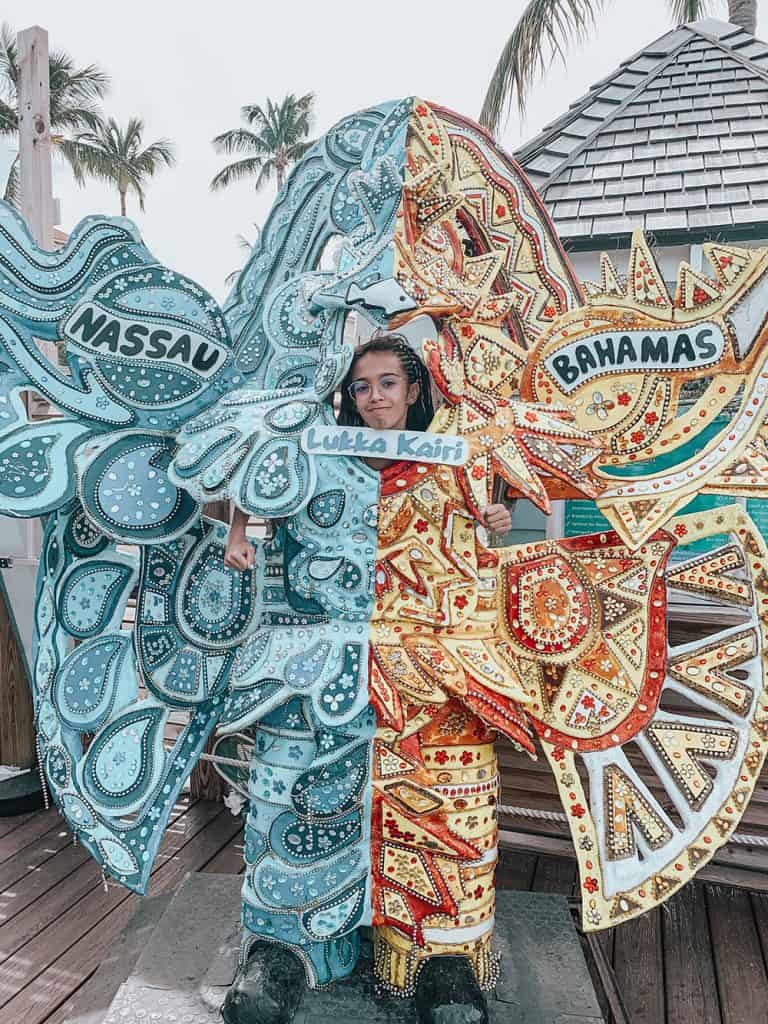 Parliment Square
Parliament square is a great place to walk around and look at a little history of The Bahamas. Its also located right in downtown Nassau near all the cruise ships so its an easy walk while you're shopping.
You'll also find most of the touristy shops here if you are looking for some Bahamas shirts or souvenirs for your family and friends.
TIP: Shop here before you buy anything at the resort! My daughter wanted a stuffed pig to remember her time swimming with the pigs and it was $30 at the resort. We found the EXACT Same stuffed pig in a shop in downtown Nassau for only $10.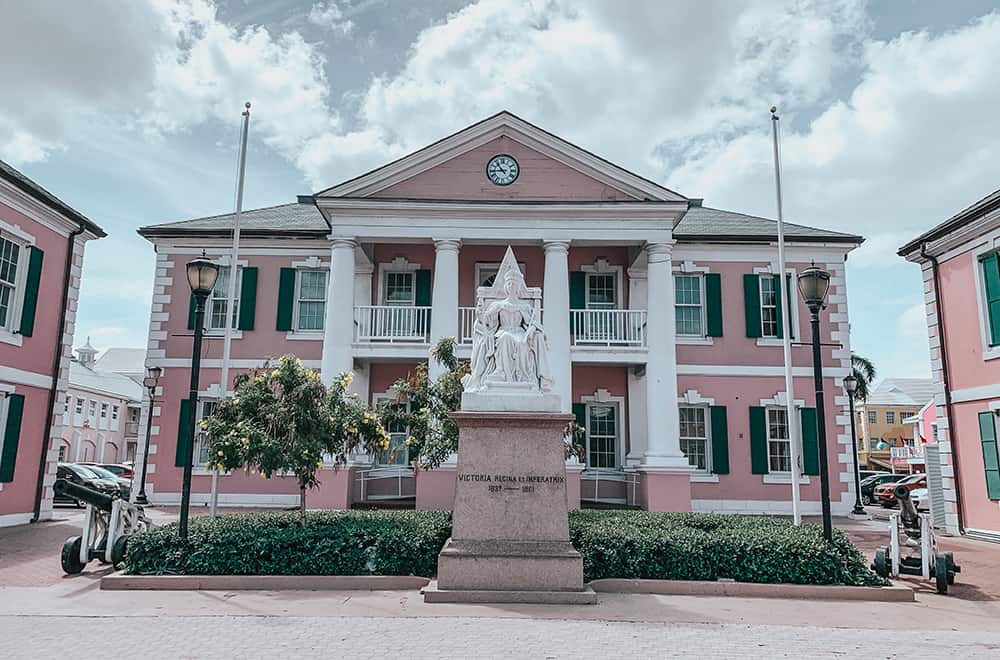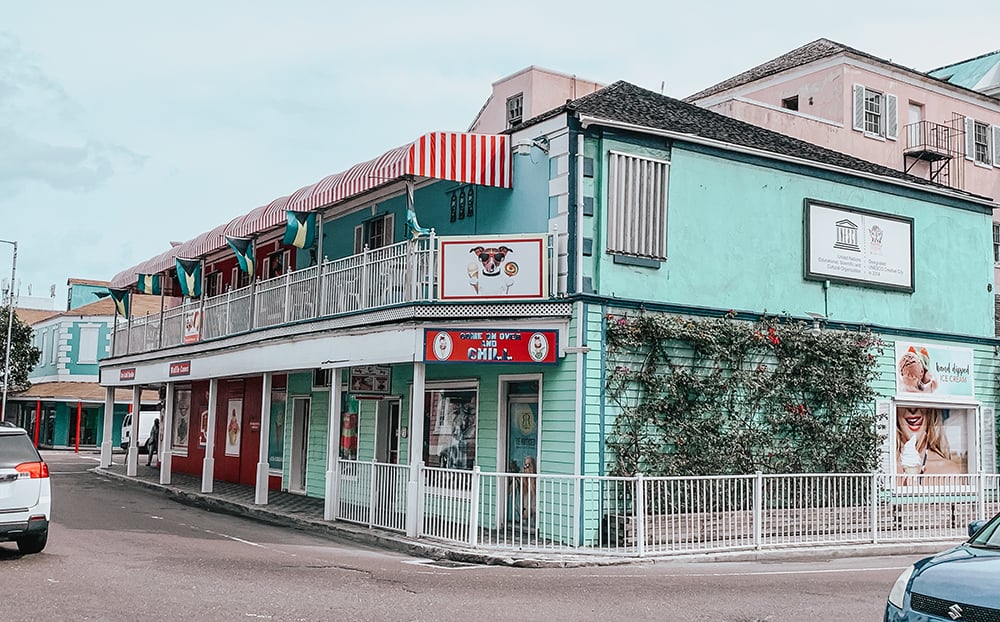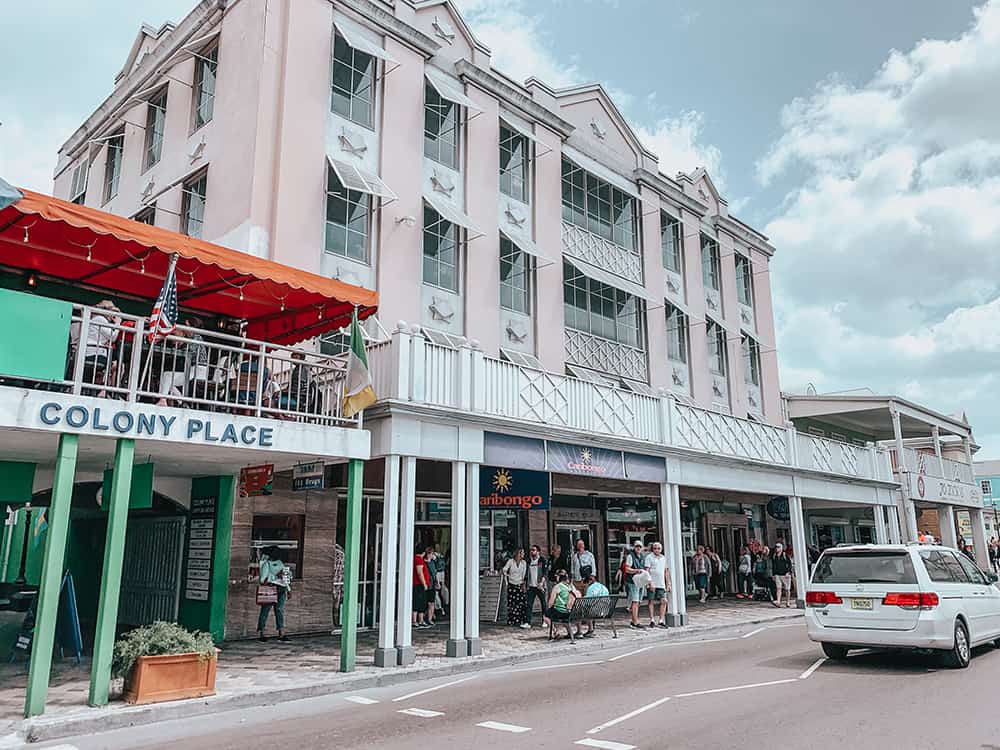 Junkanoo Beach
Junkanoo Beach is the public beach in downtown Nassau that is open to the public and probably one of the most popular beaches in the area. Its close to the cruise ships and right in the middle of downtown, so its easy to walk to and spend a few hours at.
The sand is soft and plentiful and there is a ton of activities you can do there. Not to mention there are tons of places to eat along the sand.
TIP: Be careful when at Junkanoo beach. It is the area of the highest theft in Nassau. I personally know a family that had all their backpacks stolen from the beach while they were in the water. Invest in a beach safe to keep your valuables out of thieves' hands!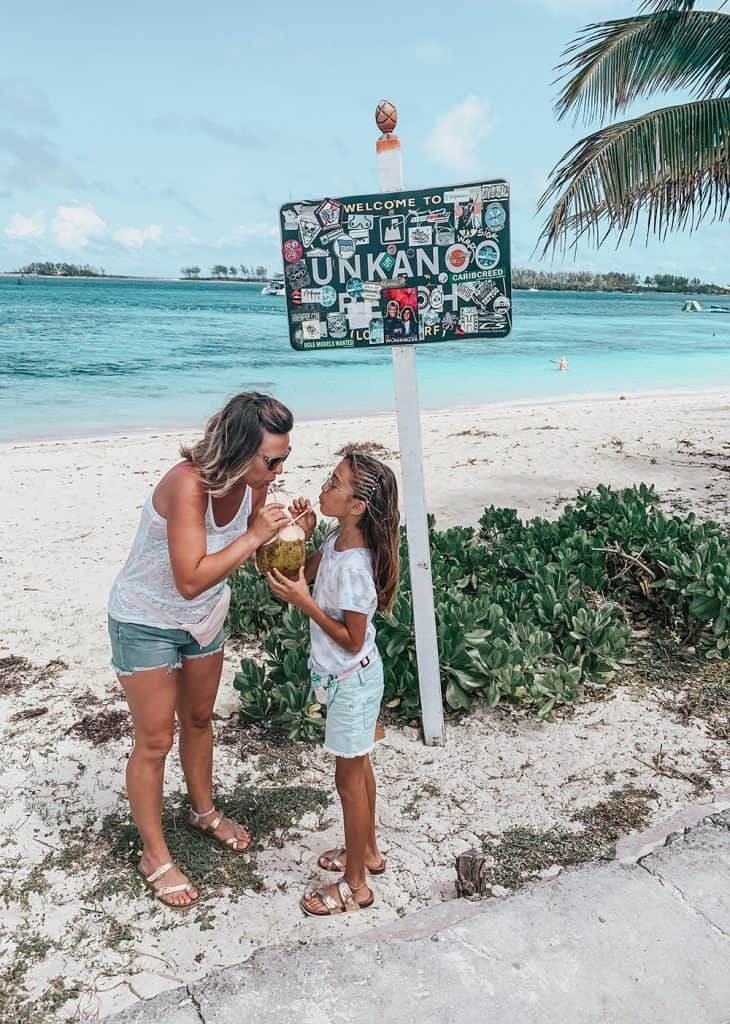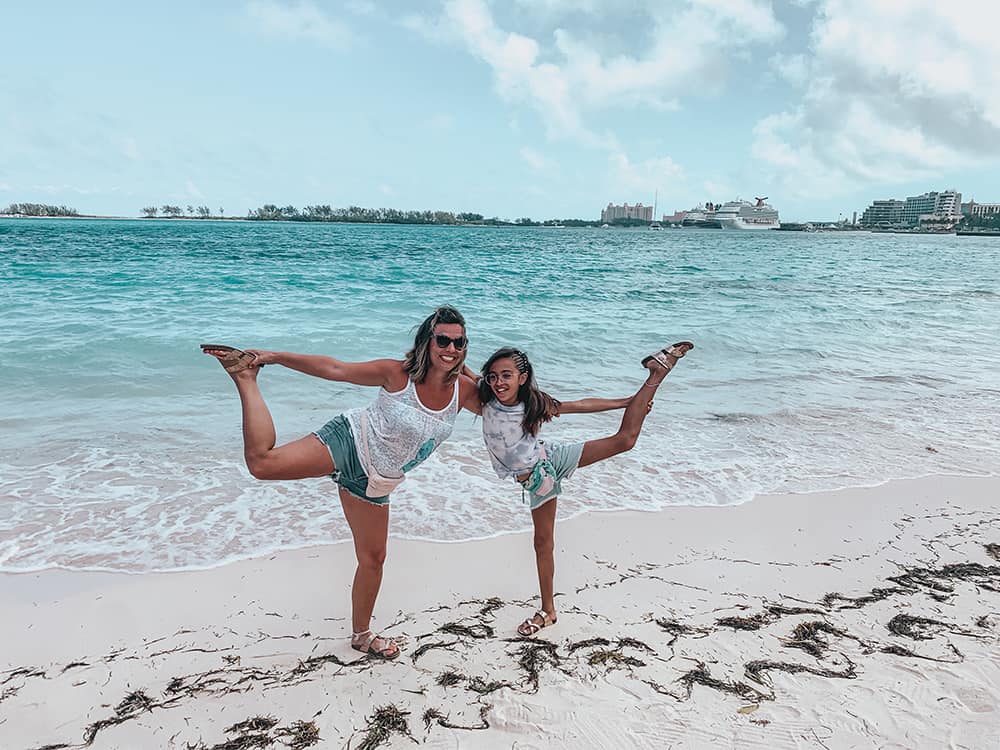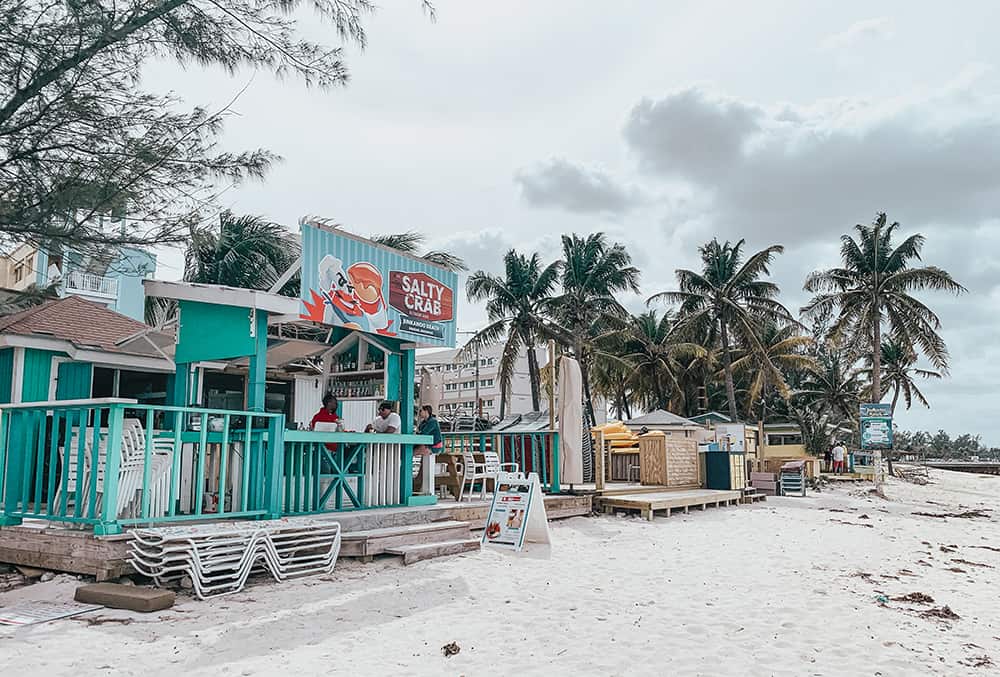 Other Things To Do Around Nassau
If you are staying in The Bahamas for a while, there is plenty to do! While we did some really cool things in Nassau, here are some of our absolute favorites that you shouldn't miss.
Swim with Pigs! Hang out with Iguanas, swim with sharks, snorkeling Pablo Escobar's plane, and swim with pigs. Take a day trip with Shore Thing Escapes for the BEST day in The Bahamas!
Spend a Day on a Private Island! Head over to the Blue Lagoon Island and spend an entire day on a private beach, with drinks, floats, and swimming with the dolphins.
Read More About the Bahamas…


Care to Share? Pin These for Later!