How To Eat Like a Local in Nassau, Bahamas
Get ready to eat some of the best food in the Caribbean. Don't go to Nassau, Bahamas until you know the best places to eat. Learn how to eat like a local in Nassau!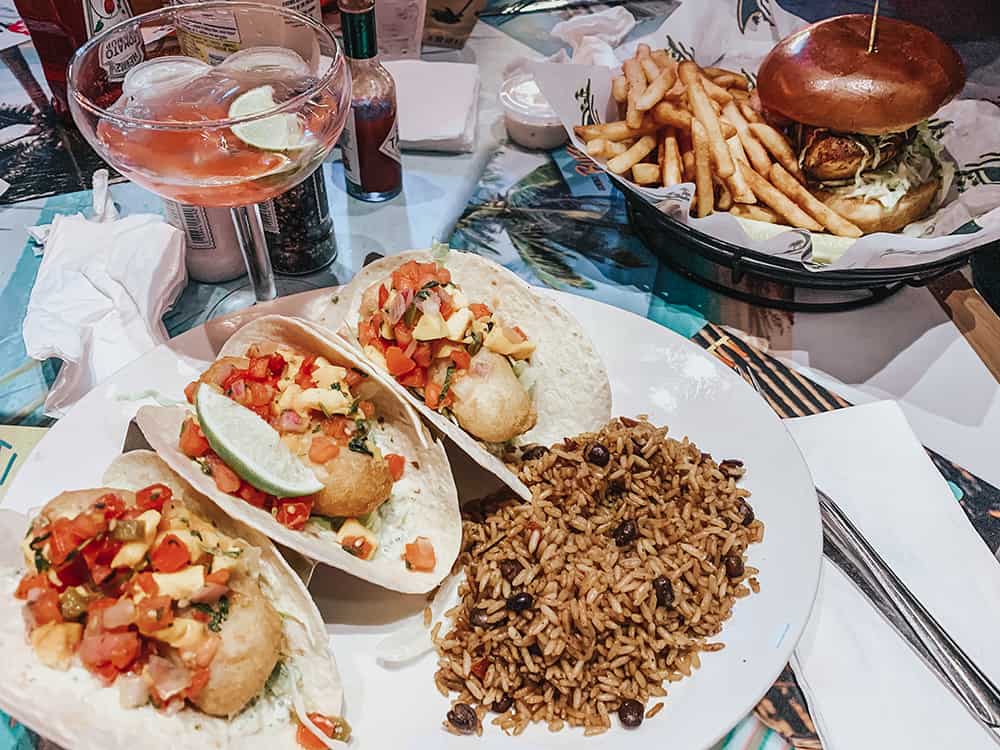 Learn How To Eat Like a Local in Nassau!
One thing I was looking forward to the MOST about our trip to the Bahamas was the food. I absolutely love seafood and figured going to an island in the Caribbean would be the perfect place to get some nice fresh seafood.
Every time I travel, I research the heck out of the food to make sure I try authentic local cuisine and anything that's not to be missed. The food is half the vacation!
The food in Nassau is so exception. Being in the middle of the Caribbean makes it prime for seafood. And it is a flavorful country means new cuisine and unique tasty items I was super excited to try.
I put together this list of must-eat food items and places to eat in Nassau so you don't miss out on these tasty treats when you travel to The Bahamas.
With these suggestions, you will eat like a local in Nassau!
The Local Cuisine in Nassau
The Bahamas is well known for its fresh seafood but they have some other specific cuisine that you need to make sure you check out. Here are some of Nassau's specialty items:
Peas and Rice – The Bahamas famous side dish, you'll find this with every meal. It's very tasty and mild enough for kids to enjoy too. You won't find the green peas you know so well, it's made with brown peas
Rum Cake – You don't have to be a rum lover to enjoy this tasty treat, although they do contain the liquor and can be quite strong. They also come in dozens of varieties. I tried the coconut, the banana, and the chocolate at they were all amazing!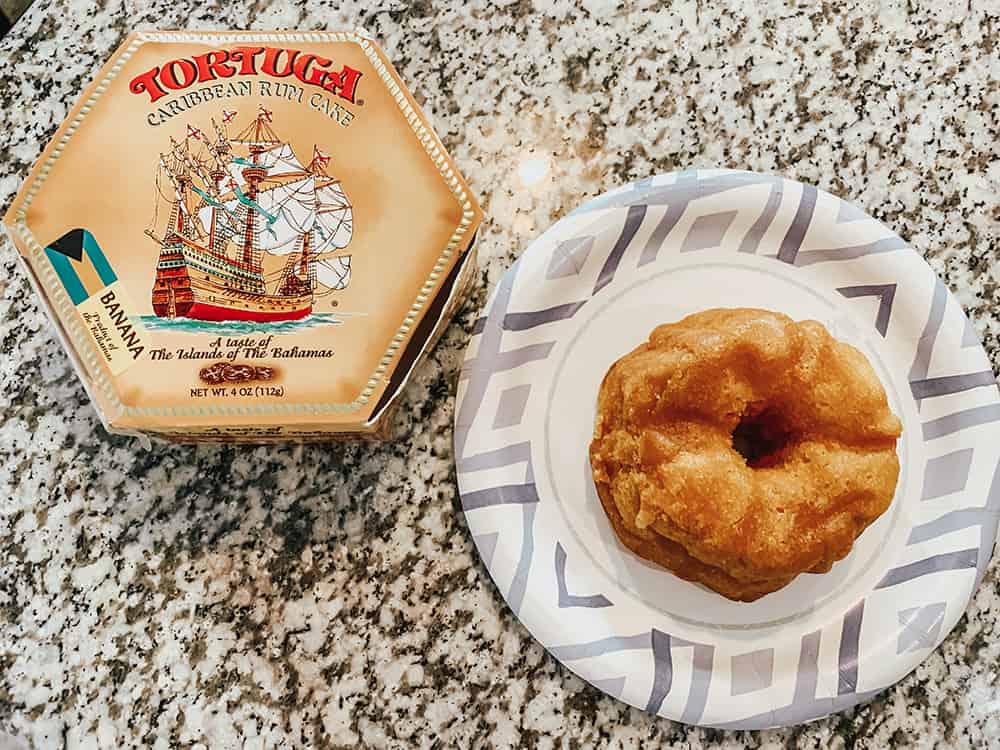 Guava Duff – This is one of the Bahama's most favorite sweet desserts that's wrapped in a fired pasty puff.
Mac N Cheese – Even though this is a child's basic in the US, it also happens to be a specialty dish in the Bahamas. You'll find it slightly different here. Its a baked dish served in squares and has a few spices in it. The kids didn't love it but I thought it was amazing!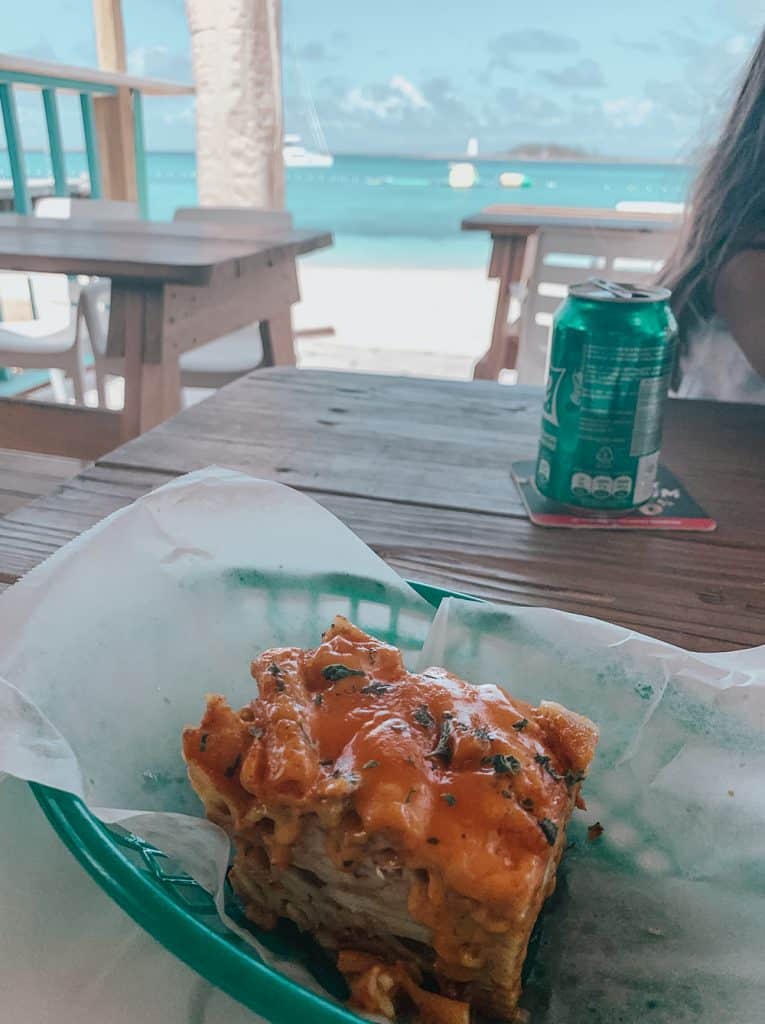 Where To Eat In Nassau
If you want authentic food, I highly recommend you stay away from the resorts. Although the food is decent in most hotels, it is also very basic and bland. It's like they are purposely catering to Americans with basic American food. But what they don't realize is that tourists are usually looking for the more authentic eats when they travel.
Hence why I was on a search for the most authentic Bahamas food I could find.
Fish Fry – AKA Arawak Cay
If you ask any local, this is the place to go! This is a small strip of shacks along the beach that all serve homemade cuisine. You'll find conch salads and the freshest seafood. If you want to eat like a local in Nassau, Fish Fry is a must.
It's impossible to eat at every one of these places, even if I wish I could.
We did stop and enjoy a place called The Salty Crab. It was a great little shack on the beach, overlooking the ocean. The food was incredible. They had tons of seafood options and even a few kids meals for the picky little eaters.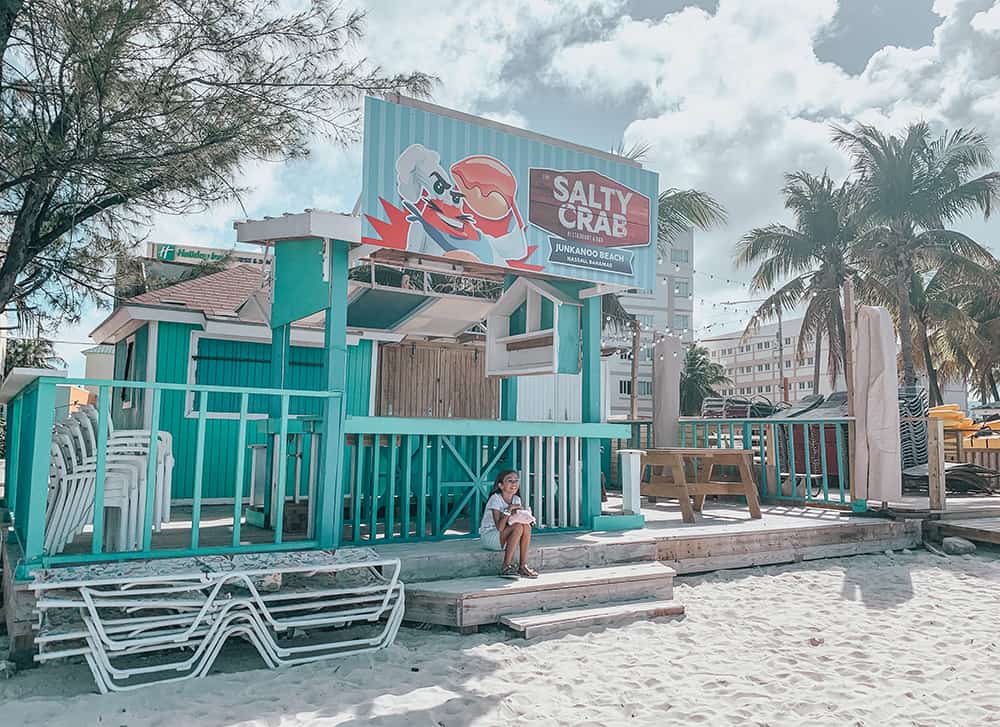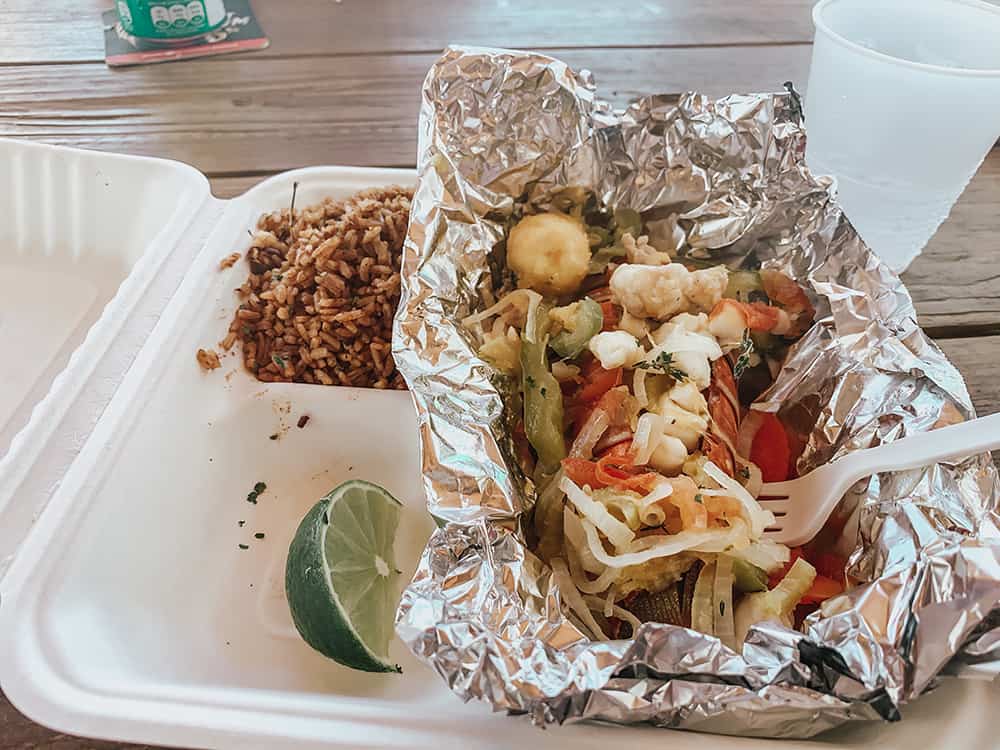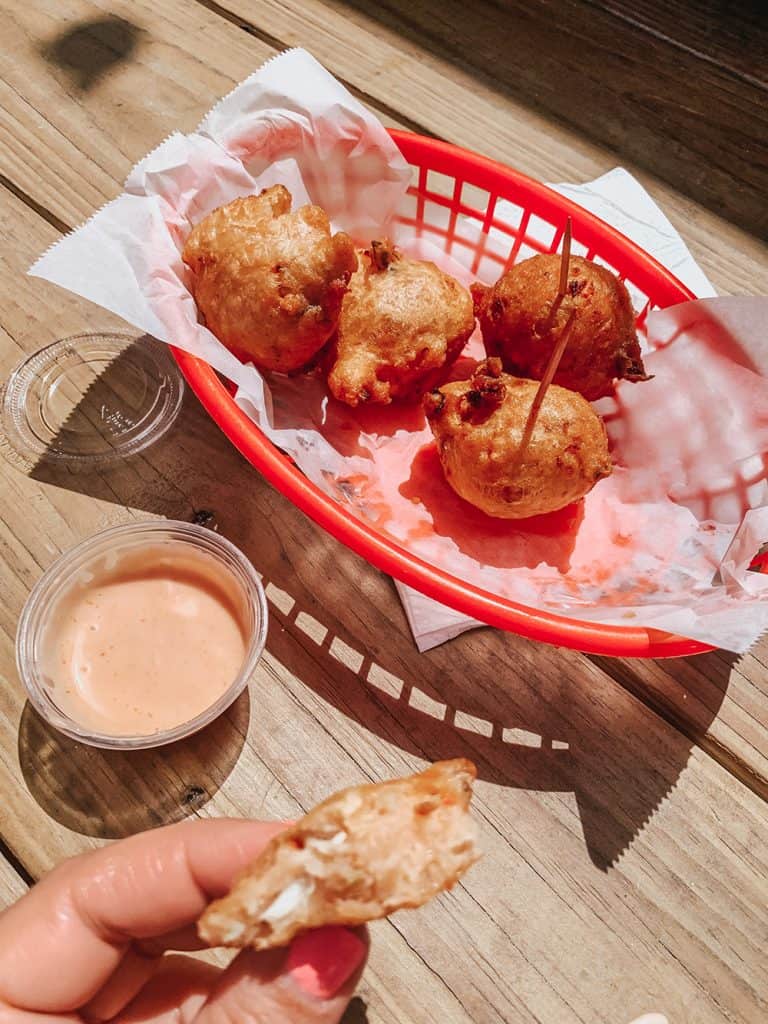 We ended up getting some grilled lobster and veggies, conch fritters, Mac n Cheese, and peas and rice. A full Bahamian meal. The conch fritters themselves are worth the stop!
TIP – Fish Fry is located near downtown Nassau and was super easy to get to by cab. But if you want to save money, jump on the Jitney. The Jitney is the public bus and is a very reasonable $1.25 per person. We used it several times and felt very safe. It was mostly filled with tourists anyway.
We walked along Fish fry right before they opened and here are some of the places you can stop and eat…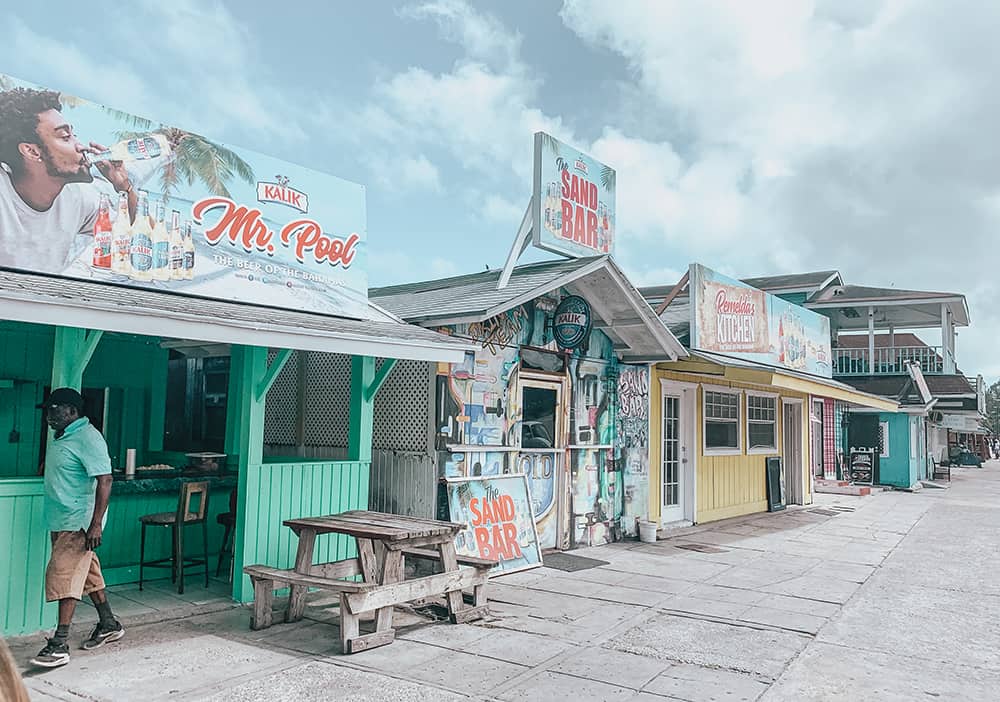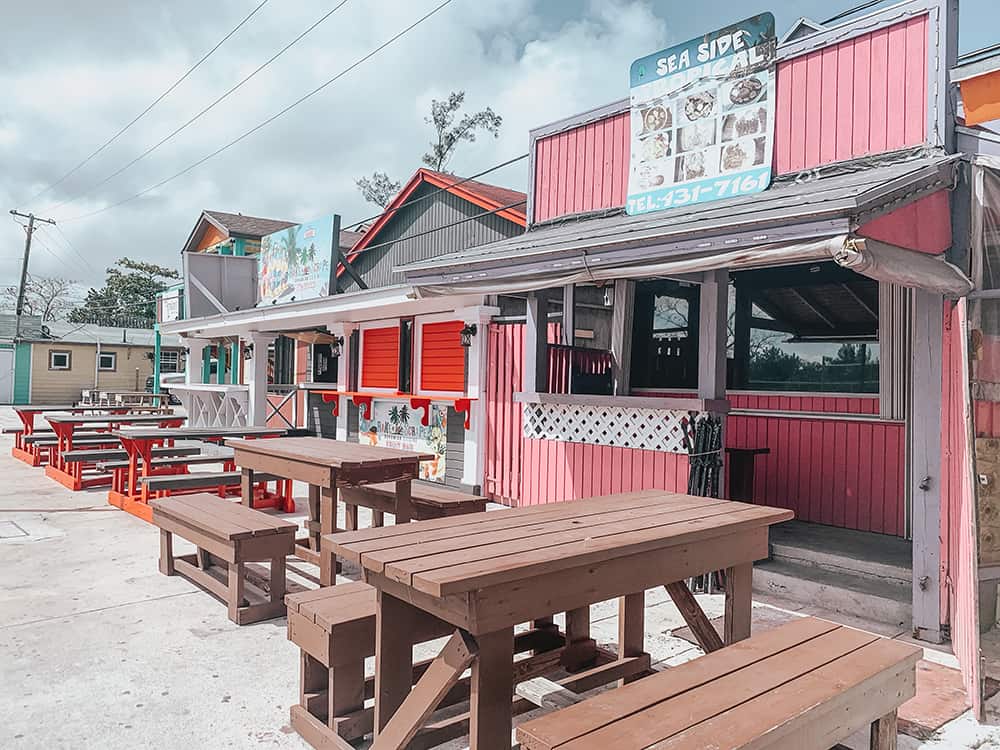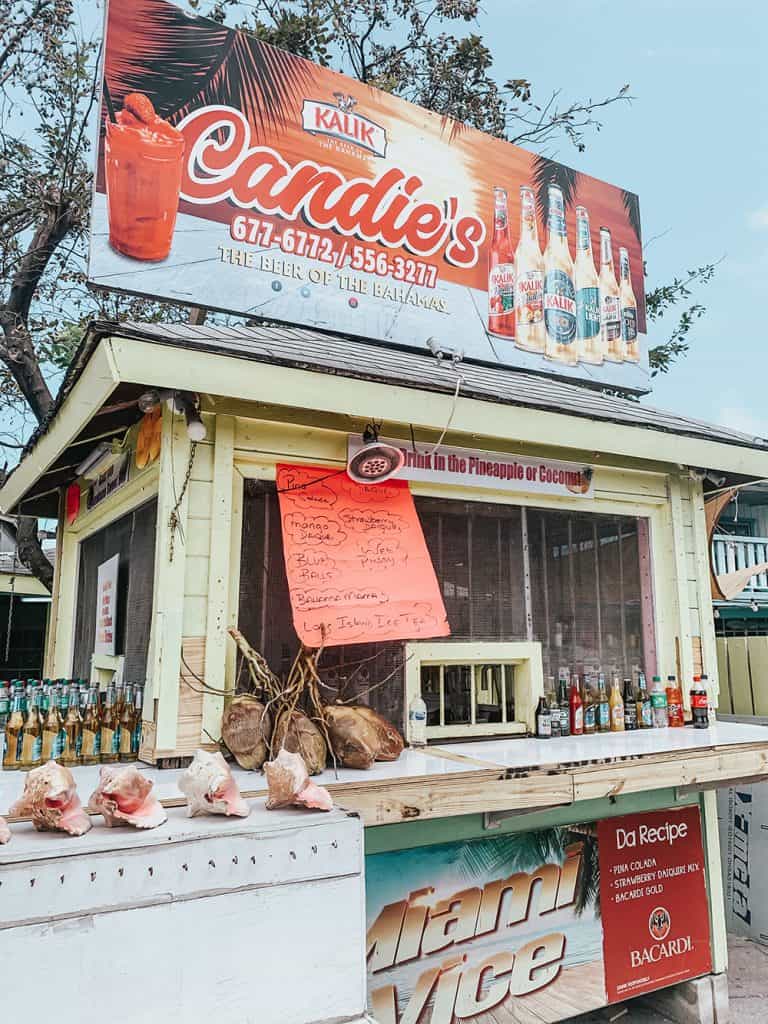 For the Beer Lovers
If you love a locally crafted beer, then you need to stop by Pirate Brewing Company. They have several options for any beer lover along with light meals and plenty of merchandise to take a souvenir home.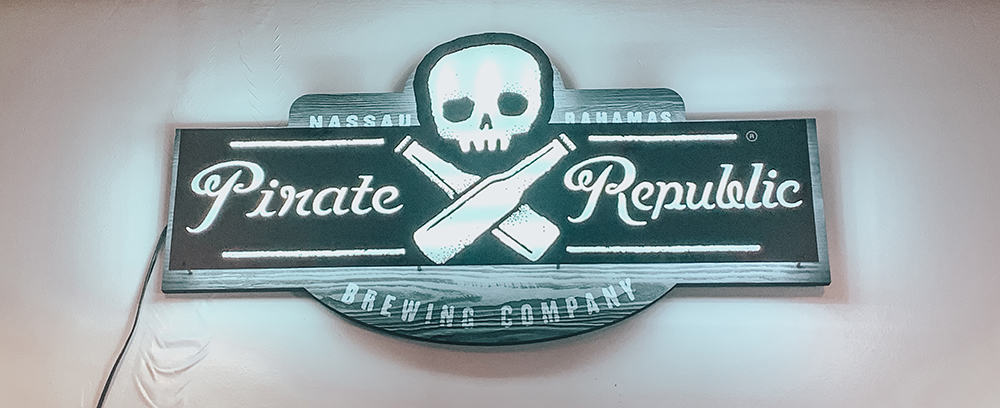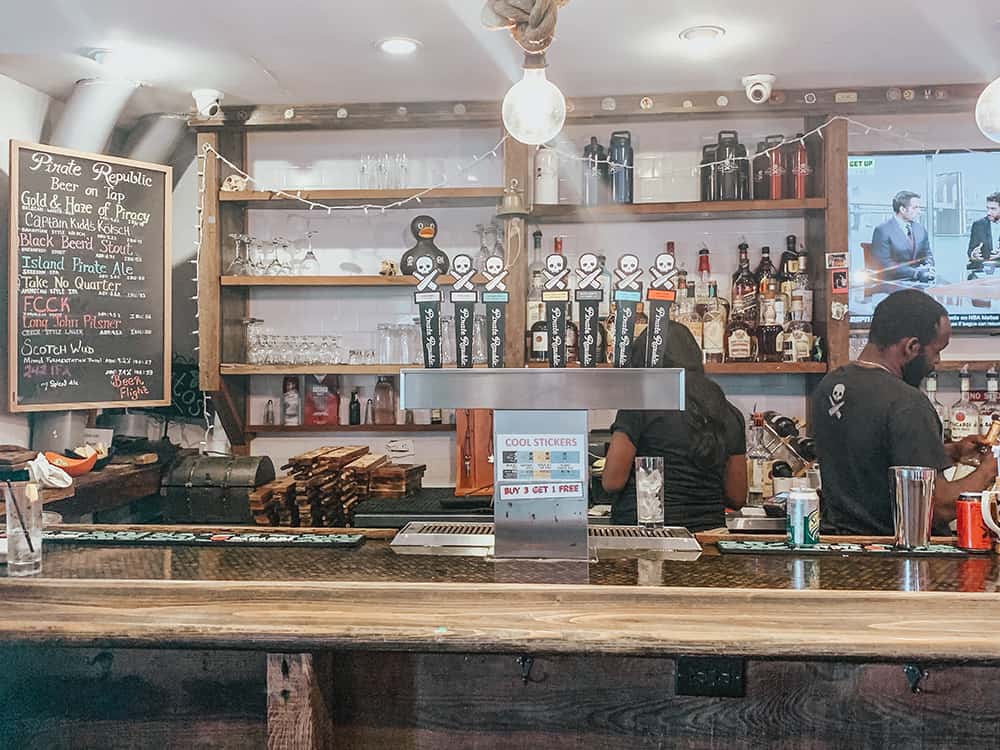 Notable Places To Eat in Nassau
Don't forget to check out some of these other restaurants if you are heading to Nassau!
Frankie Gone Bananas – A great place to eat that will give you plenty of American-type food for the kids and picky eaters along with fresh seafood and local cuisine options too.
The Poop Deck – Another great option that gives you tons of food choices. This is also a popular choice for its location, right on the ocean looking at Atlantis.
Sharkeez – Sharkeez is located along the ocean in downtown Nassau, near all the tourist shops. It's also right alongside the cruise ships. This makes for a great view, but a very busy crowd. Try The Bahama Mama, it's so good and so strong, they serve it in 2 cups that you drink at the same time! Try the conch burger… it's delicious!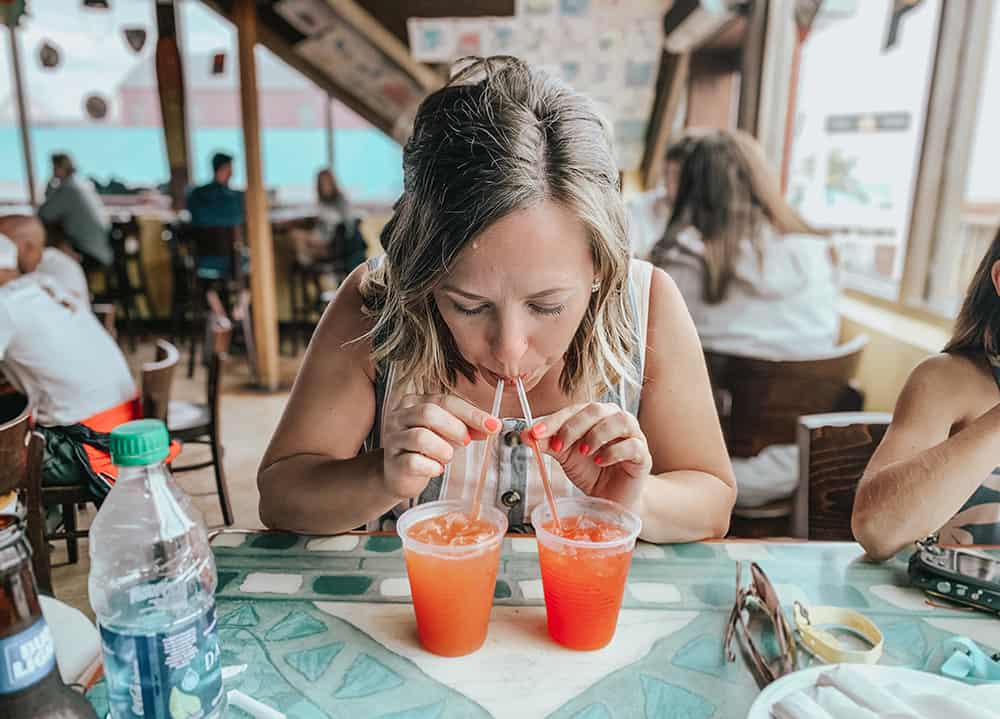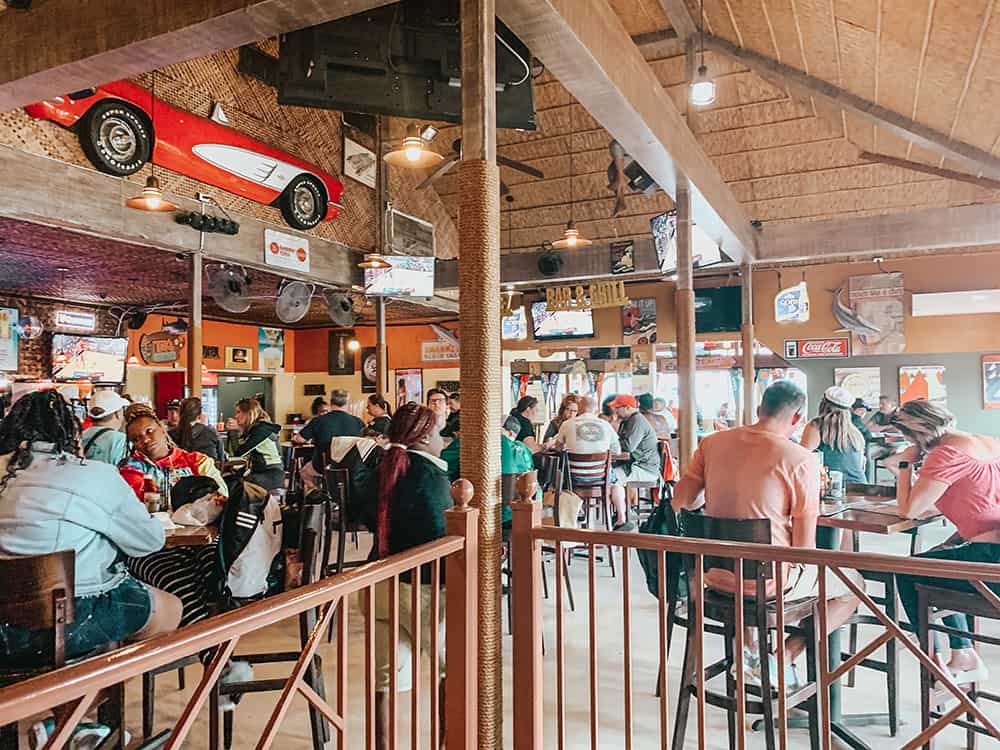 Margaritaville – I know, I know. You can eat at this restaurant in the states. But I mention it for a few reasons. First, it's right outside the Atlantis (walking distance) and its WAY less expensive then anyplace the Atlantis can offer. And second, they actually have local cuisine on their menu too. Not to mention the live DJ, dancing, and yard games. Kids especially love eating here.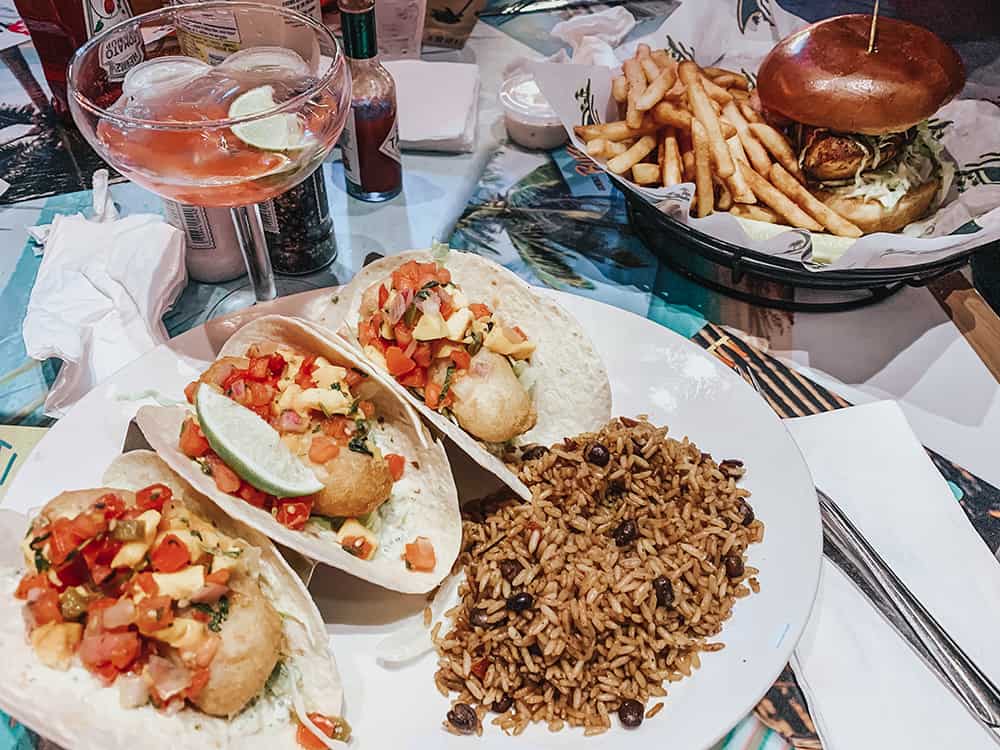 Is It Expensive To Eat In The Bahamas?
Um… YES! There's no delicate way to put it. The Bahamas are very expensive and I swear the food and drinks are the most expensive thing about it. I'm pretty sure we spent as much money on food as we did our resort.
Everything you purchase included a tax, a VAT tax, and the gratuity. And it adds up. A $12 drink will cost you $20.
Our first night there we grabbed one large pizza, 2 side salads, and 4 sodas. It cost us $100. And that was the cheapest meal we had. Even some coffee and donuts at Starbucks cost us $40 for just 2 people.
So be prepared to spend a lot of money in Nassau. The smaller, local shacks at Fish Fry are more reasonable, but still higher priced than I expected.
To save money, have kids share meals, drink water, and eat downtown (away from the resorts).
Don't forget to follow along on INSTAGRAM to see all of our great adventures and travel tips!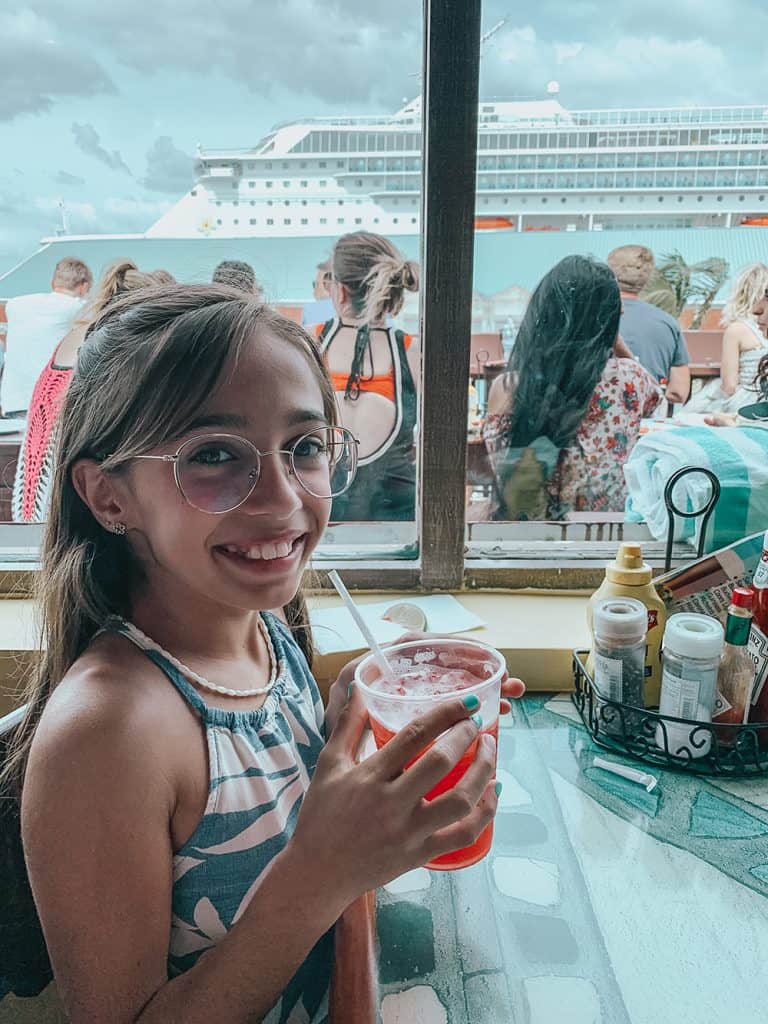 Is the Food Good in The Bahamas?
I believe it is. There is a good mix of local, authentic cuisine for people who want o try new things. As well as basic eats to please the kids. And lots and lost of snacks and bakeries.
You can definitely eat like a local in Nassau and find plenty of things to try!
Read More About the Bahamas…