Exuma Bahamas Swimming with the Pigs Experience in 2022
Swimming with the Pigs was the highlight of our trip to the Bahamas! If you are headed out there, you NEED to take a day excursion with Shore Thing Escapes to swim with pigs, swim with sharks, feed iguanas, and have the perfect beach day in paradise!
How to Visit The Famous Swimming Pigs of the Bahamas
From the second I booked our family trip to the Bahamas, I knew I wanted to go see the famous swimming pigs of Exuma!
I've seen so many pictures of people swimming with these adorable pigs in crystal clear water, I knew it would be an experience we would never forget. Much like the time we held sloths in Honduras!
The famous swimming pigs are located on the island of Exuma, one of the hundreds of islands in the Bahamas.
We stayed in Nassau (where Atlantis is located) and I was really worried there wouldn't be a way to get over to Exuma to see the pigs, but I found it! It's not cheap, but when some things are once-in-a-lifetime experiences, you have to just go for it.
Despite the price tag, swimming with the pigs with Shore Things Escapes was the highlight of our 8-day trip to the Bahamas, for both me and my daughter. And I would do it again in a heartbeat.
CHECK HERE FOR THE BEST PRICE!
Where Can You Go Swimming with the Pigs in the Bahamas?
As I mentioned before, the swimming pigs are located off the island of Exuma. You won't be able to reach the secluded "Pig Beach" without a tour company.
If you are staying in Nassau, I HIGHLY recommend Shore Thing Escapes. There are several tour companies that will take you to swim with the pigs, but I really think Shore Thing is the BEST. They completely made our vacation amazing.
It's an all day excursion, so most cruise passengers won't be able to take part. We started our day at 7 am and didn't get back to our hotel until 5 pm. But Shore Thing Escapes made it as easy as possible for us.
They picked us up from our hotel, gave us breakfast with coffee and juice, and even gave us a ride back to our hotel at the end of the day.
You can Book The "Exuma Full-Day Experience" HERE!
Starting our Exuma Experience Day
Shore Thing Escapes picked us up right from our hotel lobby and brought us to their office to sign paperwork and get us going. The whole process was quick and the kids enjoyed bagels and donuts before we set out.
We also got some really cool reusable water bottles to take on the boat and they supplied enough fresh water to last throughout the day.
I also want to mention, one reason we booked with this tour company is that they included lunch AND drinks. And I mean GOOD drinks! They included several kinds of beer, Rum Punch, and some homemade coconut drink with gin that was AMAZING!
Our Exuma Experience day stopped at 6 different places:
Feed Iguanas at Allen Cay
Swim with sharks at Compass Cay
Big Major Cay to swim with the Pigs
Lunch at Black Point
Normans Cay to Snorkel a Plane Crash
Sandbar and hidden beach
The boat ride to the first island took about an hour (we traveled 80 miles to get there). It can be a bit chilly in the morning air, so bringing a light waterproof jacket is a great idea. But I only had my towel and was just fine.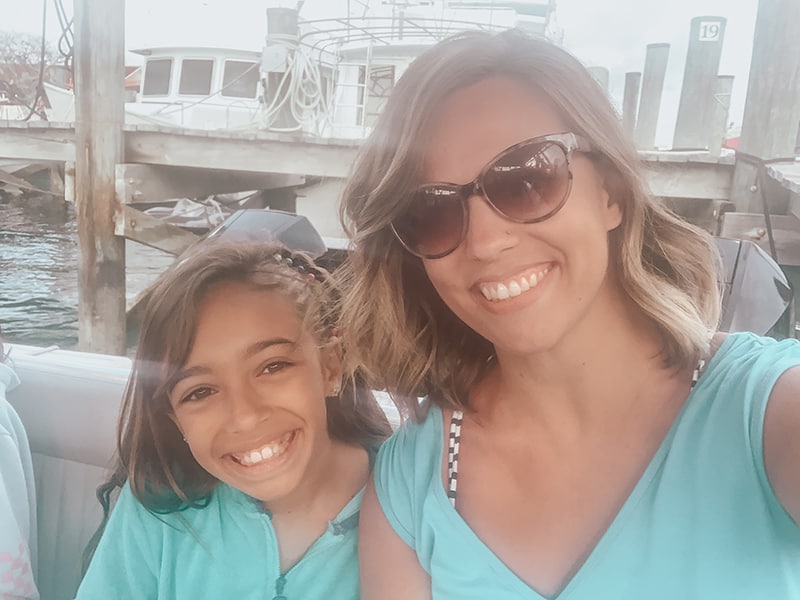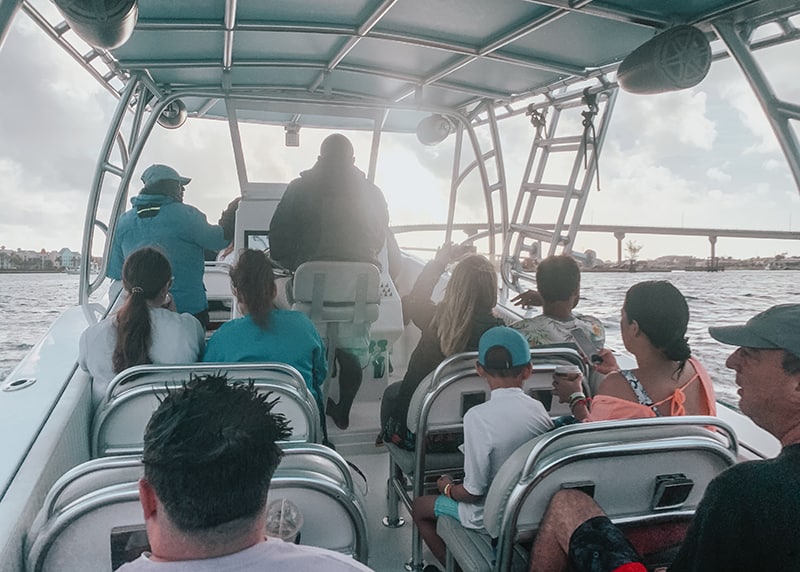 Stop 1 – Feed Iguanas at Allen Cay
The first stop on our tour! Our boat pulled right up to the beach and we all jumped out to feed some iguanas.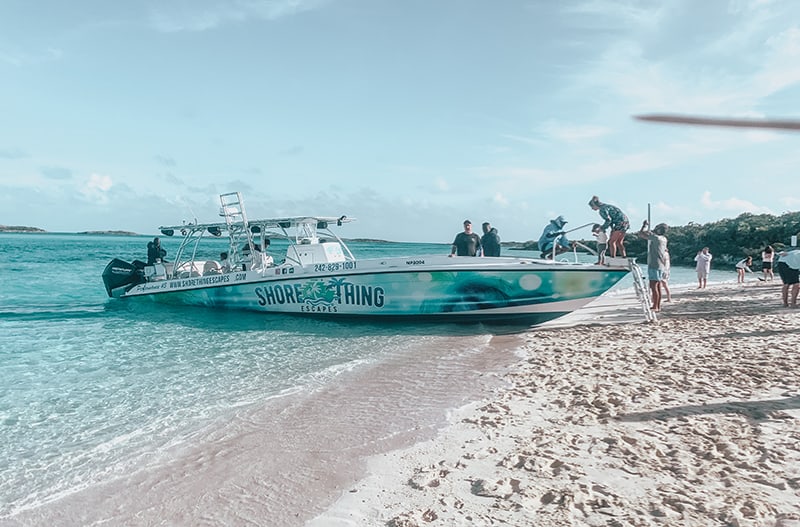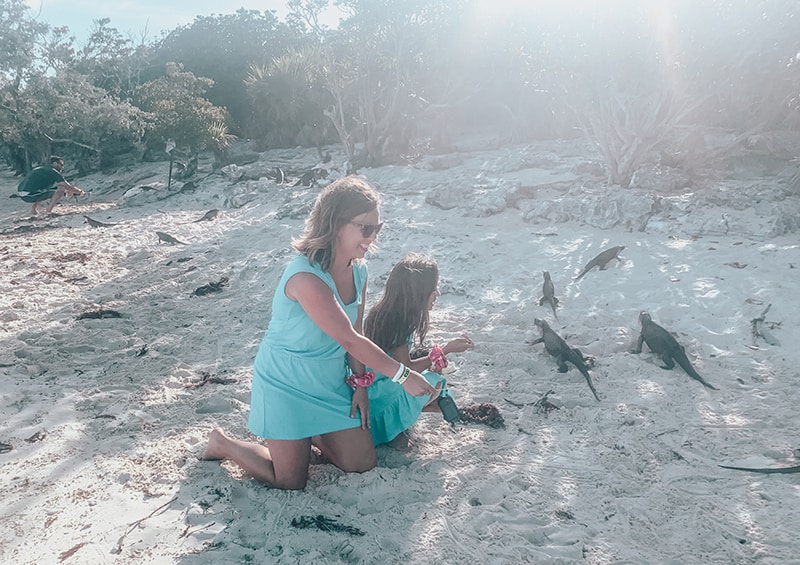 We pulled right up to a small private island and immediately we could see all the iguanas. And what's cool is that the iguanas could sure see us! They came out running on the beach as soon as our boat pulled up. They must know they are about to get fed.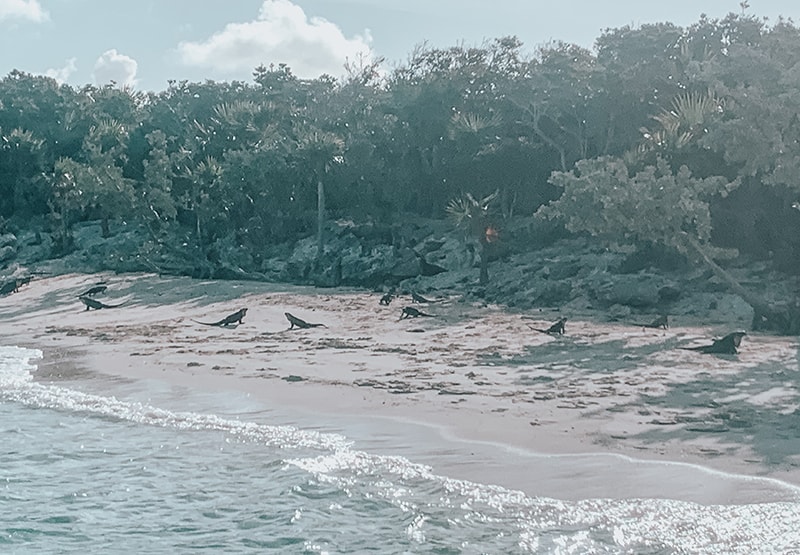 We only had about 15-20 minutes on this beach, but that was plenty of time. We each got some sticks and some bread to feed the iguanas and they were not shy! My daughter actually lost 2 sticks feeding them because they grabbed the bread so hard, that they took the stick with them!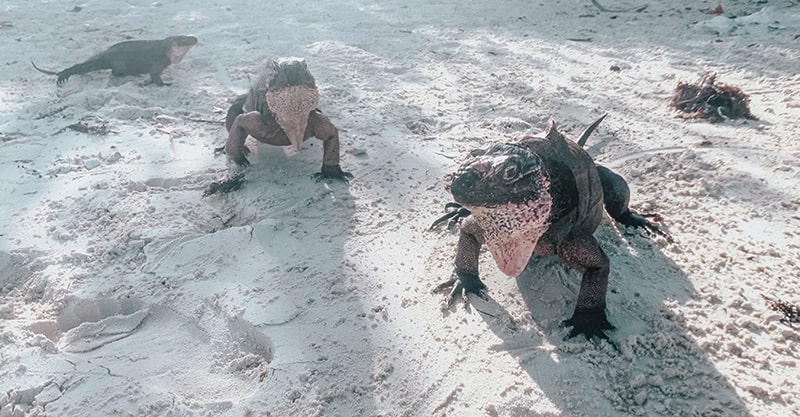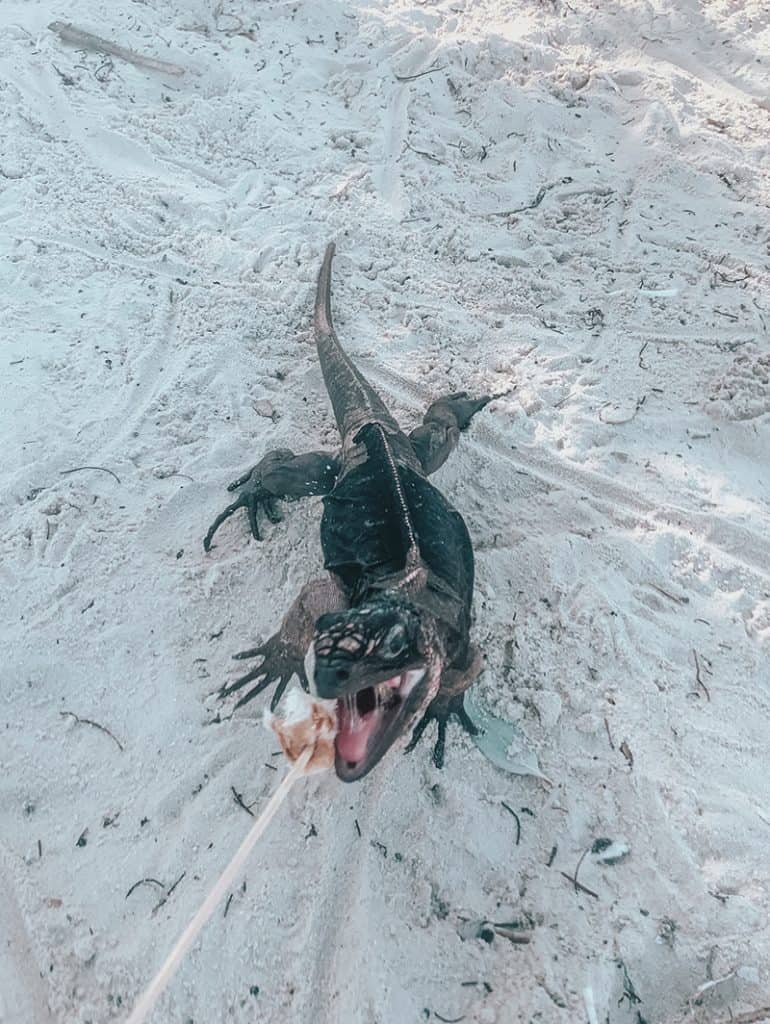 Make sure you use the sticks and don't get your hands too close, the iguanas will bite if they get too close to your fingers!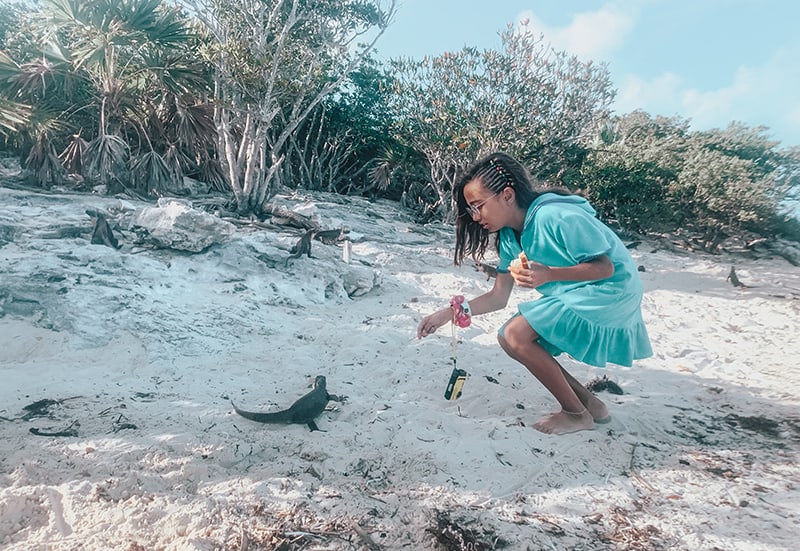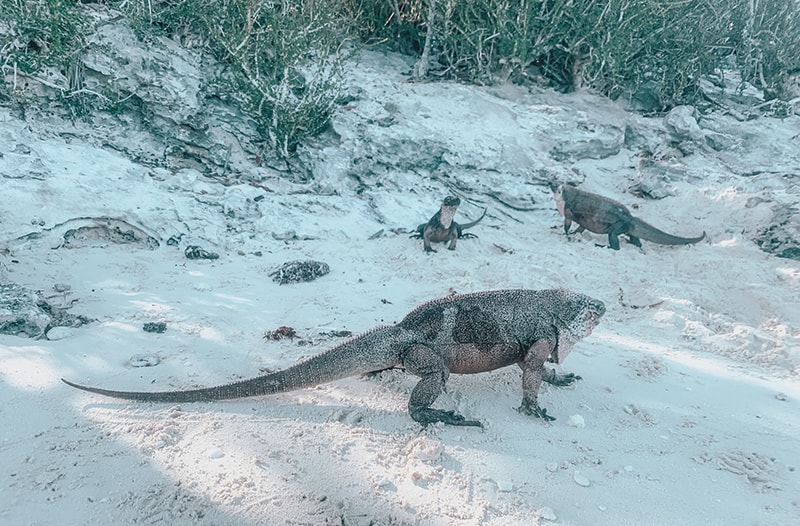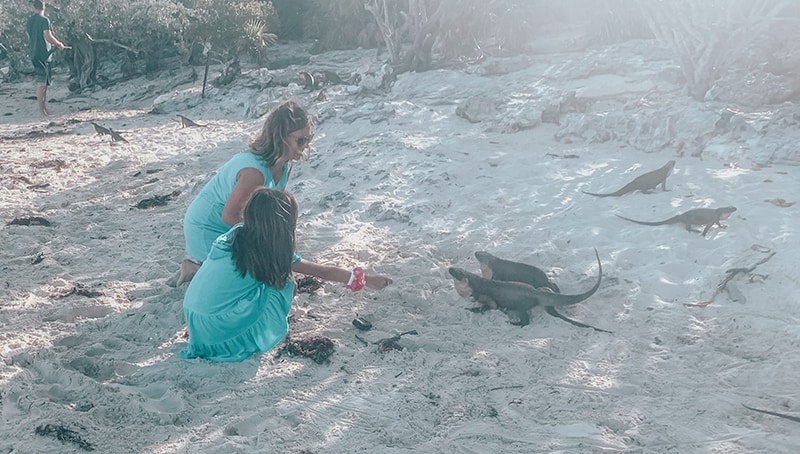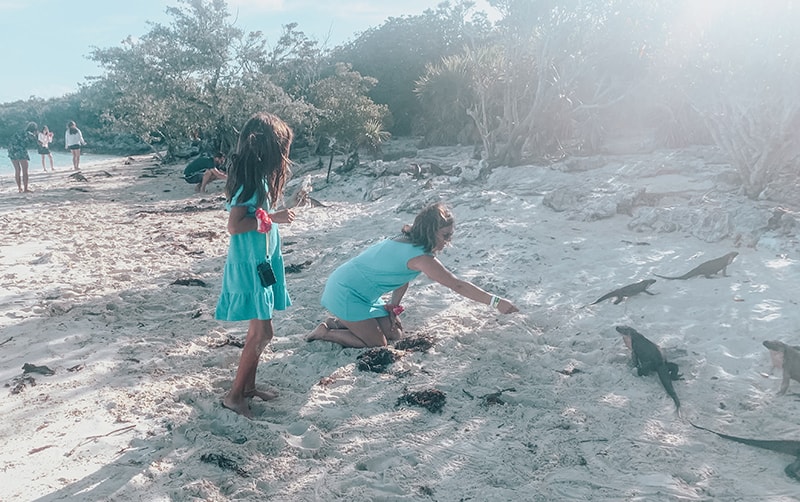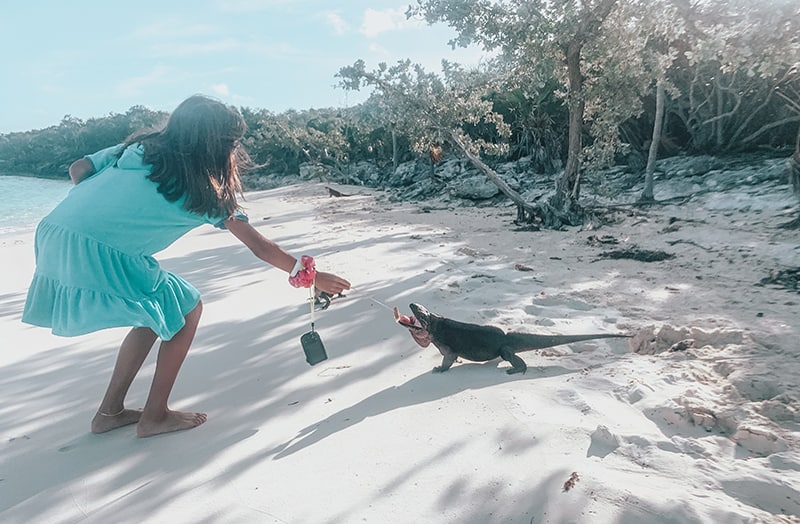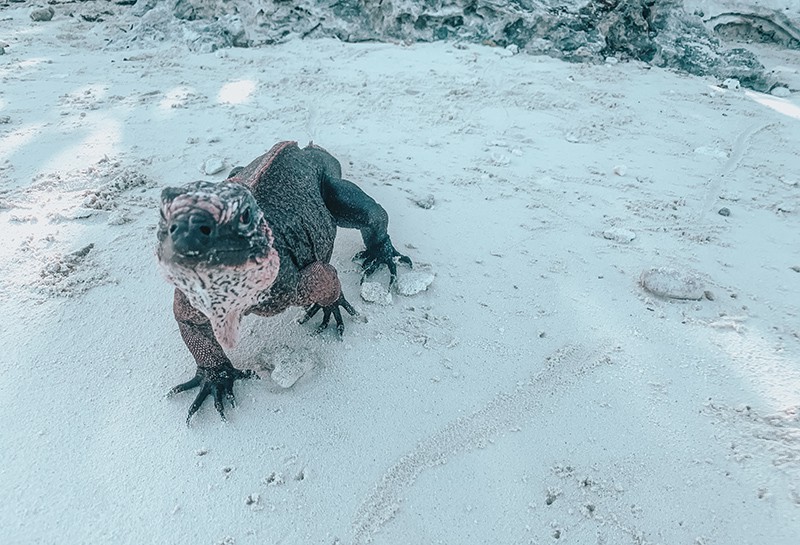 Shop My Cover Up | Shop My Daughters Cover Up
Stop 2 – Swim with Sharks at Compass Cay
My daughter was a bit nervous about this stop but ended up really loving it! We swam with nurse sharks, which are actually very tame and docile animals. So no need to worry about any kind of danger!
We not only swan with these amazing little sharks, but we also fed them squid, held them, petted them… and never got so much as a nip.
Our guides were really great and helpful. They helped us hold the sharks and even took a bunch of photos for us. And occasionally threw some squid in front of us without us noticing… causing the sharks to swarm us and make us scream (all in fun though!)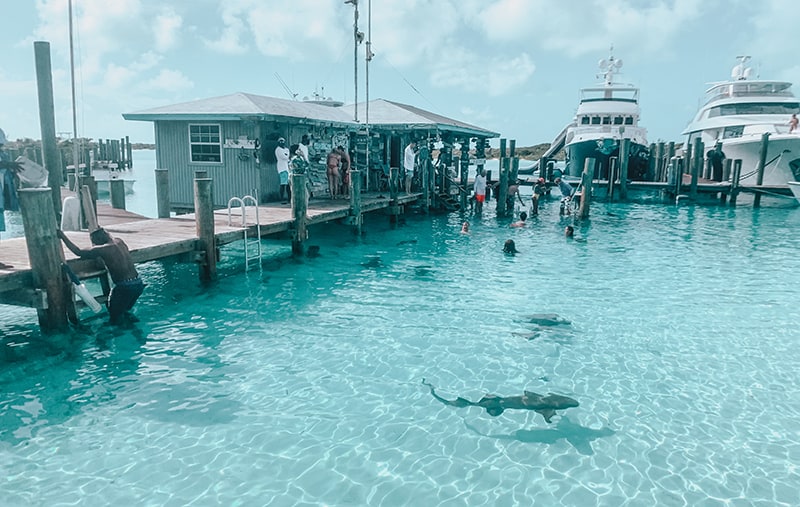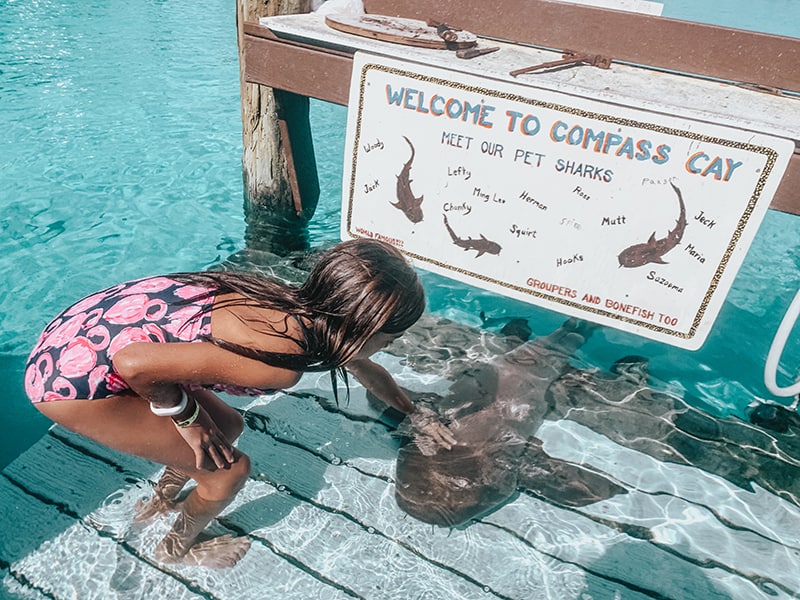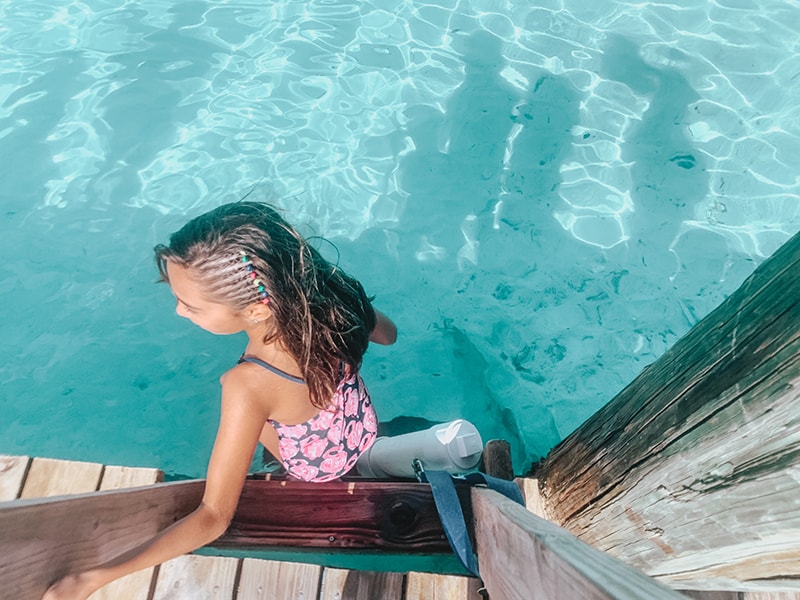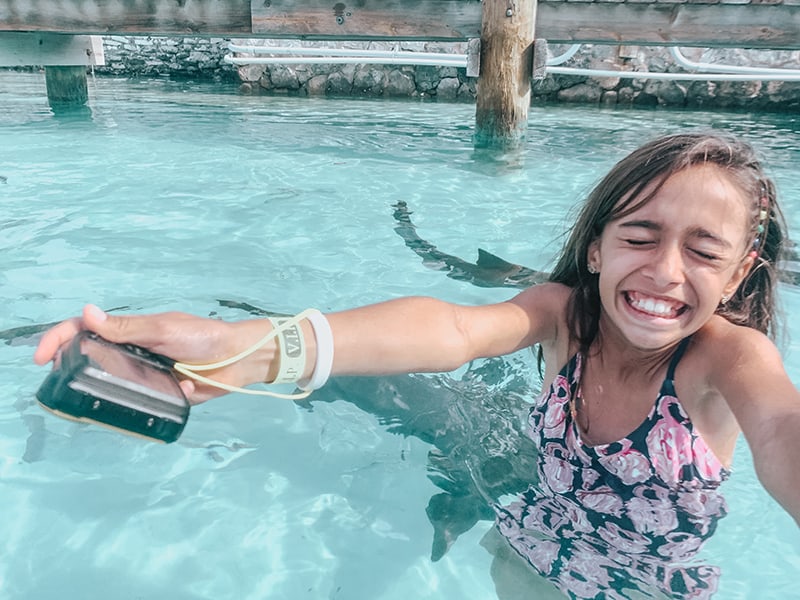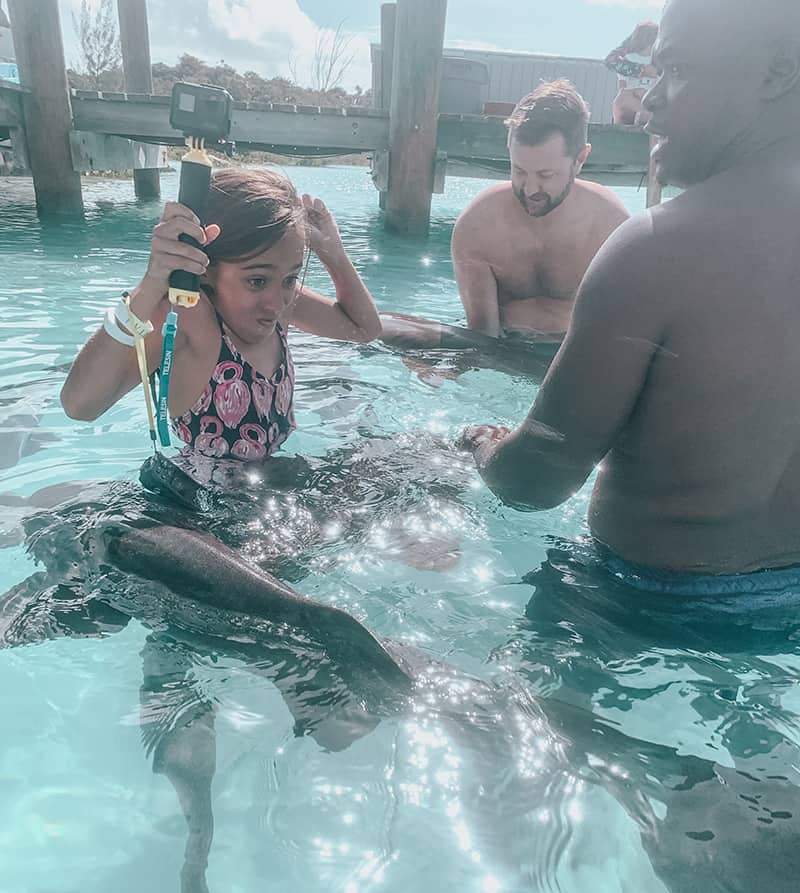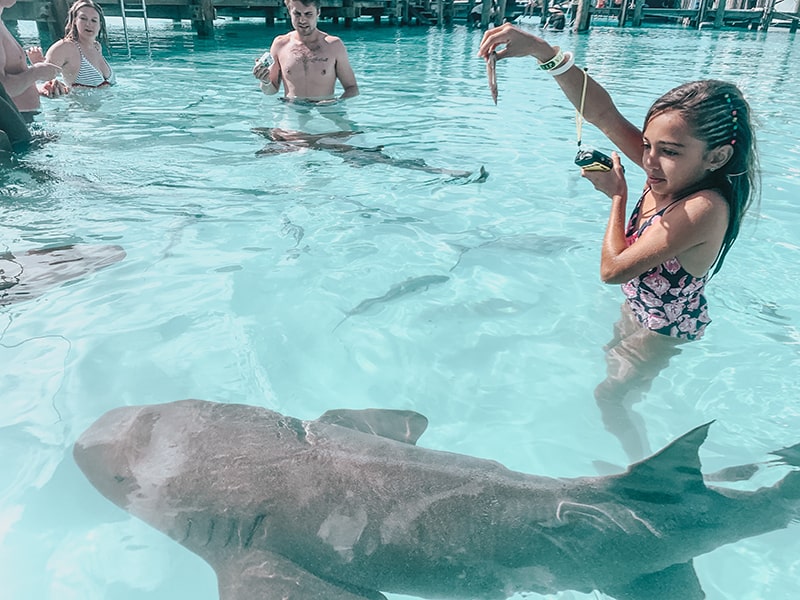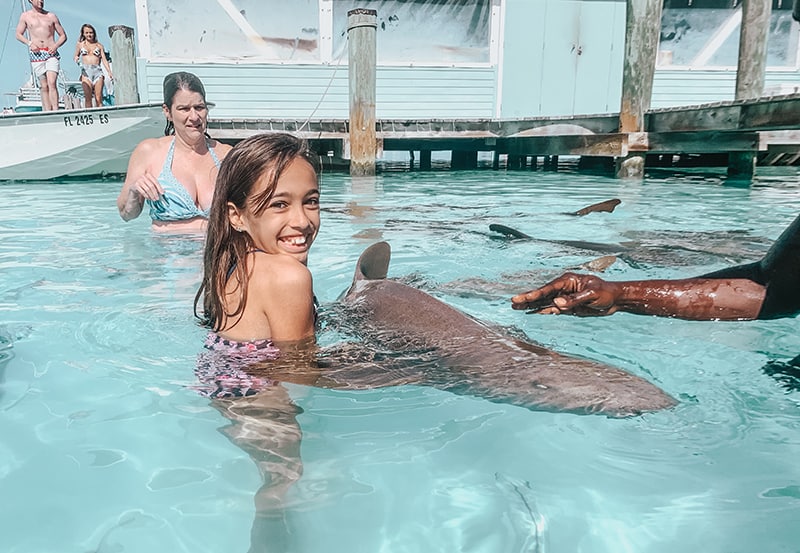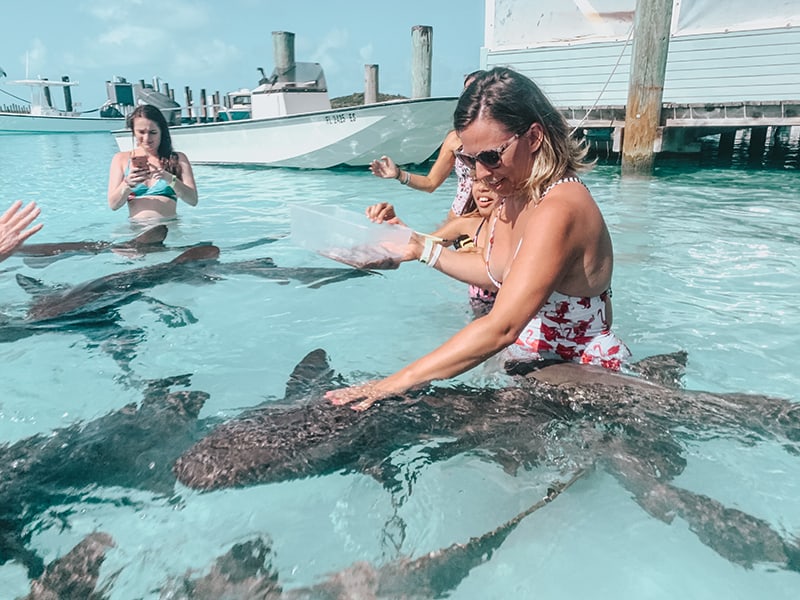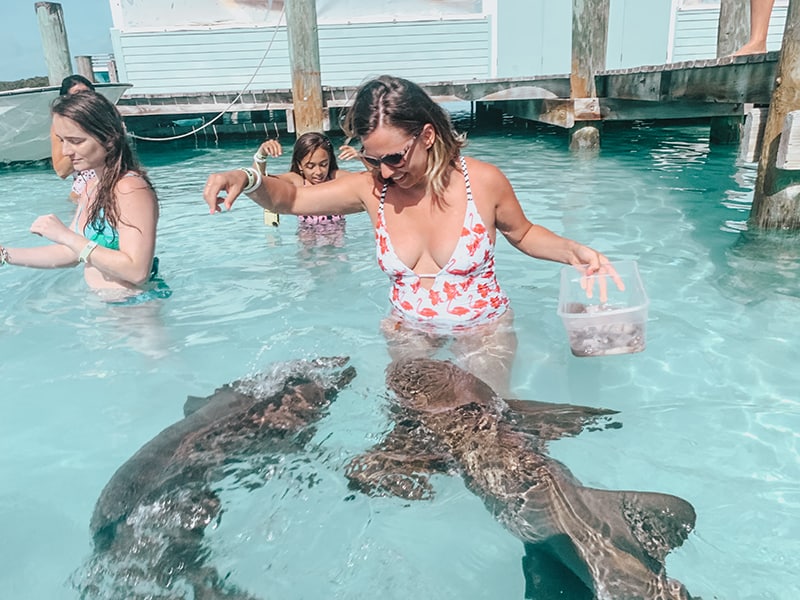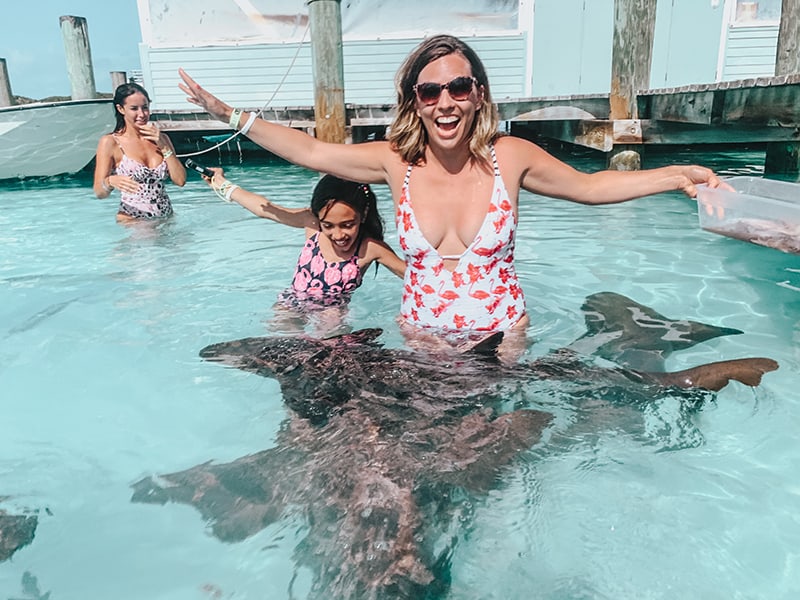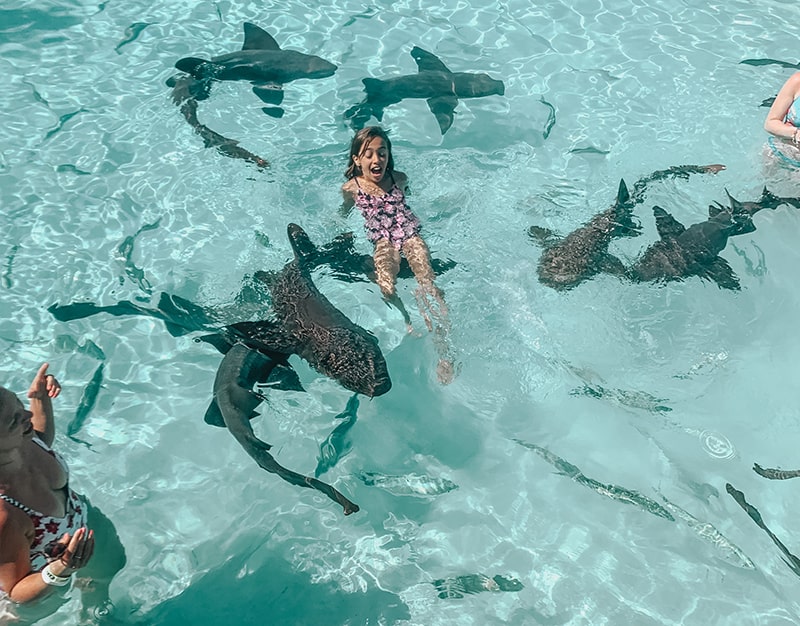 Shop my Flamingo Swim Suit | Shop my Daughters Flamingo Swim Suit
Stop 3 – Big Major Cay to Swim with the Pigs
Finally! The best part of the entire stop and the main reason everyone books this excursion.
The famous swimming pigs of Exuma!
If you are wondering if these really swim… the answer is YES! They swim so well, that they started swimming out to our boat before we were anywhere near land. And they circled us for several minutes waiting for food.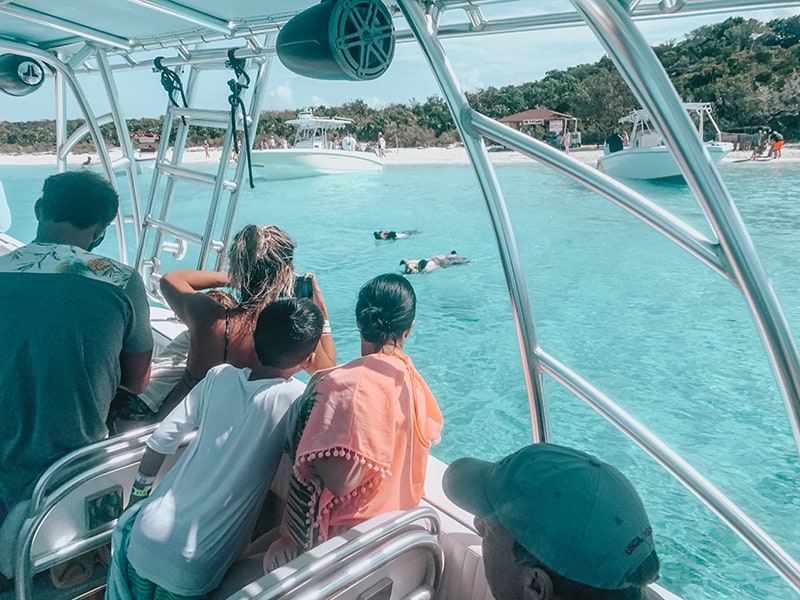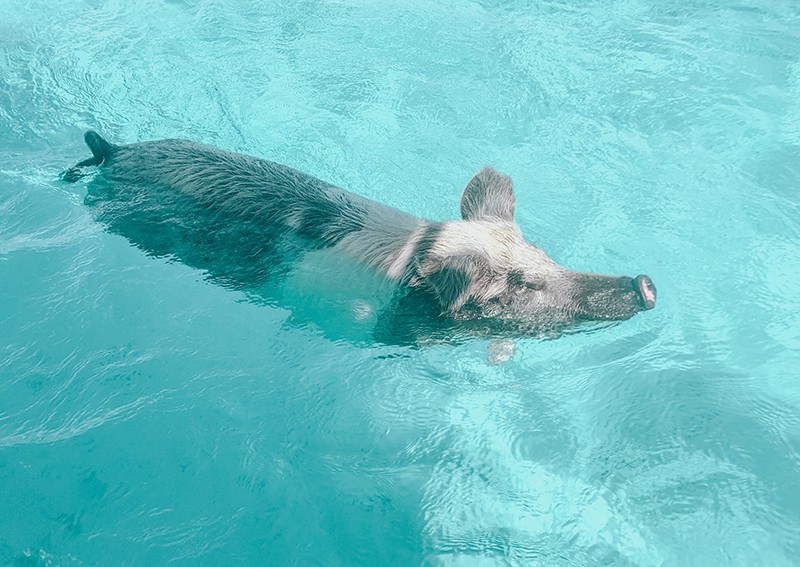 How did the swimming pigs get to this island?
No one actually knows the real answer. I've heard several different stories and the one I think makes the most sense is that they were brought there a long long time ago and were left behind. But the pigs endured the elements and have made quite a life for themselves out there.
Most of the pigs are really sweet. It's almost like they are trained animals. One big spotted pig even sat for us as he waited for his treats. But some pigs were not as kind! And they were even a little ruthless when trying to get their food from us!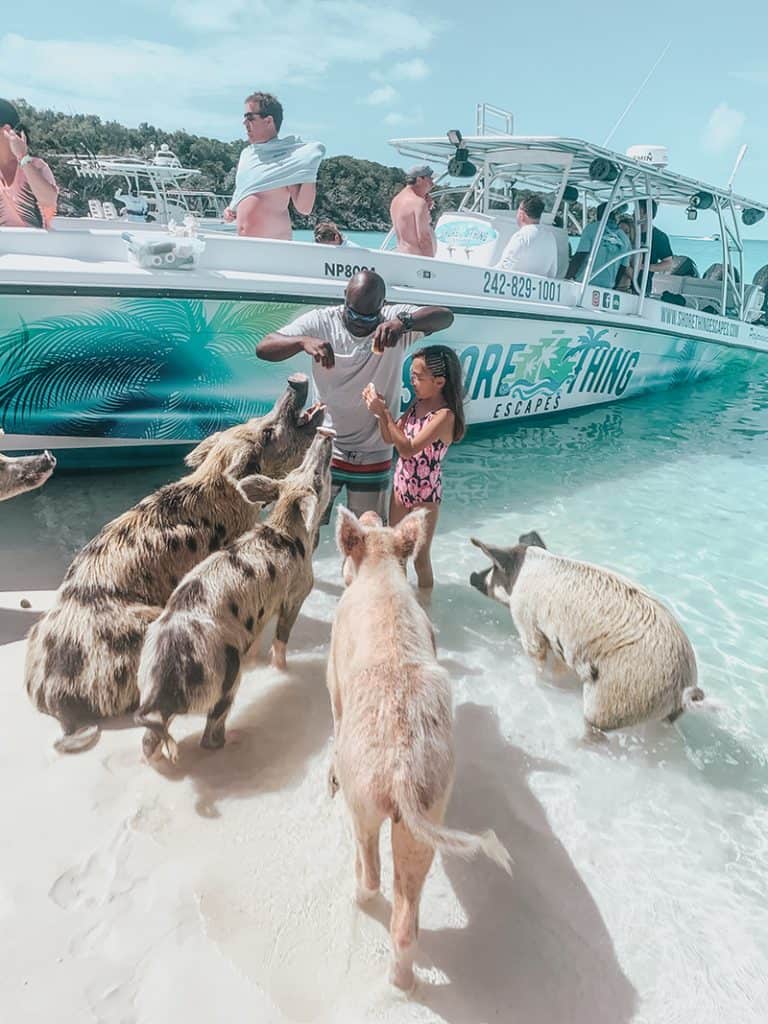 My daughter actually got but on her hand because I think a pig thought her finger was a carrot. It hurt a lot but she was fine! The crew of Shore Thing Escapes was amazing and cleaned up her little bite right away. Then they spent some time with her personally and helped her hold a baby pig and feed some pigs by the boat.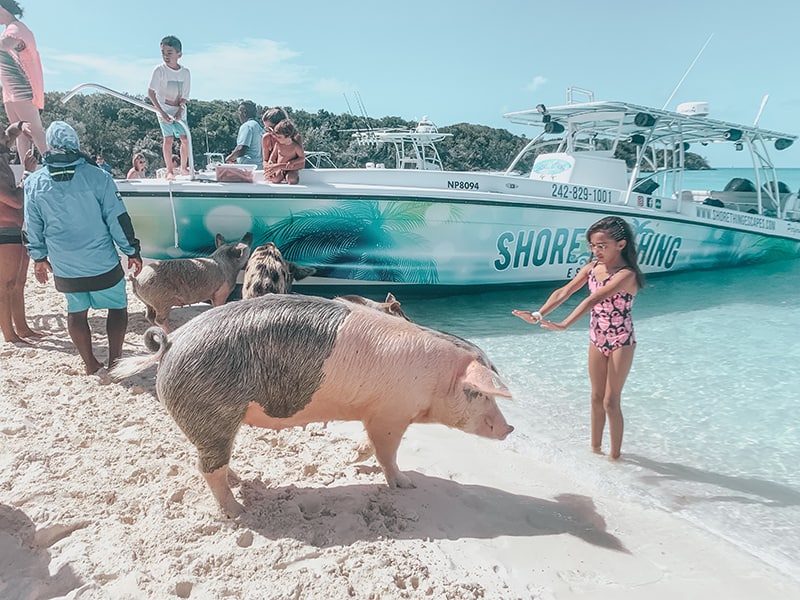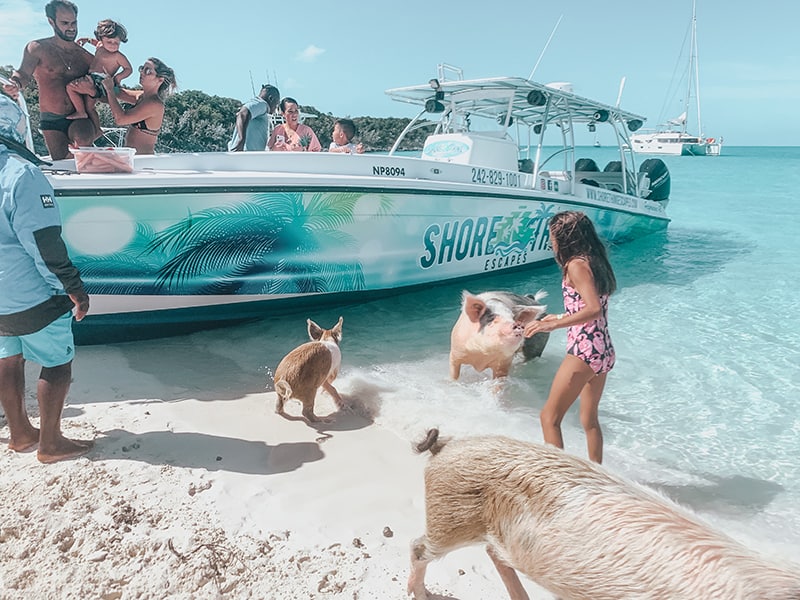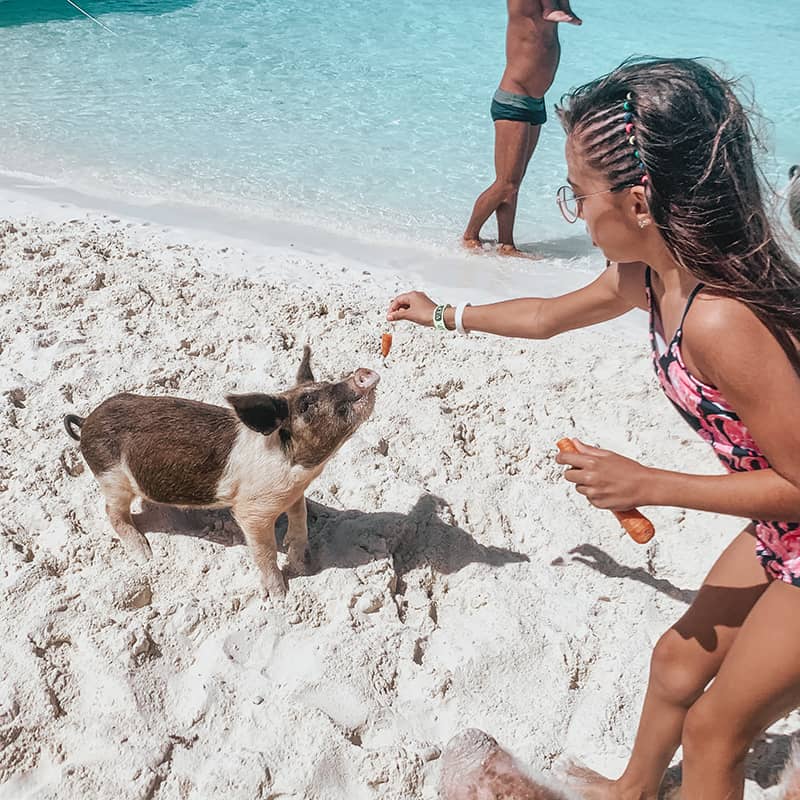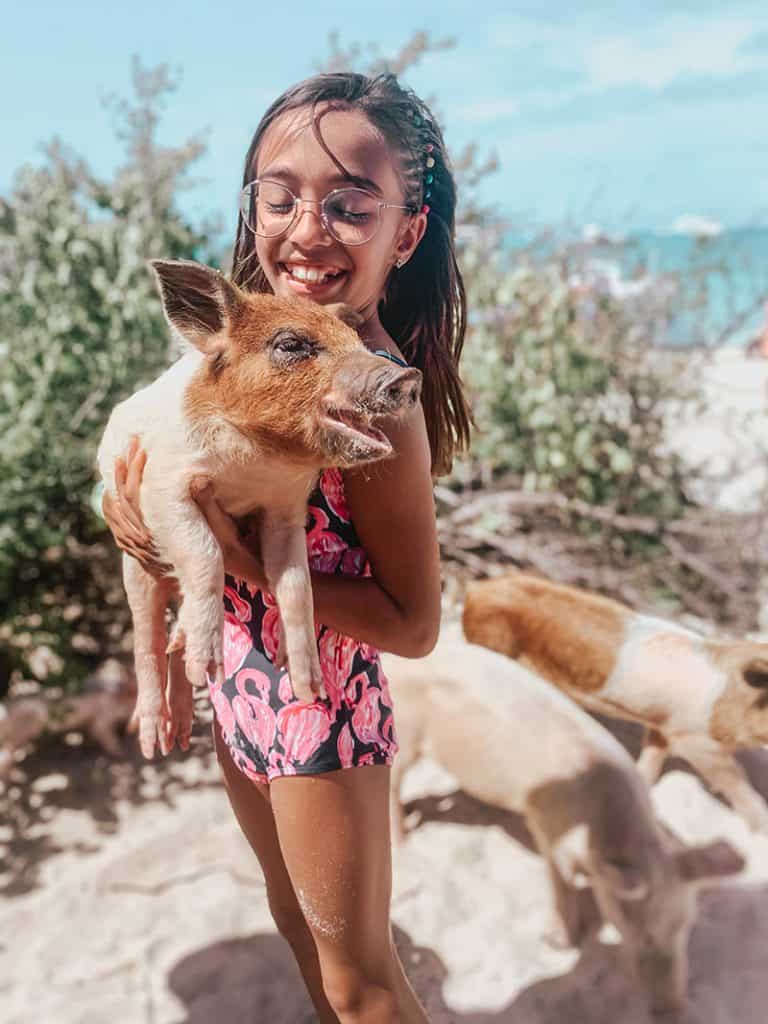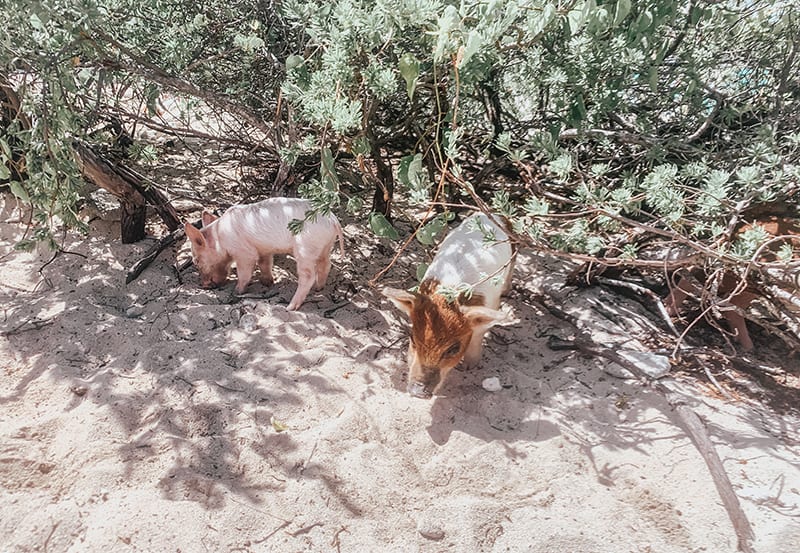 Stop 4 – Lunch at Black Point
After having time with all those animals, we were starving! This is perfect because the next stop on our Exuma day tour was at Black Point to have an authentic Bahamian lunch. And let me tell you…it was SO GOOD!
We pulled up to a dock and had lunch on a balcony overlooking the water at the cutest small restaurant.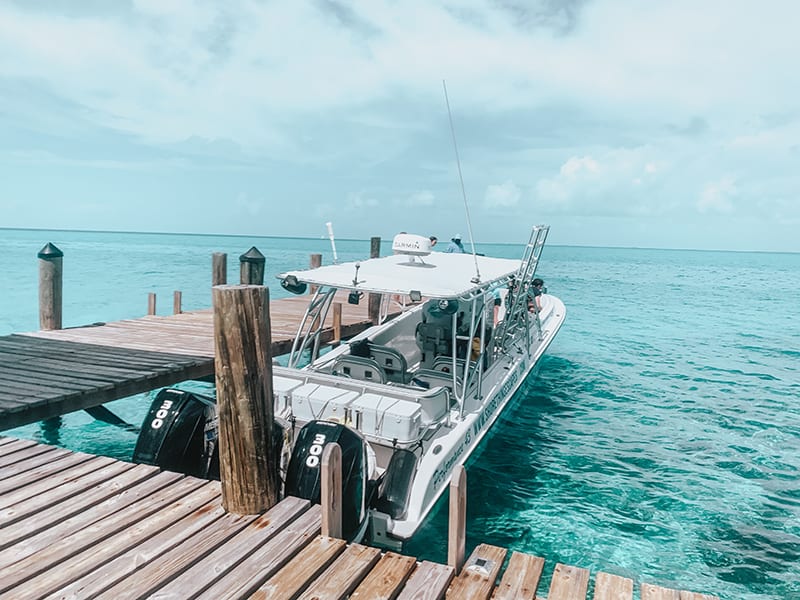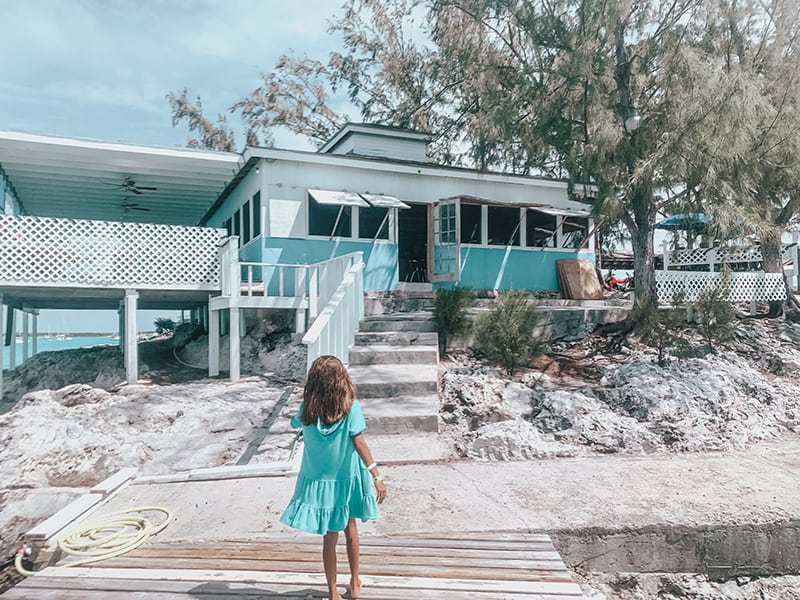 We were actually getting sick of resort food and were pleasantly surprised at the nice buffet lunch they had planned out for us.
We had an assortment of food and every piece was delicious. Even the kids enjoyed it (and they are normally picky eaters)!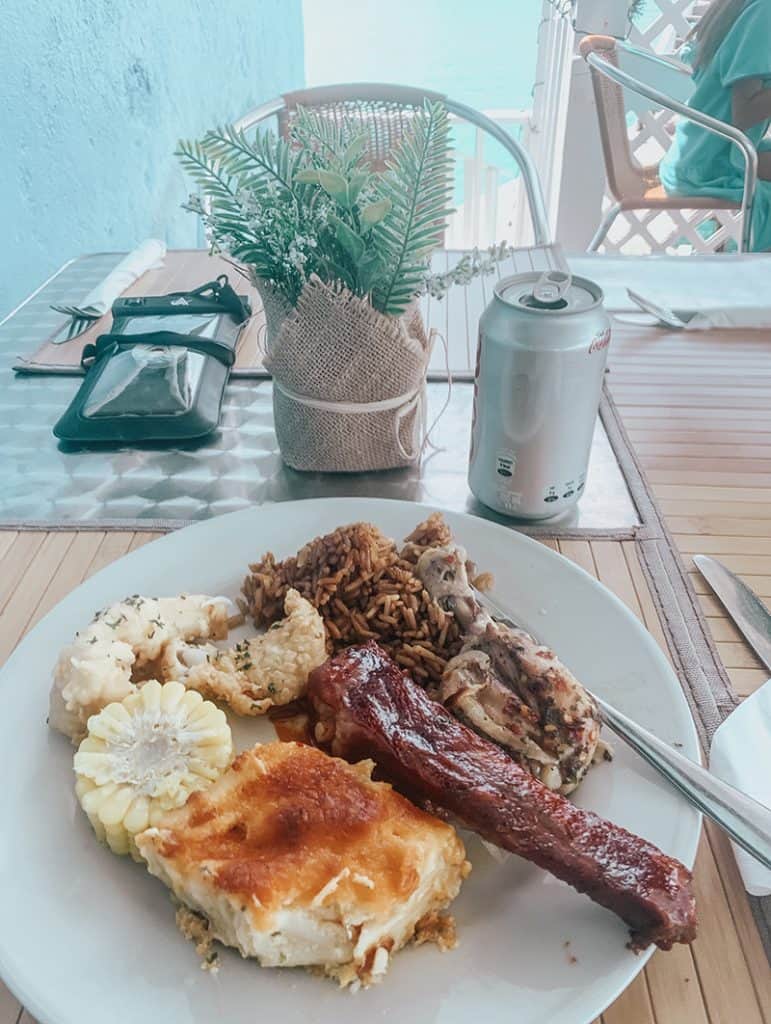 Our lunch menu consisted of:
Bakes Macaroni and Cheese
Fried Cod (this was unbelievably delicious)
Corn on the Cobb
Ribs
Rice and Peas
Grilled Chicken
Salad
Drinks (soda and water)
After lunch, we put the old wives' tale to rest by jumping in the water and not waiting 30 minutes after we ate! And guess what… we actually survived.
For the next 15-20 minutes, everyone took turns jumping off the dock and just having fun. The crew is really great and took pictures of everyone.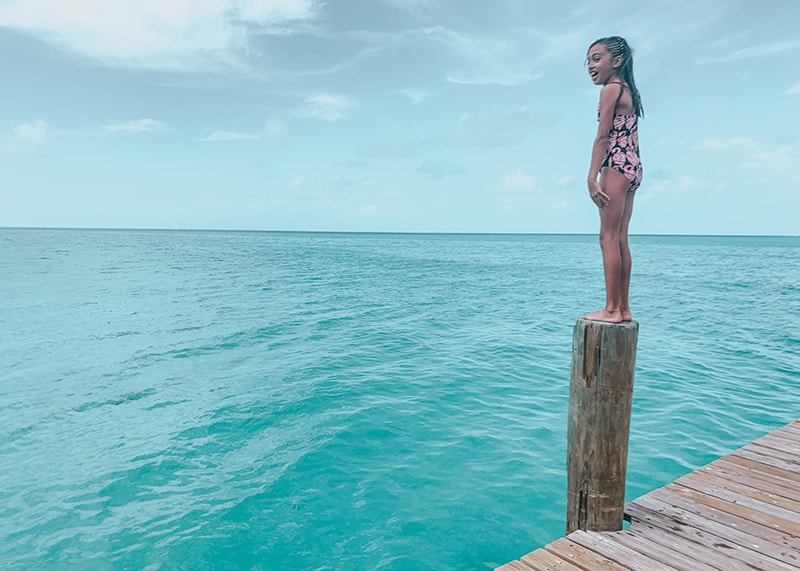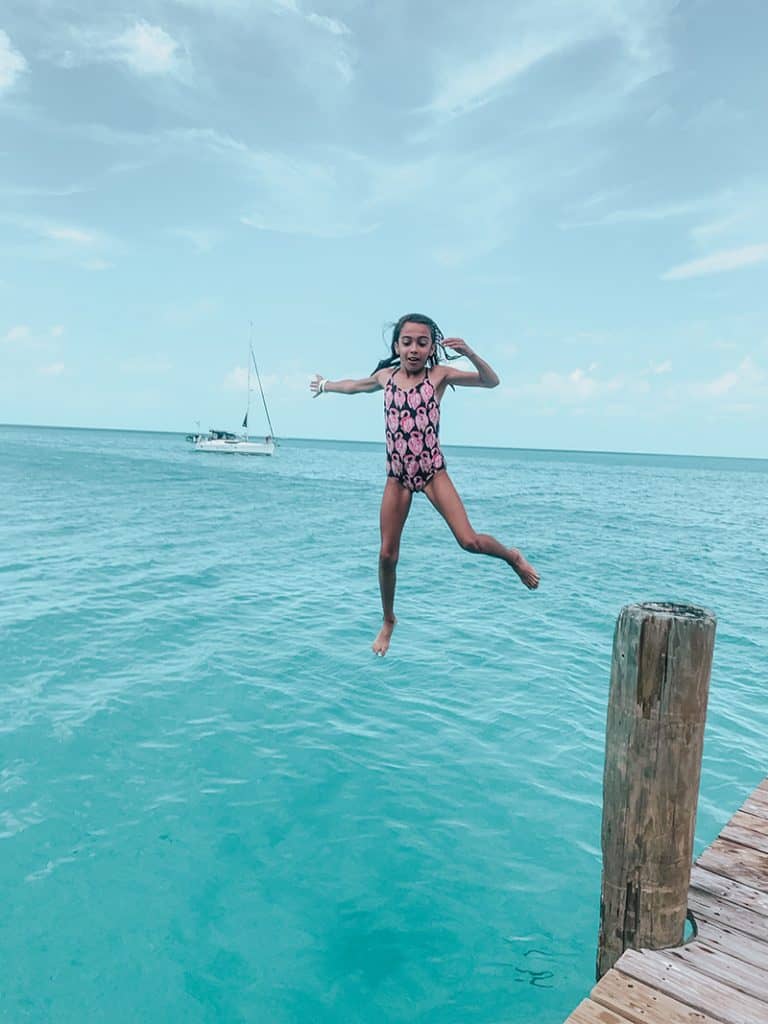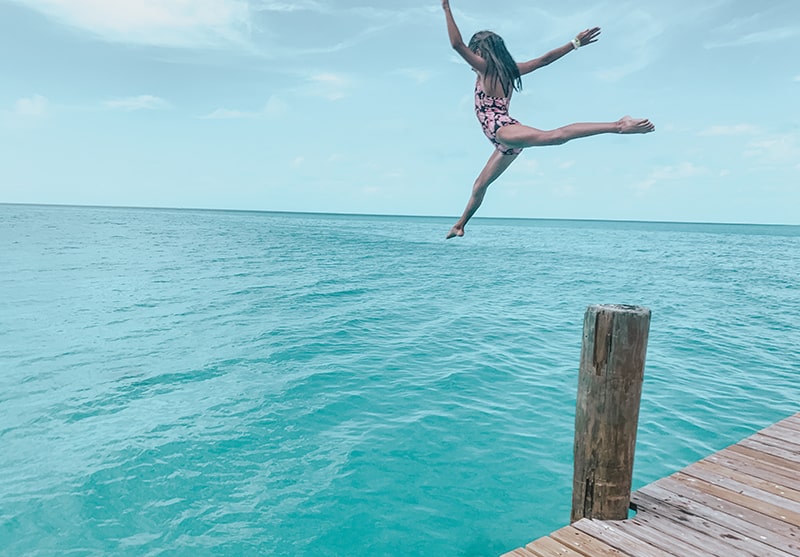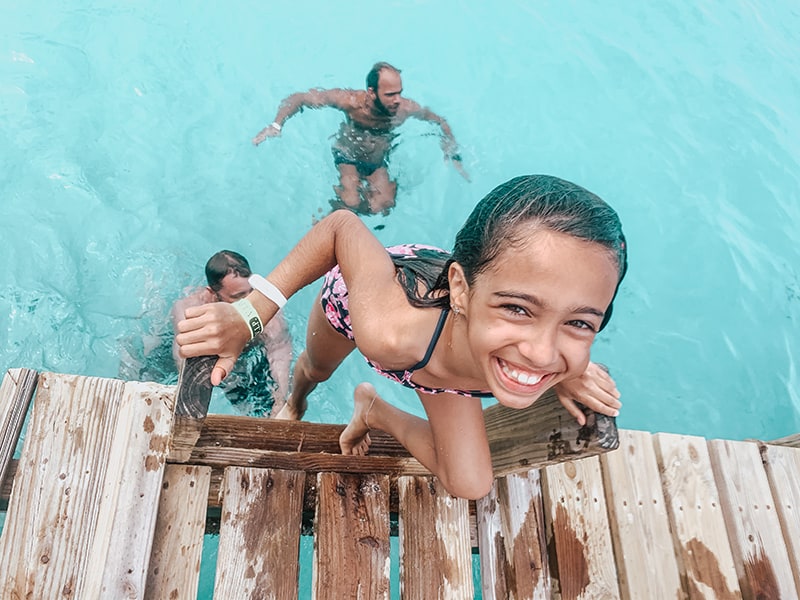 Stop 5 – Normans Cay to Snorkel a Plane Crash
Another 30-minute boat ride (it goes super fast!) and we arrived at Normans Cay to snorkel an old plane crash.
Not just any plane… a plane once owned by Pablo Escobar.
The plane was stashed full of drugs and was attempting a quick takeoff to escape the police, but didn't make it too far and ended up crashing a short way off the shore. Both pilots on board died.
The plane is still fully intact (although heavily rusted) and you can snorkel all around it. There were also tons of colorful fish and coral which made the snorkeling that much better. Shore Thing Escapes included all our snorkel masks for us! And even lifevests for the kids.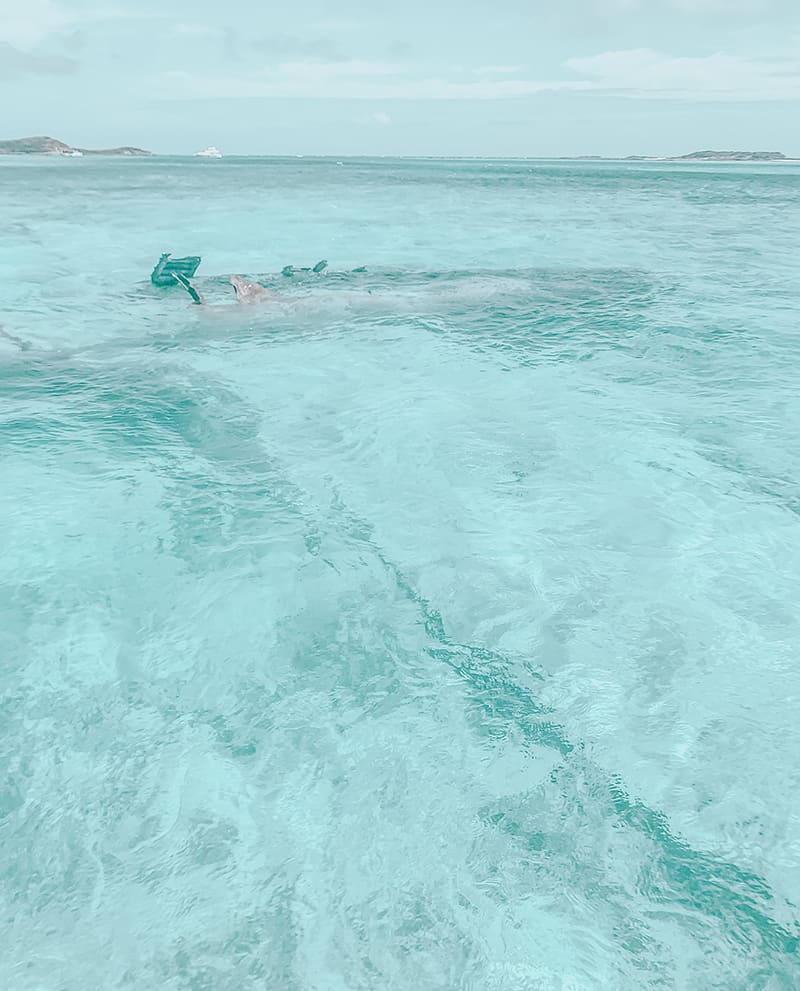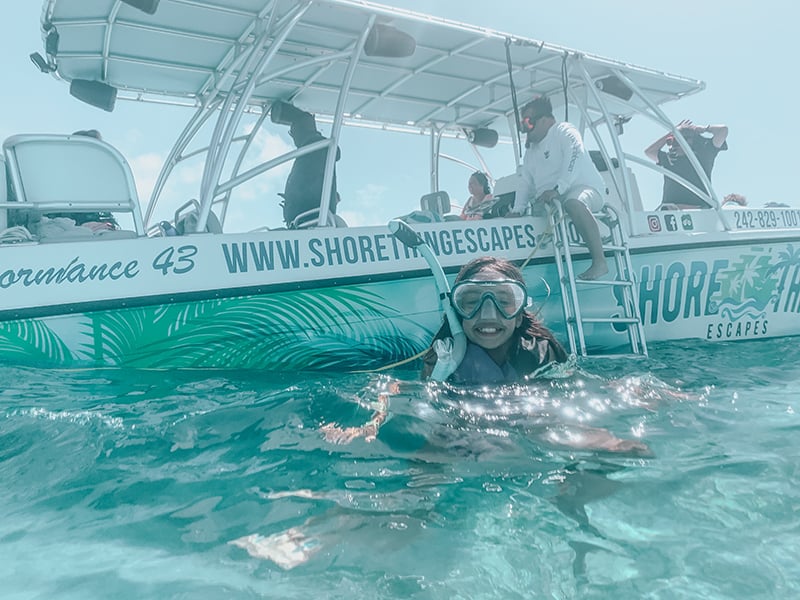 Stop 6 – Sandbar and Hidden Beach
The last stop on our excursion was the longest sandbar I had ever seen with a hidden beach. This sandbar was actually in the filming of Pirates of the Caribbean, where they exchange Davy's Jones heart.
Literally, you could walk and walk and walk and never get that deep. The sandbar was endless.
We got VERY lucky and were the first boat to arrive at the sandbar and got to take some incredible photos. But other boats soon showed up and it got really crowded.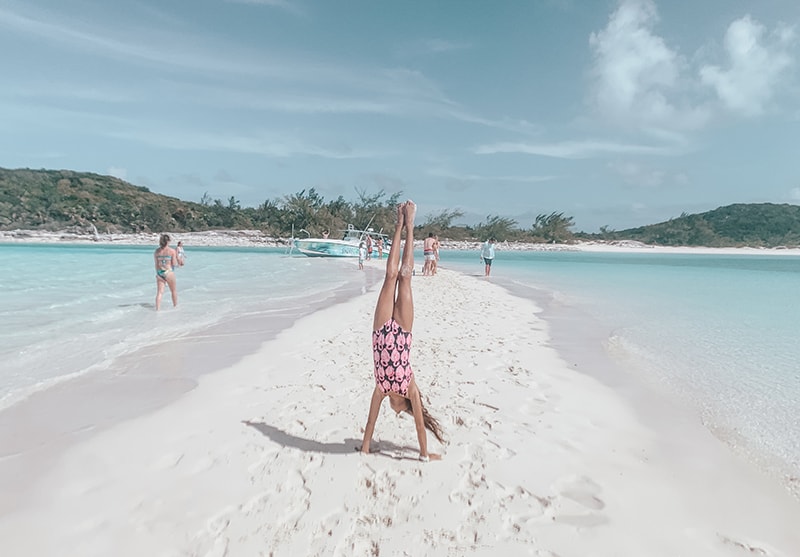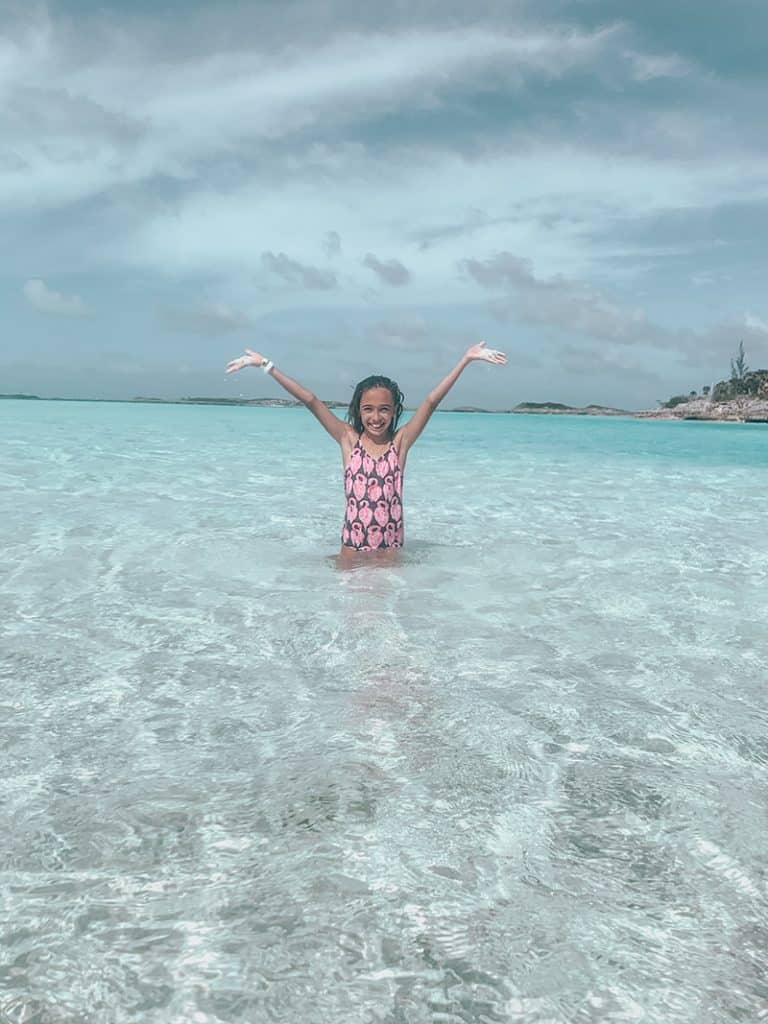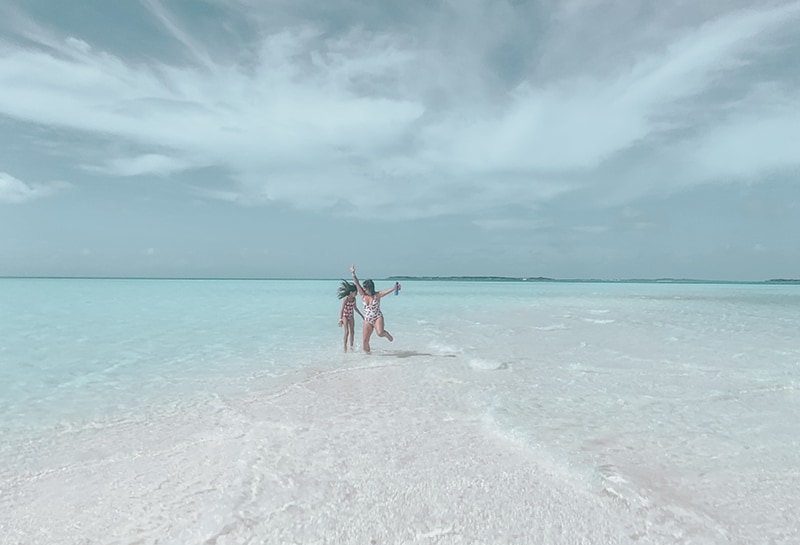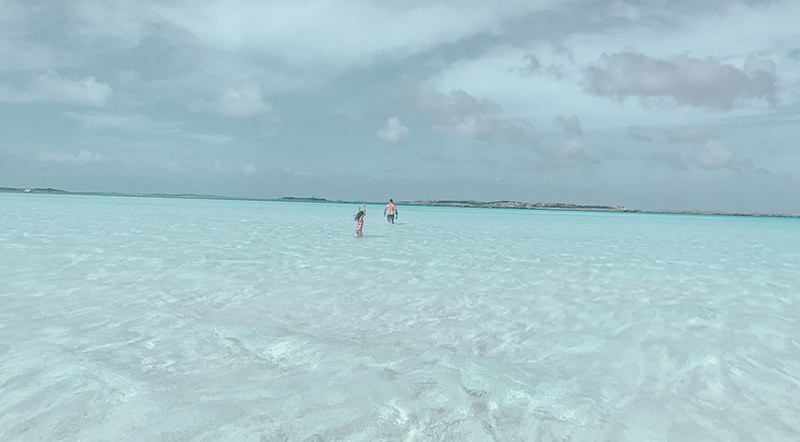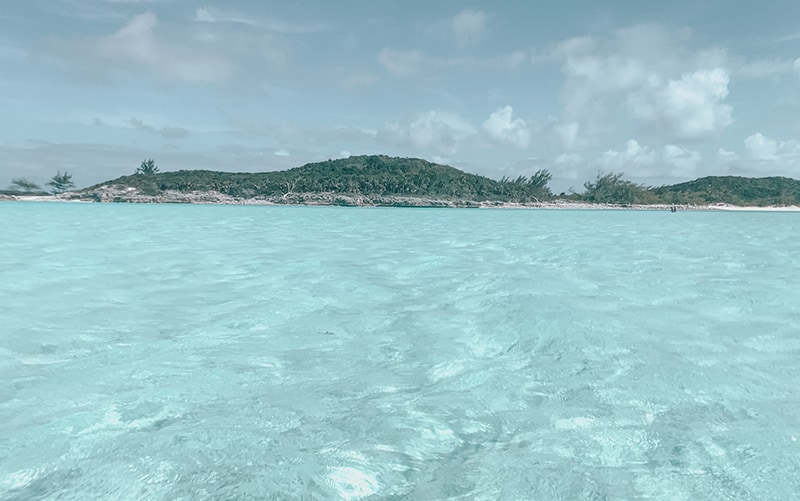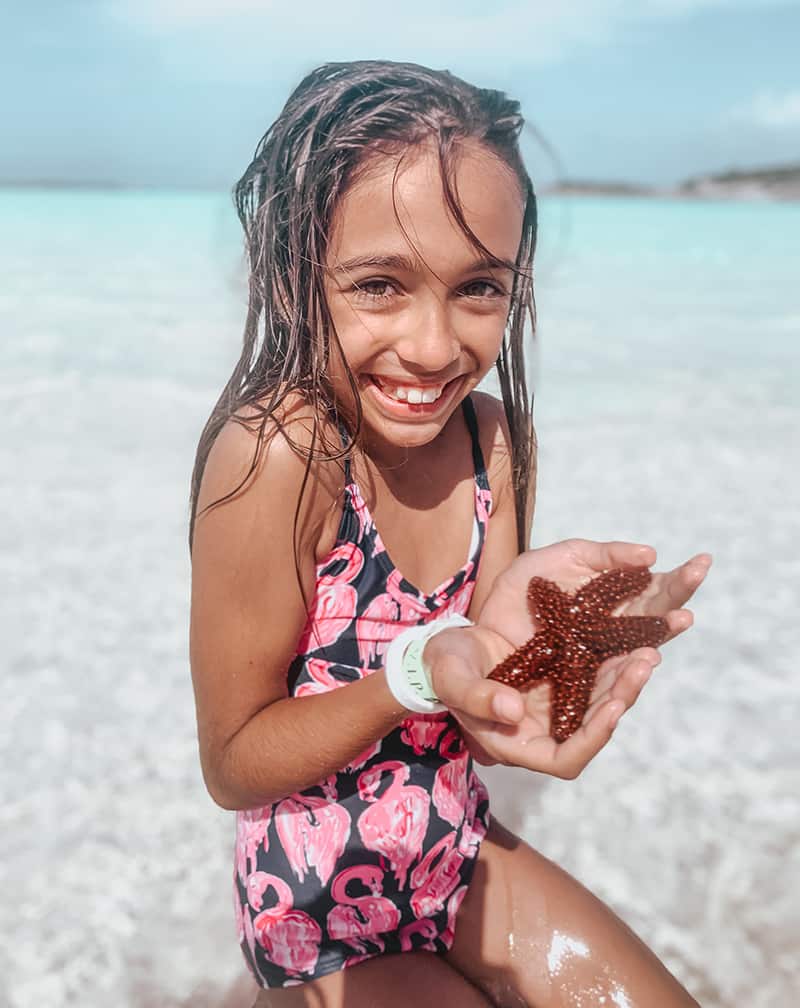 Why I LOVED Shore Thing Escapes
I know you can book with several other tour companies to go see the famous swimming pigs of the Bahamas, but there are several reasons why I would highly recommend Shore Thing Escapes for this trip.
They provide transportation. Which makes getting there and back super easy and efficient. One less thing to worry about!
They include a light breakfast, snacks, and plenty of drinks. They have soda and water for kids… and no limits on the Alcoholic drinks for the adults.
The boat has Wi-Fi on board! And it actually worked better than the Wi-Fi we had at our hotel.
The boat was comfortable. They had padded seats and even a bathroom on board. It also was not very crowded and everyone had room to really stretch out.
They give you a complimentary water bottle to use. And supply you with enough fresh drinking water for the entire trip.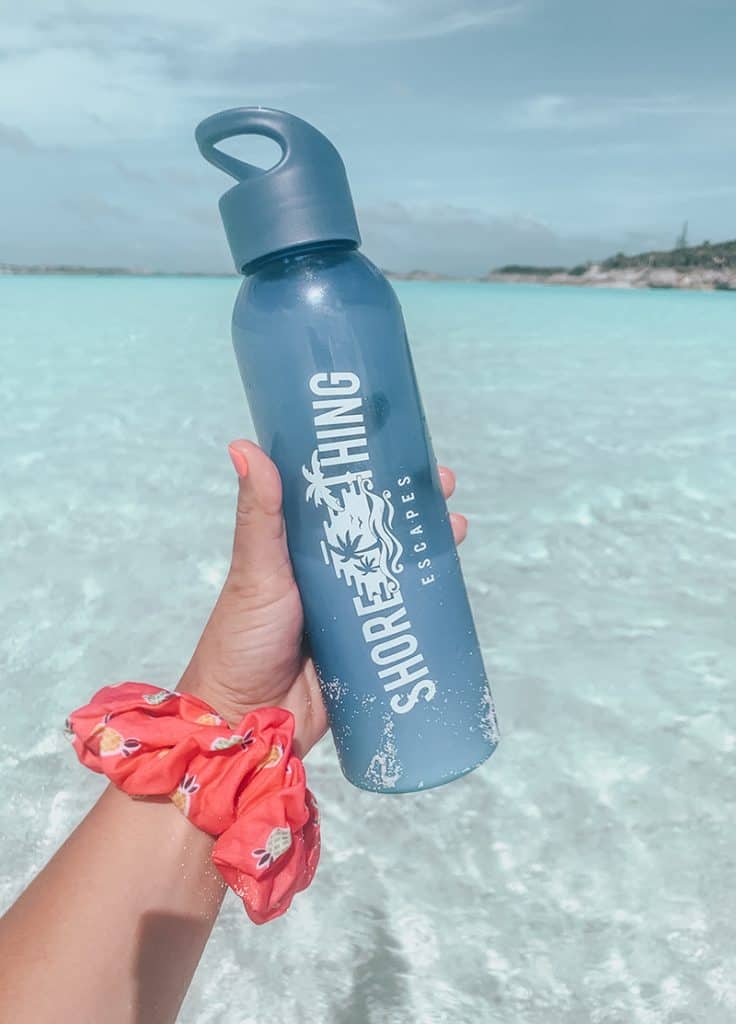 They are environmentally friendly and conscious. A portion of all proceeds go back into helping the environment and getting plastics out of the ocean
The Staff was AMAZING! I seriously cannot say enough great things about them. They were kind, friendly, and helpful. When my daughter's finger got bit by a pig, they attended to her wound right away and then spent extra time with her making her feel better.
They take your photos for you and they give you fun facts about where you are going and what you are seeing. The staff laughs and jokes and even has amazing dance moves we got to see on the boat!
They pointed out fun landmarks along the way… like Johnny Depp's private island and other famous celebrities' private islands… even where the Fyre Festival was supposed to be held.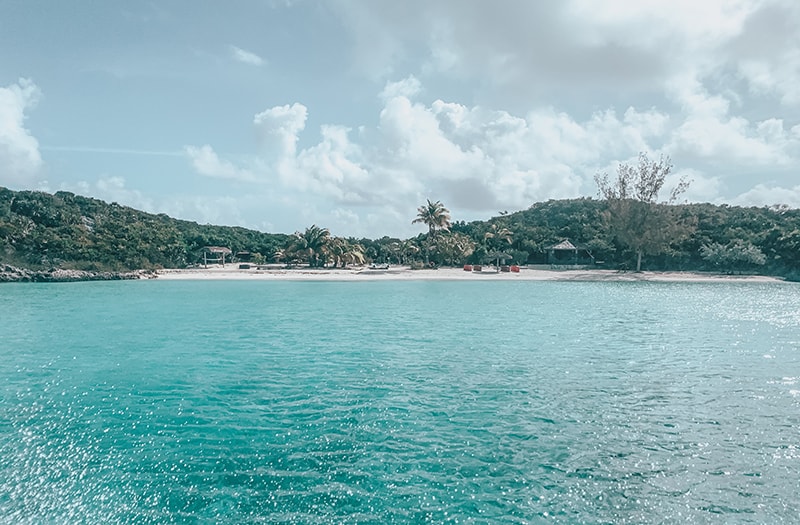 Follow more of our adventures and travel tips on Instagram!
If you do anything in the Bahamas…
Take the trip to see the swimming pigs! The pigs were so fun to see and experience but all the other stops really made this whole day unforgettable.
This one day was the best day of our entire trip, according to both the kids and the adults.
Swimming with the famous pigs of the Bahamas is just something you cannot miss.
Click here to get the best deal for this full-day excursion!
You Might Also Be Interested In:


Pin for Later!