Review of Grand Hyatt Baha Mar Resort in Nassau
Baha Mar is quickly becoming one of the most popular resorts in the Bahamas and it's not hard to see why. Its bright colors and beautifully designed pools and beach area make this place a top pick for your trip to Nassau, Bahamas!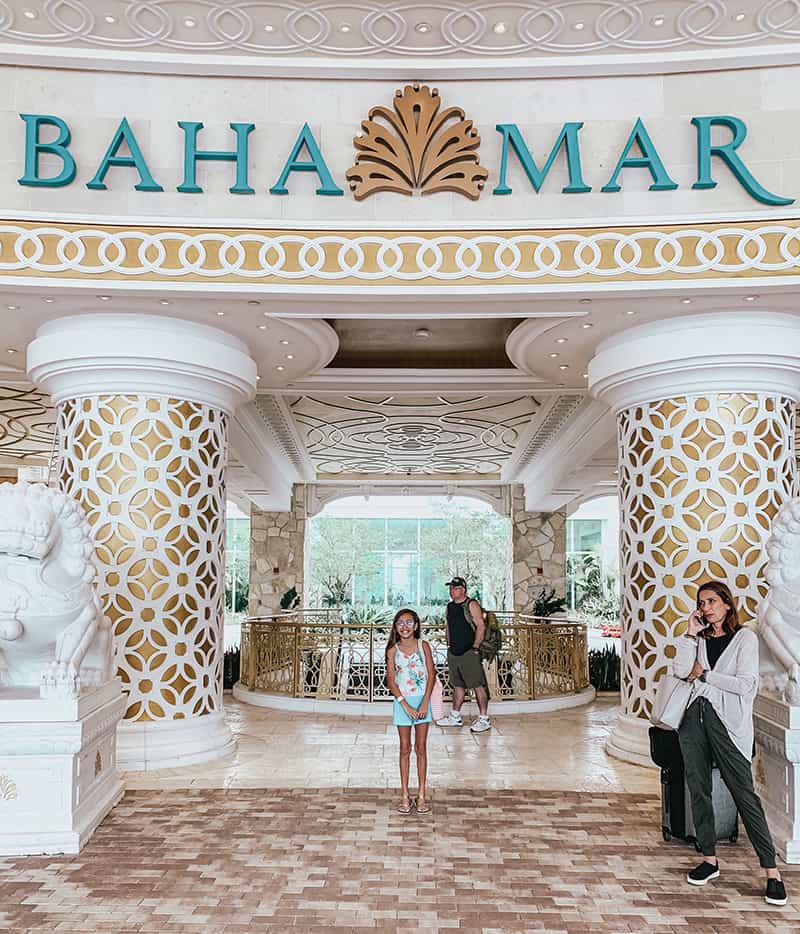 Review of Grand Hyatt Baha Mar Resort in Nassau
We recently spent 4-days at the Baha Mar Resort in Nassau and had the time of our lives!
When looking for places to stay for our upcoming Bahamas family trip, I couldn't decide if we should stay at Atlantis or try to experience something new. So I ended up booking both!
The more and more I read about Nassau, Bahamas, the more the name 'Baha Mar' kept popping up. And I knew the moment I saw the photos that I wanted to stay there.
So we ended up splitting our trip in half. We spent four days at Atlantis and 4 days at Baha Mar. I can tell you hands down that the Baha Mar Resort was our favorite and I wish we would have stayed here the whole time. Even the kids loved Baha Mar more than Atlantis!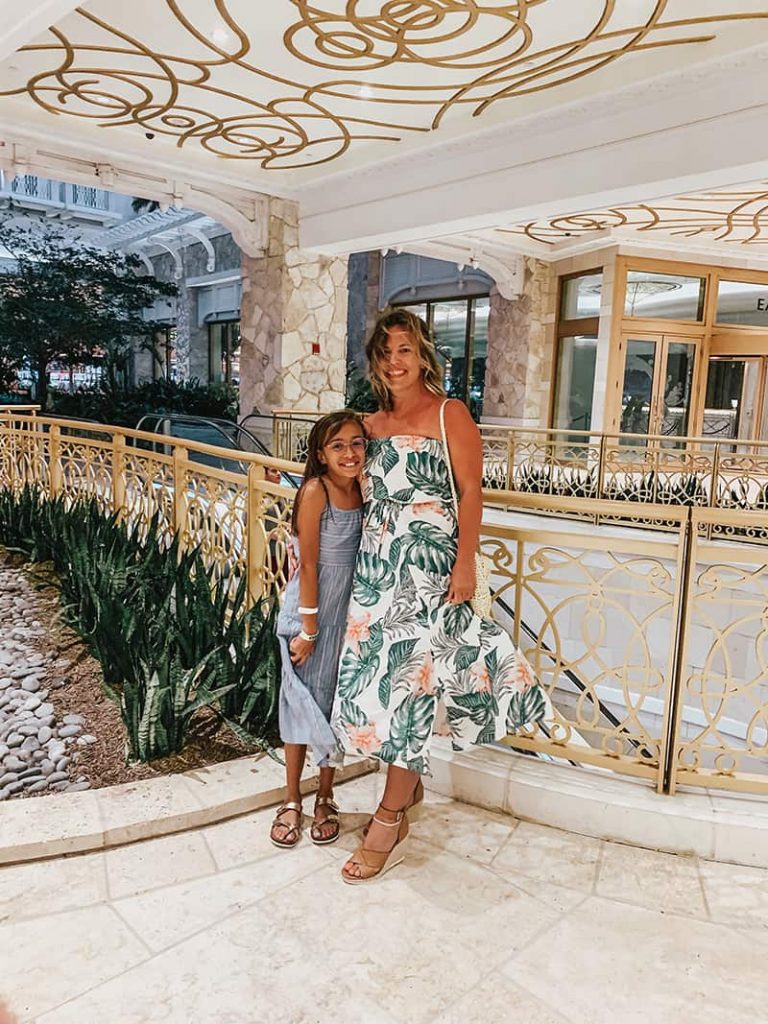 The Resort
Baha Mar is only a few years old (built in 2017) and it's very apparent. The design and decor are impeccable and everything is clean and modern.
From the second you pull up to the towering walls of waterfalls and step inside the glamourous reception, you feel like you're at a really really expensive resort!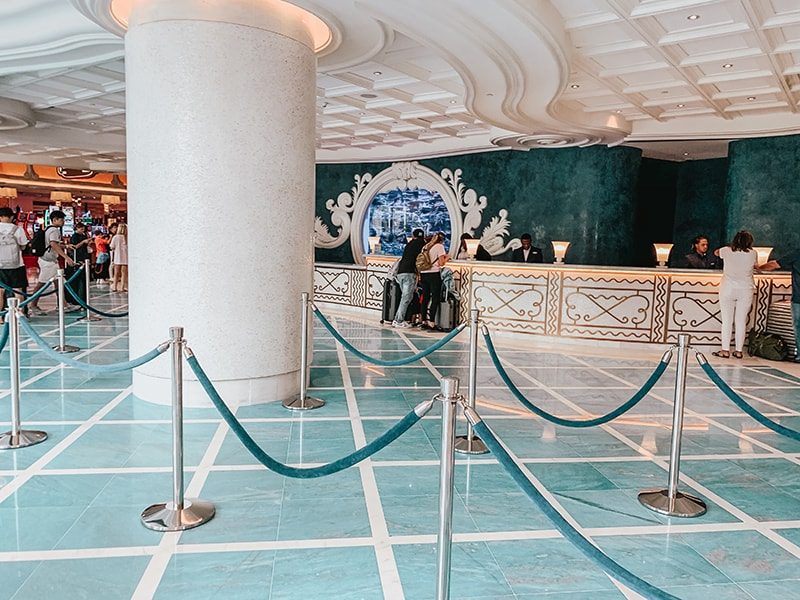 Just walking through Baha Mar is an experience in itself. The casino is the biggest in the Bahamas and every detail from the floors to the windows and giant crystal chandeliers will make you swoon.
The rooms are no bigger than a regular hotel room but the design of them makes you feel like you are staying in a luxury resort. My daughter actually screamed "We are SO rich!" when we walked into our room.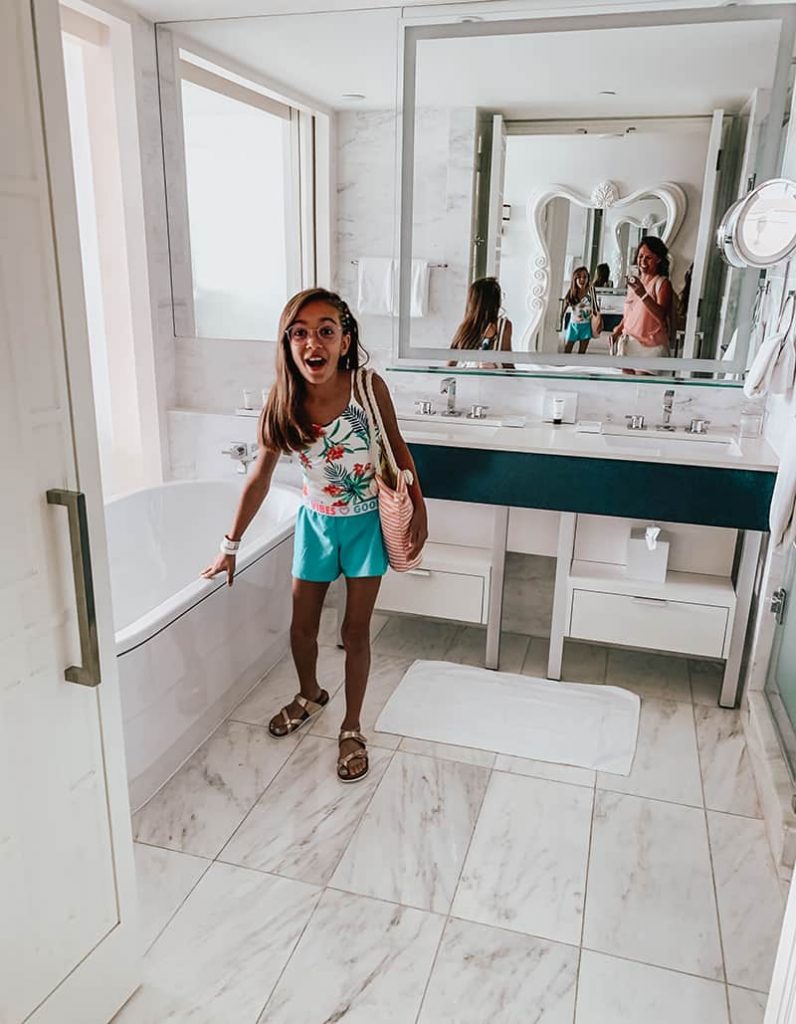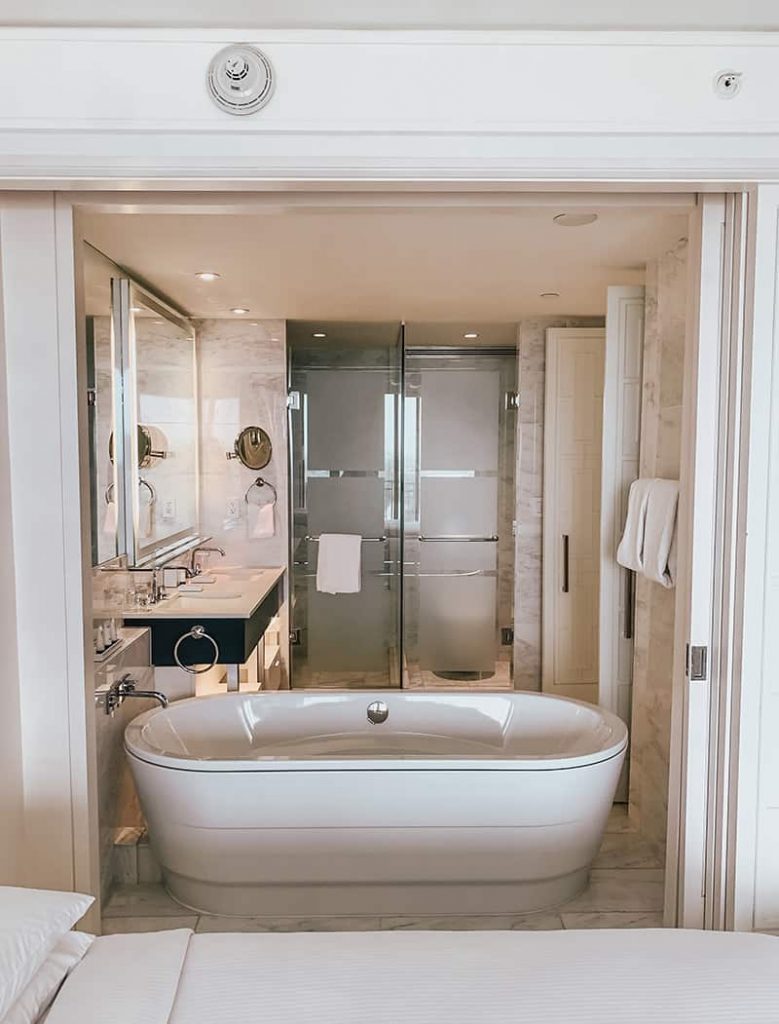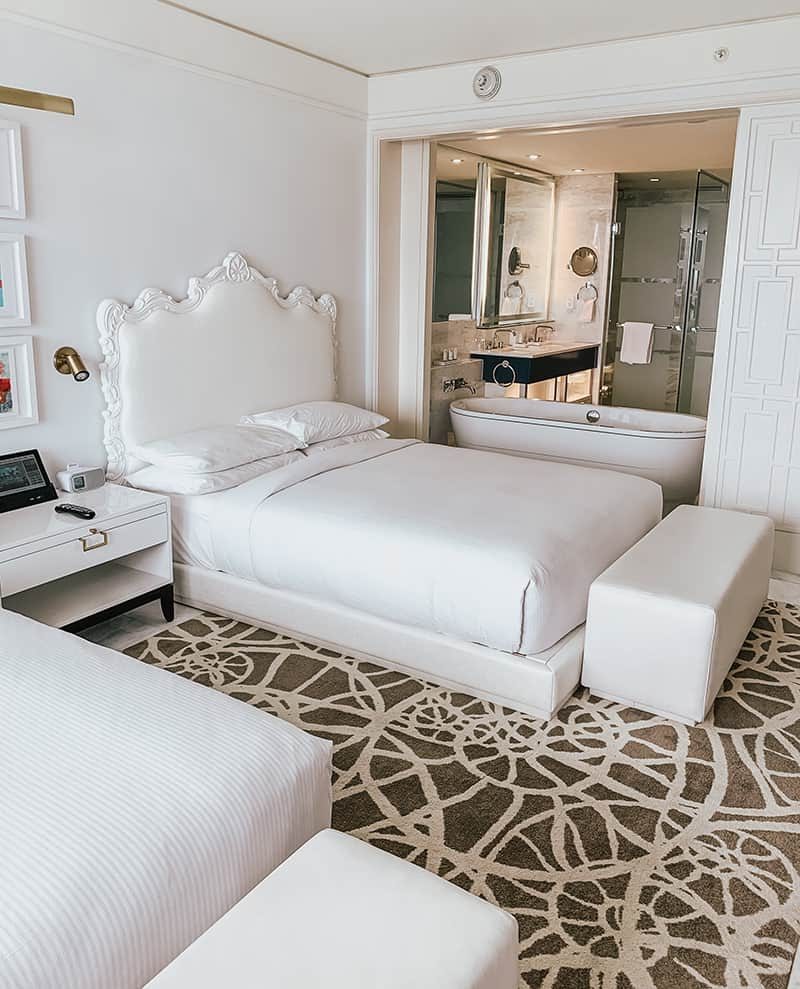 The bathroom is big and luxurious with a giant soaking tub and a big door you can open to the room or close for privacy. There were also several chargers and USB ports everywhere and even an iPad you can play games on or order room service with.
Even the wristband they give you is pretty cool. It's electronic and acts as your room key and lets you charge food and drink to your room. So you never need to worry about bringing cash with you to the pool.
*We do, however, use this nifty little gadget to lock up our phones and valuables at the pool.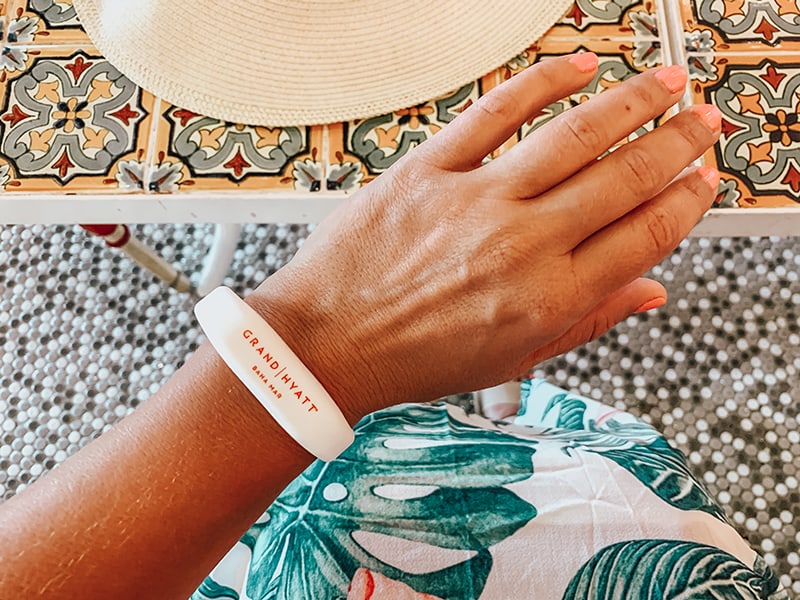 The Restaurants at Baha Mar Resort
The only negative thing I could ever say about Baha Mar is that the food is VERY expensive. But that's the same everywhere you go in Nassau, so you have to just budget for that. I did request a microwave and mini-fridge for our stay but we never got them.
The cheapest way to have breakfast is to grab something from Starbucks, or their other coffee shop, Cafe Madeline. But even just drinks and a donut for 4 people cost us $50. I would definitely say we spent as much on food as we did on the cost of the room, maybe even more.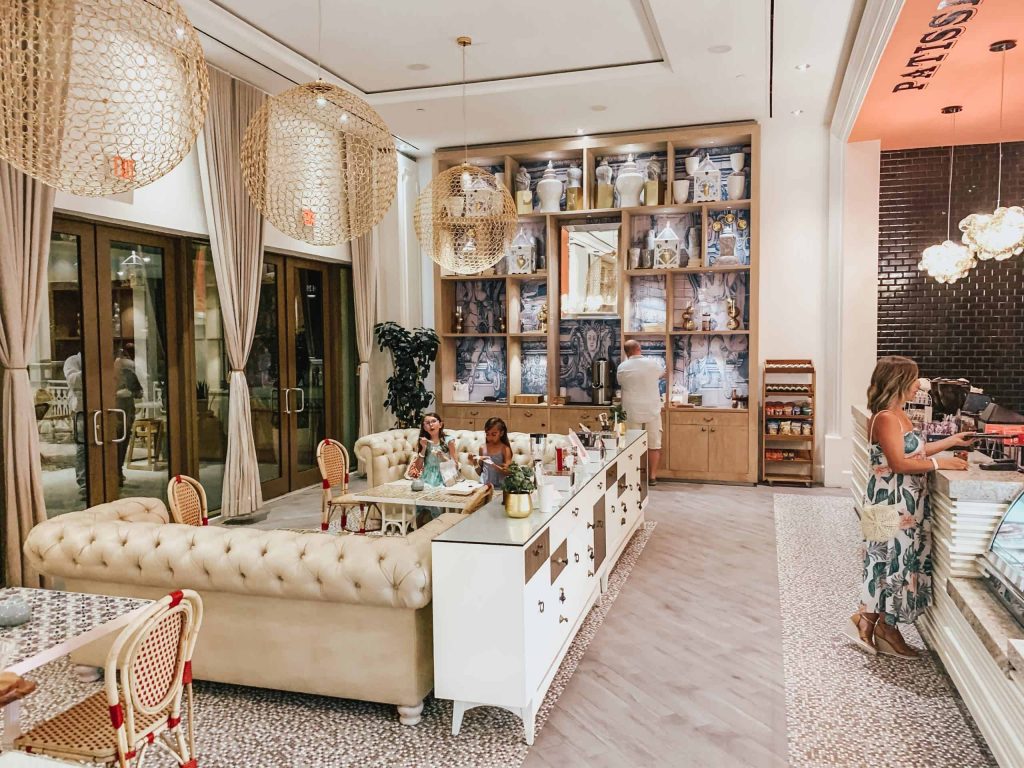 There are way too many places to eat to mention or even try but I'll tell you about the ones we went to and really enjoyed.
Cafe Madeline did end up being one of our favorite spots to visit. The coffee was so much better than Starbucks and they had really good pastries and breakfast sandwiches in the morning. Then at night, they had desserts and gelato.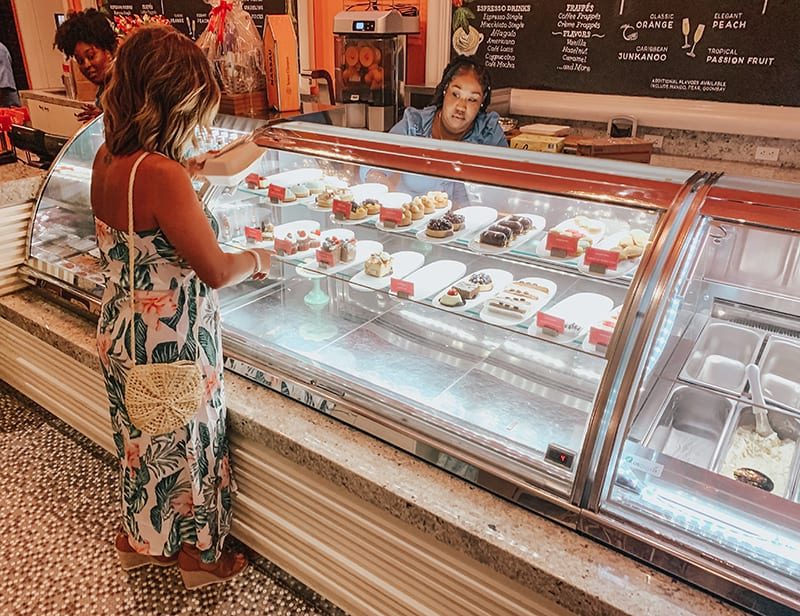 3 Tides Fish House – This was a great dinner spot for all of us. The kids were able to get their chicken fingers and we had the best grouper with lobster sauce. There was also some kind of dessert we saw that resembled a towering milkshake with cotton candy on top, but we were so fun we didn't try this.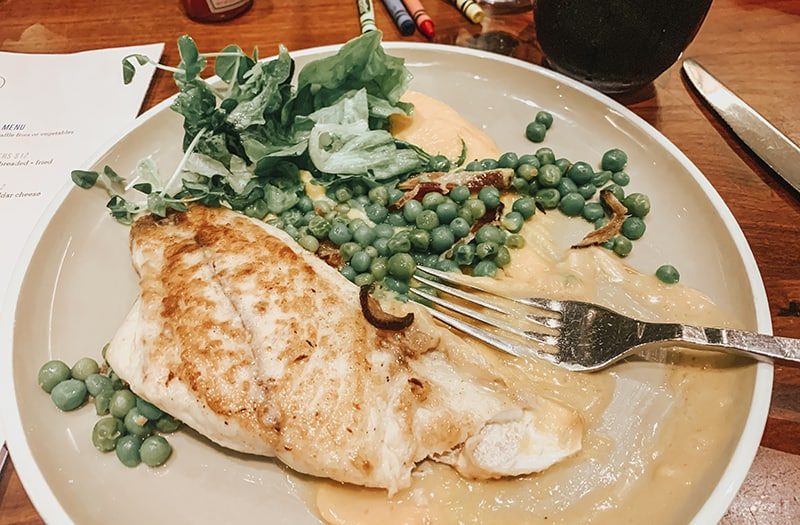 Pizza Lab – You can walk in and grab food to go from their take-out counter. Or sit outside (or inside) and enjoy everything from fresh pizza to an assortment of pasta dishes.
Stix – you can grab some great Chinese rice and noodle bowls here, made fresh while you watch. The prices weren't too outrageous. And the kids enjoyed a teriyaki chicken bowl while I had a quite large Pad Thai bowl.
Sandy Dog – This was one of the cute food trucks out by the beach. They had all sorts of hot dogs with tons of toppings. I loved the chili and cheese hot dog. And you could get the meal for $15 which included a drink (including beer) and a bag of chips. Perfect for a quick lunch out by the beach.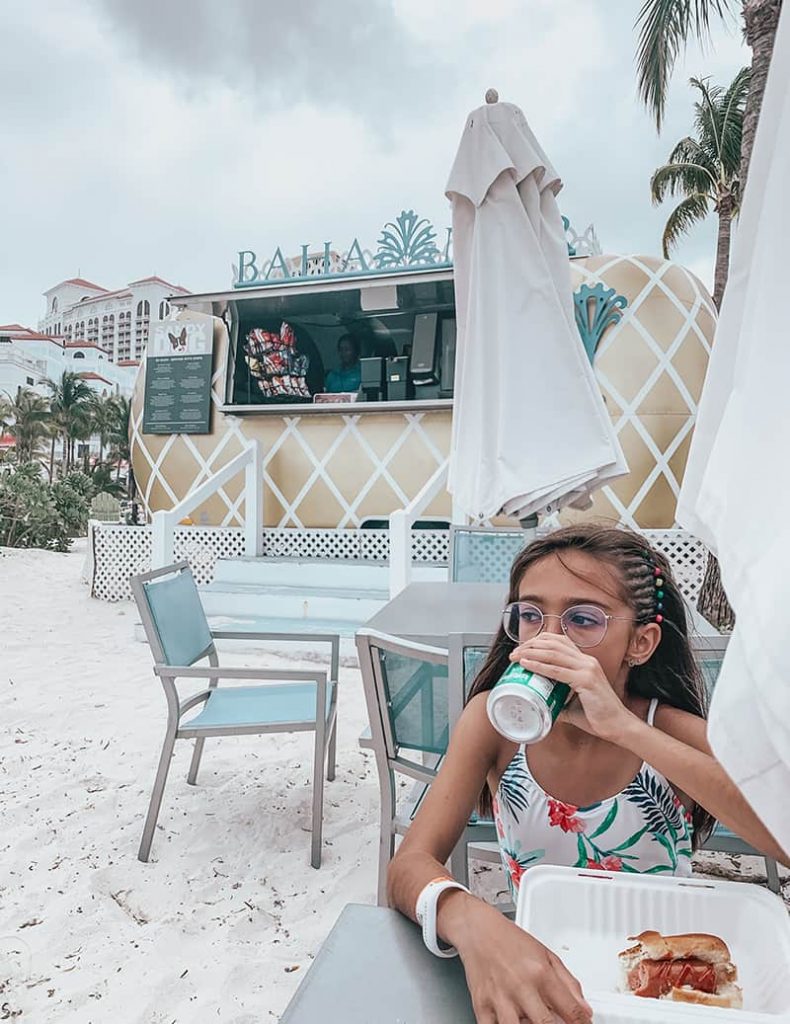 El Jefe – Another cute food truck! El Jefe served all types of Mexican food from burritos and nachos and tacos.
Drift Bar and Pool – A bar and grill by the pool. We only had drinks and snacks here but we loved the poolside seafood ceviche! Not to mention the Pina Coladas, but that's just me.
Regatta – Regatta is a buffet restaurant open for breakfast, lunch, and dinner. you just have to check the times to make sure they are not closed as they are during some parts of the day to switch the menu. You won't find any authentic Bahamian cuisine here, but you will find an assortment of food that will please anyone in your family.
TIP: If you want really good, really inexpensive food… you can easily go to downtown Nassau for that. We took the Jitney (local bus) over to Fish Fry and had some really amazing conch fritters and grilled lobster for less than $20. The jitney is only $1.25 per person so all four of us rode it for $5. And it's mostly made up of tourists so we felt completely safe.
The Pools and Beach
Baha Mar may not have waterslides as Atlantis does but what they do have blows Atlantis out of the water. The pools (there are several!) are all unique and have fun features.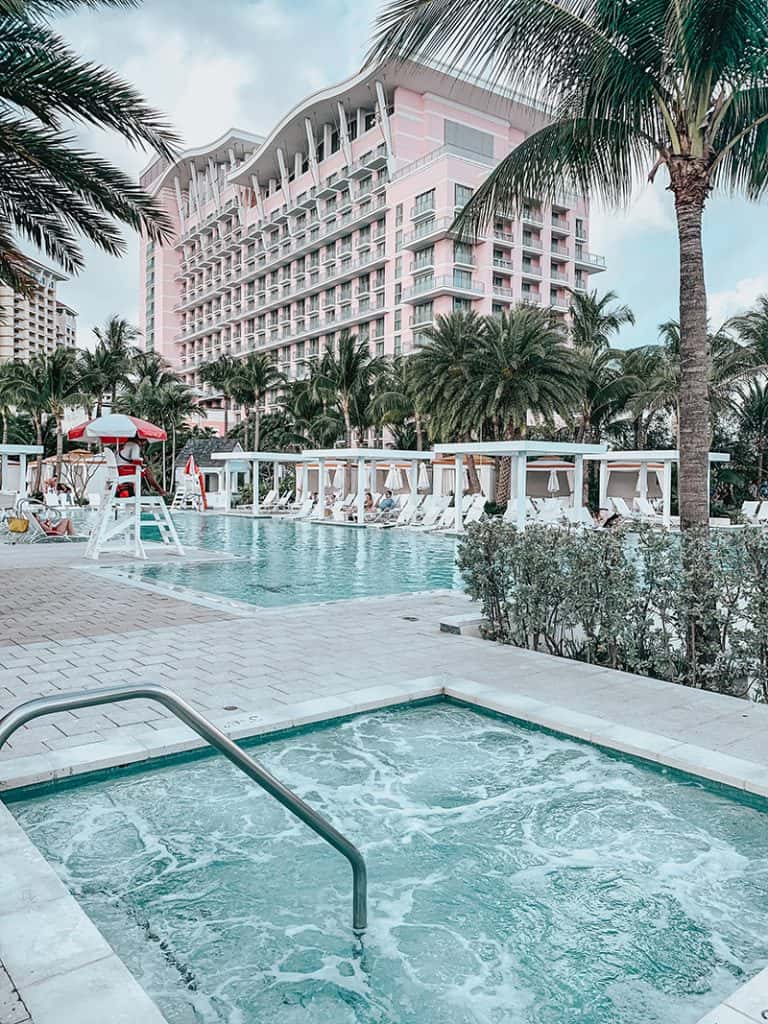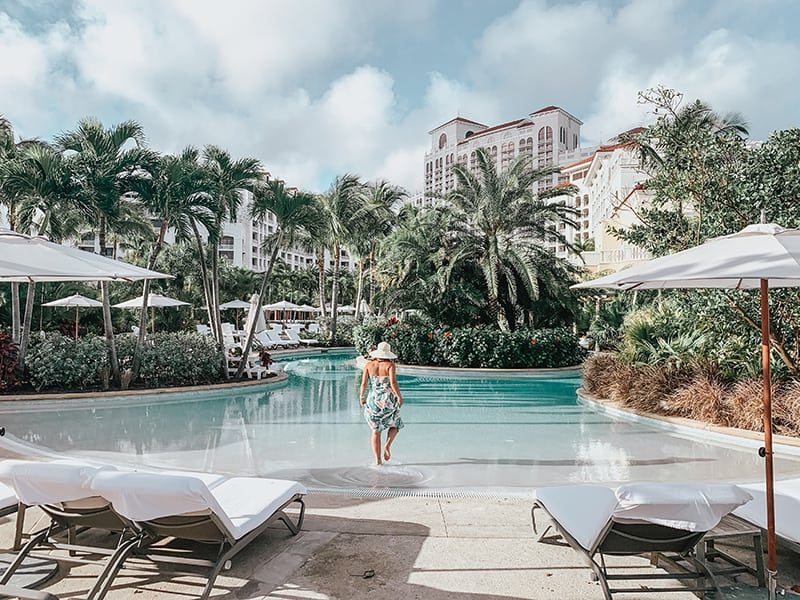 There are some adult-only pools. And even one pool where you have to rent a cabana to be able to access it. It looked so peaceful and relaxing because there weren't too many people in that one!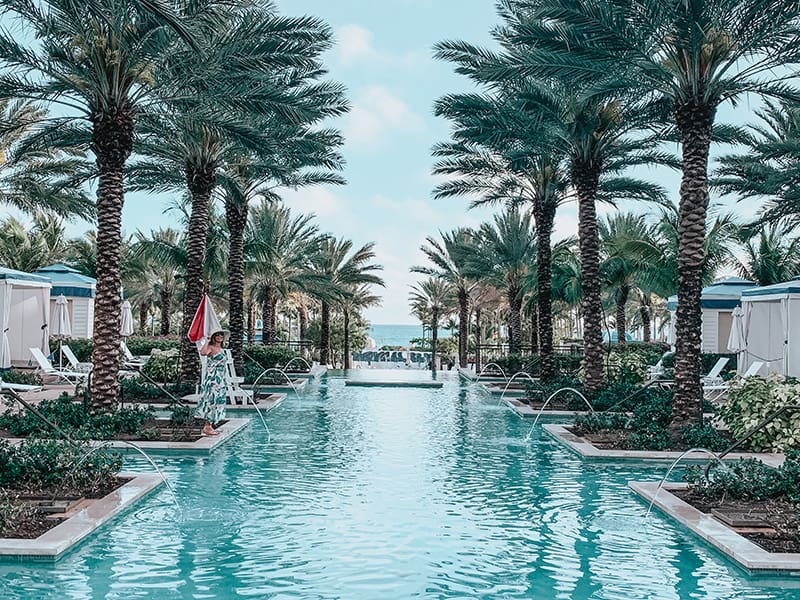 Our favorite pool was down by the beach area. It had zero entry so you could walk right into it. But it also had these rocks you could walk up and jump off into a really deep section like you were cliff jumping. I even tried this out and it was really fun! And much higher than it looks!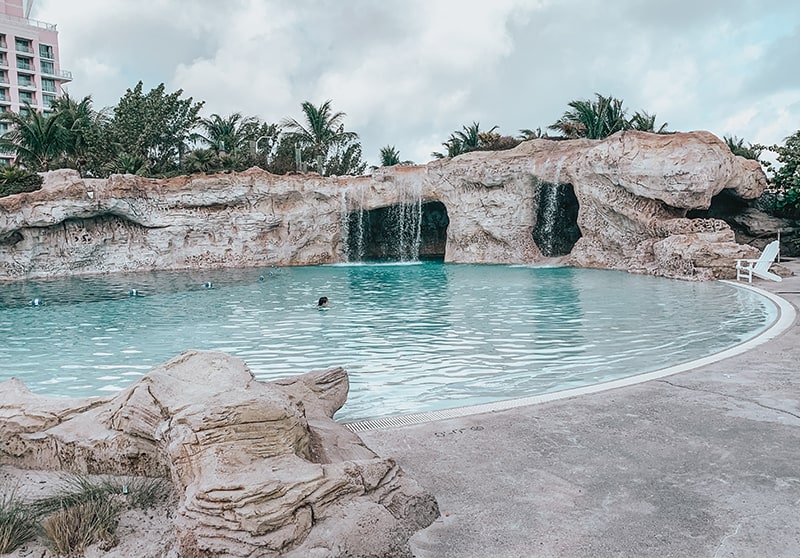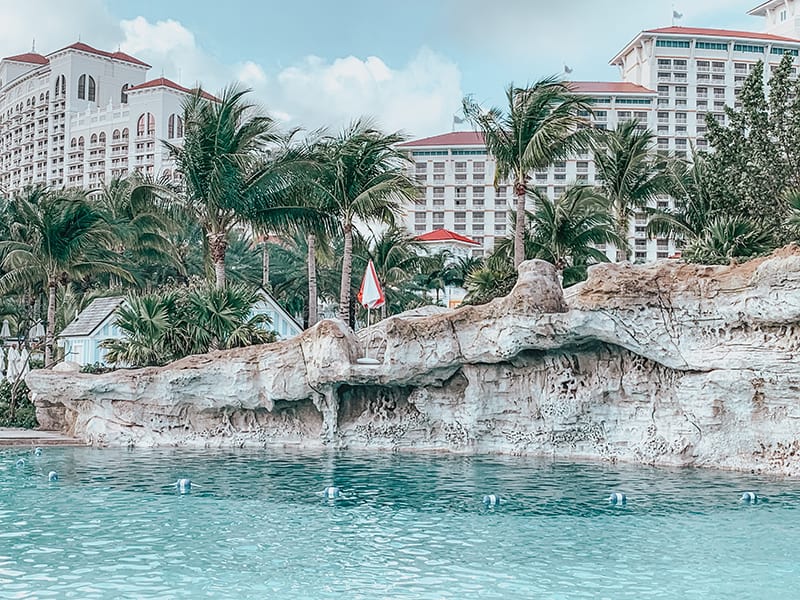 The same pool had a giant aquarium where you could stand in a waterfall or view the underwater sea life. If you like taking Instagram pictures, you will be in heaven here!
So you could walk into a giant cave-like area and view sea life and just walk around under the rocks.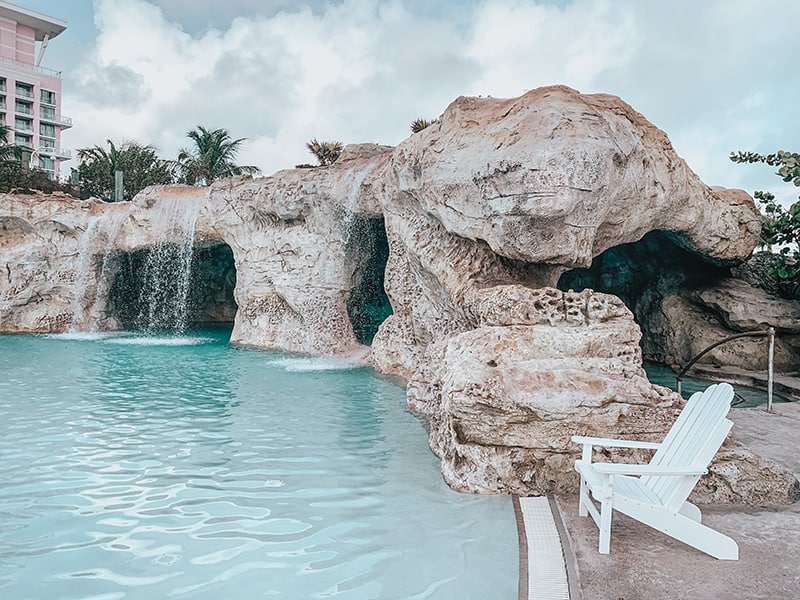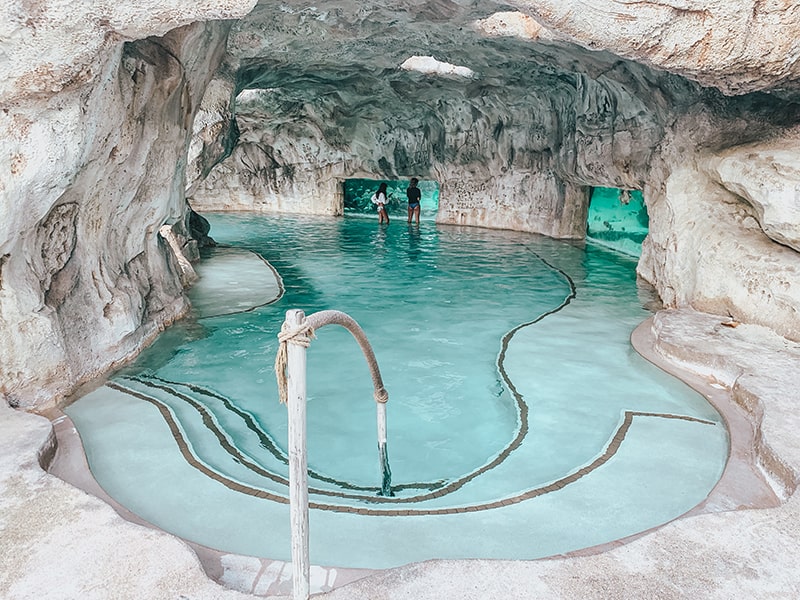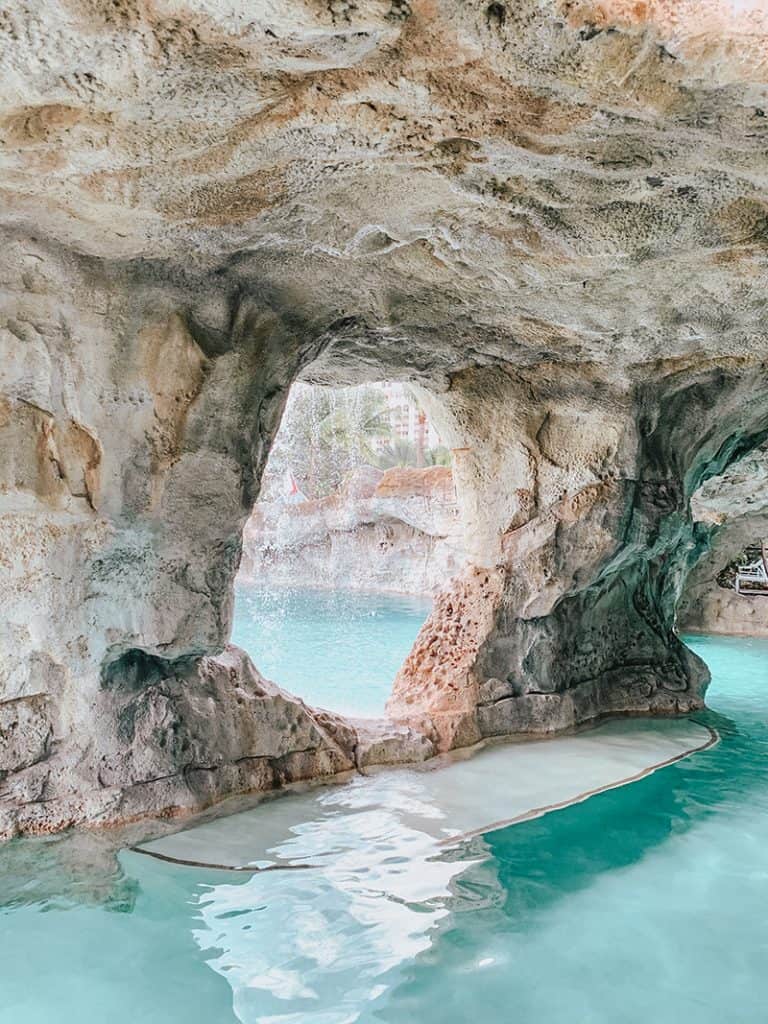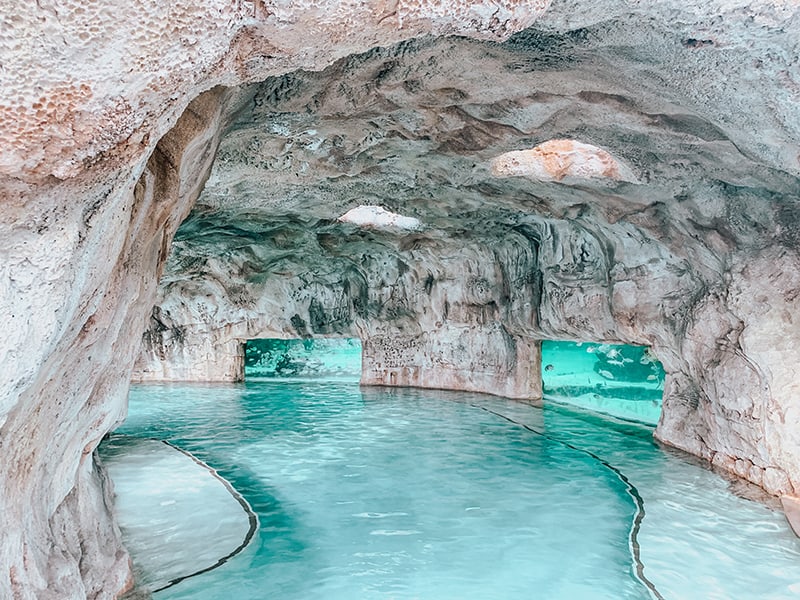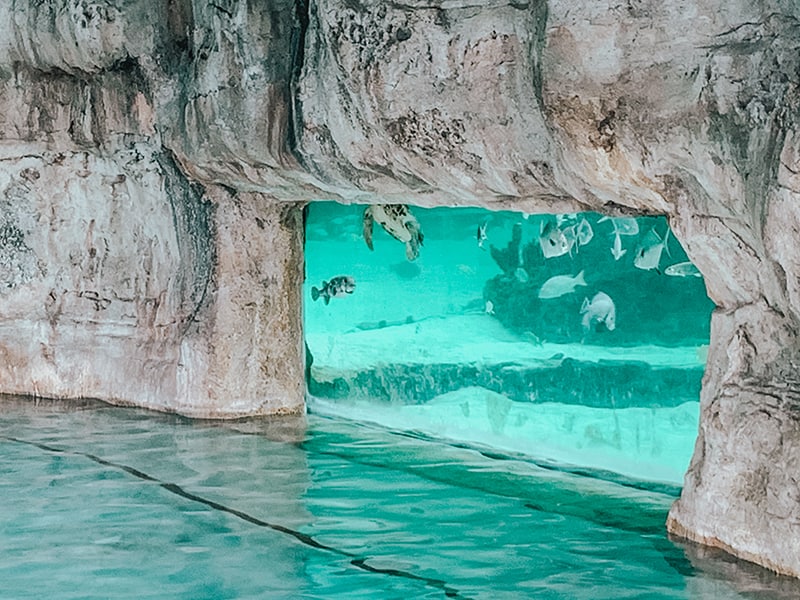 I want to also mention that there are bars sprinkled around every pool and we did not have a hard time finding some drinks or snacks throughout the day.
If you came to the Bahamas to see the beach and the ocean, you are in luck! Baha Mar also has a ton of beachfront where you can swim and play and plenty of lounge chairs out there too.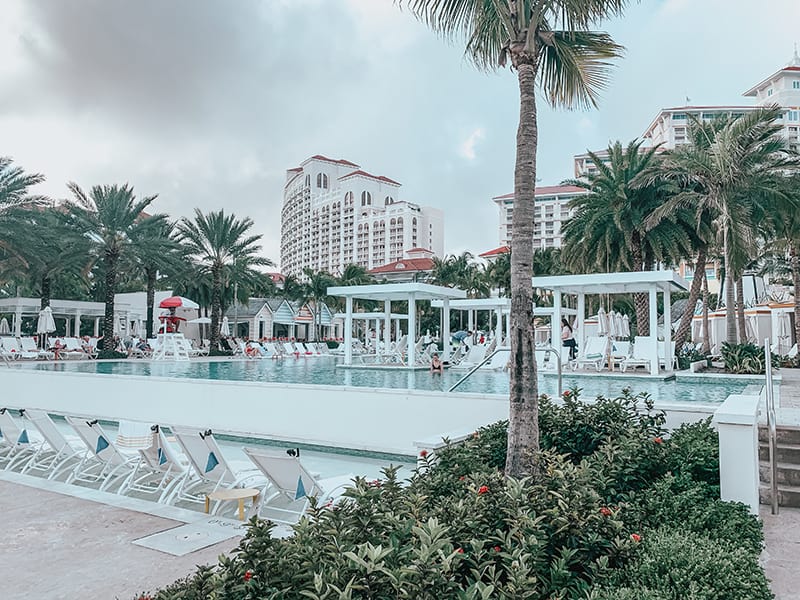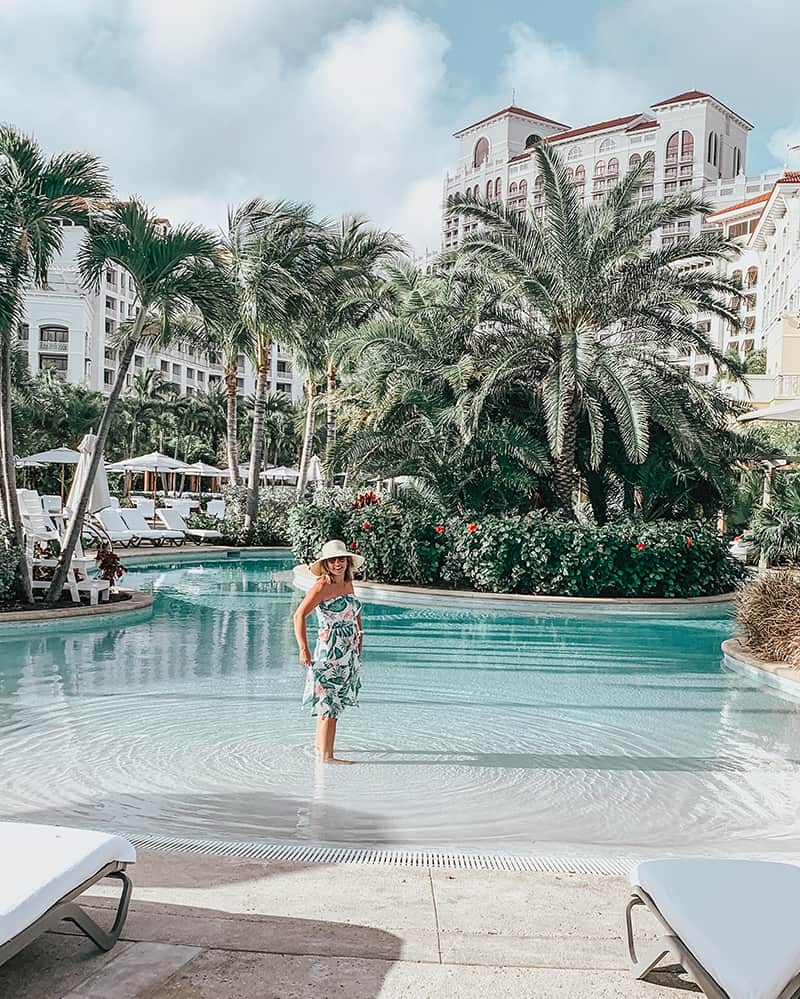 One thing I actually really really liked about Baha Mar Resort is that there was white sand everywhere. Even around the pool areas. So you always felt like you were on the beach, no matter where you were sitting.
Another plus to this resort is that everything felt really close. At Atlantis, I felt like I had to walk a mile to find the bathroom but in Baha Mar, there are restrooms, food, drinks, pools, etc and everything is super close to the beach too. It wasn't hard to find anything and everything felt nice and close.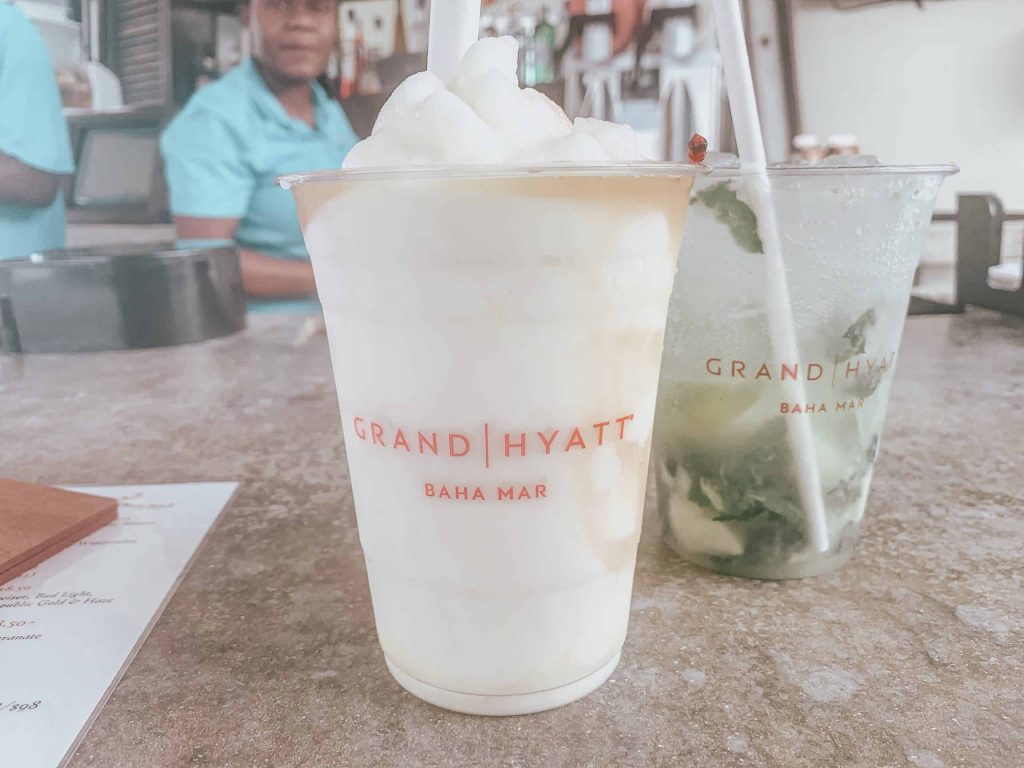 Other Fun Things at Baha Mar Resort
Our first day there we just spent walking around the property and I was really surprised at what I saw (besides the amazing pools and beach).
They had an exploration center where we got to watch them feed the sharks. There was also a small ocean life petting zoo and the kids got to pet stingrays, starfish, sea cucumbers, and even some sea urchins.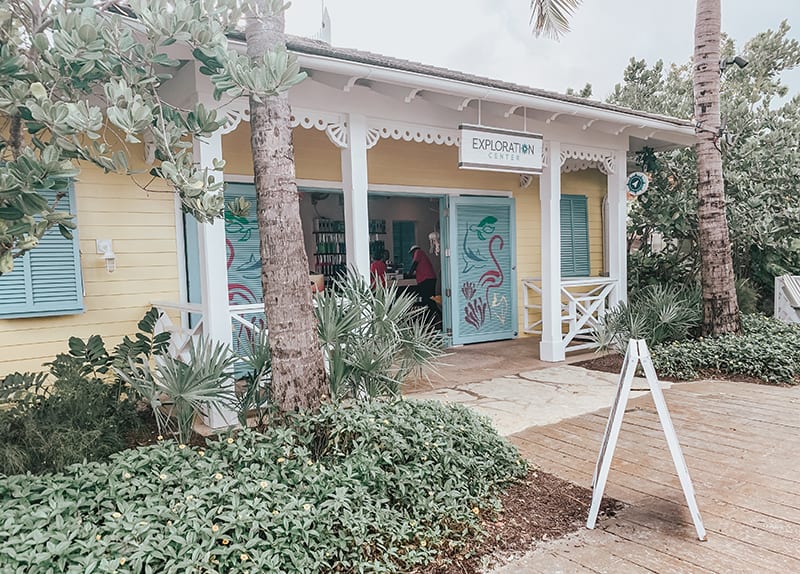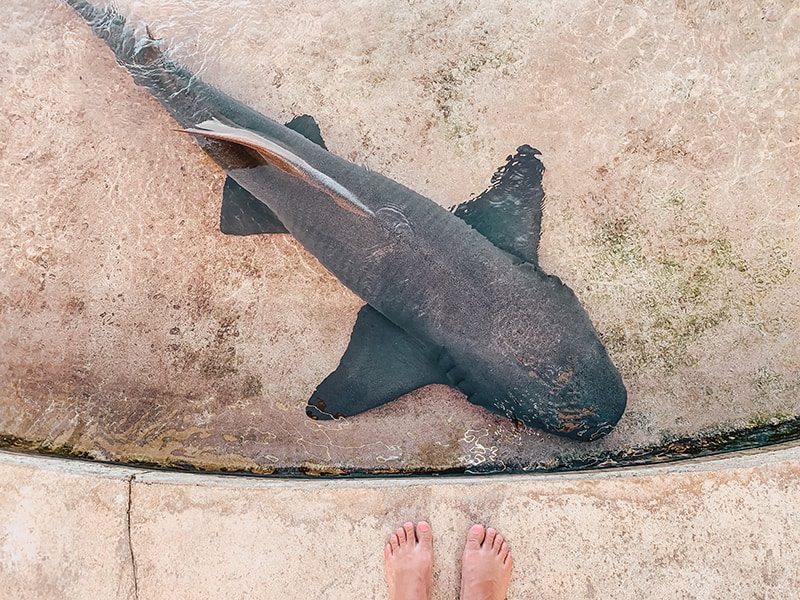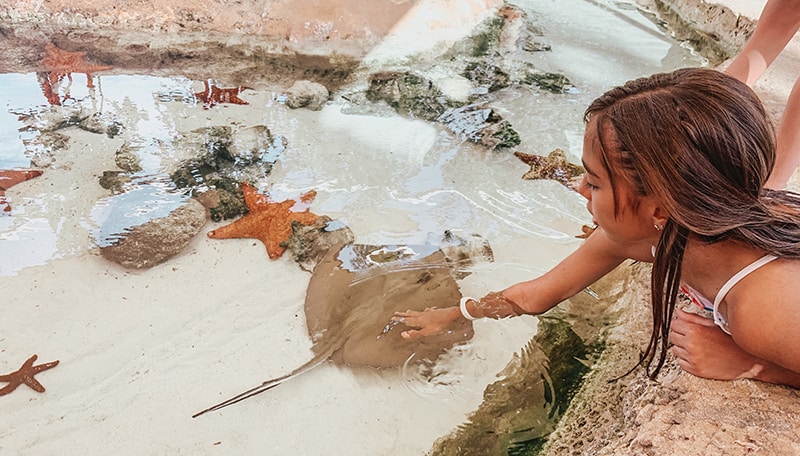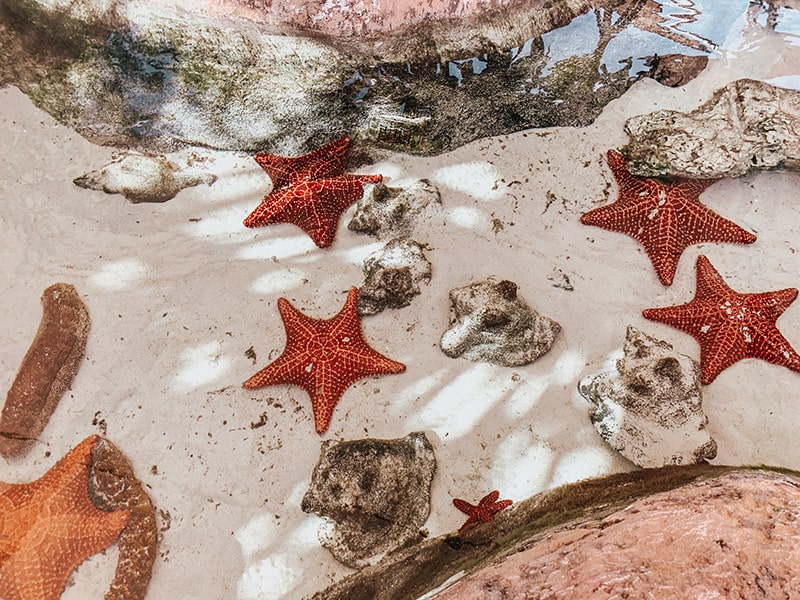 You could also view the same sea life here from above that you also saw underwater in the aquarium. They have sea turtles, sharks, stingrays, and tons of fish. The turtles and sharks were kept apart though!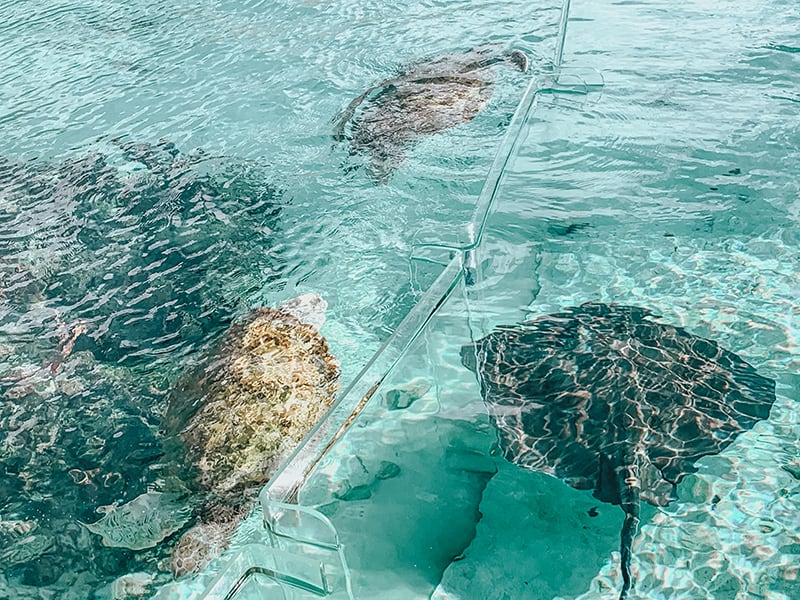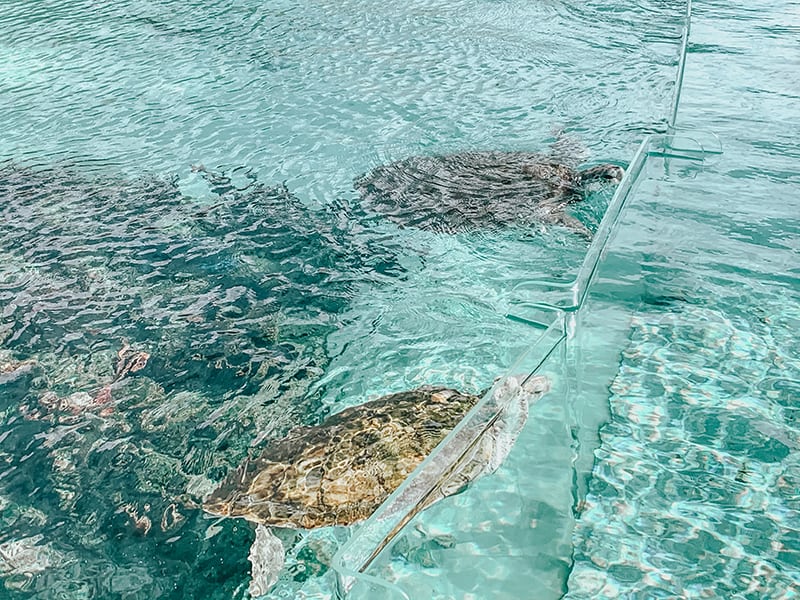 There were also several other little shops and food places along the side of the resort. This is where we found the ice cream store (essential for traveling with kids!) and Daqs... a blend your own daiquiri bar. You literally pedal a stationary bike to mix your own drink. So fun!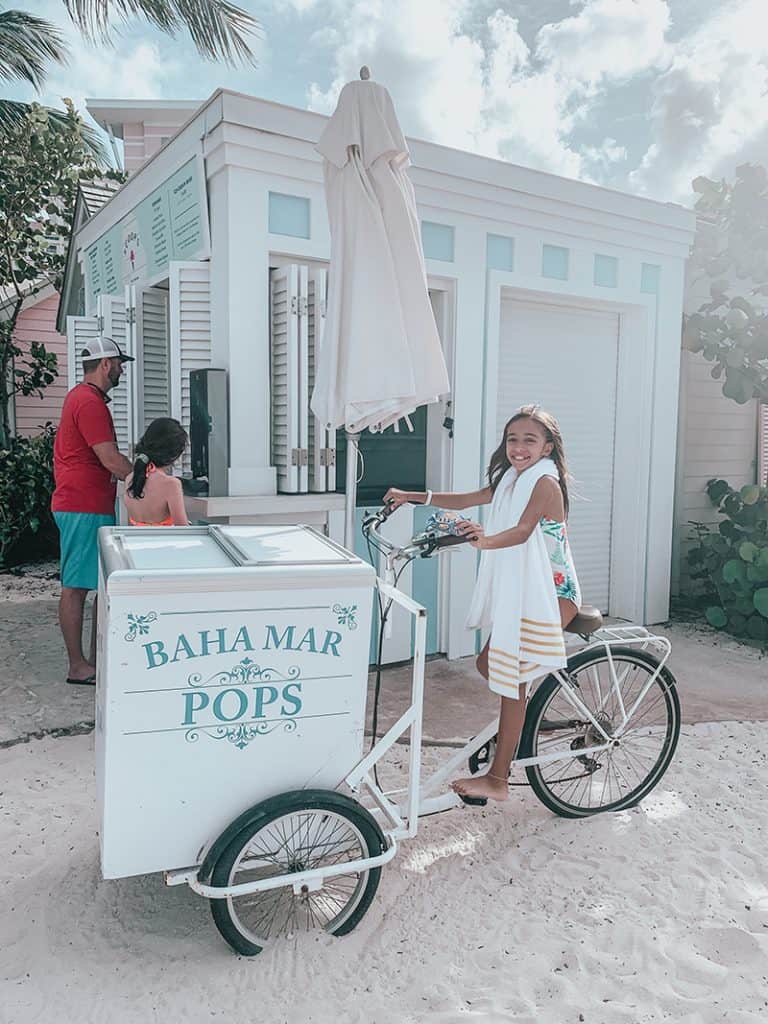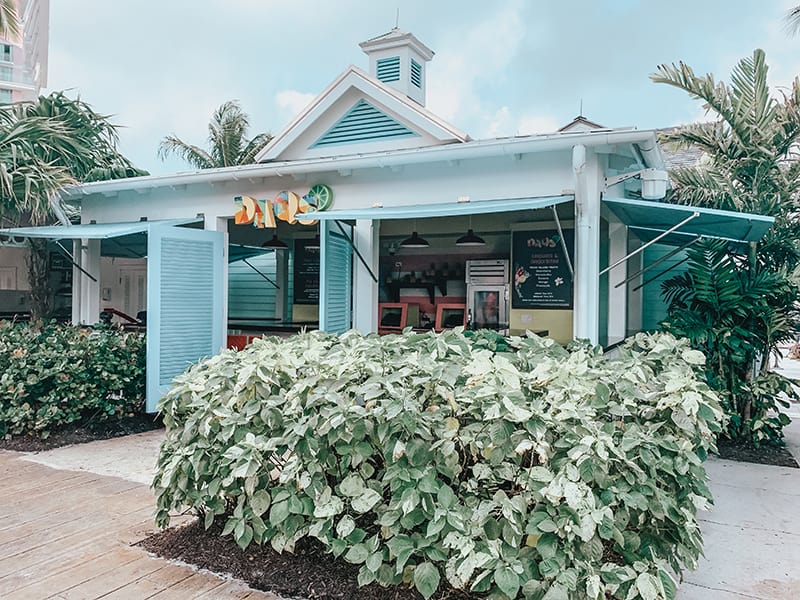 Continue around the corner and you come to a small Aviary. During certain hours of the day, you can walk through an area with some of the coolest-looking tropical birds!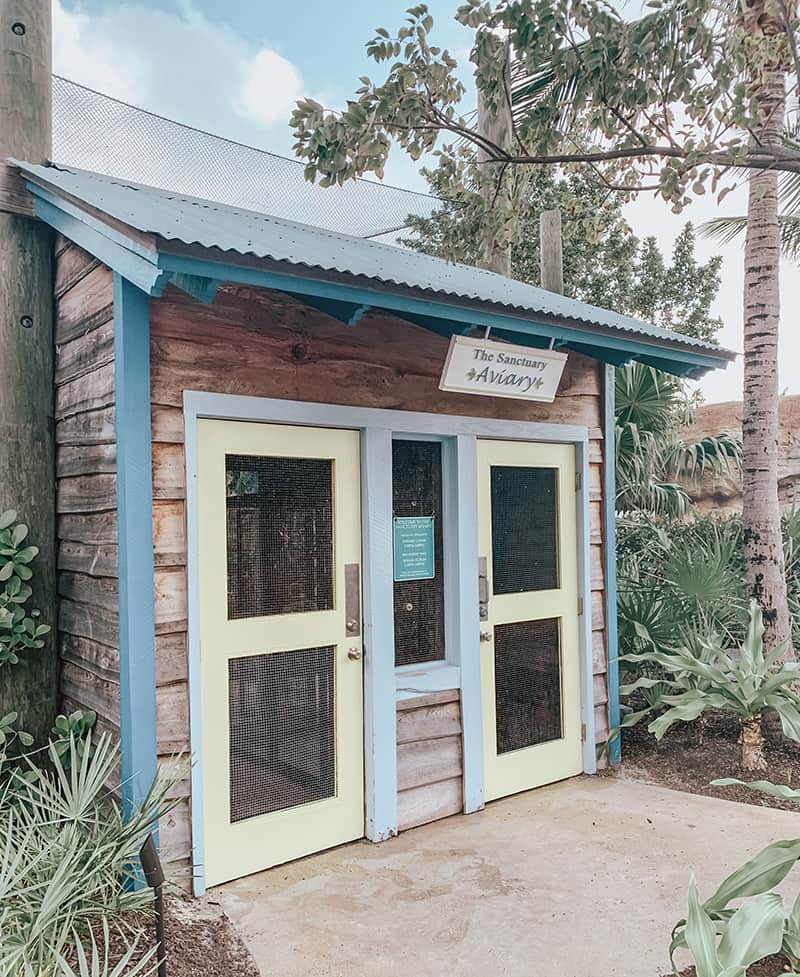 Overall Review of the Grand Hyatt Baha Mar Resort in Nassau, Bahamas
If you have to choose a place to stay in the Bahamas, hands down you need to stay at the Baha Mar. It's absolutely worth the price.
I promise your kids will love every second of being there, and you will feel like you are at a luxury resort.
Kids aren't really your thing? That's ok too because there are enough adults-only pools and bars at the resort for you to have a nice time relaxing and having a few drinks.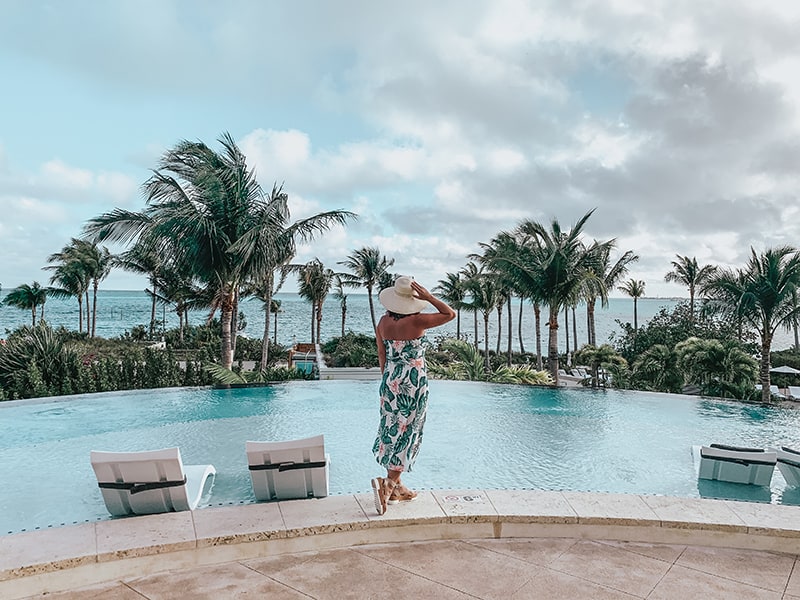 If we ever decide to return to the Bahamas, I would book my full vacation here. Even with 4 days there, we didn't get to try a lot of restaurants I wanted to. And we didn't have a chance to use their paddleboards, kayaks, or snorkel gear (all are complimentary to resort guests!)
Oh, and you know what I LOVE about Baha Mar Resort? THEY DON'T SELL DAY PASSES! So the only people there are guests of the resort. No cruise ship passengers. Which was great because it never seemed too crowded.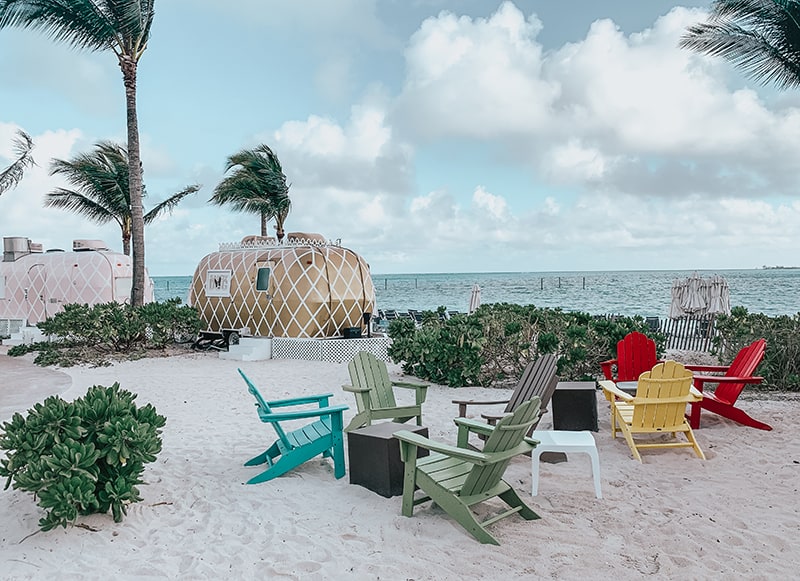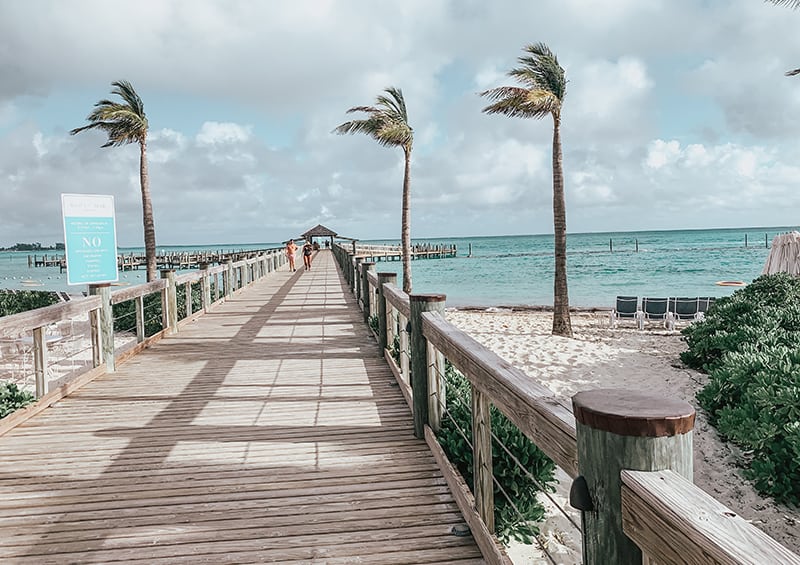 Don't Forget About the Flamingos!
How could I almost end this without mentioning the cool flamingos on the property?!?! These guys are right in the middle of all the action and really make you feel like you are in paradise.
They are behind a fence, but you can pay extra to spend time with them and feed them if you want to!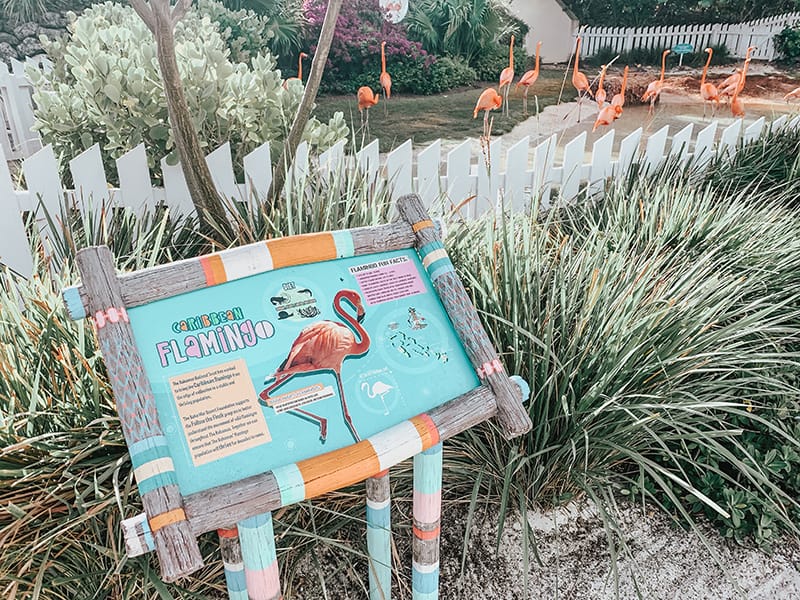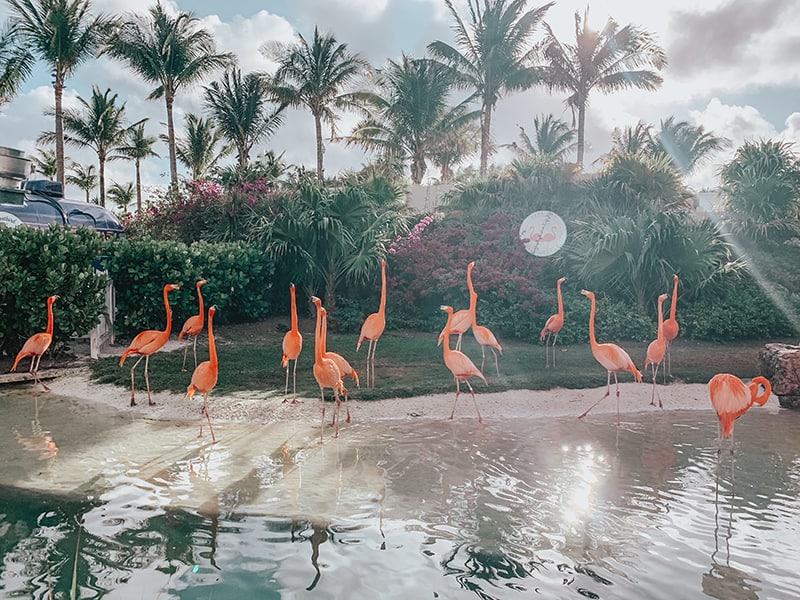 Don't forget to check out my 40 STUNNING photos of Baha Mar Resort that will make you want to book your trip today!
You Might Also Be Interested In: