Junkanoo Beach, Nassau – Everything You Need to Know!
Junkanoo Beach is one of the best beaches in Nassau. If you are visiting the Bahamas, you are going to want to spend an entire day at this pristine beach area. So here is everything you need to know to have the best day in Nassau!
The most popular reason to visit the Bahamas is to dip your toes into crystal clear turquoise waters on a soft sandy beach.
Junkanoo Beach in Nassau is the perfect place for that. It is lined with shopping, restaurants, water sports, and more. So if you are looking for that magical place to spend a day in Nassau, head over to Junkanoo Beach for a day.
Below is all the information you need to have a safe and fun day at the best beach in Nassau, Bahamas.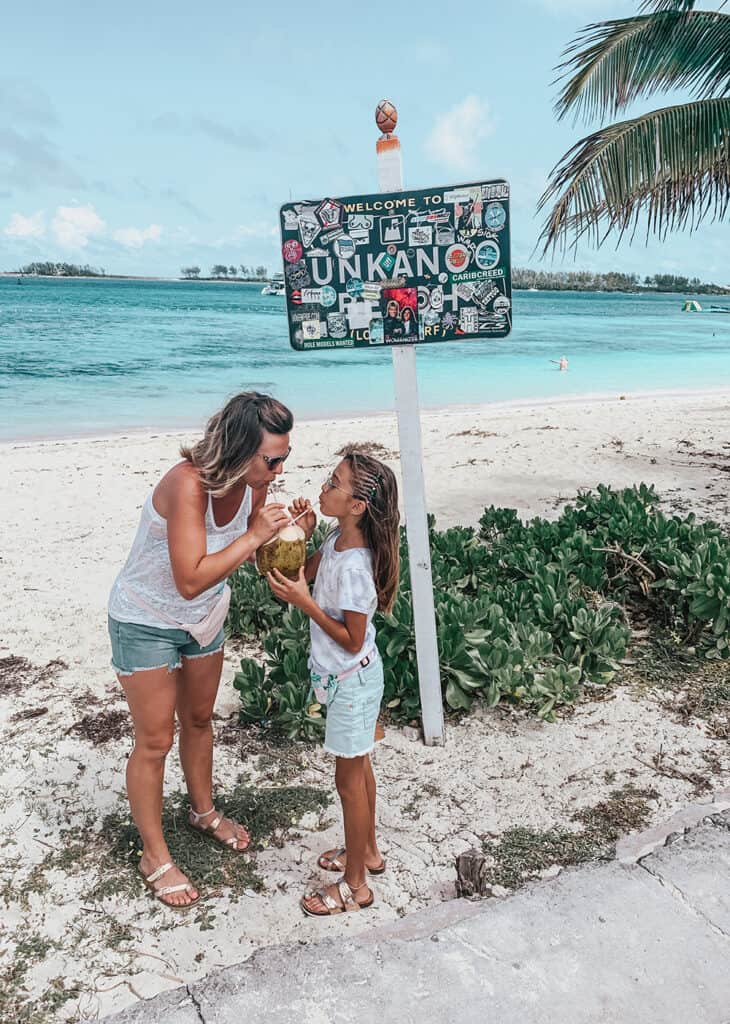 Junkanoo Beach Location
Located on the north side of Nassau, Junkanoo has the best location of all the beaches on the island. It is within walking distance from the cruise ships and a short taxi ride from Atlantis or Baha Mar.
It is also located right in the middle of downtown Nassau. This means there are plenty of places to go shopping, have lunch, or just stroll the scenic streets.
You can see from the map below that Junkanoo Beach is in between Baha Mar and Atlantis and directly where the cruise ships dock. This part of the island is where you will find the majority of shopping, restaurants, museums, and more.
See Also: What To Do In Nassau with Kids
Check out the best prices on where to stay in Nassau HERE!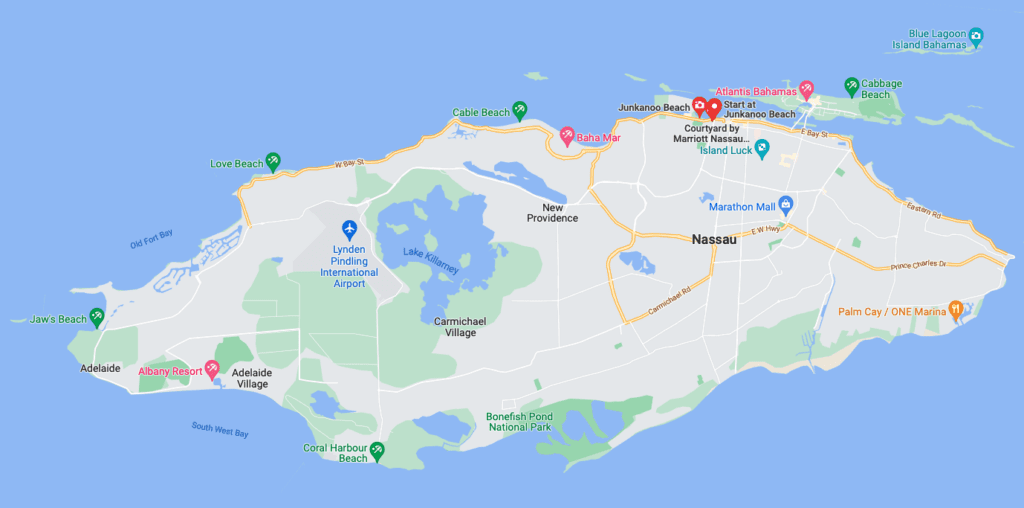 Is Junkanoo Beach Safe?
While the Bahamas is generally a safe place to visit, you should always be aware of your surroundings especially if you venture off resort property.
Junkanoo beach is a very safe area of Nassau. It is heavily filled with tourists, both from the local resorts and the cruise ships.
The beach is a short walk from the cruise port so you will commonly see lots of cruise ship passengers each day. This gives it a heavy police presence because tourism is a significant part of Bahamian income.
But there have been reports of petty theft at the beach. The crimes you typically see here are pickpocketing and robbery. But with the proper planning, you can easily keep yourself and your belongings safe so you can enjoy your time here!
I have heard several stories of people having phones taken, or bags and purses snatched while left unattended (or just not kept a good eye on).
How To Keep Your Possesions Safe…
When I travel to beach areas, I love this waterproof belt bag to keep my possessions safe. It's big enough to hold my phone, keys, a few credit cards, and some cash. But slim enough to fit under clothing. And it's waterproof so I can keep it on when swimming or snorkeling.
If you plan to get a beach chair, this portable safe will keep your valuables locked up so you can enjoy yourself in the water.
Travel Safety Tip: In any place where I venture outside of the resort, I bring the most minimal objects with me in case something were to happen. I use the hotel safe to keep my passport and most of my cash safe. I try to venture out with just a simple ID card, one credit card, and a small amount of cash. This way I don't lose anything of too much significance.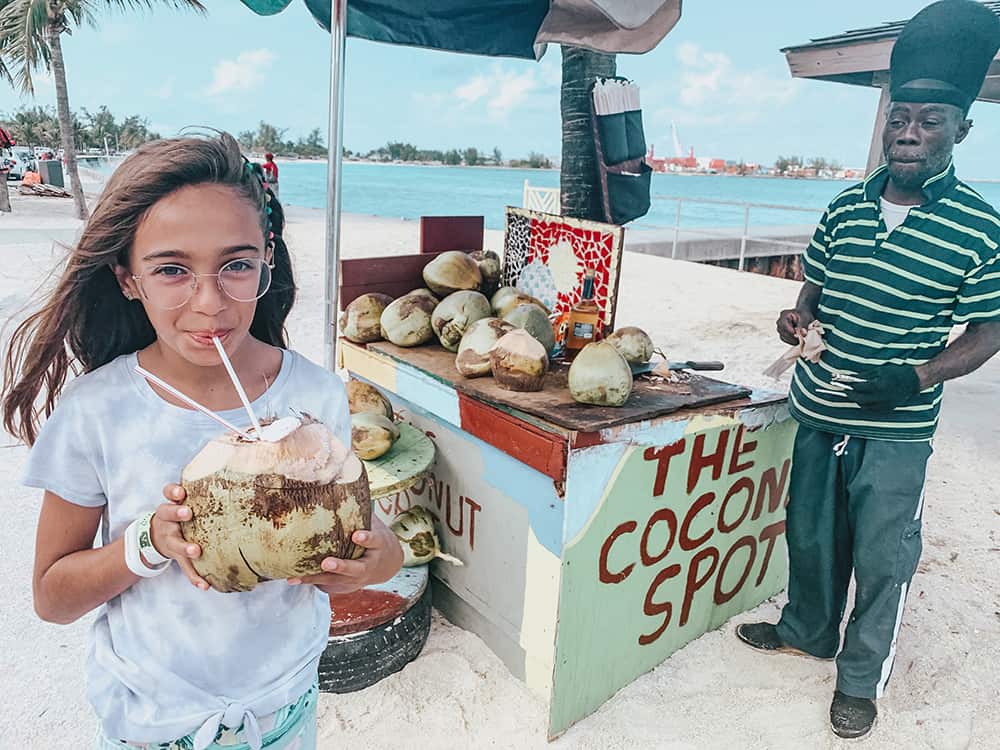 What To Do at Junkanoo Beach
Junkanoo beach has tons of activities to keep you and the kids busy. The most obvious being the
Kayak Full-Day Water Sports Package at Junkanoo Beach – For only $35, you can use all the non-motorized water and beach sports equipment, including soccer and volleyball. Plus all inflatables, the water trampoline, paddle boards, snorkel gear, and double or single kayaks.
Unlimited Full-Day Water Sports Package At Junkanoo Beach – For $70 per person, you can spend a day using water sports such as paddleboarding, kayaking, go snorkeling, and cruising about on pedal boats.
2 Lounge Chairs & 1 Beach Umbrella – For only $35 you can rent an umbrella and 2 lounge chairs to relax at Junkanoo beach. With lots of places to grab food and drinks on the beach, it's almost like being at a resort!
If you're looking for a less active day and just want to lay in the sun with some food and drinks, you're in luck! Junkanoo Beach has plenty of places to eat or drink right on the beach.
See Related: How to Eat Like a Local In Nassau
Restaurants at Junkanoo Beach
Junkanoo Beach is one of my favorite places in all of Nassau to eat. You will find plenty of local cuisines as well as more affordable food than any of the resorts.
The beach itself is lined with small huts you can walk right up to and order food. You'll find everything from conch fritters to Bahamian Mac N Cheese. Not to mention tons of fresh fish and seafood options!
Check out the Salty Crab if you like Seafood!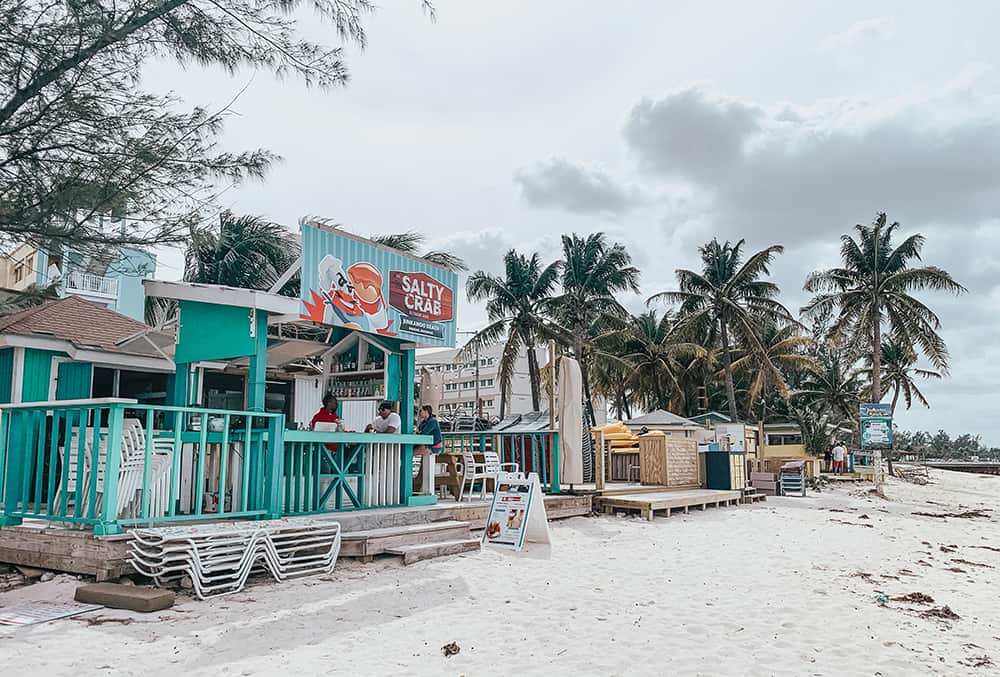 What to Bring to Junkanoo Beach
Quick Dry Sand Free Beach Towel – I love these travel beach towels. They fold up small and dont take up much room in your luggage. They are quick drying, dont let sand stick, and come in the cutest colors. These towels come on every beach vacation we go on!
Travel Backpack Cooler – I am a big fan of this travel cooler. You can use it as your carry-on for the airplane but doubles as a cooler to take drinks and snacks to the beach when you're on vacation. It has tons of pockets for personal items as well.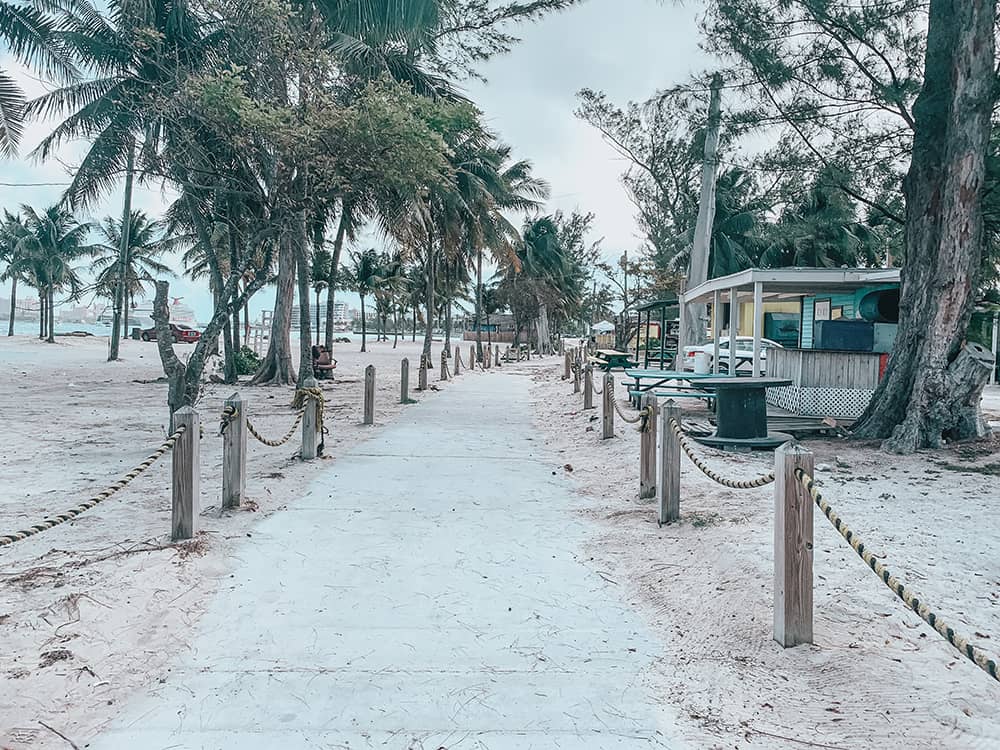 How To Get To Junkanoo Beach
If you are coming off a cruise ship, you simply follow the crowd of people down the dock, and through a small part of the town to Junkanoo Beach. It is a short, flat, easy walk where the majority of cruise ship passengers spend the day.
I don't recommend renting a car in Nassau unless you plan on spending time on the west or south side of the island. The majority of resorts, shops, restaurants, and beaches are located within a few miles of each other on the northeast side of the island.
There also is not very good parking near Junkanoo Beach and they have limited street parking.
If you are staying at Atlantis or Baha Mar, you have a few options. These locations are not close enough to walk to Junkanoo beach, but they are a short car ride.
Jitney – The public transportation buses in Nassau are known as Jitneys. They run between all the resorts and shops throughout the day. You can usually hop on and off as often as needed and the cost is as little as a few dollars per person.
We took the Jitneys often and found them to be very safe and comfortable. But they dont often run very late at night, so make sure you know their schedule before heading out!
Cabs – you won't find Uber or Lyft in Nassau, but they have plenty of cabs. And because you only need to go a short distance, a cab ride can be pretty inexpensive.
We loved taking cabs and talking to the cab drivers. They are residents of Nassau and often gave us great tips for places to eat or little-known sites to check out.
You Might Also Enjoy:


Pin for Later!