What To Expect on a Caribbean Cruise: Ultimate Cruising Tips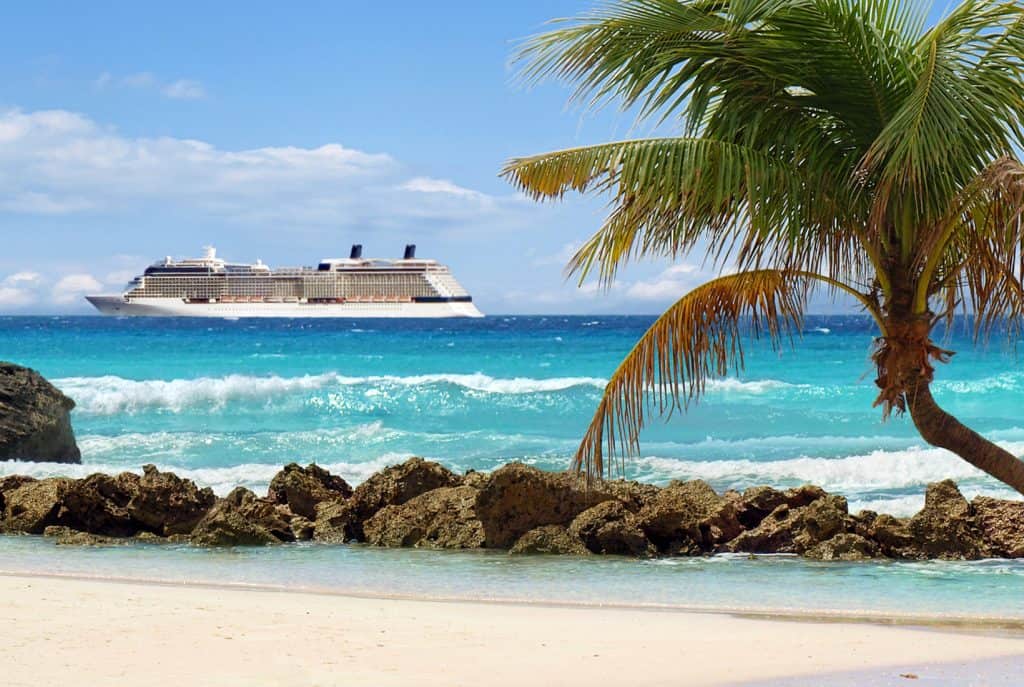 If you're thinking about going on a Caribbean Cruise, then you have come to the right place!
Cruises are unlike many other vacations and knowing what to expect before you go is essential to making the most of your Caribbean Cruise.
Don't forget to read more tips about taking a cruise for the first time!
What's It's Really Like on a Caribbean Cruise?
So many people are skeptical of cruises because they are afraid of getting bored on the ship. They dont want to be stuck with too many people in a confined space. And they often worry about bad weather on a ship. And while these are all valid (but very rare) concerns, it shouldn't hold you back from trying this fun and affordable vacation option.
I had the same concerns, but it took just one cruise for me to fall in love with cruising. And more importantly, I learned very quickly what to do or not to do on a cruise. And all of these tips will help you make the most of your cruise, and enjoy every second of it!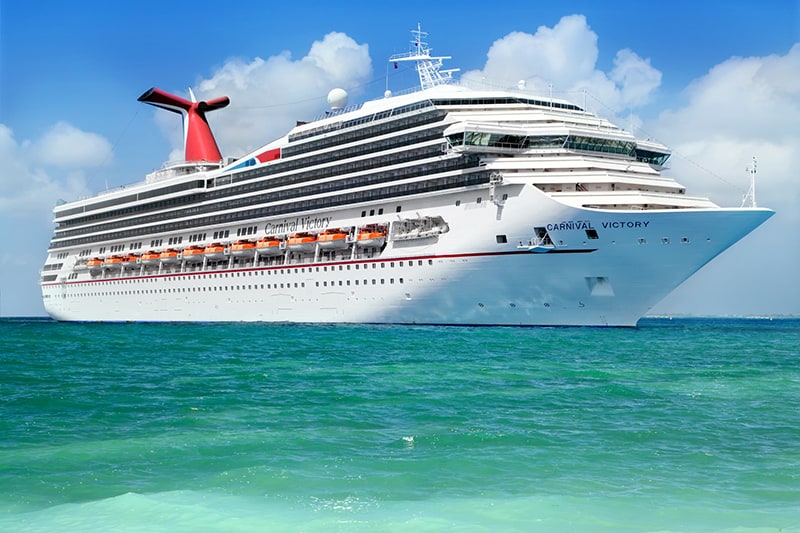 Things to know about your first Caribbean Cruise
Part 1 of this series goes over everything you need to know about booking your cruise. It also goes over embarkation (boarding), and your first day on the ship.
This post will go over everything you need to know about your time on the ship. It'll include excursion tips, what the rooms are like, and anything else you need to know for the duration of your cruise.
Find out more about all the Dining Options in Part 3!
So sit back, and take notes! And don't forget to grab my FREE 5 -page Cruise Planner that will get you totally organized for your cruise!
You can also follow along on PINTEREST for more tips and advice on cruising.
Embarkation Day
A fancy word for boarding the ship. Day 1 of your cruise is the day you board the ship. You can usually board a cruise ship as early as noon. And most ships depart around 4pm (every cruise line can be a bit different but this is the general time).
Some people like to avoid the crowds and board as close to sailing time as possible. I think it's a great idea to board early. The second you step foot on board, the food is available, the drinks are being served and the pool is open. So you can start taking advantage of every amenity as soon as you want to.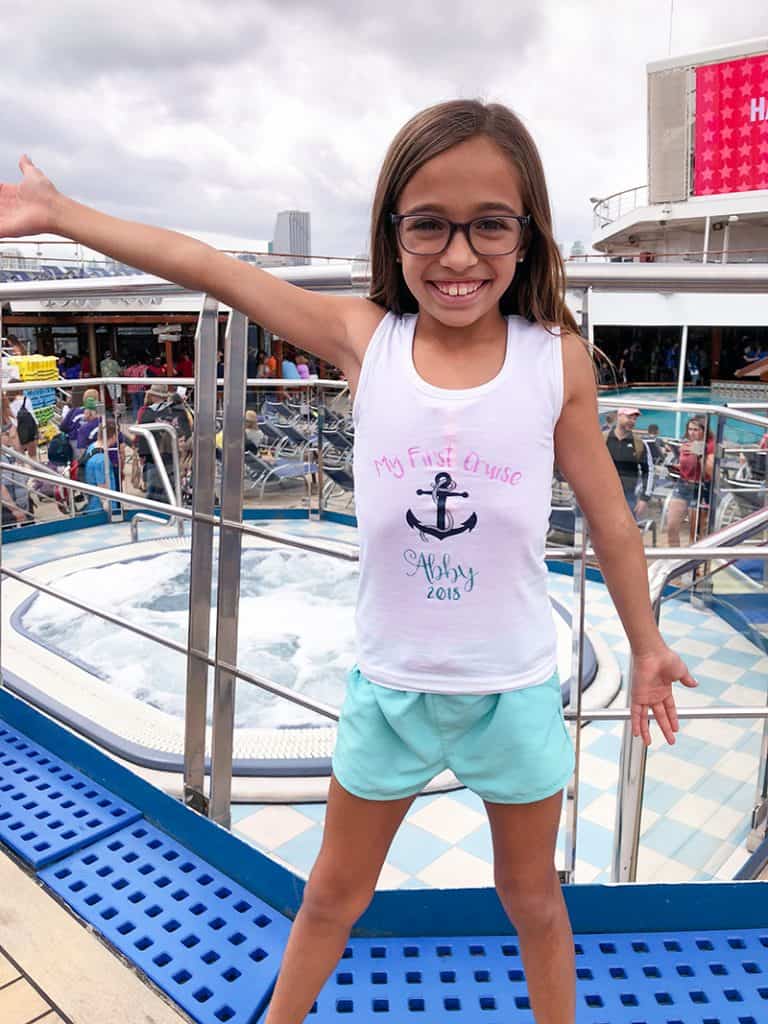 Some other things you need to know about embarkation day…
Your Luggage
All luggage is taken from you when you check in, and you don't get it back until later in the day. Sometimes it can be late afternoon and sometimes it can take into the evening. So make sure you bring a carry on with you of anything you might need that first day.
I recommend just wearing your bathing suit onto the ship with a cover up so you can enjoy the pool and the sun without worrying about changing. This was a great option for the kids too, so they could head straight for the water slide!
The luggage is delivered to your room and sometimes it's placed directly in the room. And at other times they leave it in the hallway in front of your door. So check your room periodically, as I don't really trust my luggage just sitting in a hallway.
The Drink Package
If you get the drink package, you can start using it as soon as you get on the ship. But so does everyone else. The two bars by the pool were SWAMPED. I couldn't get within several feet of them.
Head down to the main lobby bar and grab your drinks there. It's a little extra walk but it will be worth it when you don't have people crowding and cutting you like it's a New York City Nightclub.
They only let you get one drink at a time. So your best bet is to make friends with the drink servers walking around the pool area. They are happy to hand you a drink, and put in an order for your next drink at the same time. Something the bar won"t do.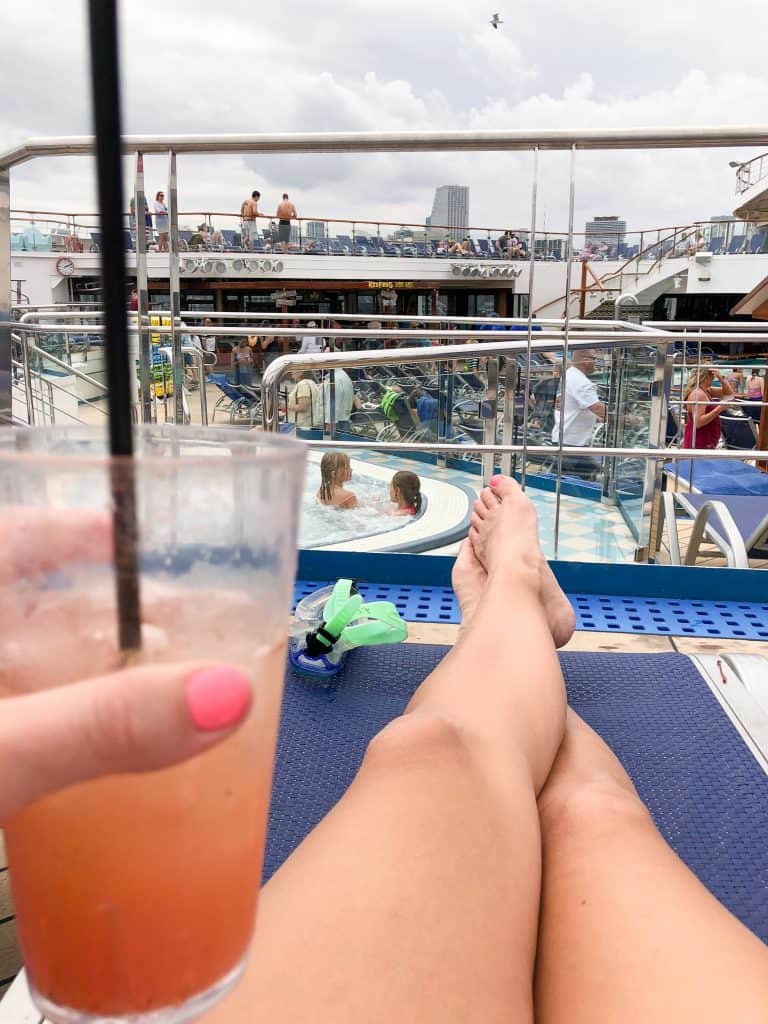 The Muster Drill
No, it's not a condiment at the buffet. The muster drill is actually where you go over safety features of the ship (kind of like what they do on airplanes). You also find out where your lifeboat is in case of an emergency.
Cruise ships take muster drills VERY seriously. So don't think you can skip out. They scan your keycard to make sure you attend. If you don't go, they will hunt you down in your room or even more embarrassing, they will announce your name overhead to the entire ship.
No one can get back to their swimming and drinking and eating until every single cruise ship passenger is accounted for at their muster station. So be nice and go when they ask you to. Don't be the person holding everyone else up.
Tips about the Cruise Ship
Wifi and Phone Usage on a cruise ship
One thing I will tell you and this goes for every cruise line out there, the WiFi SUCKS! We have tried everything we can from upgrading our phone plans to buying the most expensive internet package you can buy. And nothing makes a difference.
If you are in desperate need of WiFi (which we did!) then I suggest you go down to the cruise ships Internet cafe and use their computers.
Save the money on buying a wifi package and just pay the money to use the ships internet on their computers. It works 100 times better.
Cell Phone Usage
Cell Phones get no cell coverage as soon as you pull out of port. You might be able to get a signal again when you arrive at your next port, but not a minute before then.
Even when we sailed to Alaska on Princess Cruise Line, we could see the town not far away and yet our phones wouldn't pick up any signal until we were practically docked.
When you are sailing in the Caribbean, you won't have cell service the entire time you are on your cruise. We had 7 straight days with no cell coverage. So it's great to let you unplug and relax, but not great for anyone trying to get ahold of you.
TIP: Put an automatic response on your phone. So if someone tries to text you, a response is sent saying you are on vacation and have no cell reception.
Put your phone in airplane mode! This is a great tip I got before my first cruise and I'm SO glad I listened!
When you are sailing to different areas, your phone might go in and out of service. It can even go in and out of roaming, and you might not even notice. I know people who came back from their cruise to find massive cell phone charges for roaming texts that they never knew about. Because other people were trying to get ahold of them while their phones were in roaming.
Since your phones won't work on the cruise ship, it's really hard to get ahold of anyone else you are traveling with. You can't just send a simple text to your travel buddy or your kids. Grab a set of walkie talkies instead. Most have a great range that would cover the entire ship.
Cruise Ship Rooms
Cruise ship rooms are knows for being small and they definitly are! They put cheap motel rooms to shame. So don't plan on spending too much time in your room on your Caribbean cruise.
While the rooms are small, there are lots of drawers and closet space. Take advantage and unpack eveyrthing as soon as you get there.
This suitcase has been a great purchase and is perfect for cruises. When completely open, it slides right under the bed and I used it like a drawer for most of my shoes.
You won't ever find two double beds. If you have a family of 4, one will sleep on a small couch and the other will get a pull down bunk bed. This is why I always recommend you get at least 2 rooms if you have 4 or more poeple in your group. Even if you have 2 small kids, get a second room for the bathroom and closet space alone!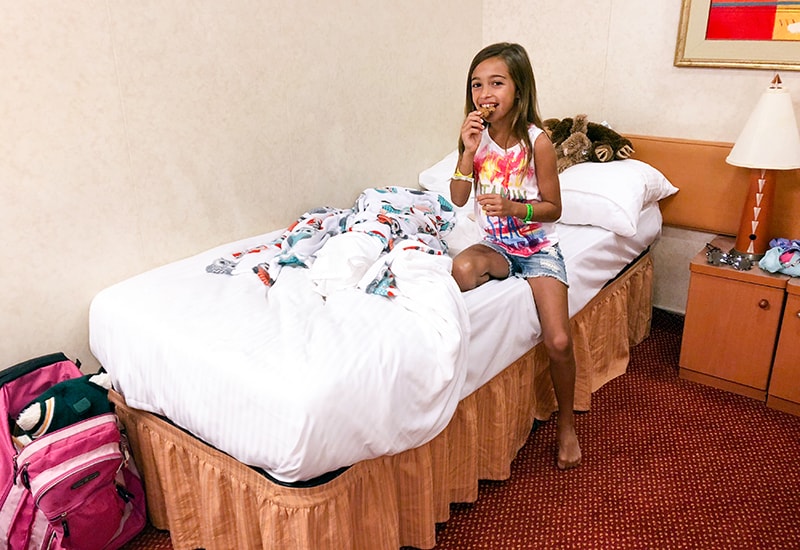 Caribbean Cruise Ports
Before we jump into the details of ports and excurions, let me just start off by giving you this tip: make sure you leave some time to walk around the town. A few times I've booked excursions from start to end and really regret not allowing myself a second to wander the port or even buy a memento.
Booking excursions
You can start booking excursions through your cruise line as soon as you book your cruise. But you can also book private excursions for one good reason… price!
Cruise ship excursions are always more expensive. So why do people book these? For three good reasons:
The Ship won't leave you. Sounds funny, but it's true. Cruise Ships stick to a schedule and they WILL leave you behind if you are late getting back on board. BUT.. the one exception is if you book an excursion through the cruise line, the ship will wait for you to get back. So sometimes it's just nice having that reassurance.
All your transportation is taken care of. The cruise line will tell you where to go and direct you right to an awaiting shuttle to take you straight to your excursion. So you don't have to worry about finding your tour guide, or figuring out public transportation in a foreign country.
You are the first to get off the ship. If you have an excursion booked through the crsuie line, they let you off first on port day.
If you still want to save money, have no fear. I have booked many excursions privately to save money and never had a problem.
Look for companies with GREAT reviews. If an excuriosn through a private company was late getting passengers back and they missed their ship… they would put that in the reviews!
Also look for companies that have a guarentee on getting you back to the ship. Most of these tour companies survive off cruise ship passengers. They know the times the boats come in and need to leave. So they are super dedicated to getting you back to your ship on time.
Use common sense planning excursion times. If I booked a private excuriosn, I leave PLENTY of time to get back to the ship. Never cut it close.
Read all about our day on Grand Cayman Island exploring Stingray City and The Turtle Farm!
Getting off the ship on port days
There are two ways to get off your cruise ship on port days. One is by a walkway where the ship is docked. The second is by tender (a small passenger boat).
The Walkway is the easiest. The ship opens its doors at a certain time, and everyone walks off. The boat stays there all day and you can walk back on at any time.
The Tender is a bit different. In some ports, the water is too shallow for the giant cruise ship to get too close. So they have to stay a ways out. In this case, they use tenders to get passengers back and forth.
Tenders can only take so many passengers at a time to getting off the ship can take more time then you hope for. Especially if you are like me and feel like every minute not at port is a minute wasted!
If you need to travel by tender to get to land, make sure you line up early (about 30 minutes before docking) to try and get on one of the first few tenders.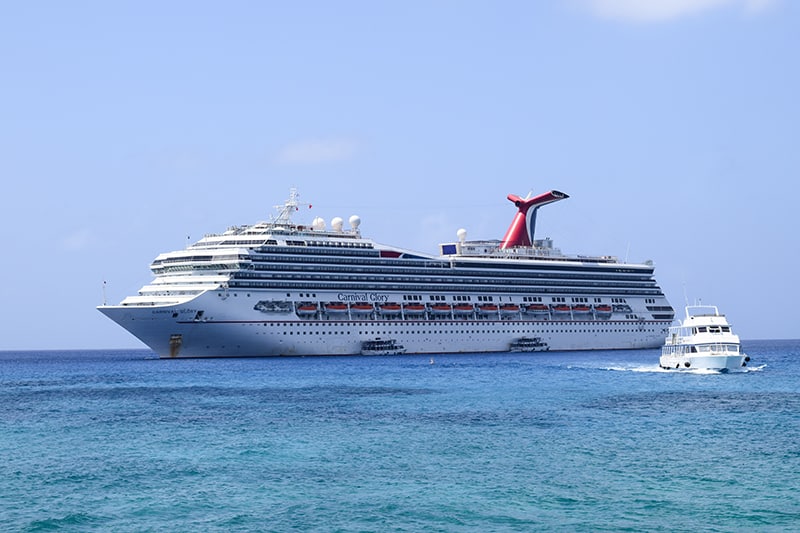 Watch the clock when at port!
One of the most confusing things about being in different ports is the time zones. Our Western Caribbean Cruise with Carnival had us going through three differnt times zones. How confusing is that!
It gets more confusing!
The ship stays with one time the entire time. They call this "ship time". And that's the time they go by for docking and boarding. But ship time can often be different then the time in the town you are visiting.
So make sure you set your watch by SHIP TIME and stick with that. No matter where you go!
Disembarkation
You guessed it, that means getting off the ship! The day of disembarkation is quite an experience. The cruise line wants you OFF the ship ASAP! They clean and flip it and start boarding passengers for the next cruise just a few hours after you get off.
Luggage goes out the day before. If you want the cruise line to help with luggage, you need to leave it outside your room the night before. If you don't, you are responsible for getting everything down with you.
The only food open is the buffet. So grab some breakfast before you go. Just beware, the entire ship is doing the same thing so it will be VERY crowded!
Don't think you can stall or drag your feet. The cruise line will make sure your butt is off that ship no later than 8 am. So if you want to book to a flight, book it for late morning.
Most importantly…relax and enjoy your Caribbean Cruise!
Keep Reading:
If you enjoyed these tips and tricks about Cruising to the Caribbean, check out these PINTEREST boards for more great cruising travel tips!


Pin for later!