How To Save Money At Atlantis, Bahamas in 2022
Want to learn how to save money at Atlantis? It's totally possible! Get some great tips for saving money at this expensive resort so you don't waste your life savings on one vacation.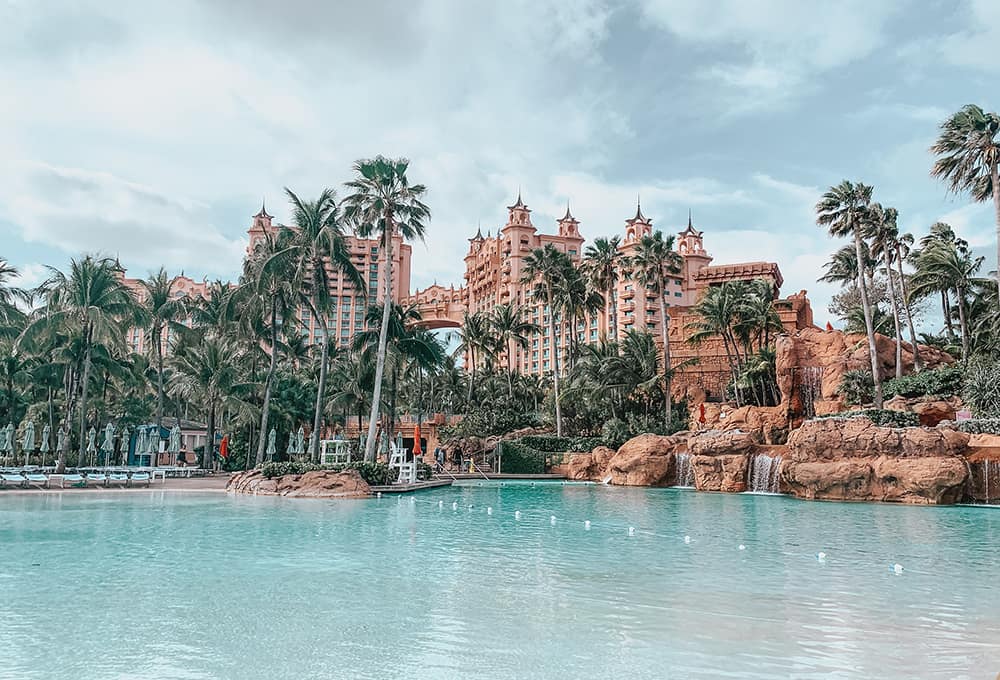 Stay On Budget While Visiting Atlantis
In any review you read about Atlantis, you'll keep hearing the same theme over and over again. Atlantis is expensive. And they're not wrong. Atlantis is by far one of the most expensive places to stay that our family has ever been to.
If you want to try to enjoy your vacation and not go broke, you'll need to find ways to save money at Atlantis… and I can help you do that!
The ironic thing is that the rooms at the Atlantis Resort are not that pricey. Sure, they are more expensive then some other places you can stay. But I found them to be pretty reasonable compared to other luxury resorts.
Where Atlantis gets you is in the food and drinks.
Let me give you an example our first night there…
We arrived at Atlantis early in the evening. Just enough time to unload our suitcases into our room, but too late to check out the pools (they close at 5 pm).
We were pretty hungry but also a bit tired from traveling and wanted something quick to eat. We settled for Marina's Pizzeria. We ordered one large pizza, one side salad, and one order of bread knots. The total for those simple items came to $80.
We knew at that point that this was going to be a very expensive trip. But during our stay, we were able to come up with some really good ideas to save money on the food and drink that I can't wait to pass along to you.
Buy Before You Arrive
If you planning on drinking…
One tip I got from a friend before we arrived was to buy our alcohol at the airport when we arrived in The Bahamas. The alcohol is duty-free and pretty inexpensive. We chose 2 items, a bottle of coconut rum for me, and a bottle of premium vodka for my partner.
Each bottle was around $20-$30 (which is crazy inexpensive seeing as most drinks at the resorts themselves are around $20 EACH!) and lasted our entire 8 days we were in the Bahamas.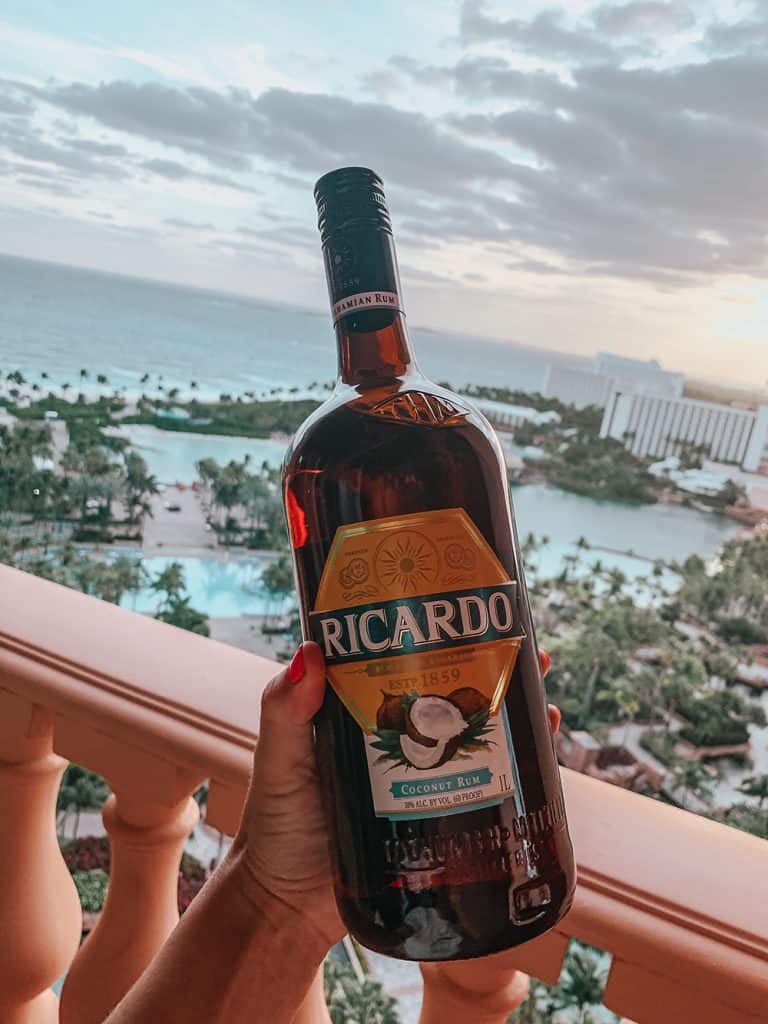 Here's how we did it…
We both brought our Hydro flasks and would fill them about a quarter of the way with the rum or vodka we bought at the airport. Once down in the pool area, we purchased a drink at one of the food stands. They give you a paper cup and it is refillable throughout the day.
Atlantis has this amazing tasting juice alongside their normal sodas. I'm a fruity cocktail kind of person so it was right up my alley. I purchased the cup and filled the rest of my hydro flask with the juice.
That gave me 32ounces of cocktails to last the entire day (and super delicious too!). That alone would have cost me hundreds of dollars if I had bought over 32 ozs of drinks at the resort.
Once I was done filling my hysroflask, I gave the cup to my daughter and she was able to drink Sprite the rest of the day with it.
Even if you are not a drinker… you can buy one of these cups and use it to fill your own water bottles throughout the day. So one cup can be enough for your entire family for the day. And that will save you TONS of money.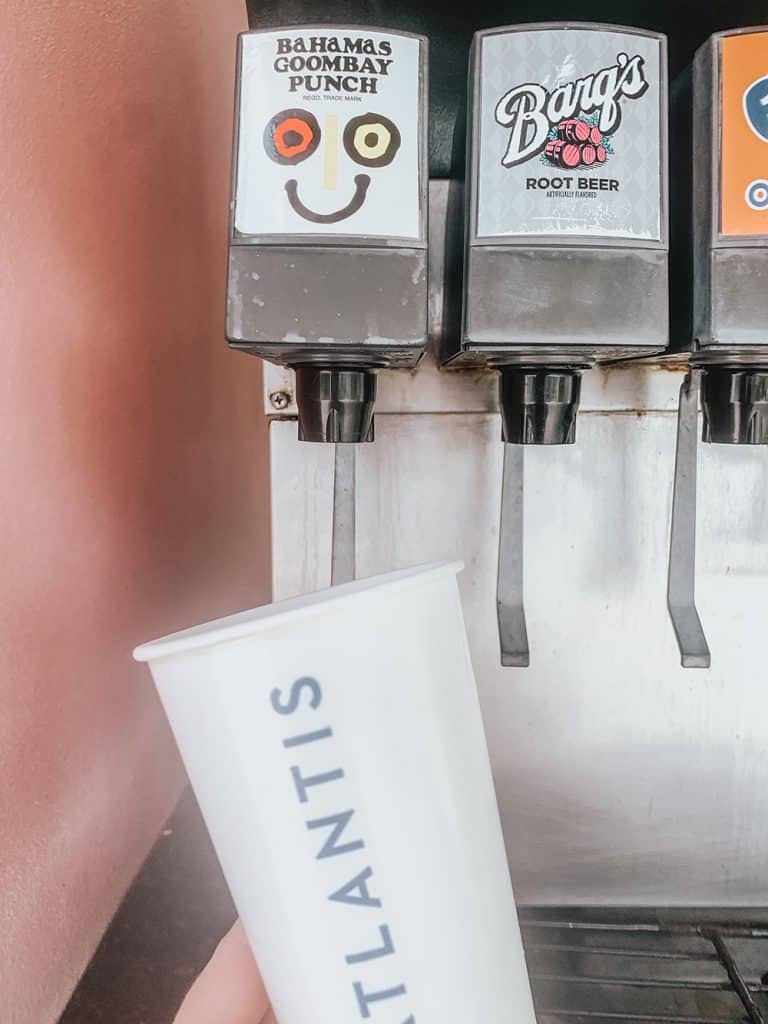 Go Grocery Shopping
Believe it or not, there is a small grocery store just steps away from Atlantis. Of course Atlantis wont mention them at all because they want you to buy their expensive food. But you can easily walk over here and grab some groceries to help with some the food cost.
Only the super expensive rooms at the Atlantis come with small kitchenettes or refrigerators. But you can still stock up on lots of small snacks and breakfast items.
Even grabbing a quick breakfast at Starbucks can cost a lot. One morning we purchased 2 coffees, 2 orange juices and 4 donuts and it cost us over $50. So even the cheapest meals can make you go broke if you eat everything at the resort.
Grab a bag of donuts, bagels, or cereal bars to keep in your room. And always make sure you have something to eat before you head down to the pool area. You can even cram your beach bag full of snacks…no one checks!
Eat the Kids Meals
If you are looking for some more affordable lunch ideas, skip the restaurants and eat at the pool side snack bars. They offer tons of food and are way less priced than the restaurants. But you can save even more money if you order a kids meal.
The first day we were there, I got my daughter a cheeseburger meal that came with fries and a drink and it was (GASP) under $10. The same meal for adults was almost double in prices. But guess what… the meals were the same size!!! So from then on, our whole family ordered kids meals for lunch and saved a ton of money that way.
TIP: The burgers were so big, our two kids actually split a kids meal and were full. So order one meal, have them split it, and then order a second if they are still hungry.
Eat at the Buffet
Buffets can be really expensive and the one at the Atlantis is no exception. So why am I telling you to eat here? Because it can be a good place to have a meal if you plan it correctly.
The buffet is cheapest in the middle of the day and then they jack the price up at dinner time. Even though most of the food is the same.
So plan it out like this: have a cereal bar in the morning and then head over to the buffet in the afternoon. Get your fill and stuff your faces! If you eat enough, it'll take care of lunch and dinner for you. So yes, the meal might cost $200 but it'll the only meal you need to pay for that day.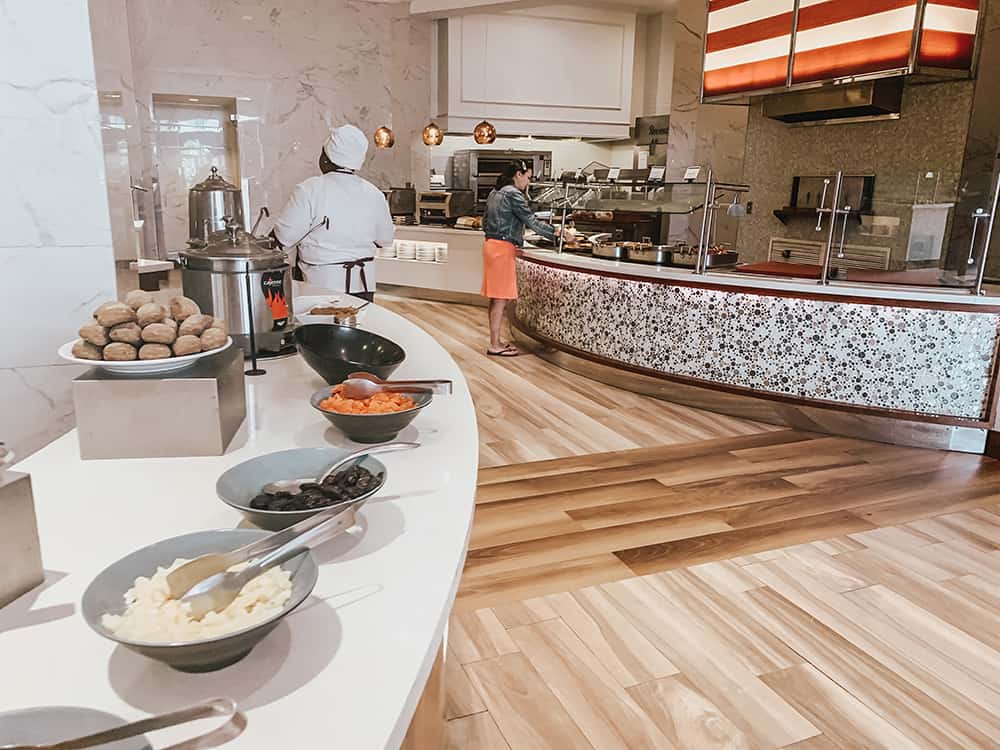 Eat at the Marina Village
Just a few steps away from Atlantis is Marina Village. Even though it's actually a part of Atlantis (they try to make it seem like it's not) it does actually cost a little less to eat at the restaurants there versus the ones in the actual resort.
We did one night at Frankie Gone Bananas and another night at Margaritaville. Both were considerably cheaper and still had great food.
Stay At One of The Cheaper Towers
Atlantis has 5 towers and all vary in luxury and price. We decided to go the middle of the road and stay in the main tower, the Royal. We figured we'll probably only be at Atlantis once so we wanted to stay in the most iconic part. But that was a mistake.
The rooms were less then basic motel rooms. We had a great view, but a great view wasn't worth the price. If I could do it again, I'd rather stay over in the Coral towers. They were cheaper, and more centrally located in the resort.
They had the better pools and were the closest to Marina Village, where we went almost every single night.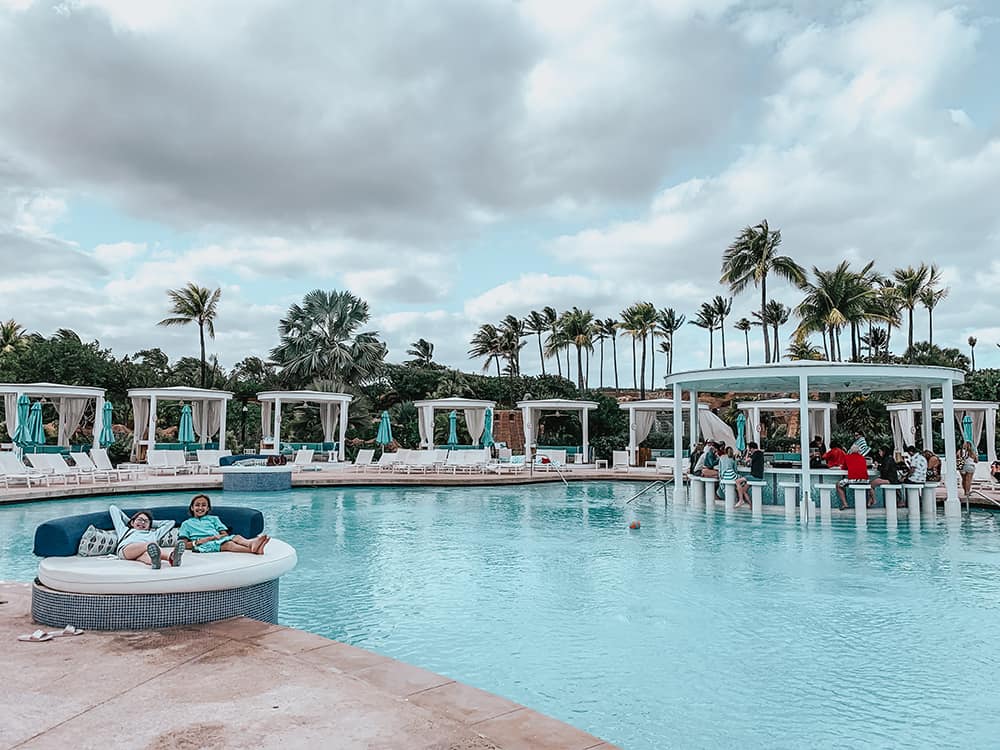 Don't Buy Souvenirs At Atlantis!
Head to downtown Nassau if you want to purchase some tee shirts or even stuffed animals for the kids. My daughter saw a stuffed pig she wanted SO BAD to remind her of our Swimming with the Pigs excursion. The stuffed animal was $30 at the resort. We went shopping downtown and found the EXACT same pig for $10… duty-free.
The stores in downtown Nassau are plentiful and cater to cruise ship passengers. You'll find everything you need there from tons of jewelry stores to designers like Gucci and Prada.
They even have plenty of trinkets like shirts, bags, ornaments, candles, and homemade things from the local people around Nassau. Don't waste your money at the resort!
It Is Possible To Save Money at Atlantis
No matter what, staying at the Atlantis is going to cost you a lot of money. But there are many ways you can reduce the financial burden of it all.
As long as you do your research and keep this plan, you will save a ton of money and that will help reduce the stress of a family vacation.
Because we all know there will be plenty of other things during a family vacation that will stress you out!
When to Splurge…
The ONE thing I would say you should absolutely spend money on is the Ultimate Exuma Experience where you get to swim with the Pigs (and many other things!). This was by far our favorite thing to do in Nassau (and probably our top activity of any vacation we've ever taken).
It was an absolutely priceless day and worth every penny.
You can read more about our excursion to Exuma here…
How To See The Swimming Pigs In The Bahamas
Read More About the Bahamas…