The Best Month to Cruise Alaska
Not sure when are the Best Month to Cruise Alaska? Here is a month-by-month breakdown to help you determine when is the best time to sail!
Cruising to Alaska
Alaska is the one place where you can not sail year-round due to the weather. And trust me, I don't think you would even want to sail to Alaska during the winter months. The ports are buried in snow and the water is rough!
Can you see the Nothern Lights?
Seeing the northern lights on an Alaskan cruise is extremely rare. The northern lights are mainly seen during the winter months and typically more north.
Most of the cruises to Alaska are on the very southern tip of the state and during the summer months.
If your goal is to see the Northern lights, consider a different vacation. Or try to select the earliest sailing date or the latest sailing date (even then it is still extremely rare).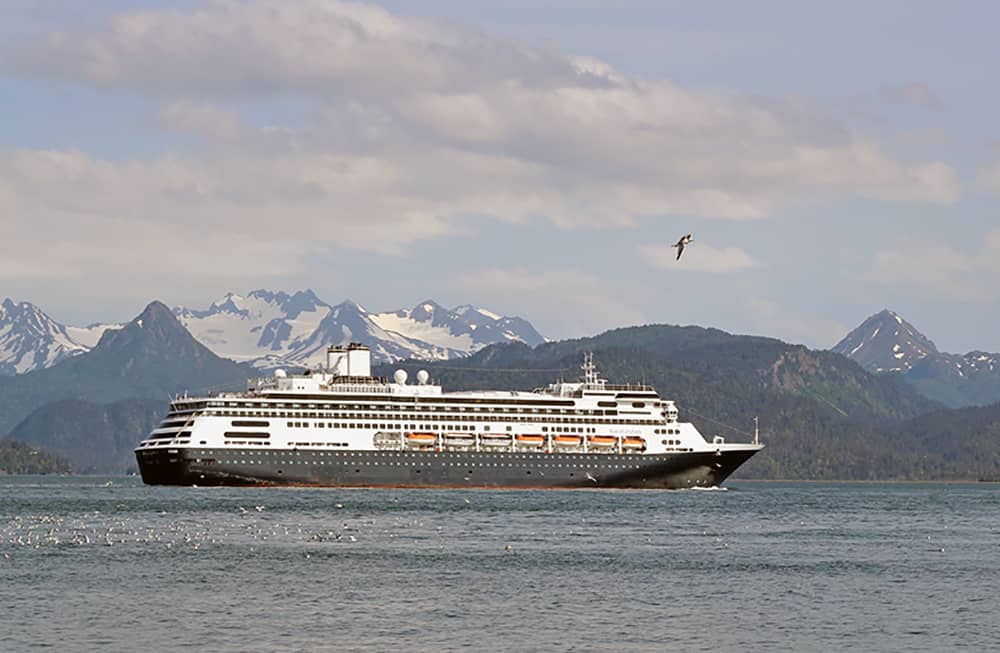 What Months Can You Sail To Alaska?
The majority of cruise lines sail to Alaska from April to September. But the best Months to Cruise Alaska are from May through August. This decreases your risk of rainy, snowy weather and rough seas.
The first date of the year typically being from the last week of April to the first week of September.
Note: Norweigan Cruise Line sails through October if you are looking for a later date!
See Related: How To Book 2 Cruise Cabins For the Price of One
The Best Time to Cruise To Alaska: Month by Month
Since you can only sail one week in April and one week in September, we will condense the months to May through August and give you an idea of what it's like to sail each month, to see what the right fit for you will be!
Alaskan Cruise in May (and late April)-
The month of May can often be a great time to sail to Alaska depending on a few factors. The price is often the lowest of the season, so if you are looking for a great rate, May might be your best bet.
The weather in May is pretty unpredictable. It can be the coldest month of the season to sail. Being from Arizona, I was specifically looking for cool, chilly weather on my Alaskan cruise.
But if you are hoping for warmer weather, May is probably not the best for you.
Most salmon dont start swimming upstream until late May, so this is not a great time to go salmon fishing if you have your heart set on that. Whale watching can also be difficult this time of year.
Go In May: If you are looking for more snow-capped mountains or the cheapest pricing
Avoid May: If you are looking to go salmon fishing or whale watching.
Alaskan Cruise in June –
June is a very popular month to sail to Alaska as this is when kids start getting out of school for the summer and the weather allows for calmer seas and sunny skies.
If you want to avoid the crowds of kids on summer vacation, go as early in June as you can.
Another great thing about June is that it is a relatively dry month so your chances of getting rained out of an excursion are much lower.
June is a great month to go for both weather and excursions. The whales are migrating north now and it would be the perfect time to take a whale-watching trip. It's also perfect for some salmon fishing in Ketchikan… the salmon capital of the world!
And when salmon are swimming… bears are more active!
Go In June – Great weather and the best time for excursions and wildlife.
Avoid June – High cost, very busy towards the end of the month.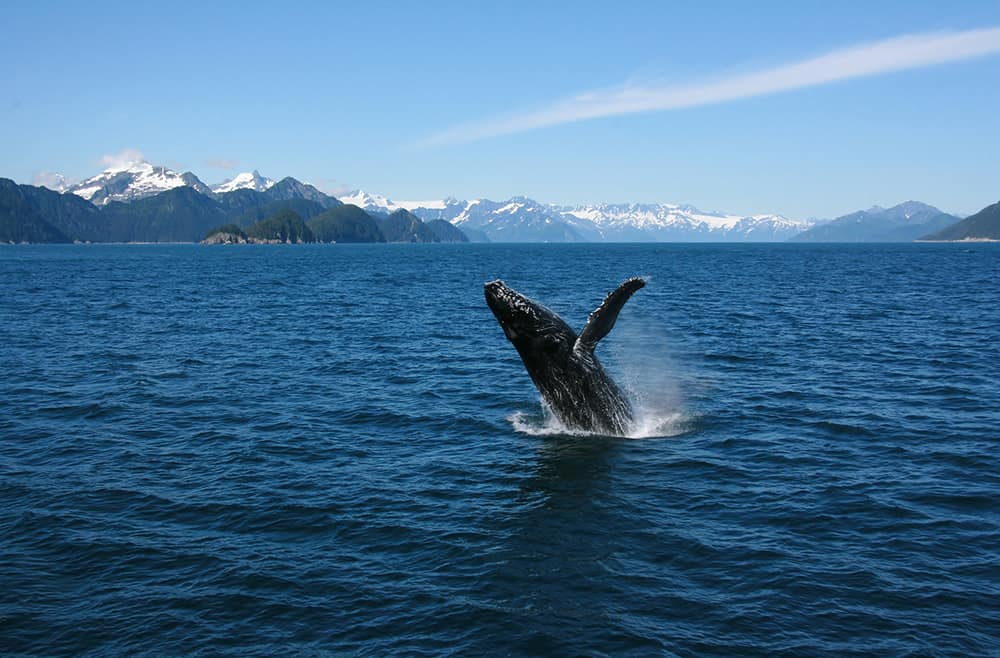 Alaskan Cruise in July –
July is often the most expensive and busiest month to sail to Alaska. This is mostly due to summer vacations with kids and the desire to sail around holidays like the fourth of July.
The weather is great (although still unpredictable!) and you get the most amount of daylight this month too.
Wildlife is out in full force, enjoying the lush green forests and flowing waters. So if you want to see eagles, bears, or salmon, then July is your best bet.
July can also be a very rainy month so you have a higher chance of excursions being canceled. Our dog sledding glacier tour was canceled due to excess fog and that can actually be pretty common in the month of July.
You'll also end up paying more for excursions this month and have to book early as they sell out quickly.
Go in July – celebrate the fourth of July, see amazing wildlife, and have nice weather
Avoid July – highest in price and crowds.
Alaskan Cruise in August (and early September) –
August in Alaska is often the rainiest time of the year. The good news is that means you can usually score some pretty good deals on Alaskan cruises. The bad news is that you have a high chance of your excursion getting rained out.
If you're a last-minute vacation booker, you might be in luck during this time of the year. Any cabins that haven't been booked at this point are being offered at discount pricing before the end of the season.
August and July are also when the mosquitos are out the most, because of the rainy and warm weather. So make sure to pack your travel-sized mosquito spray!
If you are looking for more of a fall experience, aim your travel plans for the end of August or the beginning of September to see some leaves starting to change color.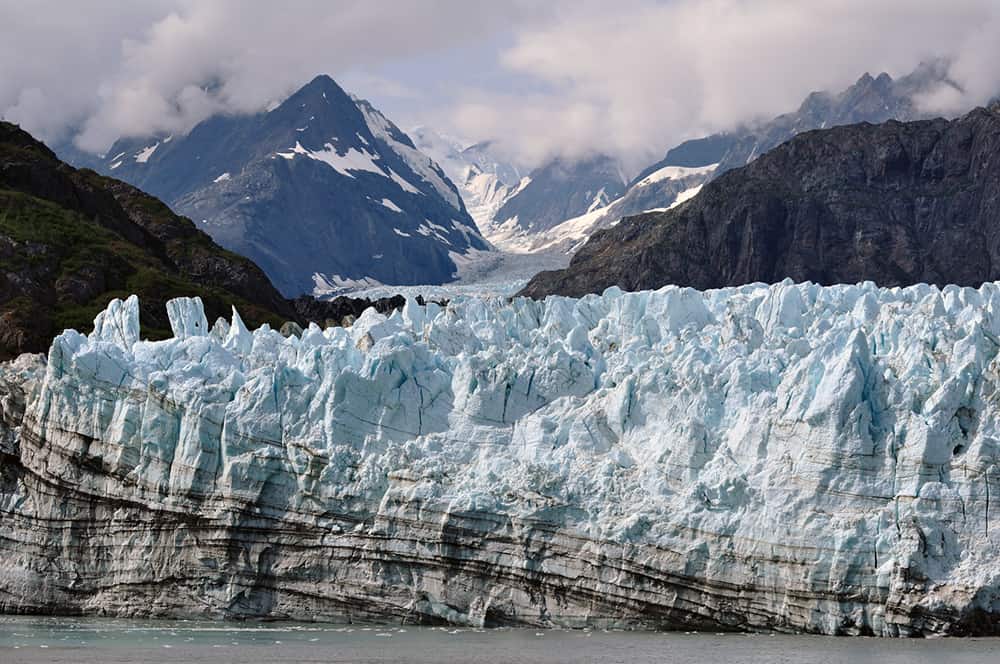 Best Month to Cruise Alaska
Alaska is one of those destinations where any time you go, you won't be disappointed. I traveled there in both early June and mid-July and nothing about either trip was predictable.
We experienced 80-degree temperatures and sunshine in June and cold and rainy days in July. So you just never know! (That's why they say dress in layers and pack an assortment of outfits).
See Related: What To Wear On An Alaskan Cruise
Planning a Cruise? Start here…