32 Genius Cruise Packing Hacks for 2023
Getting ready to board a cruise and not sure what you can and cannot bring? These Cruise Packing Hacks are everything you need to know before you sail!
Going on a cruise can be really exciting! Until you stop to think about everything you need to pack.
Cruises are not like other vacations. You can't run out to a grocery store to get things you forgot at home. Once you get on that ship, you better have what you need!
Not to mention cruise ship rooms are smaller and more compact than most regular hotel rooms. And come with a whole list of things you can and cannot do on a ship.
Having been on several cruises myself, I have lived and learned! These Cruise Packing Hacks are the best tips you need to make sure your cruise is smooth sailing (no pun intended haha!)
Check Out My Must-Have Travel Essentials HERE!
1 – Start a List
Long before I'm even ready to pack for my cruise, I start a packing list so I will never forget things. Being on a cruise is unlike most other vacations and you really do want to be prepared.
You can't run to a grocery store or have medications shipped to your location. I always start making a list long before my cruise, and add to it as I get closer.
2 – Use One Hard Shell Luggage
I am a big fan of hard shell luggage for so many reasons. My luggage got caught in a rain storm in Miami and all my clothes got soaked (that doesn't happen with the hard shells!).
I also feel hard shell case luggage travels better and is damaged less. Especially if you want to bring fragile souvenirs home (like a bottle of tequila from Mexico!)
But the main reason I love hard shell luggage on cruises is that you can open them up and they easily slide under the beds (the beds are made with lots of room underneath!) and they act as an additional drawer. I typically keep dirty clothes on one side and extra shoes on the other.
3 – Use a Backpack Cooler For Packing
I love this portable backpack cooler for many of my travels! It acts as excellent carry-on luggage if I fly and doubles as a small cooler when Im out adventuring.
These are especially great for cruises because you can stock up on some fruit and snacks from the buffet and take them to shore. Once you get off the ship, you don't want o be going back on to eat and drink. But things can be costly when you get to most ports.
4 – Consider an Airtag
Luggage can easily get lost when you fly, but did you know they often get lost when you cruise too?
When you first board the ship, you hand over your luggage and it gets delivered to your room later. So That's one chance of it getting lost.
Even worse… they deliver it to the outside of your room. In the hallway! Where anyone can grab it. By putting an air tag INSIDE your luggage, you can easily see where your bag is. And on a cruise, that's critical. Because like I said before, you can't just run to Target and grab a new wardrobe if your luggage gets lost.
5 – Buy a Cruise Tag Sleeve
Another great way to ensure your luggage does not get lost on the ship is by purchasing a cruise tag luggage sleeve.
Your luggage tags and printed on regular paper and just stapled together around your handle. They can easily get torn off in transit. That luggage tag is the ONLY way the ship's crew knows which room it goes to.
So make sure it doesn't get ripped off with these inexpensive luggage sleeves.
6 – Print Cruise Boarding Documents
Everywhere you go these days, things are online or they have an app. But not cruise lines! They haven't quite caught up with that yet.
Even though most cruise lines DO have an app… you still have to physically print your boarding passes out on paper.
I thought I could just download to my phone but no, they REQUIRE printed boarding passes. So make sure to print those out before you show up on embarkation day!
7 – Pack a Cruise Carry-On
An important tip to know is that when you check your luggage with the cruise line, they take it away and deliver it to your room later in the day. But it could be as late as 8 or 9 pm. And if you board at noon, that's a long time to not have luggage with you!
So we always pack a carry-on like a small backpack or swim tote that has a few necessities for us. Like if we are on a warm cruise (Caribean) we pack the sunscreen and our bathing suits so we can head straight to the pool and swim.
I'll also throw my camera and phone in there and even a book to keep me occupied.
It is advised to keep either expensive valuables or medications with you in your carry-on as well in case you don't get your luggage for a while!
8 – Use Packing Cubes
Cruises are a place where I always unpack my belongings to keep everything as organized as possible. Given the small amount of space, they give you (even less if you have to have the room with other people!) you need to find ways to keep your stuff organized.
Packing cubes not only help me in my luggage when I travel, but they also help keep things organized.
So even if I have a drawer all to myself, I'll keep bathing suits in one cube, undergarments in another, and accessories in one. Having everything separated in the drawer makes life so much easier!
9 – Buy Magnetic Hooks
I first thought buying magnetic hooks sounded weird… I mean, you have a whole closet with hangers. But man what a game changer!
Most of the walls in a cruise ship are magnetic (don't ask me why!) and I use these magnetic hooks for everything!
I hang wet bathing suits on them to dry, towels, hats, hoodies… you name it! Having everything hanging up versus draped over chairs and tables keeps your room super organized.
10 – Bring a Dirty Laundry Bag
I don't know what it is about cruises but we go through so many clothes! you wear casual clothes to breakfast, swimwear, and cover-ups to the pool, a nice dinner outfit, and casual clothing out on excursions… and that can all be in one day!
The number of dirty clothes piles up super fast and your small cruise ship room does not have any good place to put them. I prefer to bring a small mesh laundry bag to keep our dirty clothes in one place.
11 – Bring a Nightlight
Cruise ship rooms are dark… VERY dark! And sometimes the only way to get a little light is by turning on all the lights in the room. which is not great for your partner if you need to use the restroom in the middle of the night.
Bring a small nightlight and place it in the bathroom so you can easily use the restroom at night. Especially if you are traveling with kids!
12 – Pack a Shoe Storage Bag
Shoes are another pain in my butt when traveling! Cruise ship rooms have no place to put shoes except for the very bottom of your very small closet. You'll be lucky to get about 3 pairs in there.
Having a shoe storage bag helps immensely! And I love the pockets because you can put other things in there too… like sunscreen, bug spray, and other toiletries.
TIP: You can also use your empty luggage under your bed as a shoe storage place!
13 – Bring an Extra Electrical Outlet
I am always shocked at how few electrical outlets there are on a cruise ship. And with all the technology we travel with these days, it's essential to be one of your own or you'll be fighting with your family to simply charge your phone.
Even most of the bathrooms don't have electrical outlets. So you have to unplug your charging phone just to blow dry your hair at the desk.
These nifty electrical outlets are easy to pack, safe to use, and offer you the ability to
14 – Don't Forget Your Chargers
Everything needs a charger these days! Make sure you pack enough and all the right kind. I love using this charger organizer to keep them all together when I travel.
Don't forget chargers for:
Phones
Cameras
Tablets
Portable Chargers
Medical Devices
Kindle
15 – Bring a Portable Charger
While an extra portable outlet will help you in the room, chances are you'll be out and about the majority of your day. And your phone's battery will drain easily with all the photos and videos you'll take.
You can be in some ports for 10-12 hours at a time, and trust me, your phone will die eventually if you don't bring a portable charger with you.
I bring one of these portable chargers to every place I travel. Especially if you are stuck at the airport for long periods of time, it's nice to know your phone will always be fully charged.
16 – Bring Ziploc Bags
Ziplock bags have so many purposes when you travel, like using them to pack your lotions and shampoos so things don't leak all over your suitcase.
But they can be especially helpful on cruises!
Use ziplock baggies to pack snacks from the buffet in your backpack before you head out to port or on an excursion. You can often grab things like fruit and cereal, bagels, cookies… things that can easily be packed for the day.
If you travel with kids, then you know how important it is to have snacks on you at all times!
17 – Bring Your Own Beach Towel
The cruise line will have plenty of towels to use on deck and most passengers will say "Don't pack towels… they have plenty on the ship and you can even take them off the ship with you!" Which is true… BUT…
Their towels are small and rough. And putting a towel on a lounge chair among a hundred other towels that look the same… won't keep your spot.
I always bring my own towel. But not just any towel! I love love love this Quick Dry towel. It folds up to be super small so it's easy to pack. And won't stick to it and it dries super fast. It makes a great beach blanket too.
And when you put one of these on a lounge chair on the cruise ship deck, there's no mistaking that someone has claimed that chair.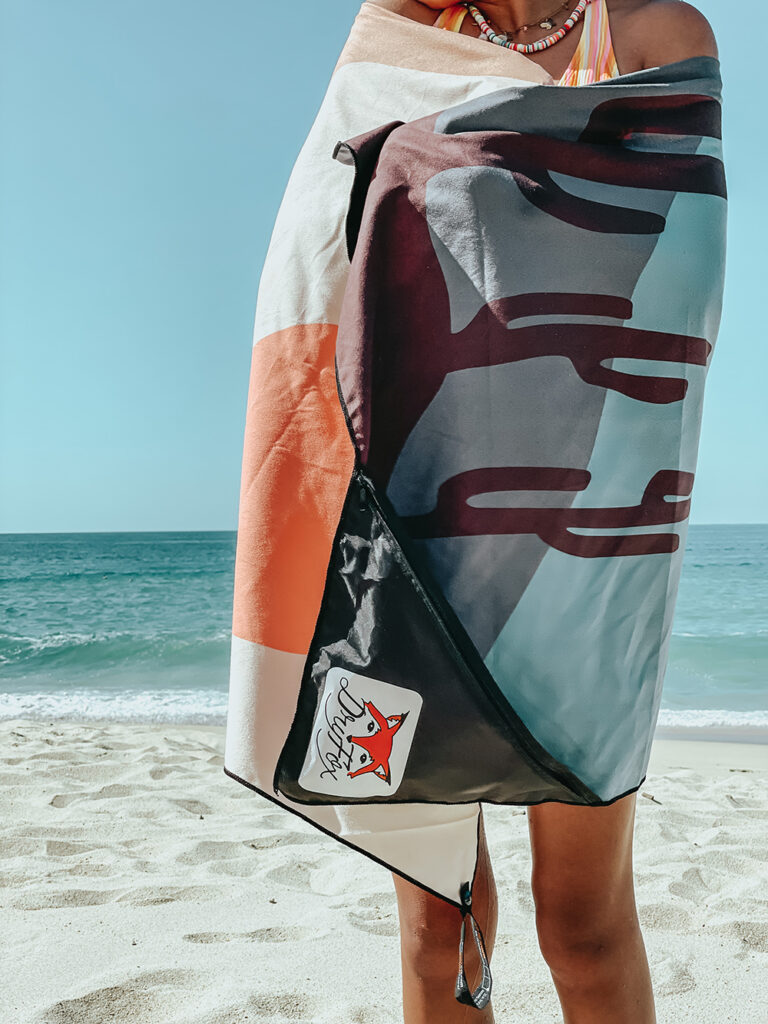 18 – Pack a Beach Lock Safe
These handy little safes are great for traveling any time you go to a beach or pool area. I bring these on cruises and lock them to my lounge chair.
This way, you can lock up your phone, money, jewelry, and even your room card so you can go dip in the pool or hang in the hot tub without worrying about leaving your valuables out on your chair.
These beach safes are especially great for taking on shore when you go to areas known for theft. Like Junkanoo Beach in the Bahamas. It's a great place to visit and a beautiful beach that is otherwise safe but known for petty theft.
19 – Bring a Waterproof Cell Phone Case
No matter what kind of cruise you'll be on, chances are you'll be in the water! I mean, you are on a ship after all.
Grab yourself one of these super inexpensive waterproof cell phone cases that fit almost any phone. It actually fits my iPhone, keys, and a few credit cards too. And I swear I have taken this thing snorkeling in Hawaii, tubing in Arizona, white water rafting in Colorado and it holds up! Everything stays super dry inside.
20 – Bring Cover-ups!
The first time I went on a cruise, I planned out my outfits meticulously. My swimwear for the pool. My dinner outfits for each night. And my adventure/excursion outfits while in ports.
What I forgot to pack were simple cover-ups when I'm on the ship, but need to go someplace other than the pool.
If you want to hit the buffet, a restaurant, any shops, etc, they will require you to be wearing a cover-up. And not some mesh shorts that barely cover you, but an outfit that will actually cover you up.
So make sure to pack some basic tees and shorts or casual dresses to throw on over your bathing suit when walking around the cruise ship.
21 – Bring Your Own Medicine
Obviously, if you have prescription medication, you will need to bring that with you. But I'm talking about a general, over-the-counter medication. And there are 2 main reasons why it's important to bring your own medications like Tyleonl, Motrin, Benedryl, etc.
It is ridiculously expensive to buy these super cheap medications on the ship. Trust me, it's not worth it. And such a waste of money.
The most important reason: If you develop cold-like symptoms, or get a fever, or rash… they will send you to the medic on the ship and test you for Covid or Flu. If you test positive for either of those, you can kiss the rest of your cruise goodbye.
22 – Bring a Document Organizer
No vacation requires the amount of paperwork quite like a cruise. As I mentioned above, they will want you to print out your boarding passes. They may also require customs paperwork, birth certificates, and passports.
I love to use this handy document organizer to keep everything in order.
And because once I step on that ship, my cellular service is pretty much gone… I print out a copy of every excursion I booked so I have a hard copy in case I cannot access it on my phone.
23 – Pack Towel Clips
When you are out at sea, it can get very windy! And if you're trying to lounge at the pool, you're probably close to the top deck where it's even windier.
Having some cute towel clips can help keep your towel in place when you're not using your lounge chair. You have no idea how many towels you'll see blow around the deck!
24 – Bring a Small White Board or Sticky Notes
When you are on a cruise ship, your phone will most likely not work at all. Which makes it almost impossible to get ahold of anyone.
We love to bring a small whiteboard and stick it to the outside of our door. We can leave messages for family members who come looking for us and even requests for our room steward. Sticky notes work great too!
25 – Bring Reusable Straws
Cruise ships often carry no straws at all or edible ones. Yes… edible.
Personally, I think the edible ones taste great. But there are plenty of people who do not agree with me and throw them away. Plus, even if you do like them, they don't last very long. They are made out of a thin chocolate and after a few sips, kind of melt away. And then you are left with no straw at all.
If you plan on having a lot of beverages or you have a kid who prefers straws too… bring some reusable straws with you!
26 – Place Contact Information Inside Your Luggage
Simple and easy to do (and is a great tip for flying with luggage as well!)
Before you leave home, place a simple piece of paper INSIDE your luggage with your name, address, and phone number on it. That way if your luggage tags get ripped off, they can still easily find you with your contact information.
27 – Leave The Laptop At Home
Unless you are someone who absolutely cannot stop working while on vacation, go ahead and leave that laptop at home.
Wifi on cruise ships is notoriously bad. Even if you pay for the most expensive package, it's still pretty bad. If you really need access to a computer, they have several in their business center where the Wifi actually works pretty decently.
28 – Only Bring Travel Sized Toiletries
Not only is it much easily to travel with and can go in your carry-on, but it will help you on the cruise ship as well.
The bathrooms are small! And there is very little space to store toiletries. So the smaller the bottles, the better!
29 – Bring Your Own Water Bottle
Cruise ships offer filtered water throughout the ship and you can easily fill up your water bottles any time you'd like.
It's great to have a full, fresh bottle of water with you when you get off the ship and head into the ports. Especially if your cruise ship goes to Mexico or somewhere where you might not trust the water.
This collapsible water bottle is great to travel with!
30 – Bring Cash!
While you can pretty much use your cruise ship card to buy anything on the ship you would like, it's always a good idea to bring a little cash.
At the end of your trip, you'll probably want to tip a few of the service workers. If you tip by credit card, it goes to ALL the workers. If you want to tip someone specifically, you'll have. todo it in cash.
Not to mention cash is key in almost every port you visit and your best pay is to negotiate lower costs on souvenirs.
31 – Bring Non-Slip Sandals
This was one tip I wish I knew on my first cruise! Those cruise ship decks are SLIPPERY! And it feels like they are wet and slippery all day every day.
In the mornings, I would get a specialty coffee and walk around and the decks would be wet from the crew washing the more even just from the morning mist.
once most of the passengers wake up and start using the pool, the decks are just wet constantly.
Get yourself a nice pair of nonslip sandals to walk around with so you aren't one of those people that slip and fall down (it happens often!).
32 – Bring a Non-Digital Watch
Cruise ships often sail through different time zones and it's really hard to keep up with what time it is. especially when your smartphone or smartwatch doesn't have a signal and doesn't keep up with the current time zone.
If I need to wake up early for an excursion, I ALWAYS call for a wake-up call with room service.
While on a Western Caribean cruise, our ship sailed through 3 different time zones… I never knew what time it was! If you have a regular watch, you can manually set it easy morning.
Cruise Packing Hacks
Being prepared is often the best way to ensure a great vacation! Use these cruise packing tips to make sure you have everything you need, and have a fun and comfortable stay on a cruise ship!
You Might Also Be Interested In: