16 Fun Things To Do In Pagosa Springs with Kids In The Summer
Fun Things To Do In Pagosa Springs with Kids in the Summer
Looking for some great activities in Pagosa Springs with kids in the summer?
Being from Arizona, our goal is to get out of town during the hot summer months and seek cooler weather.
With Colorado being within a decent driving range, we set our sights on Pagosa Springs in search of some fun (and cool) summer activities.
Pagosa Springs is located in the southwest area of Colorado, just north of the New Mexico border. It's located just a short hour's drive from Durango, Colorado where you can find a lot more activities for your family!
If you enjoy the outdoors, bright green grass, tall trees, and snow-capped mountains… then Pagosa Springs will not disappoint you!
And yes, the mountains are snow-capped year-round! We visited in late June and the temps were about 7-80 degrees during the day. And there was still snow on the mountaintops.
If your family is like mine, they will enjoy the gorgeous scenery Pagosa Springs has to offer, but they will also want to be entertained! So here is a list of super fun family activities you can do in Pagosa Springs with kids in the summer.
Pagosa Springs with Kids in the Summer
Pagosa Springs can be a great weekend getaway or easily extended to a week's vacation for your family. There are so many things to do… this will definitely be a memorable trip for your kids!
1 – The Pagosa Springs Resort and Spa (Day Pass)
The Springs Resort is one of the most well-known and popular things to do in Pagosa Springs. Even though it is a resort, you can purchase a day pass and enjoy 20 different hot springs and a cold plunge right in the San Juan River.
It also has a big pool for kids to swim in but hopping from hot spring to hot spring is more fun (they all have varying temperatures from lukewarm to 109 degrees!). They have a restaurant on-site for lunch and are open from 9 am-10 pm. And you can definitely spend an entire day here!
They have a great locker room with showers included if you're camping!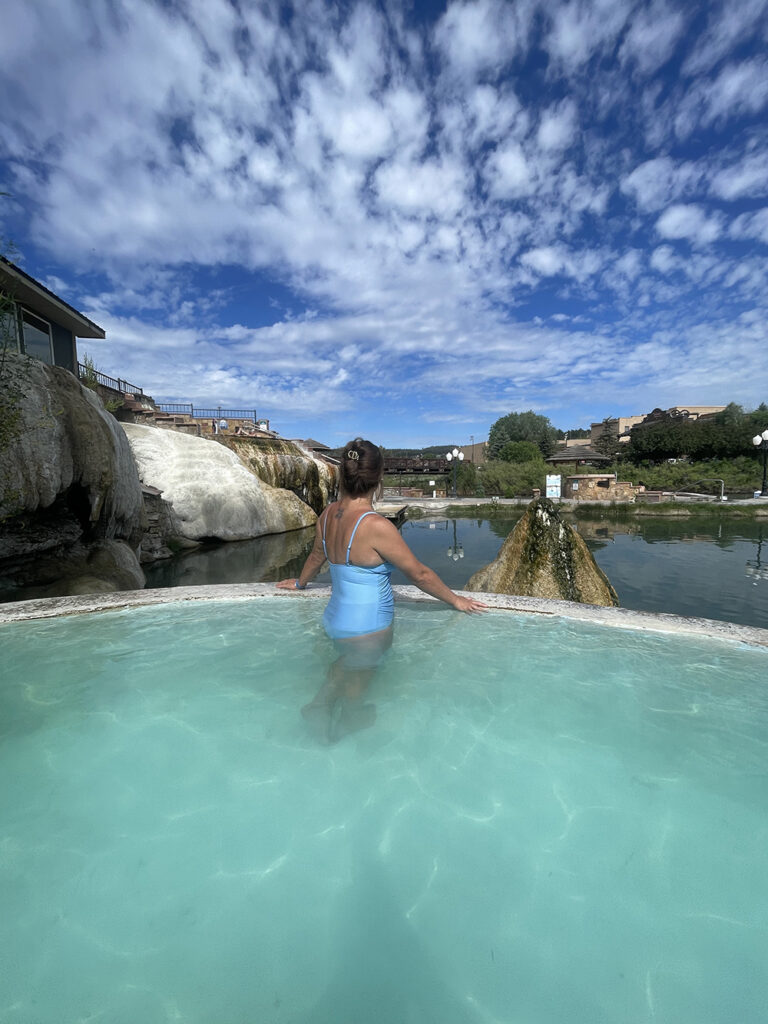 2 – Hike Treasure Falls
If your kids are like mine and love cool things but don't actually like to walk very far on hikes, this is the perfect one for them. You pull up to the parking lot and can see the giant waterfall right away.
There is a short and easy hike up to the top of the waterfall to see some killer views and thundering water. Take the hike up on the left side for an easy walk (seriously, I saw elderly people and flip-flops on that trail). Or take the left side for a slightly more difficult and adventurous hike.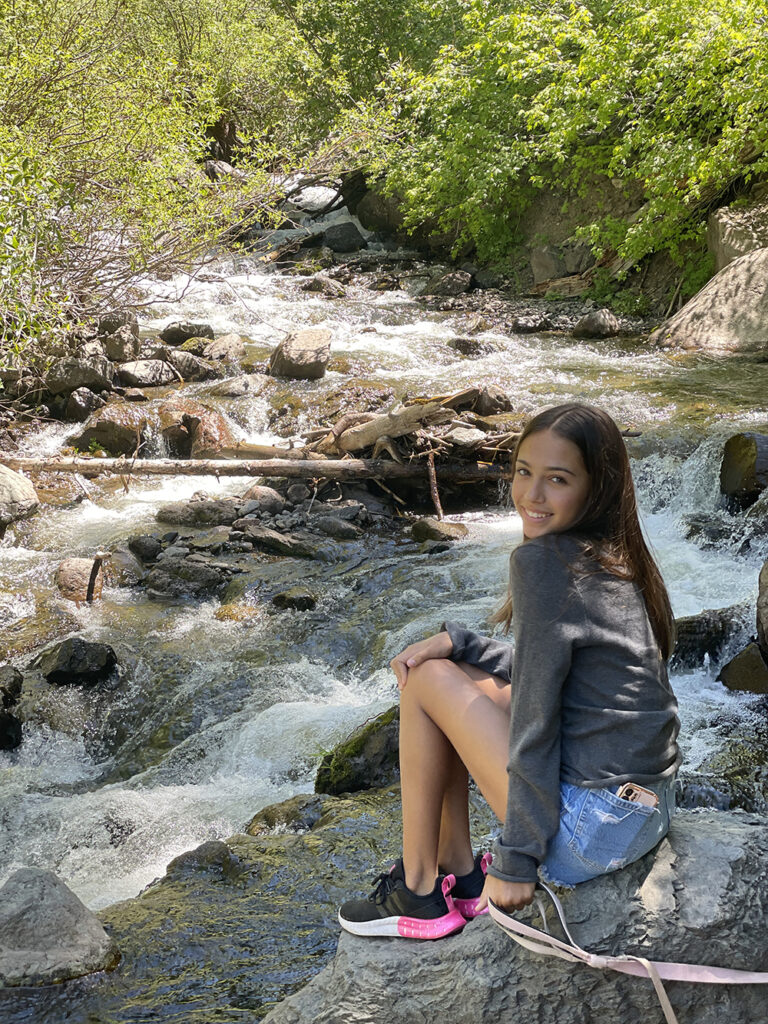 3 – Go Dog Sledding
Yes! You can go dog sledding in both the winter and the summer. You'll take a super scenic drive to a 450-acre private ranch in the mountains to visit Mountain Paws Dog Sledding.
This activity is super fun for all ages and interactive too. We got to meet and pet each dog, and even help put their harnesses on and get them hooked up to the sled (it's on wheels during the summer months).
Both my daughter and I even got turns being the musher and driving the dog sled around. This was super memorable and probably one of our favorite activities in Pagosa Springs.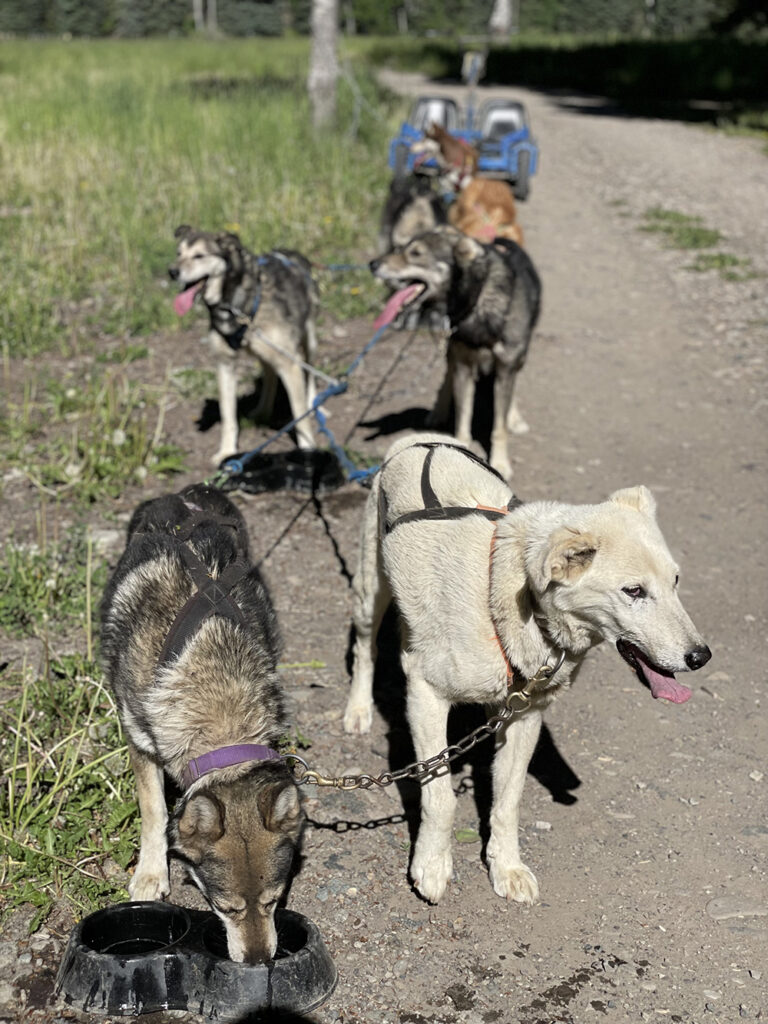 4 – Williams Creek Reservoir
If you love water and need something a little calmer than the San Juan River, drive up to the Williams Creek Reservoir. It's about a 45-minute drive from downtown Pagosa and mostly on a dirt road, but it's pretty flat and easy to drive and well worth it.
Williams Creek Reservoir is great for outdoor activities like paddle boarding, kayaking, swimming, fishing, or just picnicking. There are a few camping spots near the lake too.
Grab some food and spend an entire day out here or come for a few hours in the afternoon when it's a little warmer. It's a great place to relax and enjoy some amazing scenery.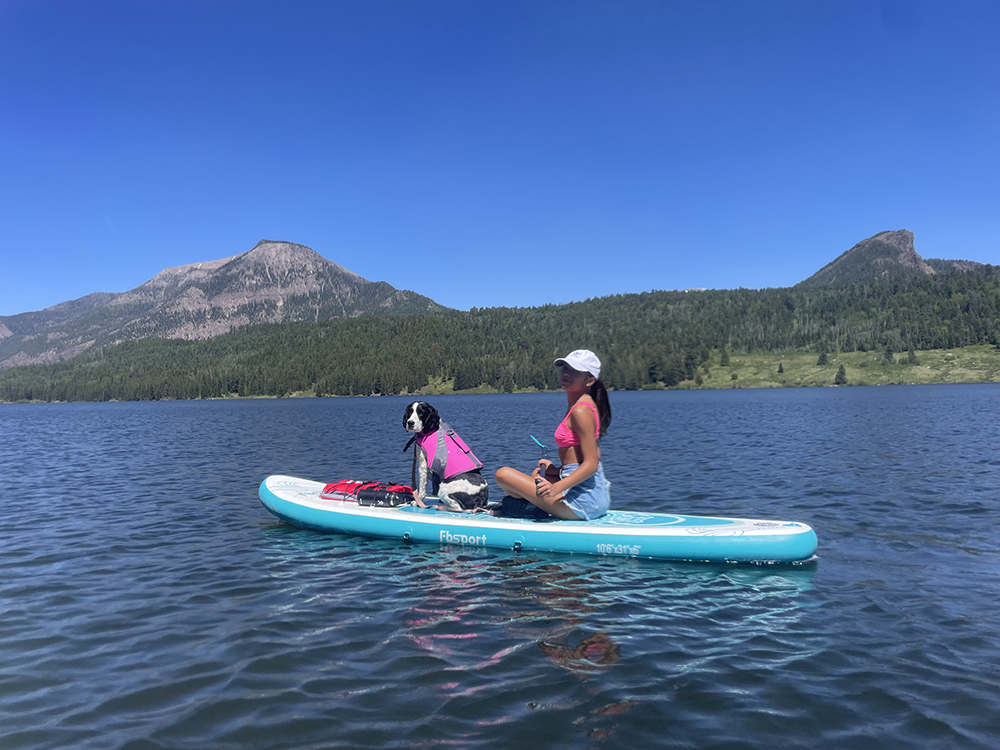 5 – Rafting on the San Juan
If you crave something exciting, check out Rafting down the San Juan River! This fun adventure has beginner and moderate floats and can accommodate kids too.
You'll float through the San Juan Mountains and see wildlife. And then you'll float right through the middle of town and pass the Springs Resort.
This was high on our list of activities we enjoyed in Pagosa Springs with kids in the summer!
6 – Shopping in Town and Natural Hot Springs
I put these two activities together because they are both short and in the same location.
Downtown Pagosa Springs is very small but very cute. There are several shops and restaurants along the main road. You can get ice cream, browse through a bookstore, and find tons of souvenirs.
Directly across the street from the shops is the San Juan River overlook. Walk to the overlook and you'll find a path that takes you down to the river. Along the river are several small hot springs you can play and lounge in.
Kids love this and they are free to the public! Dip in the warm water of the hot spring then do a cold plunge into the river itself.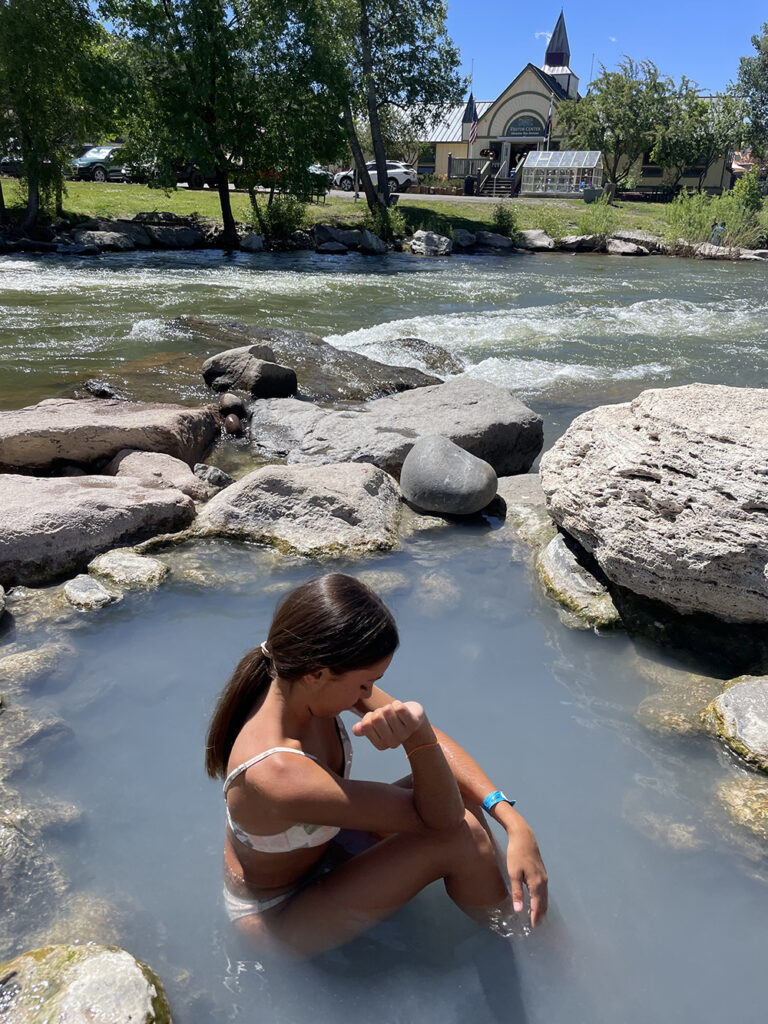 7 – Cloman Park in Pagosa Springs
Cloman Park is one of my favorites because it is super close to downtown Pagosa Springs and has a quick and east drive. But you feel like you are out in the wilderness.
It has disc golf if you want to play a round, picnic tables, and an easy hike (great for kids!) around the entire park through the woods.
Cloman Park is also super dog friendly if you are traveling with your pups. They are allowed off-leash here and on the entire trail. Our dogs loved it!
8 – Visit the San Juan Historical Museum
If your kids like cowboys and the wild west, check out this fun little museum that has displays that depict life in the area from the 1890s to the early 1900s.
See real artifacts left behind by settlers in the area and get a sense of what life was like back then!
9 – Go on a Hot Air Balloon Ride
If you're not afraid of heights, you'll love this unique adventure!
Do you think the scenery is gorgeous as you drive around the San Juan Mountains? Imagine seeing it all from above! Think of the miles and miles of snow-capped mountains surrounding you.
Check out Rocky Mountain Balloon Adventures and book the most memorable Pagosa Springs adventure yet!
10 – Visit the Rocky Mountain Wildlife Park
This fun little zoo lets you see the creatures of the San Juan Mountains in their natural habitats.
You can learn how to take care of the animals and even stick around in the afternoon to watch them get fed. This time is best to visit so you can really see some of the animals that typically like to hide.
Tip: Book your dog sledding trip in the morning, and then hit the Wildlife park on your way home. They are located near each other and you'll arrive at the Wildlife park at the perfect time to see the afternoon feedings.
11 – Go Horseback Riding Through the San Juan Mountains
What better way to be outdoors and in nature than a good old-fashioned horseback ride? Horses can go on some trails your car just can't. So you can experience some really cool forest and mountain views this way.
Check out Crazy Horse Outfitters where you can do 2 or 4 hours rides and even go hunting on horseback!
12 – Rent UTVs in Pagosa Springs
Experience exciting off-roading through the San Juan Mountains. Go places cars, bikes, and even horses can't go and see some truly amazing scenery.
You can even rent a UTV for up to 24 hours and spend an entire day out in the mountains exploring around. This company provided goggles and helmets and even a cooler to take some food out with you.
13 – Visit Chimney Rock National Monument
Head a few miles out of Pagosa Springs to visit Chimney Rock, an off-the-beaten-path archaeological site. You can visit this area that preserves over 200 ancient homes and ceremonial buildings.
So if you want to add a little culture to your trip, this is a great way to teach kids about the past and let them roam around. It's only $20 for your entire family to enjoy for the day, making this a fun and super affordable activity.
14 – Rent Bikes
Pagosa Springs offers miles of bike paths you can discover on your own. From paths through the San Juan Mountains to right through the downtown scenic areas, there are plenty of places to go.
You can even rent some bikes and take them up to Williams Creek Reservoir with you for the day. This bike rental shop will even give you maps of bike trails in the area and help you find a trail that will be most suitable for your family, whether you need something easier for young kids or more challenging for older kids.
15 – Go Fishing in Pagosa Springs with kids in the summer
High Country Fishing Charters offers several guided fishing trips that will take you to some of the best rivers in the San Juan Mountains. They will provide all your gear which also includes all flies, rods, and waders or wadding shoes.
Or simply rent some fishing gear and head out to one of the many lakes in Pagosa Springs to do a little fishing on your own.
16 – Visit the Great Sand Dunes National Park
If you're anything like our family, you like to visit as many National Parks as you can! Pagosa Springs is located just a short 2-hour drive from a great national park, the Great Sand Dunes.
You can make a day trip out of this or go early and still have time to come back to Pagosa Springs to soak in a hot spring and enjoy some dinner overlooking the San Juan River.
Haven't you always wanted to go sledding down some sand dunes?
What to do in Pagosa Springs for Families
surrounded by thousands of acres in the San Juan National Forest, Pagosa Springs, Colorado is the perfect summer destination for your family.
Pagosa Springs with kids in the summer will be one of your family's favorite vacations whether you spend a weekend or longer there. There are endless things to do in Pagosa Springs that will keep every member of your family entertained.
Are You Traveling to Pagosa Springs With Dogs?
When we visited Pagosa Springs, we went in our Camper Van and hit up some dispersed camping sites as well as a few campgrounds with our pups. And while several of these activities are dog-friendly, there were times we didn't know what to do with them.
Doggy Day Care 81147 (yes, that's that name!) was a saving grace. They take drop-ins from out of town and without reservations. We were able to just walk in and let our dogs play for the day while we visited the Springs resort and went dog-sledding. Just make sure you bring a copy of your dog's vaccination records!
You Might Also Be Interested In: