Fun Things To do In Durango with Kids
Family-Friendly Things To Do In Durango with Kids
If your family loves outdoor adventures, then you need to check out Durango, Colorado and this list of Fun Things To Do In Durango with Kids.
We recently spent a week in Durango and quickly realized why this Colorado town is becoming so popular. Located just 7 hours from Phoenix and an easy drive from Texas, Durango is a great place to get out of the southwest heat and into some mountains and cooler weather.
During the summer months, we do most of our traveling with our Camper Van. So we love finding outdoor adventures where we can camp but also go exploring.
Durango is the perfect town for all kinds of travelers. They have luxury hotels, cute boutique hotels, RV parks, and plenty of camping areas.
If you are looking for a fun, outdoor adventure mountain town, add Durango, Colorado to your bucket list!
Things To Do In Durango with Kids
In no particular order, all of these activities are sure to keep your kids entertained, without you feeling left out.
1 – Go White Water Rafting On The Animas River
One of our absolute favorite activities that we would do again and again is going rafting down the Animas River with Mild to Wild Rafting.
They have several different rafting excursions you can choose from. you can select a half-day, full-day, or even multi-day tour. And you can select what skill level you'd prefer.
This was our first time ever rafting so we chose beginner. It was pretty tame and allowed for younger kids, but we definitely want to try something a little harder next time. Rafting is addictive!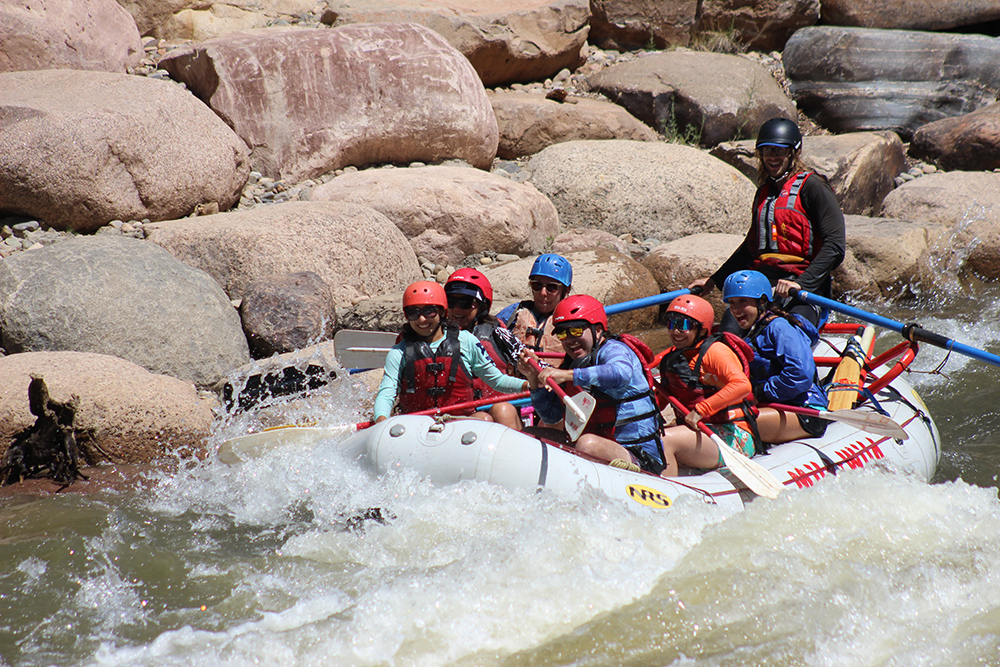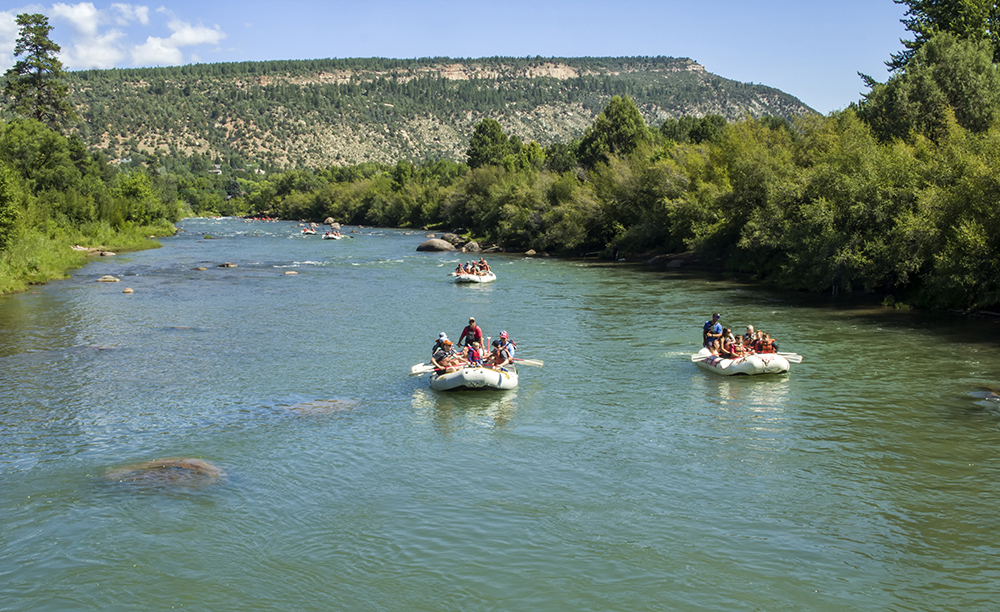 2 – Ride on the Durango to Silverton Railroad
One of the most well-known activities in Durango is the Durango to Silverton Railroad and there's a reason why! This train ride takes you through some incredible scenery through the San Juan National Forest and along the Animas River.
You can choose between 2 different tours. One takes you to the small town of Silverton where you can get out and explore. The other is a shorter trip that takes you to Cascade and lets you have lunch by the Animas River before returning home.
Taking the longer route to Silverton is great if you want to see that town. But it can take 3 hours to get there and 3 hours to get back, so we found the shorter trip to Cascade was more kid-friendly and still offered the same amazing views.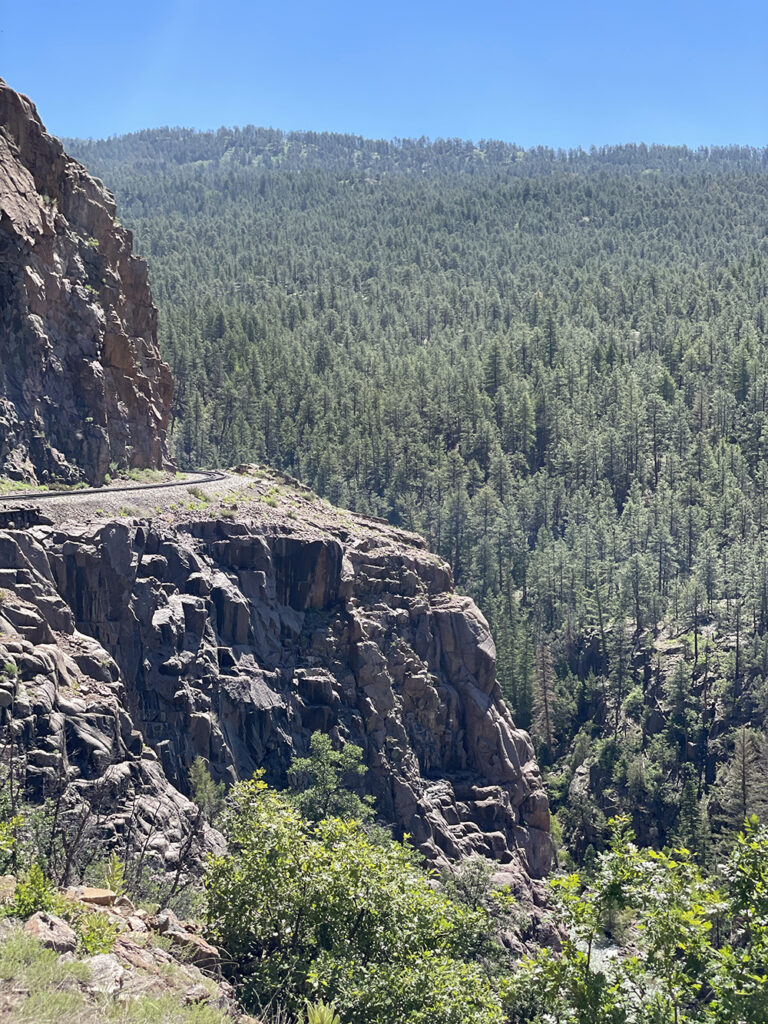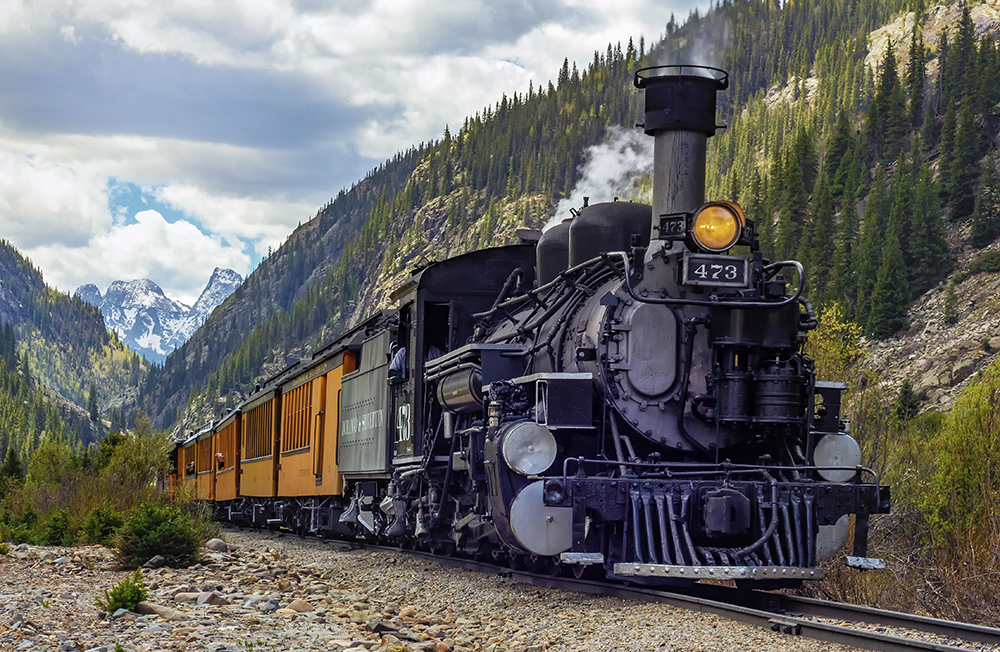 3 – Get Adventurous with Zipline Adventures
Go soaring through the San Juan National Forest with Durango Zipline Adventures. Known to be one of the longest ziplines in the country. You can choose from 6 ziplines or the 12-zipline course.
You'll have stunning views of the surrounding mountains, forests, and the town of Durango. And you only need to be age 5 and up to go on the zipline so it accommodates most family members.
4 – Purgatory Ski Resort in the Summer
Did you know this famous ski resort near Durango has plenty of summer activities as well?
You can go mountain biking or try the Alpine Slide, a fun slide down the hill. Or even the mountain coaster. It's like a small amusement park for kids!
You can realistically spend the entire day during the summer at Purgatory Ski Resort. There is food, shopping, hiking, and even a lake to spend some time on.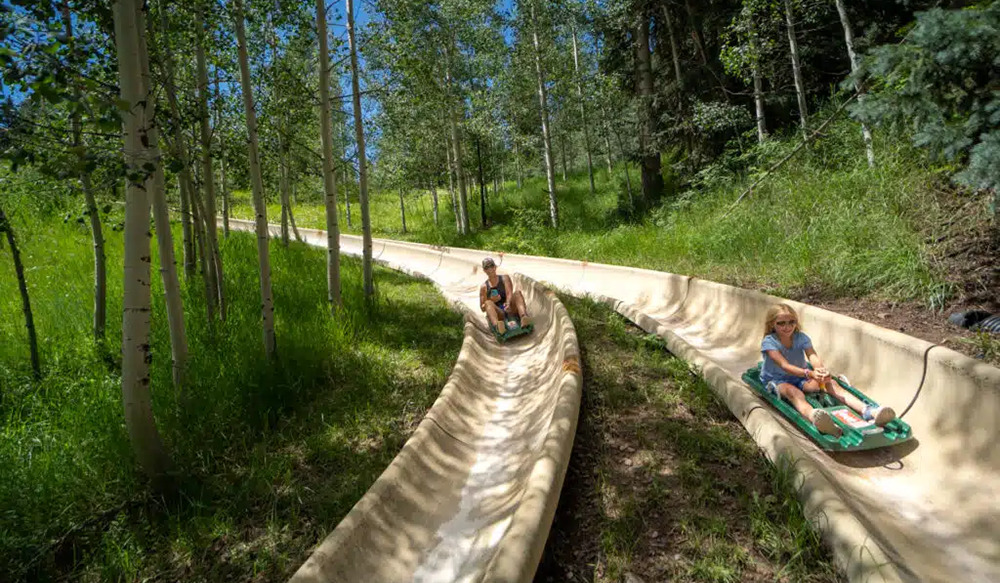 5 – Hike or Bike on Junction Creek Trail
One of the most famous hiking trails called the Colorado Trail, goes right through Durango. And although the majority of this trail is a little too intense for kids, you can still visit the Junction Creek Trail.
This trail is easy and can be biked or hiked. You can access Junction Creek and its shallow pools in the summer to play in the water. This is a great place with some amazing scenery where your kids can be outdoors and swim.
6 – Walk Through Downtown Durango
The downtown Durango area is a great place to spend the afternoon with your kids. There is one main road where you can find tons of restaurants and shops.
Your kids will love looking through all the shops and toys. And if you are looking for a Durango sweatshirt or tee shirt, youll definitely find one here!
Some of our favorite places to eat were Fired Up Pizza, the food was amazing and they even have a dog-friendly patio if you are traveling with pets. We also loved the Durango Coffee Company for a morning coffee or hot chocolate. Or visit the Rocky Mountain Chocolate Factory for some tasty treats!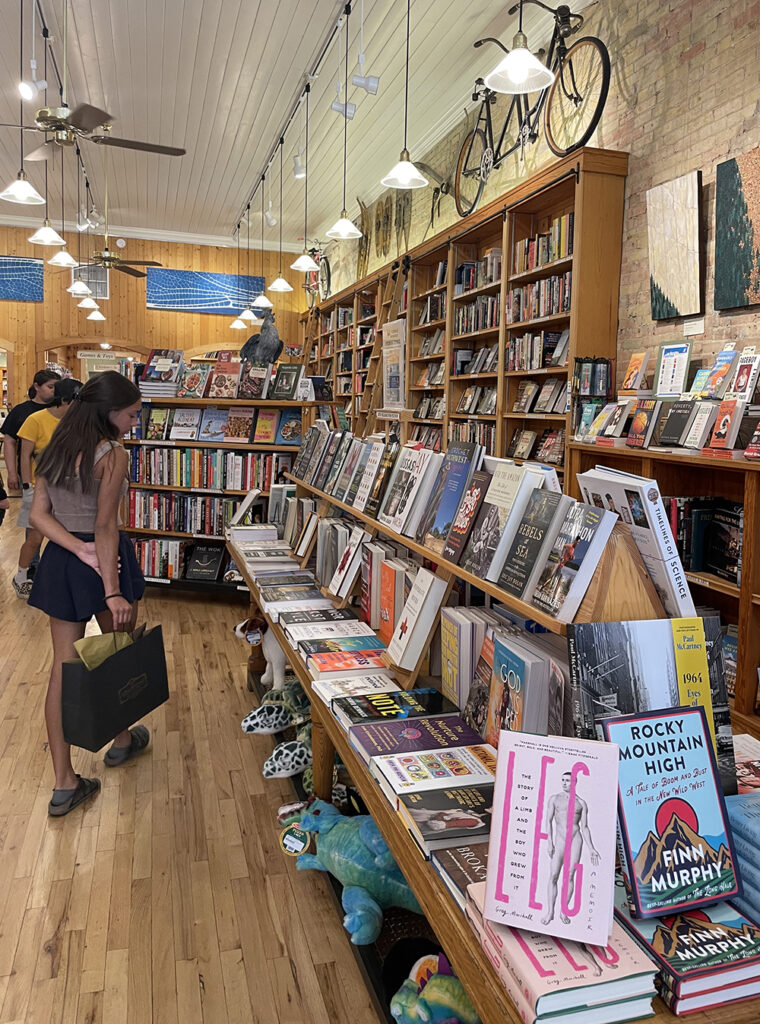 7 – Visit Honeyville and James Ranch
Located just about 15 minutes north of Durango is the Honeyville Honey Factory, but trust me it's more than just a honey store! You can try their famous Wildflower Mountain honey, jams, jellies, sauces, and some Honey Wine. Try their whipped honey… it's crazy delicious!
Then head over to James Ranch for some lunch. You may think this is just a cool outdoor restaurant but it's so much more than that.
Their food is 100% grass-fed cattle and out of this world. They also have a market and you can take some farm tours. It's a great place for you to have lunch and let the kids run around the beautiful Animas River Valley.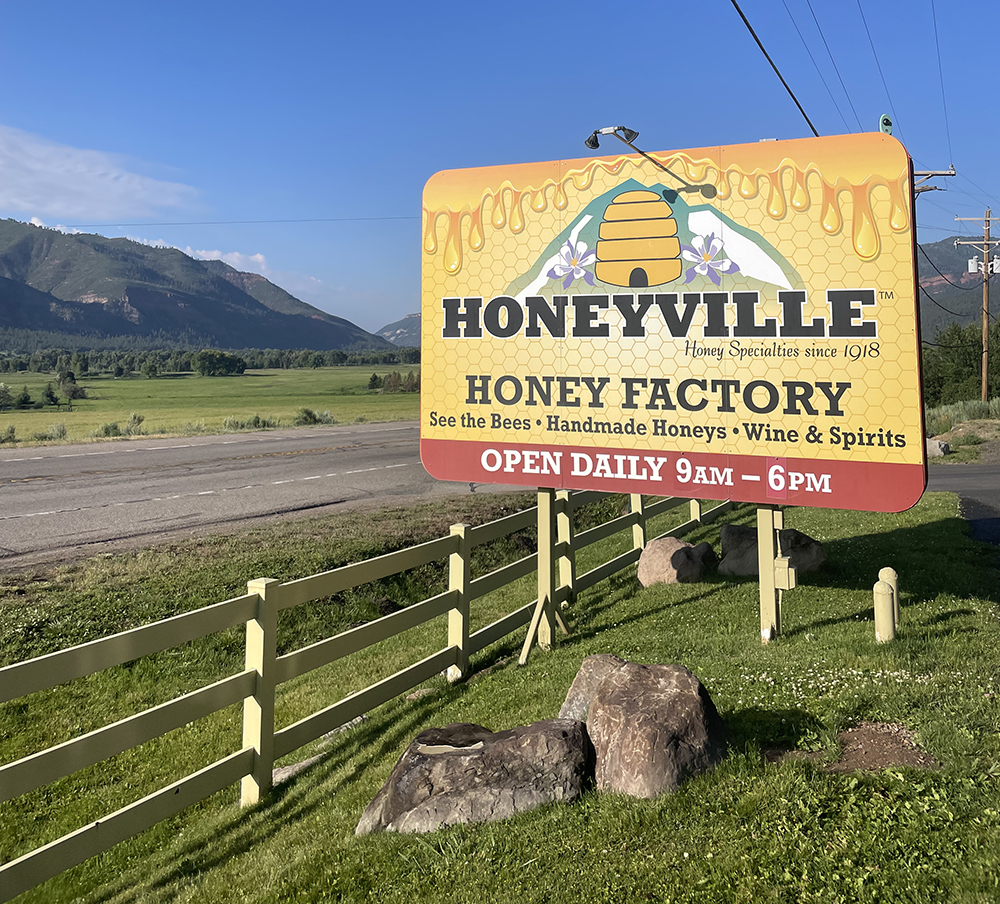 8 – Spend the Day on Lake Nighthorse in Durango
While Durango is home to several lakes, the best one to visit with kids is Lake Nighthorse. You can do everything from swimming to paddleboarding on this lake and it's a short drive from downtown Durango.
You can even rent a boat to spend a whole day on the lake with Colorado Adventures. Or just fish off the shoreline and picnic by the lake while the kids swim.
9 – Take a Day Trip To Mesa Verde National Park
Located about 40 minutes outside of Durango is the Mesa Verde National Park. We always try to visit every national park we can so going on this short drive was a must when we were looking for things to do in Durango with kids.
And if you don't feel like doing the drive, you can take a tour that will drive you out to the Park so you can enjoy the trip and not worry about where to go.
Mesa Verde is home to multiple cliff dwellings and overlooks, even some hiking trails and you could easily spend a whole day here.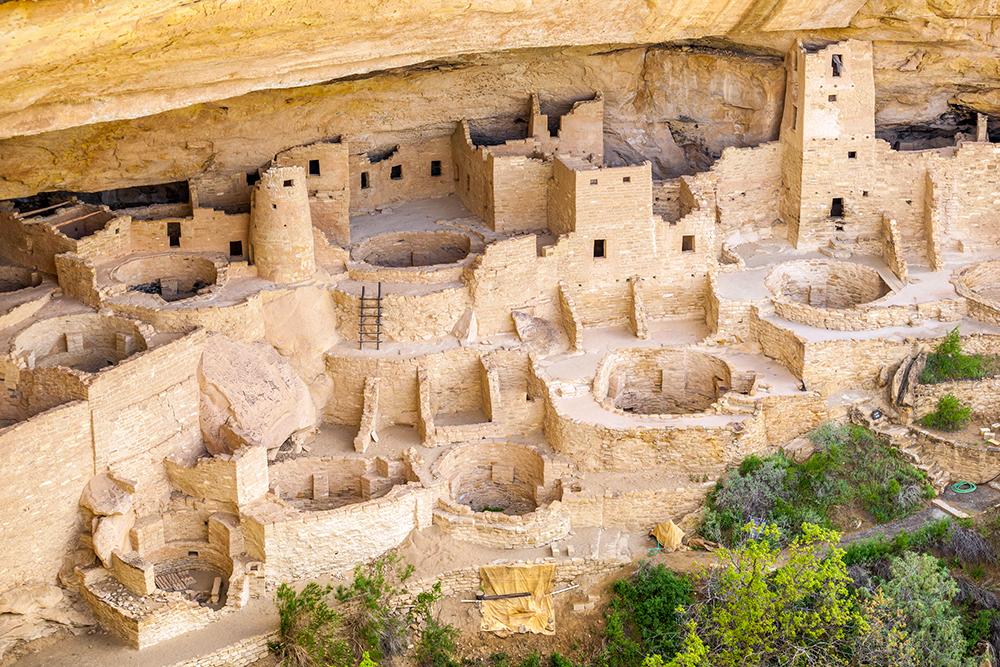 10 – Visit The Durango Botanic Gardens
You can visit the Durango Botanic Gardens for free and spend a few hours walking through the beautiful greenery and even take a tour of the garden.
The Botanic Gardens are located right next to the Durango library and are a fun and calm way to learn about some native plant species from Colorado.
11 – Swim at the Durango Community Recreation Center
If you need a break from all the outdoor adventures or experience a rainy day in Durango, then check out the Durango Community Rec Center. For a small daily fee ($7 for adults, less for kids) you can use their full facilities.
Which does mean their gym, but also their amazing indoor pool area. They have lap lanes for swimming laps. They even have 2 big water slides and several pool areas.
The Rec center also has showers so if you are camping like we did, $7 for a day of swimming and showers at the end was heaven-sent!
12 – Bike the Animas River Trail
The Animas River Trail is a beautiful trail that runs along the Animas River through downtown Durango. My suggestion – rent some bikes and ride along the trail. You can even rent electric bikes in Durango.
Riding bikes along the gorgeous river is fun enough in itself, but there are places you can stop and dip your toes in the water. Or even take a break at an ice cream shop in downtown Durango.
13 – Take a Scenic Jeep and Waterfall Tour
If you and your family are up for a fun adventure… check out this scenic jeep and waterfall tour!
You take a ride through La Plata Canyon on a 2.5-hour 4×4 jeep tour that takes you to 3 separate waterfalls. This ranks as one of the most fun things To Do In Durango with Kids and almost any age can go (you just have to supply your own car seat).
You'll even drive past ghost towns and historic mines that take you to an elevation of 10,000 feet above sea level. But don't worry! This is considered a mild excursion.
14 – Go On a Horseback Riding Adventure
Let your kids be cowboys for the day! Drive just a short 15 minutes outside of Durango to the Over the Hill Outfitters. They offer 1, 2, or 3-hour horseback rides that are perfect for all your family members.
You'll travel along rivers and through the forests for some real outdoor mountain adventures.
15 – Take Your Family Dog Sledding (winter only)
For a really fun experience, every kid will go crazy for, take them dog sledding! Durango Dog Ranch offers fun dog sledding rides all winter long. You can get pulled by the sled through the snow and even pet the pups!
Unfortunately, this is only offered in the winter months. But if you have your heart set on this experience during the summer, you can drive one hour east to Pagosa Springs where you can go dog sledding in the summer months (on a cart with wheels) with Mountain Paws.
16 – Fishing Guide
You could just stand along the Animas River and go fishing OR you could hire a guide to take you out and show you a memorable experience in lakes, rivers, and even small creeks.
You can choose from tours that wade in rivers or take you out on boats. Learn how to fly fish and catch some fish like a local! Check out Heads Up Fly Fishing for a memorable experience.
17 – Relax in the Durango Hot Springs Resort
Purchase a day pass to the Durango Hot Springs Resort, open from 9 am-10 pm.
The general admission day pass includes access to 32 natural hot spring mineral pools, a resort-style swimming pool, 2 cold plunges, a concession garden, and recreation areas.
If you really want fun things to do in Durango with kids, the Hot Springs Resort is the perfect place. Kids get to play and swim and parents get to relax in the hot springs.
Super Fun Things To Do In Durango with Kids
From outdoor adventures to relaxing hot springs and even shopping and dining… Durango is a great place to find fun things to do with your kids during the summer.
If you are traveling with dogs, check out Healthy Hounds and Fat Cats. They take dogs for doggie daycare just for the day if you want to go out and have some fun but don't want to leave them alone. Just make sure you have their vaccination records with you!
You Might Also Be Interested In: