Best Places to Go Paddleboarding in Arizona with Kids
Kid-Friendly Places To Go Paddleboarding in Arizona
Want to go Paddleboarding in Arizona with Kids? This is your local guide to the best kid-friendly places to check out.
Paddleboarding (also known as SUP – stand-up paddleboarding) has really taken off in the past several years! And it's easy to see why. This fun activity is actually much easier than it looks and is a great way to get outdoors and be active.
Not to mention, summers in Arizona are brutal and sometimes the only way to not go insane around here is to get your butt to the water. I swear we can spend an entire day of 115-degree heat on the lake and never feel hot.
What's even more fun is getting your kids involved. Kids as young as age 5 can start paddleboarding on their own. Or if they are younger than that, they can enjoy a leisurely ride on your paddleboard too!
What You Need To Paddleboard with Kids In Arizona
First things first, let's make sure you have all the paddleboarding essentials. Trust me, you are going to want everything on this list to ensure you and your kids have a fun and safe day paddleboarding!
1 – Life Jacket
This is non-negotiable. In the state of Arizona, kids under the age of 12 must be WEARING a PFD (personal floatation device) at all times while in the water.
And adults need to be carrying one with them at all times or could face a fine… no matter how great of a swimmer you are!
My favorite PFD for adults: O'Neill Women's Superlite USCG Life Vest
PFD for kids: Airhead Swoosh Kwik-Dry Neolite Life Jacket
2 – SUP Portable Cooler
Being out in the sun is hot and paddleboarding all day can make you a bit tired. Not to mention, it's fun to find spots to pull over and have a picnic.
I love this portable paddle board cooler for several reasons. It's pretty good sized and holds several drinks, snacks, and meals in it. It's also waterproof so your food stays dry. I also love the little cup holder it has so kids have access to a drink at all times.
Portable Cooler – Gradient Fitness SUP Cooler for Paddle Board (this one even has a small dry pouch to keep your phone and keys in!)
3 – Sunscreen
Being out on the water all day can be deceiving, you may not feel very hot but that sun is brutal. Make sure you slather on the sunscreen but also bring some with you to reapply during the day.
4 – Water shoes
Both my daughter and I never go near a lake or river without a good pair of water shoes. You never know what the bottom is going to look like. You may get lucky with some nice sand, but often in Arizona, you'll find a lot of rocks that will definitely hurt your feet!
5 – Paddleboards!
And last but not least the most important part… the paddleboards! Arizona does have some places you can rent them. But if you plan on going more than once or twice in your life, it's much better to buy.
Paddleboards can range from very pricey to starter prices. We started with these affordable paddleboards and have been very happy with them. They are great for day use if you are just going out for a few hours at a time. And easy for kids to handle.
And do yourself a huge favor, and get an electronic pump for your boards. Paddleboards need a high PSI and trying to do it with a hand pump is exhausting!
Where To Go Paddleboarding in Arizona with Kids
Ok! Let's get to the good part… the places that you actually want to take them paddleboarding.
1 – Canyon Lake
Canyon Lake is one of my favorite spots for several reasons. It's an easy drive from anywhere in the Phoenix area. Canyon Lake has a marina where you can rent boats and even a restaurant to have lunch in.
This lake also has several beach areas to swim at. This is perfect for kids because you can inflate your boards and have them practice in calm, shallow water right there by the beach.
Head a little further past the Acacia Parking to the Boulder parking lot (on the right-hand side). You'll find a parking lot here with beach access. I prefer this area because no motorized boats are allowed in, leaving the waters nice and calm for beginner paddleboarders.
You will need a Tonto pass displayed in your car so don't forget to grab one before you go!
2 – Saguaro Lake
Saguaro Lake is another great option in the Phoenix area, towards the East Valley. You'll want to head to a place called Butcher Jones Beach. There is a big parking lot here with easy access to a beach swimming area.
The beach area is in a cove that is relatively calm waters. So you can practice paddle boarding around this area or spend the whole day here. Venture out a little further once you got the hang of it!
Butcher jones beach is also home to the famous Salt River wild horses and you'll have a good chance of seeing them here! Saguaro Lake parking areas also require a Tonto day pass.
3 – Lake Pleasant
Over in the West/North Valley of the Phoenix area is a massive lake called Lake Pleasant. Lake Pleasant is a great place to go Paddleboarding in Arizona with Kids because it has several areas where you can hang out and paddle.
Lake Pleasant also has areas where boats and motorized watercrafts cannot go and the waters can be nice and calm.
Go paddleboarding here and youll most likely see (and hear!) the wild donkeys that live in the area.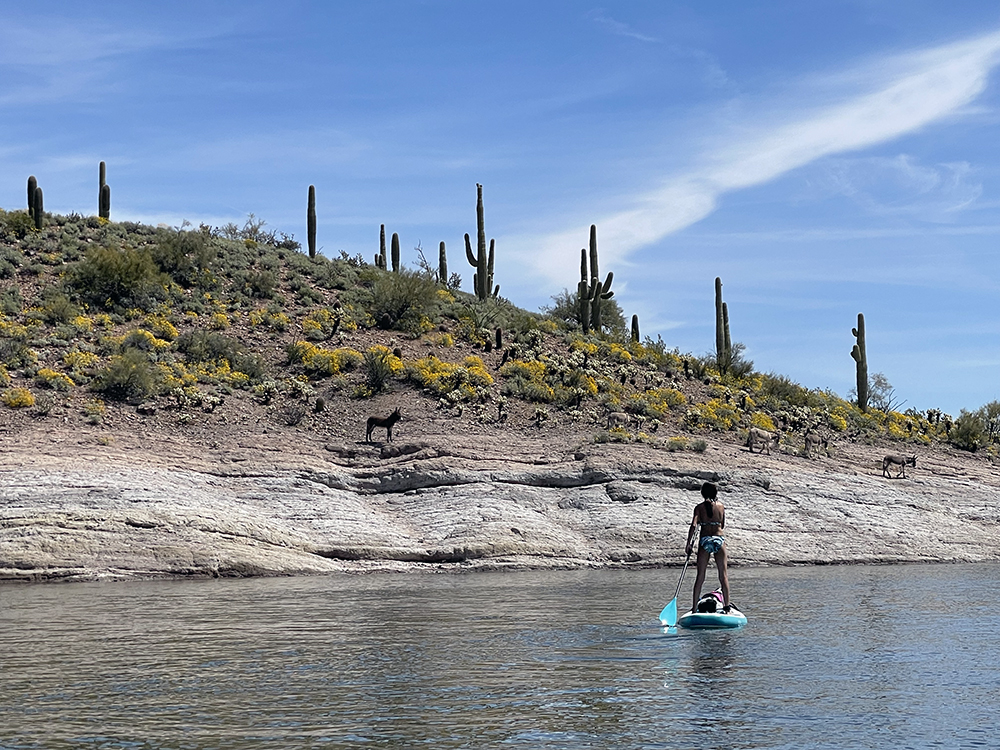 4 – Patagonia Lake
Looking for something in southern Arizona? Just a short drive south of Tucson, Patagonia Lake sits inside Patagonia State Park. This area is so fun to go paddleboarding in. The state park itself has a marina, beach areas, and even a campground right on the water.
There are several places to launch a paddleboard, but you'll most likely want to head to the day-use area. Patagonia Lake has peaceful, calm waters with very minimal boats on it. And the scenery is a little more lush and green than the lakes around the Phoenix area.
You will pay a day-use fee for Patagonia State Park when you first enter, and then just follow the map to the day-use area.
5 – Lynx Lake
Lynx Lake is another great option if you are looking to get away from Phonix and head north to some cooler weather.
Located in Prescott, Arizona, Lynx Lake does not allow any motorized vehicles on it. This means the lake is nice and calm and easy to paddleboard on, making it ideal for newbies and kids.
the lake itself does not have a beach area to swim at, but you can still find some shallow spots and take turns jumping off your paddleboard to go swimming.
Grab a paddleboard anchorhttps://amzn.to/3QEKn29 so your board doesn't float away and it becomes a little raft you can swim off of!
6 – Lake Mary
Another area up north to go Paddleboarding in Arizona with Kids is Lake Mary, just outside of Flagstaff. This is one of our favorite spots to go in the summer to get out of the Phoneix heat, yet it's still sunny and warm enough to enjoy the water.
Lake Mary is a great reaction area where you will find tons of dispersed camping and campgrounds. It's super close to Flagstaff if you want more of a hotel or Airbnb. And there's the cutest little market right on the edge of the lake to grab supplies and snacks.
You'll also find several parking lots and beach areas where can sit and relax before you start paddleboarding. Once you're ready, the lake is nice and calm which makes it really easy for kids to learn how to paddleboard their first time.
Where NOT to go Paddleboarding in Arizona with Kids
The one place I want to mention is the Salt River as a place to NOT go paddleboarding with kids. The river is only meant for people who are experienced with their paddleboard and can navigate the river well.
The Salt River can at times be very rocky, steer you into a tree or bush, or even flip your paddleboard pretty easily. There are a few small rapids that don't seem too bad, but can be pretty scary for a kid.
Instead, try tubing down the salt river is a great option for kids if you want to experience the fun of floating down a river.
You Might Also Be Interested In: