Where To Find The Best Dispersed Camping In Pagosa Springs
Dispersed Camping In Pagosa Springs
If you are headed to Pagosa Springs, Colorado and you are looking for some memorable and easy-to-find camping spots… look no further! This is a list of the best Dispersed Camping In Pagosa Springs.
If you're new to camping, you might be asking yourself… what is dispersed camping and how is it different than regular camping?
Dispersed camping refers to areas you are allowed to park and sleep overnight that are not in designated campgrounds. Most of these spots are free and are first come first served.
Paid campgrounds offer things like garbage, bathrooms, and designated paid spots (sometimes even showers or more!). Dispersed camping has no services. It's just you, your camping gear, and the woods. You can often find fire rings that help mark dispersed camping areas.
My favorite APP to find dispersed camping anywhere I go is called IOverlander and is free to use! It also helps you find dump facilities, water, and showers.
Why I Love Dispersed Camping in Pagosa Springs
While campgrounds can be nice every once in a while, I always prefer to find dispersed camping if I can. Dispersed camping often has no rules (except fire bans!) and offers a lot more privacy.
When traveling with dogs, dispersed camping is a great option because dogs can be off leash and you are often pretty far from other campers, versus being packed like sardines at a paid campground.
Not to mention, dispersed camping is FREE! And you can stay in one spot for up to 14 days at a time.
Pagosa Springs Dispersed Camping
1 – Turkey Springs Road
Coordinates: 37.31680, -107.14091
Directions: From downtown Pagosa, go west on the 160, turn right (north) onto CR 600 (Piedra Road), then turn left on Turkey Springs. You'll find a few spots along this road or turn left on Newt Jack Road for more spots further down.
The dispersed camping off of Turkey Springs road rates as my number one favorite spot for Pagosa Springs dispersed camping. This area is a short 20 minutes from the downtown area and has pretty smooth roads to get to.
The camping spots are very well marked with firepits and gravel driveways and are very spread out. We stayed here and had someone in the spot directly to the right of us and they are will far away enough that we couldn't see them at all.
This area is heavily wooded and absolutely gorgeous. There are trees and wildflowers surrounding you in every direction. There are plenty of spots so it's pretty easy to find an open area. You'll find small spots for a camper van and larger areas for big rigs and groups.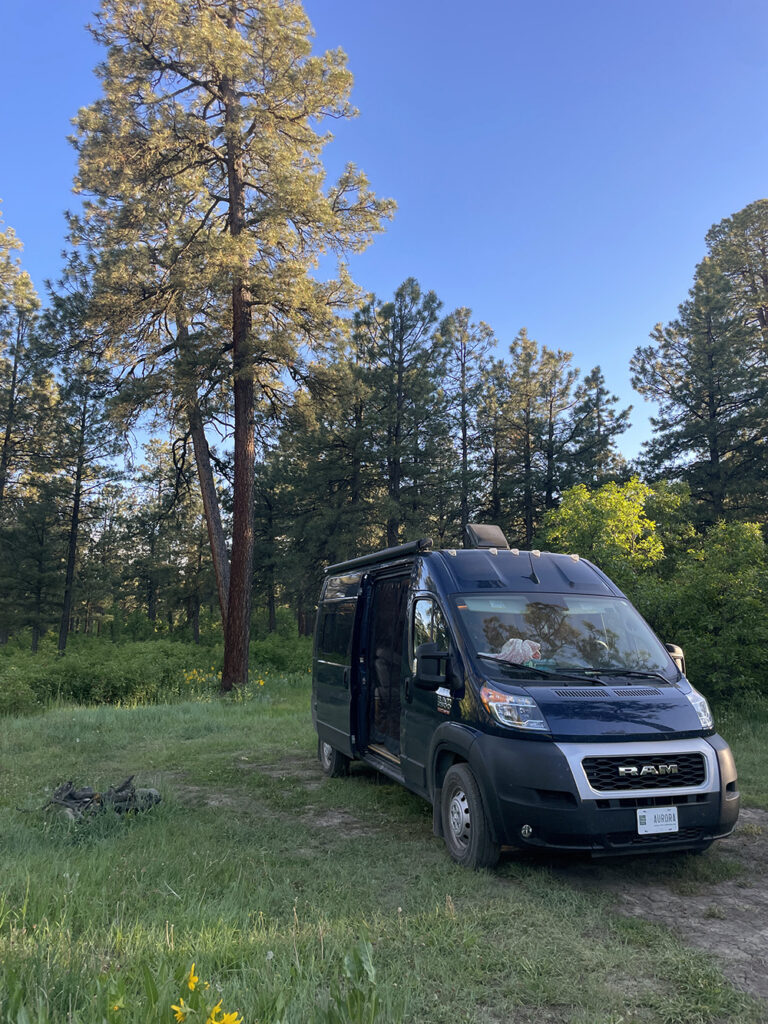 2 – Piedra Falls Trailhead
Coordinates: 37.47864, -107.10232
Directions: Drive North on Piedra Road, turn right on Middle Fork Rd (FS 636) for 2 miles. Then take the first road to the right, East Toner Rd (FS 637), and drive for 7.5 miles to the parking lot.
The road to get get to the trailhead is mostly dirt but easily accessible and pretty flat. There are tons of dispersed camping sites along this route. Some with fire rings and other great flat spots you can easily park a Camper Van or Camper.
And while you're there, check out the Piedra Falls hike! It's an easy family-friendly hike in Pagosa Springs that takes you to a great waterfall.
3 – East Fork Road
Coordinates: 37.38312, -106.85631
Directions: From downtown Pagosa Springs, head east on 160 and then turn right onto East Fork Road.
Great dispersed boondocking camping on the East Fork San Juan River. These spots are great because they are super close to downtown Pagosa Springs and an easy drive.
As soon as you turn onto East For Road, there is a paid campground with RV hookups. Continue past this campground and there is plenty of dispersed camping for the next several miles.
Most camp spots are right along the river and have firepits. There are several larger areas further back to accommodate groups or big rigs.
4 – FR 663 Wild Camping
Coordinates: 37.07592, –106.83795
Directions: From downtown Pagosa Springs, head south on Route 84, then turn left onto Buckles Lake Rd (FR 663).
This dispersed camping area is a little further from Pagosa Springs than the other spots, but it's a perfect place to stop if you are traveling from New Mexico.
The road is dirt and gravel, but very smooth and can accommodate almost any vehicle. There are camping spots right off the road and many more further down.
One reason we love this area is because it's a bit greener and has more wildflowers and meadows but still a lot of tall pines. This Pagosa Springs Dispersed Camping area has less traffic for a more calming and quieter experience.
5 – Piedra River Dispersed Camping
Coordinates: 37.23751, -107.34195
Directions: From downtown Pagosa Springs, take the 160 west towards Durango. Turn right (north) onto First Fork Road. Take the turn off to the east side of the river and head north. The West side of the river will take you to a paid campground.
If you are coming from or going to Durango, this area is easily accessible and a short distance between the two. It's right off the road so you may get some traffic noise at night. But there are several small dispersed sites right along the river.
The road becomes steeper and goes up in elevation the further you go, so if you don't have an off-road vehicle, it's best to snag a spot just a few miles in. If you can't find a good spot, there is a campground you can stay at for just $22 a night.
You Might Also Be Interested In: