19 Exciting Family Mountain Vacations in 2023
Not all family vacations have to include sitting on the beach and getting sunburned. If you are looking for a more unique experience for your family, try one of these Family Mountain Vacations.
Family Mountain Vacations Your Kids Will Love
1 – Banff National Park, Alberta Canada
If you'd be interested in turquoise lakes, snow-capped mountains, and even glaciers… then Banff National Park would be a great place for your mountain family vacation.
You can hike, kayak, or take a scenic gondola ride during the summer months. Or enjoy the world-class skiing in the winter months.
Best Tour: Lake Louise and the Icefields Parkway – Full-Day Tour
Best Place to Stay: Banff Rocky Mountan Resort
2 – Acadia National Park, Bar Harbor, Maine
Popular things to do in Acadia National Park include bicycling, kayaking, camping, hiking, and swimming. There is no shortage of outdoor activities in Acadia.
And since it's located on the shores of Maine, you can catch a whale-watching boat tour or even go fishing.
Best Family Activity: Island Time E-bike Rentals from Acadia National Park
Best Place to Stay: Atlantic Oceanside Hotel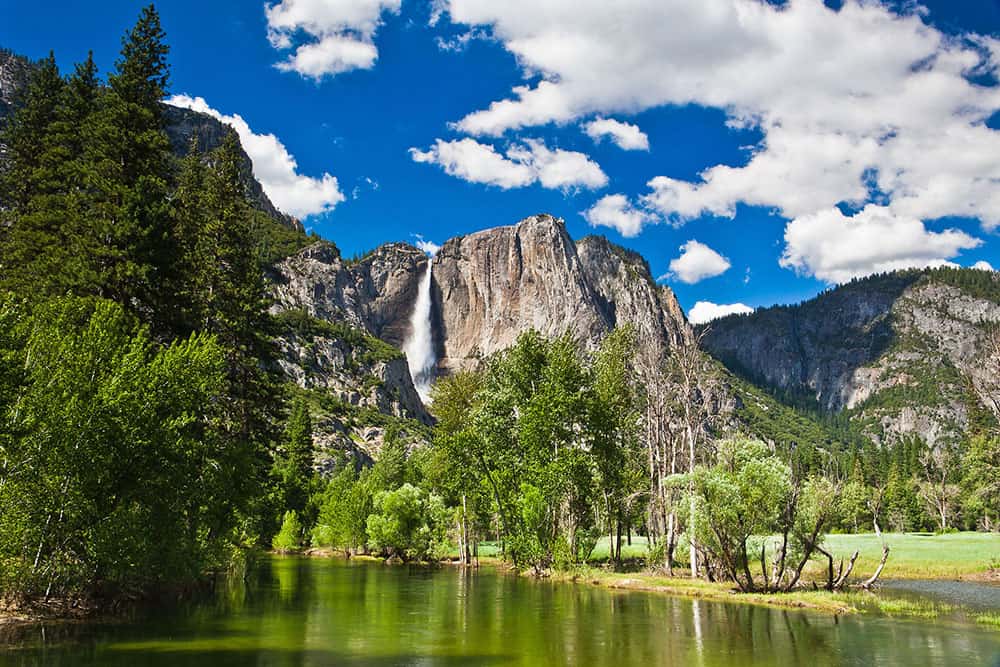 3 – Yosemite National Park, California
Yosemite is simply a place of wonder you could drive around, walk, or hike and be in awe of the towering mountains and waterfalls. Enjoy a family hike or take a tour to see giant, ancient sequoia trees.
In Yosemite Village, you'll find shops, restaurants museums, and lodging. Everything from luxurious chalets to primitive camping.
Fun Family Excursion: Off-Road Giant Sequoia 4×4 Tour
Best Place to Stay: Yosemite Valley Lodge
4 – Great Smokey Mountains, Gatlinburg, Tennessee
Home to the Great Smokey Mountains National Park, you can find all sorts of fun outdoor mountain activities near Gatlinburg.
But if you need something a little more entertaining, Gatlinburg has an amusement park, ziplining, adventure courses, and more to keep your kids busy!
Best Adventurous Activity: Mountaintop Zipline 2-Hours Activity
Best Place to Stay: Glenstone Lodge
5 – Adirondack Mountains of Upstate New York
Visit the 115-acre Wild Center natural history museum, home to natural stone bridges and caves. Or test your sense of adventure in an extreme adventure course.
Looking for more outdoor activities? The Adirondack mountains are home to several waterfalls all within a short hike easy enough for kids.
Best Activity: High Falls Gorge
Cutest Lodge: Woodland Lodge
6 – Telluride, Colorado
Telluride is a gorgeous old victorian mining town set among the spectacular mountains. This picturesque town offers everything from golf to skiing. Visit the town park or go shopping in the historic downtown area. Whatever you choose, there is plenty to do!
Most unique experience: Telluride Half-Day Rafting Tour
Best Resort: Mountain Lodge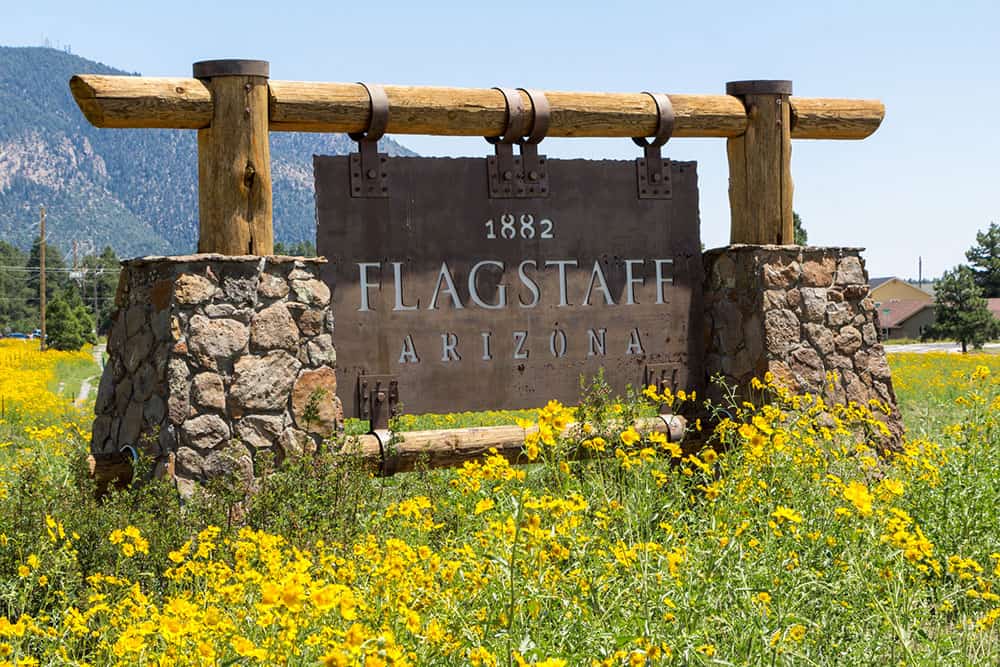 7 – Flagstaff, Arizona
Flagstaff is home to some of the best hiking in North America. But it's also a short drive to the Grand Canyon and the historic town of Williams where you can follow the original route 66.
Feed deer at a sanctuary or visit Bearzona and watch wildlife in their natural habitat. Flagstaff has more to offer than you think and is one of the most memorable Family Mountain Vacations you can take.
Best Kid Activity: Grand Canyon Railway Train
Best Family Resort: Little America Flagstaff
8 – Lake Tahoe, California
Lake Tahoe in the summer is a family getaway dream. You can go boating, swimming, kayaking… the options are endless.
Or take a stroll through the village and do some shopping in the summer and ice skating in the winter. Lake Tahoe offers tons of family-friendly activities.
Best Family Resort: Hilton Vacation Club Lake Tahoe Resort
Most Thrilling Family Adventure: Tahoe Helicopter Tour: Lakes and Waterfalls
9 – Eureka Springs, Arkansas
Eureka Springs is a picturesque mountain town surrounded by natural hot springs. Or check out Turpentine Creek Wildlife Refuge, home to big cats and bears that any kid would love to visit.
Best Place to Stay: The Crescent Hotel and Spa
Best Activity: Eureka Springs Guided Eco Tour
10 – Grand Tetons, Jackson, Wyoming
Go for a boat ride on Jenny Lake, or take a hike around the area and watch for all the wildlife that passes by. You can go white water rafting or even horseback riding.
Less than an hour away is Yellowstone National Park. Your kids will love the boiling mud pits and geysers throughout the park. Not to mention the many geysers throughout the park
Most Fun Resort: Moutain Modern Resort
Most Unique Experience: Half Day Group Sunrise Wildlife Safari
11 – Massanutten Mountain, Virigina
Just some of the thrilling mountain adventures you can have in Virginia include whitewater rafting, mountain biking, skiing, and more. You can hit the trails in the summer or ski and snowboard in the winter. The Massanutten Mountain Range has something for every outdoor lover.
Best Resort: Christopher Riverside Cabin
Best Adventure: 2-Day Trail and Camp Self-Drive Off-Road Experience
12 – Park City, Utah
Home to 2 huge ski parks and an Olympic training facility, Park City is a gorgeous mountain town with plenty to keep your family busy. You'll even find several local parks with trails and beaches to swim at.
Or rent a boat and spend a day on the Lake.
Best Resort: Hyatt Centric Park City
Most Memorable Experience: 3 Hour Off-Road Adventure
13 – Glacier National Park
One of the most picturesque mountain ranges in North America, Glacier National Park offers backpacking, cycling, camping, kayaking, and wildlife viewing.
Or get out at enjoying the fresh air with over 700 miles of hiking trails. Go horseback riding or enjoy a rafting adventure.
Best Place to Stay: Silverwolf Log Chalets
Best Adventure: Rafting Tour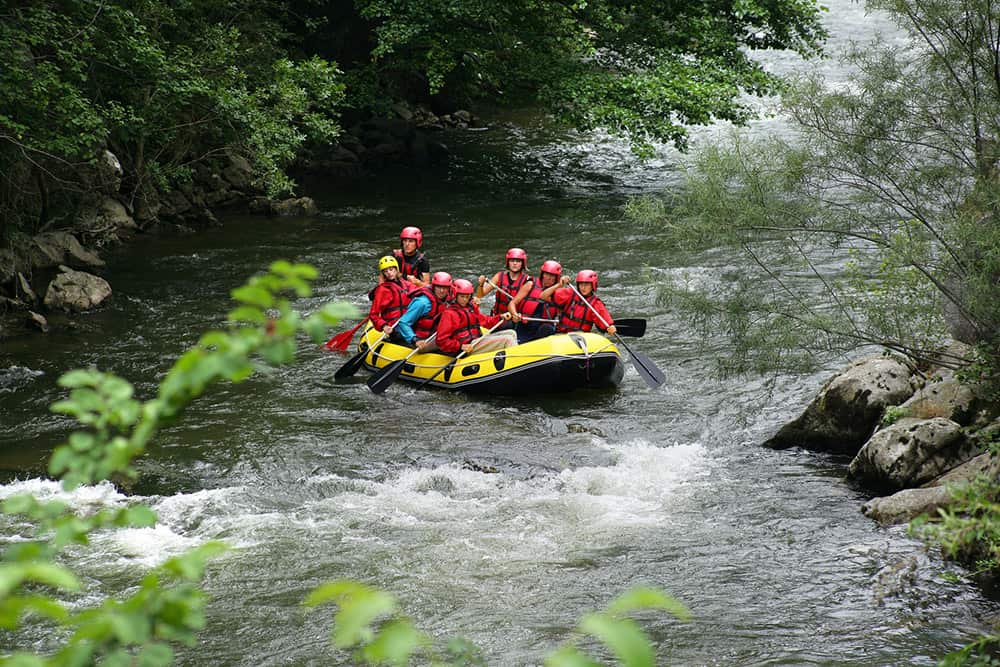 14 – Juneau, Alaska
Juneau is a great place to visit while on a cruise or even on its own. Take a trip of a lifetime and go on a helicopter tour to the top of a glacier. Or let your animal side go wild with dog sledding.
Either way, your family will have a mountain adventure to remember in Juneau.
Most Momorable Experience: Helicopter Tour and Guided Icefield Walk
Best Place To Stay: Alaska's Capital Inn Bed and Breakfast
15 – Big Bear Lake, California
This California mountain town sits at the top of a mountain and is home to a fish-filled lake that offers a wide variety of activities for your family.
The downtown area is a great place to go shopping or have a bite to eat. Or hit the slopes in the winter.
Best Adventure: Speed Ziplines & Fun Suspension Bridge
Best Place to Stay: Lagonita Lodge
16 – Bozeman, Montana
Bozeman, Montana is the best place in the US to be a cowboy! If your kids love cowboys, horses, and ranches, then this family mountain vacation is meant for you.
You can also go fishing, hiking, and boating, and see hot springs and plenty of wildlife. Or check out the Siebel Dinosaur Complex, with a large collection of T. rex specimens.
Best Place to Stay: Bozeman Lewis & Clark Motel
Most Memorable Tour: Horseback Trek through Blue Flower Trail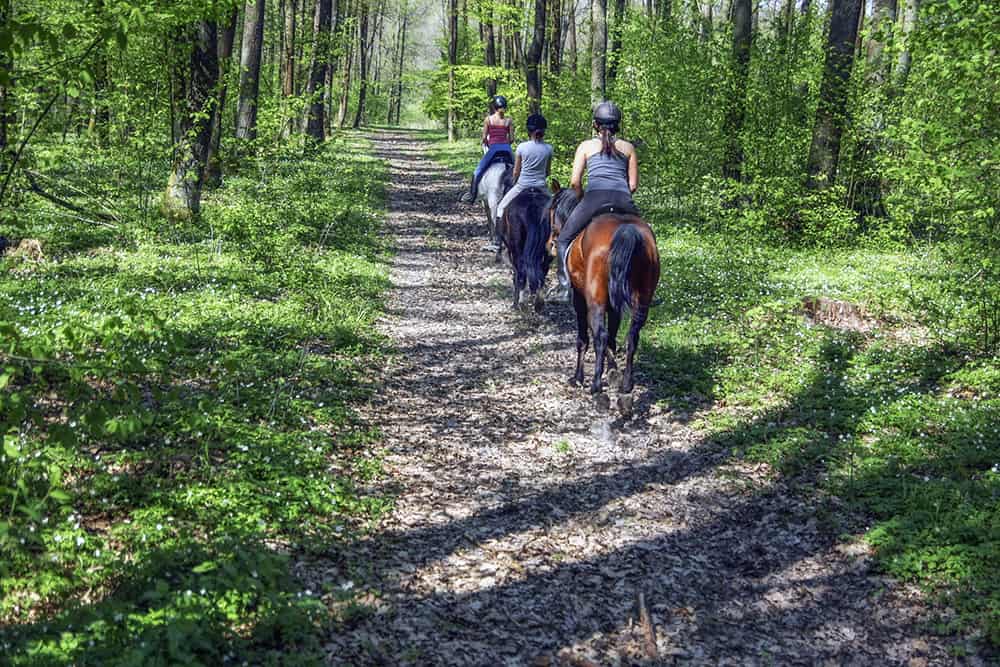 17 – Aspen, Colorado
In the winter, there are 4 ski resorts to keep your family busy. And in the summer, you can go hiking, boating, or rent mountain bikes.
Downtown you'll find plenty of shops and high-end restaurants to make your family mountain vacation memorable.
Best Place to Stay: Mountain Chalet Aspen
Most Unique Experience: Aspen's DarkSide Ghost Tour
18 – Lake of the Ozarks, Missouri
Lake of the Ozarks is probably one of the most popular lake and mountain destinations in the midwest. You can find tons of water activities including boating, water skiing, tubing, and more.
Or go hiking and explore the many sparkling springs, waterfalls, lakes, caves, and caverns.
Best Place to Stay: Margaritaville Lake of the Ozarks
Things To Do: Bridal Cave/Thunder Mountain Park
19 – Crater Lake National Park, Oregon
A short drive from Portland, Oregon, Crater Lake National Park is literally a lake formed in the crater of a volcano. A truly unique site your kids will be in awe over.
You can go hiking, horseback riding, or take an adventurous and thrilling river rafting trip.
Can't Miss Activity: Full-Day Upper Klamath Rafting Trip
Best Mountain Resort: Crater Lake Gateway-Rocky Point Resort
Best Family Mountain Vacations and Resorts
Escaping to the mountains for a family getaway is becoming more popular than ever. Get your kids outdoors for some fun and adventure in the mountains and an experience they will never forget with these Family Mountain Vacations!
You Might Also Enjoy:


PIN FOR LATER!