Where To See Fall Colors in Arizona without Having to Hike Far in 2023
Are you looking for the best Fall Colors in Arizona? Perhaps you want to take some beautiful family photos or just get into the fall vibes.
While most people think that Arizona is nothing but desert and cactus, Northern and Southern Arizona actually boast tons of great options to see the leaves turning colors.
And surprise! You don't have to hike miles and miles to see these beautiful fall colors. All of these places below are easy to get to, making them the perfect place to bring the whole family.
So dig out your favorite sweater and boots, grab that pumpkin spice latte, and soak in the fall atmosphere with these gorgeous places to see fall colors in Arizona… without a ton of hiking!
Best time to view fall colors in Arizona: If heading up to Northern Arizona, you'll want to visit between mid-October to mid-November. The end of October is the peak season for fall colors.
1 – Boyce Thompson Arboretum
Located just outside the Phoenix area, The Boyce Thompson Arboretum is a short and easy drive for a quick day of fall colors. You do have to pay a fee to enter here, but it goes to maintaining the Arboretum so it's worth it.
The Arboretum has miles of easy trails, most of them very short and flat. But you can find amazing fall foliage just a short walk from the entrance.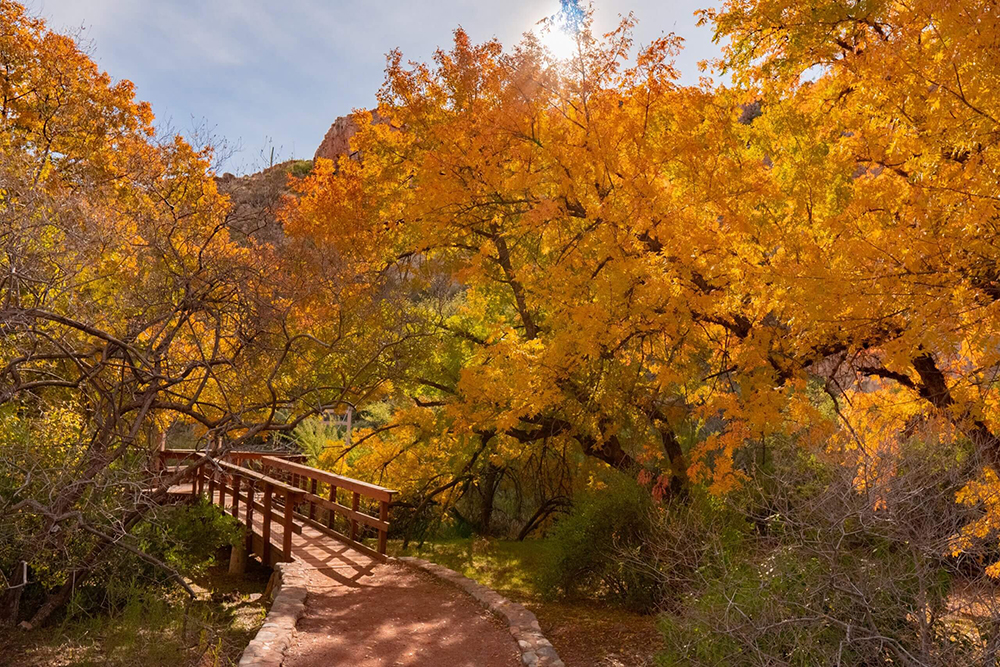 2 – Inner Basin Trailhead and Lockett Meadow
One of the most popular spots just outside of Flagstaff, Arizona is the Inner Basin Trail. Technically, this is a hike. BUT… you can see towering Aspen trees with vibrant shades of yellow right from the trailhead. Which means no hiking!
If you like to hike, you can continue on the trail to Lockett Meadow where you will see some great mountain views and more aspens. But it's not necessary if all you're looking for are a few good picture spots.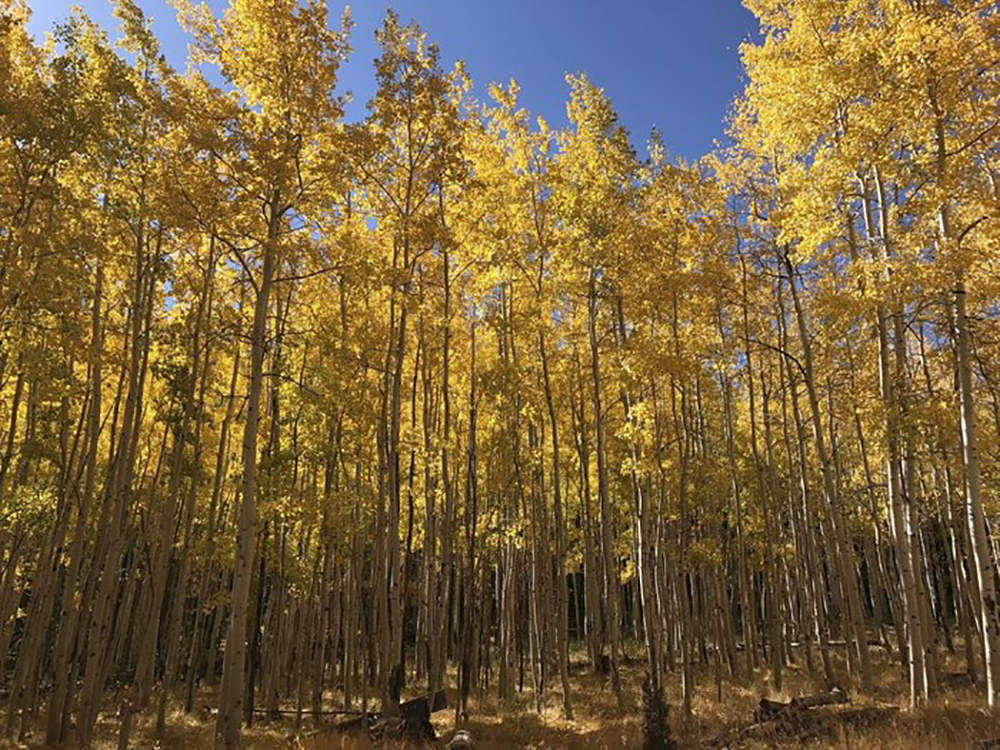 3 – Aspen Trail Loop in Flagstaff
This spot just outside of Flagstaff, Arizona has to be the most popular spot there is! It is located right off a dirt road, making it easy to find and easy to get it. It's a little bumpy but pretty flat, and any car can handle it.
This is a popular photo spot as well as a Wedding spot since you can literally just park and enjoy the Aspens with their amazing gold and orange colors surrounding you.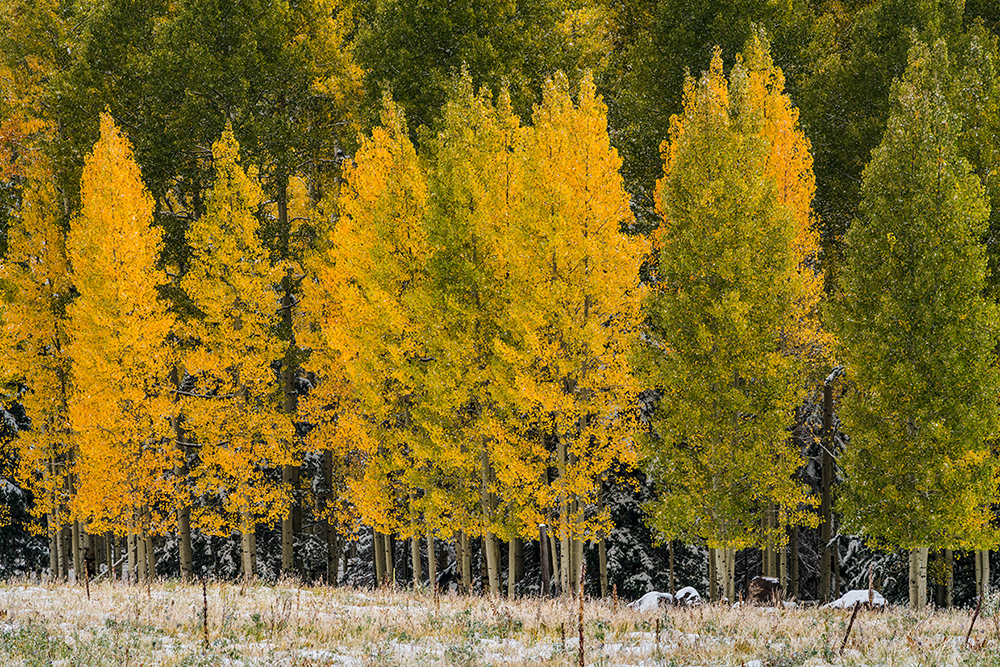 4 – Washington Park Trailhead
If you are traveling up near Payson and looking for a good spot to view fall colors in Arizona, head over to the Washington Park Trailhead located just about 30 minutes north.
This popular trailhead has several picturesque spots for your fall viewing pleasure. Right at the beginning of the trail is an old bridge surrounded by tall pines and Aspen trees changing colors.
It follows the East Verde River and is a fun place to walk dogs or let kids splash around. The views are impeccable and the colors start changing in October.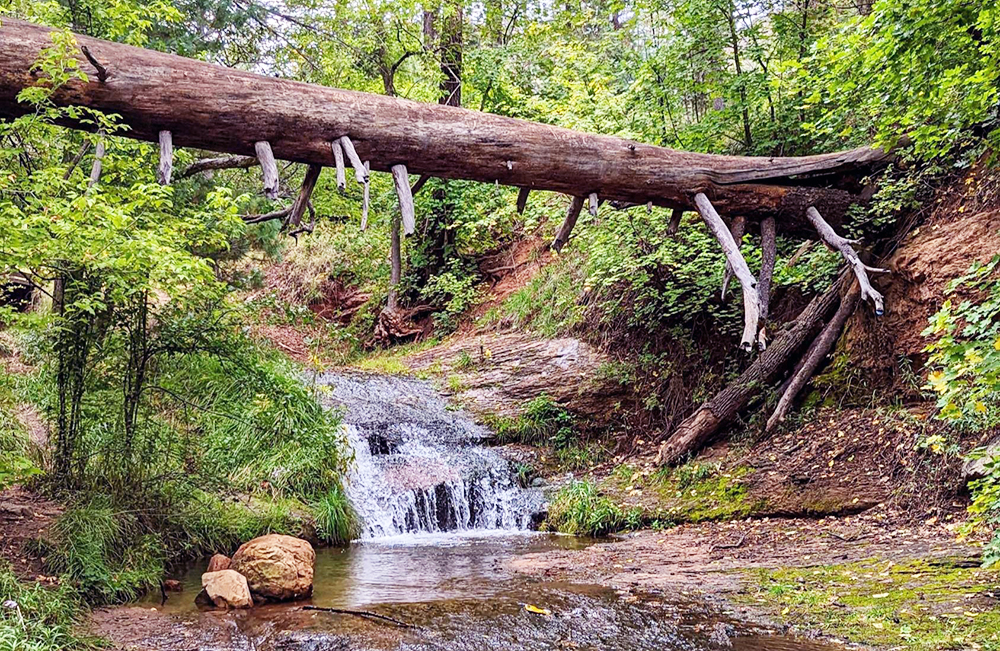 5 – Aravaipa Canyon Fall Colors
Aravaipa Canyon is a true hidden gem in Arizona. Located outside of Globe, youll find the Aravaipa Creek running through this beautiful nature preserve.
Like many of the other locations, Aravaipa Canyon has several miles of hiking trails that take you from one beautiful location to another. But you won't need to do that in order to see some fall colors in Arizona.
Head to Aravapia Canyon in late October to mid-November to see golden leaves and a beautiful creek.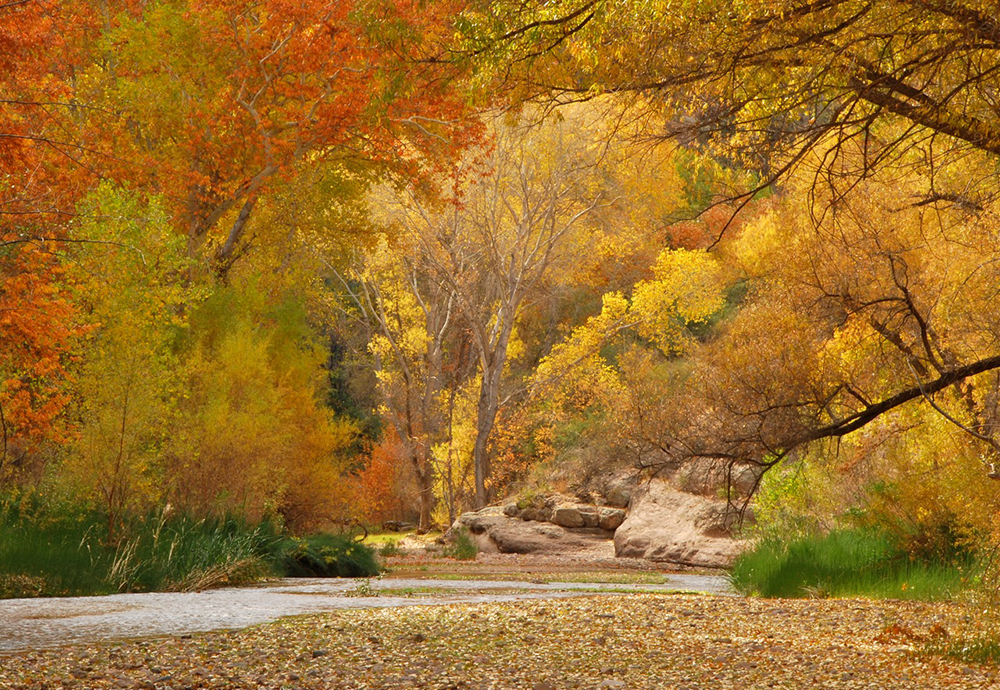 6 – Oak Creek Canyon Fall Colors in Arizona
One of the most scenic drives in all of Arizona is the highway through Oak Creek Canyon. Even in the summer months, this drive is truly picturesque. But head down here during October and November and it becomes a whole other world.
Oak Creek Canyon is lined with resorts, campgrounds, and hiking trails. There are too numerous stops to mention along this road. You can literally pull off anywhere to see fall colors and take photos.
Want to make it super easy? Visit L'Auberge de Sedona, a luxury resort along the creek in Oak Creek Canyon. The best part? You don't need to be a guest here to walk down to the river and enjoy a bench among the beautiful fall colors.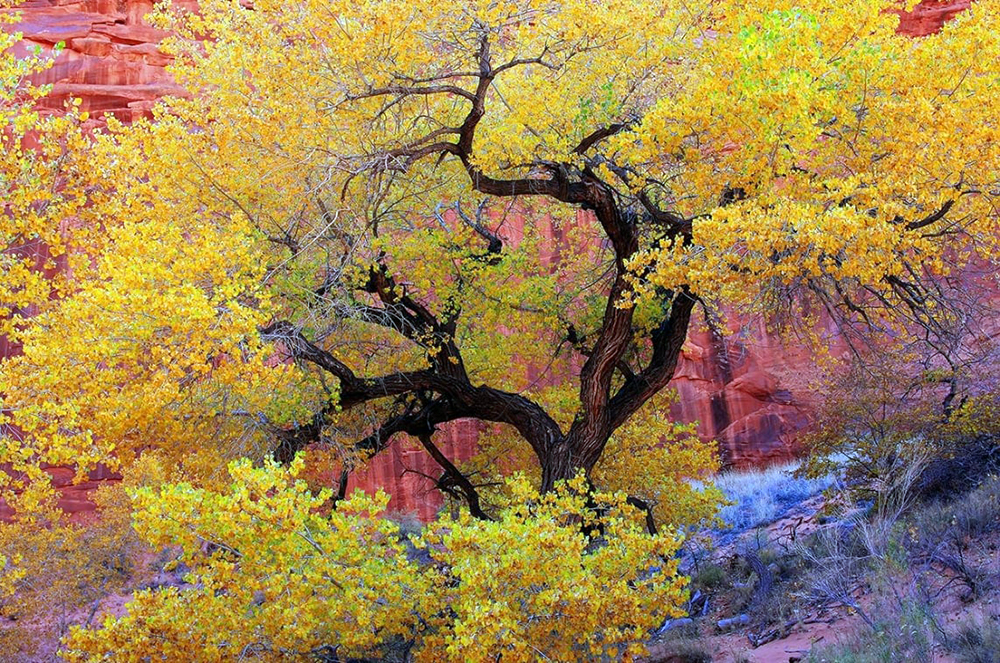 7 – Christopher Creek Fall Foliage
Located about 30 minutes outside of Payson, Christopher Creek is an outdoor lovers paradise. This beautiful area is filled with hiking trails and campgrounds. Not to mention plenty of dispersed camping as well.
You'll find more than just foliage here. Christopher Creek offers views of the mountains, cliffs, and the creek itself.
And while there are several trails you can check out for some really amazing scenery, there are also plenty of parks and places to pull over and take some amazing family photos.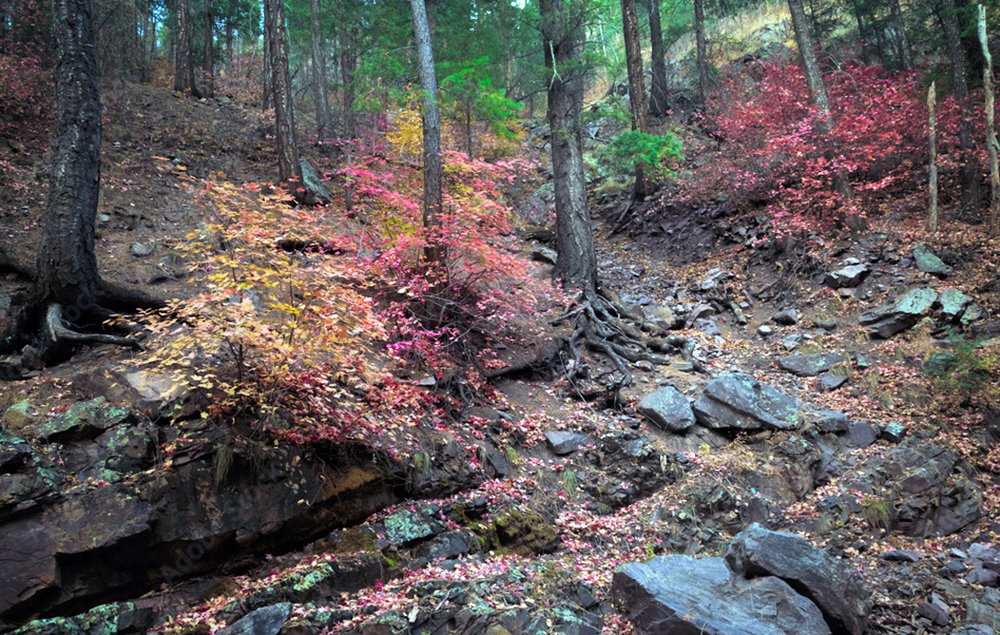 8 – Mount Lemmon
Don't forget about Southern Arizona! Most people forget that Tucson is home to Mount Lemmon, located in the beautiful Santa Catalina Mountains and at an elevation of over 9000 feet.
You'll find tall pines in the summer and gorgeous, bright fall colors in October and November. It's not hard to find fall foliage here! Just drive up the mountain and youll find endless roads, hiking trails, and even a general store and restaurant.
You can literally spend a whole day driving around looking at all the gold, yellow, and even red foliage in this area.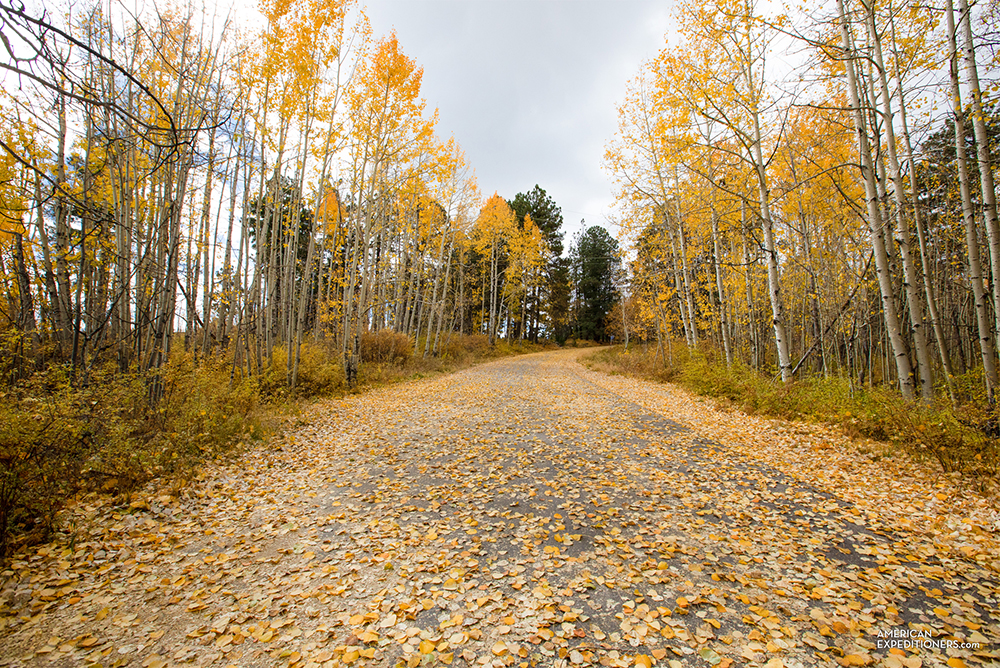 9 – Snowbowl Drive in Flagstaff
Snowbowl is a super popular ski area just a little outside of Flagstaff, Arizona. But did you know you can drive this scenic 7-mile road and see some of the most amazing fall colors in Arizona?
Youll see tall Ponderosa Pines and bright Aspens. There are also dispersed camping sites and plenty of hiking trails that are nice and flat. This is one of the most popular spots to take fall family photos in Northern Arizona.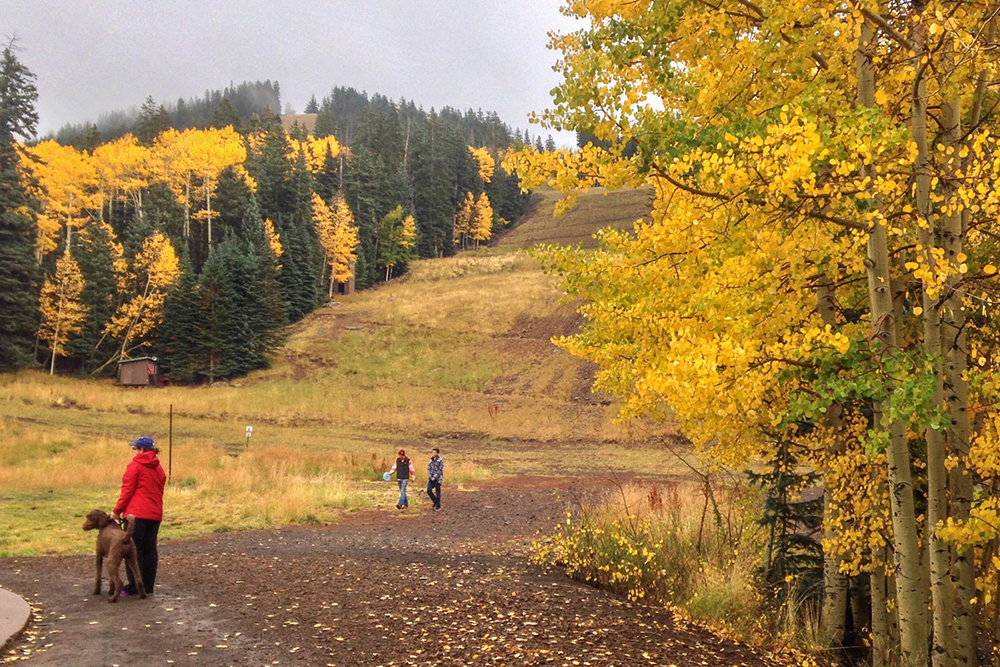 Where To See Fall Colors in Arizona
Northern Arizona is known as being a cool place for everyone in Phoneix to escape the heat. But in fall, the vibrant colors come to life.
If you are looking for a great place to take some Fall Family Photos, or just go see some Gorgeous Fall Foliage, these 9 spots are the best places to visit to see fall colors in Arizona.
You Might Also Be Interested In: